This vanilla cake recipe has an amazing flavor, a soft, cloud-like crumb and is so incredibly moist.
This vanilla cake recipe is the best because it uses cake flour, the reverse creaming method, lots of butter and a touch of oil. I have tweaked this recipe countless times to achieve the absolute PERFECT vanilla cake recipe.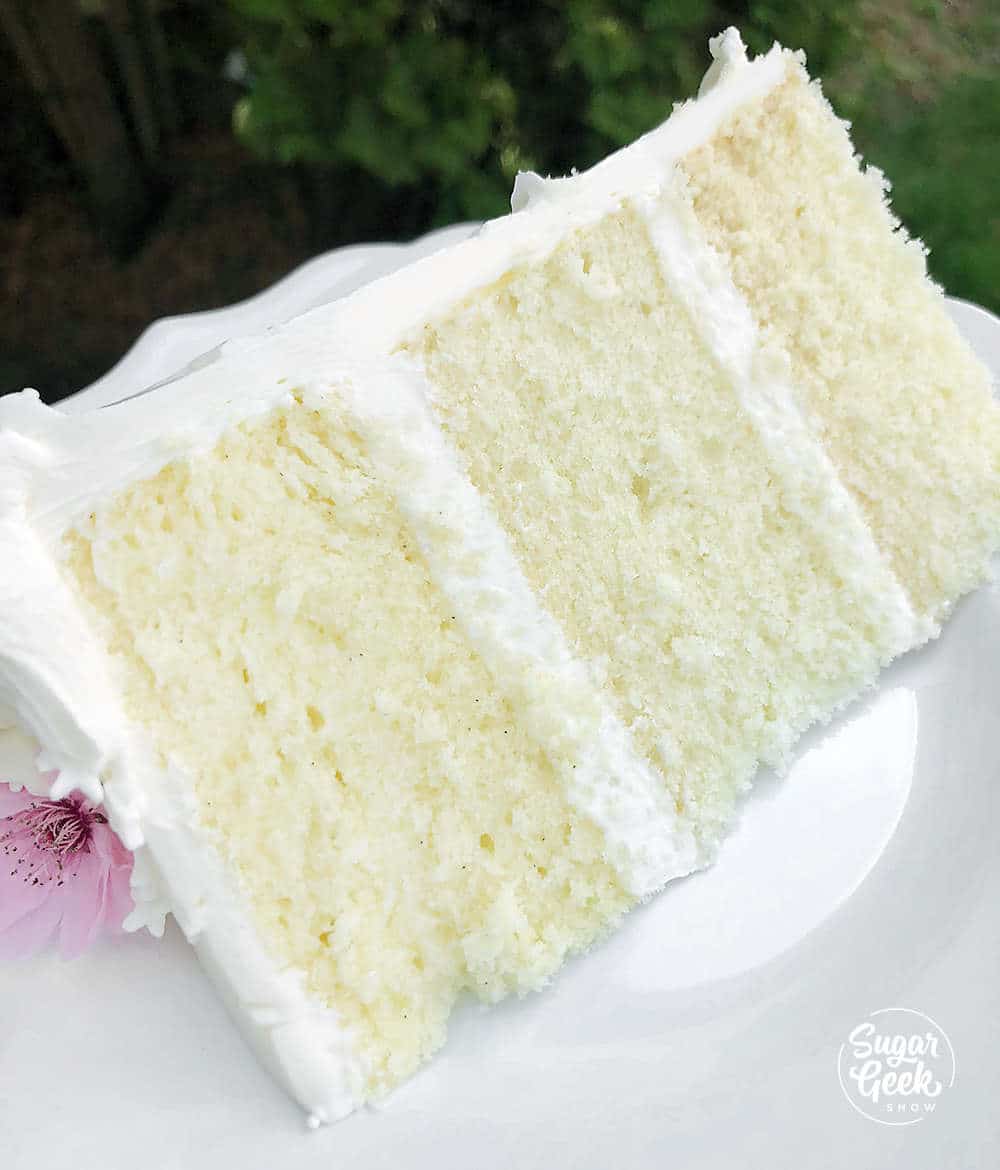 There are a lot of delicious vanilla cake recipes on the website like my white velvet buttermilk cake and my white cake recipe which is a great alternative to my vanilla cake if you can't find cake flour. Or try out our chocolate cake recipe made with dutched cocoa powder. A chocolate lover's dream!
I have been using this vanilla cake recipe for over ten years for my cake clients with nothing but rave reviews. With the release of my cake decorating book, I found out how popular this cake really has become! This is the cake that turns those "I don't even like cake" consultations into OMG we need to book you right now clients! Prepare to forget everything you've ever known about making a cake from scratch!
Why Is This The Best Vanilla Cake Recipe?
Cake clouds. That's what we called this cake when it would come out of the oven, warm and delicious! What makes this cake so fluffy and truly the best?
Cake flour – cake flour has less gluten in it than all-purpose flour which results in a more tender and soft crumb. Cake flour is what we always used in pastry school for the best cakes.
Whole eggs – eggs not only provide structure to the cake but flavor. Using egg yolks adds an added richness and depth of flavor to the vanilla cake recipe. Bonus points for using free-range eggs which have the most flavor. The darker the yolk, the more flavor.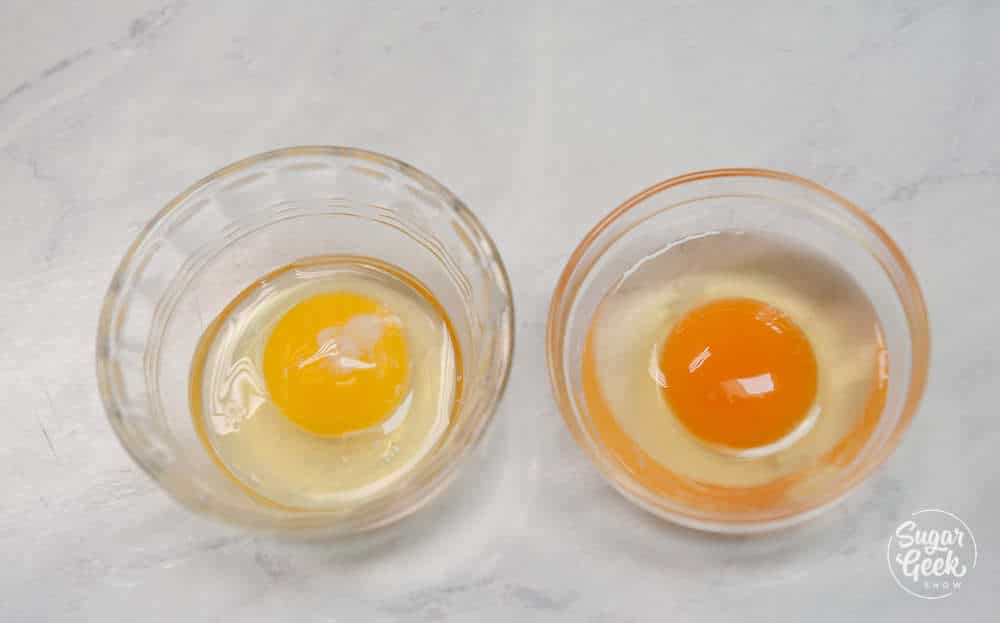 Good quality butter – Did you know cheap butter contains more water? The best butter has a high fat content and results in a better flavor in cake recipes.
Real vanilla – I know vanilla is SUPER expensive right now but for truly the best flavor, real vanilla is key. I prefer a vanilla bean because I love seeing all those little flecks in the cake but any pure vanilla extract is excellent.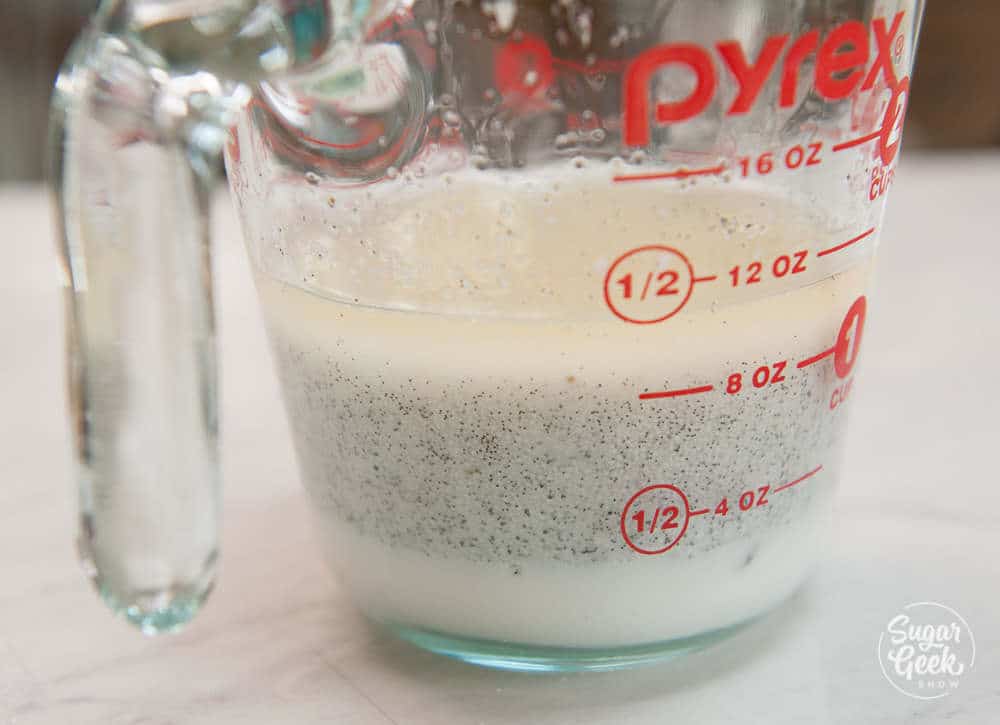 Oil – You might be wondering if that oil is absolutely necessary and I'm here to tell you it is a must. Oil helps keep the cake from drying out, staying soft and moist.
Baking Strips – I am used to the delicate crumb of this cake but decided to test out using baking strips to see if it would affect the cake and it totally made a difference. The vanilla cake with baking strips had more rise, a lighter appearance and less cracking on the sides. *NOTE: I have been recently using magic line pans instead of fat daddio pans and they also result in a lighter edge around the cakes.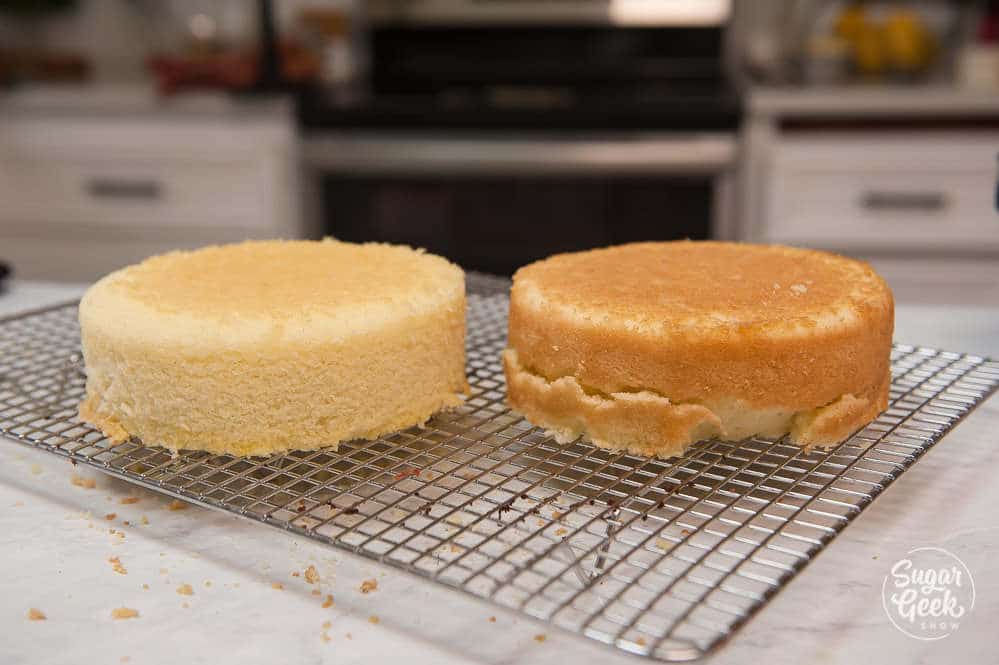 How to make the best ever vanilla cake recipe from scratch
Are you ready to make the most amazing vanilla cake recipe ever? Alright! Let's do this!
Preheat your oven to 335ºF and prepare three 6″ or two 8″ cake pans (2″ tall) with cake goop or another pan release. Wrap your pans in cake strips if desired to reduce browning.
Measure out all your ingredients and make sure anything cold (butter, milk, eggs) are at room temperature or slightly warm. Warm eggs by submerging them in warm water for 5 minutes before cracking. Warm milk and butter in the microwave.
Combine 4oz of your milk with your oil in a separate cup and set aside.
Combine the remaining milk with your vanilla and eggs and set aside.
Place flour, sugar, baking powder, baking soda and salt in the bowl of your stand mixer with the paddle attachment.
Start mixing on low, slowly add in your softened butter in small chunks and let mix until the flour resembles coarse sand.
Add in your milk/oil mixture and bump your mixer up to medium speed (4 on my KitchenAid). If you are using a more powerful KitchenAid you may need to mix at a lower speed. Mix for 2 full minutes. Do not skip this step or your cakes will not rise properly.
Add in 1/3 of your egg/milk mixture. Add in two more times on low until incorporated. Scrape the bowl.
Bake your cakes for 30-35 minutes until the center is set and no longer jiggling.
When cakes are done, tap the pan once on the counter to release air and prevent the cake from shrinking and cracking.
Let cool 10 minutes in the pan before turning out onto a cooling rack.
How to frost your vanilla layer cake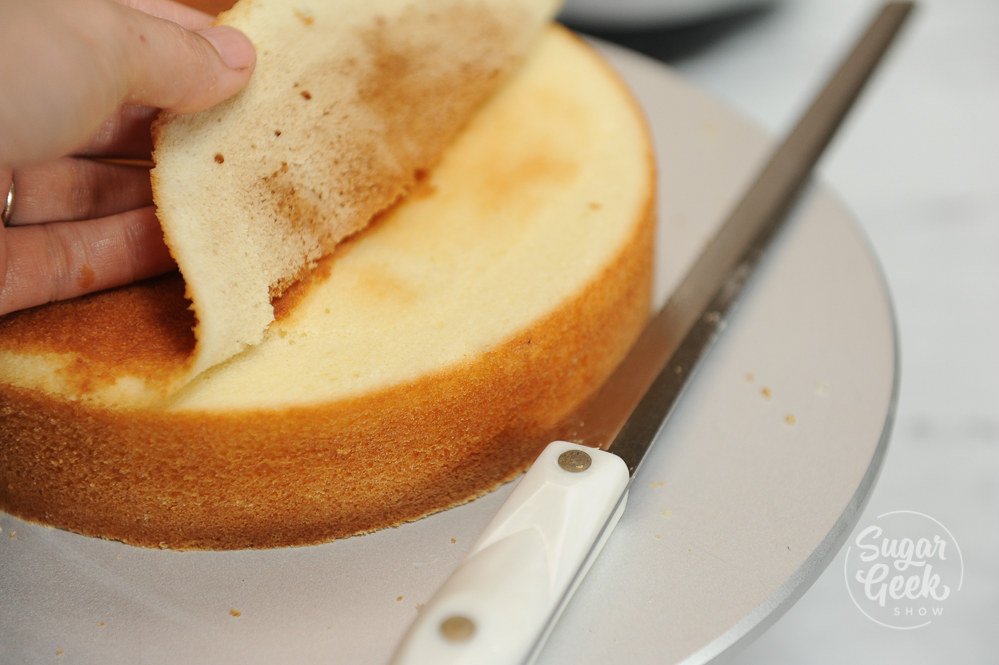 After the cakes have cooled and you can handle them safely, wrap them in some plastic wrap and place into the fridge overnight to let the butter inside the cake to fully harden. Or put them in the freezer for an hour if you're in a hurry.
This will make the cake a LOT easier to handle for torting (splitting in half), filling with frosting and stacking.
Place your first layer of cake on a cake board and spread a layer of frosting evenly over the cake layer. I like to trim off the brown edges with a knife but that is optional!
I frosted my vanilla cake with a healthy layer of my easy buttercream frosting and combined with raspberry puree but it's just as amazing all by it'self.
Apply a thin layer of buttercream all the way around the cake. This is called the crumb coat and seals in all those pesky cake crumbs. Chill until the buttercream is firm. About 10 minutes.
Apply your final coat of frosting and decorate any way you like!
If you need more information on how to make a cake, check out my tutorial. In this tutorial I go over chilling, trimming, torting, stacking and filling a cake and of course how to get smooth buttercream edges.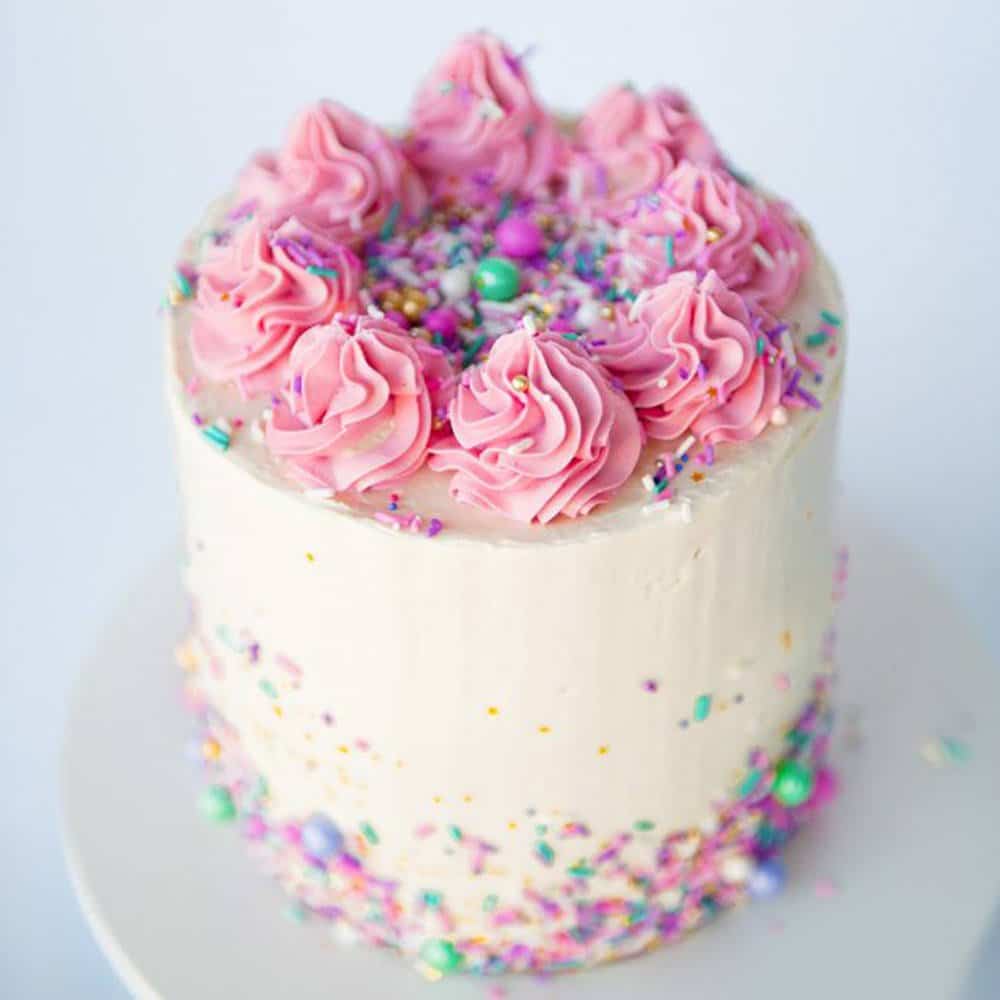 Is This Vanilla Cake Recipe Good For Making Vanilla Cupcakes?
Here's the thing about this recipe, it's formulated to bake up perfectly flat so it's not the best in my opinion for cupcakes. If you really want to use them for cupcakes I recommend leaving out the oil. The oil causes the cupcakes to pull away from the liners.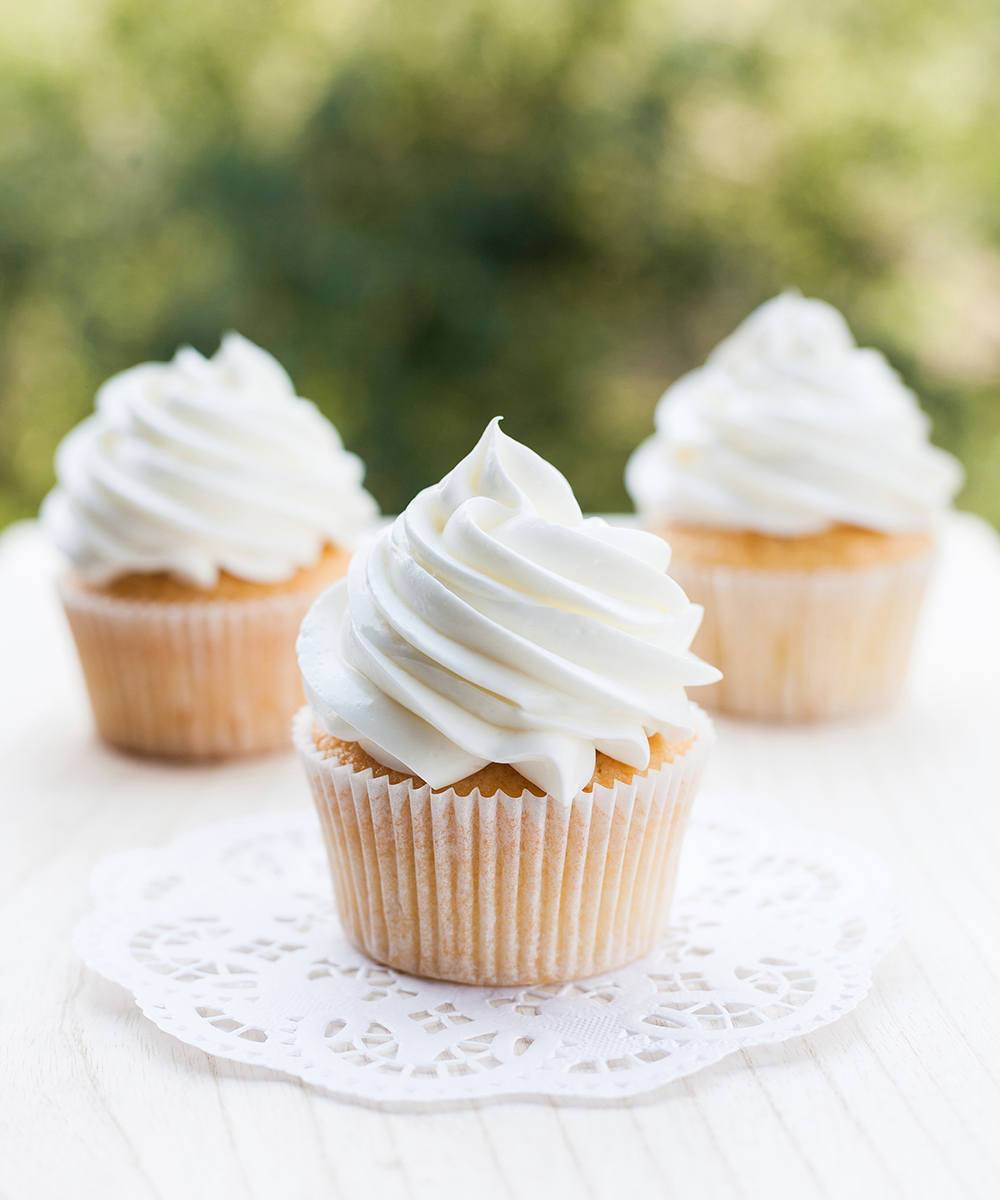 To get a nice dome you can put them in an oven at 400 F for 5 minutes then reduce the temperature to 335 F for 10 more minutes or until a toothpick comes out clean. The extra heat at the beginning will help the cupcake dome up and make a tight connection to the cupcake wrapper.
Don't fill the cupcake liners more than 2/3 of the way full or they will over-flow and go flat.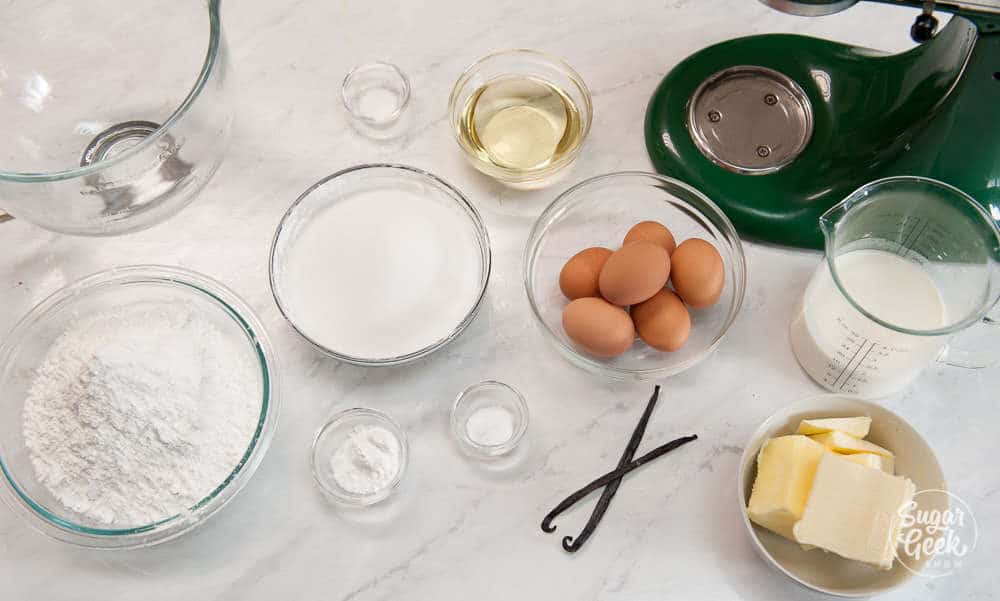 Tips For Success Making Vanilla Cake Recipe From Scratch
Follow the directions. This vanilla cake recipe uses the reverse mixing method which means the flour is coated in the butter before adding liquids. The butter coating stops the gluten from forming as much. Because of this, it is super important that you follow the mixing directions for success. If you don't mix the cake enough in the first step, your cake could be under-mixed and collapse in the center.
Ingredients need to be room temp (or slightly warm). Milk, butter and eggs are at room temperature so that the cake forms an emulsion and bakes up properly. If you don't do this, the batter will curdle and the cake could fall in the center or you might notice a wet gooey layer at the base of the cake.
Weigh your ingredients with a scale instead of converting to cups. I know you're tempted but trust me, you won't get the right measurements and you'll be throwing that cake in the trash later. I use ounces but you can convert to grams easily by using a google converter. 1 oz is about 28 grams. Yes, I weigh my liquids too.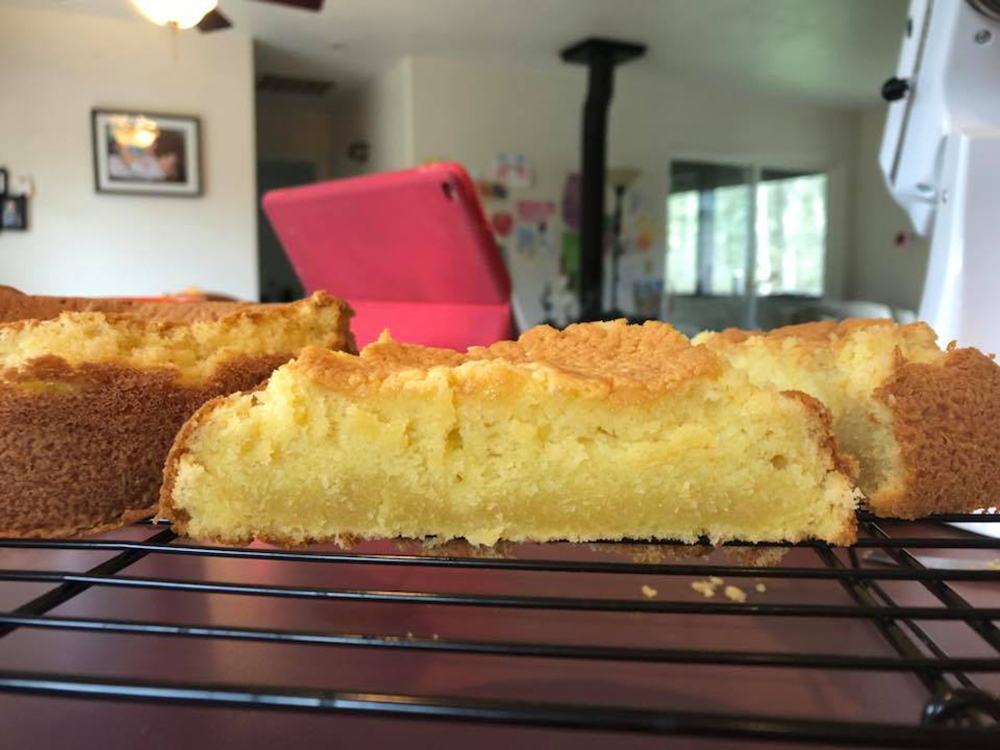 How do I adjust for high altitude baking?
Baking at a high altitude? You'll definitely need to make some adjustments like reducing the baking powder and increasing the baking temperature. Check out my high altitude baking post for more information on adjusting my cake recipes.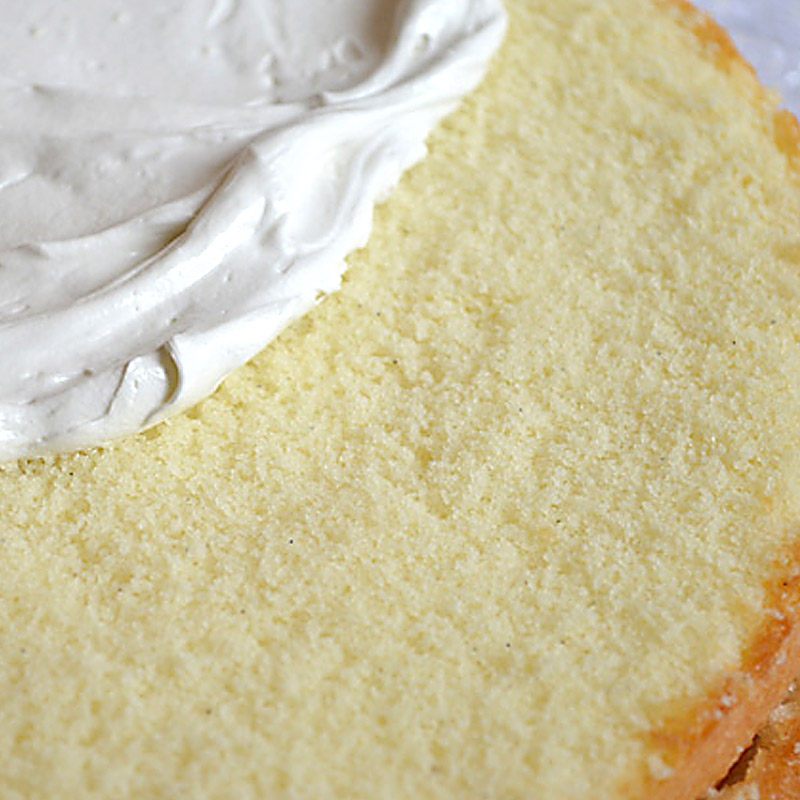 Do I have to use cake flour?
Yes, you do. This cake is formulated to use cake flour. You can use bleached or unbleached. The brand doesn't matter.
The AP flour + cornstarch hack does not work for THIS recipe. Your cake will taste and look like cornbread. AP flour has a higher protein content so it producers more gluten when you use the reverse creaming method.
Not all areas of the world have cake flour, unfortunately. In some places, it might be called something like plain flour or low protein flour. Self-rising flour is not the same thing.
If you can only find AP flour, I suggest trying out. my white cake recipe instead.
Vanilla cake recipe video tutorial
Be sure to watch the full video below on how to make the best vanilla cake ever! If you're like me, visuals help the most! If you have any other questions you can leave them in the comments and I'll get to them ASAP.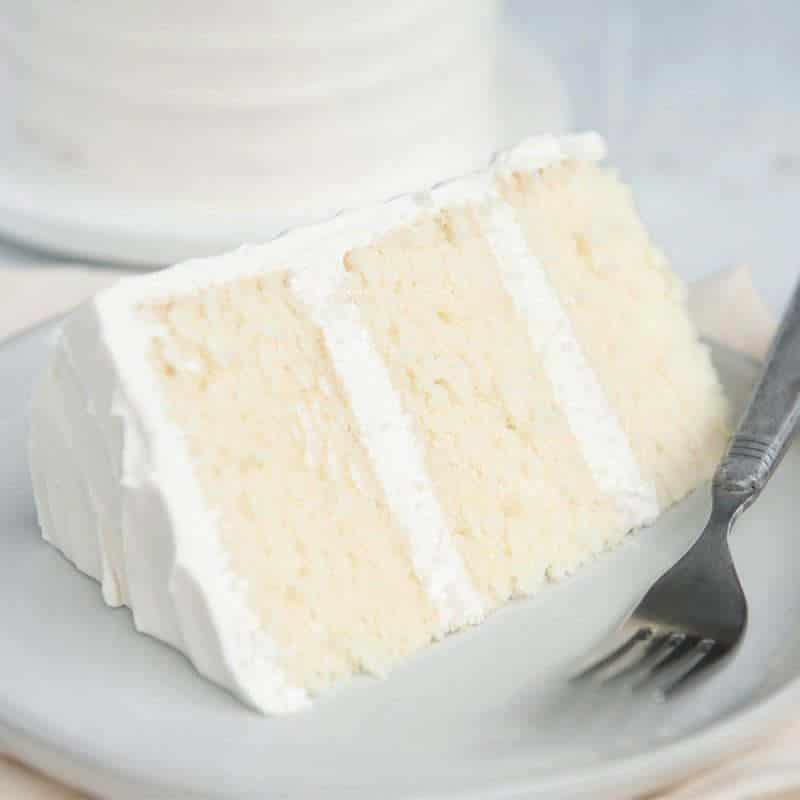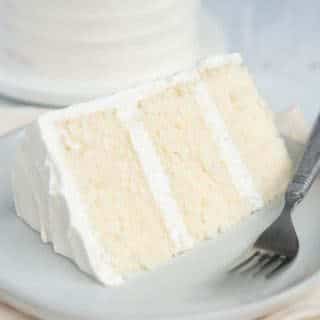 The Best Vanilla Cake Recipe (From Scratch) Updated 2019
This Vanilla Cake recipe is the base for most of my cakes. It's got a great crumb, is moist and tender but is dense enough to carve and stack for wedding cakes or sculpted cakes. This recipe makes three 8" round cakes or two 9" round cakes.
Ingredients
Vanilla Cake Recipe
13

oz

cake flour

13

oz

granulated sugar

3

tsp

baking powder

1/4

tsp

baking soda

1/2

tsp

salt

8

oz

unsalted butter

1

Tbsp

vanilla extract

10

oz

whole milk

room temperature

3

oz

vegetable oil

3

large

eggs

room temperature
Instructions
Baking The Vanilla Cake
Note: It's VERY important that your cold ingredients are at room temperature or slightly warmed. See video for tips. 

Heat oven to 335º F/168º C . Prepare three 8" cake pans or two 9" cake pans with cake goop or another preferred pan release.

Place 4oz of the milk and oil in a separate bowl or cup and set aside

Combine remaining milk, vanilla and room temp eggs in a separate measuring cup and set aside

Measure out dry ingredients (flour, sugar, baking powder, baking soda, and salt) and place them into the stand mixer bowl.

Attach the paddle to the mixer, and turn on the slowest speed (setting 1 on Kitchen Aid mixers). Slowly add chunks of your softened butter until it is all added. Let mix until batter resembles coarse sand.

Add milk/oil mixture into the dry ingredients and mix on medium speed (speed 4 on my KitchenAid) and mix for 2 full minutes. Do not skip this step or your cake will not rise.

Reduce the speed to low. Add in 1/3 of your milk/egg mixture and let it mix in fully. Repeat 2 more times until batter is just combined. Don't forget to scrape your bowl. Divide your batter into your pans.

I always start by baking for 25 minutes for 8" and smaller cakes and 30 minutes for 9" and larger cakes and then checking for doneness. If the cakes are still really jiggly, I add another 5 minutes. I check every 5 minutes after that until I'm close and then it's every 2 minutes. Cakes are done when a toothpick inserted in the center comes out with a few crumbs.

Remove the cake pan from the oven and "tap" it lightly on the counter once to remove air from the cake and keep it from shrinking un-evenly.

Place cakes on a cooling rack and press down the dome immediately with an oven mitt covered hand. After cakes have cooled for 10 minutes or the pans are cool enough to touch, flip the cakes over and remove from the pans onto the cooling racks to cool completely. Wrap in plastic wrap and chill in the refrigerator.

Once the cakes are chilled in the refrigerator (about an hour for this size, longer for larger cakes), tort, fill and crumb coat all at once. If you do not plan on crumb coating the same day, you can leave the wrapped cakes on the countertop. Chilling can dry out your cakes before they are iced, so avoid keeping them in the refrigerator longer than necessary. Cakes can be frozen in freezer bags for later use as well.
Nutrition Facts
The Best Vanilla Cake Recipe (From Scratch) Updated 2019
Amount Per Serving
Calories 177
Calories from Fat 108
% Daily Value*
Fat 12g18%
Cholesterol 48mg16%
Sodium 145mg6%
Potassium 91mg3%
Carbohydrates 16g5%
Protein 1g2%
Vitamin A 295IU6%
Calcium 47mg5%
Iron 0.2mg1%
* Percent Daily Values are based on a 2000 calorie diet.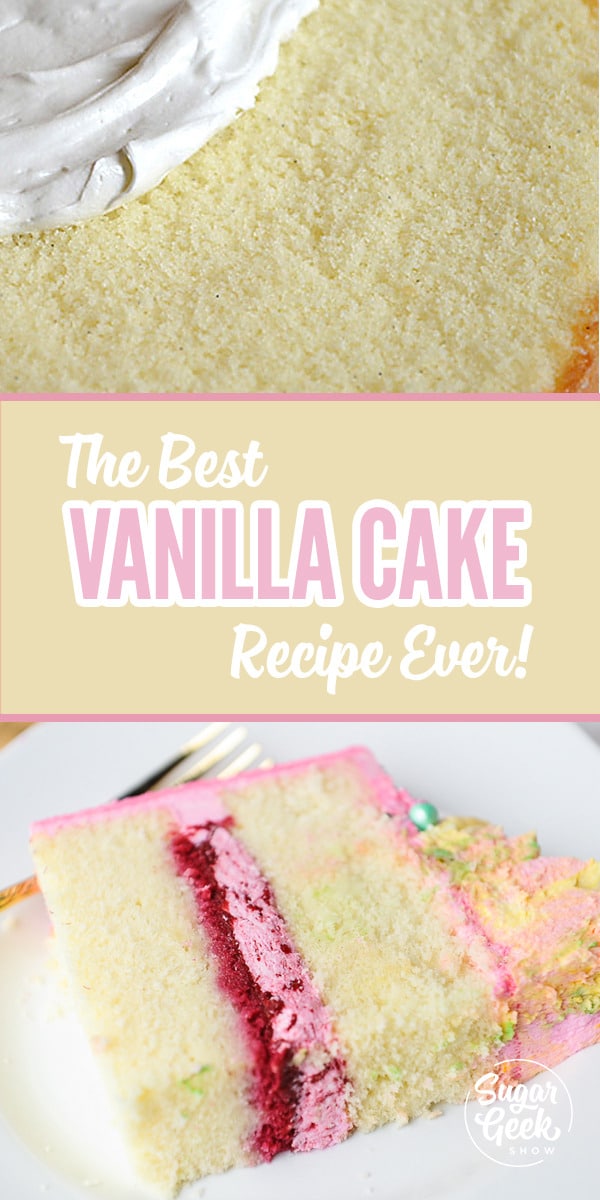 September 12, 2019