Vanilla Cake Tastes The Best When You Use Butter, Real Vanilla And The Reverse Mixing Method
Have you been searching for a truly delicious and moist vanilla cake recipe? Look no further!
I have been using this recipe for over ten years for my cake clients with nothing but rave reviews. With the release of my cake decorating book, I found out how popular this cake really has become! This is the cake that turns those "I don't even like cake" consultations into OMG we need to book you right now clients! The secret to this perfect vanilla cake recipe is in the way it's mixed. Prepare to forget everything you've ever known about making cake from scratch!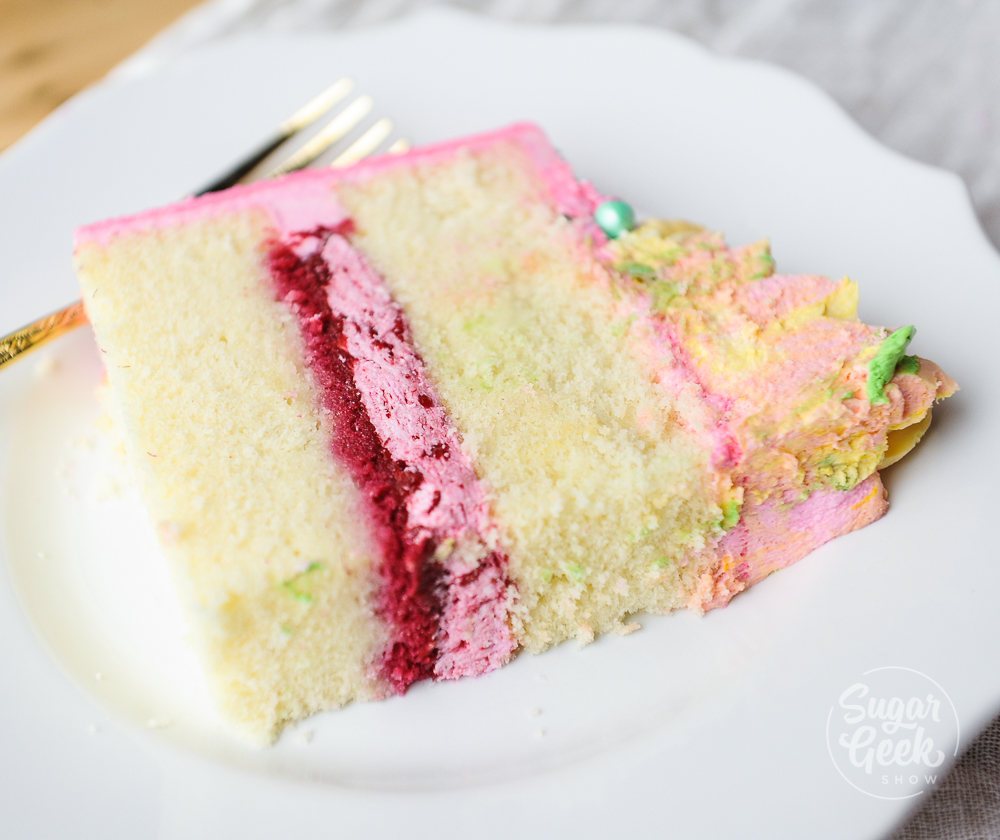 Fluffy Vanilla Cake Recipe
Cake clouds. That's what we called this cake when it would come out of the oven, warm and delicious! It's SOOOO hard not nibble on some leftovers which is why I almost always bake myself a little 4″ round with some leftover batter, which I highly recommend. The secret to the fluffy texture of this cake is in the mixing method. I use the reverse mixing method which is where you combine your flour and your butter together first to make a sandy texture. If you've ever made short bread then you know where this is going. The butter coats the flour, making it harder for gluten to form during the mixing process. Did you know gluten is only activated once you add in liquids?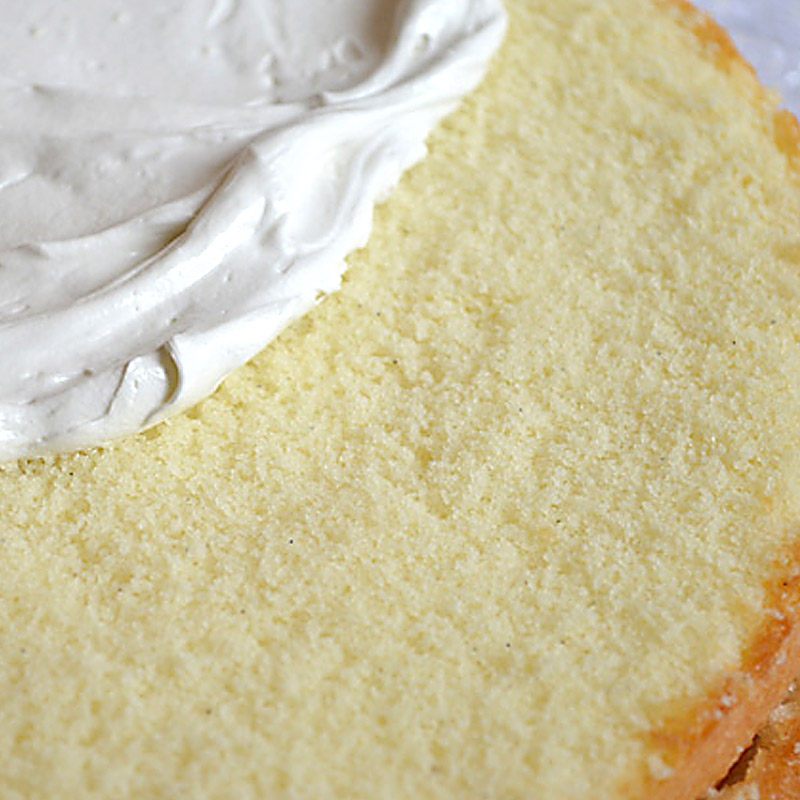 Once you add in the liquids the gluten starts forming which is important. It takes a lot longer with this method so I recommend mixing for a good two minutes on a standard kitchenaid mixer with the paddle attachment. Once the batter is nice and fluffy you're ready to bake!
What Makes The Best Vanilla Cake Recipe?
One thing you do have to be careful about this recipe because it IS so fluffy and tender is you have to let it cool in the pans for about 10 minutes before you flip them. More for larger cakes. Then I let them cool for another 20 minutes or so before I even attempt to handle them or they will fall to pieces. This is one of the reasons this cake is so yummy! Fluffy but very delicate.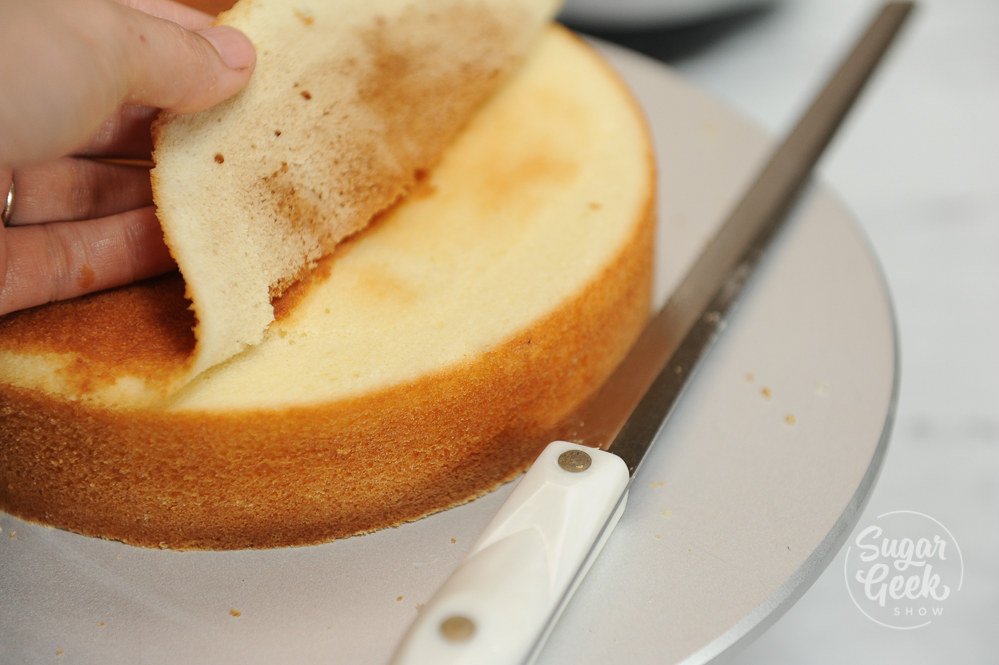 After the cakes have cooled and you can handle them safely, wrap them in some plastic wrap and place into the fridge overnight to let the butter inside the cake to fully harden. This will make the cake a LOT easier to handle for torting (splitting in half), filling with frosting and stacking. I always let my cakes rest overnight before attempting to ice them to avoid cake bulges, cracks and other cake nightmares.
The combination of the reverse mixing method, high quality ingredients and cake flour will give you a cake recipe that is FAR superior to any vanilla cake recipe you have tried in the past.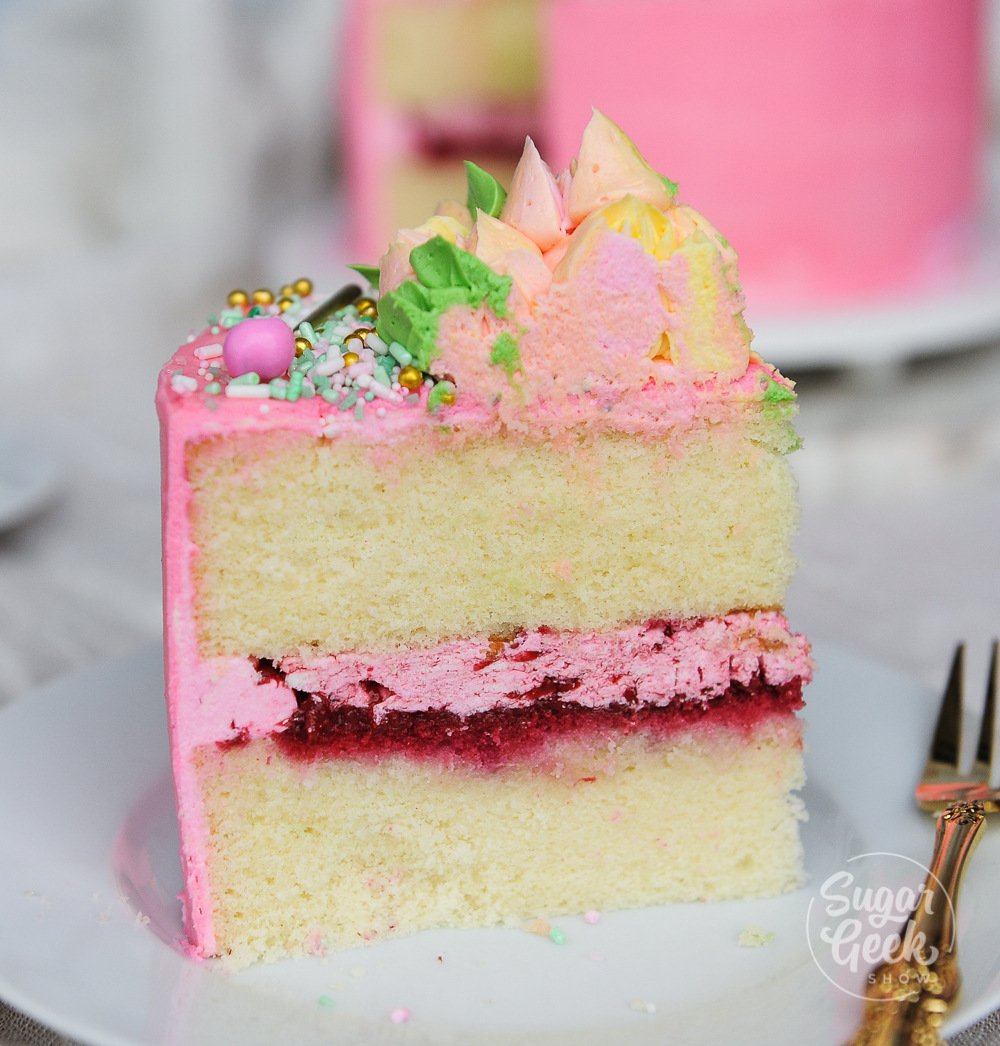 Berry Filling and Berry Buttercream
For the vanilla cake recipe filling I pureed 1 1/2 cups of my berry filling with 3 cups of my easy buttercream frosting until smooth (both room temperature). I piped a dam around the outside of the cake layer and spread on a thin layer of the berry filling. Then I frosted the outside with more of the berry buttercream.
The Secret To A Moist Vanilla Cake Recipe
Ever cut into a vanilla cake that looks absolutely perfect only to find it feels like you're eating something similar to sand? Yeaaaaa that's not good. Vanilla cake does not have a lot of ingredients so the ingredients you DO use need to be high quality. I use farm raised large eggs because the difference in flavor is huge for me. The yolk of an egg from a generic white egg compared to a free-range egg is HUGE. The yolk sits up higher, is darker and color and has much more flavor. More flavor in the eggs results in more flavor in the cake.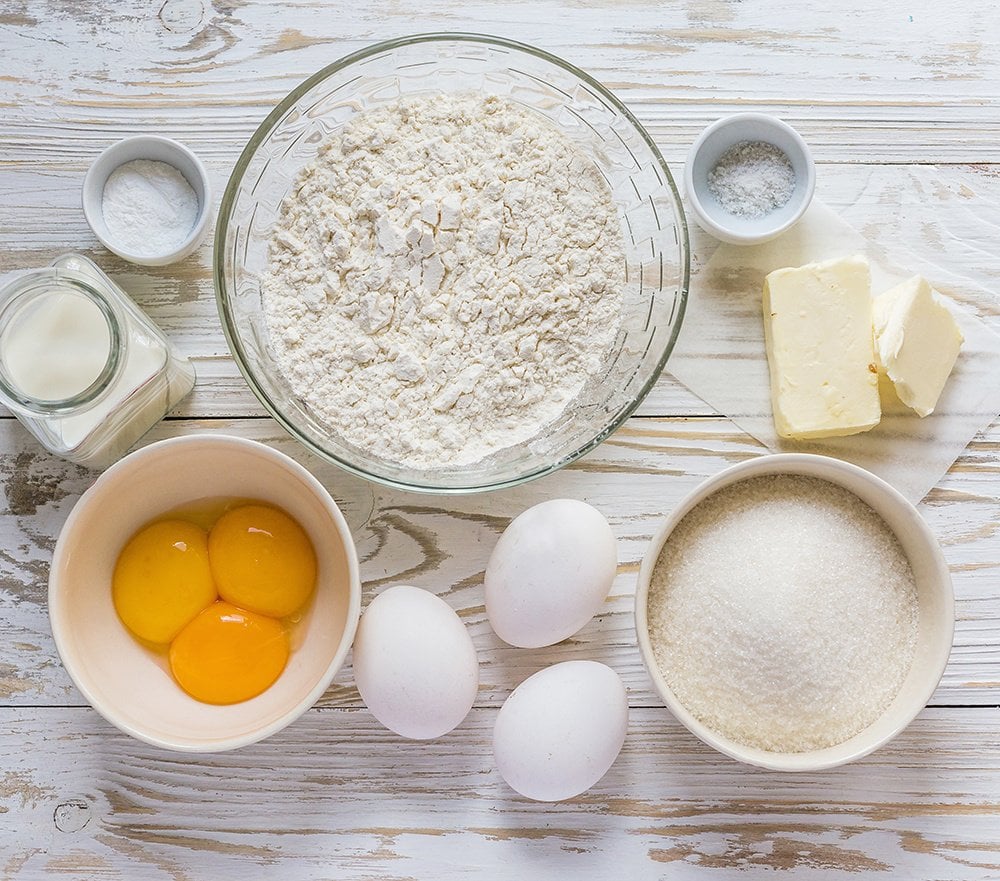 The other secret is a TINY bit of vegetable oil. Not so much that it throws off the fat ratio but enough that when you take a bite, your mouth translates that bit of oil into moisture. Even if the cake is a bit cold which it often is for special event cakes like wedding cakes. If you can deliver a cake with enough time to let it come to room temperature before they cut into it the cake will taste MUCH better.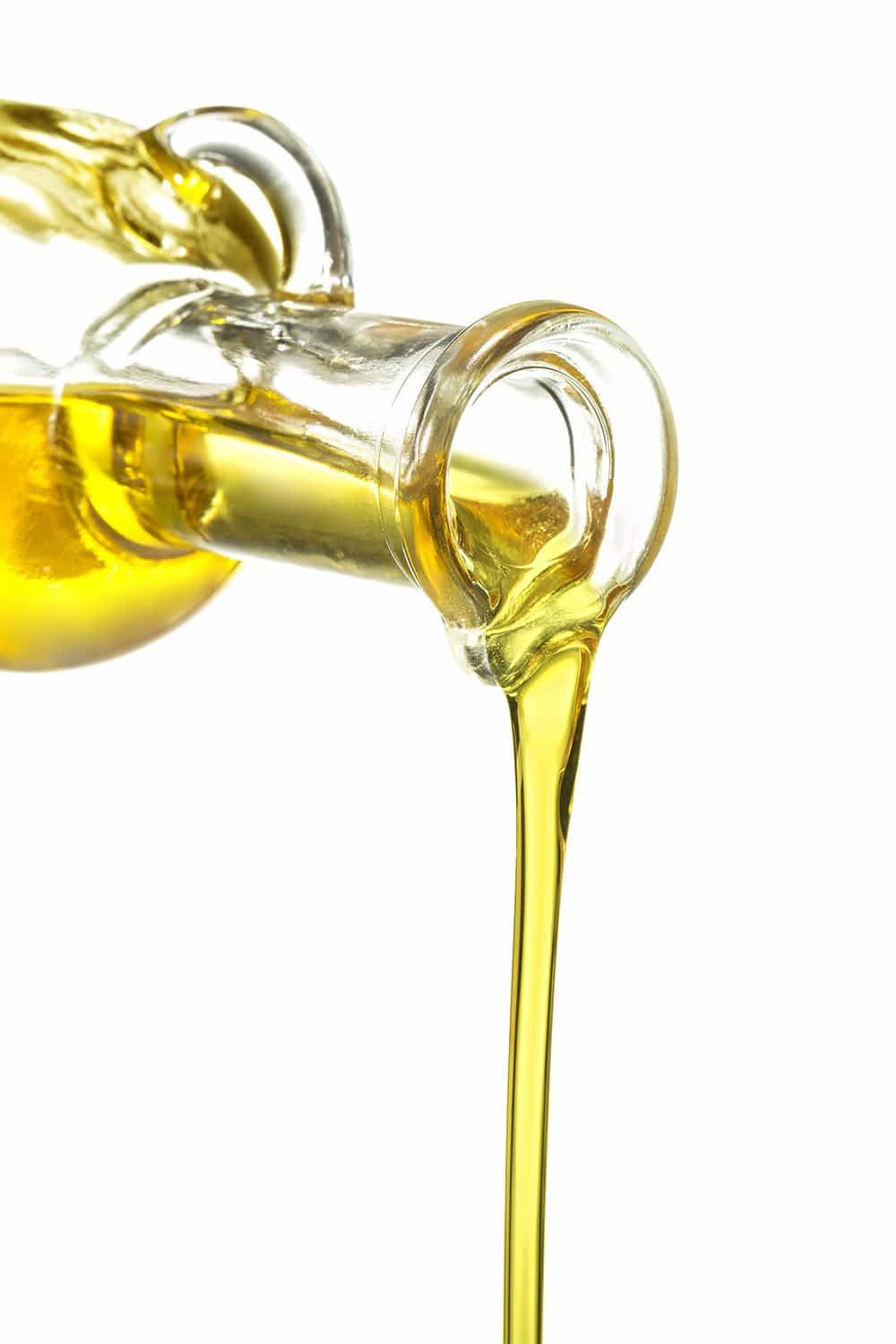 A few times in my cake career I have had complaints about the cake being "dry" or crumbly and 100% of the time the problem was that the cake was cold when it was cut. Ever tried to eat cold butter? Not so tasty. Let that cake come to room temp for the most moisture.
Can You Make Vanilla Cake Without Butter?
The short answer is yes. There are tons of recipes out there that don't use butter in them but I wouldn't recommend it. Butter is always going to add flavor to your recipe. If you want to avoid butter for dietary reasons then WASC cake might be the option for you. The butter in this recipe is optional or can be replaced with oil instead of butter.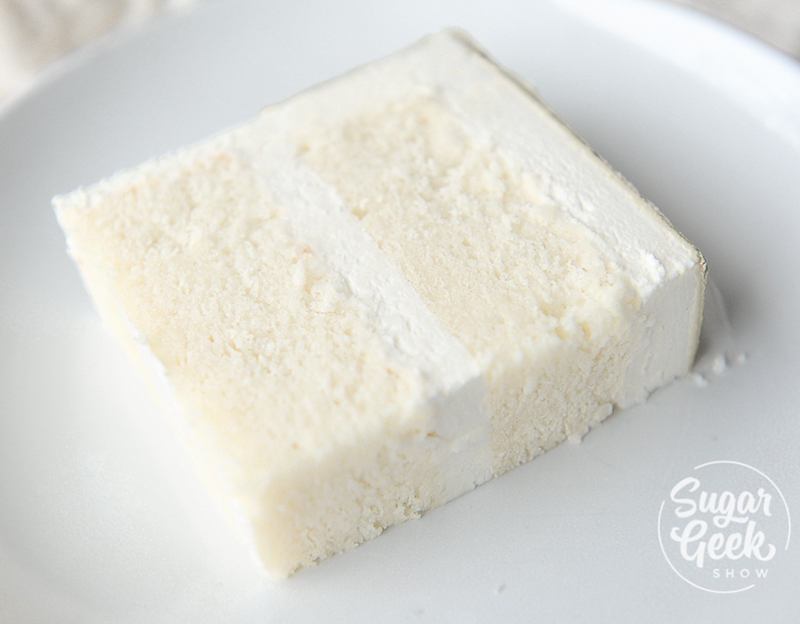 Just keep in mind that a cake made without butter will not be as stable as a cake made with butter so you might have problems with cracking or crumbling when you go to stack and frost.
Frequently asked questions about this vanilla cake recipe
Is This Vanilla Cake Recipe Good For Making Vanilla Cupcakes?
Here's the thing about this recipe, it's formulated to bake up perfectly flat so it's not the best in my opinion for cupcakes. If you really want to use them for cupcakes I recommend leaving out the oil. The oil causes the cupcakes to pull away from the liners. To get a nice dome you can put them in an oven at 400 F for 5 minutes then reduce the temperature to 335 F for 15 more minutes or until a toothpick comes out clean.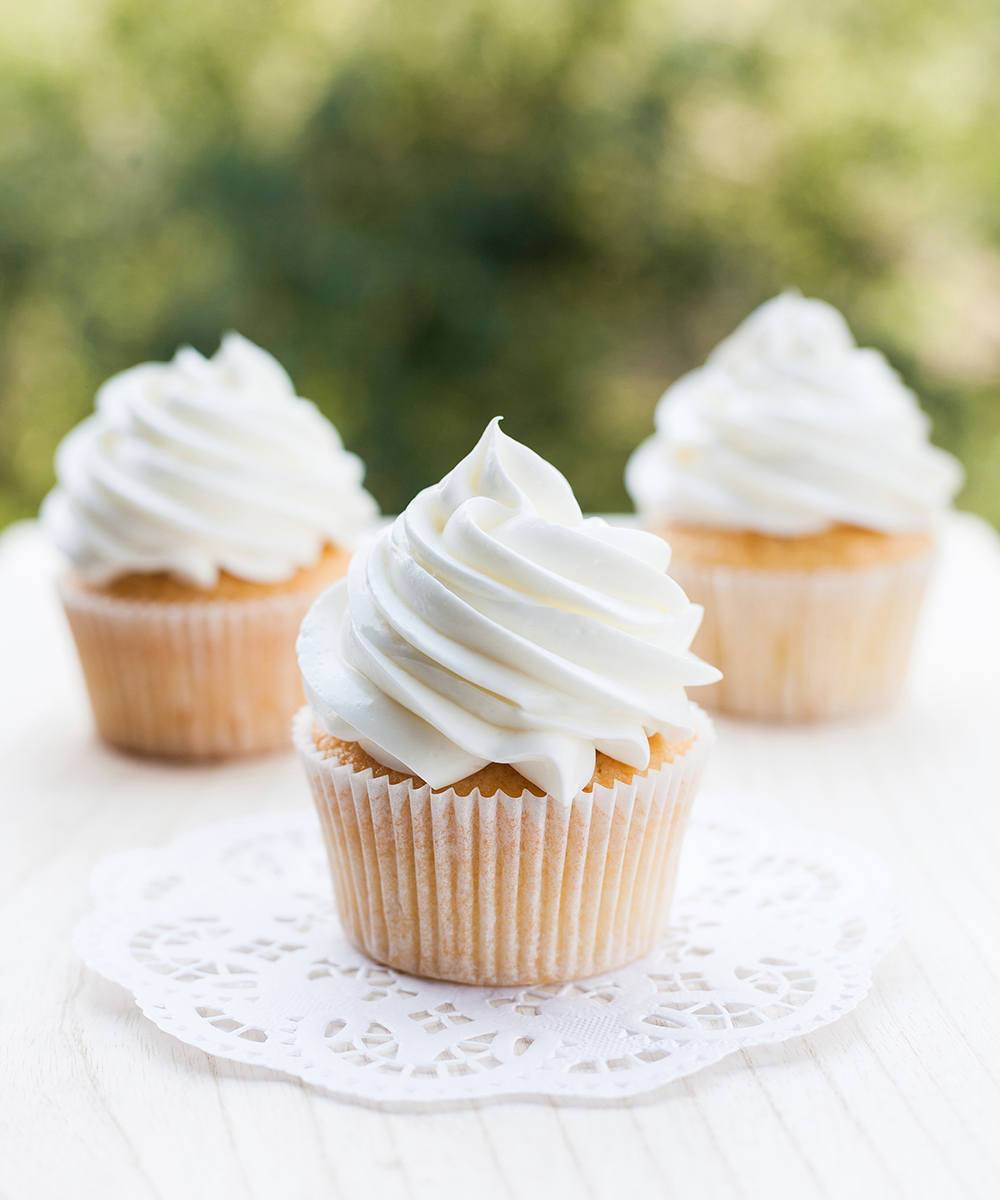 The extra heat at the beginning will help the cupcake dome up and make a tight connection to the cupcake wrapper.
Do I Have To Use Cake Flour For This Vanilla Cake Recipe?
People ask me ALL the time if they can substitute the cake flour for AP flour. In my opinion, no. It's not going to result in the same texture and what you'll end up having is something more like cornbread. Read more about the differences between cake flour and AP flour on the cakeblog.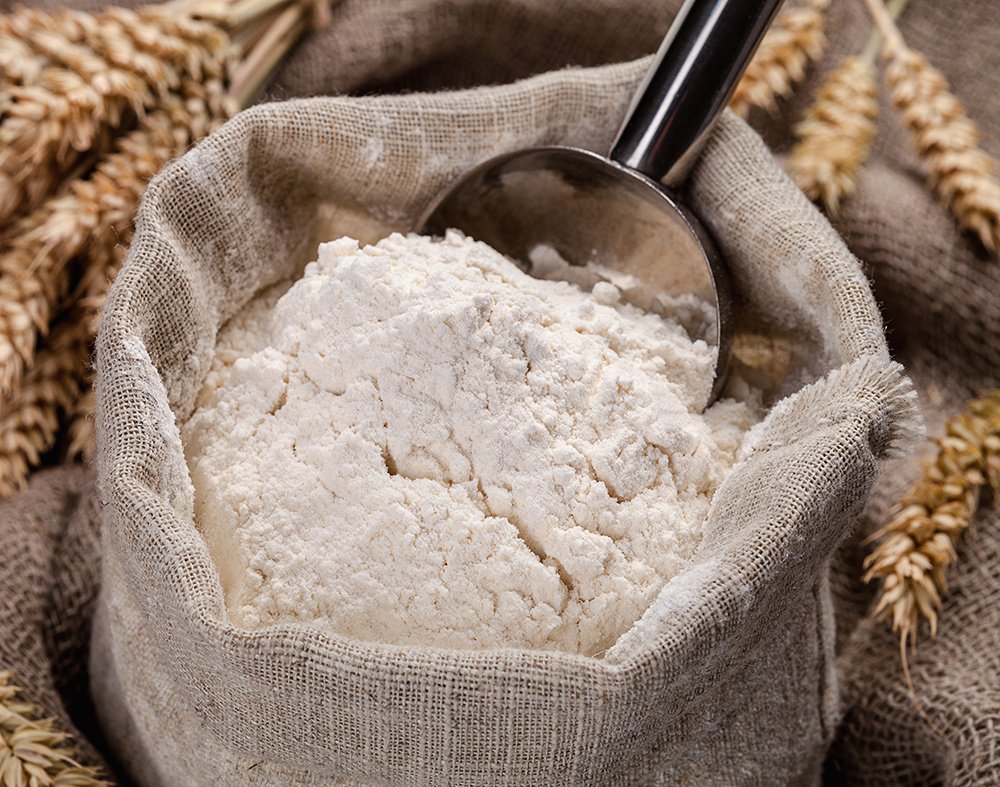 In other recipes, you can substitute a little of the AP flour for cornstarch and you'll get a mock cake flour. The reason why this won't work with this particular recipe is the mixing method. Because you have to mix the cake batter for so long, you have to use cake flour which contains less gluten (the stuff inside wheat that makes bread chewy) than AP flour.
So if you want to try this recipe out you really have to use cake flour. I buy my cake flour in 50 lb bags but you can also buy it in small boxes in almost any grocery store in the baking aisle or on good ol' amazon. I really like King Arthur cake flour
Can You Give Me This Recipe In Cups?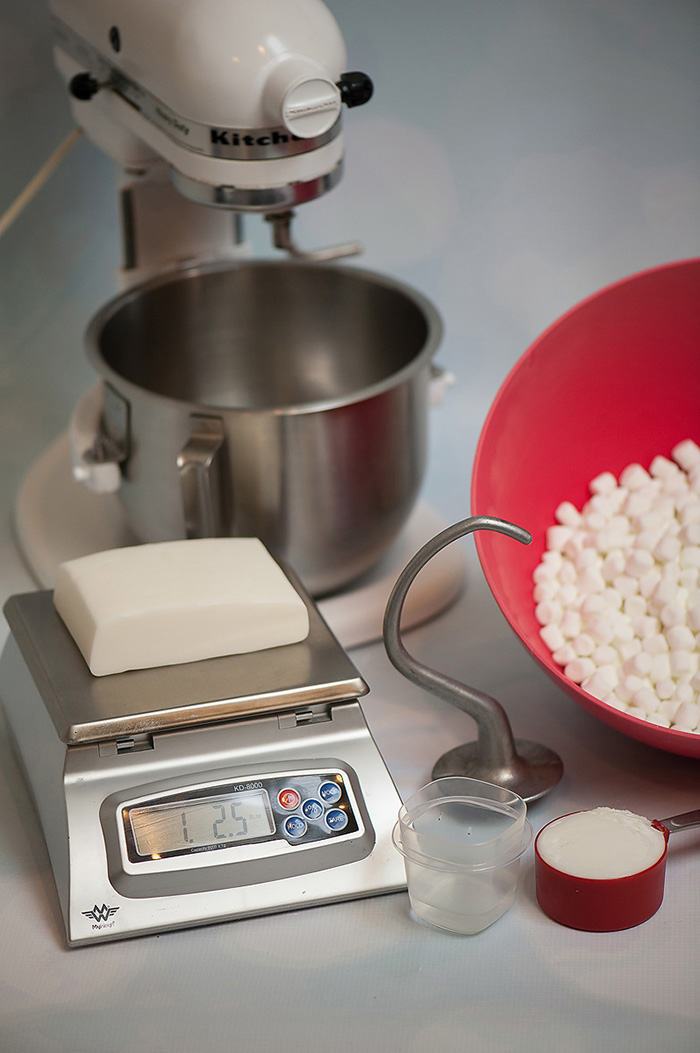 Another common question is what is the conversion for this recipe in cups. Again, for this particular recipe (and most baking recipes in my opinion) you need to weigh your ingredients. This vanilla cake is perfect but you have to get the ingredients accurately measured. Nothing is better for that job than a scale. You can get an inexpensive one from any store or Amazon. Best part about weighing? Less dishes to clean up!
White Cake Recipe?
I specifically call this recipe my "vanilla cake recipe" because it's definitely not white. For a white cake I recommend replacing the eggs with 6 egg whites or you can check out my other white cake recipe that uses AP flour instead of cake flour.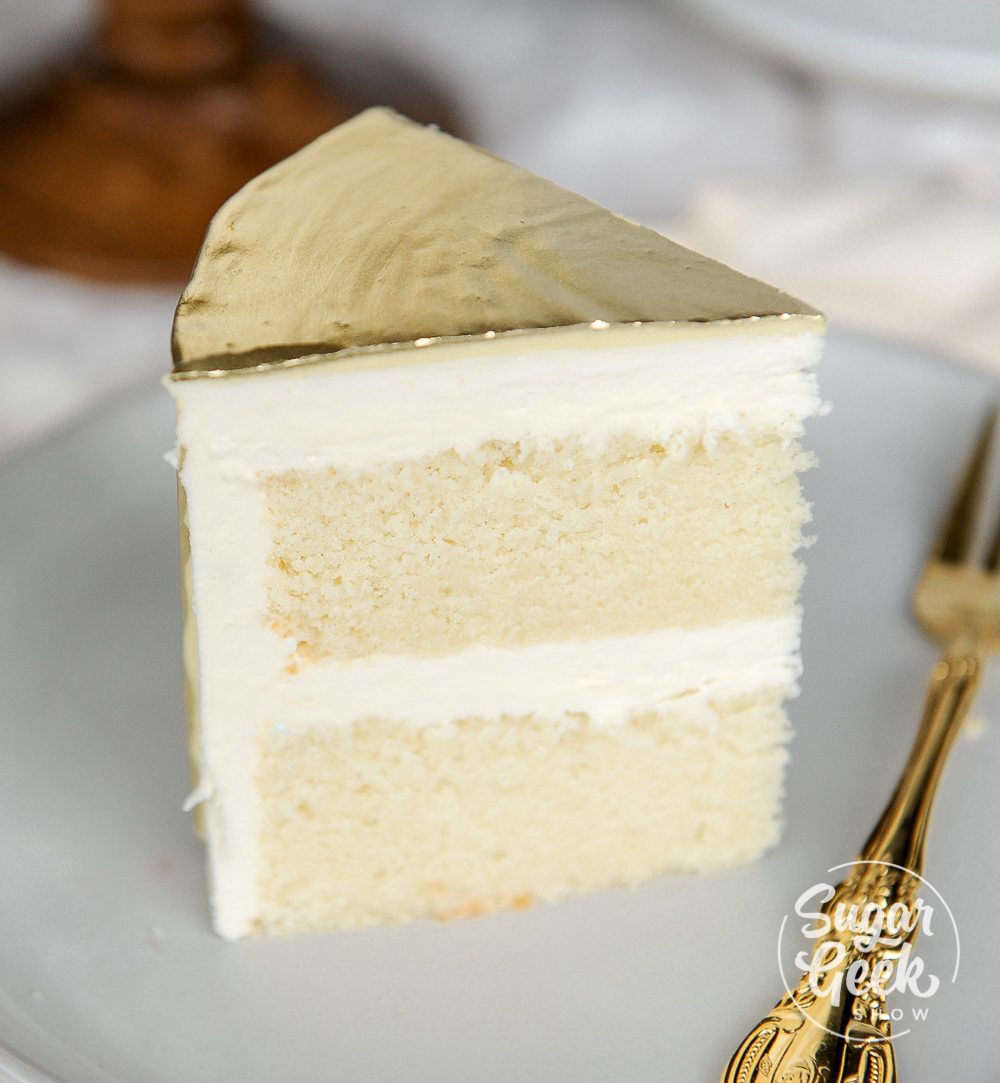 Yellow Cake Recipe?
Technically this vanilla cake is very similar to my yellow cake recipe because it get's a lot of it's color from egg yolks. For more of a yellow color you can replace the eggs with three large eggs and two egg yolks.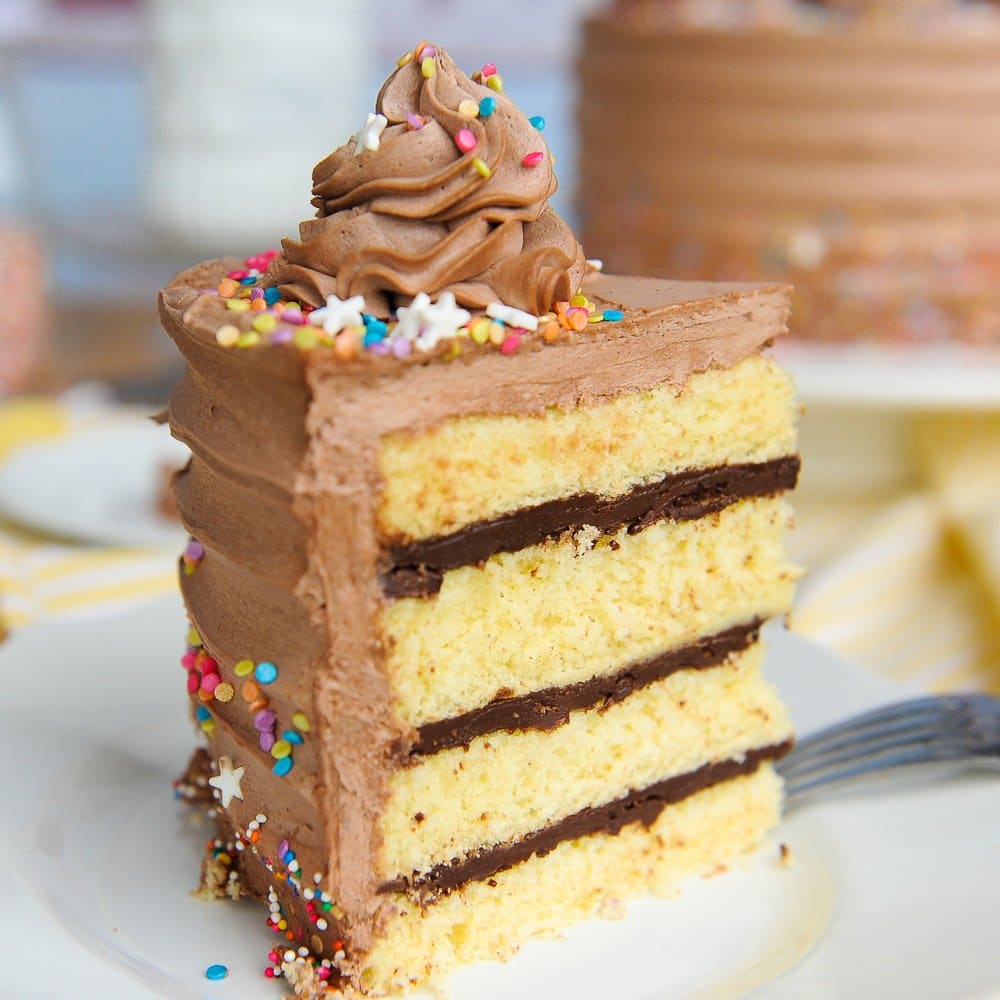 I would say this vanilla cake recipe is the best of both worlds! Lots of flavor, moisture and the perfect texture!
Tips For Success Making Vanilla Cake Recipe From Scratch
This vanilla cake recipe uses the reverse mixing method which means the flour is coated in the butter before adding liquids. The butter coating stops the gluten from forming as much. Because of this, it is super important that you follow the mixing directions for success. If you don't mix the cake enough in the first step, your cake could be short and crumbly as a result.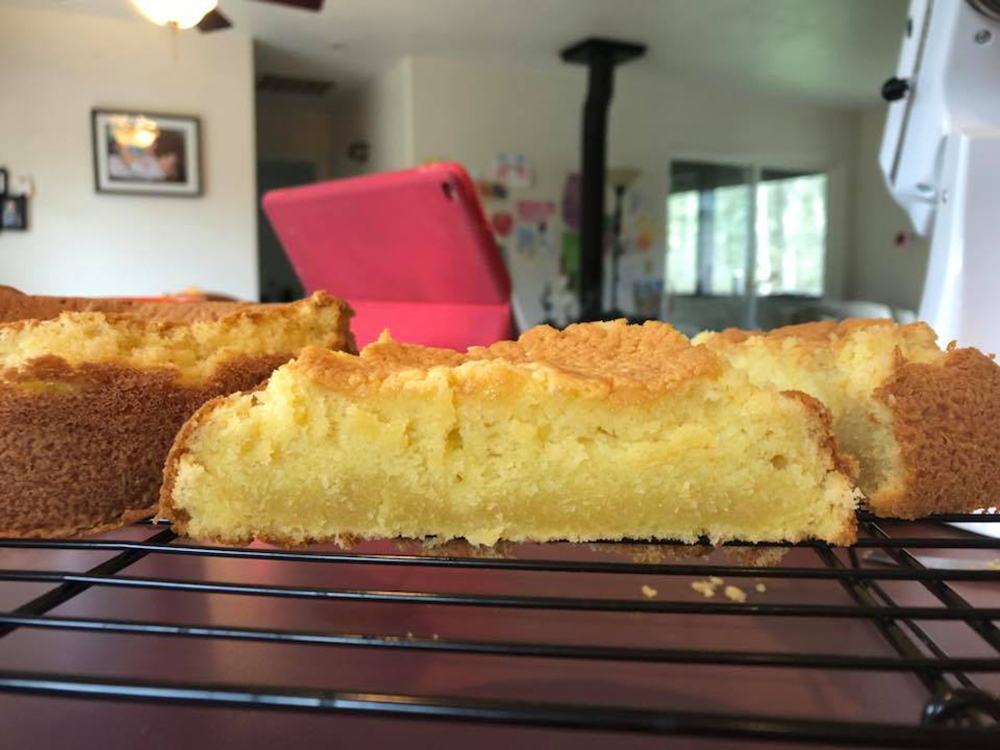 You also need to make sure that all your ingredients (milk, butter, eggs) are at room temperature so that the cake forms an emulsion and bakes up properly. If you don't do this, the cake could fall in the center or you might notice a wet gooey layer at the base of the cake.
Lastly, you definitely want to weigh your ingredients with a scale instead of converting to cups. I know you're tempted but trust me, you won't get the right measurements and you'll be throwing that cake in the trash later.
Make sure you watch my video on how to mix this vanilla cake recipe and you'll have great success!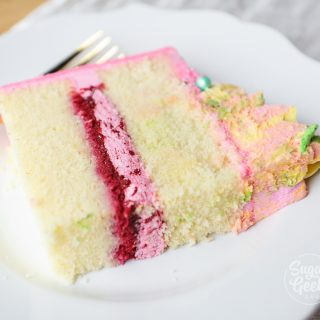 Vanilla Cake Recipe
This Vanilla Cake recipe is the base for most of my cakes. It's got a great crumb, is moist and tender but is dense enough to carve and stack for wedding cakes or sculpted cakes. This recipe makes two 8" x 2" round cakes. I put 23oz of batter in each pan.
Ingredients
Vanilla Cake Recipe
13

oz

bleached cake flour

13

oz

granulated sugar

4

tsp

baking powder

1/4

tsp

baking soda

1/2

tsp

salt

8

oz

butter

1

Tbsp

vanilla extract

10

oz

whole milk

3

oz

vegetable oil

3

large

eggs
Instructions
Baking The Cake
Heat oven to 335º F/168º C — 350º F/177º C. I tend to use lower setting to prevent my cakes from getting too dark on the outside before the inside is done baking.

Place room temperature eggs, vanilla and 1/2 cup of milk into a measuring cup and set aside

Combine remaining milk and oil in a separate measuring cup and set aside

Measure out dry ingredients (flour, sugar, baking powder, baking soda, and salt) and place them into the stand mixer bowl.

Attach the paddle to the mixer, and turn on the slowest speed (setting 1 on Kitchen Aid mixers). Slowly add chunks of your softened butter until it is all added. Let mix until batter resembles coarse sand.

Add milk/oil mixture into the dry ingredients while mixing on low until just moistened (about half) Add the rest of the milk/oil to the eggs and whisk to break up the eggs.

Increase mixing speed to medium (setting 3 on Kitchen Aid mixer). Let the mixture mix up until it has thickened and lightened in color. If you do not let the batter mix fully, you will end up with very short, crumbly cakes. M/ix for 2 minutes.

Add in your egg/milk mixture in three parts, letting the mixture combine for 15 seconds in between additions.

Scrape the bowl. This is an important step. If you skip it, you will have hard lumps of flour and unmixed ingredients in your batter. If you do it later, they will not mix in fully.

Lightly grease two 8" cake pans with cake goop. Fill each pan with batter 3/4 of the way full.

I always start by baking for 25 minutes for 8" and smaller cakes and 30 minutes for 9" and larger cakes and then checking for doneness. If the cakes are still really jiggly, I add another 5 minutes. I check every 5 minutes after that until I'm close and then it's every 2 minutes. Cakes are done when a toothpick inserted in the center comes out with a few crumbs.

Remove the cake pan from the oven and "tap" it lightly on the counter once to remove air from the cake and keep it from shrinking un-evenly.

Place cakes on a cooling rack and press down the dome immediately with an oven mitt covered hand. After cakes have cooled for 10 minutes or the pans are cool enough to touch, flip the cakes over and remove from the pans onto the cooling racks to cool completely. Wrap in plastic wrap and chill in the refrigerator.

Once the cakes are chilled in the refrigerator (about an hour for this size, longer for larger cakes), tort, fill and crumb coat all at once. If you do not plan on crumb coating the same day, you can leave the wrapped cakes on the countertop. Chilling can dry out your cakes before they are iced, so avoid keeping them in the refrigerator longer than necessary. Cakes can be frozen in freezer bags for later use as well.
Recipe Video
Nutrition Facts
Vanilla Cake Recipe
Amount Per Serving (2 oz)
Calories 96
Calories from Fat 54
% Daily Value*
Total Fat 6g 9%
Cholesterol 24mg 8%
Sodium 78mg 3%
Potassium 60mg 2%
Total Carbohydrates 8g 3%
* Percent Daily Values are based on a 2000 calorie diet.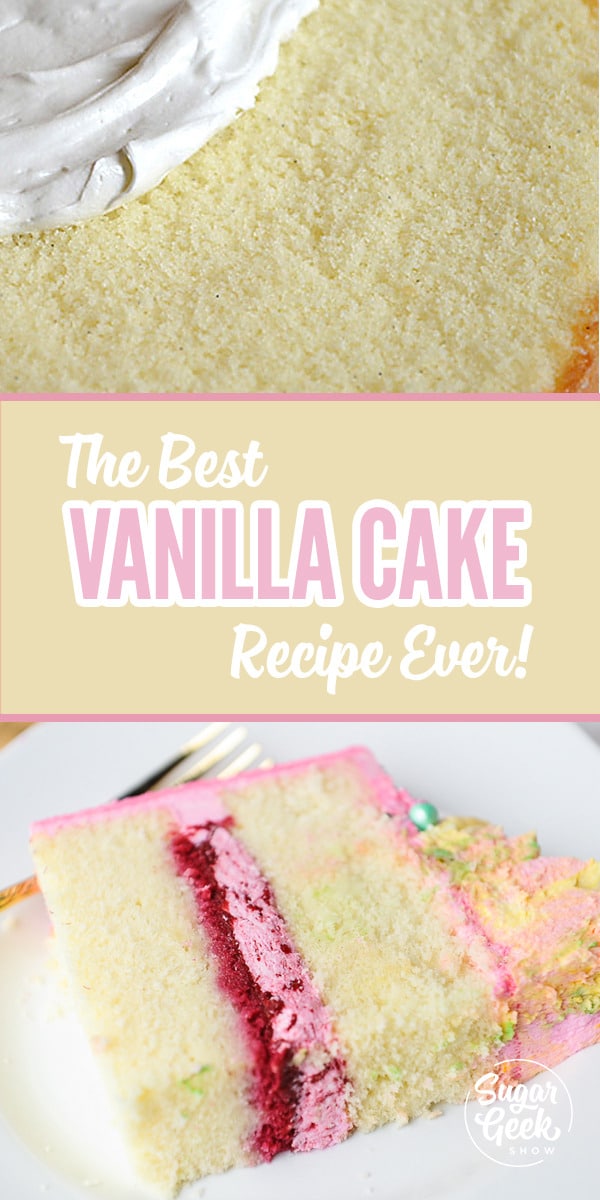 October 29, 2015