How to turn my favorite vanilla cake recipe into a moist and fluffy marble cake
Moist and fluffy marble cake made from scratch doesn't have to be complicated. Many times, you guys have asked me for an easy marble cake recipe that did not require two cake recipes and after much testing, I finally have the PERFECT marble cake recipe for you!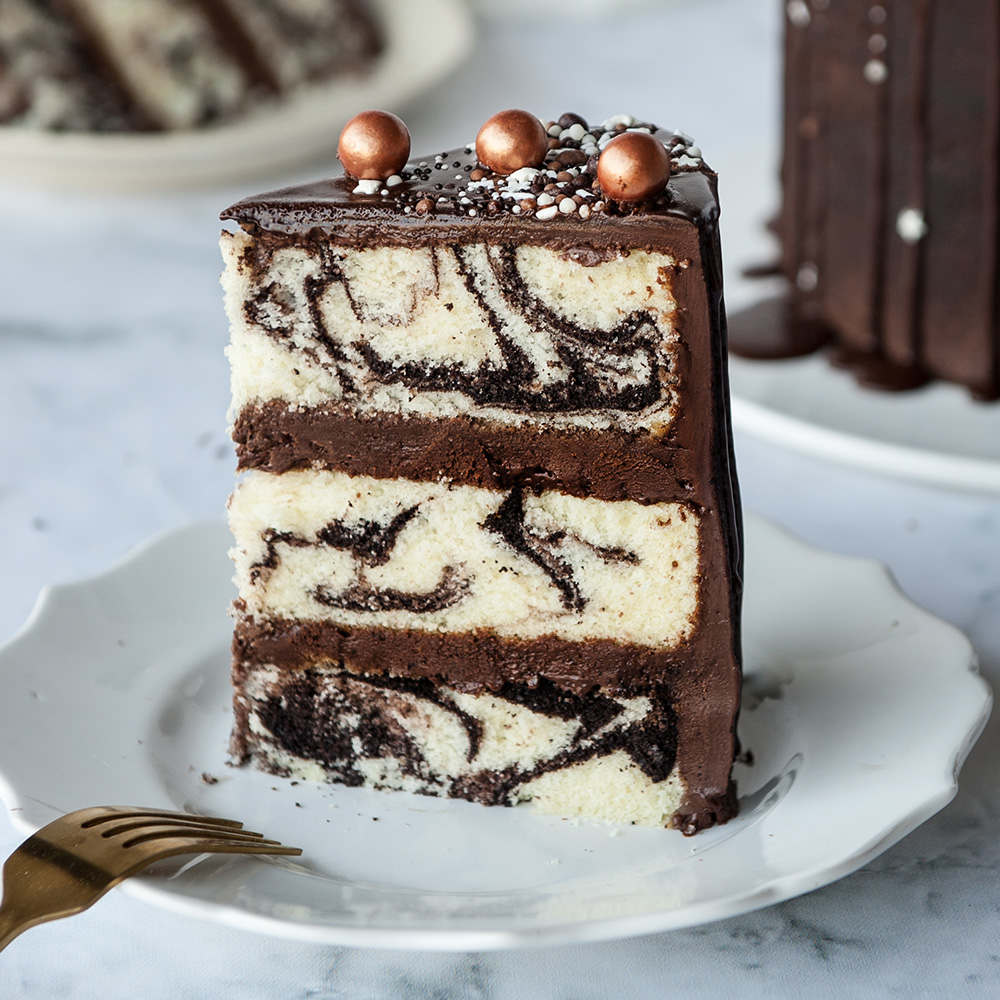 Why is it called a marble cake?
Marble cake is made when you add a small amount of dark-colored batter to light-colored batter and lightly mix it to give the cake a marbled appearance.
The idea of marbling two different colored batters into a cake originated in nineteenth-century Germany. Marble cake made its way to America with German immigrants before the Civil War. Originally the cakes were marbled with molasses and spices.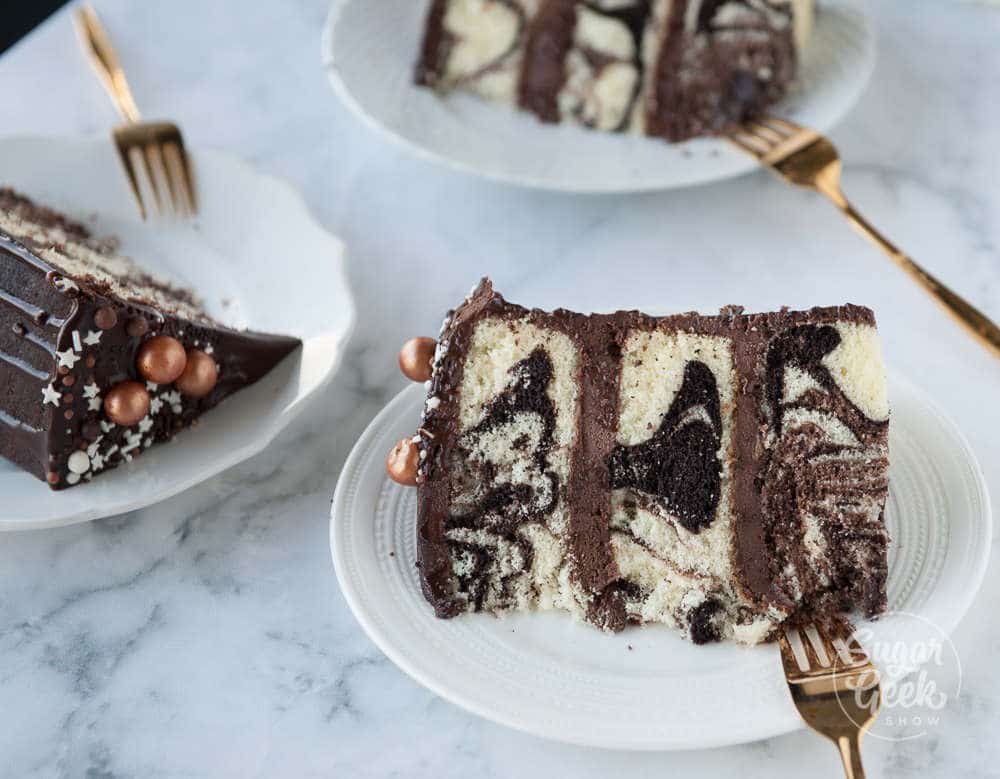 In 1889, a recipe appeared in a popular cookbook that took advantage of American's obsession with chocolate and replaced the molasses with chocolate. Thus, the popular marble cake that we know about today was born.
During the 50's all the way through the 70's, bakeries in New York where adding almond extract to their marble cake batter as a signature flavor and sometimes referred to as German marble cake.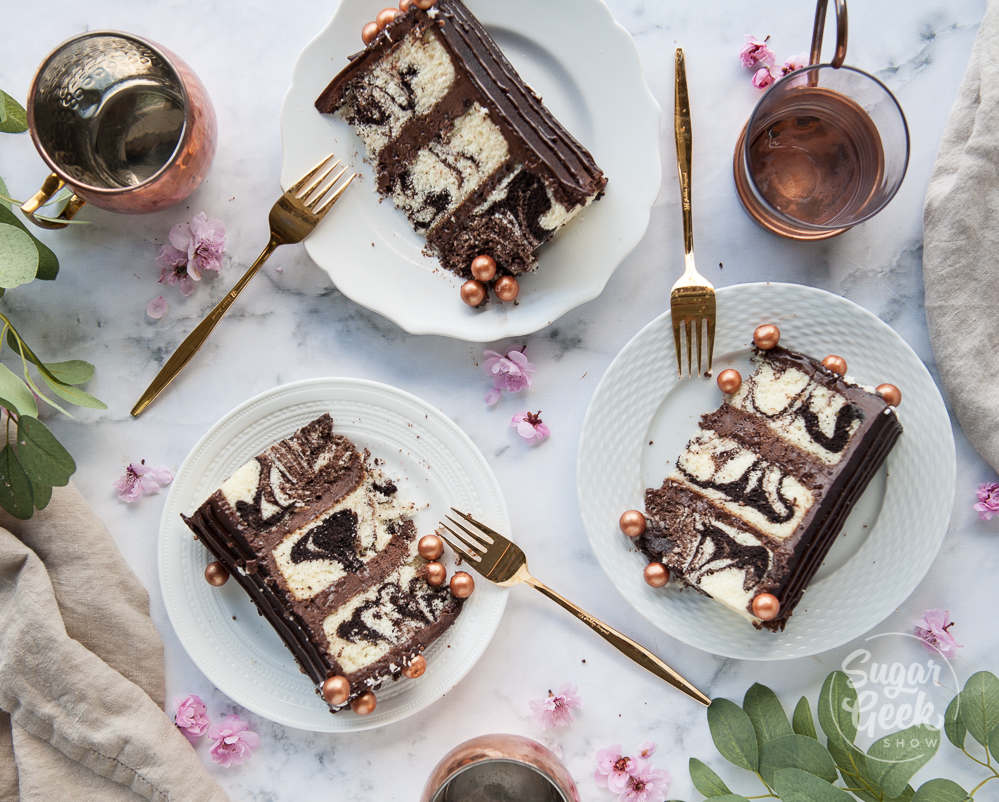 What makes marble cake moist?
Whenever you're introducing cocoa powder into a cake recipe, it can dry the cake out. Think about how many times you've had a dry chocolate cake?
So it's important to bloom your cocoa powder before mixing it with your vanilla cake batter. Blooming is when you combine the cocoa powder with hot water, coffee or cold oil and let it sit for a few minutes until it starts to look spongy.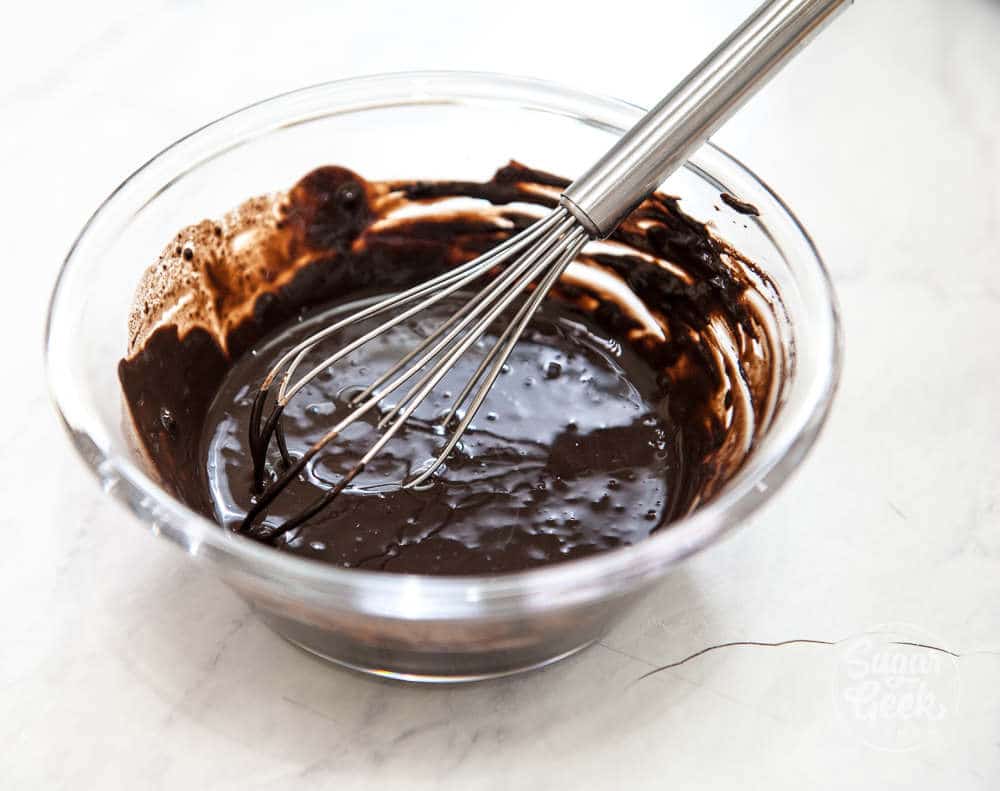 Now that the cocoa powder is moistened, it won't suck up all the moisture from your vanilla cake batter.
Other ingredients in this cake that make it moist
Buttermilk – Add moisture, a delicate texture and flavor to the cake
Oil – Keeps the marble cake from drying out and adds moisture
Whole eggs – The egg yolks add moisture to the cake as well as structure
How do you marble vanilla and chocolate cake batter?
There is a bit of technique when it comes to the perfect marble. Most people over-do it. The trick is to layer your chocolate batter between two layers of vanilla, then use a butter knife to make small figure 8 motions moving from the top of the batter to the bottom.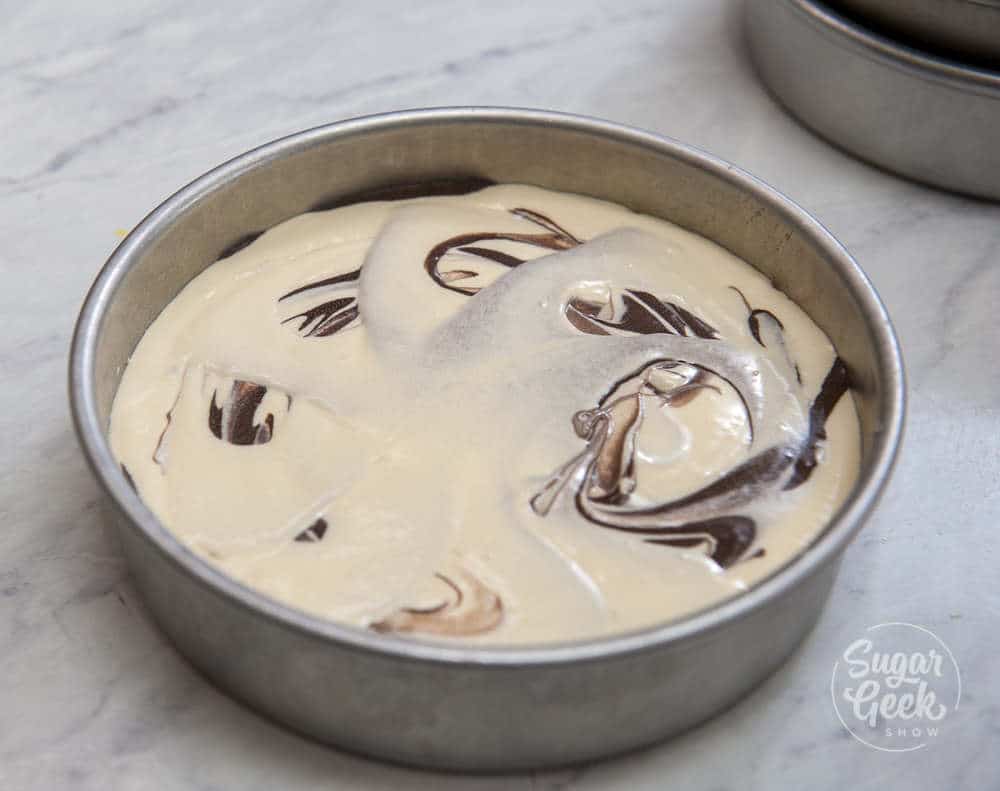 This motion drags the chocolate batter through the vanilla and looks beautiful when you cut into it.
Just don't marble too much or you'll just end up with a splotchy looking chocolate cake.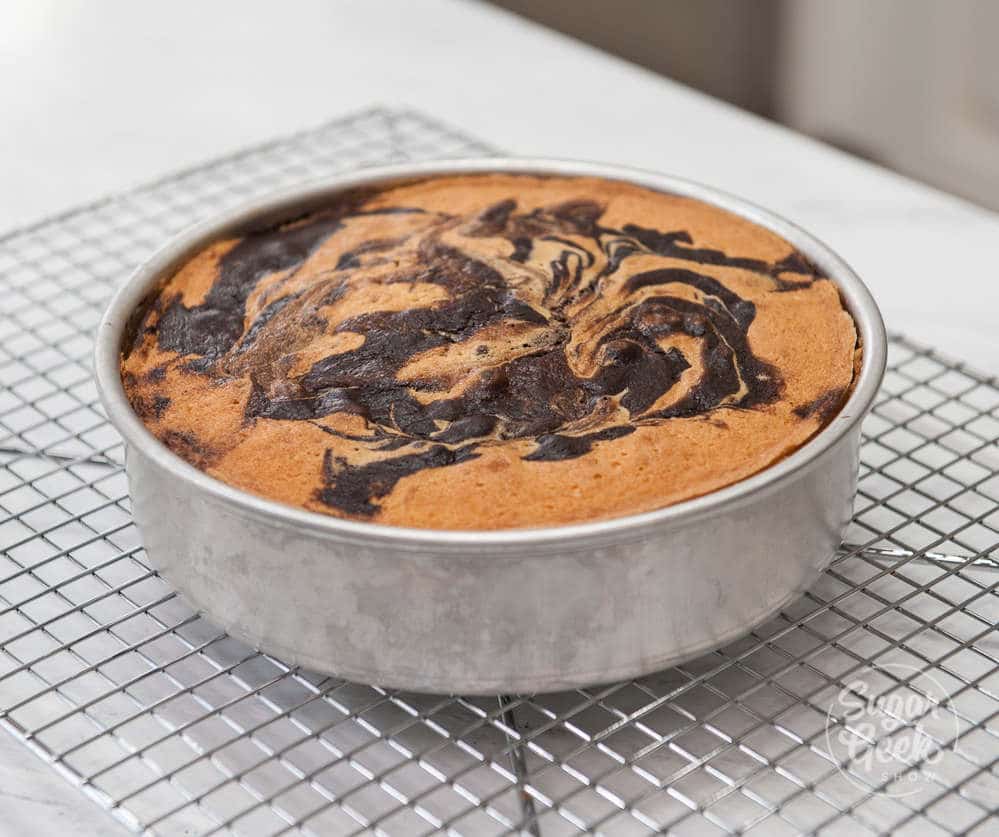 Can you bake this cake in other pans?
Surprisingly, I get this question a lot. This recipe is meant to be baked in three 8″ cake pans so that you get three nice layers of cake in each slice. But you can definitely use other sizes of cake pans like a 1/4 sheet pan or square pans.
You may need to increase or decrease the recipe to fit the size of your pan.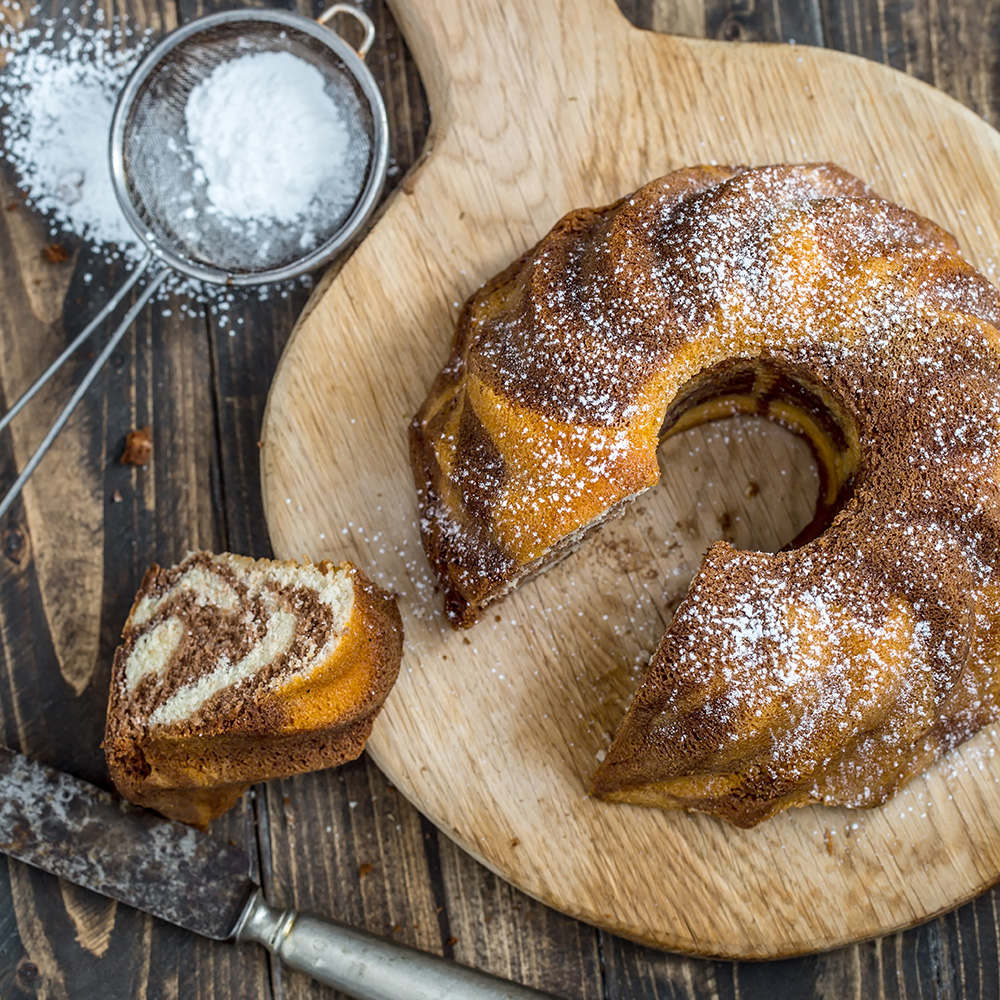 You can also use this recipe to make a bundt cake or individual loaves. Just follow the same process of taking out 1/3 of the batter and adding in the bloomed cocoa powder to make the vanilla cake batter chocolate.
Marble cake was originally more of a snacking cake. Meant to be sliced and served without frosting and eaten with tea or coffee-like coffee cake.
You can also use this recipe to make cupcakes but it makes a lot! My cupcakes baked at 350ºF for 15 minutes but you should bake them until the center bounces back when you touch it.
How to decorate a marble cake
If you want to decorate your marble cake like mine, then follow these simple steps.
Make your chocolate ganache and set it aside to cool at room temperature until it reaches peanut butter consistency.
Bake your marble cakes and then either wrap them in plastic wrap and put them in the fridge to chill overnight or freeze for 30 minutes before frosting. Trim off the cake dome if you have one.
Place your first cake layer onto your cake plate then spread on a layer of the ganache about 1/4 thick. Repeat with the last two layers.
Cover the whole cake in a thin layer of ganache called the crumb coat. Put the whole cake in the fridge for 20 minutes.
Prepare your chocolate drip and let it cool to 90ºF
Apply your final layer of ganache and smooth it out with your offset spatula and bench scraper.
Using a soft (new) makeup brush, apply some cocoa powder to the outside of the ganache to make it look like it has a velvet texture.
Put your drip ganache into a piping bag and snip off the tip
Drip the ganache all the way around the top of the cake and finish off with grafitti sprinkles.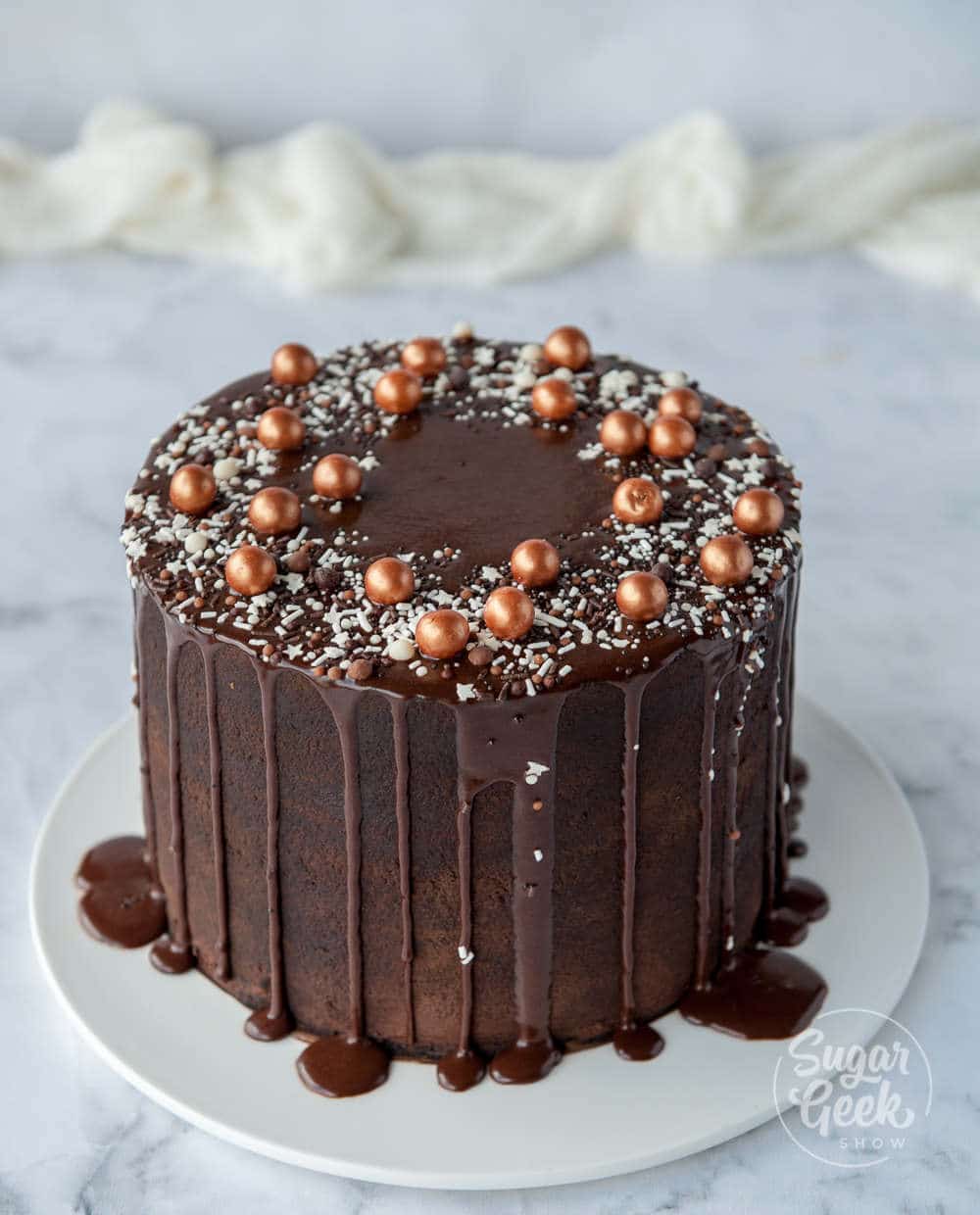 Want more recipe ideas?
Cinnamon toast cake
Chocolate bundt cake
White velvet cake
Cake Batter and Frosting Calculator
Select an option below to calculate how much batter or frosting you need. Adjust the servings slider on the recipe card to change the amounts the recipe makes.
Choose a pan type
Choose a cake pan size
(based on 2" tall cake pan)
Choose a cake pan size
(based on 2" tall cake pan)
Choose a cake pan size
(based on 2" tall cake pan)
Cups of Batter Needed
8 cups
Cups of Frosting Needed
5 cups
Did You Make This Recipe?Leave a rating and tell me how it went!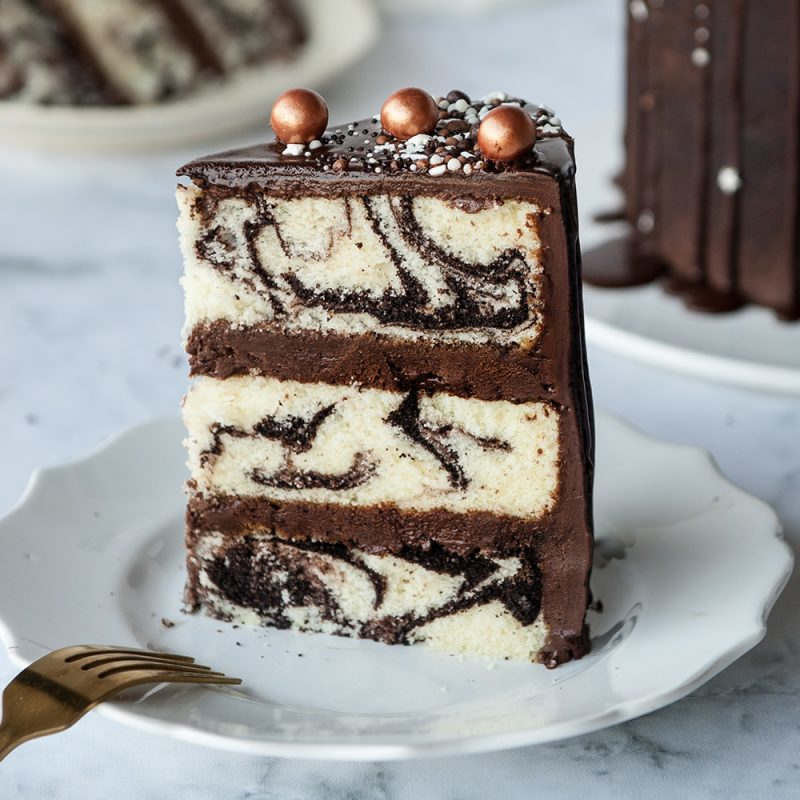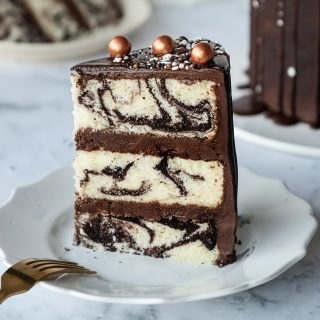 Marble cake with chocolate ganache frosting
Moist and fluffy marble cake recipe with chocolate ganache frosting. Making marble cake from scratch is very easy, so say goodbye to the box mix.
Print
Rate
Never Miss A Cake
Serves: 9 cups
Calories: 822kcal
Ingredients
Marble Cake Ingredients
16 ounces (454 g) cake flour
16 ounces (454 g) granulated sugar
1 tsp salt
1 Tablespoon baking powder
1 teaspoon baking soda
4 large (4 large) eggs room temperature
5 ounces (142 g) vegetable oil
14 ounces (397 g) buttermilk room temperature or slightly warm
8 ounces (227 g) butter unsalted and softened
2 teaspoon vanilla
1/2 teaspoon almond extract
1 ounce (29 g) cocoa powder dutch or natural
3 ounces (85 g) hot water
1 Tablespoon cocoa powder for dusting
Ganache Frosting
16 ounces (454 g) semi-sweet chocolate
16 ounces (454 g) heavy whipping cream
1/4 teaspoon salt
1 teaspoon vanilla extract
Ganache Drip
6 ounces semi-sweet chocolate
4 ounces heavy whipping cream
Equipment
Stand Mixer

Paddle Attachment
Instructions
Prepare three 8"x2" cake pans with cake goop or another preferred pan spray. Preheat your oven to 335ºF

Heat your water until simmering and then combine with your cocoa powder. Stir until cocoa powder is moistened. It will look lumpy but that is normal. Set it aside and let it cool while you prepare the cake batter.

Combine 3/4 cup of the milk and the oil together and set aside. 

Combine the remaining milk, eggs, vanilla, and almond extract together, whisk to break up the eggs and set aside. 

In the bowl of your stand mixer, combine the flour, sugar, baking powder, baking soda, and salt with the paddle attachment. Mix 10 seconds to combine. 

Add your softened butter to the flour mixture and mix on low until mixture resembles coarse sand (about 30 seconds).

Add in your milk/oil mixture and mix on low until dry ingredients are moistened. Then increase the speed to medium (setting 4 on my KitchenAid) and let it mix for 2 minutes to develop the cake's structure. If you don't let your cake mix on this step your cake could collapse. 

Scrape your bowl and then reduce speed to low. Add in your egg mixture in three batches, letting the batter mix for 15 seconds between additions. 

Scrape down the sides again to make sure everything has incorporated.

Take out 1/3 of your batter and combine it with the cooled chocolate mixture and fold gently until combined.

Layer your batter into your pans, starting with vanilla, then chocolate and ending with vanilla. Use a butter knife to swirl together gently. Do not over-mix or your cake will not have a marbled interior.

Bake 35-40 minutes at 335ºF until a toothpick inserted into the center comes out cleanly but the cake has not begun to shrink yet from the sides of the pan. IMMEDIATELY TAP PAN FIRMLY on countertop once to release the steam from the cake. This stops the cake from shrinking. 

Let cakes cool for 10 minutes inside the pan before flipping them out. The cake will shrink a bit and that is normal. Flip onto a cooling rack and let cool fully. I chill my cakes before handling or you can wrap them in plastic wrap and freeze them to trap moisture in the cake. Thaw on the countertop while still wrapped before frosting.
Ganache Instructions
Place your chocolate into a heatproof bowl

Heat your cream until it just begins to simmer, do not boil or your ganache will be grainy.

Pour the hot cream over your chocolate and let it sit for 5 minutes

Add in your vanilla and salt to the chocolate mixture and whisk until smooth and creamy

Pour your ganache into a shallow pan and let cool to peanut butter consistency. Mine takes about 20 minutes to thicken up.

Frost your cake with the ganache and then place into the fridge for 20 minutes then dust with cocoa powder using a soft (new) makeup brush to make the velvet texture
Ganache drip
Heat cream until just steaming and pour over chocolate. Let sit 5 minutes then whisk until smooth. Let cool until slightly warm to the touch before piping onto your CHILLED cake. 
Notes
Buttermilk substitute - regular milk plus 2 Tablespoons of vinegar or lemon juice. You can also use powdered buttermilk. 
Important Things To Note Before You Start
1. Bring all your ingredients to room temperature or even a little warm (eggs, buttermilk, butter, etc) to ensure your batter does not break or curdle. 
2. Use a scale to weigh your ingredients (including liquids) unless otherwise instructed (Tablespoons, teaspoons, pinch etc). Metric measurements are available in the recipe card. Scaled ingredients are much more accurate than using cups and help ensure the success of your recipe. 
3. Practice Mise en Place (everything in it's place). Measure out your ingredients ahead of time and have them ready before you start mixing to reduce the chances of accidentally leaving something out.
4. Chill your cakes before frosting and filling. You can cover a frosted and chilled cake in fondant if you wish. This cake is also great for stacking. I always keep my cakes chilled in the refrigerator before delivery for easy transporting. Learn more about decorating your first cake. 
5. If the recipe calls for specific ingredients like cake flour, replacing it with all purpose flour and cornstarch is not recommended unless specified in the recipe that it's ok. Substituting ingredients may cause this recipe to fail. 
All purpose flour is a plain flour with no rising agents. It has a protein level of 10%-12%
Cake flour is a soft, low protein flour of 9% or less. 
Cake flour sources: UK - Shipton Mills Cake & Pastry Flour
Nutrition
Serving: 1serving | Calories: 822kcal (41%) | Carbohydrates: 73g (24%) | Protein: 10g (20%) | Fat: 56g (86%) | Saturated Fat: 36g (180%) | Cholesterol: 150mg (50%) | Sodium: 455mg (19%) | Potassium: 463mg (13%) | Fiber: 5g (20%) | Sugar: 44g (49%) | Vitamin A: 1162IU (23%) | Vitamin C: 1mg (1%) | Calcium: 138mg (14%) | Iron: 3mg (17%)