Ok so most of you know that I've been Keto for about a year so I don't actually eat wheat or sugar anymore BUT... every now and then I still allow myself a bowl of my favorite cereal... Cinnamon Toast Crunch. UGH it's so freaking good and transports me back to being a kid eating junk cereal. And you know what? It's totally worth every bite.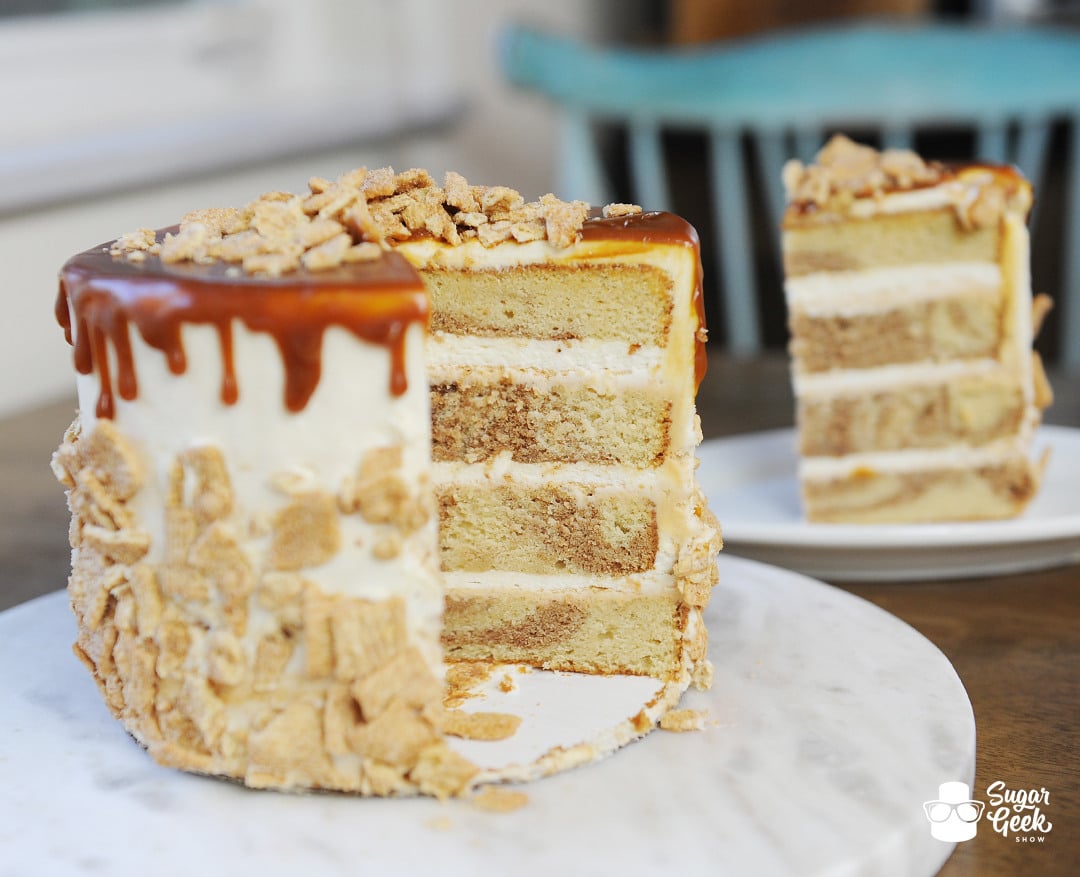 I just had to make this into a cake recipe and I swear you will think you're eating actual cinnamon toast crunch plus, how pretty does this look when it's sliced! So swirly!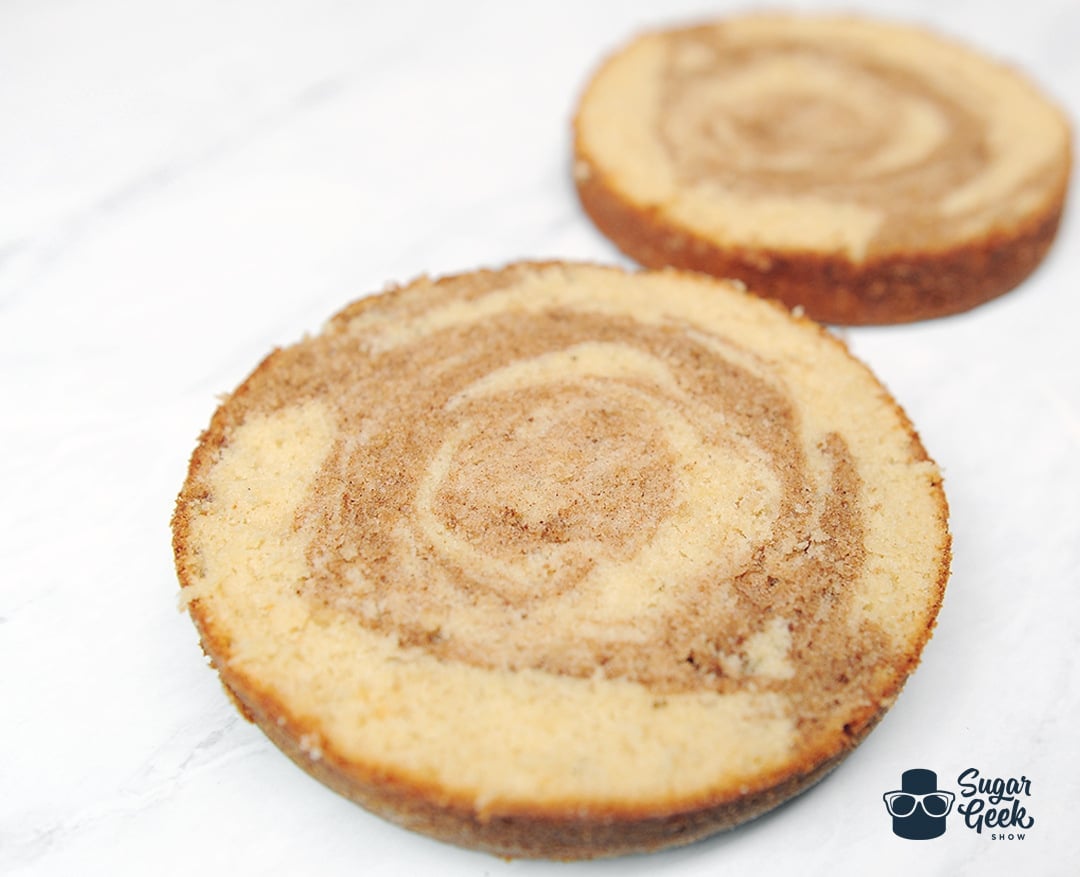 I paired this cake with some easy buttercream and topped it with some yummy caramel sauce and crunched up cereal on the sides. This was a BIG hit! You could easily change up this recipe to make your favorite cereal flavor. Just switch out your flavorings. For instance, if you wanted to make fruity pebbles cake, I would omit the cinnamon and replace with strawberry extract!
Cake Batter and Frosting Calculator
Select an option below to calculate how much batter or frosting you need. Adjust the servings slider on the recipe card to change the amounts the recipe makes.
Choose a pan type
Choose a cake pan size
(based on 2" tall cake pan)
Choose a cake pan size
(based on 2" tall cake pan)
Choose a cake pan size
(based on 2" tall cake pan)
Cups of Batter Needed
8 cups
Cups of Frosting Needed
5 cups
Recipe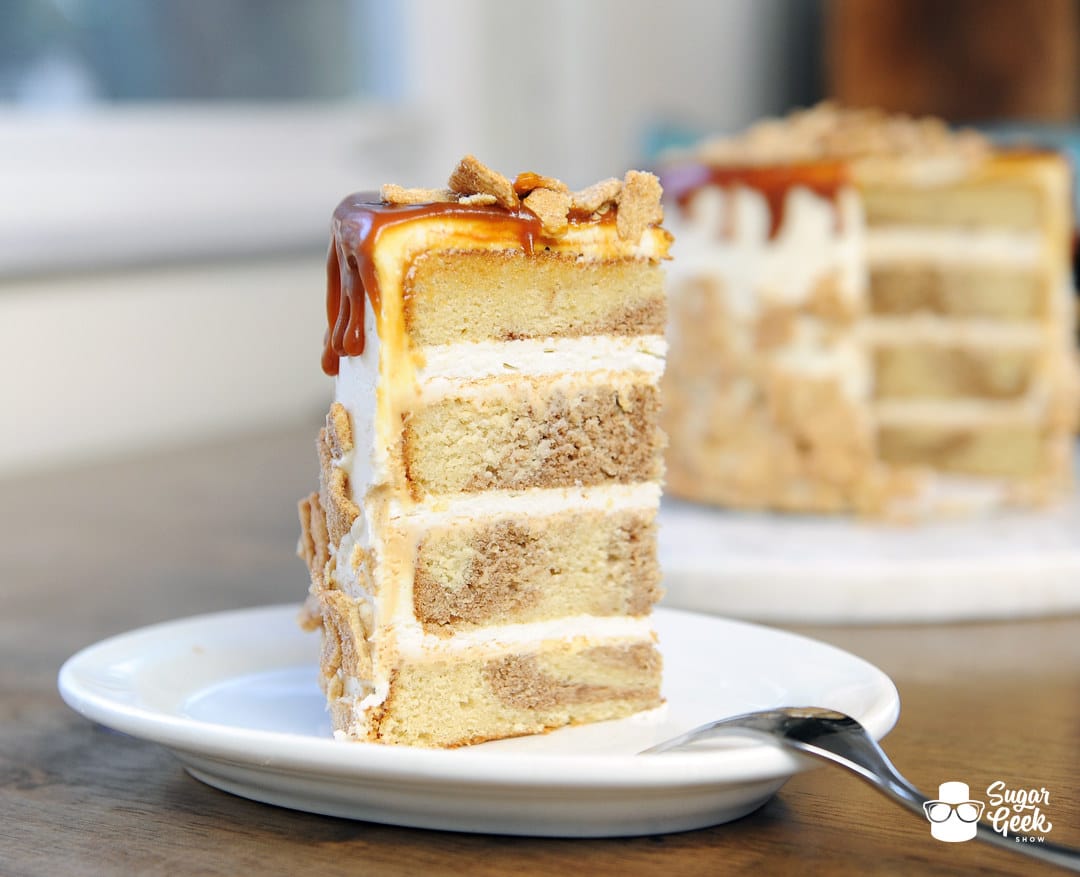 Servings: 2 8" rounds
Calories: 7433kcal
Ingredients
Cake Ingredients
12 oz AP Flour I prefer king arthur brand
2 ½ teaspoon Baking powder
½ teaspoon Salt
8 oz Unsalted butter room temperature
12 oz Sugar I prefer superfine but regular granulated is ok
1 tablespoon Vanilla
1 tablespoon ground cinnamon
4 Large Eggs room temperature
8 oz milk room temperature
Easy Buttercream Frosting Ingredients
8 oz pasteurized egg whites
32 oz powdered sugar
32 oz unsalted butter
1 tablespoon vanilla extract
½ teaspoon salt
Instructions
Cake Instructions
Preheat oven to 350F and prepare two 8" rounds with cake goop or preferred pan spray.

Whisk together flour, baking powder and salt and set aside

In the bowl of a stand mixer with paddle attachment, cream the butter for 20 seconds until smooth

Sprinkle in the sugar and whip on med-high until light in color and fluffy. About 8-10 minutes. Scrape the bowl halfway through mixing

Bring back to low mixing, add in eggs one at a time. Let mix in fully for one minute fore adding the next egg. Mixture should look smooth, not broken or lumpy. If it is, your eggs might have been too cold.

Add your vanilla to your milk

Add flour to mixture in four parts, alternating with the milk. Start with flour, mix until just incorporated, then add ⅓ of the milk. Repeat. After you add the last little bit of flour, STOP.

Take out about ⅓ of your batter and mix in your cinnamon. Finish the other batter by hand by mixing with a spatula until everything is combine. 3-4 strokes.

Spoon your batter into your two pans. Alternating between vanilla and cinnamon to get a nice swirl.

Bake for 25-30 minutes or until toothpick comes out clean. Do not over-bake or your cake will shrink and your sides will not be straight. Wrap your cakes in plastic wrap and chill them until firm before torting and frosting.
Buttercream Instructions
Place egg whites and powdered sugar in a mixing bowl with the whisk attachment. Whisk to combine. Add in butter in small chunks then vanilla and salt. Whip on high until light and fluffy and white. Optional: switch to the paddle attachment and mix on low for 15-20 minutes until all air bubbles are gone.
Nutrition
Serving: 1g | Calories: 7433kcal | Carbohydrates: 768g | Protein: 50g | Fat: 474g | Saturated Fat: 296g | Cholesterol: 1602mg | Sodium: 1658mg | Potassium: 1237mg | Fiber: 6g | Sugar: 622g | Vitamin A: 15875IU | Calcium: 656mg | Iron: 12.6mg