Caramel sauce that is super creamy and easy to make at home using only four ingredients!
Caramel sauce is one of those things that everyone should make at home. The taste is un-matched by any store-bought version and is really simple to make! It only takes a few minutes and can be mixed into buttercream, used as a filling, over ice-cream, even in drinks! It lasts pretty much forever in the fridge and makes an excellent gift or favor.
How do you make caramel sauce?
Place sugar and water in a small saucepan with a heavy bottom
Cover with a lid and bring to a boil over medium-high heat. Keep covered for five minutes to ensure all the granules of sugar around the edges are dissolved (to prevent crystallization)
Remove lid and attach your candy thermometer (Optional)
Reduce heat to medium and watch your sugar closely. At first steam will be evaporating and your temperature will hover around 225ºF without raising. Once all the water evaporates, your sugar will start to cook rapidly. Once the sugar is a deep caramel color, remove from the heat (around 350ºF)
Remove the pan from heat and add in your butter in small pieces. It will bubble! Use caution. Whisk to combine.
Add in your cream and your salt.
Let cool before use.
A few tips for success. Get all your ingredients ready before you start so you can move to the next step right when you need to. The sugar will be too pale one minute and too dark the next so keep your eyes on it! Don't be tempted to add your ingredients too soon. You want a nice dark color but not burned. A darker color means richer flavor. A candy thermometer is your friend.
I always have a batch of salted caramel in my fridge ready to go. It's a decadent flavor that is well-loved by pretty much everyone and a little bit goes a long way.
Can you use caramel sauce as a cake filling?
Tip: If you want your caramel to be thicker, add more butter.
Cake Batter and Frosting Calculator
Select an option below to calculate how much batter or frosting you need. Adjust the servings slider on the recipe card to change the amounts the recipe makes.
Choose a pan type
Choose a cake pan size
(based on 2" tall cake pan)
Choose a cake pan size
(based on 2" tall cake pan)
Choose a cake pan size
(based on 2" tall cake pan)
Cups of Batter Needed
8 cups
Cups of Frosting Needed
5 cups
Did You Make This Recipe?Leave a rating and tell me how it went!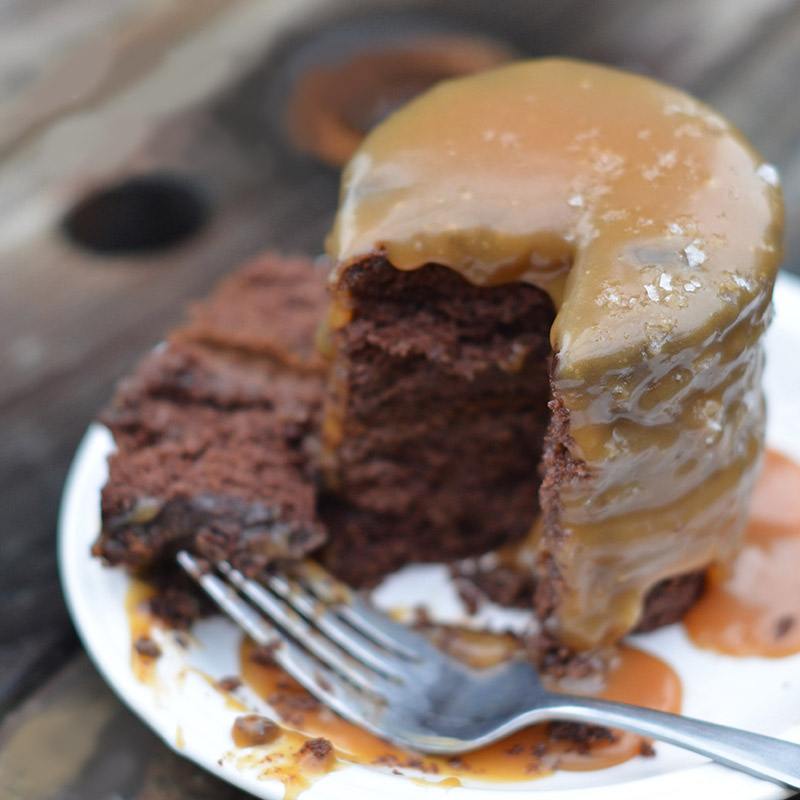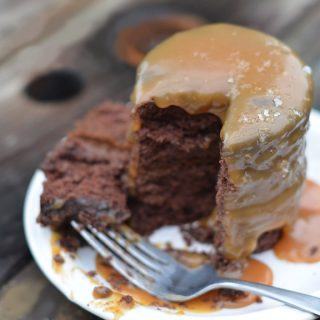 Salted Caramel Recipe
Delicious, creamy and rich salted caramel. Great for adding to buttercream or using as a filling for cake decorating. Drizzle over the top of your cake for added decadence.

Print
Rate
Serves: 28 oz
Calories: 126kcal
Ingredients
Ingredients
14 oz (397 g) granulated sugar
4 oz (113 g) water
6 oz (170 g) unsalted butter
8 oz (227 g) heavy cream
1/4 tsp (1/4 tsp) sea salt
Instructions
Instructions
Bring sugar water to a boil on medium high. Cover with a lid for 5 minutes

Remove lid and continue cooking sugar until thermometer reads 350º (hard crack stage) or it's a deep golden brown color

Remove from heat and whisk in butter then carefully mix in cream.

Add in some sea salt and let set at room temperature overnight. Store leftover caramel in the refrigerator.
Notes
Store in refrigerator covered for up to a month.
Nutrition
Serving: 1oz | Calories: 126kcal (6%) | Carbohydrates: 14g (5%) | Fat: 7g (11%) | Saturated Fat: 4g (20%) | Cholesterol: 24mg (8%) | Sodium: 24mg (1%) | Potassium: 7mg | Sugar: 14g (16%) | Vitamin A: 270IU (5%) | Vitamin C: 0.1mg | Calcium: 7mg (1%)