Easy fast bread recipe that bakes up soft, fluffy and golden brown in only 6o minutes
I love this super fast bread recipe for last-minute bread. Sometimes it's 4 pm and suddenly I decide I want fresh bread for dinner!
If you are new to baking bread, this easy bread recipe is for you. I've had TONS of reviews from people all over the world who have never made bread before but could make this bread perfectly the first time.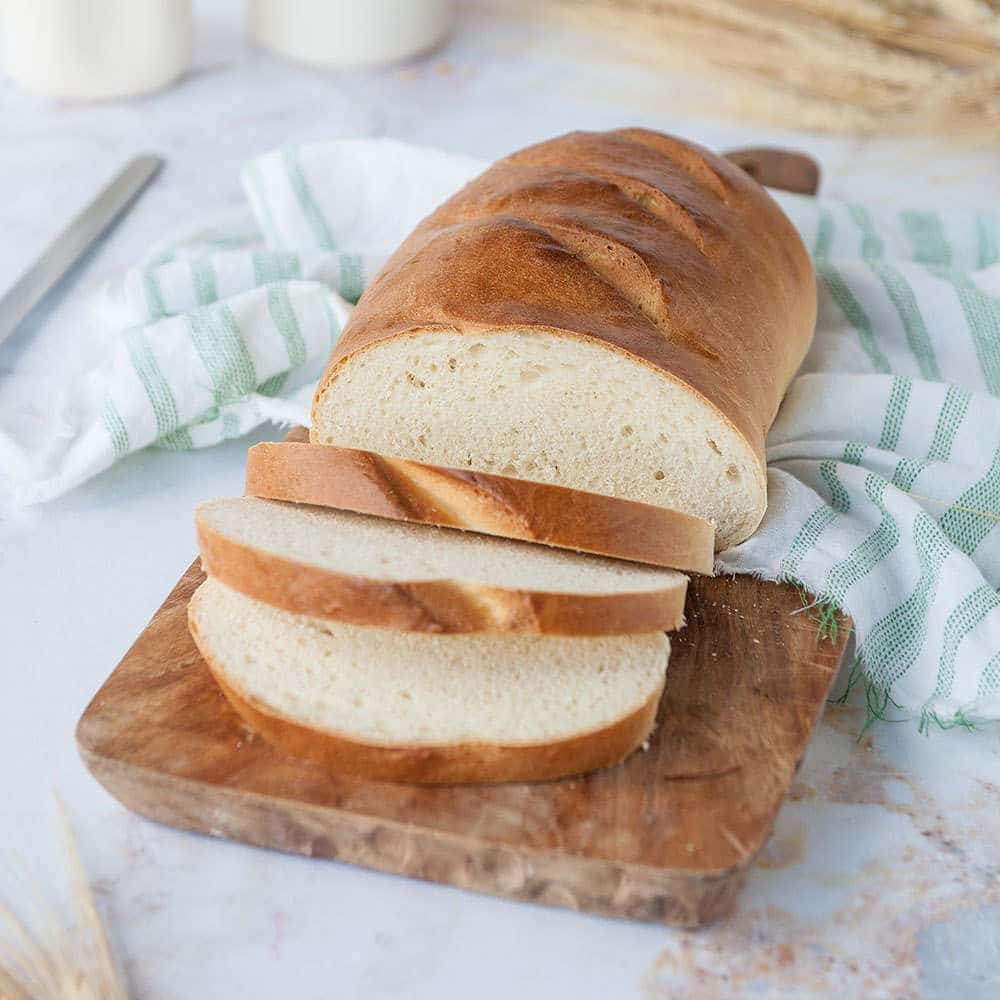 What ingredients do you need to make bread fast
** Check the notes at the bottom of the recipe card below for recipe alternatives and substitutions**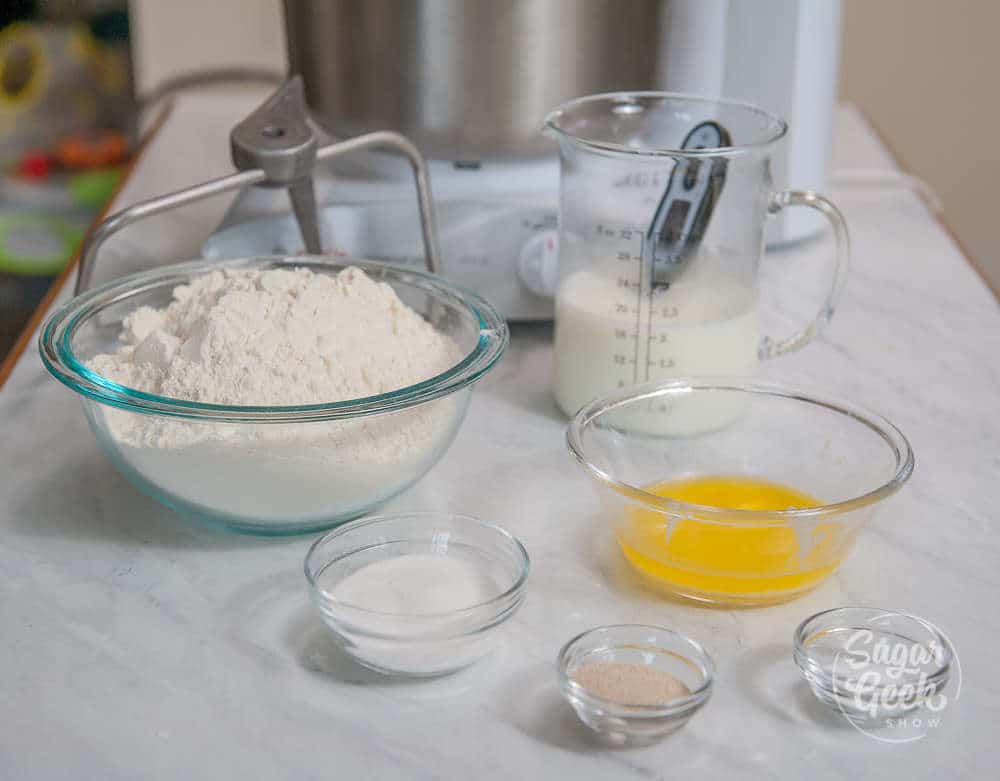 A lot of people are intimidated by making homemade bread. You don't need any special bread machines or even a mixer (although having one will save you some elbow grease).
You only need these ingredients to make a fast bread recipe in 60 minutes
Bread Flour (or all-purpose flour)
Milk (or water)
Sugar
Instant Yeast (you can use regular active dry yeast, see notes at the bottom of the recipe card)
Salt
Egg wash
The secret to fast bread is using Instant yeast. I'm using saf-instant yeast. You can usually find instant yeast right next to the regular yeast at the grocery store.
You don't have to use saf-instant yeast, any brand that says instant will work. Red Star Instant yeast is another popular brand.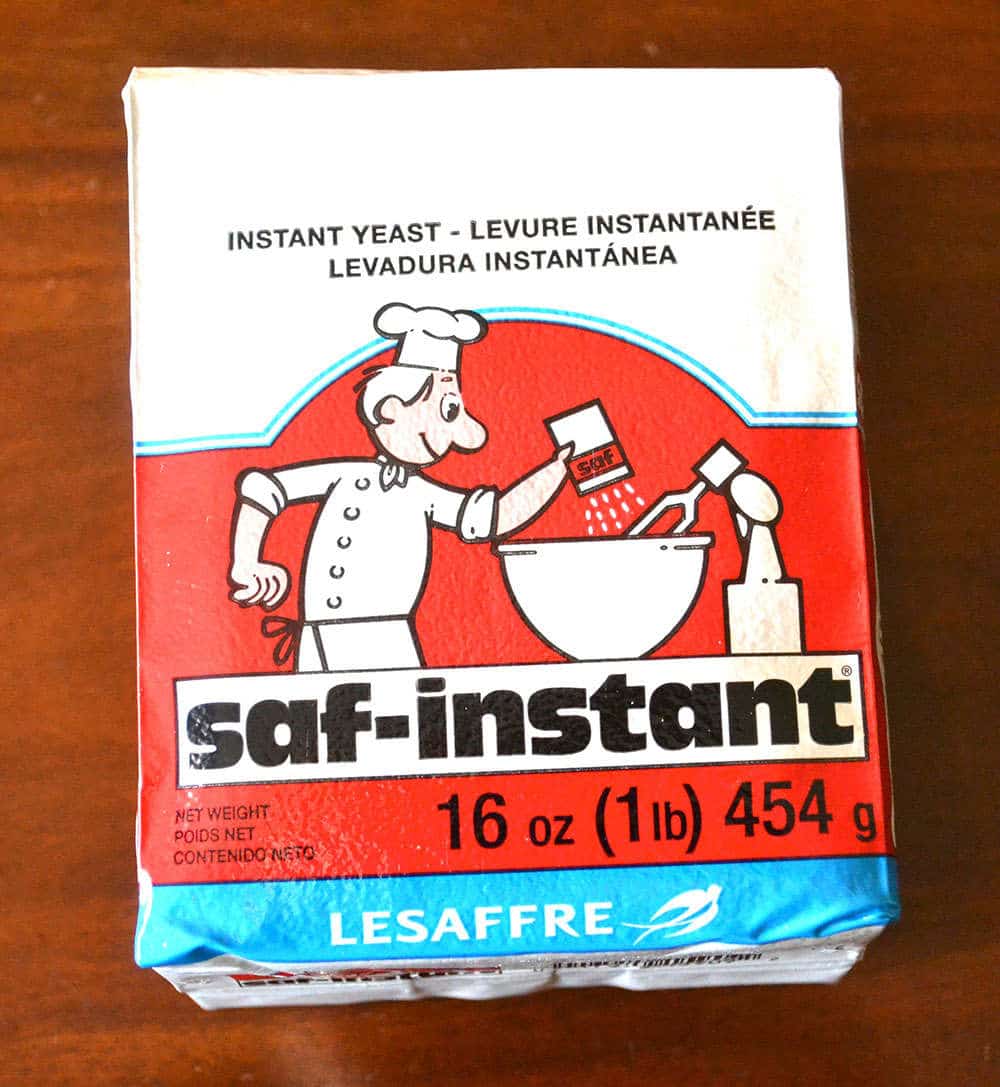 Instant yeast is like regular yeast on steroids. You don't need to mix it with the milk and sugar to bloom it. Just mix it in with the flour, add in the liquid and mix! Using instant yeast makes this bread recipe extra easy because you don't have to bloom the yeast, just mix it in with the flour, sugar, and milk.
Instant yeast rises much faster than active dry yeast which makes this fast bread recipe so great.
How do you make easy homemade bread fast?
Combine your flour, yeast, sugar and warm (110ºF) milk in the bowl of your stand mixer and combine for one minute at low speed.
Don't add in your salt and butter right away, it can get in the way of the yeast activating.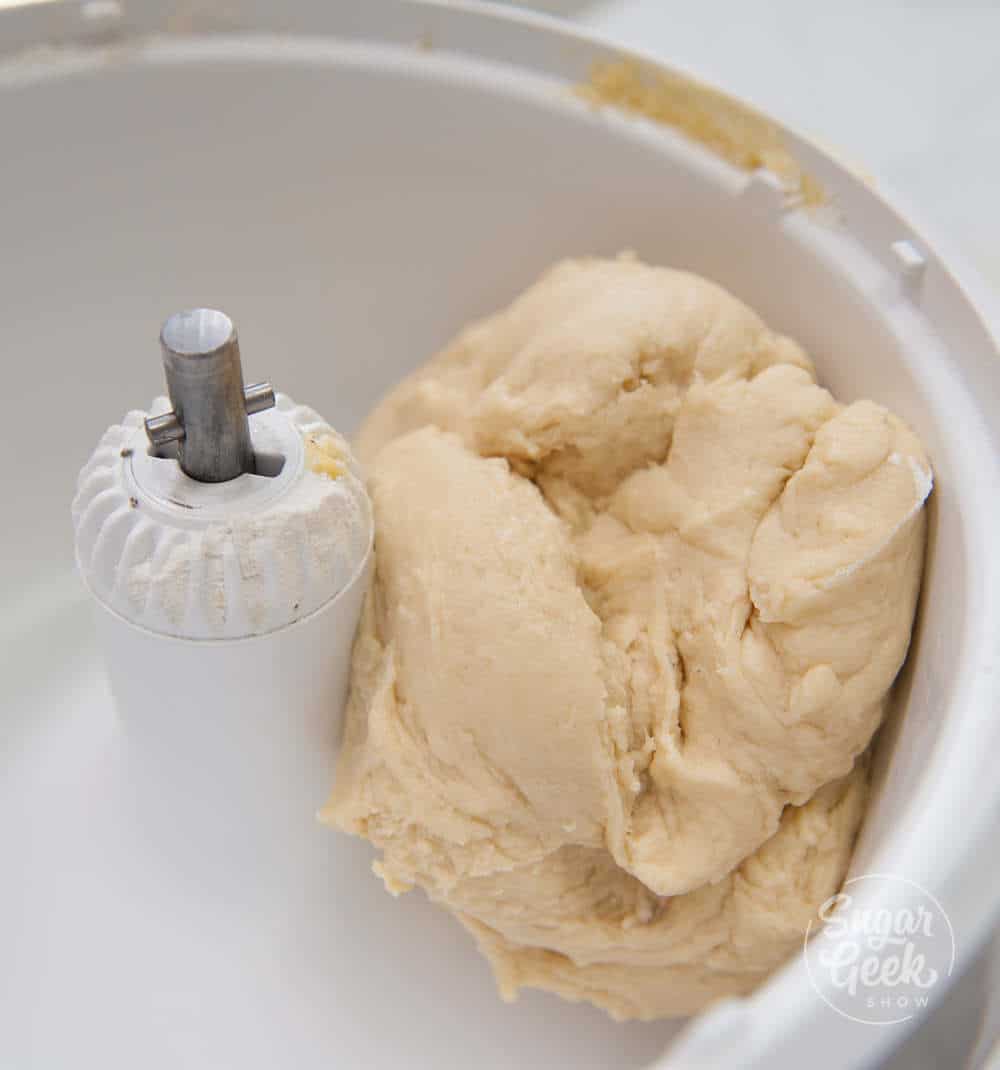 After one minute, add in the salt and butter. If your dough is too slippery from the butter, sprinkle in ¼ cup of flour to soak up the butter and is kneading properly in the bowl and not just spinning round and round. If the dough is still not sticking to the sides of the bowl, add a couple of tablespoons of water.
Let the dough mix on medium speed for 5 minutes.
How do you know when the bread dough is done mixing?
Mixing is the MOST important step in making homemade bread. Developing that gluten is key.
Poke your dough, does it bounce back? That's a sign it's ready.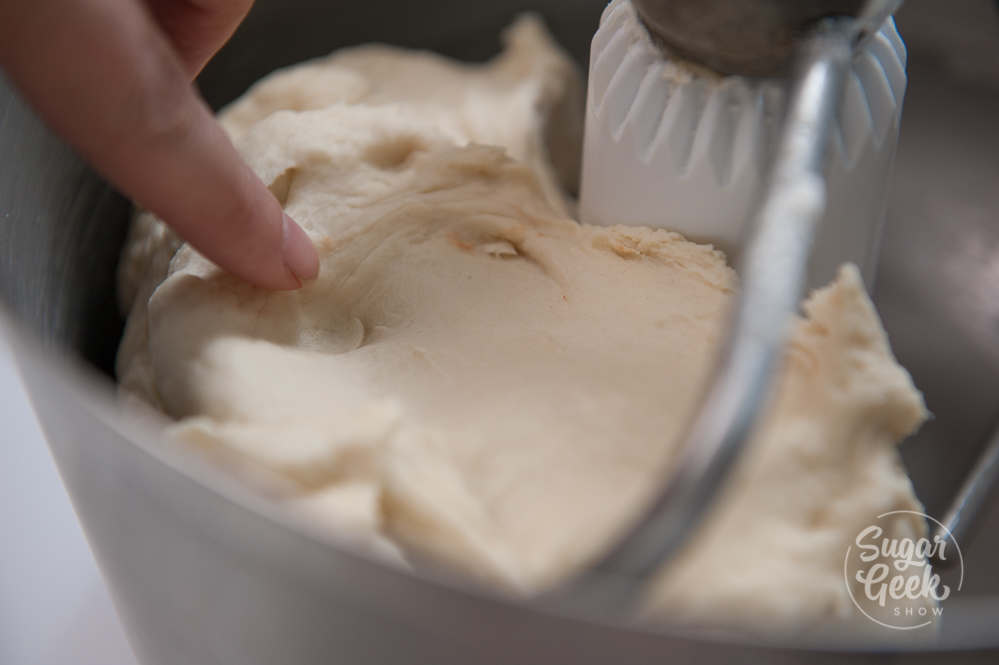 Roll a piece of dough in your hand, is it smooth and silky? If so, then it's ready. If it's sticky and lumpy, it needs more mixing.
You can test to see if your bread has developed enough gluten by pulling off a tiny bit of the dough and carefully stretching it between your fingers to make a little window.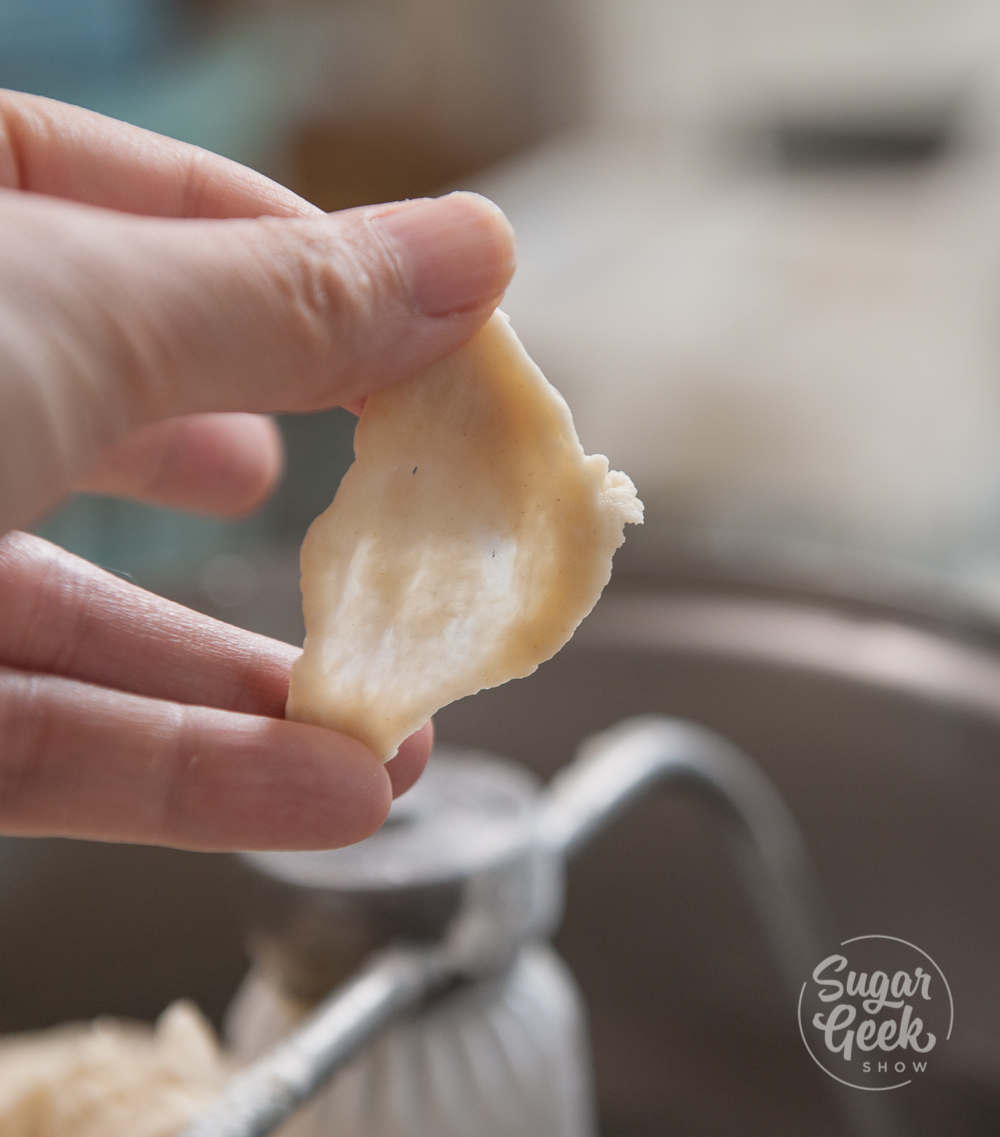 If you can make it super thin without it breaking, then you're good to go.
If the dough isn't ready, keep mixing for another 2 minutes on medium speed or until the gluten test can be performed successfully. Don't worry about over-mixing.
You can do all of this by hand but it will take longer. Probably about 10-15 minutes of kneading. Don't worry, it's basically impossible to over-knead dough by hand.
How do you proof bread fast?
Time to let this dough rise! Place it into a lightly oiled bowl and cover it with a tea towel to keep in the moisture.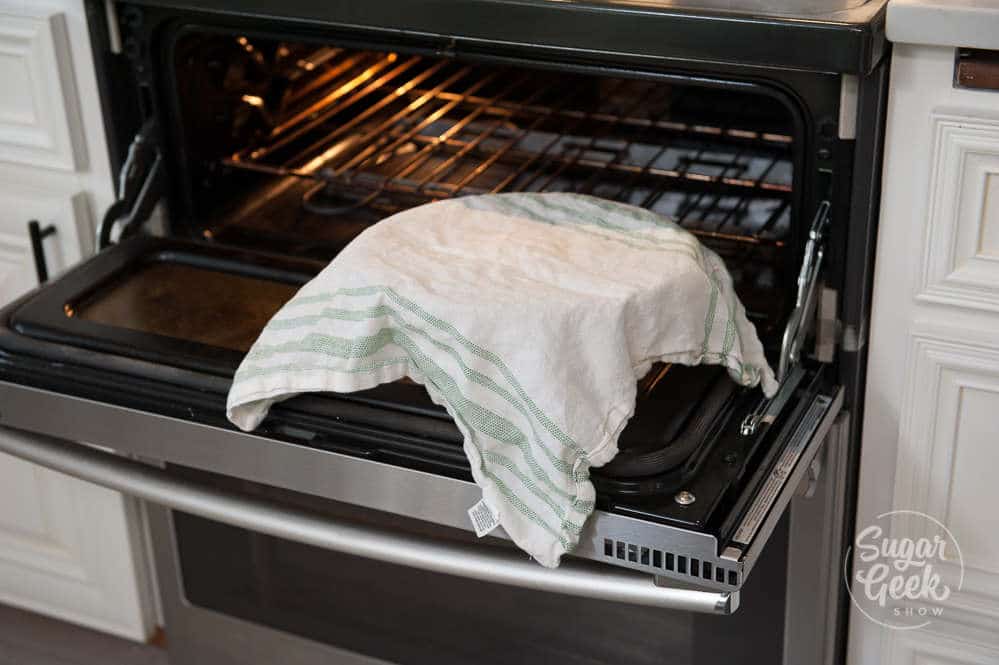 Place your dough in a warm area to rise for 25 minutes. That's it! Super easy! (If you're using active dry yeast instead of instant, let the dough rise 90 minutes)
I put mine next to an open oven set to 170F. Don't put your dough IN the oven or the hot temperature will kill your yeast.
How do you make easy bread loaves fast?
The best part about this bread other than how fast it is, you don't need any specials loaf pans.
Just shape your loaves into two (or three or four depending on how many loaves you want). I've even made hamburger buns and hotdog buns with this recipe.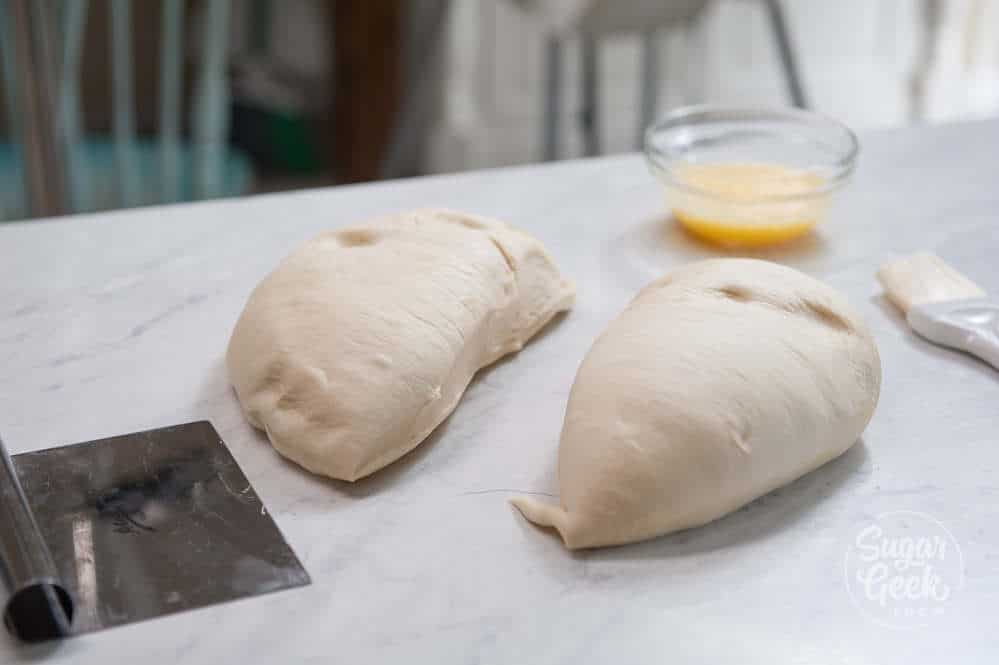 Tuck all the rough edges underneath to form a nice smooth skin on top. This will make your bread look really lovely after it's baked.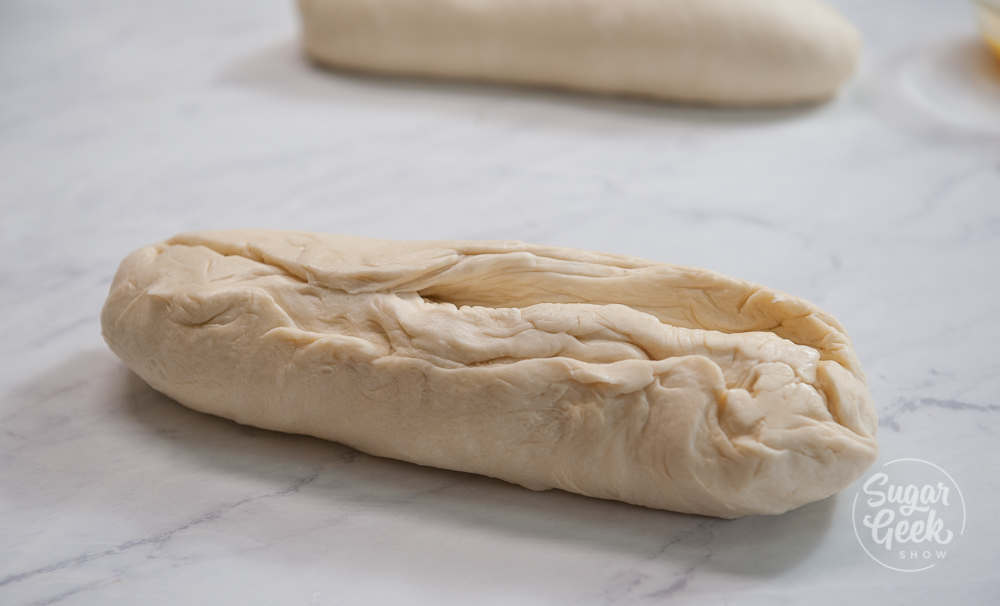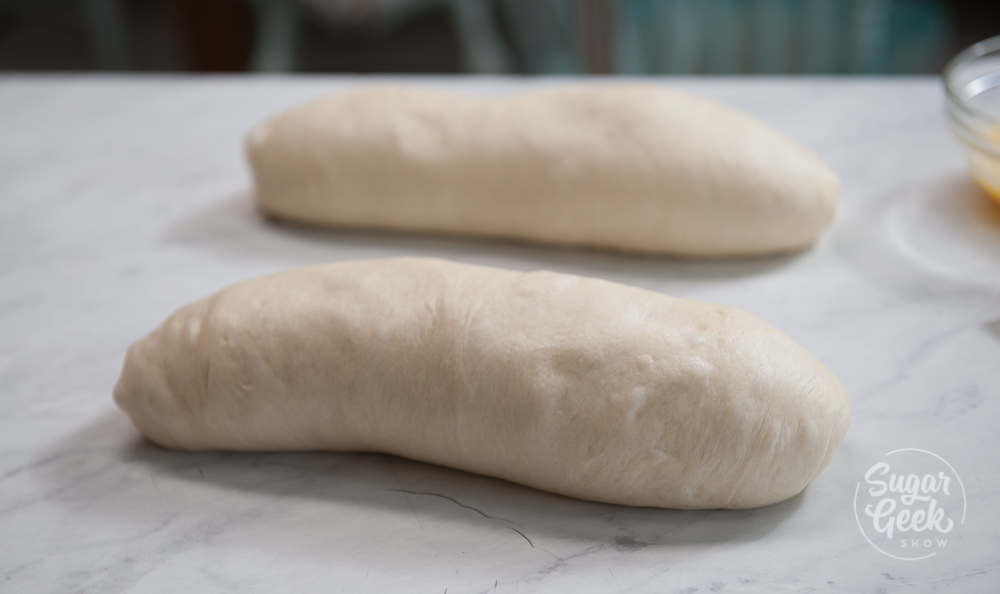 Place your two loaves onto a pan with some parchment paper. Make sure they have a good 8" between them so they don't end up touching as they bake.
Let them rest on the pan for 5 minutes. (If you're using active dry yeast, let the bread rise for 30 minutes)
Brush the surface of your loaves with some egg wash to promote browning.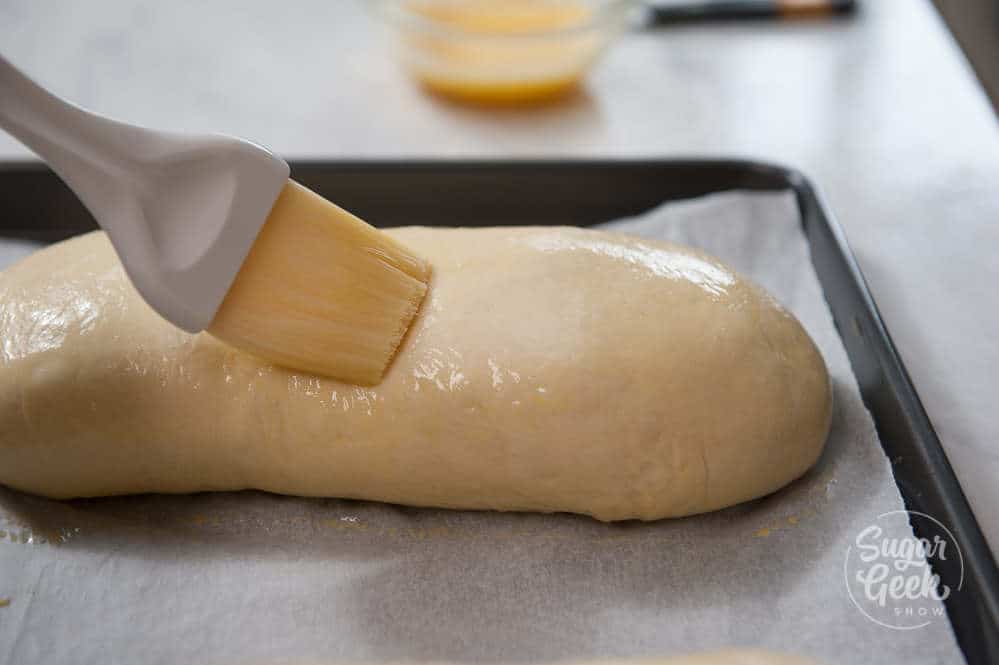 Then make 3 or 4 slices on top of the loaf with a sharp knife at a 30º angle about ¼" deep. (wow that is super specific I know).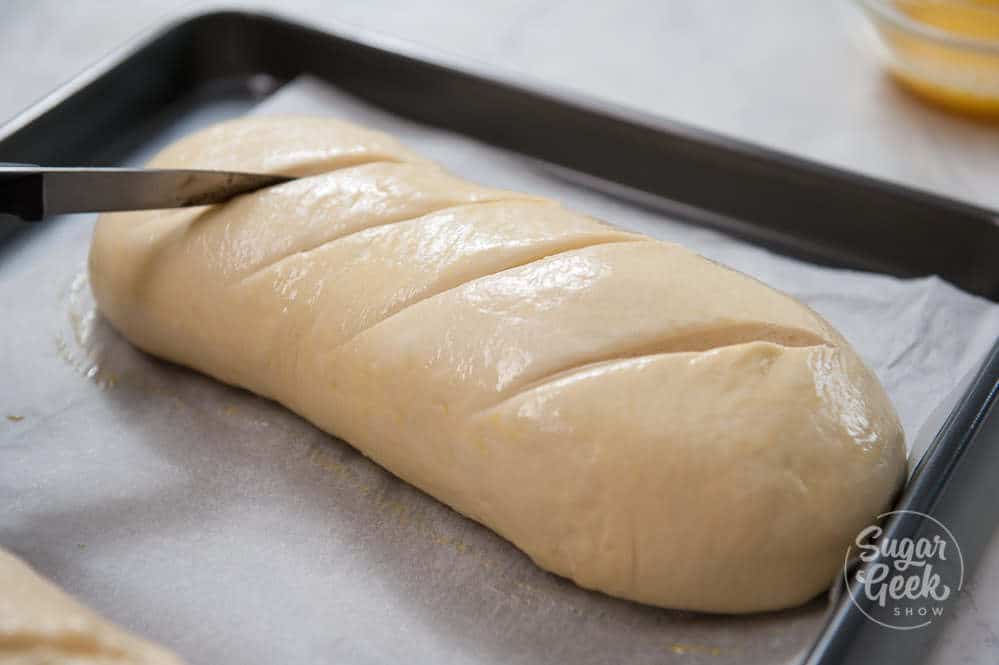 These slices help the bread rise evenly and keep it from tearing.
Bake your bread for 25-30 minutes at 375ºF. I rotated my loaves halfway through baking to prevent uneven browning.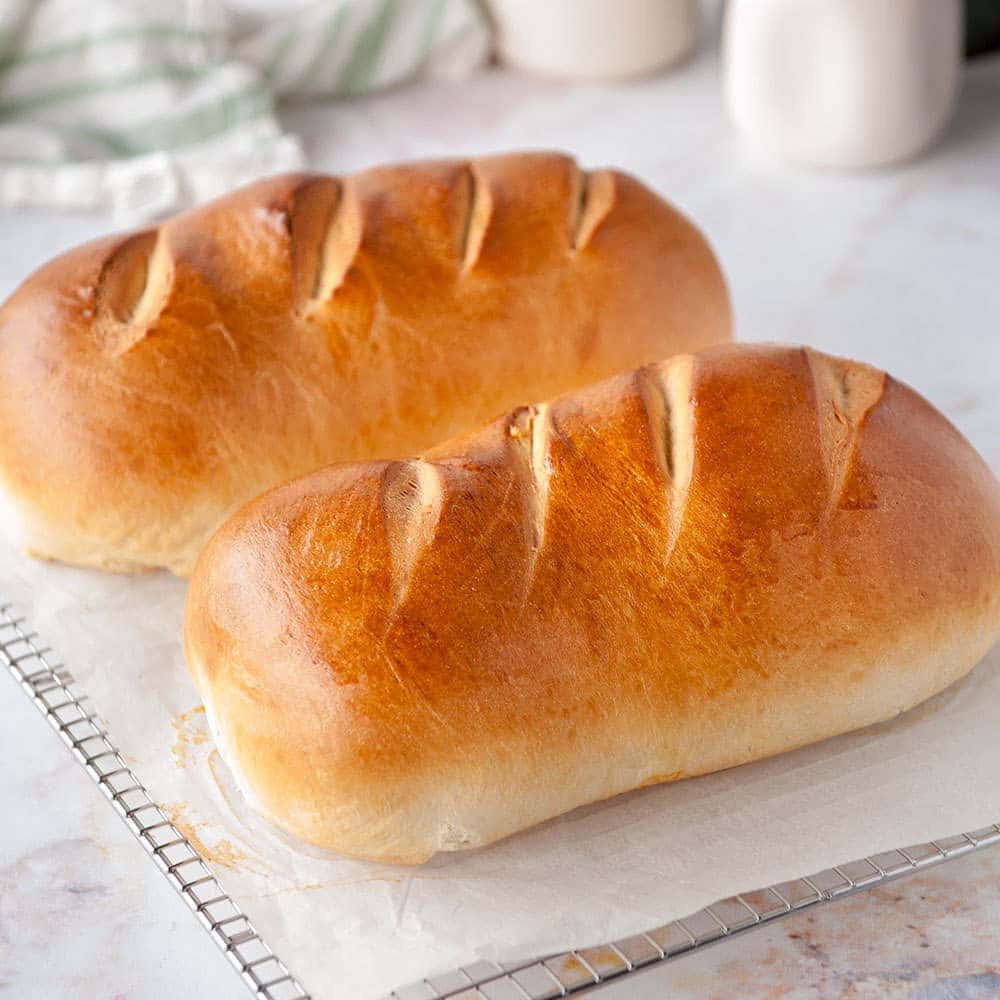 And that is how you make the MOST amazing, super easy fast bread recipe in only 60 minutes.
How long does this homemade bread last?
We devoured one whole loaf with dinner and saved the other loaf for tomorrow. The great thing about this fast bread recipe is you can make more bread easily whenever you need it.
Wrap your loaf in plastic wrap to seal in moisture and leave it on the countertop.
You can reheat slices or the whole loaf either in the microwave for 10 seconds or in the oven for 2-3 minutes.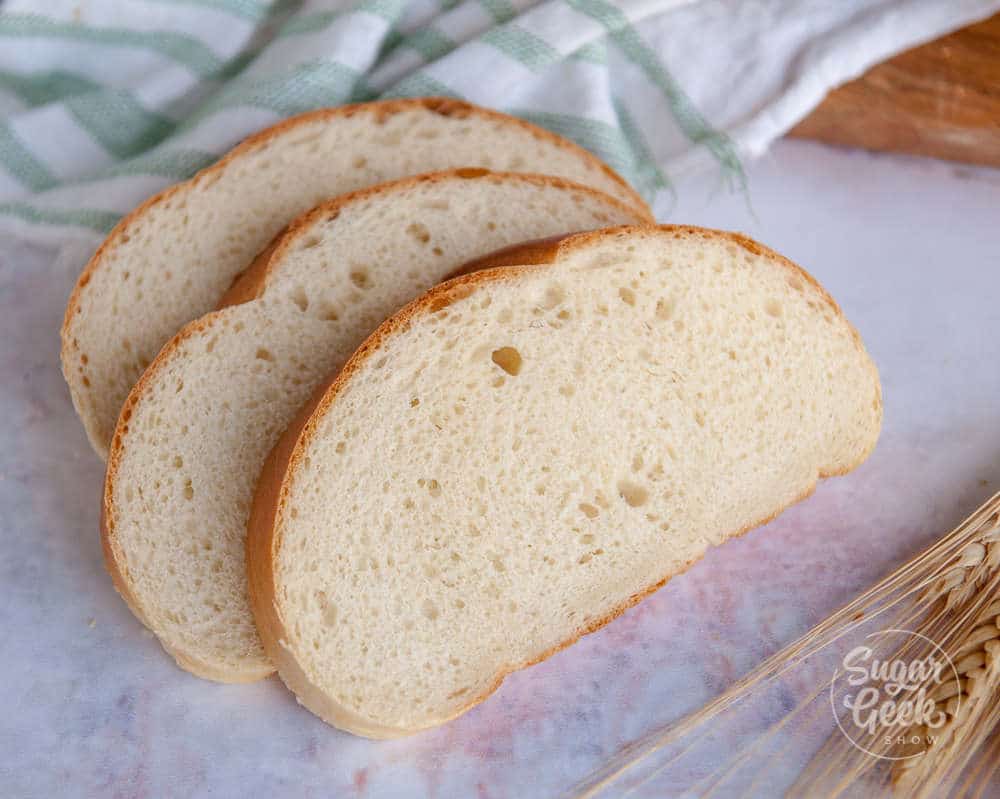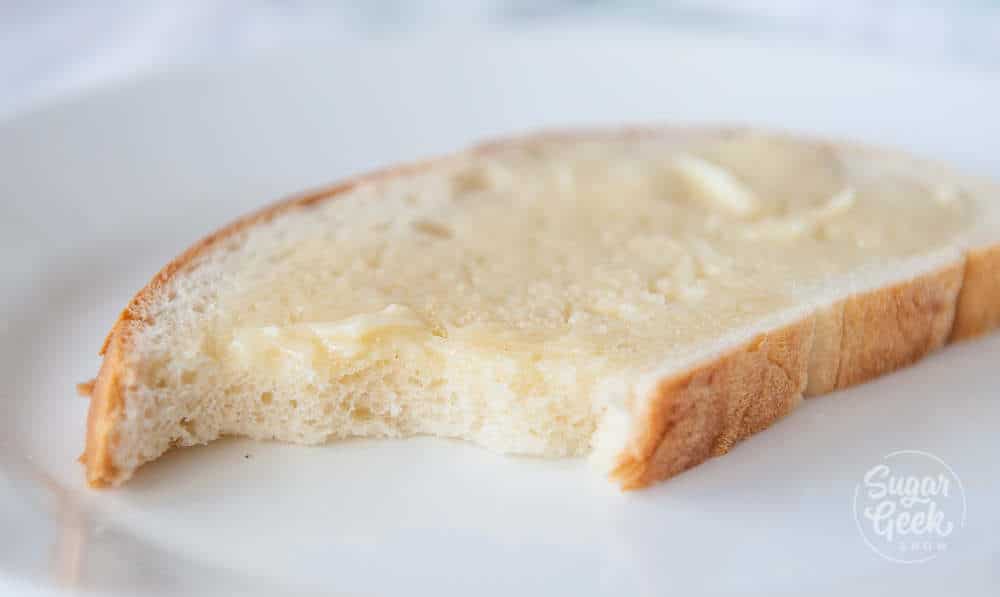 Need more bread recipes? Check these out
Easy Soft Dinner Rolls
Easy Focaccia Bread
Master Sweet Dough Recipe
Recipe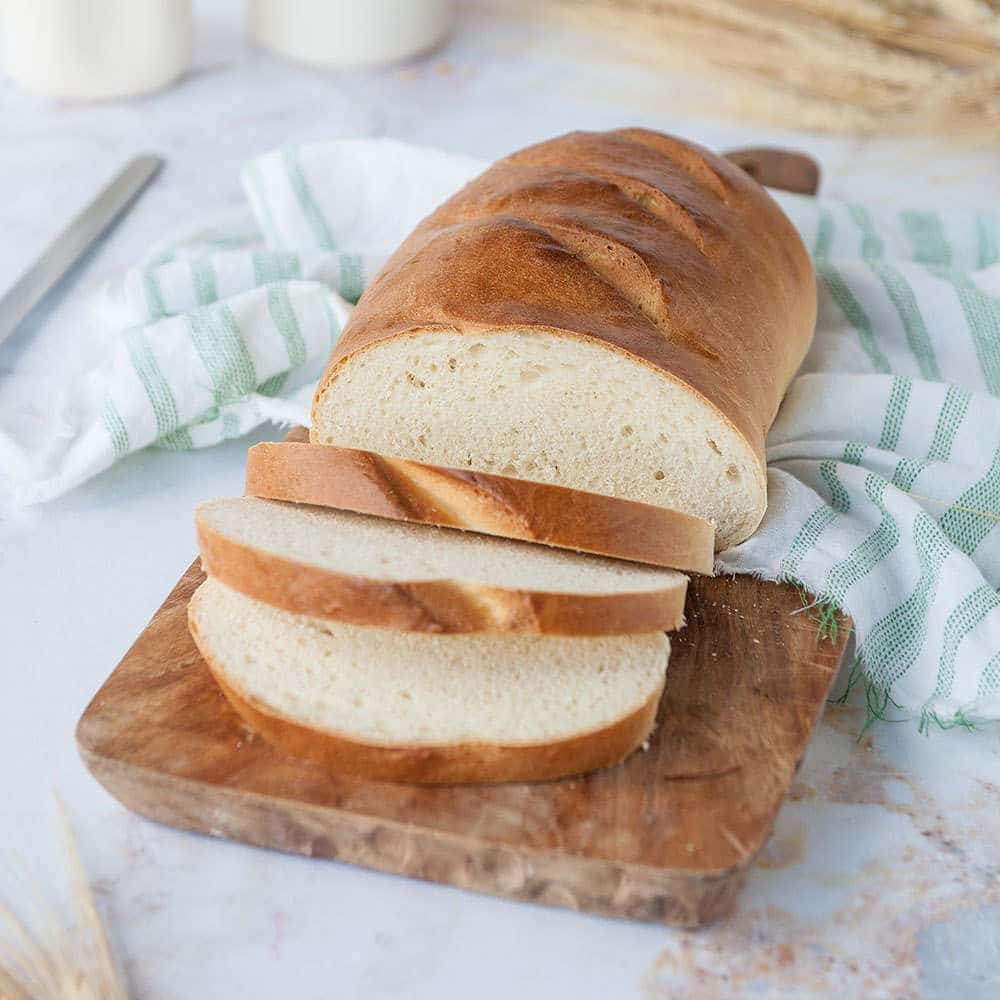 Equipment
Stand mixer with dough hook
Ingredients
28

ounces

bread flour

or all purpose (about 5 ½ cups, spooned and leveled)

10

grams

instant yeast

needs to be instant (about 3 teaspoons)

2

ounces

sugar

4 Tablespoons

16

ounces

warm milk (110ºF)

or water (two cups)

1 ½

teaspoon

salt

2

ounces

melted unsalted butter

¼ cup
Instructions
Combine flour, instant yeast, sugar, and milk in the bowl of your stand mixer with the dough hook attached and mix for one minute

Add in salt and melted butter

Add in a ¼ cup more flour if the dough is not sticking to the bowl because of the butter. If the dough is still not sticking to the bowl, add in 1-2 Tablespoons of water.

Mix for 5 minutes on speed 2

After 5 minutes, take a piece of dough and stretch it between your fingers. If you can make a very thin "window" that does not tear then you have developed enough gluten and you can shape your dough.

If the window tears, then mix for 2 more minutes.

Knead the dough on a lightly floured surface for 4-5 turns until you can form a smooth ball

Coat a large bowl in a little olive oil

Place the dough top side down into the bowl to get the top of the dough covered in oil then flip it over. Cover with a cloth and place in a warm area for 25 minutes to rise until the dough doubles in size (about 25 minutes) *see notes*

Preheat your oven to 375ºF

Divide your dough into two loaves (or more if you want to make hoagie's or rolls)

Let your loaves rest for 5 minutes

Brush your loaves with egg wash to promote a nice golden brown color

Use a sharp knife to make three slashes at a 30º angle in the top of the loaf, about ¼" deep. These slashes make the loaves look nice and also keeps the crust from tearing while it bakes in the oven.

Bake your loaves for about 25-30 minutes or until golden brown. You can also use a thermometer to check the center of your bread. If the temperature reads 190º - 200º your bread is done.
Notes
** I turn my oven on to 170ºF and open the door then place my dough on the door near the opening of the oven to proof, not INSIDE the oven. 
** If you don't have instant yeast your can use regular active yeast but it will take longer to proof. 
1. Let your dough proof for 90 minutes or until it doubles in size
2. Divide the dough, shape, brush with egg wash, make cuts with the knife and let rest for 30 minutes before baking. 
** Egg wash - crack one egg and whisk with 1 Tablespoon of water. Use a soft pastry brush to brush it onto the loaves. If you don't use egg wash your bread will be very pale. You can also use milk instead of egg for the wash.  
** You can use oil instead of butter
** You can use water  or almond milk in  place of milk
** You can replace white flour with wheat flour (use 24 oz instead 28 oz because wheat flour is denser than white flour)
Nutrition
Serving:
1
serving
|
Calories:
147
kcal
|
Carbohydrates:
27
g
|
Protein:
4
g
|
Fat:
2
g
|
Saturated Fat:
1
g
|
Cholesterol:
5
mg
|
Sodium:
115
mg
|
Potassium:
37
mg
|
Fiber:
1
g
|
Sugar:
2
g
|
Vitamin A:
59
IU
|
Calcium:
6
mg
|
Iron:
1
mg