The softest dinner rolls you've ever had can be made at home
I absolutely love dinner rolls. I have them with my pasta, my soup, my Sunday dinner, or all on their own with a little butter. I'm a sucker for super-soft, melt-in-your-mouth dinner rolls fresh out of the oven. There's nothing better! The best part is you don't need any special skills to make these amazing homemade rolls. If you've never made bread or used yeast, this is the perfect recipe to try. Keep reading to learn how.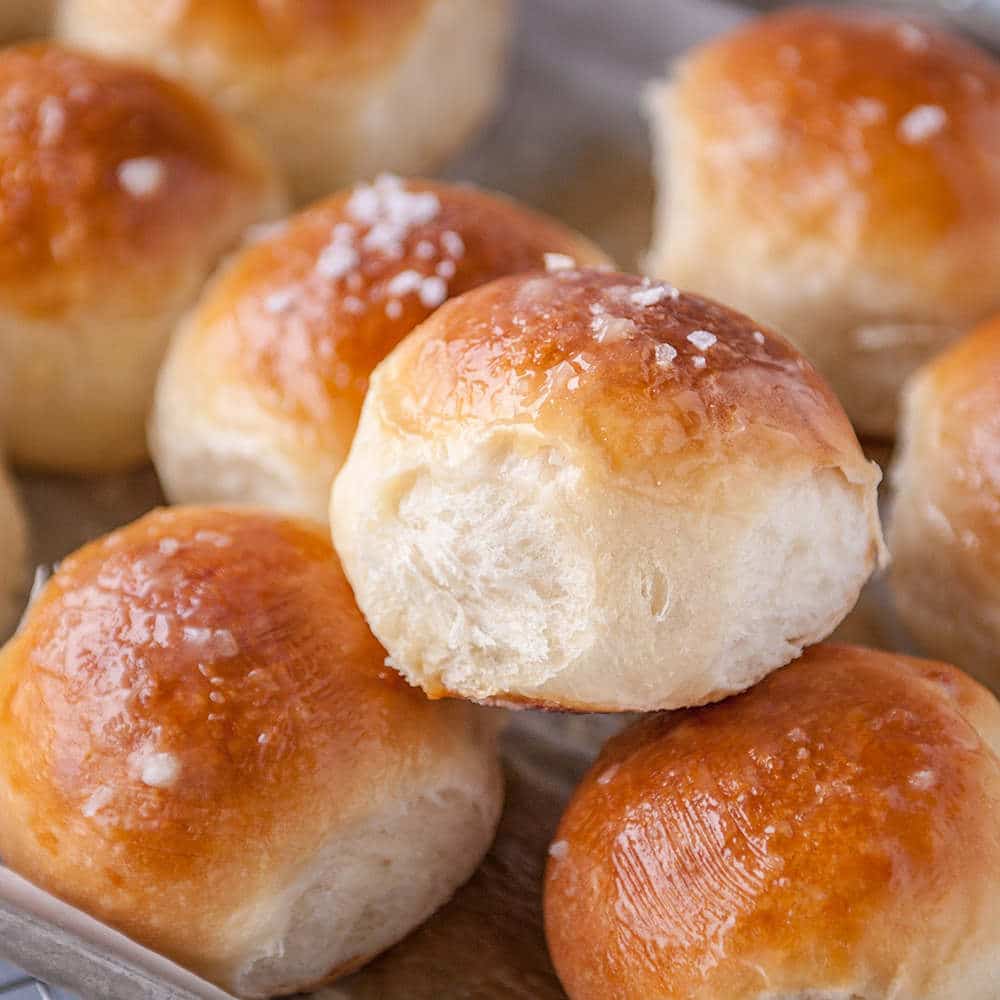 You may be intimidated to work with yeast and I don't blame you. It used to scare me too and I think it's a common fear that yeast is this delicate, complicated thing. But I promise you it's not. Definitely not as complicated as cake decorating!
Dinner rolls are a rich yeasted bread. This means they have fat (butter and eggs) in them which keeps them soft and fluffy. Yeasted bread that does not have butter or eggs is called a lean bread and is chewier and has a crunchy crust. There are tons of bread recipes out there but this is a great one for beginners or if you've never worked with yeast before and want to learn to make your own homemade bread.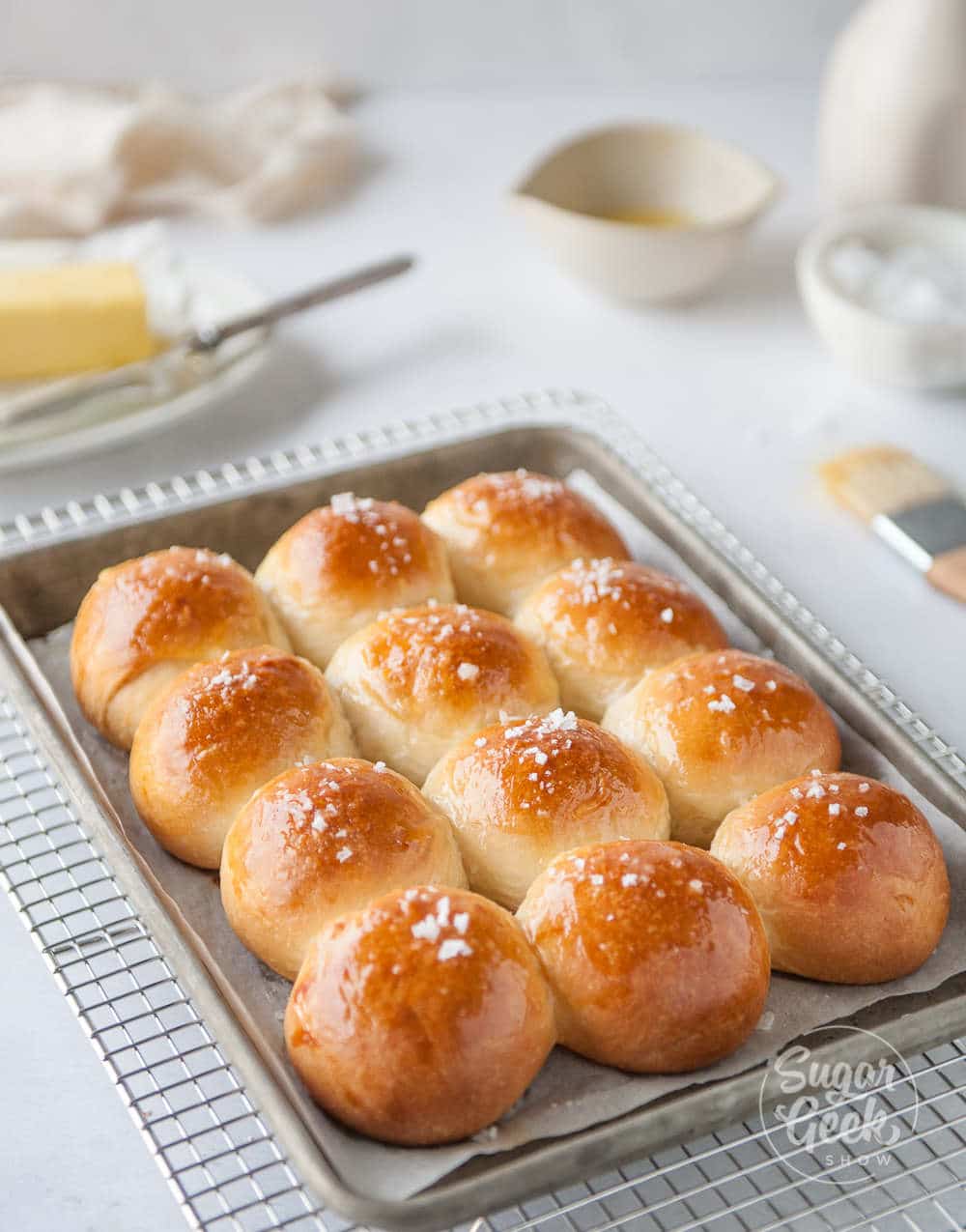 These are the ingredients you need to make soft homemade dinner rolls
To be clear, when you're making bread the only things you really need are flour, water, salt, and yeast. This bread has added sugar, butter and eggs to make the bread softer, moister and a little bit sweet.
Flour – The main ingredient in bread. When combined with liquid, the gluten in the flour is activated and creates the structure for bread. The more you knead it, the more structure is created which is why kneading is crucial for bread to turn out. You can use bread flour or all-purpose flour.
Milk – Activates the gluten in the flour, activates the yeast and makes the rolls more tender. Warm to 110ºF
Active Dry Yeast – Makes the dough rise and also provides flavor. (You can also use Instant dry yeast, let rise for 30 minutes the first proof then 10 minutes for the second proof after you shape your rolls)
Sugar – Feeds the yeast and helps keep the rolls moist and soft.
Egg – Provides flavor and structure to the dough and helps keep it soft.
Salt – Crucial to good flavor in your bread!
Softened Butter – The key ingredient for super-soft, flakey dinner rolls.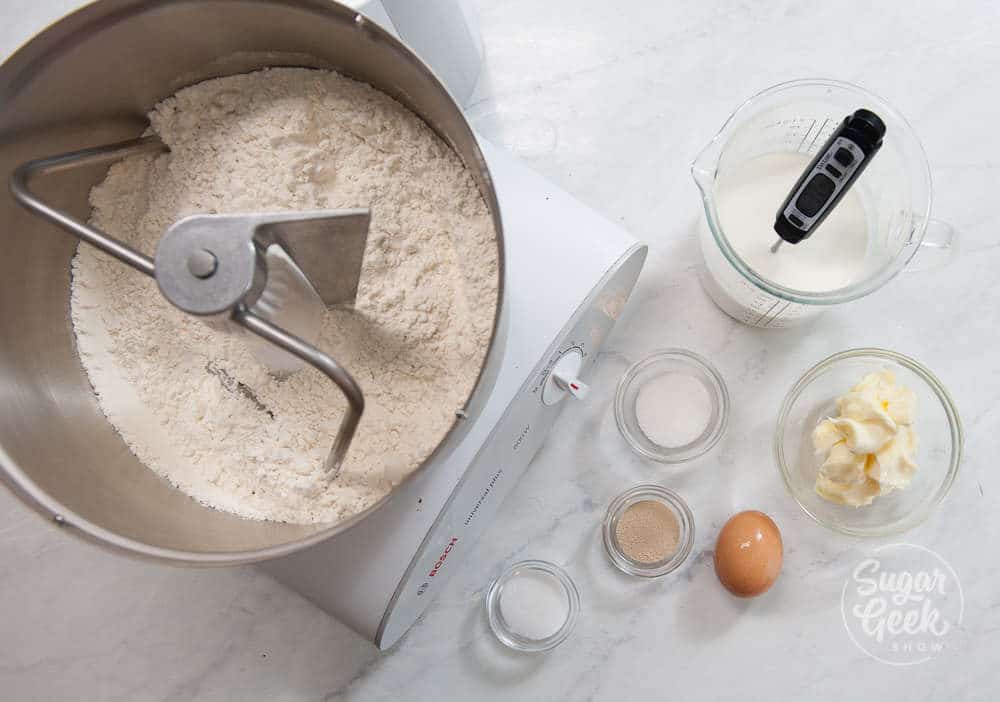 Interested in this mixer? It's the Bosch universal plus, you can read all about it in my Bosch mixer review.
What is yeast?
There are different kinds of yeast but just to be clear, we're talking about baking yeast. Yeast is a naturally occurring, living organism that need sugar, warmth, and moisture to grow.
That must sound strange right? Like, what do you mean a LIVING ORGANISM? Basically, yeast is like a bunch of tiny mushrooms. Mushrooms grow best in warm environments with access to food (light) and moisture.
When they have the right conditions, they grow like crazy. Yeast does the same thing. When you give yeast warmth, moisture and food (sugar) it grows like crazy, producing alcohol and carbon dioxide through fermentation. The carbon dioxide get's trapped in the dough and expands during baking which causes the bread to rise.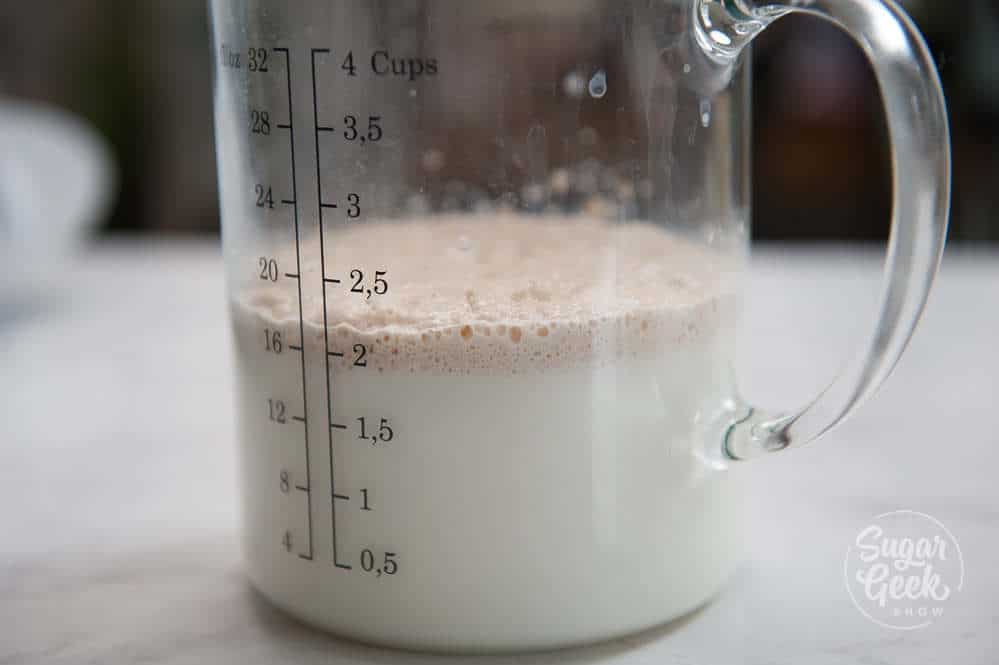 Baking yeast comes in three formats, fresh yeast, dried yeast, and instant yeast. Back in the day, I worked at a bread bakery and we made HUGE 50 lb batches of bread using fresh yeast cakes. The cakes are kept in the refrigerator and crumbled over flour, sugar, and water, and very specific temperatures to make the dough. That is the only time I've ever seen it used.
Typically, most people use dried yeast which is in a dormant stage until it is introduced to moisture, warmth, and sugar. Imagine a tiny bag of dried mushroom roots, that's dried yeast.
What temperature does yeast grow?
Yeast will start growing between 110ºF – 115ºF and rises the best at about 95ºF. If the yeast gets too hot (around 120ºF) it will start dying. Yeast completely dies off at 140ºF.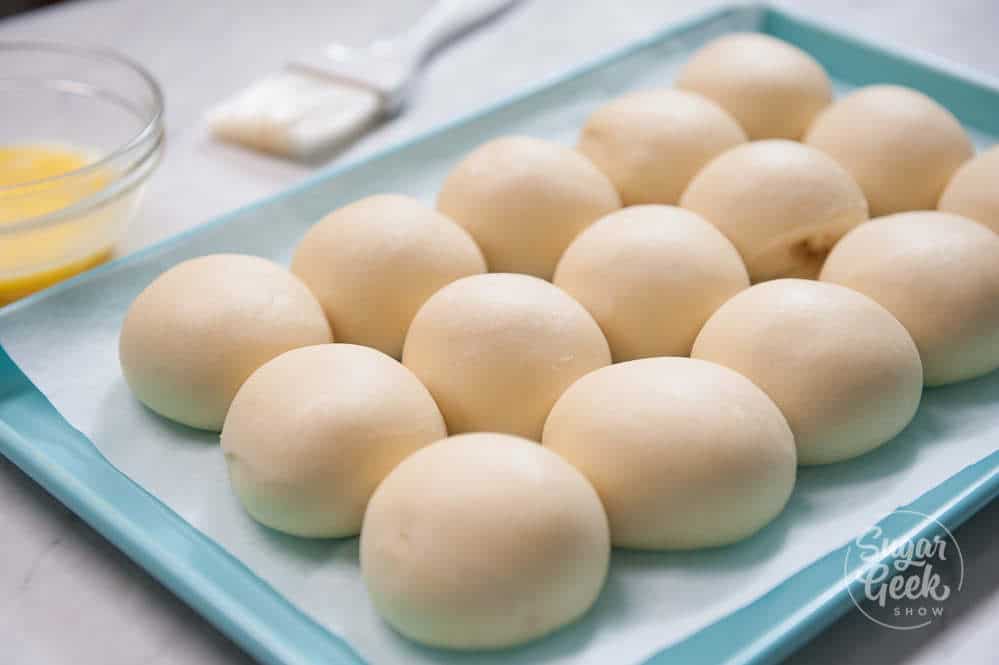 What are the steps to making homemade dinner rolls?
Proofing Yeast – Mixing the yeast in with the warm milk and sugar get's the yeast growing. This is also a good way to check if your yeast is expired. If it doesn't start bubbling after 5 minutes, toss it out and buy new yeast.
Kneading Dough – Kneading is very important for making bread. The more you knead the dough, the more structure you create. That structure is needed to trap all the carbon dioxide that the yeast makes in order for the bread to rise. Underkneading your dough can result in a very poor rise and texture. You should knead your dough for about 8-10 minutes either by hand or in your mixer or until the dough has a smooth surface and pulls away from the bowl.
First Rise – Once you've created the structure for your bread, now it's time to let the yeast do it's thing. Set your dough in a warm place (about 80º) and let the dough rise until it doubles in size. About 90 minutes. (30 minutes for instant yeast)
Shaping Dough – Once your dough has doubled in size, it's time to shape it. Shaping is important so that the surface of your bread is smooth and bakes evenly.
Proofing Dough – Once your dough is shaped, all that's left to do is let your bread rise one more time to develop the final structure and flavor of the bread. About 30 minutes. (10 minutes for instant yeast)
Baking – Times for baking your bread will vary depending on how big the dough is. Rolls bake faster than loaves of bread. Lean bread is done when the internal temperature reaches 190ºF and rich bread is finished at 200ºF. It's better to bake for longer until the bread reaches a nice golden color than to under-bake which can result in a doughy interior.
How to make easy dinner rolls
Time to make the dinner rolls! The first thing we want to do is make a comfy environment for the yeast to start growing. Warm your milk in the microwave or on the stovetop until it reaches 109ºF. Add your sugar to the milk (the food for the yeast) and then add the dried yeast. Give it a stir and set it aside for about 10 minutes. You should start to see some bubbles growing on the surface, a good sign the yeast has been activated!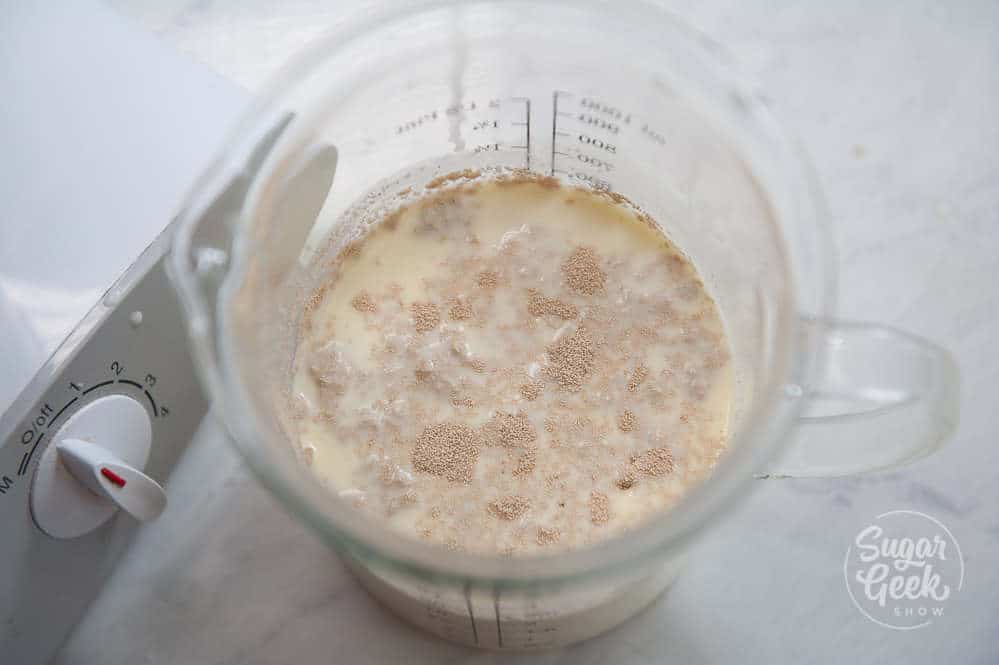 Add your flour to the mixing bowl with the egg and your yeast mixture. Mix with the dough hook on low speed until everything is blended, then add your butter and salt to the bowl. Continue mixing on low for 10-12 minutes or until the dough ball pulls away from the bowl and is firm and elastic.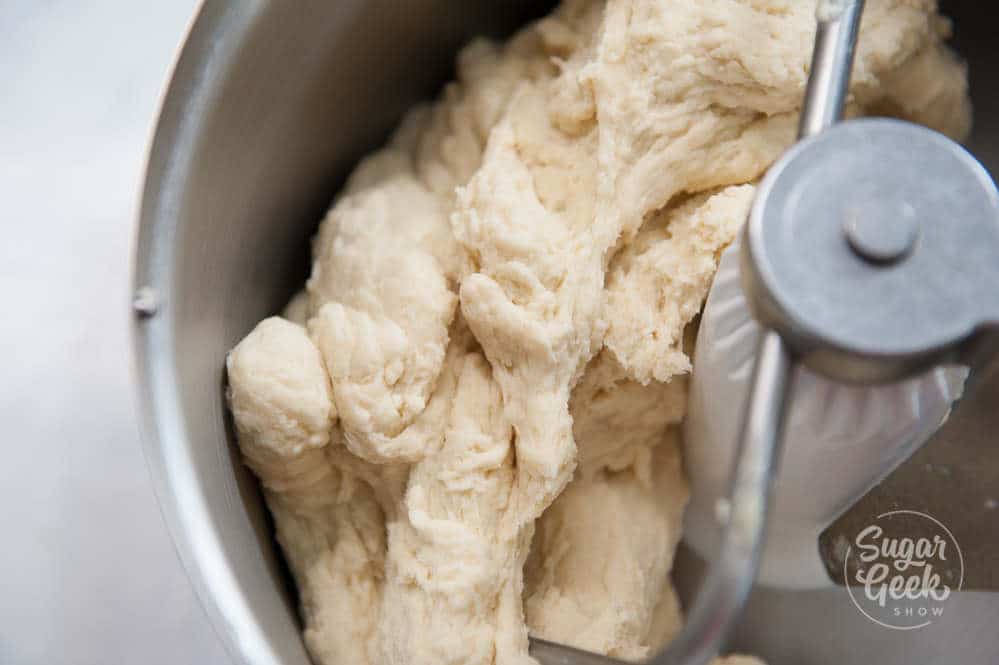 Touch the side of the dough ball, does it spring back? It's ready. If it still seems very soft and oozes between your fingers, it hasnt' developed enough gluten. Keep mixing.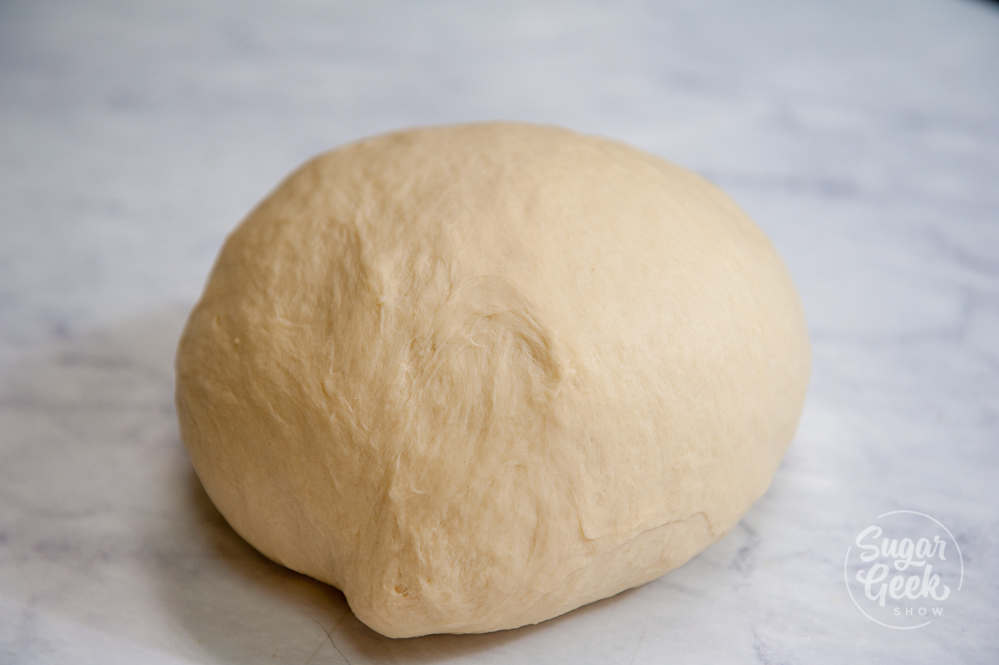 Place the dough into a lightly oiled bowl. Cover the bowl with a tea towel and set it in a warm place (but not too warm) for 90 minutes or until it doubles in size (30 minutes for instant yeast). Too much warmth will kill the yeast. Too cold and they won't grow quickly. The idea environment is about 80ºF. If you're at my house then it's always pretty warm because I get cold!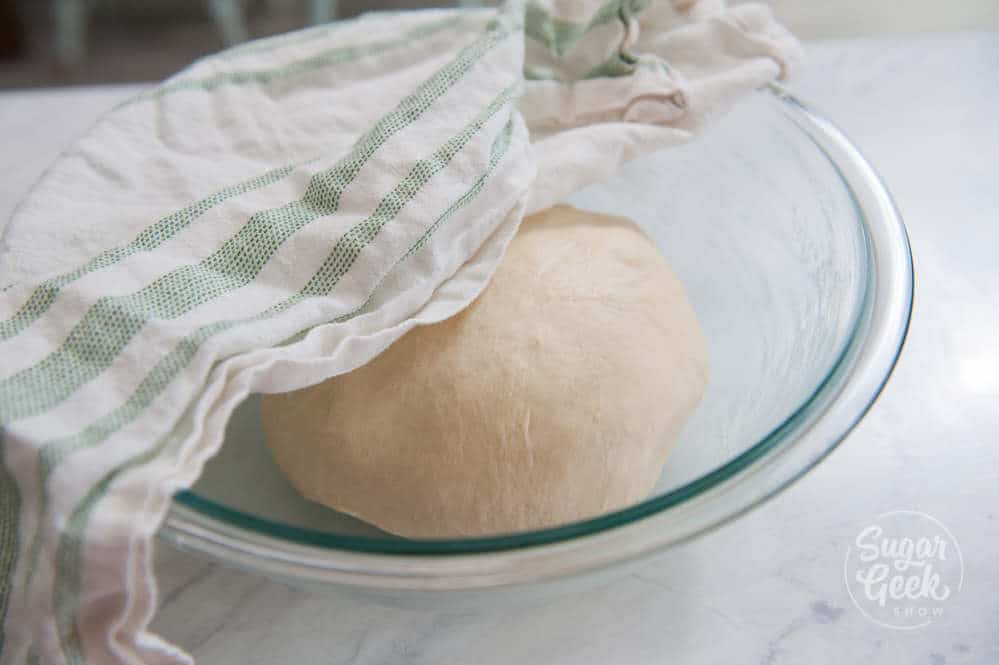 I know some people who put the bread on the counter next to the oven if it's on or on top of the fridge. My favorite spot is on top of the counter above the running dishwasher. Warm and moist! lol.
You can also proof the dough in the oven. Pre-heat the oven to the lowest setting and then turn it off. Place a bowl of hot water in the back corner of the oven then place your covered dough into the oven. You can use a thermometer in the oven to make sure it's not hotter than 100ºF inside. The ideal temperature is about 75ºF – 95ºF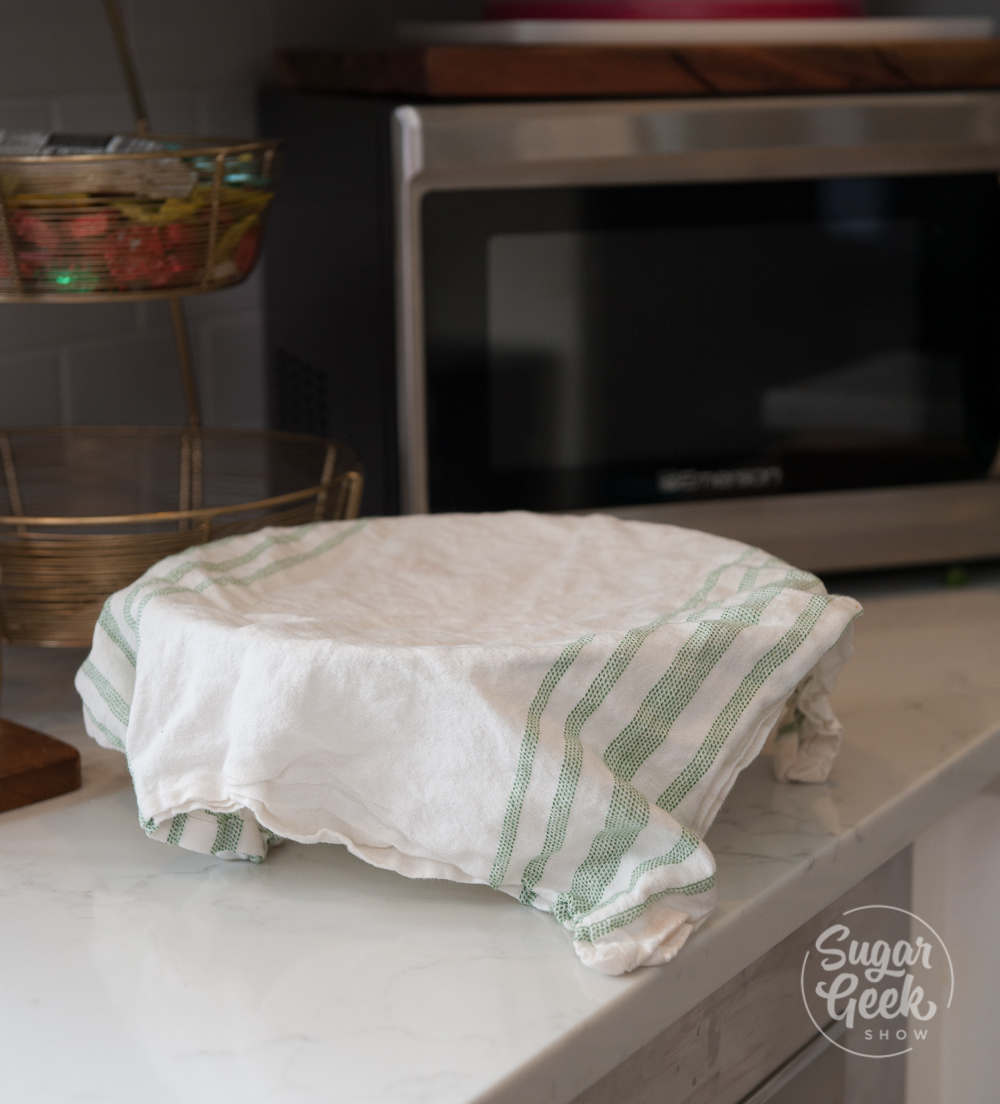 Once the dough is done rising, you can punch it down. Because it's fun. Not necessary though. Just poke two fingers down into the top of the dough, if the hole stays and the dough does not spring back then the dough has risen enough. If the dough bounces back then it needs more time to rise.
Take the dough out of the bowl and divide it into thirty, 2-ounce pieces of dough. I weigh mine but you can eyeball it too.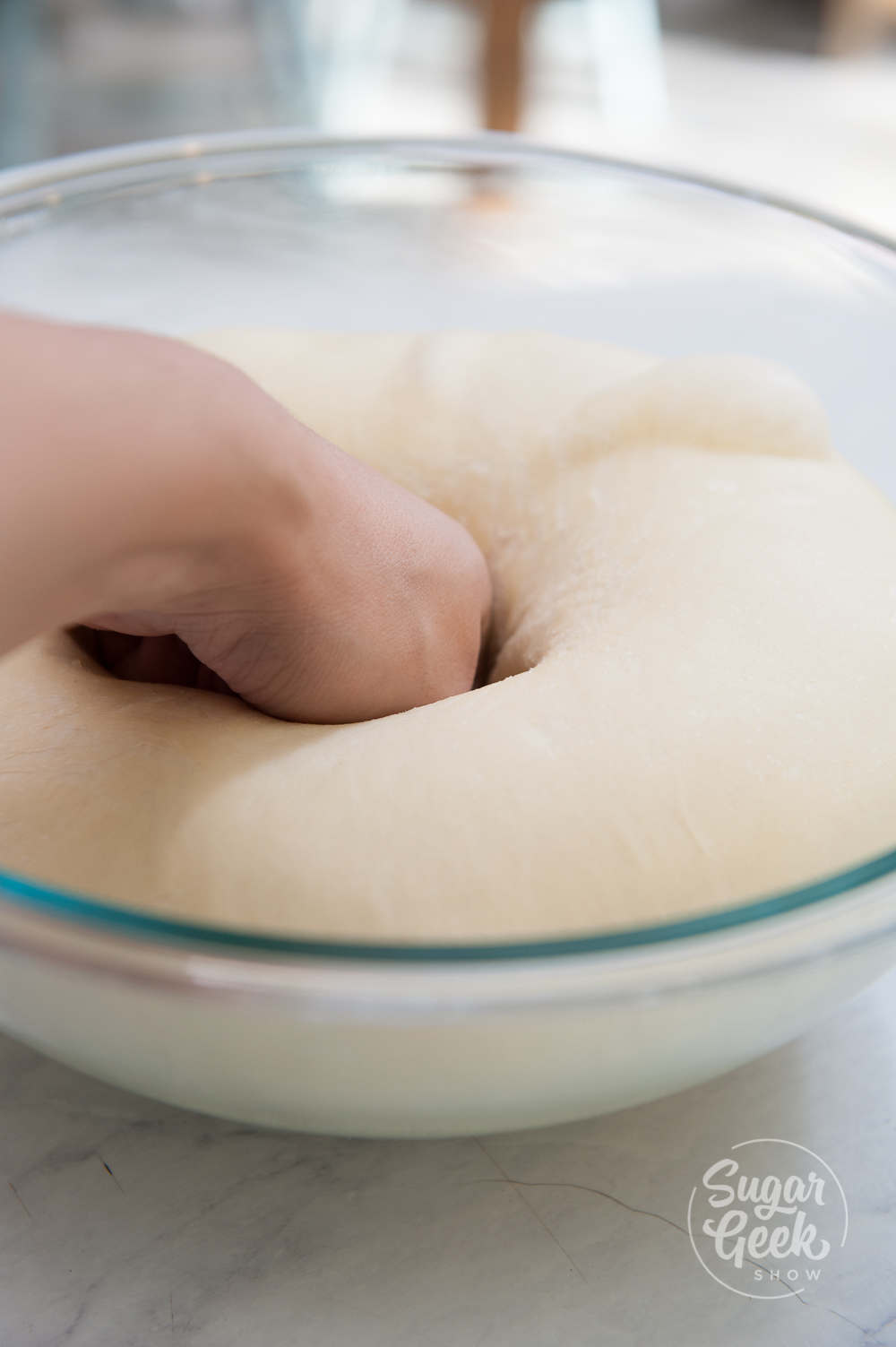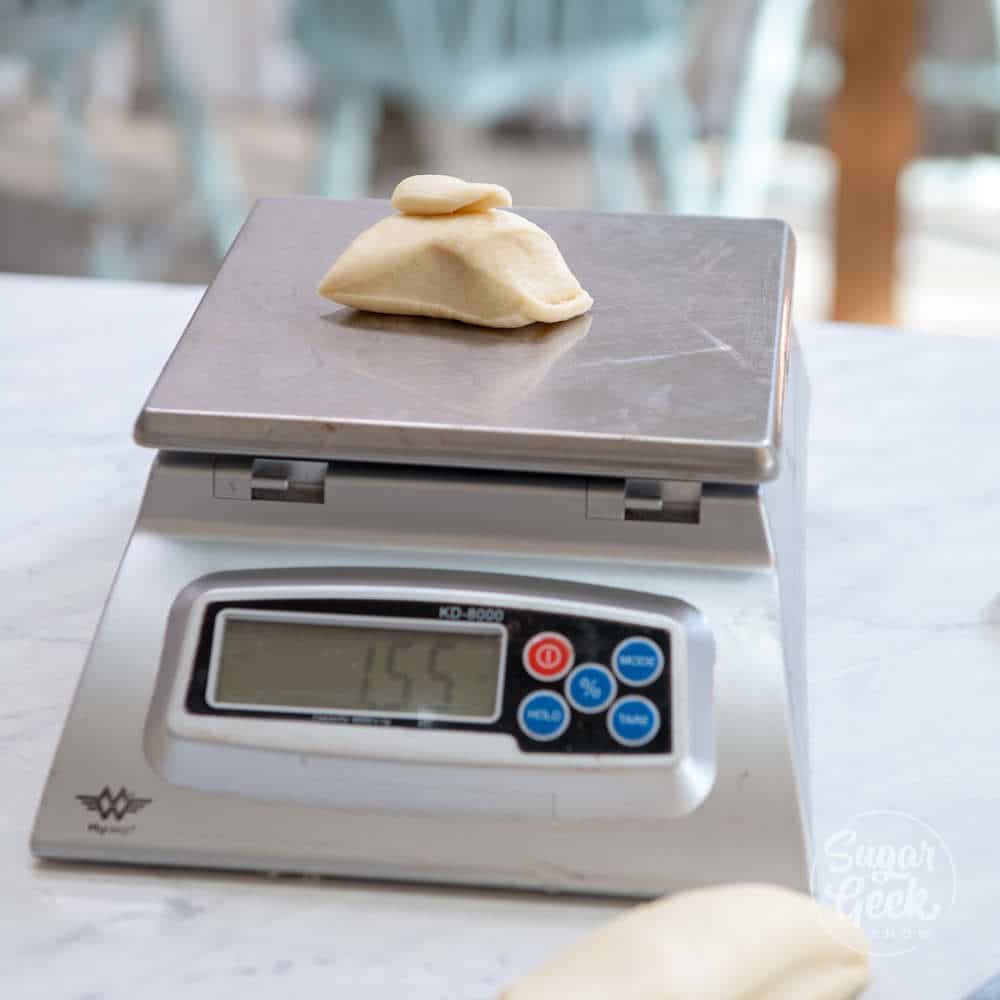 Fold the edges of the dough under itself until all the top of the dough is smooth. Place into the pan in four rows. Cover with a towel and let them rise for one hour or until doubled in size. If the room is hot they might rise faster. If the room is cold they might take more time. Just keep an eye on them.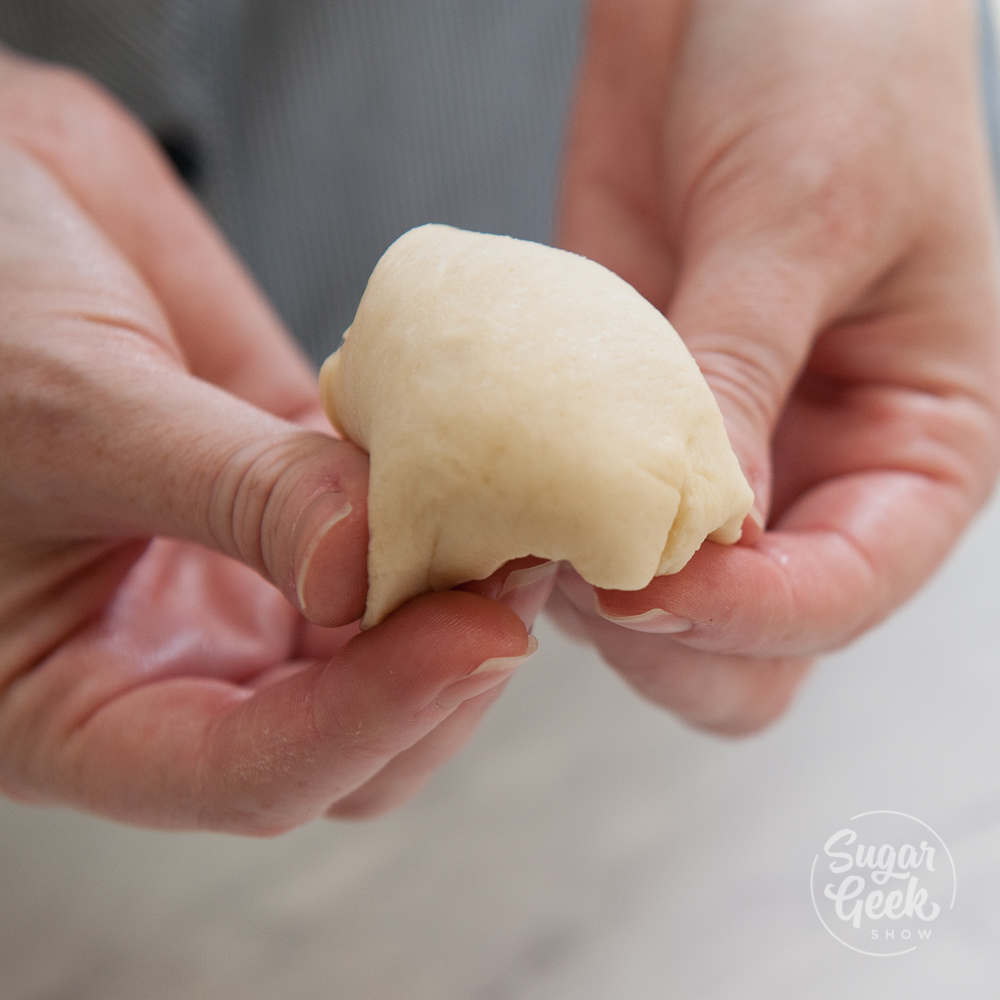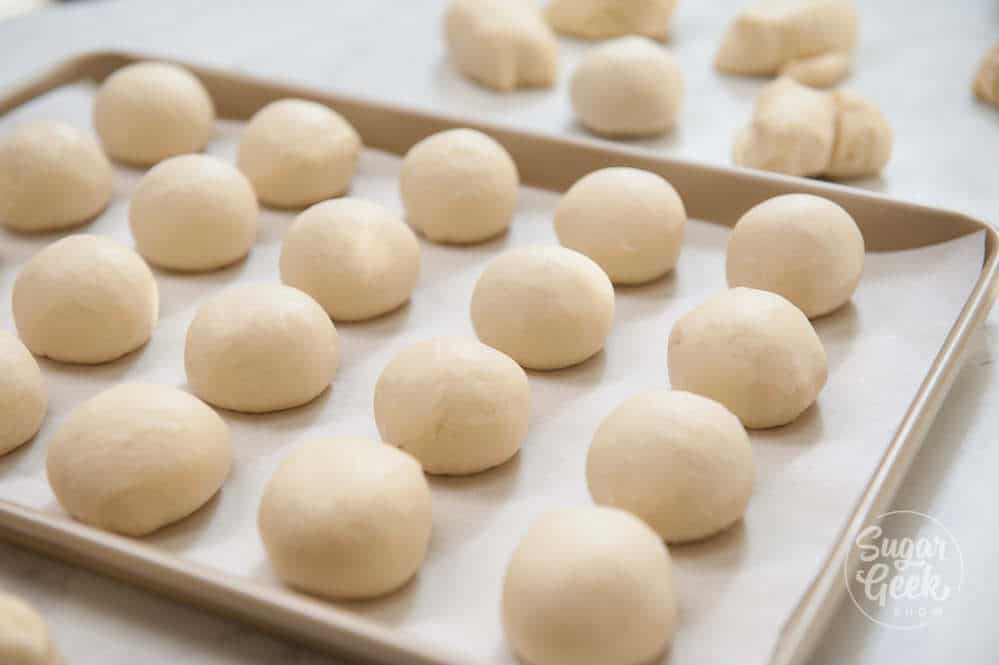 If you want to save the rolls for the next day, cover them in plastic wrap and put them in the fridge. The cold air stops them from rising. Bring them out two hours before you need to bake them and give them time to rise before baking. Remember, they are cold so they will take a little longer to rise.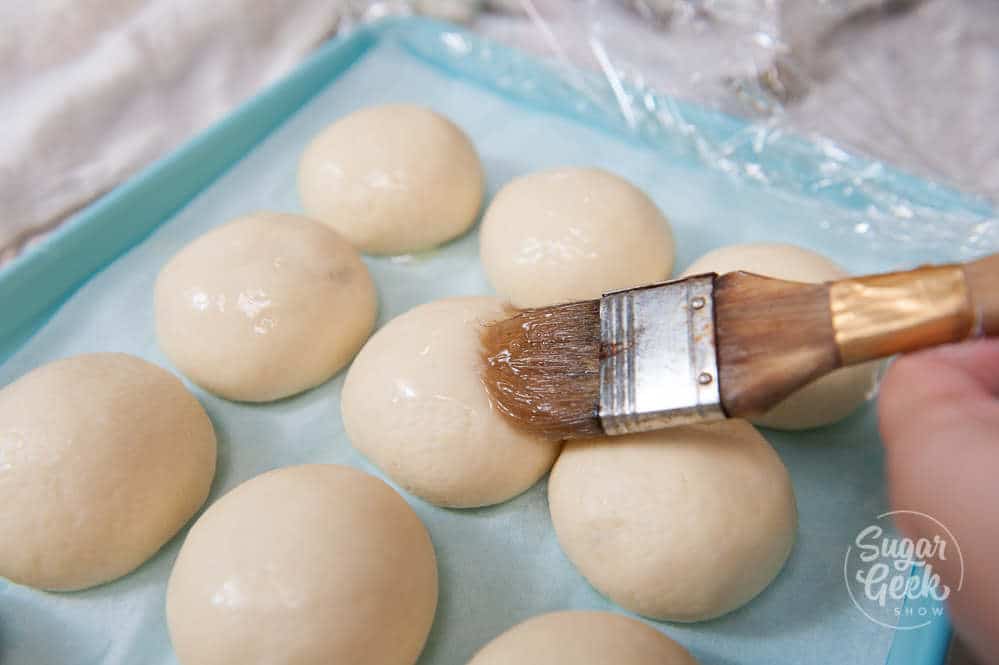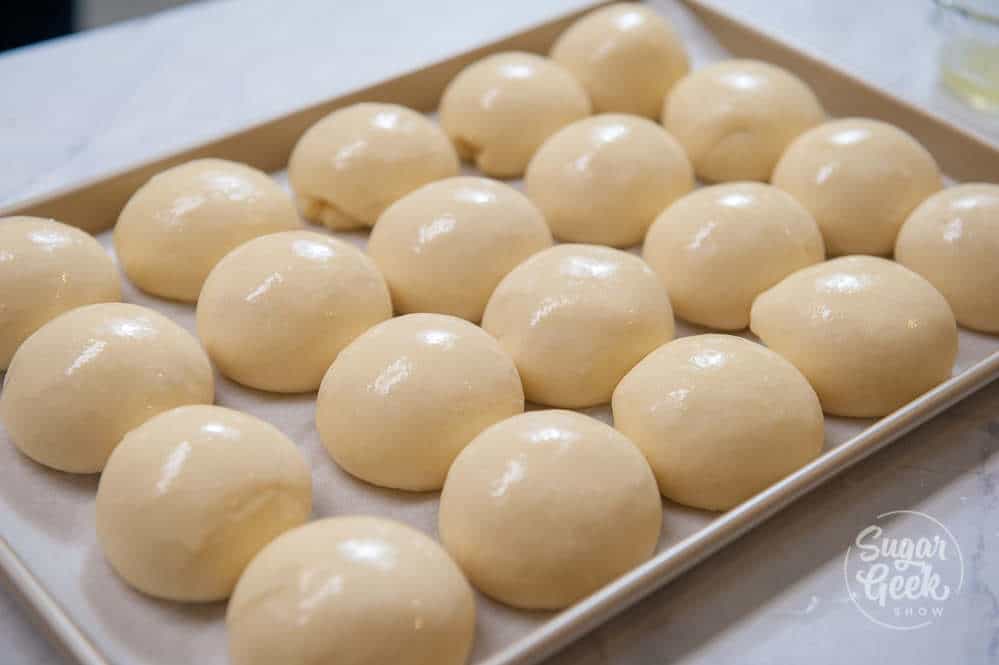 Once the rolls are nice and puffy (30 minutes for active dry yeast, 10 minutes for instant yeast) you can bake them! Brush the tops with your egg wash and bake for 25-30 minutes or until nice and golden brown. Don't under-bake them or they will be doughy in the center. Brush them with melted butter and a sprinkle of sea salt and serve warm. Oh my gosh, they are heaven on a plate!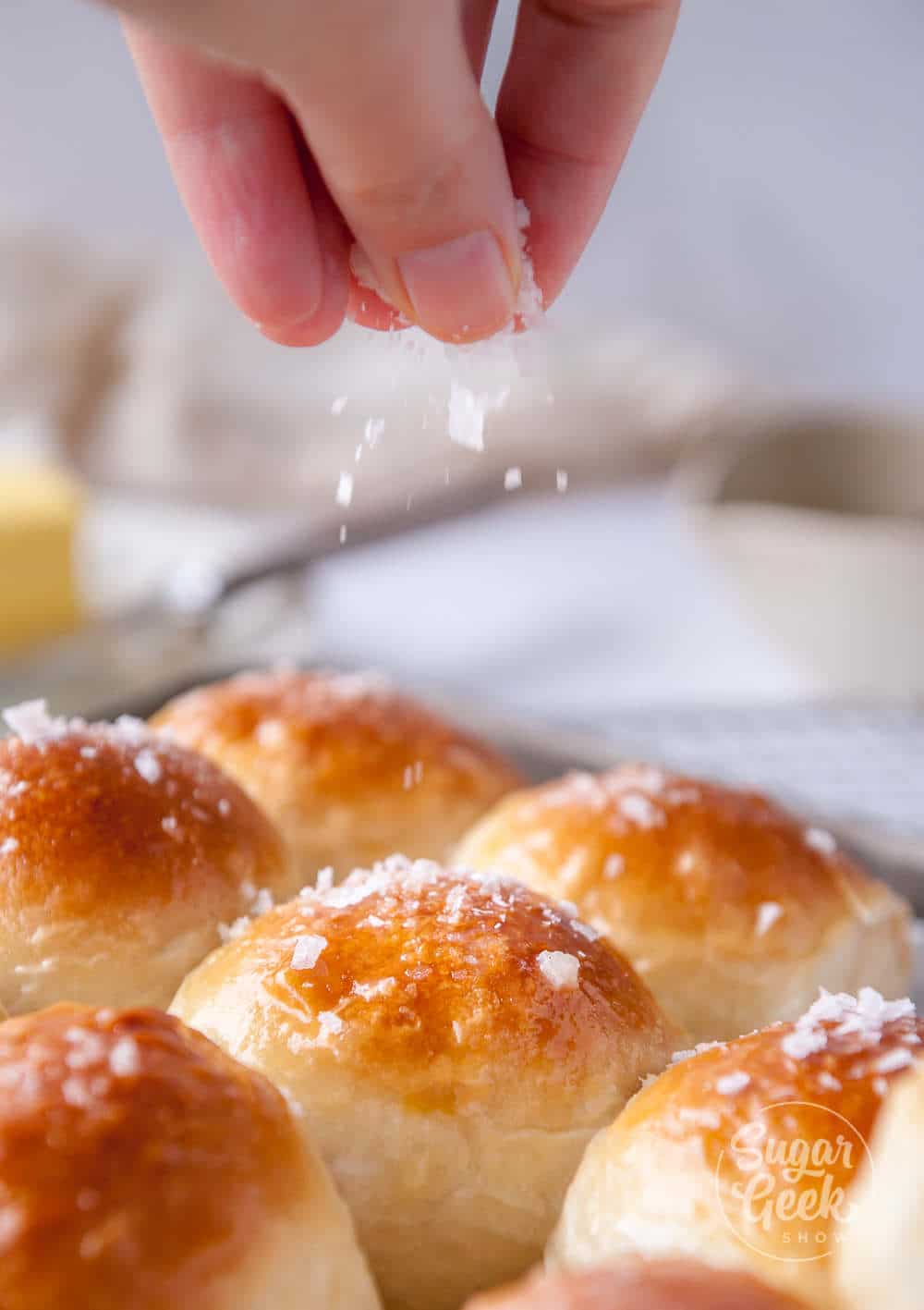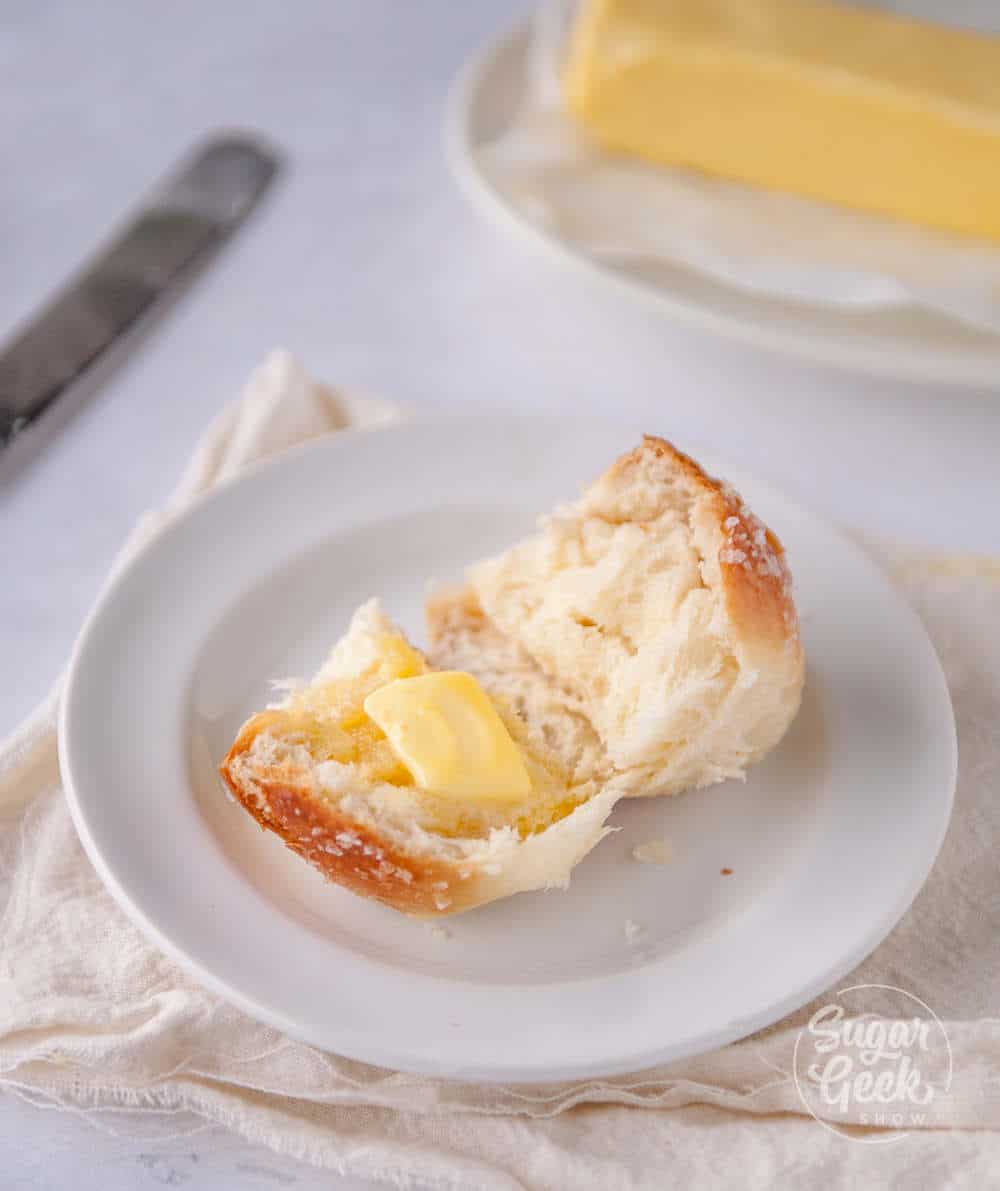 Did You Make This Recipe?
Leave a rating and tell me how it went!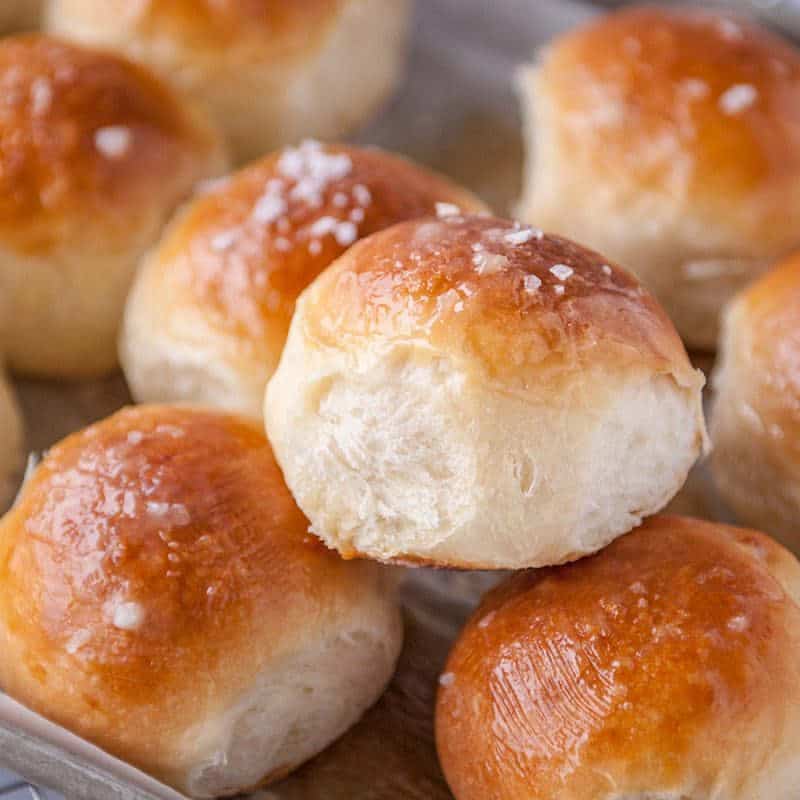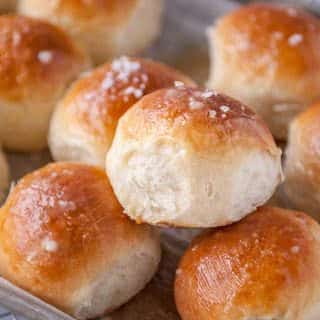 Soft and Fluffy Homemade Dinner Rolls
If you've never made homemade dinner rolls, this is the recipe for you. Follow these easy step-by-step instructions on how to knead, shape, proof and bake the best dinner rolls you've ever had!
Print
Rate
Never Miss A Cake
Ingredients
Soft Dinner Rolls
16

ounces

(

454

g

)

whole milk

warmed to 109ºF

1

large

egg

room temperature

1

Tablespoon

(

15

g

)

sugar

10

grams

(

10

grams

)

active dry yeast

or instant yeast (see notes)

30

ounces

(

850

g

)

Bread flour

or all-purpose flour

1

Tablespoon

(

15

g

)

salt

5

ounces

(

142

g

)

butter

softened but not melted
Egg Wash
1

large

egg

1

Tablespoon

(

15

g

)

water
For the rolls
2

Tablespoons

butter

melted

1

Tablespoon

flakey sea salt
Instructions
Egg Wash
Combine 1 egg with 1 Tablespoon water and whisk until smooth
For The Rolls
Preheat the oven to 375ºF. Line two 9"x13" pans with parchment paper.

Place warmed milk, sugar and yeast into a bowl and stir. Set aside for 10 minutes until bubbly

Place flour, yeast, and egg into the bowl of your stand mixer with the dough hook attached. Mix on low until combined.

Add in butter in small chunks and then salt and mix on low until combined. Increase speed to medium and knead until a smooth dough ball forms and pulls away from the sides of the bowl. About 5-8 minutes.

Place the dough into a lightly oiled bowl and cover with a tea towel. Place in a warm environment (75ºF) and let rise for 90 minutes or until the dough doubles in size.

Divide the dough into 2 ounce portions (about 30 rolls) and form into balls by tucking the rough edges under the ball so the top is smooth.

Place the rolls into two 9"x13" pans. Cover and let proof for one hour or until doubled in size. You can also wrap in plastic wrap and put into the fridge overnight to bake the next day. Let rise for two hours before baking.

Brush the surface of the rolls with egg wash and then bake for 25-30 minutes or until golden brown.

Brush with more melted butter when they are done baking, sprinkle generously with flakey sea salt and serve warm.
Notes
** I turn my oven on to 170ºF and open the door then place my dough on the door near the opening of the oven to proof, not INSIDE the oven.
** You can iuse Instant yeast but let your dough proof for only 30 minutes the first time and then 10 minutes after you shape your rolls before baking.
**No need to bloom instant yeast in milk, just add the yeast to the flour and add the milk mixture to the flour mixture and mix as directed.
** Egg wash - crack one egg and whisk with 1 Tablespoon of water. Use a soft pastry brush to brush it onto the loaves. If you don't use egg wash your bread will be very pale. You can also use milk instead of egg for the wash. 
** You can use oil instead of butter
** You can use water  or almond milk in  place of milk
** You can replace white flour with wheat flour (use 26 oz instead 30 oz because wheat flour is denser than white flour)
Nutrition
Serving:
1
roll
|
Calories:
191
kcal
(10%)
|
Carbohydrates:
27
g
(9%)
|
Protein:
6
g
(12%)
|
Fat:
6
g
(9%)
|
Saturated Fat:
4
g
(20%)
|
Cholesterol:
32
mg
(11%)
|
Sodium:
349
mg
(15%)
|
Potassium:
70
mg
(2%)
|
Fiber:
1
g
(4%)
|
Sugar:
2
g
(2%)
|
Vitamin A:
204
IU
(4%)
|
Calcium:
31
mg
(3%)
|
Iron:
1
mg
(6%)