Strawberry Cake Made With Real Strawberries Packs A Powerful Berry Punch
Strawberry cake with no Jell-O. That was my goal. Getting real strawberry flavor into a cake is no easy task. I tested over a dozen strawberry cake recipes and dirtied about every single dish in my house to finally answer the question "can you make REAL strawberry cake with strawberries"? The answer is HECK YES you can! We'll go over a few key ingredients to make your next summery strawberry cake yummy, moist and full of strawberry flavor!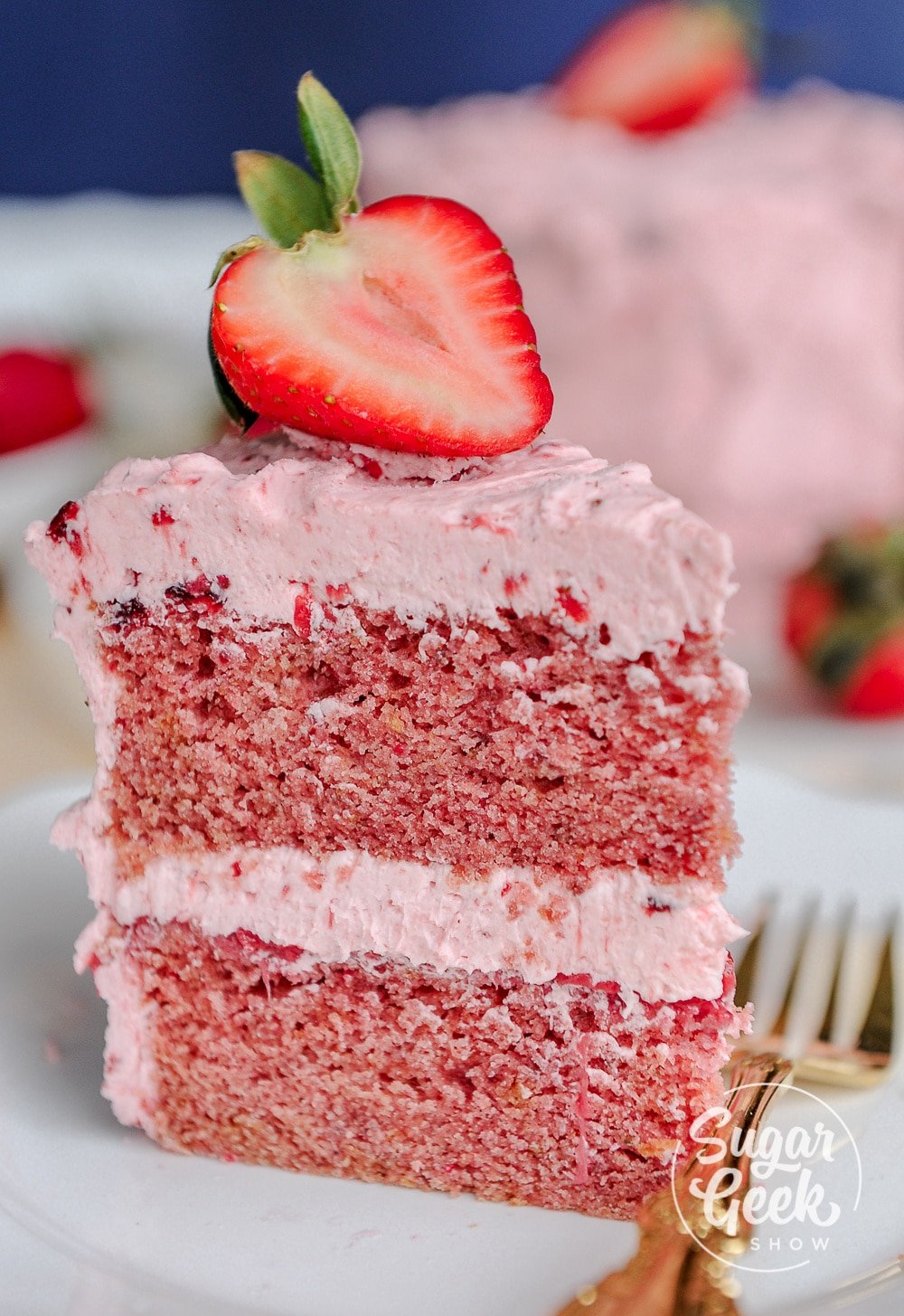 If you've been to Pinterest lately, you will have approximately one TRILLION recipes for strawberry cake. I tried a few from some big name blogs that I thought would for sure delivery and boy was I disappointed. Most recipes contained either Jell-O for the strawberry flavor or the use of a boxed mix.
"silently cries tears of pain"
I just wanted an easy scratch recipe made with real strawberries! Is that not too much to ask?
Now I am definitely not the best baker in the world but I do enjoy a challenge so I set myself up to see if I could make a really good strawberry cake. I gave myself two rules. I had to use real strawberries and the flavor had to taste like real strawberries in the cake alone.
Strawberry cake without Jell-O?
Now don't get me wrong. I love me some Jell-O but not in my cakes. Gelatin is not something I would think to add to my cake to make the texture light in fluffy, more like gummy and dense. I think the worst thing about strawberry cake made with Jell-O is that it tastes like fake strawberries. Pretty tasty in jolly ranchers but not so much in my cake.
Funny story… my friend Timbo from Cakes by Timbo recently told me that he uses Jell-O in his cakes for competitions because it makes them really easy to carve and holds them together. Good tip for you competition peeps!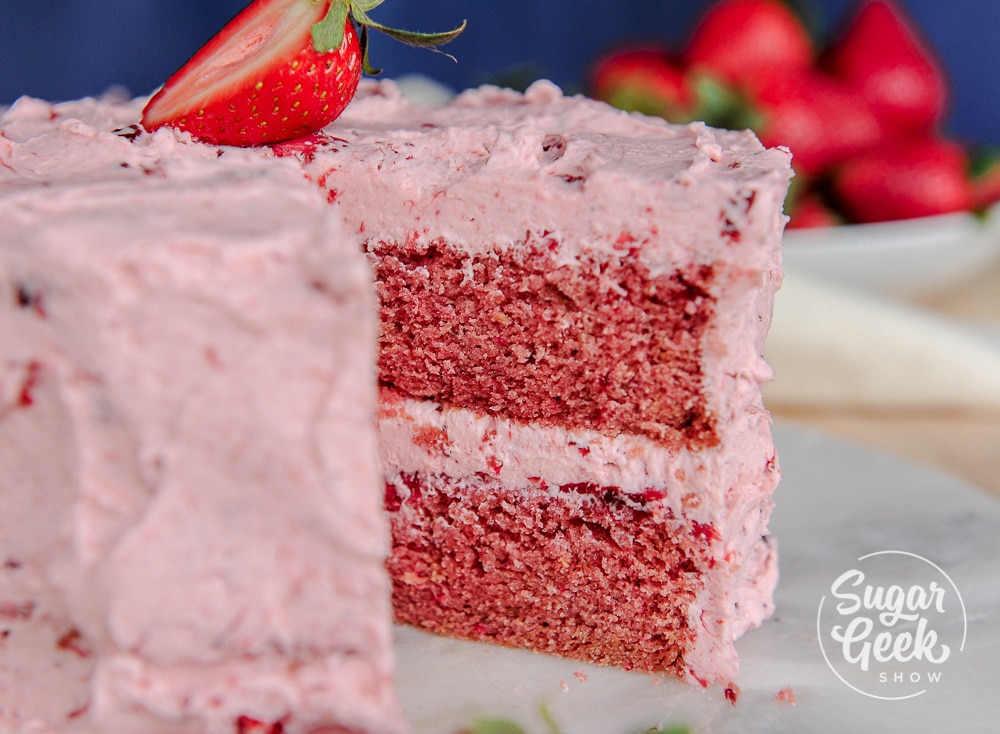 What about strawberry cake mix?
There are a lot of recipes out there that combine cake mix and strawberry Jell-O. We already discussed how I feel about the Jell-O thing. Let us not speak of it again.
But what about straight up strawberry cake mix? What's that about?
I admit, I have tried strawberry cake mix in a pinch. It's so pretty and pink! I wanted it to taste like strawberries SO BAD. But again, it's got that weird, fake strawberry flavor to it. What exactly is fake strawberry flavor made from? I checked out the ingredients.
What's in strawberry cake mix?
Nutrition facts for Pillsbury Strawberry Flavored Premium Cake Mix: Enriched Bleached Flour (Wheat Flour, Niacin, Iron, Thiamin Mononitrate, Riboflavin, Folic Acid), Sugar, Leavening (Baking Soda, Calcium Phosphate, Sodium Aluminum Phosphate), Wheat Starch, Contains 2% Or Less Of: Canola Oil, Salt, Corn Starch, Propylene Glycol Esters Of Fatty Acids, Mono And Diglycerides, Natural And Artificial Flavors (Barley), Cellulose, Cellulose Gum, Dextrose, Sodium Stearoyl Lactylate, Xanthan Gum, Red 40, Citric Acid And BHT (Antioxidants).
Did you happen to see any strawberry in that list? Me either.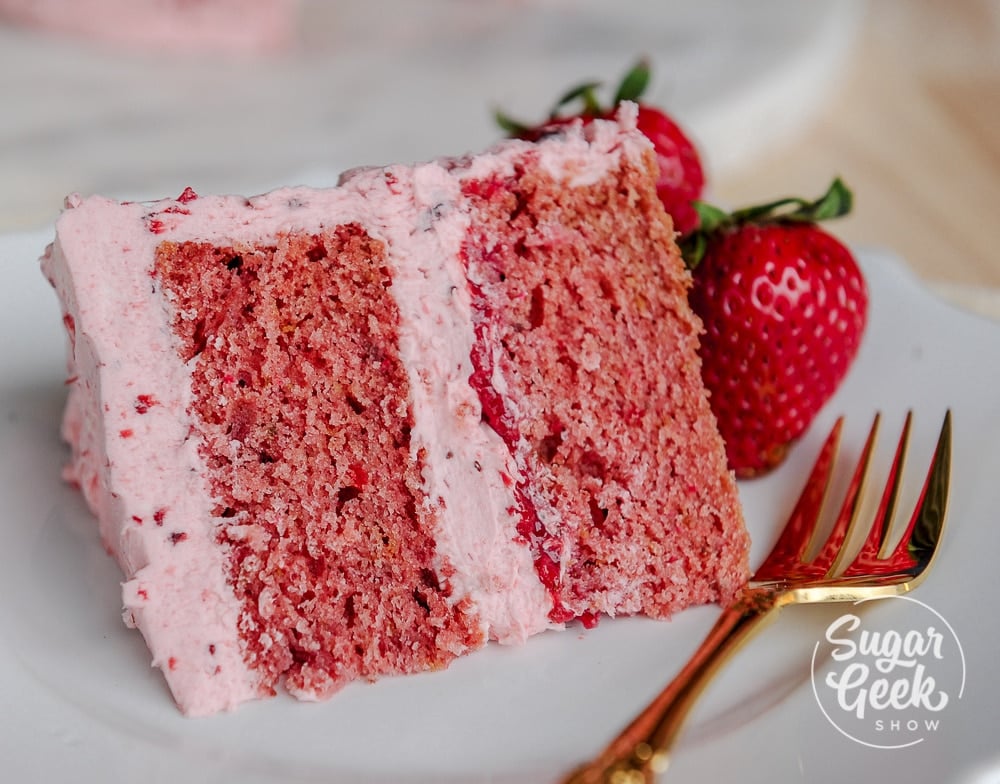 The science behind strawberry cake
Ok so before we get into the results of my testing, let's discuss a few things that you must know about altering a recipe. Most any flavor of cake can be achieved by starting with a base white cake recipe. What that recipe is depends on your preferences. I prefer cakes that use cake flour but for this recipe I decided to go with an AP flour base for more stability.
In pastry school, we learned out how to alter recipes by following a few rules. If you're adding dry ingredients, you can add up to 1/4 cup without altering the recipe. For instance, you can add in chocolate chips to your cake batter and it won't affect your recipe.
However, if you want to add in something like orange juice, that changes a lot of things.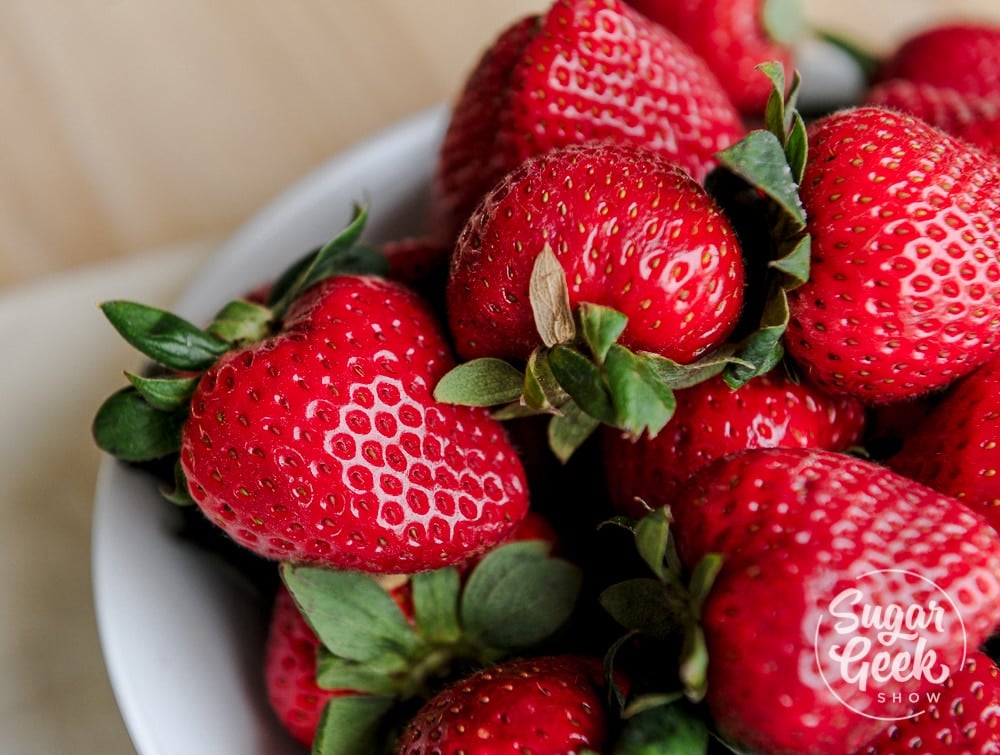 How to adjust a cake recipe for strawberry cake
Orange juice isn't just a liquid. It has sugar in it and acidity. Both things that will greatly affect the delicate balance of your cake recipe.
So to add in say, a cup of orange juice. You would need to reduce your liquids by the same volume but then also reduce your sugar in your recipe. You should be able to gauge how much sugar is in one cup of juice by reading the nutrition label.
I am using strawberry extract in my recipes to intensify my flavor. I don't recommend using too much of this or you'll get that fake strawberry flavor.
Then you will need to adjust your leavenings. Baking powder is meant to react to ingredients with low acidity. If you add something like lemons, oranges or strawberries, you'll need to reduce your baking powder by 1/3 and add in some baking soda. The exact amount varies. This is how new recipes come to be. Taking a base recipe and tweaking it.
Strawberry cake tests!
So that's what I did in my testing. Depending on the type of strawberry I used, I either reduced the liquid or the dry ingredients and the sugar and added in baking soda to account for the addition of the acidity from the strawberries.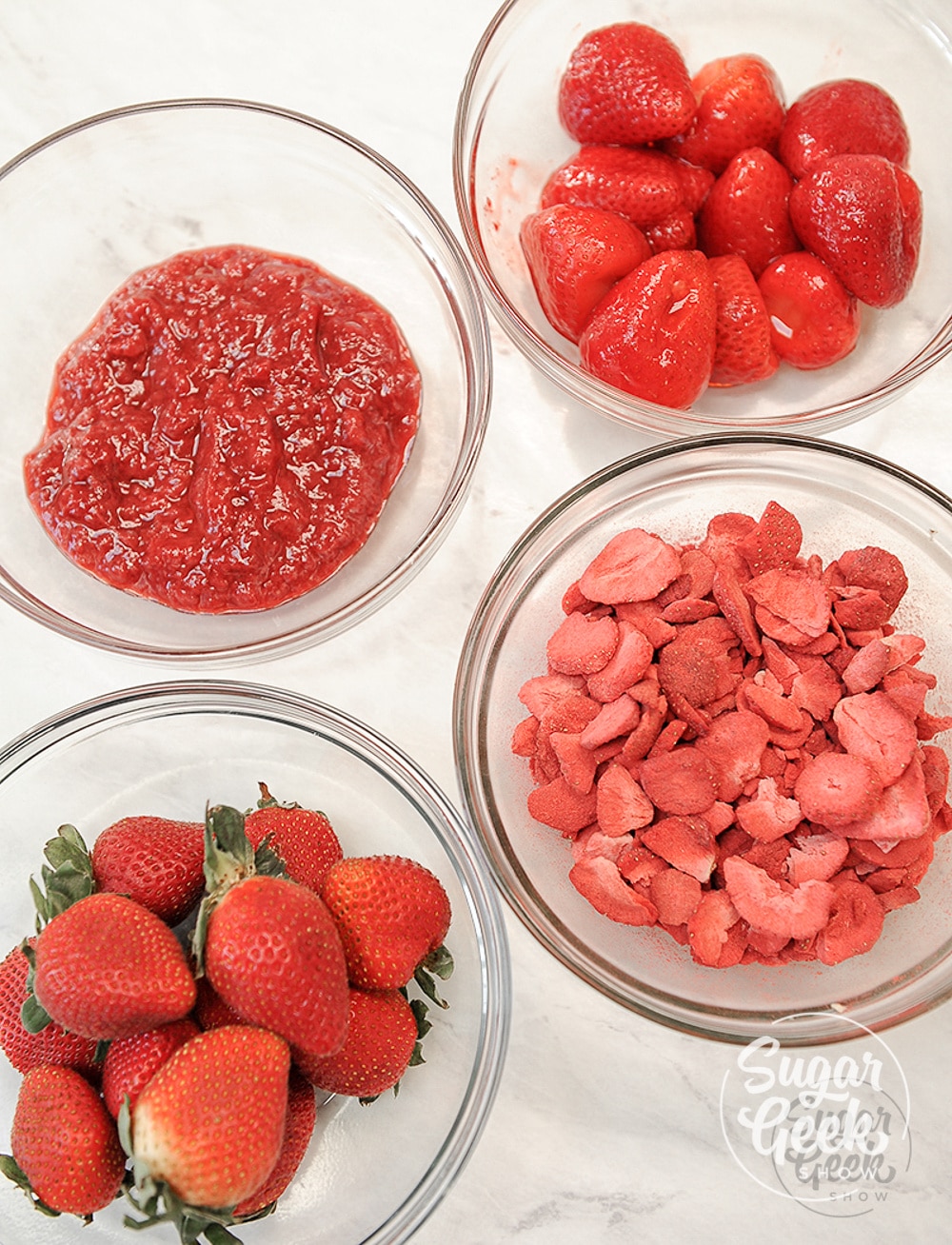 Can you add fresh strawberries to cake batter?
If you've ever added strawberries to cake batter then you probably discovered what I did. Strawberries do not do well when baked. It's like the flavor completely disappears. The texture goes all wonky, the color is brown and worst of all, the strawberries make the cake super super wet. No bueno.
But I wasn't about to give up!
Fresh Strawberry Cake Test #1
In my first test, I chopped up some fresh strawberries and drained the juices. I added the chopped strawberries to the batter and the juice to the milk. I subtracted the same amount of milk as juice that I added so I was not adding more liquid to my batter. I reduced the sugar by 1 oz to account for any sugar in the strawberries.I was pretty sure this would not work but I just wanted to make sure. Just as I feared, this cake was very wet, dense, and brown. Not the pretty strawberry cake I was imagining.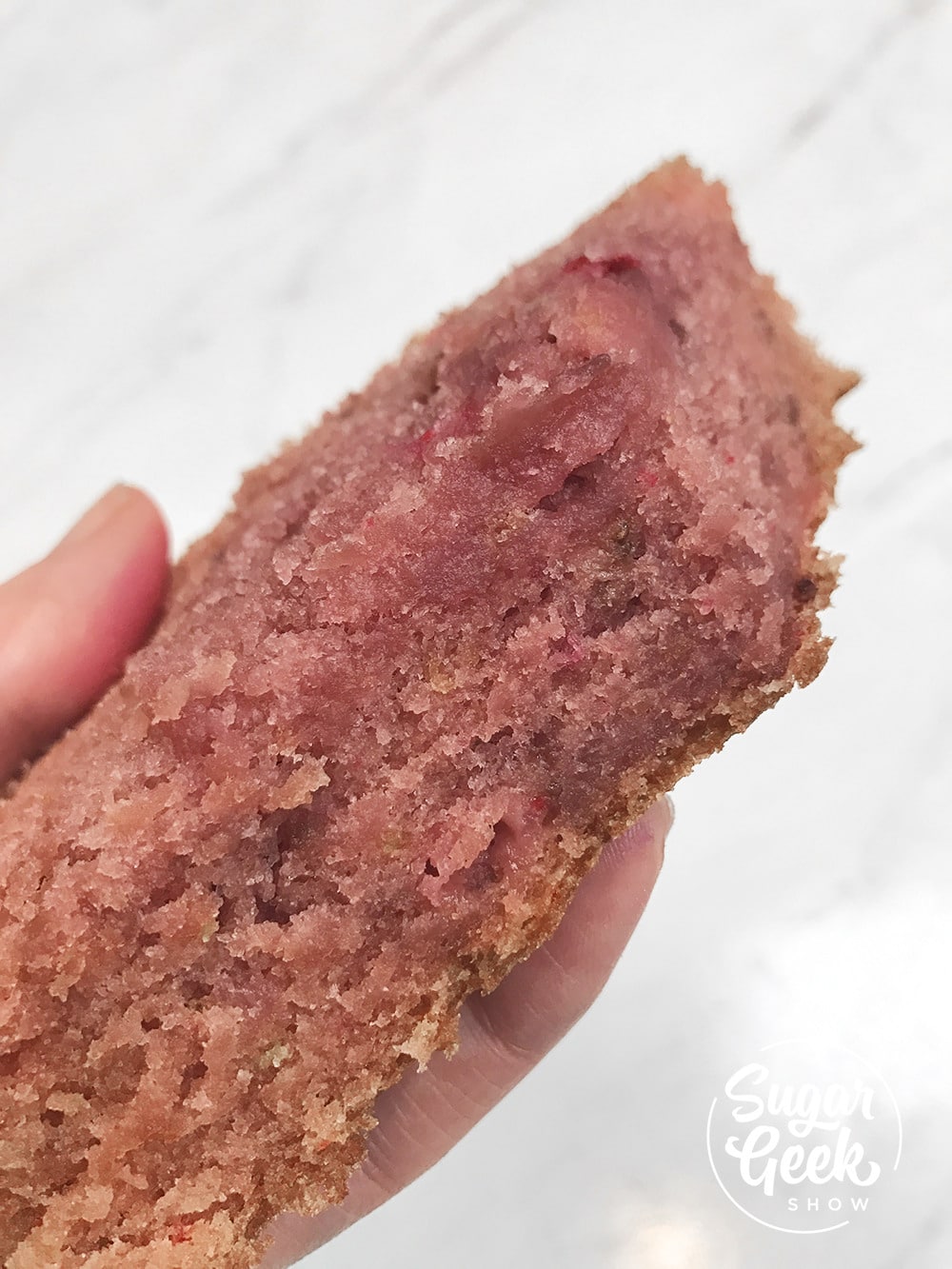 Pureed Strawberry Cake Test #2
In my second test, I decided to go with frozen strawberries. I have often recommended the use of frozen berries in recipes because they are typically picked at the peak of freshness then frozen so the flavor is better. I thawed my strawberries then brought them to a boil in a sauce pan and reduced them by half. This is called a strawberry puree. The benefit of this is that you have a lot of strawberry flavor but with reduced liquid.This cake was better but still had a very odd color to it and the texture was not quite right and was a little too moist
Freeze-Dried Strawberry Cake Test #3
In this test, I decided to use freeze-dried strawberries. Definitely not as easy to find as fresh but most places carry them. They are not cheap either. 1.7oz bag cost me about $4. I used the whole bag. I ground up my strawberries in a spice grinder, sifted out the large chunks and added it to my dry ingredients. I had a feeling this cake might need some extra moisture so I upped the liquids and added a little vegetable oil.I also added a touch of pink and red food coloring to counteract the brown.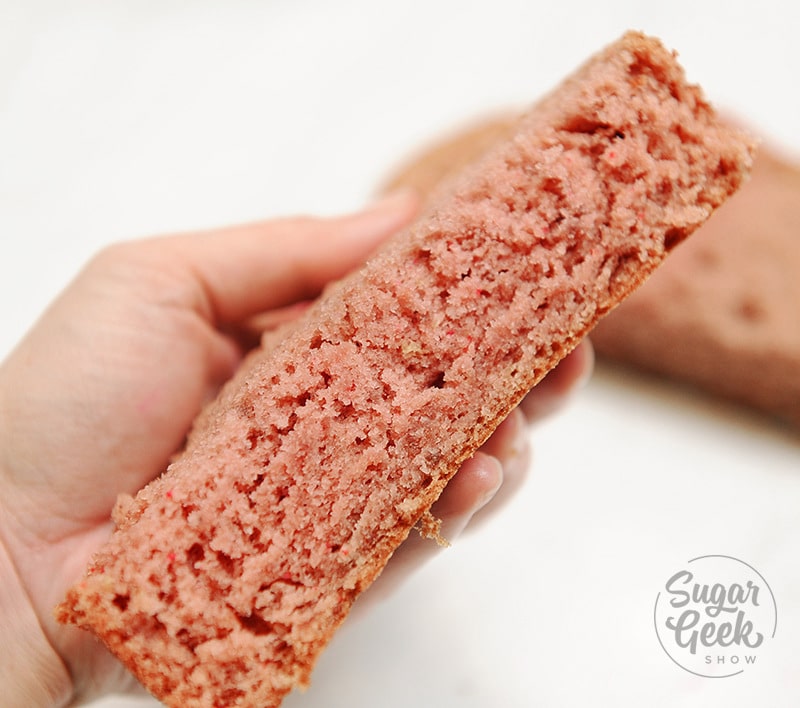 This cake was really good! The crumb was very nice, the flavor was a very bright, tart strawberry flavor and definitely a win in my book! But I was still searching for that recipe with REAL strawberries.
I decided to do one more test.
Fresh Strawberry Cake Test #4
I decided to go with my strawberry puree again. This time reducing the liquids further, adding in the same food color that I used for the freeze-dried recipe and upping the baking soda. I also added in lemon zest to intensify the tartness of the strawberry flavor.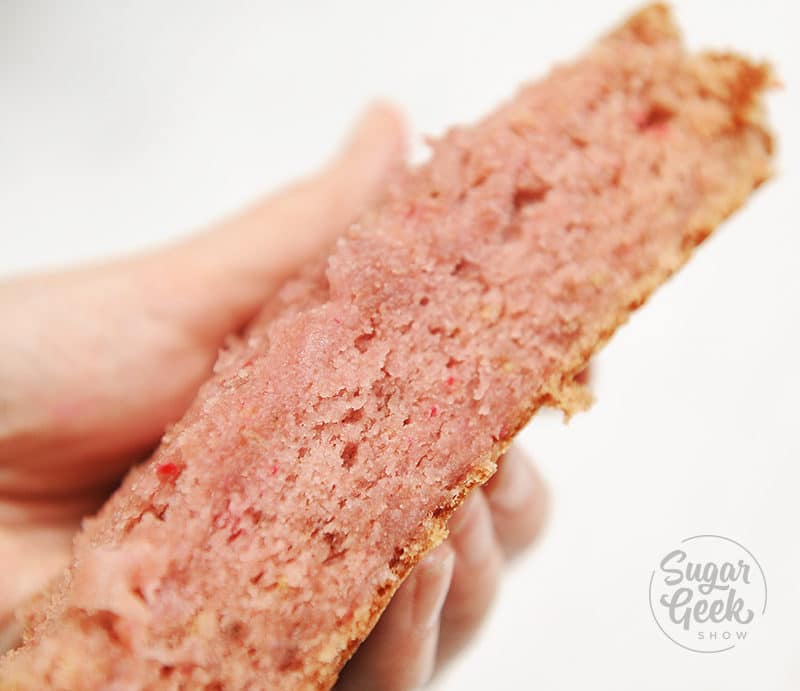 I kid you not, I screamed with joy when I cut into this cake! The crumb was PERFECT! The flavor is amazing! I pretty much ran to all the rooms of the house forcing my daughter, husband and assistant to all try the cake immediately. I wanted to make sure I wasn't just going crazy. That this was the real deal!
Rave reviews all around! *self high-five*
So should you use fresh strawberries or freeze-dried?
So you could go either way. From my perspective, if I was someone who didn't know much about cakes or baking or fancy ingredients and all I cared about was flavor town, I would go with the strawberry puree. Anyone can do it and the resulting cake is very moist and tasty.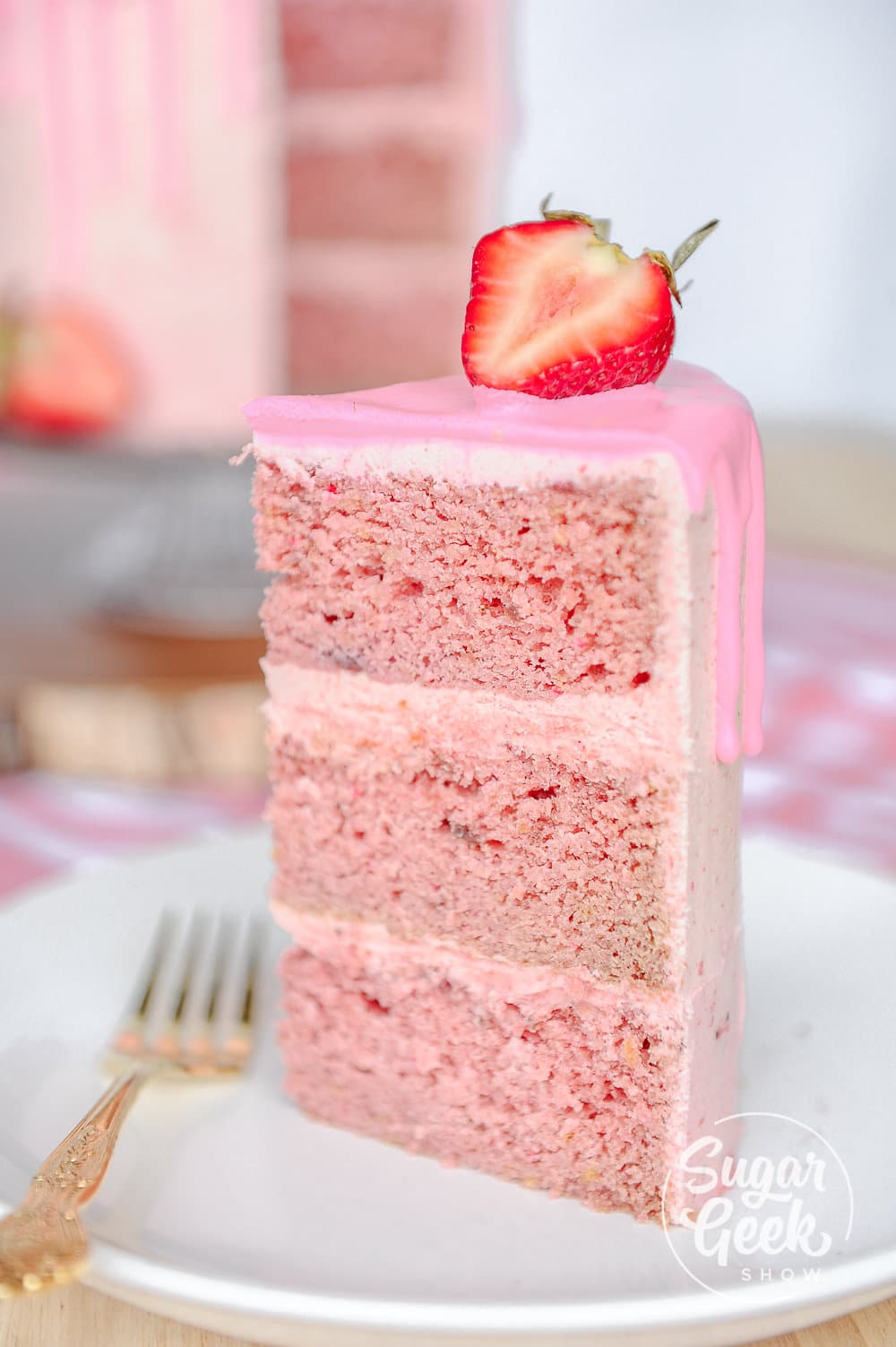 The freeze-dried strawberry cake recipe route still has a great strawberry flavor but to me, not quite as strong as the fresh. The texture of the cake is much firmer though and better if you where to stack it for a wedding cake or needed to carve it. The only down-side is the cost of the ingredients. Be sure to factor that in when you're pricing out your cakes.
Easy strawberry cake recipe
You know what the best part of this is? These ingredients are truly easy to come by. I know most people search for an "easy" strawberry cake then look for things like cake mix and Jell-O and think that is the answer but truly, flour, eggs, milk, baking powder, baking soda, lemon and strawberries. That's all you need.
Ok ok so some strawberry extract and food color does not hurt either but you could definitely get by without them!
For extra strawberry flavor, I recommend filling your cake with strawberry buttercream and a layer of strawberry puree.
I hope you enjoy this recipe! Please link to this recipe if you make it so that I can see your creations!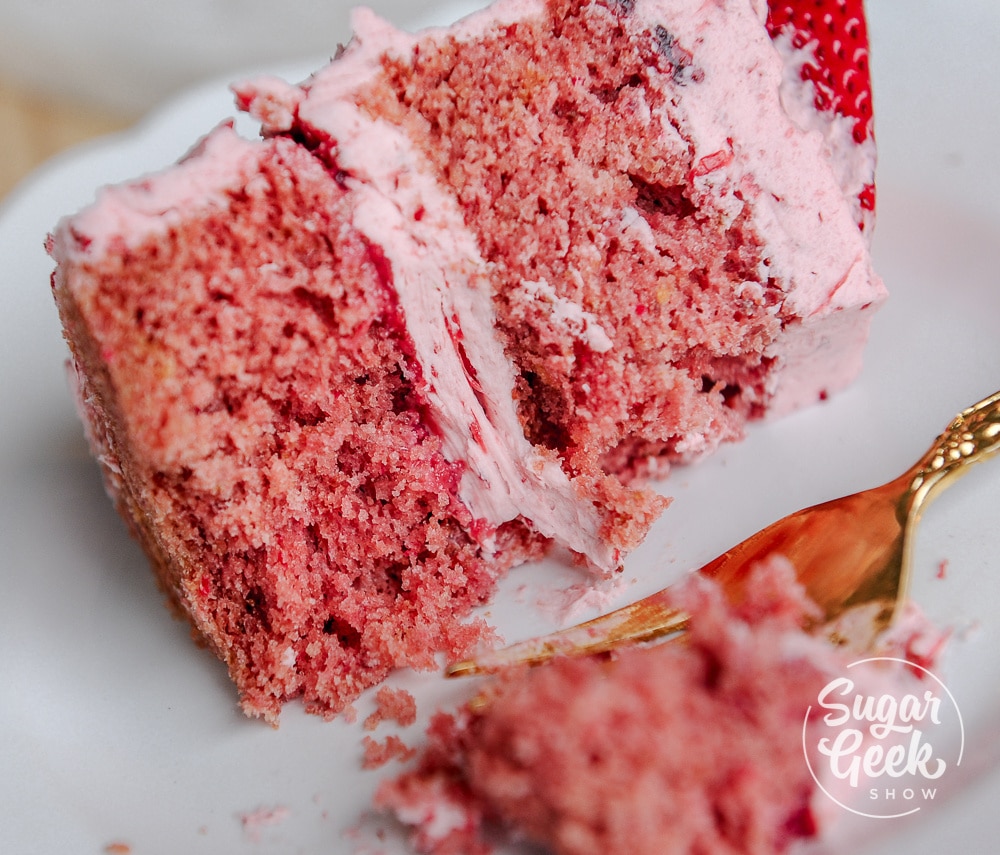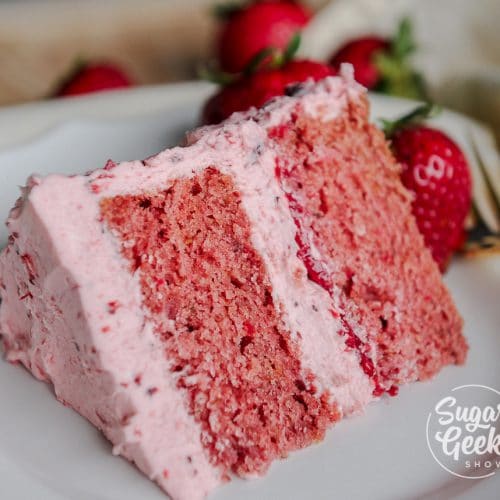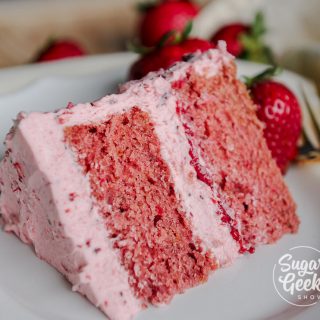 Strawberry Cake Recipe (fresh strawberries)
This strawberry cake is made from FRESH strawberry puree! The cake is moist, fluffy, beautiful color and the perfect cake for summer. This recipe makes three 6"x2" cake rounds or two 8"x2" cake rounds
Ingredients
Strawberry Cake Ingredients
14

oz

AP flour

1 1/2

tsp

baking powder

1

tsp

baking soda

1/2

tsp

salt

8

oz

unsalted butter

room temp

10

oz

granulated sugar

1

tsp

vanilla extract

1/2

tsp

lemon extract

1 1/2

tsp

strawberry extract

zest

one

lemon

6

egg whites

room temp

4

oz

strawberry puree

recipe on www.sugargeekshow.com/recipes

6

oz

milk

room temp

1/2

tsp

electric pink food color

1

drop

red food color
Strawberry Puree
16

oz

frozen strawberries

1

tsp

lemon zest

1

pinch

salt

4

oz

sugar (optiona)
Easy Buttercream Frosting
8

oz

pasteurized egg whites

32

oz

unsalted butter

32

oz

powdered sugar

1

tsp

salt
Instructions
Cake Instructions
NOTE: It is SUPER IMPORTANT that all the room temperature ingredients listed above are room temperature and not cold or hot.

If your ingredients just came out of the refrigerator or the strawberry puree is too hot, your mixture could curdle during the process of making the cake batter and become ruined.

Adjust an oven rack to the middle position and preheat to 350ºF/176ºC.

Grease two 6" cake pans and one 4" cake pan with cake goop or other preferred pan release.

Add butter to stand mixer and beat at medium-high speed until smooth and shiny, about 30 seconds. Gradually sprinkle in the sugar, beat until mixture is fluffy and almost white, about 3-5 minutes. Add the egg whites approximately two at a time, beating 30 seconds between.

Whisk the flour, baking powder, baking soda, salt, and lemon zest in a medium bowl.

Combine the strawberry reduction, milk, vanilla extract, lemon extract, strawberry extract and food coloring in a separate medium bowl.

With the mixer at the lowest speed, add about a third of the dry ingredients to the batter, followed immediately by about a third of the milk mixture, mix until ingredients are almost incorporated into the batter. Repeat the process 2 more times. When the batter appears blended, stop the mixer and scrape the sides of the bowl with a rubber spatula.

Divide the batter evenly between the prepared pans. Smooth the tops with a rubber spatula. Bake cakes until they feel firm in the center and a toothpick comes out clean or with just a few crumbs on it, about 35-40 minutes.

Transfer pans to a wire rack and let cool for 10 minutes. Invert cakes onto the rack and pop cakes out of pans. Cool completely before frosting.
Strawberry Puree Instructions
Defrost strawberries if frozen or cut up strawberries if whole

Blend strawberries if you prefer a smoother texture of strawberry puree

Place into a small sauce pan and bring to a simmer over med heat. Add in sugar if desired.

Once bubbling, reduce heat to low and let slowly reduce until berries begin to break up and liquid is almost gone. 

Occasionally stir the mixture to prevent burning. Add in lemon zest and salt. Transfer to another container and let cool before use. 

Store extra in the freezer for up to 6 months
Buttercream Instructions
Place egg whites and powdered sugar in a stand mixer bowl. Attach the whisk and combine ingredients on low and then whip on high for 5 minutes 

Add in your butter in chunks and whip with the whisk attachment to combine. It will look curdled at first. This is normal. It will also look pretty yellow. Keep whipping.

Let whip on high for 8-10 minutes until it's very white, light and shiny. 

Switch to a paddle attachment and mix on low for 15-20 minutes to make the buttercream very smooth and remove air bubbles. This isn't required but if you want really creamy frosting, you don't want to skip it. 
Nutrition Facts
Strawberry Cake Recipe (fresh strawberries)
Amount Per Serving (1 serving)
Calories 603
Calories from Fat 351
% Daily Value*
Total Fat 39g 60%
Cholesterol 102mg 34%
Sodium 222mg 9%
Potassium 89mg 3%
Total Carbohydrates 63g 21%
Protein 3g 6%
* Percent Daily Values are based on a 2000 calorie diet.

July 15, 2019