A strawberry cake mix recipe that makes box mix taste almost as good as homemade!
The best strawberry cake mix recipe! I'm obsessed with a good strawberry cake from scratch but sometimes I just don't have a lot of time and need a good strawberry cake recipe FAST! This is my go-to strawberry cake mix recipe with lemon easy buttercream!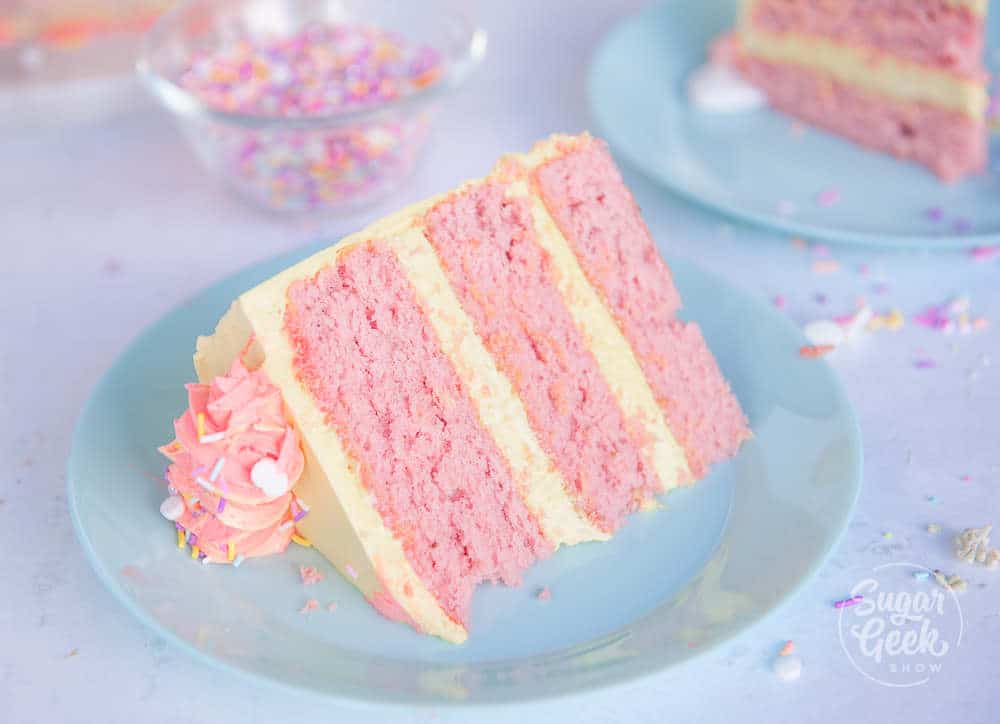 What's the best strawberry cake mix?
I personally prefer Duncan Hines box mixes. I think they taste the best and are very moist. Their strawberry box mix is already super tasty but I add in a few ingredients to make it taste even better.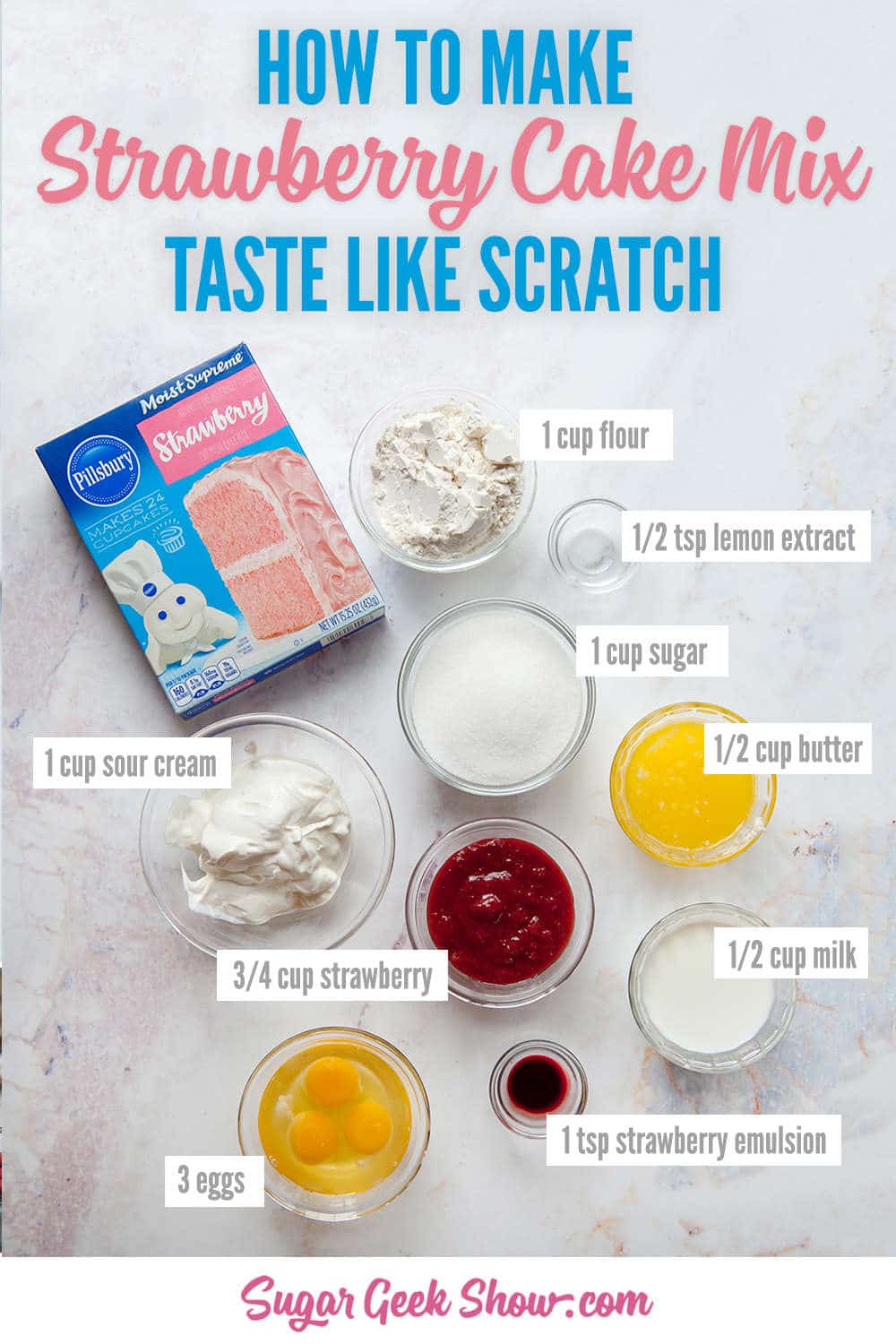 Adding these ingredients to your strawberry box mix will make the cake a little denser and better for stacking. You can even cover this cake in fondant or stack multiple tiers for a birthday or wedding cake. Just make sure you chill your cakes first to harden the butter that's inside the cake before you try to stack the cake layers.
For more information on learning to make your first cake, check out my how to make your first cake tutorial.
Can you add fresh fruit to box mix?
I have experimented a few times with adding fresh fruit to box mix and it generally works really well. Strawberries work best if you use a reduced puree or fruit preserves so that you aren't adding too much liquid into the cake recipe.
I tried adding chopped strawberries one time and it turned out ok but the strawberries got a little soggy inside the cake and turned grey around the edges.
Adding strawberry puree to the box mix results in beautiful pink layers!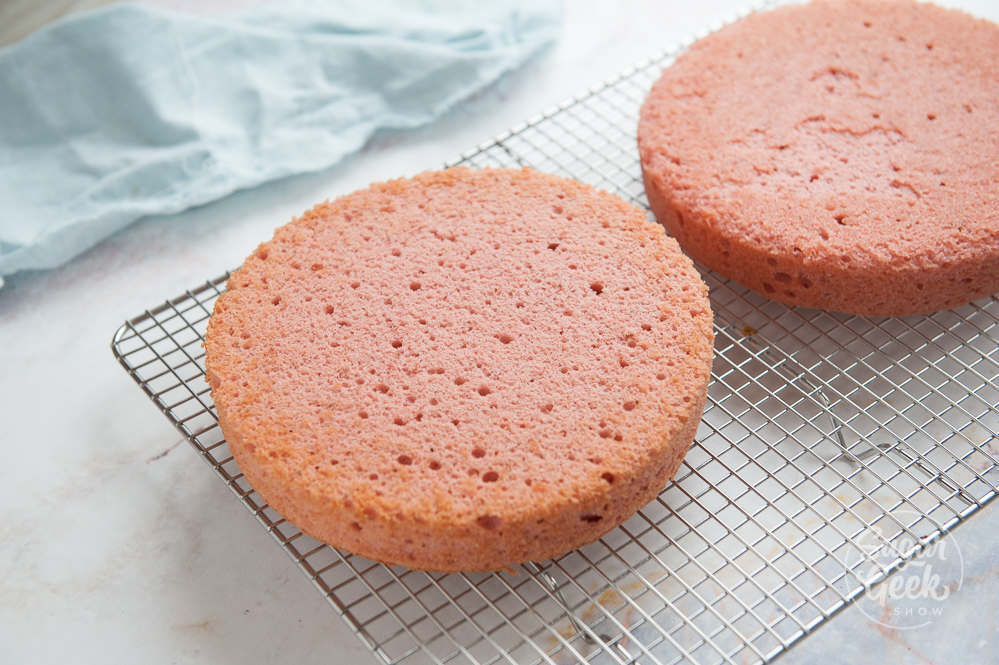 How do you make a strawberry layer cake?
After you mix up your cake batter, divide it into three 8" cake pans. If you only have one pan, you can bake one at a time and leave the leftover batter in the fridge until you need it.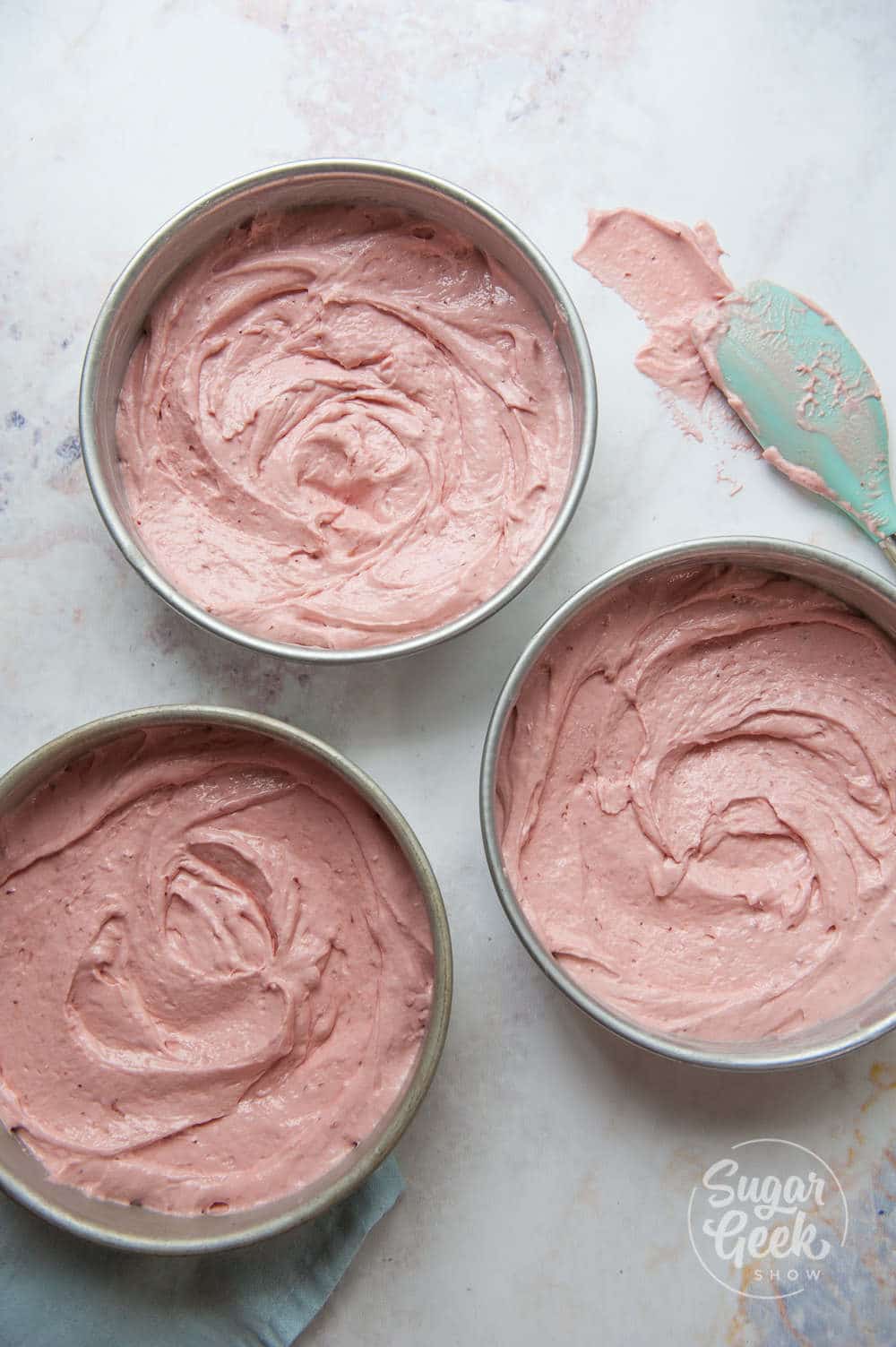 Let your cake layers cool for 10 minutes in the pan then turn them out onto a cooling rack to cool the rest of the way. You can speed this process up by putting the rack plus the cakes in the freezer for about an hour. Then they will be ready to frost.
I decided to frost my strawberry cakes with lemon buttercream! But any kind of buttercream would work like cream cheese frosting, stabilized whipped cream or fresh strawberry buttercream.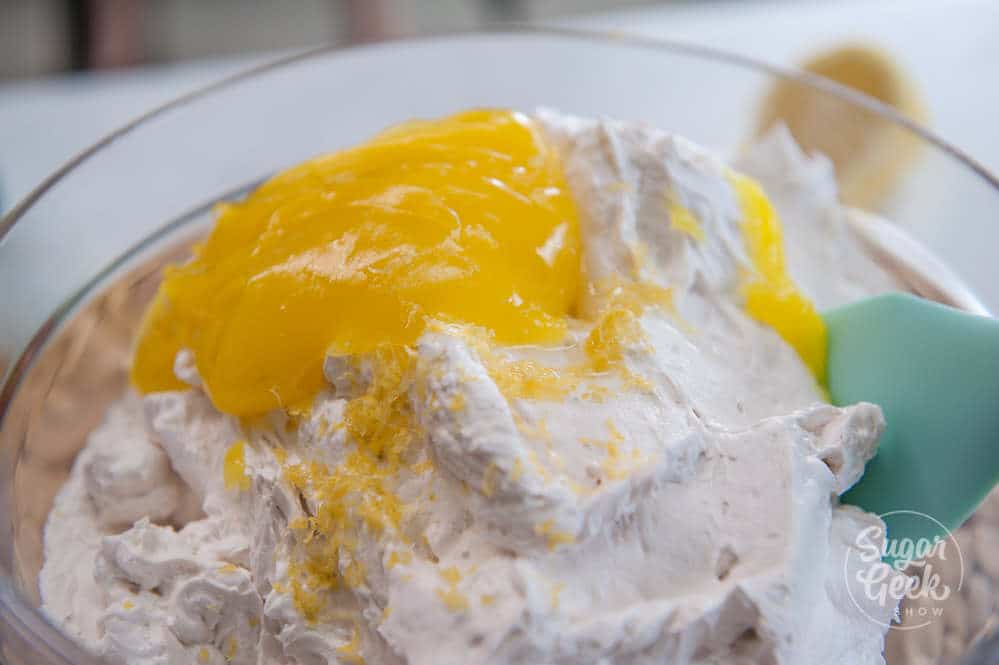 To make my easy buttercream into lemon buttercream, I just added in some fresh lemon curd, lemon extract and lemon zest, then mixed it all together. You can leave the lemon curd out if you don't have any but it is pretty yummy and easy to make!
Fill your chilled layers of cake with the lemon buttercream. I shoot for about ¼" of buttercream between my cake layers. Repeat with all the cake layers then cover the entire cake with a thin coat of buttercream. This is called the crumb coat and seals in all the cake crumbs.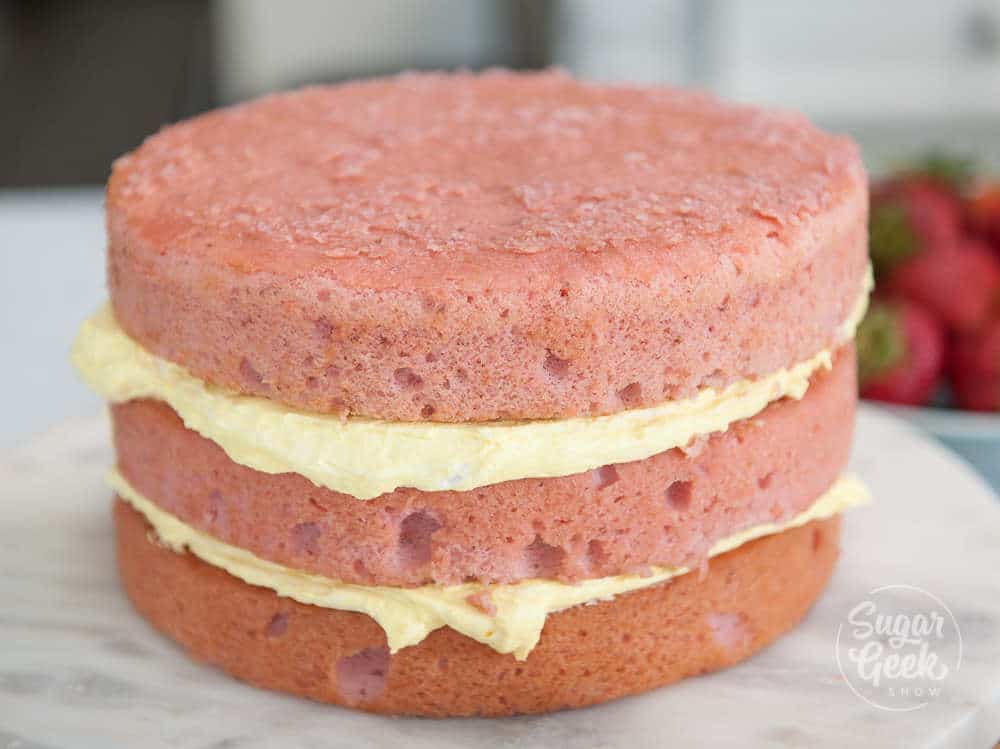 Put the cake into the fridge for 20 minutes to firm up the crumb coat. Then you can put your final layer of buttercream on the cake and decorate it any way you like! I decorated mine with sweetapolita sprinkles. This is the "Twinkle" sprinkle medley! One of my favorites!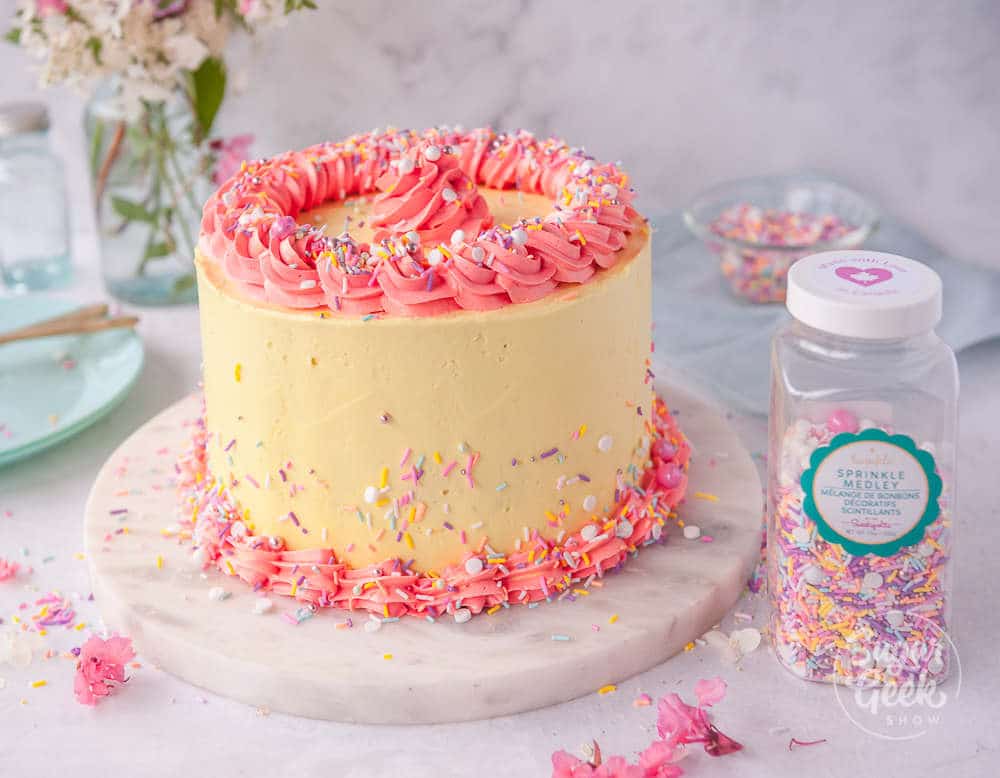 I love how easy this strawberry cake mix recipe is! I hope you love it too! Happy baking!
Cake Batter and Frosting Calculator
Select an option below to calculate how much batter or frosting you need. Adjust the servings slider on the recipe card to change the amounts the recipe makes.
Choose a pan type
Choose a cake pan size
(based on 2" tall cake pan)
Choose a cake pan size
(based on 2" tall cake pan)
Choose a cake pan size
(based on 2" tall cake pan)
Cups of Batter Needed
8 cups
Cups of Frosting Needed
5 cups
Recipe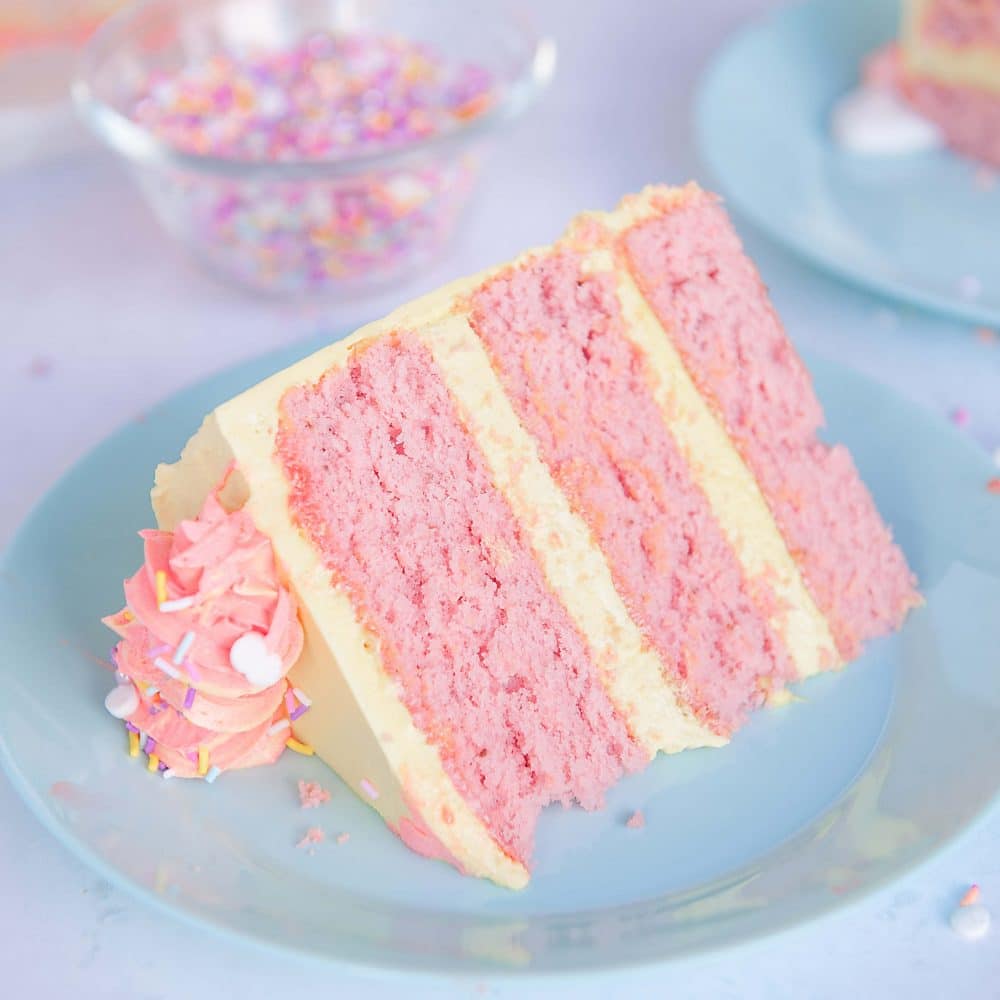 Servings: 24 servings
Calories: 505kcal
Ingredients
Strawberry Cake Mix Recipe
1 box strawberry cake mix or white if you can't find strawberry
1 cup AP flour
1 cup granulated sugar
¼ teaspoon salt
1 cup sour cream room temp
½ cup melted butter
½ cup milk
¾ cup strawberry puree
3 eggs
1 teaspoon strawberry emulsion or extract
½ teaspoon lemon extract
Lemon Easy Buttercream Frosting
¾ cup pasteurized egg whites
5 cups powdered sugar
3 cups unsalted butter softened to room temperature
½ teaspoon salt
2 teaspoon lemon extract
¼ cup lemon curd optional
1 tablespoon lemon zest
Instructions
Strawberry Box Mix Cake Ingredients
The instructions for this cake are super easy. Basically, put it all into a bowl and mix it for 2 minutes! Voila! Cake batter is ready. 

Pour batter into three 8" cake pans prepared with cake goop or your preferred pan release. Bake at 350ºF  for 25-35 minutes or until a toothpick inserted comes out clean
Easy Buttercream Frosting
Place pasteurized egg whites and powdered sugar in the bowl of a stand mixer with the whisk attachment. Mix on low until combined and then bump up to high and whip for 3 minutes. It will look like royal icing, not meringue.

Add in your salt then your butter in small pieces while mixing on low until combined, then bump up to high. Whip until light, white and fluffy and it doesn't taste like butter anymore. This can take 10-15 minutes.

Switch to the paddle attachment and mix on low for 15 minutes to smooth buttercream and reduce bubbles (optional)

Mix in your lemon curd, lemon zest and extract until combined.

Frost and decorate your cake as desired
Notes
Tools & Materials List
Tools Recommended *note: this list contains affiliate links which do not cost you anything but I may make a few bucks off the sale*
Materials Needed
Nutrition
Serving: 1g | Calories: 505kcal | Carbohydrates: 55g | Protein: 3g | Fat: 31g | Saturated Fat: 19g | Cholesterol: 97mg | Sodium: 270mg | Potassium: 51mg | Fiber: 1g | Sugar: 44g | Vitamin A: 986IU | Vitamin C: 5mg | Calcium: 63mg | Iron: 1mg