A strawberry macaron that is soft and chewy on the inside, crisp on the outside and has just the right amount of strawberry flavor
I admit that I was nervous about learning how to make French macarons but once I learned how to make them, I could not stop! I immediately had to make a strawberry version because strawberry anything is a winner in my book!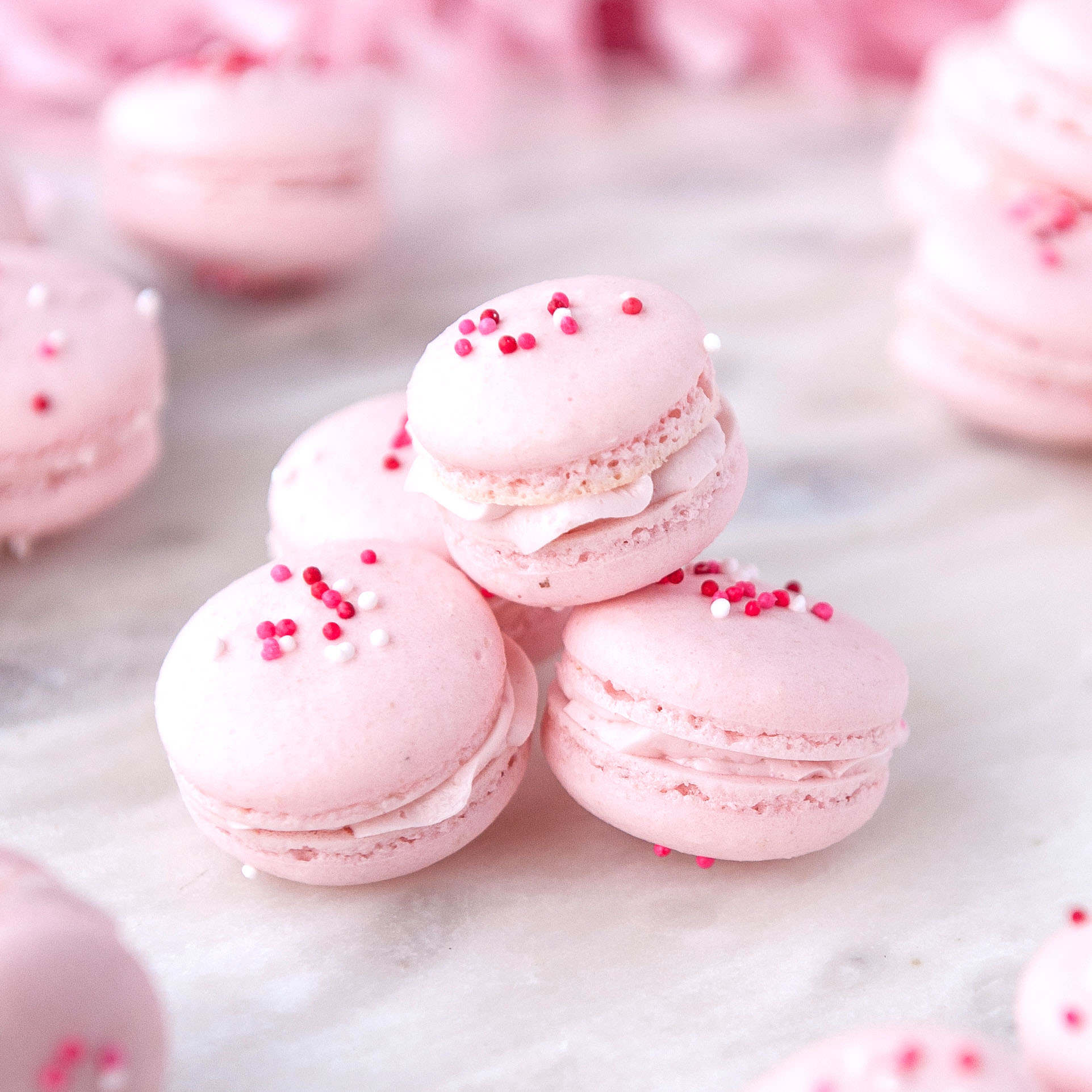 There are a bunch of ways to get that strawberry flavor into your macarons. I've seen people use freeze-dried strawberries ground up into a powder, or you can use strawberry puree like I use in my strawberry cake recipe.
I think the easiest and most convenient thing to use to get great strawberry flavor into your strawberry macarons is to use strawberry emulsion. Just a tsp adds tons of strawberry flavor, a nice light pink color and it doesn't affect the consistency of the macaron batter.
What Is Strawberry Emulsion?
Strawberry Emulsion is basically a super concentrated flavoring made from natural ingredients. It has a very strong flavor and typically takes less to flavor your recipes than using extract alone.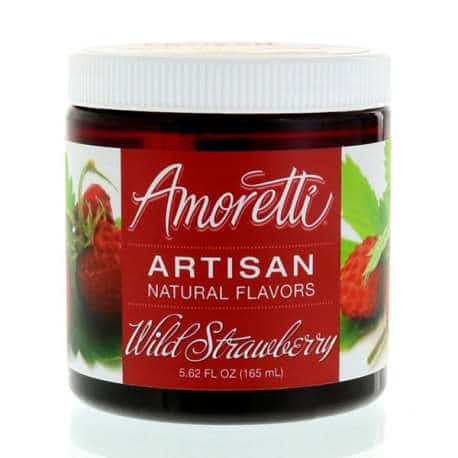 Strawberry Emulsion is great for flavoring cakes, frostings, fillings, and more. Use it in place of strawberry extract to give your baked goods a stronger flavor and richer aroma. Emulsions are the preferred choice of professional bakers for their exceptional taste and more potent flavor.
You can switch out the strawberry emulsion for any emulsion and make any flavor you like!
How To Make An Easy Strawberry Macaron
To make your strawberry macaron, we start with the basic macaron recipe. Make sure all your tools, bowl and whisk attachment are completely clean and oil-free or your egg whites won't whip up.
Start with room temperature egg whites. Whip for 30 seconds or so until they get some bubbles. Add in your cream of tartar and sugar. Continue whipping on high to STIFF glossy peaks.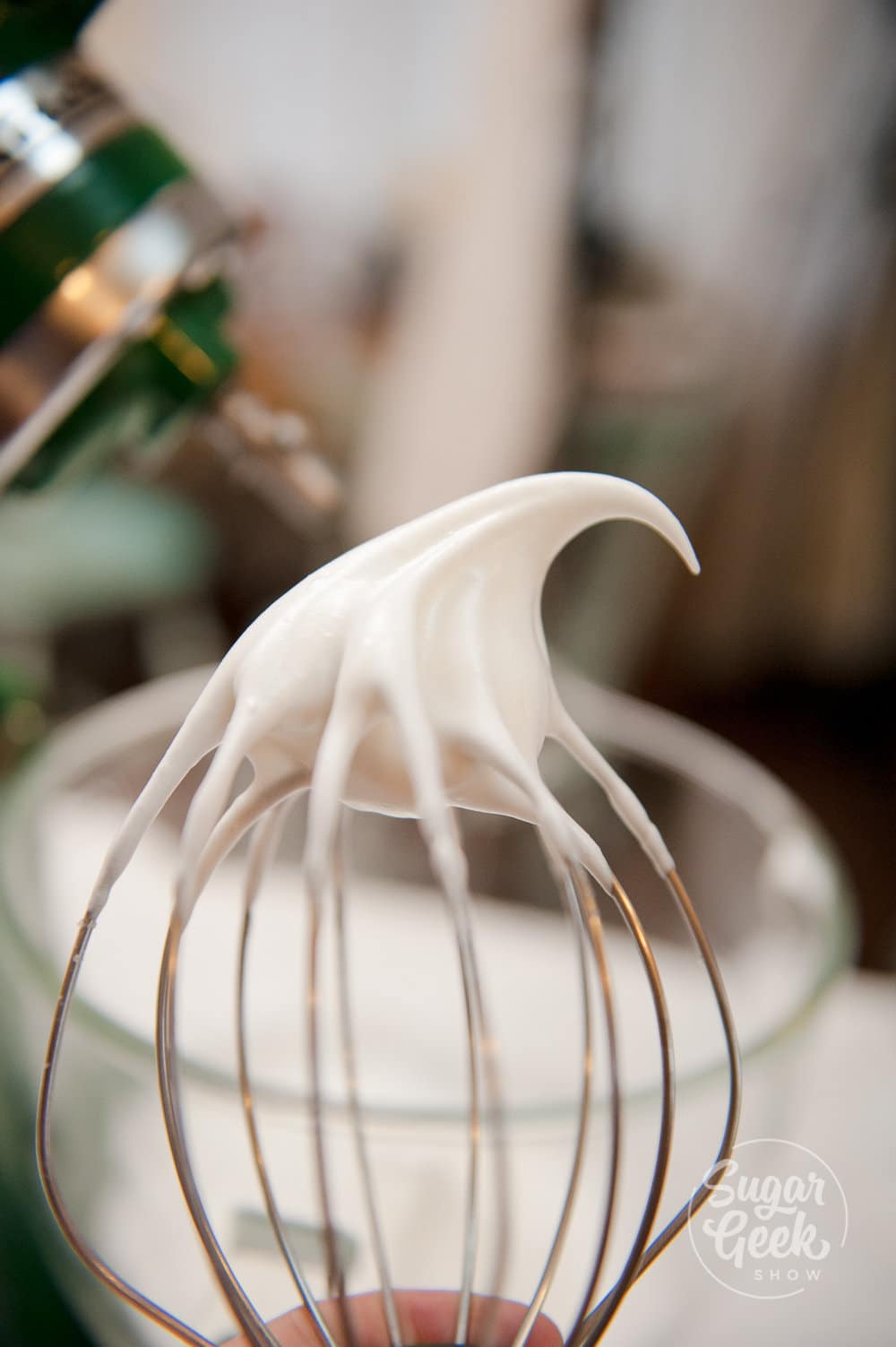 After you get your egg whites whipped to STIFF and glossy peaks, go ahead and add in your strawberry emulsion.
You can also use strawberry extract if you don't have emulsion but also add in a drop of pink food coloring. I used 1 tsp of strawberry emulsion… kinda looks like blood splatter in this pic. Maybe we should have re-thought this one lol.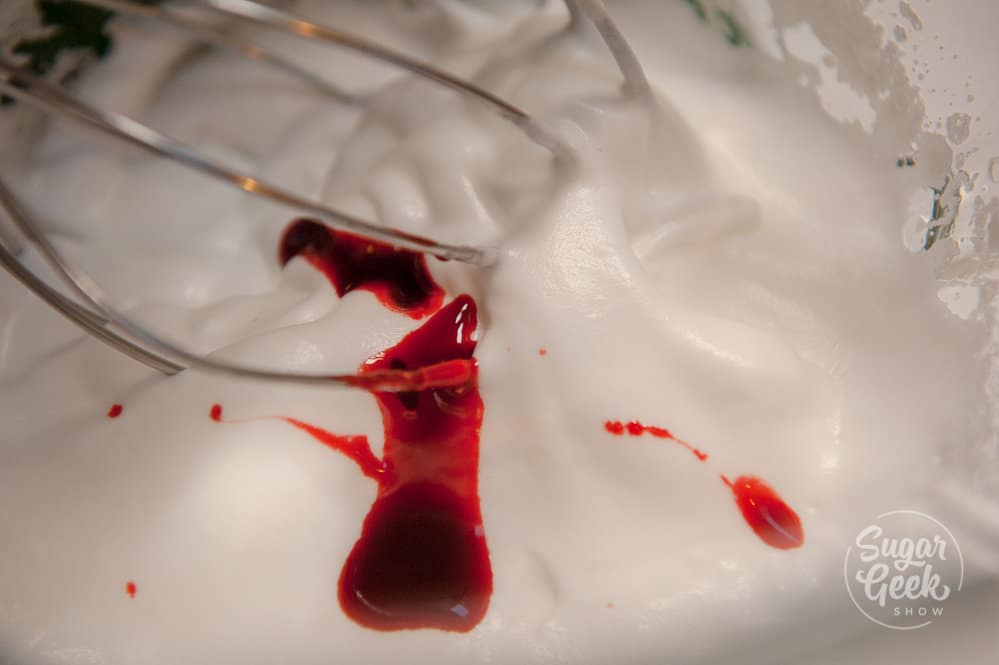 Sift together your powdered sugar and almond flour. Remove and discard any large lumps. Sift a second time to just make sure everything is blended well.
Add in 1/3 of your flour mixture to the egg whites and fold in gently. Follow my easy macaron video for more visuals on folding properly.
Once your mixture is cohesive, go ahead and add in the remaining dry ingredients.
Continue folding gently until the batter falls in ribbons from the spatula and you can draw a figure 8 with the batter without it breaking. The batter should flow like lava.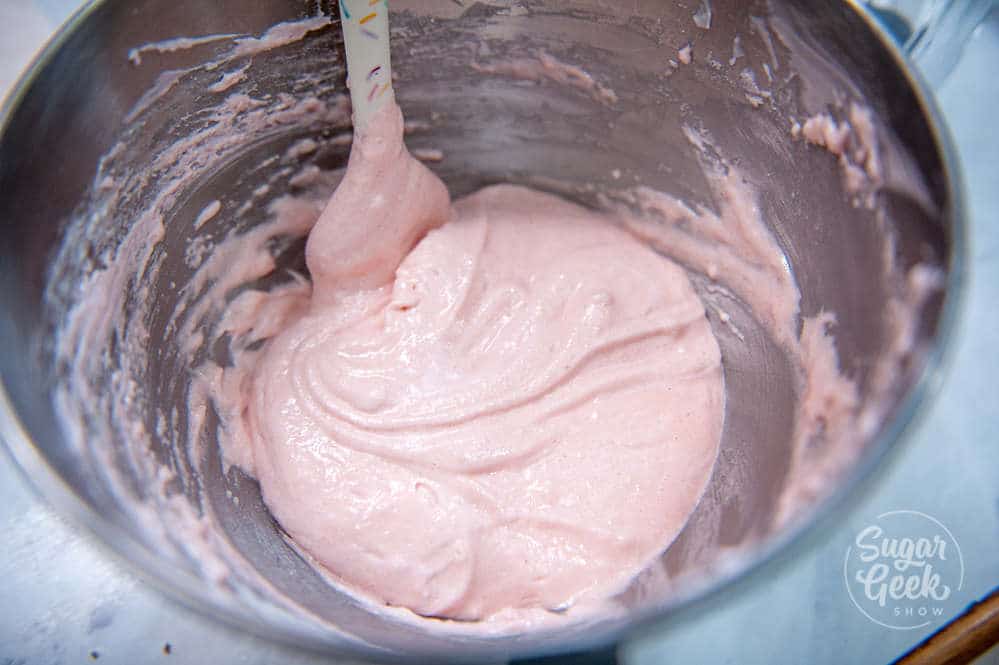 Place your batter into a piping bag fitted with a #14 round piping tip and then pipe onto parchment paper

After conducting a test in my latest YouTube video, I've discovered a macaron silicone mat works better than parchment paper. This is the mat I used.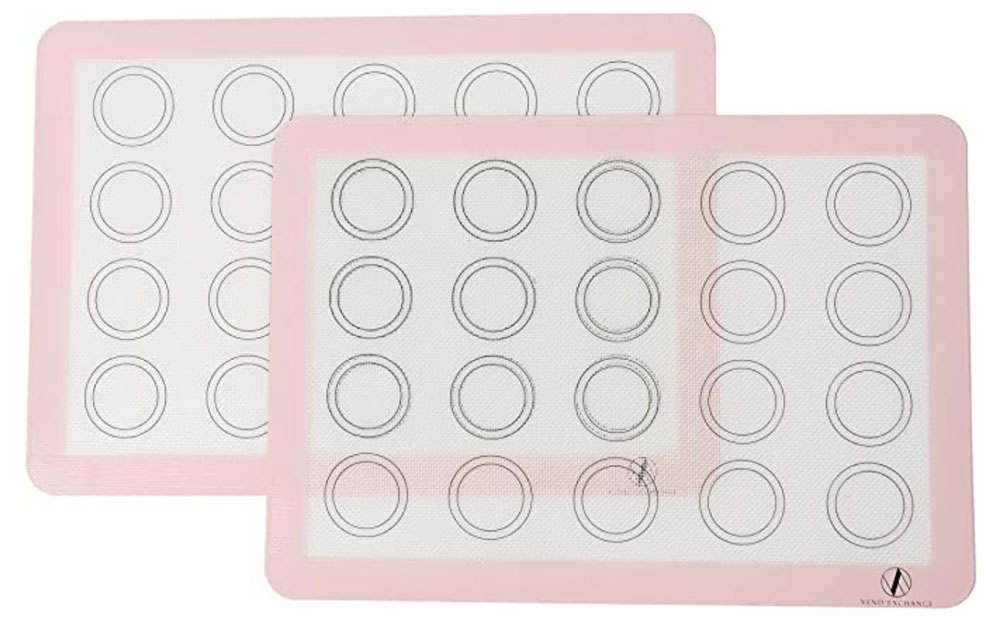 Make sure you hold your piping bag straight up and down while squeezing to ensure the cookies are all the same size and in a circle.
Once you have finished piping, tap the pan a few times on the counter to pop any surface bubbles. You can also use a toothpick to pop any bubbles below the surface.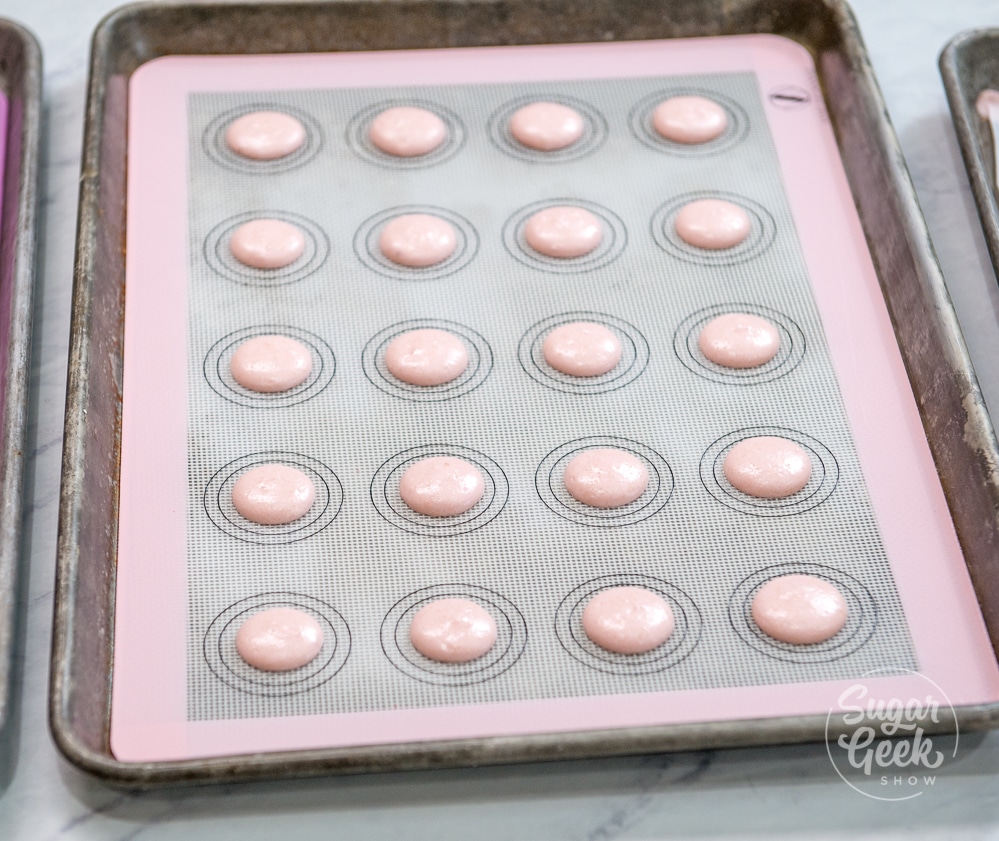 If you want to add some sprinkles to your macarons, now is the time to do it. Just don't use anything too heavy like metallic sprinkles or they will sink through the top of your macarons during baking.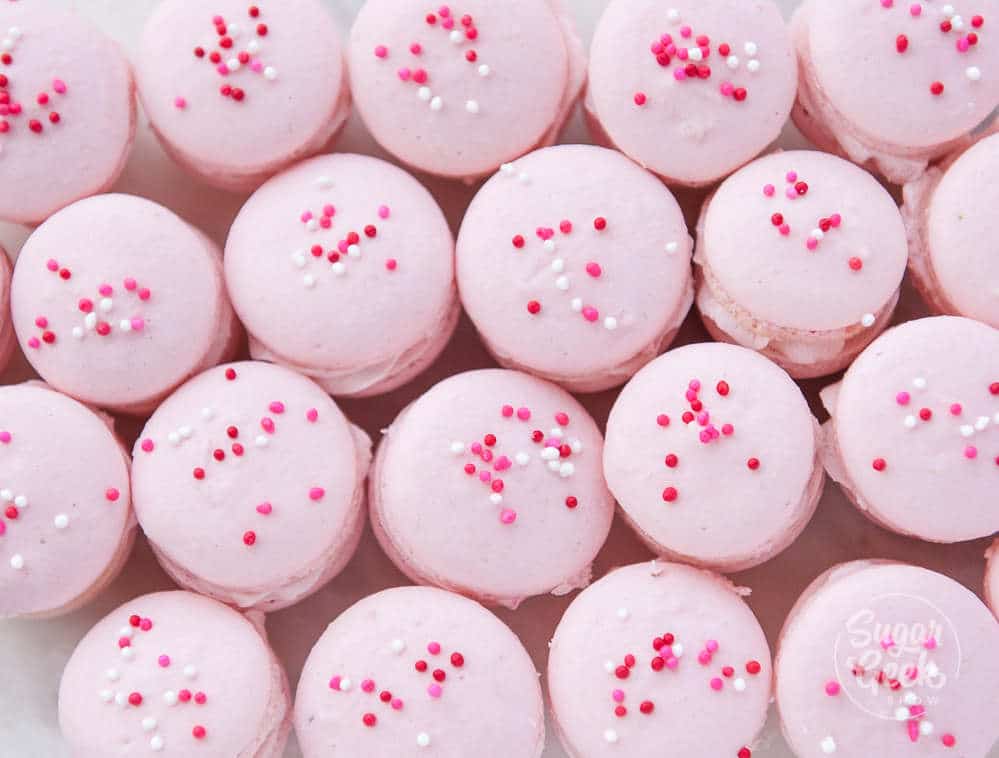 Now let your strawberry macaron cookies sit at room temperature for 30-60 minutes until a skin forms over the surface and you can touch them without feeling anything sticky. If you don't let the macarons develop a skin, they will not have feet when they bake.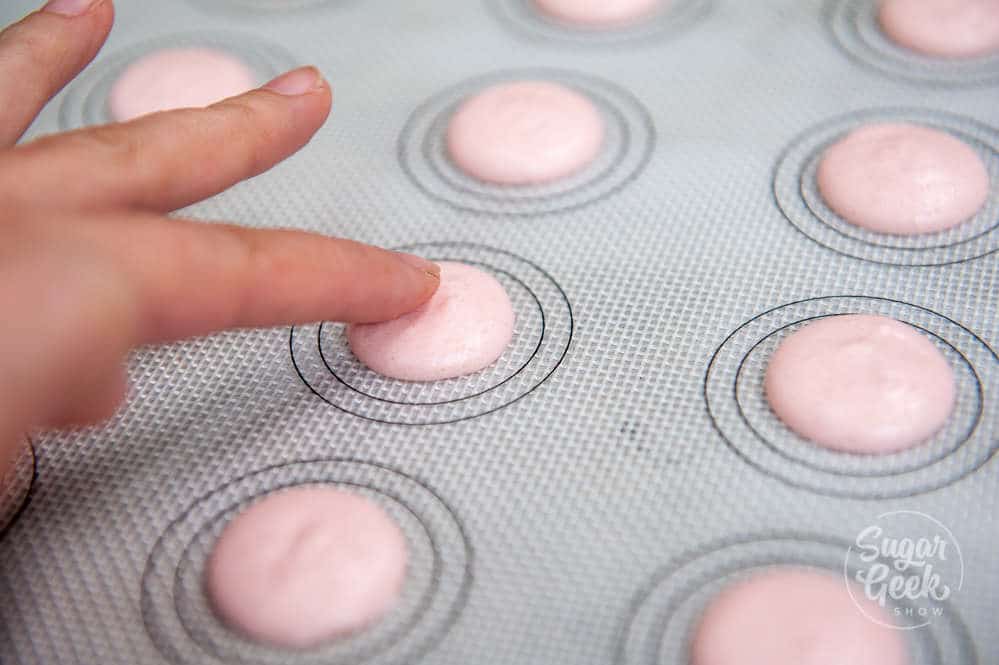 I bake my macarons in the oven at 300ºF for 15 minutes. The cookies should be left to cool fully before trying to peel them from the parchment paper. If they stick then they were not finished baking and you'll have to remember to bake them for longer next time.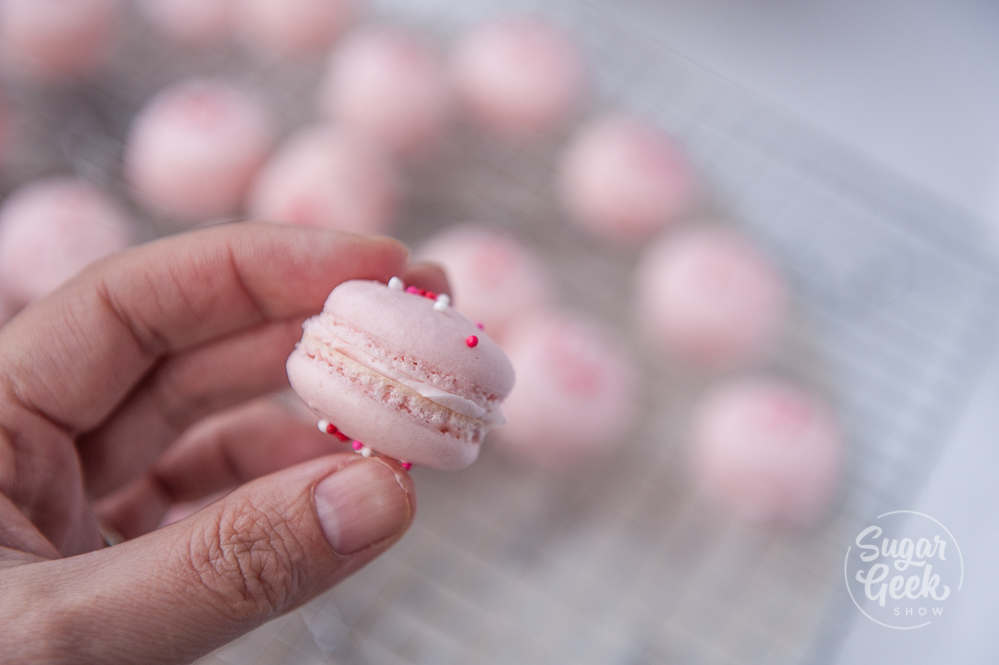 If you want your strawberry macarons to have a strawberry filling you can fill them with a strawberry reduction. You can also mix some strawberry reduction in with your buttercream and pipe that into the center.
All that's left to do is fill your strawberry macarons with buttercream and serve them up!
How long do macarons last?
These macarons will last 2-3 days in the fridge. In fact, it is recommended that macarons be stored in the fridge for at least 24 hours to improve the texture of the cookie.
You can freeze unfilled strawberry macaron cookie shells. Thaw them out to use as you need them or if you're like me, you'll just sit there and eat them without guilt haha!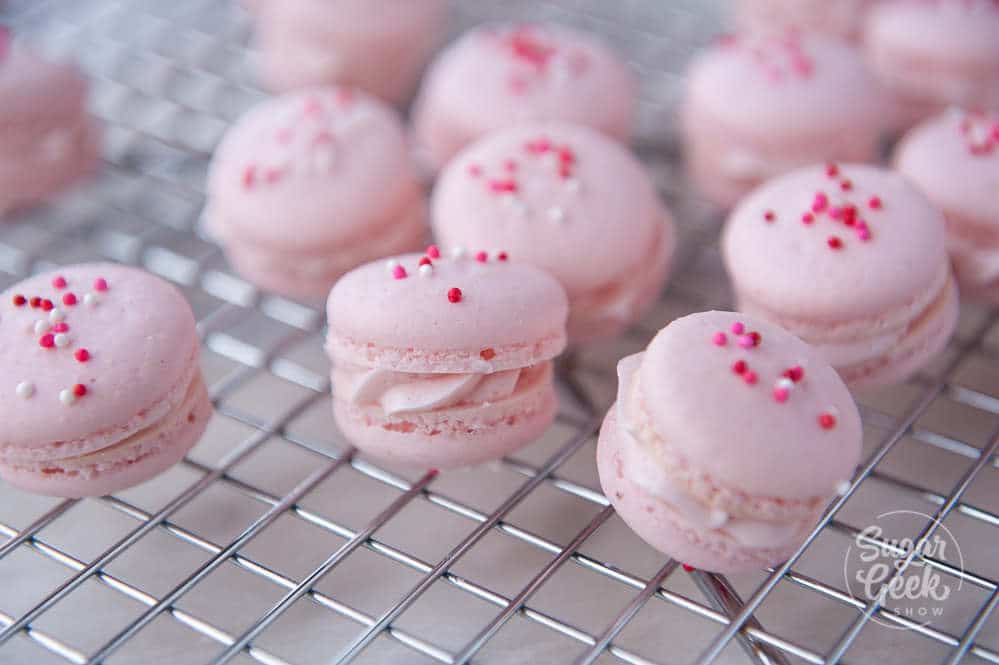 Want more macaron recipes? Check these out!
Chocolate Macaron Recipe
French Macaron Recipe
Did You Make This Recipe?
Leave a rating and tell me how it went!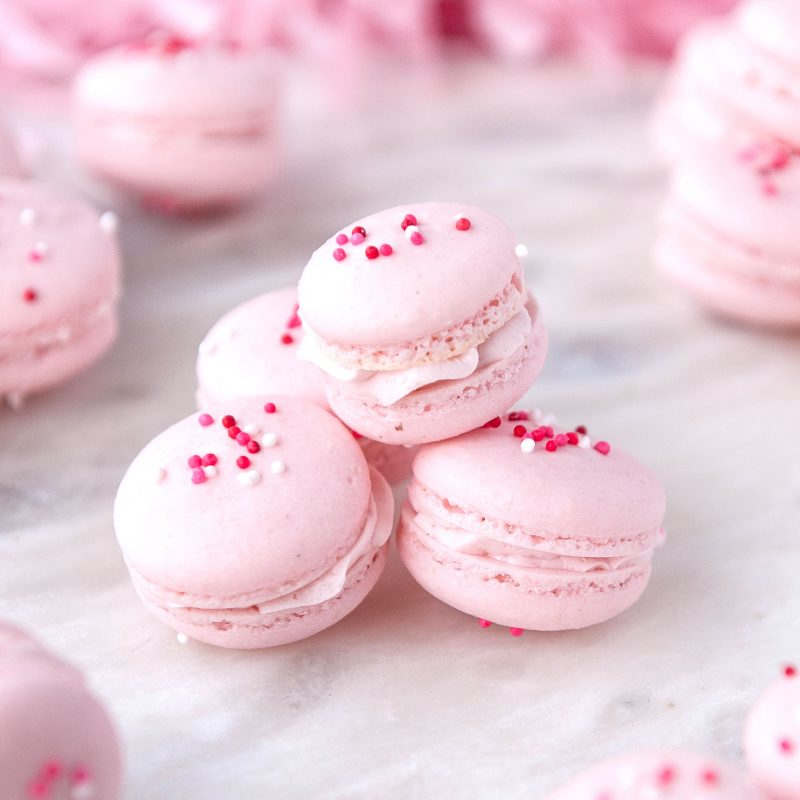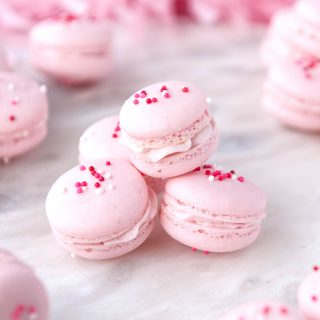 Strawberry Macaron Recipe
These tasty little cookies never go out of style! Light and crisp on the outside, soft and chewy in the center. Color them, flavor them and fill them! I decorated my cookies with some sprinkles before baking for some extra color.
Print
Rate
Never Miss A Cake
Ingredients
57

grams

(

57

g

)

almond flour

113

grams

(

113

g

)

powdered sugar

57

grams

(

57

g

)

egg whites

1/4

tsp

(

1/4

tsp

)

cream of tartar

28

grams

(

28

g

)

sugar

1

tsp

(

1

tsp

)

strawberry emulsion
Italian Meringue Buttercream
16

ounces

granulated sugar

8

ounces

water

1/4

teaspoon

salt

8

large

egg whites

(8 ounces)

24

ounces

unsalted butter

softened

2

teaspoons

vanilla extract

1

teaspoon

non peril sprinkles

optional
Equipment
Candy Thermometer

Medium round piping tip and piping bag

silicone macaron baking mat
Instructions
For the strawberry macaron
Sift together the powdered sugar and almond flour, twice if not blended.

Whip the egg whites to frothy consistency and slowly add the sugar and cream of tartar, whipping until soft glossy peaks form.

Add the strawberry emulsion to the meringue.

Fold meringue into batter. Fold your spatula under the batter and around the edges and then cut through the center. Your meringue is ready when it forms a ribbon off the spatula and the batter that settles almost dissolves all the way back into the rest of the batter but still leave a bit of a line.

Place parchment paper onto your sheet pan. Pipe small rounds about 1" in diameter. Use a template if needed. Add sprinkles if desired.

Allow to dry, uncovered until a crust forms on the surface. About 30 minutes - 60 minutes or until a dry film develops over the surface of the cookie

Bake at 300ºF for about 15 minutes or until lightly browned
For the frosting
On a stovetop, mix together the water and sugar, cover with a lid and bring to a boil on medium-high heat.

Keep the lid on the pot for 3-4 minutes and bring to ensure all the sugar granules are dissolved, otherwise, your sugar can get gritty and crystalize.


Remove the lid, insert the candy thermometer carefully and continue cooking on medium-high until the syrup reaches 240° F.


When the sugar solution is at about 235° F, begin whipping the egg whites on high speed. Add the salt to the egg whites.


When the egg whites reach soft peaks, pour the sugar solution in a steady stream on to the whipping whites while mixing on low speed.


Continue whipping the egg/sugar mixture until it reaches stiff peaks. I wrapped an apron around my bowl with an ice pack to help the meringue cool down faster. You can also cool the meringue by scooping it out of the bowl and placing it into the fridge for 15 minutes.

Once the meringue is cooled, whip in soft butter and vanilla until the buttercream is light and fluffy and no longer has a butter taste.
Notes
To test for doneness, sacrifice one cookie and try to remove it from the silicone mat. If it removes easily, they are done. If it sticks, they need another minute. 
For the best possible results, read through the blog post and recipe to avoid common mistakes.
Use a scale to

weigh your ingredients

(including liquids) unless otherwise instructed (Tablespoons, teaspoons, pinch etc). Metric measurements are available in the recipe card. Scaled ingredients are much more accurate than using cups and help ensure the success of your recipe. 
Metric measurements (grams) are available by clicking the small box under the ingredients in the recipe card labeled "metric"
Practice Mise en Place (everything in it's place). Measure out your ingredients ahead of time and have them ready before you start mixing to reduce the chances of accidentally leaving something out.
Try to use the same ingredients as the recipe calls for. If you must make a substitution, be aware that the recipe may not come out the same. I try to list substitutions where possible.
Nutrition
Serving:
1
cookie
|
Calories:
50
kcal
(3%)
|
Carbohydrates:
8
g
(3%)
|
Protein:
1
g
(2%)
|
Fat:
1
g
(2%)
|
Sodium:
5
mg
|
Potassium:
12
mg
|
Sugar:
7
g
(8%)
|
Calcium:
7
mg
(1%)
|
Iron:
0.1
mg
(1%)