A Macaron recipe that makes delightfully crisp cookies that are soft and chewy in the center
This is an easy french macaron recipe (pronounced mac-ah-rohn). I make a big batch of these and then freeze them so I have some on hand for these trendy cream tarts!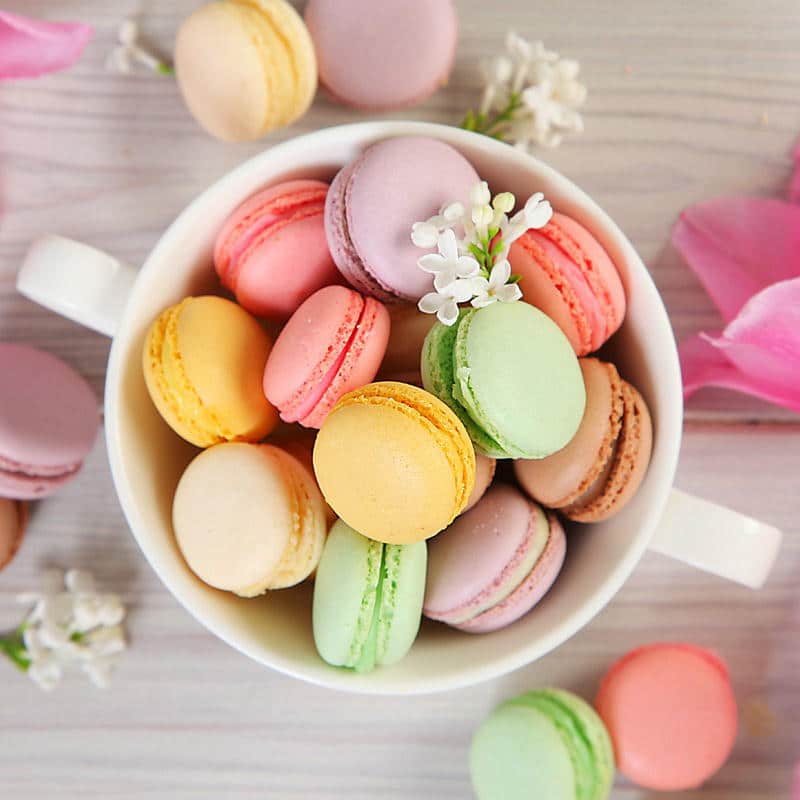 What's the difference between a macaron and a macaroon?
A macaron (mack-a-rohn) is a french cookie made from almond flour, sugar and egg whites. It has a delicate crispy shell and a soft and chewy center. A macaron is not very sweet and is often varied in flavors and colors.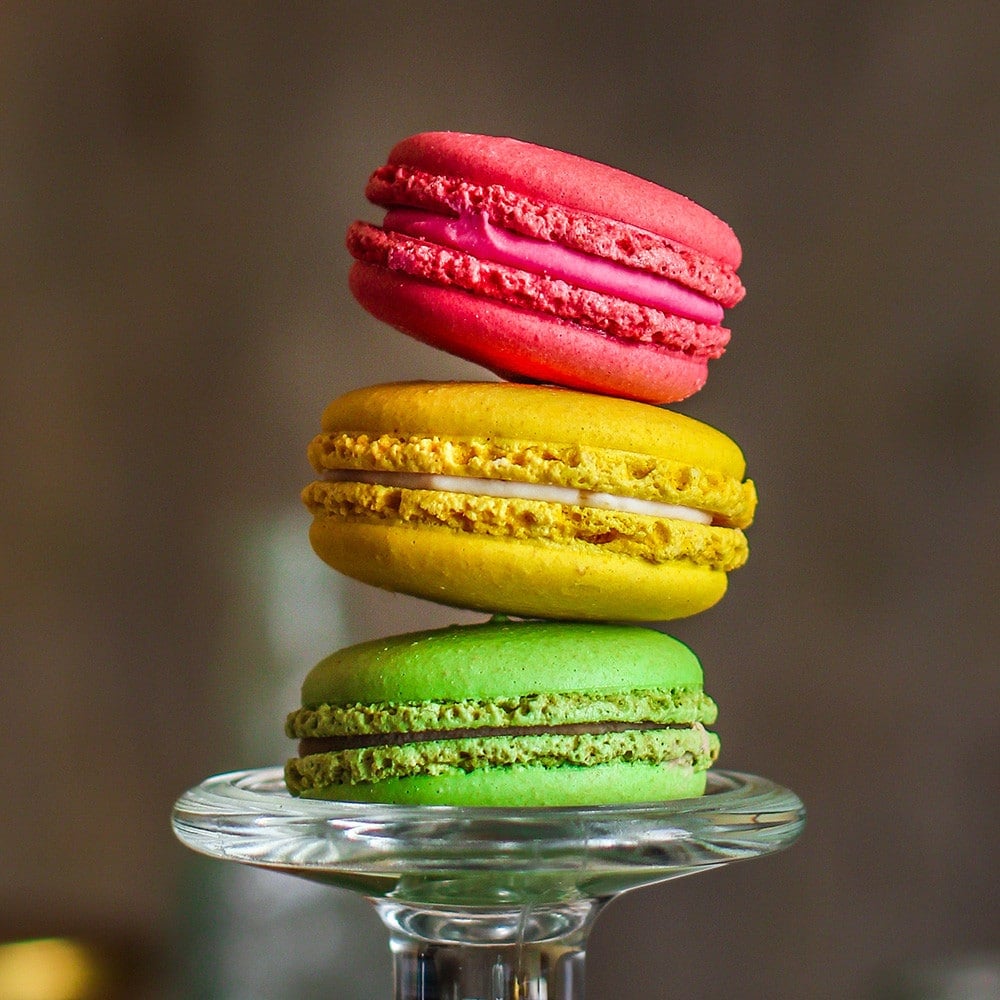 A macaroon (mack-a-roon) is a cookie made from shredded coconut, egg whites and powdered sugar. It is usually scooped or piped into small balls and baked until the edges are golden brown. The texture is chewy and the flavor is very sweet. Pairs very well with chocolate and almonds (think almond joy candy bar). You can also try putting some macraoons on top of a vanilla cake with fresh buttercream for a showstopper at a party or get-together.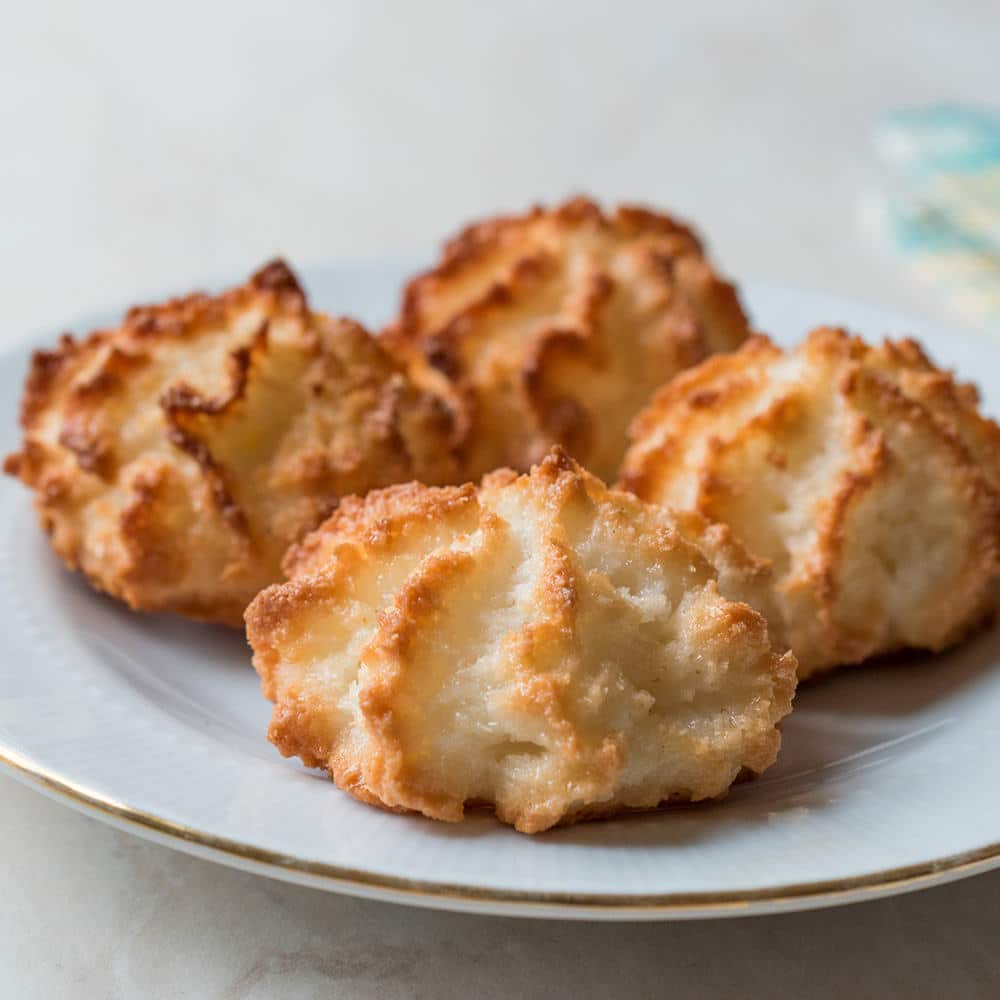 I actually love coconut macaroons more than french macaron. Makes me feel very nostalgic and I now I kinda need to make some.
Why are French macarons so hard to make?
I'm sure you've heard that macarons are very finicky, and it's true, they can be! Especially if you've never made them before. I always struggle with making a new recipe if I don't know what I'm looking for in each step. Is the batter right? Is it too runny? Are they too flat? I don't know! The unknown can be very stressful amirite?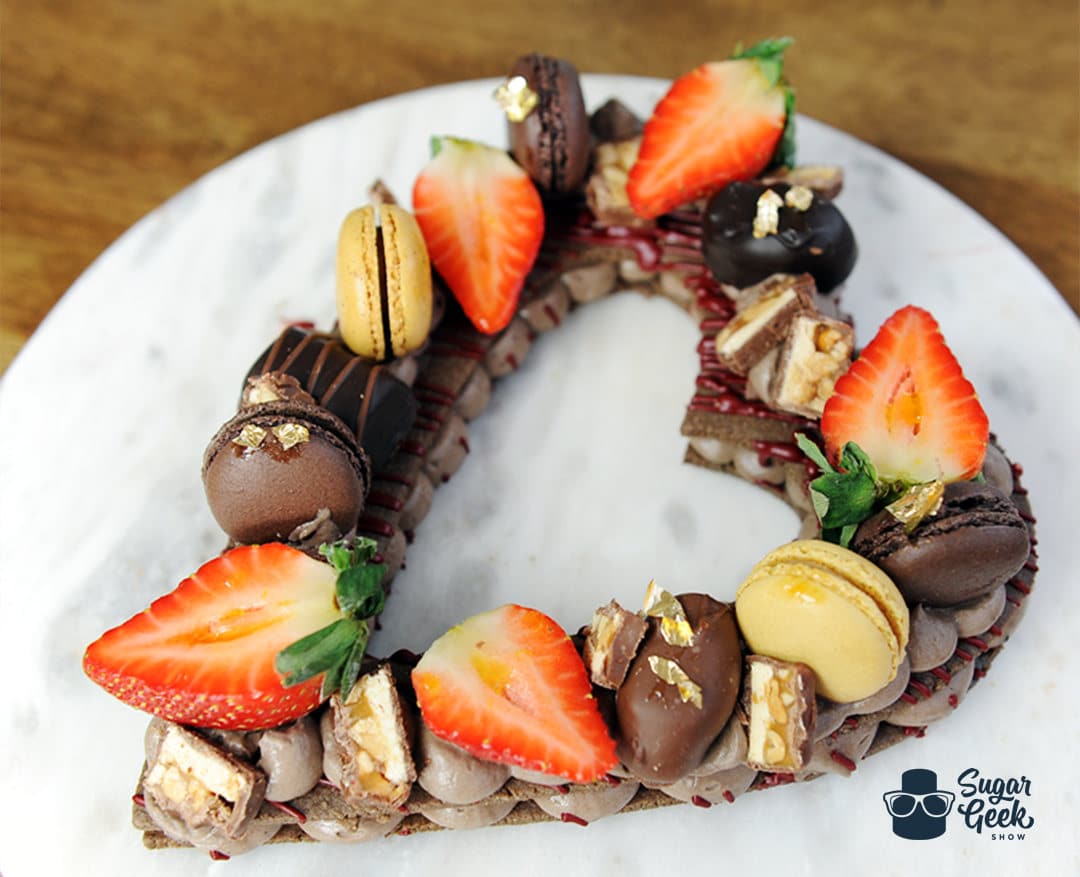 I actually learned how to make these in pastry school and nailed it on the first try. I'm not bragging, I was just incredibly lucky to have a french pastry chef standing right there showing me how to make them. I got to see exactly how he mixed the batter, how the batter fell in ribbons back into the bowl, how smooth the cookie was when it was piped and what it felt like when the skin had formed and they were ready to bake.
I know I'm not there with you right now to hold your hand but I hope this step by step photo tutorial will help you with getting the macaron recipe just right.
Macaron Recipe Step By Step
Sift together the powdered sugar and almond meal
This is important so you can remove any hard lumps that might be in the mixture which will ruin the shiny surface of your cookie later.
Whip your egg whites until frothy with the whisk attachment and add cream of tartar. Slowly add in your powdered sugar. Whip until soft glossy peaks form. This can take 5-10 minutes. *pro-tip – leave your egg whites uncovered in the fridge overnight before you whip them to dry out. A lot of pros do this and it's called aging the egg whites.
Add the vanilla (or another flavoring) to your meringue. Whip egg whites until thick glossy but still soft peaks form.
Add a drop of food coloring to the tip of your whip if you want to color your macarons
Add in 1/3 of your almond mixture and fold by taking your spatula and going around the edge of the bowl just under the batter, then cut through the center. Repeat this until you don't see any dry spots.
Add in the rest of your dry ingredients and continue folding
Test your batter to see if it flows off the spatula. If it falls in clumps it's too thick. Keep folding.
Once your batter falls from the spatula in a ribbon, try and draw a figure 8. If the batter doesn't break, it's ready. You will also notice the edges of the batter begin to turn glossy and the mixture oozes very slowly. The ribbon should dissolve back into the batter after about 20 seconds.
Now you can pipe your macarons onto your parchment paper and bake! I use a #14 round piping tip and a template. Hold your tip straight up in the center of the circle, about 1/4″ away from the paper and squeeze until the batter fills the circle 3/4 of the way then lift straight up.
Lift your tray up about 5 inches and drop onto the table to pop any bubbles that are under the surface of your macaron and the batter should spread to the edge of the circle.
Let your macaron sit at room temperature until a crust forms over the surface. Depending on your room, it can take from 30 minutes to 60 minutes. You should be able to touch the top lightly and it doesn't feel sticky.
Tips for success:
Use room temperature egg whites (if you forget to bring them to room temp, put your eggs in a bowl of warm water for 5 minutes)
Sift your ingredients
Weigh all your ingredients in grams for the best and most accurate results
Make sure you use fresh egg whites
Wipe the inside of your bowl and attachments well to make sure they are grease-free
Don't over-whip your egg whites, make sure they are at the firm peak stage but still glossy and moist
Trouble shooting macaron problems
Perfecting your macaron recipe will take time. After your first try you might notice some problems. These are the most common and how you can fix them.
Over-mixing your batter will produce very flat macarons that will be hollow in the center and won't have any feet
Oily blotches on the surface of your macaron is from over-mixing and causing the oil from the almond flour to release into the batter. Try folding more gently.
Macarons that have a raised nipple in the center after baking. This is caused by under-mixing and the batter is still too stiff.
Under-mixing your batter or not using super fine almond flour will make lumpy/rough textured macarons.
Cracked macarons are from not letting them sit at room temp for long enough so they haven't had time to develop a shell or they were not mixed enough.
Macarons won't be round when you don't hold your piping tip directly in the center of the template or your parchment isn't flat.
Make Download the template to make perfectly-sized macarons
French Macaron Template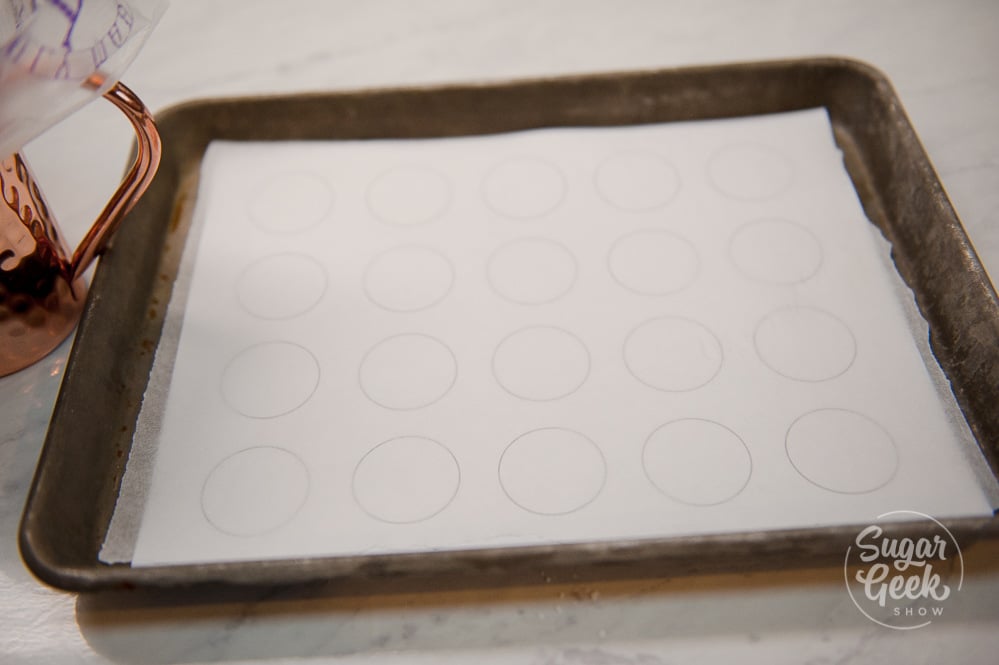 Macaron filling recipe
Traditional french macaron recipe uses flavored buttercream as a filling but you can use jams, curds or even ganache. The flavor possibilities are endless!
Here are some popular flavor combinations for a macaron recipe
Pink macarons flavored with freeze-dried strawberries and strawberry jam buttercream
Yellow macarons flavored with lemon extract and lemon curd
Pink macaron with passionfruit filling
Green macaron with pistachio filling
Beige macaron with salted caramel buttercream
Chocolate macaron with espresso infused ganache
Lemon macaron with raspberry jam filling
Can you make a macaron recipe without almond flour?
I have read that you can replace almonds in macaron with pumpkin seeds! Who knew? Seems easy enough. Replace the almond flour with equal weight of pumpkin seeds. Grind up your pumpkin seeds finely before you use them and make sure you sift them so that any large bits get removed. These large bits will make your macaron lumpy.
Can you make your own almond flour?
You can grind up your own blanched almonds (I buy mine from the bulk section at Winco). Place a cup of almonds in your food processor and pulse until finely ground. Don't blend for too long or you'll end up with almond butter!
Push the almonds through a strainer to remove any big pieces of almond. Repeat the process until you have enough almond flour for your recipe.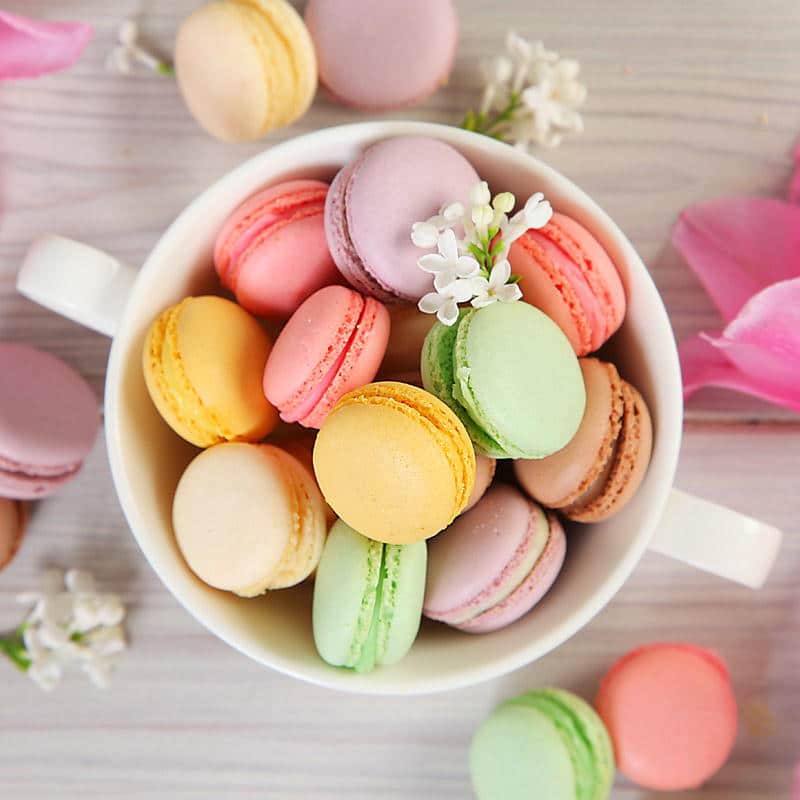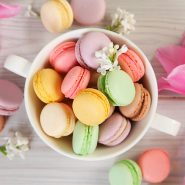 French Macaron Recipe
These tasty little cookies never go out of style! Light and crisp on the outside, soft and chewy in the center. Color them, flavor them and fill them!
Total Time
1
hour
8
minutes
Servings
18
filled cookies
Ingredients
2

oz

almond flour

4

oz

powdered sugar

2

oz

egg whites

1/4

tsp

cream of tartar

1

oz

granulated sugar

1/2

tsp

vanilla extract

1

speck

food coloring

optional
Instructions
Sift together the powdered sugar and almond flour, twice if not blended.

Whip the egg whites to frothy consistency and slowly add the sugar and cream of tartar, whipping until soft glossy peaks form.

*pro-tip - leave your egg whites uncovered in the fridge overnight to dry out. A lot of pros do this and it's called aging the egg whites.

Add the vanilla to the meringue.

Add 1/3 of your almond mixture to the meringue. Fold your spatula under the batter and around the edges and then cut through the center. Continue two more times (watch video)

Your meringue is ready when it forms a ribbon off the spatula and the batter that settles almost dissolves all the way back into the rest of the batter but still leave a bit of a line.

Place parchment paper onto your sheet pan. Pipe small rounds about 1" in diameter. Use a template if needed

Allow to dry, uncovered until a crust forms on the surface. About 30 minutes - 60 minutes or until a dry film develops over the surface of the cookie

Bake at 300ºF for about 15 minutes or until lightly browned. If not quite brown baked, bake for an additional 1 minute. Cooled cookies should pull away from the parchment paper without sticking. If they do stick, they where not baked enough.
Recipe Video
Nutrition Facts
French Macaron Recipe
Amount Per Serving (1 g)
Calories 50
Calories from Fat 9
% Daily Value*
Fat 1g2%
Sodium 5mg0%
Potassium 12mg0%
Carbohydrates 8g3%
Protein 1g2%
Calcium 7mg1%
Iron 0.1mg1%
* Percent Daily Values are based on a 2000 calorie diet.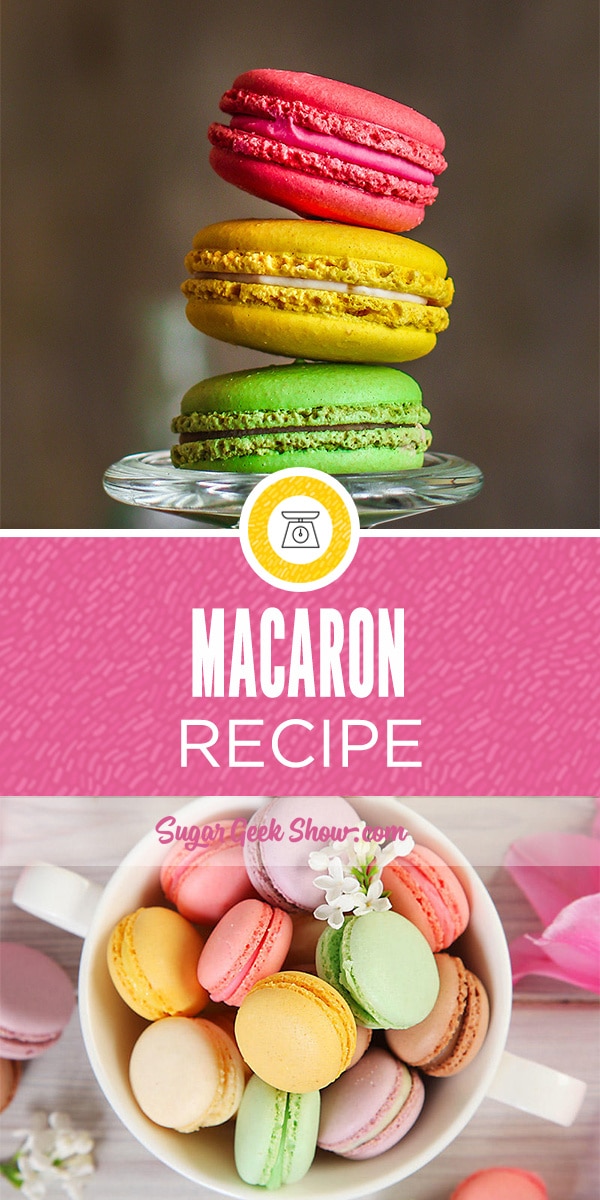 October 14, 2019