Buttercream Frosting Thats Not Too Sweet, Super Creamy and Easy To Make
Buttercream frosting is made by whipping pasteurized egg whites with powdered sugar until it's light and fluffy then mixing in butter and vanilla until the buttercream frosting is super light and creamy.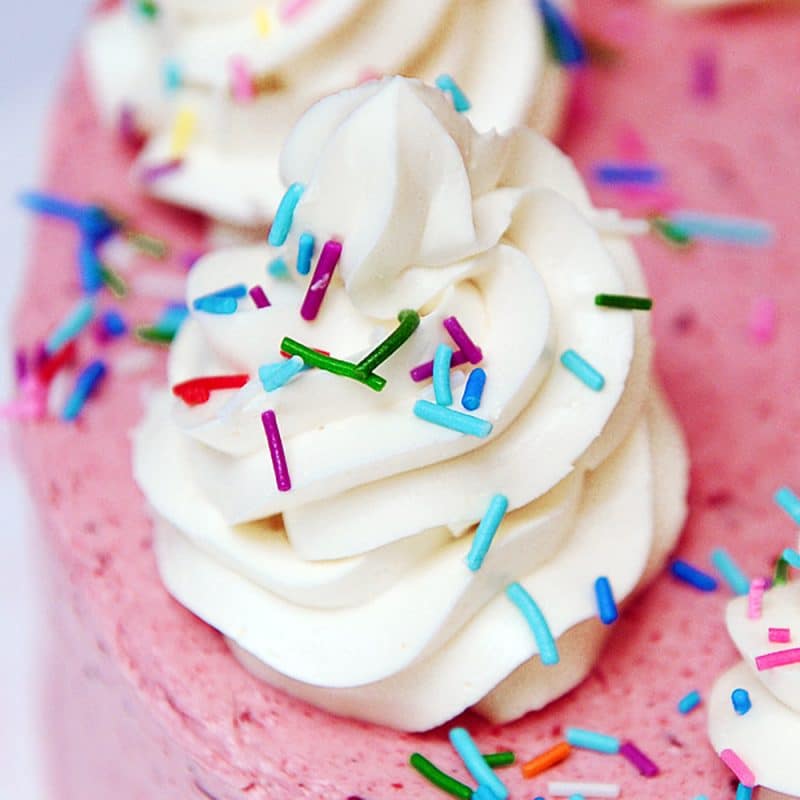 The first buttercream I ever made was from an old wilton recipe book. Powdered sugar, shortening and vanilla. I struggled SO hard to get my edges smooth and crisp like the photos I saw in the fancy cake decorating books but I always ended up with mega cake fails.
It wasn't until I went to pastry school in 2010 at Oregon Culinary Institute that I first heard of other kinds of buttercreams. I'll never forget the day we made Swiss Meringue Buttercream and we had to frost our cake by holding it in one hand and icing the cake with a spatula in the other. NO turn table!
I was like, there is no way this is going to work. But I lifted that cake up and began frosting as my chef instructed and I could not BELIEVE how smooth it went onto my cake!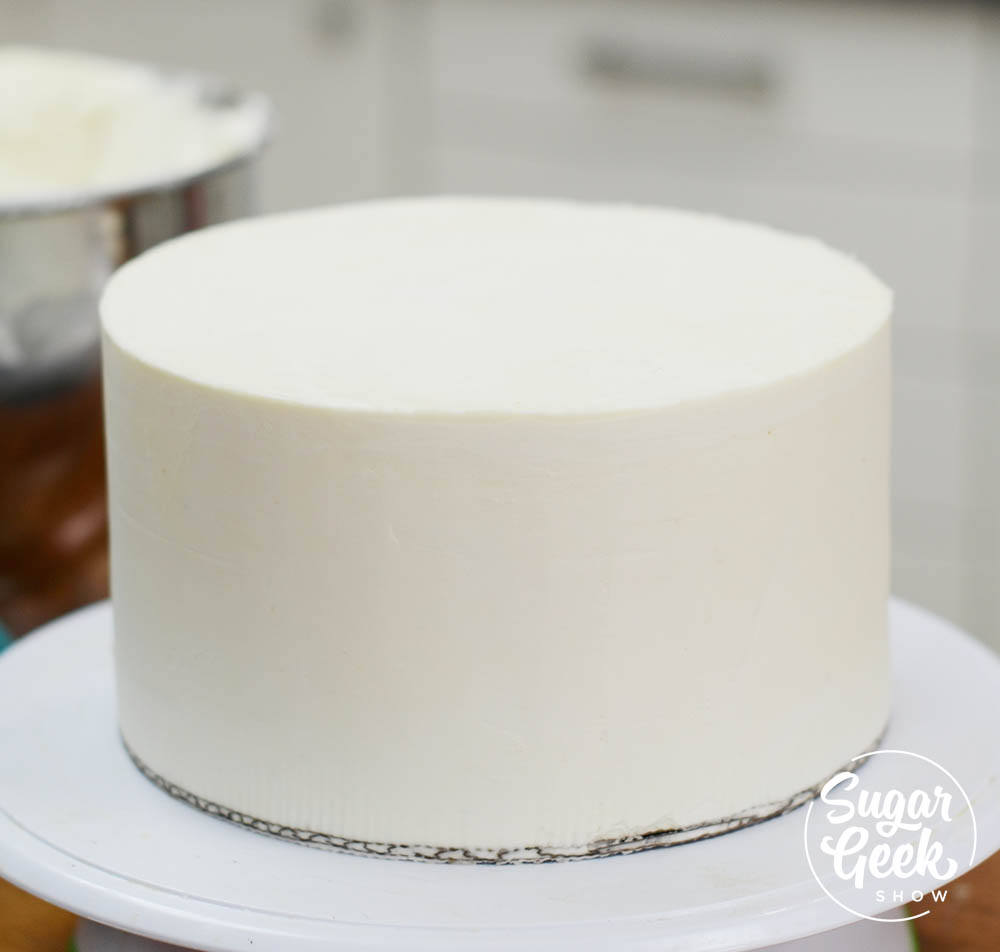 Then I tasted it…
OMG pure heaven!
Not too sweet, super silky, melt on your tongue goodness!! For the next 6 years I only made SMBC for my cakes which involves a lot of heating of egg whites, whipping, cooling and repeat. I WISH I had this recipe back then! It's so much easier!
This buttercream frosting works great for wedding cakes, sculpted cakes or even cupcakes. It's a super easy version of SMBC (Swiss Meringue Buttercream) that I adapted from a recipe I got from Lauren Kitchens. I loved how easy it came together and required no heating of egg whites, waiting for them to cool etc. Just whip up a batch in 10 minuets and go!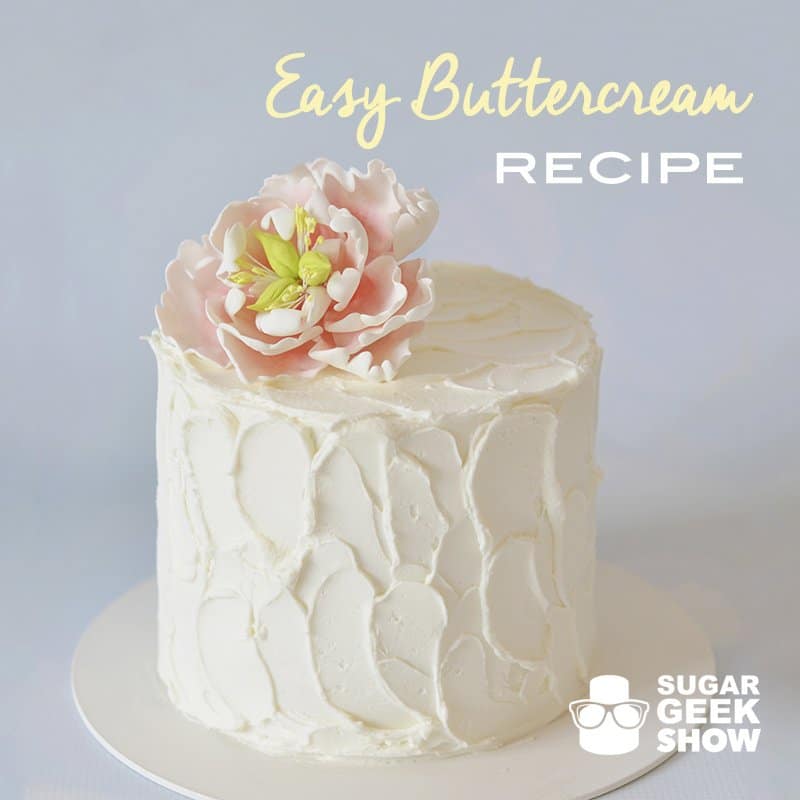 This buttercream frosting is the recipe I WISH I had when I was making 5 wedding cakes a weekend. Now it's the only buttercream frosting I use and my clients love it. Way better than the super sweet frosting I was used to seeing on cakes.
What Is Frosting?
There are a few different types of frostings that are commonly used for baking and cake decorating. Here's a little bit of info about each one and what it's typically used for.
American Buttercream (ABC)


American buttercream is made with powdered sugar and butter (sometimes shortening) and is very sweet and more stable in hot weather


American buttercream is made by combining powdered sugar, butter (or sometimes margarine or vegetable shortening) a little bit of cream or other liquid and flavorings. This frosting is sometimes referred to as a "crusting" buttercream because it forms a firm crust on the outside of the cake after a few minutes. The frosting is pretty sweet but pretty stable in high temperatures or humidity. American buttercream is what you traditionally taste on store-bought cakes and cupcakes. Can be used under fondant.

Swiss Meringue Buttercream (SMBC)


Swiss meringue buttercream is made with egg whites, sugar, vanilla which is heated, whipped into a meringue and then cooled before adding in butter and whipping until light and fluffy. This buttercream is not as sweet as American Buttercream

Swiss meringue buttercream is a lighter and fluffier version of buttercream. I first made this buttercream frosting in pastry school and when I tasted it, I thought THIS is what frosting should taste like! It's made by dissolving some sugar in egg whites and then dissolving the sugar over a bane marie (double boiler). Then you whip up the egg whites into a stiff meringue and let it cool. Once cooled you whip in the butter and get a super creamy and light buttercream that melts in your mouth. SMBC is what you typically get on french pastry styles cakes or high quality bakery style cakes. Can be used under fondant.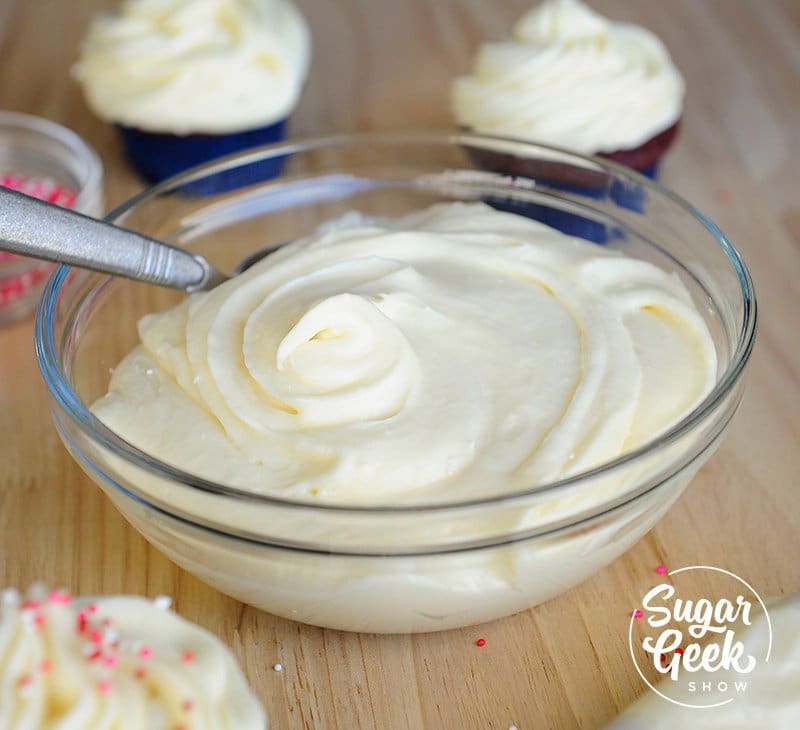 Cream cheese frosting is similar to american buttercream. You make it by combining butter and cream cheese together and then adding in powdered sugar and flavorings. The resulting frosting is very creamy. Cream cheese frosting is often paired with red velvet cake, carrot cake or even carrot cake. Because of the cream cheese, the frosting must be refrigerated at all times and does not do well under fondant.
• Stabilized Whipped Cream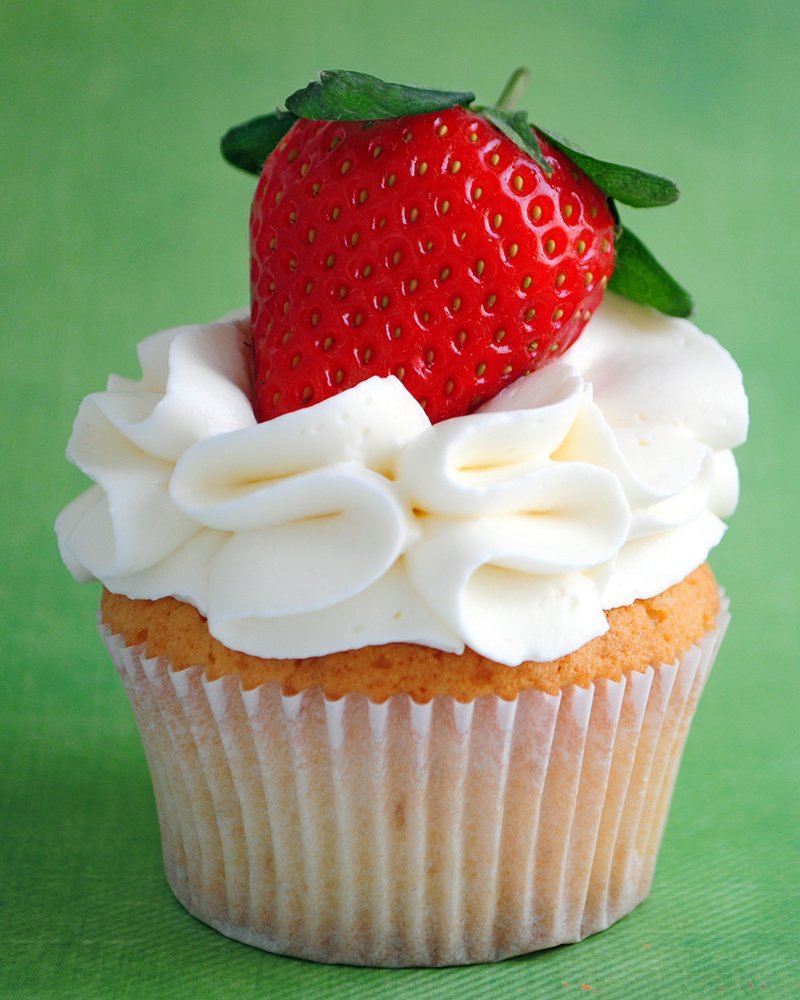 Stabilized whipped cream is made by whipping up heavy cream with a bit of sugar and flavorings. Typical whipped cream is pretty unstable so the added gelatin keeps the whipped cream from losing it's shape. Stabilized whipped cream is great for icing cakes, using on cupcakes or for desserts like pies and cream tarts. It does not work well under fondant and must be kept refrigerated.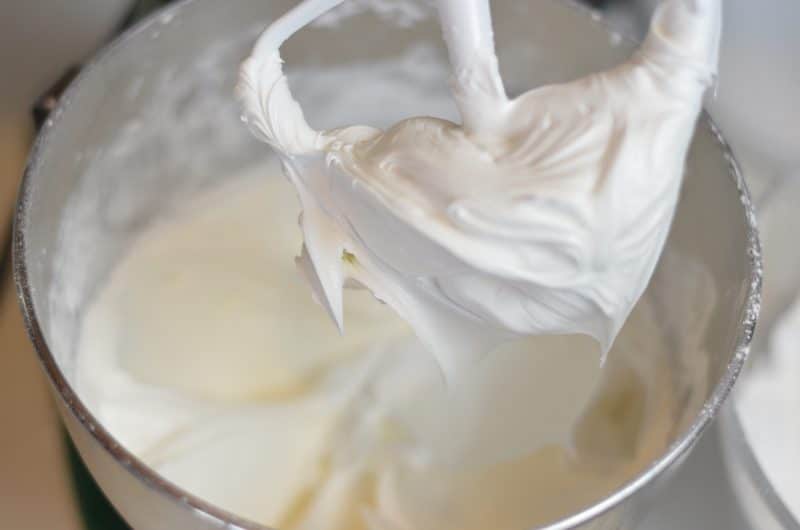 Royal icing is made by combining egg whites with powdered sugar and flavorings. It can be thick or it can be thin. It gets very hard over time as it dries out. It can be thinned down and drizzled over cakes or it can be piped onto cookies or even made into flowers and other decorations. Royal icing is not meant to be frosted over the entire surface of a cake or used under fondant. It can be used to glue decorations onto a cake or decorative pieces to each other.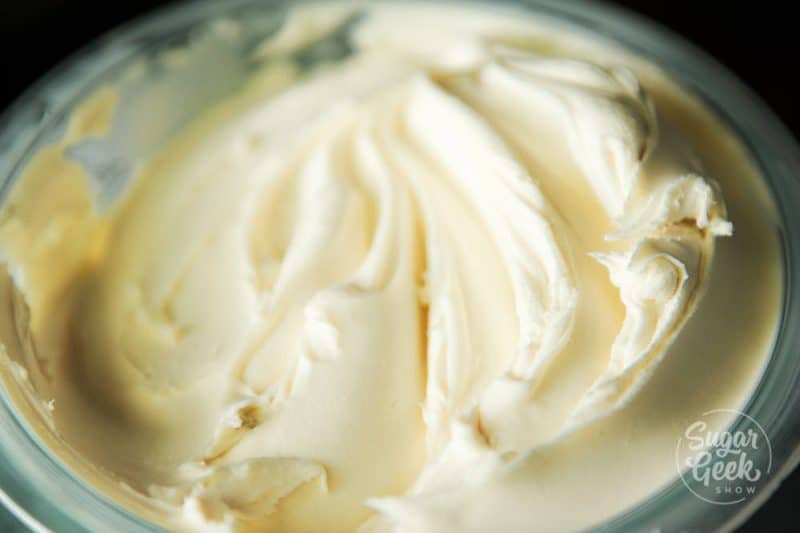 White chocolate ganache is great for using in place of buttercream and fondant because it's nice and white. It has the same properties as the chocolate ganache and is made the same way. It can be used under fondant but looks really great all on it's own. White chocolate ganache tends to be smoother than buttercream with less bubbles so you can get a flawless finish on your cakes quicker than buttercream.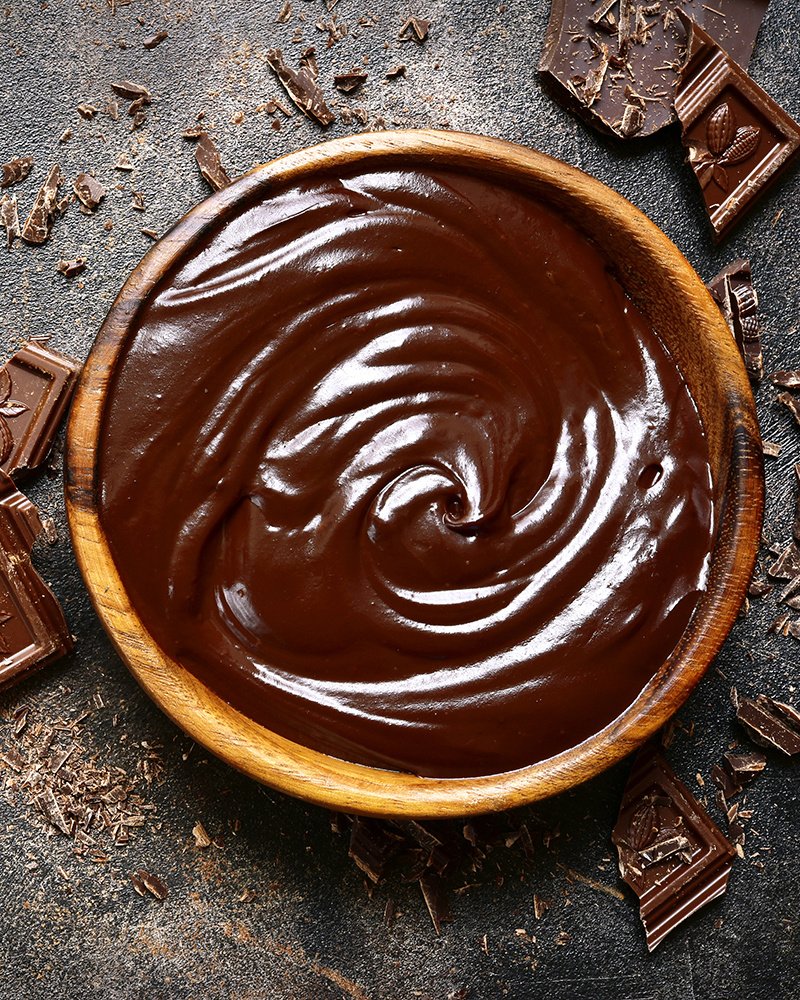 Chocolate ganache is not classified as a buttercream but deserves to be listed here because it is often used like a buttercream would be. It's great for frosting and filling cakes, cupcakes and adds excellent stability for sculpted cakes. Ganache is more stable in hot weather and humid areas. It can be used under fondant and does not sweat when it comes out of the fridge. Ganache is made by pouring hot cream over chocolate, adding in flavoring and whisking until a creamy consistency is achieved.
What Kind Of Butter Is Best For Buttercream Frosting
Any chef will tell you that a recipe is only as good it's ingredients. Buttercream frosting is made of only a few ingredients. Egg whites (basically no flavor), sugar (sweetness but no flavor to speak of), butter and vanilla. Butter and vanilla is where you get your flavor from so the better your butter and vanilla, the better your buttercream frosting will taste.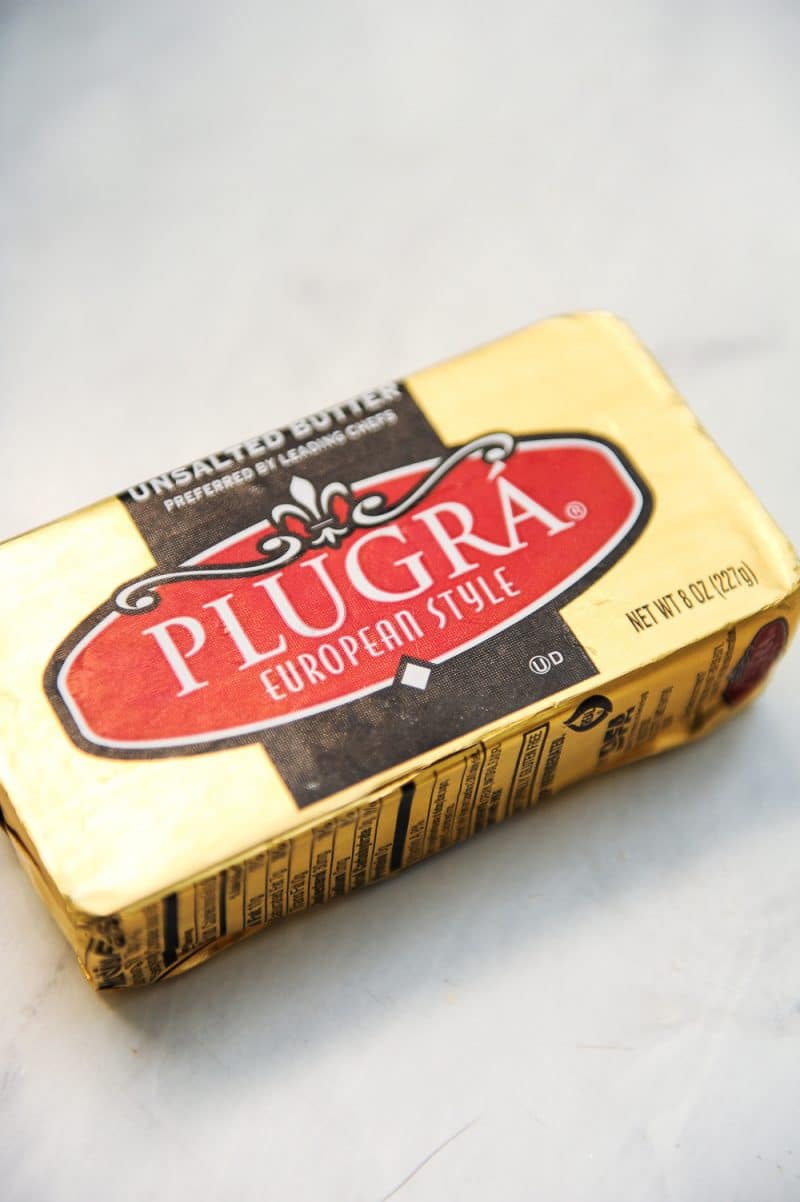 Now if you're like me and you're making tons of buttercream frosting for huge cakes, you don't want to go full on plugra (the best butter ever) because it get's expensive really quick but if you try to go super cheap and use really low quality butter or shortening, you're going to taste that greasy aftertaste in your mouth. Not good.
There is a debate about whether or not you should use salted or unsalted butter for your buttercream frosting and I have seen people do both. I personally prefer to use unsalted butter so that I can control the amount of salt in my buttercream frosting. The amount of salt in one lb of salted butter is in my opinion much too strong for a batch of easy buttercream.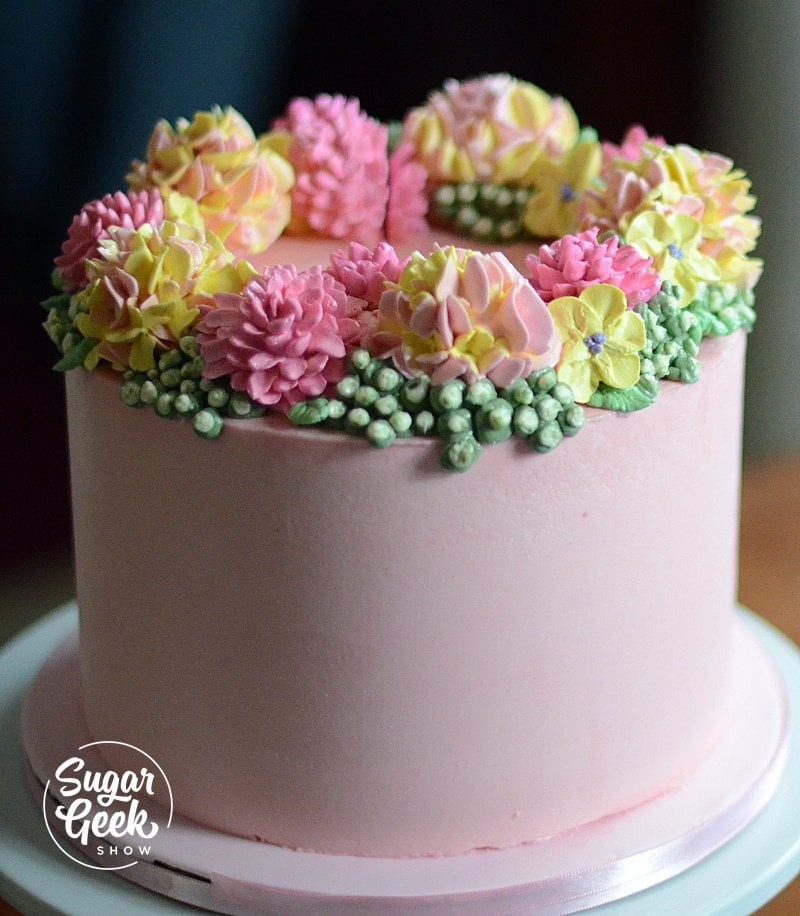 Learn how to make beautiful piped buttercream flowers and sharp edges using acrylic disks from guest instructor Danette Zamora Short.
What Kind Of Flavoring Do You Use For Buttercream Frosting
Same thing with the vanilla. Vanilla is SUPER expensive right now thanks to a vanilla bean shortage so you have to be smart about. You might not want to go putting a vanilla bean into every batch but it don't go leaving it out all together.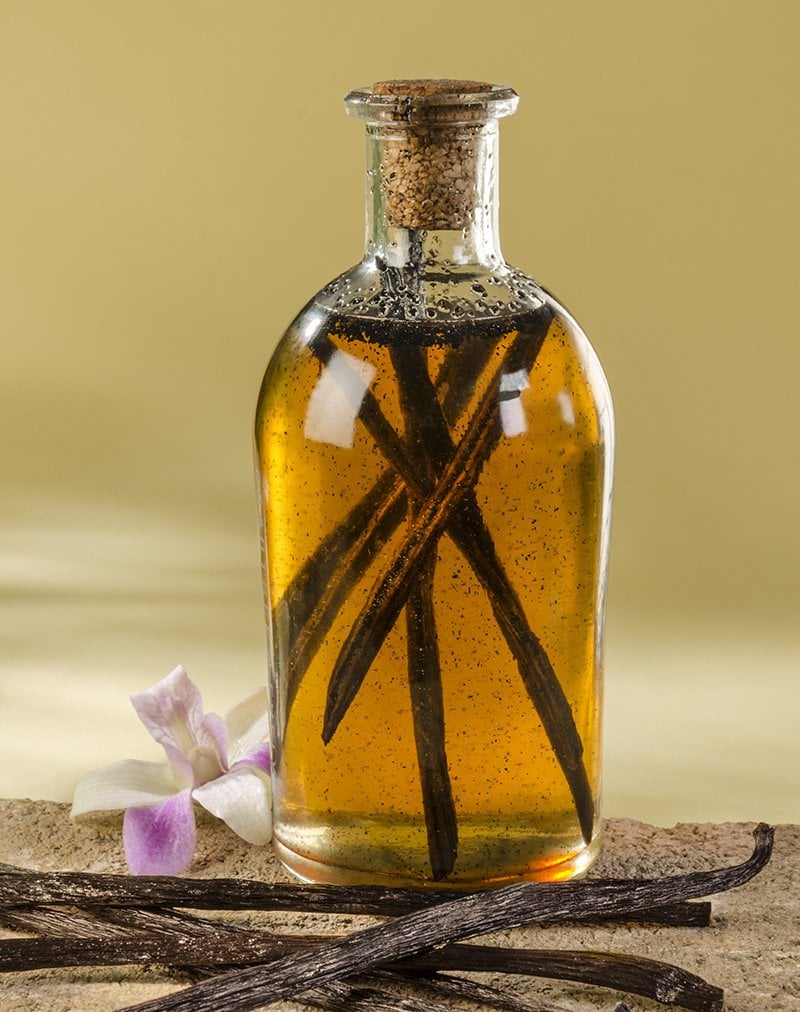 I get my vanilla from Costco and get a pretty decent deal. You can also supplement your vanilla with almond extract or you can try making your own vanilla extract from vanilla beans.
You can use any type of flavoring for your buttercream frosting, Emulsions and extracts that are not "artificial" will always taste better.
What Is The Difference Between Frosting and Icing
Buttercream frosting is usually used to cover the outside of a cake, used as a cake filling or to frost cupcakes. Icing is thinner, shinier and typically used to drizzle over cakes like a bundt cake or for icing cookies.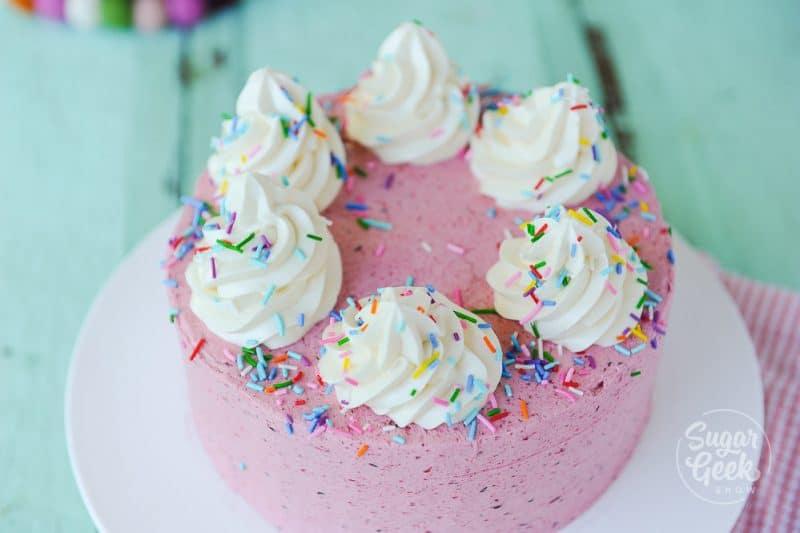 In my mind I think if it has butter in it, it's frosting and if it doesn't, it's icing.
Is Buttercream Frosting Really Sweet?
I personally do not like a super sweet buttercream frosting. Before I discovered easy buttercream, whipped cream was my favorite type of frosting. Before I went to pastry school and learned how to make SMBC I thought all buttercream was made with a bag of powdered sugar and vegetable shortening.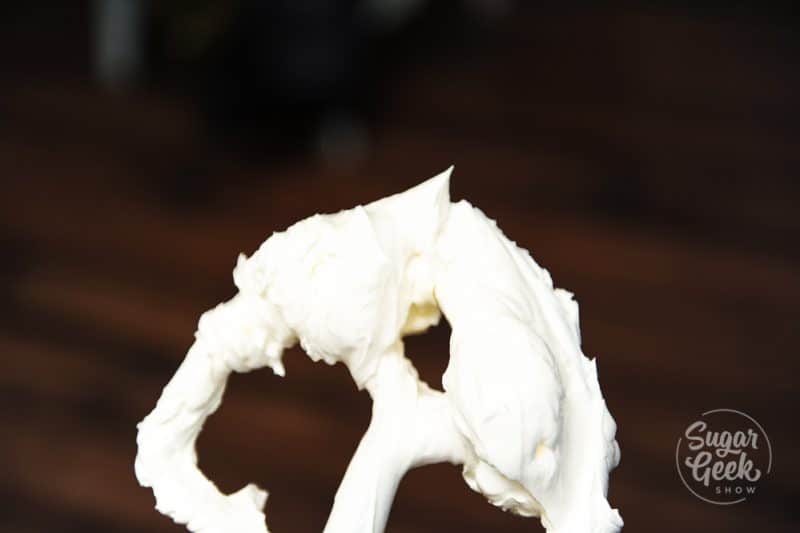 This easy buttercream frosting is actually super light. When you bite into a piece of cake with this frosting on it, it literally just dissolves in your mouth. And because there is less sugar in it than traditional frosting, it's less sweet (literally).
Easy buttercream frosting is the frosting you make for someone who doesn't like things that are super sweet but they love a delicious vanilla flavor and sweet creamy texture.
Do You Have To Refrigerate Buttercream Frosting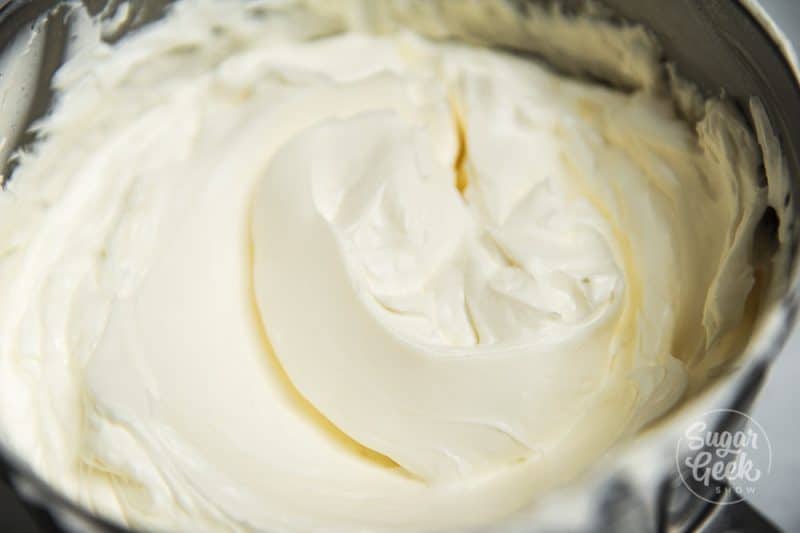 Buttercream frosting (ABC, SMBC, IMBC) can be left at room temperature without spoiling. Bacteria growth is inhibited by the high amounts of sugar and fat (natural preservatives). That being said, you don't really want to leave it at room temperature for a long period of time because over time the buttercream becomes spongy and super soft and can even begin to separate in high heat.
When I make my cakes, I keep them refrigerated for stability. Once the cakes are delivered, the buttercream comes to room temperature and is soft enough to enjoy. Hard buttercream is not great to eat. Learn to make this semi-naked wedding cake on the membership site.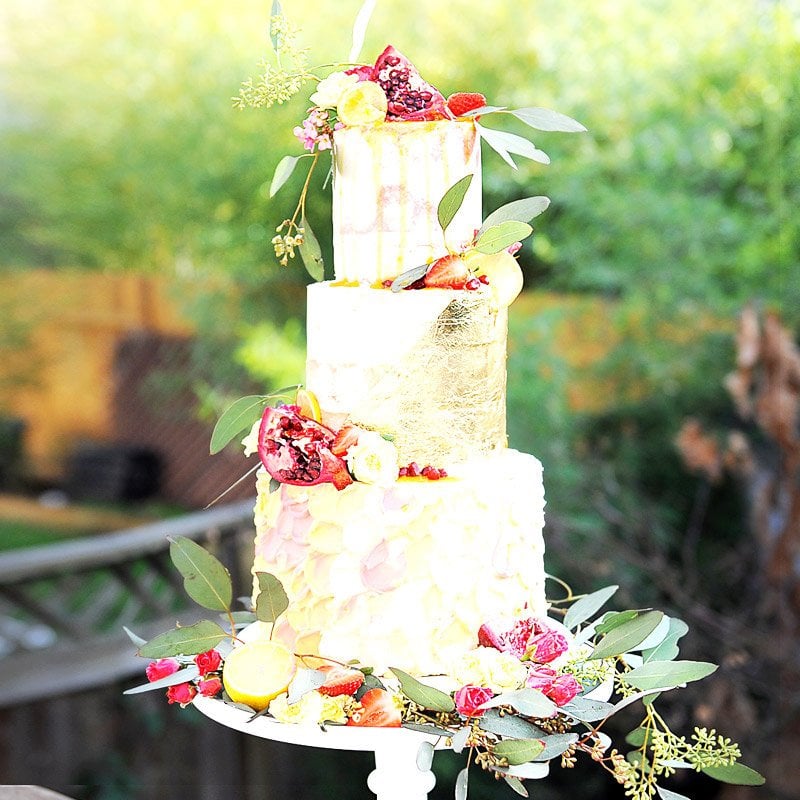 If you're got a batch of buttercream made and you want to use it the next day, it's ok to leave it at room temperature but if you aren't going to use it for a while, it's best to store it in the fridge until you need it or freeze for up to six months. Bring to room temperature and re-whip until smooth before use.
Chocolate Buttercream Frosting
You can make chocolate buttercream frosting into a delicious chocolate version by adding in about 1/4 cup of your favorite cocoa powder. I like dutched cocoa powder because it has a nice rich chocolate flavor.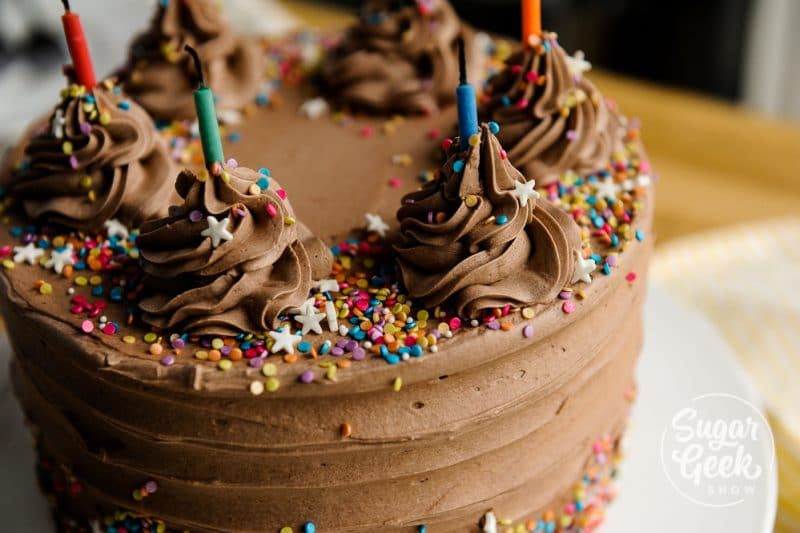 You can also make a white chocolate buttercream frosting by adding melted white chocolate into the buttercream frosting. This makes a SUPER stable buttercream frosting that is a combination of buttercream and white chocolate ganache.
Watch my video on how to make the perfect easy buttercream frosting!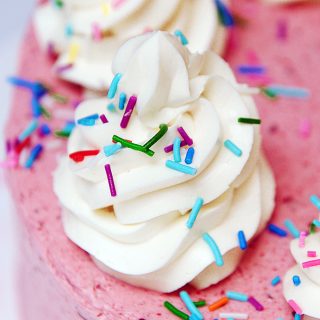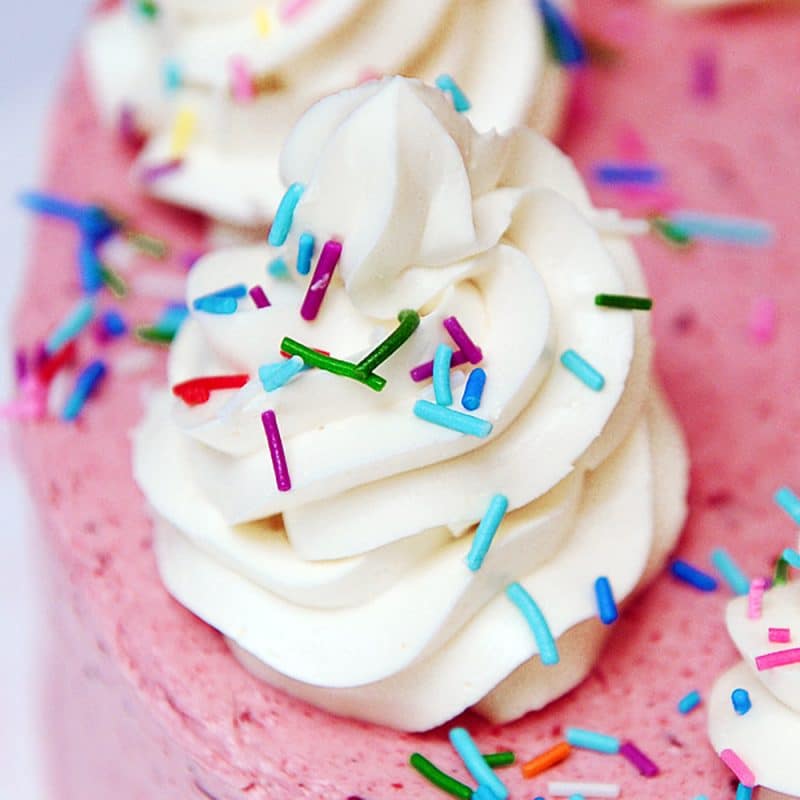 Easy Buttercream Frosting
Delicious, rich and easy buttercream frosting recipe that anyone can make. This is not a crusting buttercream. It is meringue based so it has a slight shine and chills nicely in the fridge. Takes 10 minutes to make and is fool-proof! Light, fluffy and not too sweet.

Ingredients
2

lbs

unsalted butter

room temperature. You can use salted butter but it will affect the taste and you need to leave out additional salt

2

lbs

powdered sugar

sifted if not from a bag

1

tbsp

vanilla extract

1

tsp

salt

8

oz

pasteurized egg whites
Instructions
Place egg whites and powdered sugar in a stand mixer bowl. Attach the whisk and combine ingredients on low and then whip on high for 5 minutes

Add in your butter in chunks and whip with the whisk attachment to combine. It will look curdled at first. This is normal. It will also look pretty yellow. Keep whipping.

Let whip on high for 8-10 minutes until it's very white, light and shiny. Switch to a paddle attachment and mix on low for 15-20 minutes to make the buttercream very smooth and remove air bubbles. This isnt required but if you want really creamy frosting, you dont want to skip it.
Nutrition Facts
Easy Buttercream Frosting
Amount Per Serving
Calories 1698
Calories from Fat 1098
% Daily Value*
Total Fat 122g 188%
Cholesterol 325mg 108%
Sodium 481mg 20%
Potassium 36mg 1%
Total Carbohydrates 151g 50%
Protein 5g 10%
* Percent Daily Values are based on a 2000 calorie diet.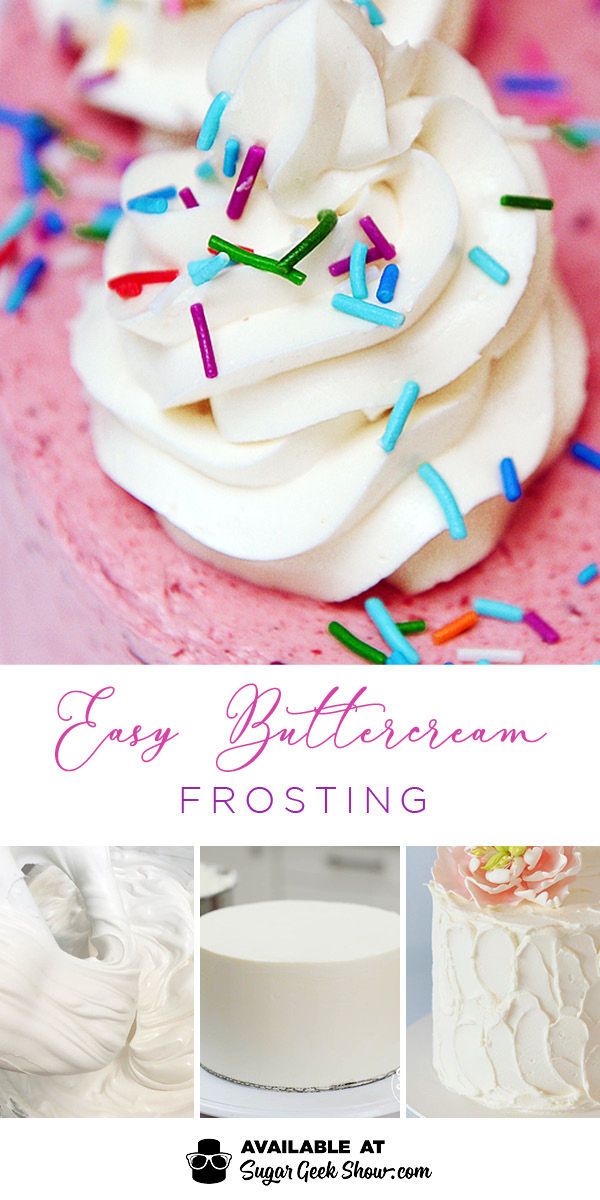 October 25, 2015