I love easy buttercream frosting (technically a mock Swiss meringue buttercream) because you don't have to heat any egg whites (thanks to pasteurized eggs), it tastes super creamy and not too sweet and only takes 10 minutes to make! You can pipe with this, use it under fondant and it tastes SO much better than store-bought! I promise anyone can make this!

This buttercream frosting is the recipe I WISH I had when I was making 5 wedding cakes a weekend. Now it's the only buttercream frosting I use and my clients love it. Way better than the super sweet frosting I was used to seeing on cakes.
EASY BUTTERCREAM INGREDIENTS
You might be like, egg whites... in frosting? What? It wasn't until I went to pastry school in 2010 that I first heard about different types of buttercream. Many types of buttercream, like Swiss, Italian, and French have eggs in them. The egg is often whipped into a light and fluffy meringue and then softened butter is whipped in. When you use meringue as your base for buttercream, you don't have to use as much sugar resulting in a light, fluffy, and less sweet buttercream that tastes a lot like ice cream. YUM!
Easy buttercream is similar to Swiss Meringue Buttercream except that you do not have to heat egg whites and sugar, whip to a meringue, let cool, etc. Thanks to pasteurized egg whites, you can skip to the whipping stage and no need to mix to a meringue! The taste and texture of easy buttercream is nearly identical to traditional SMBC. Did I mention this was easy?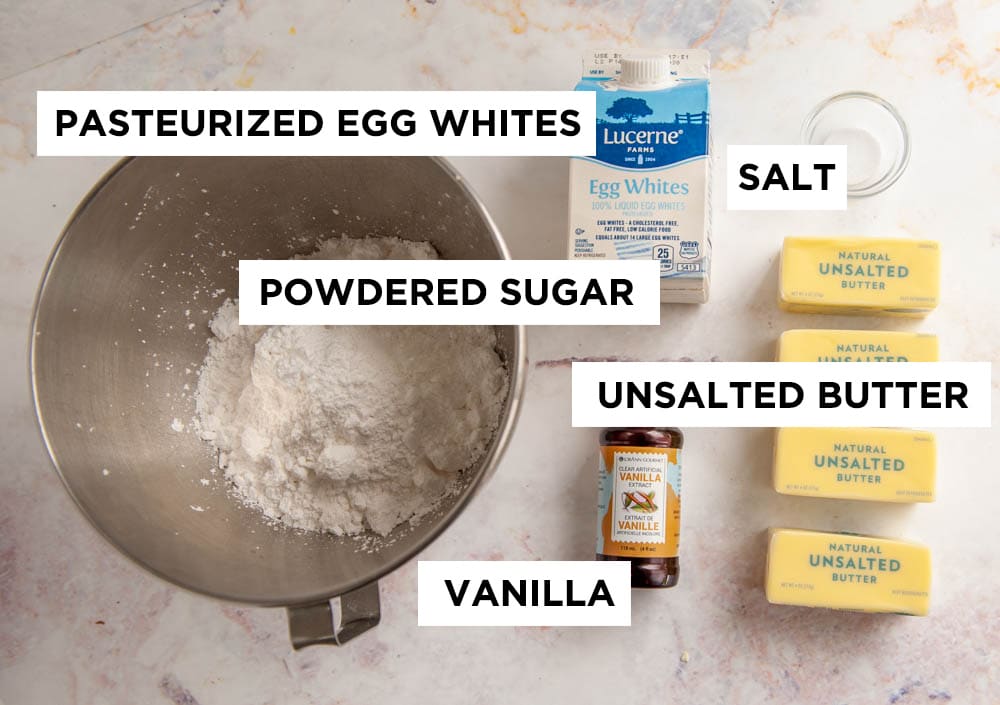 WHAT ARE PASTEURIZED EGG WHITES?
Depending on the country you are in, you may or may not have access to pasteurized egg whites. In most places, they are found in a box in the egg section. The word "pasteurized" will be on the box somewhere, usually very small.
Pasteurizing is the process of gentle heating to kill food born illnesses and make a product safe to drink or eat. Many things are pasteurized, such as orange juice, milk, and wine. Pasteurized egg whites are safe for anyone to eat.
If you can't find pasteurized egg whites you can pasteurize them yourself and just use the egg whites or you can use my Swiss Meringue Buttercream recipe instead.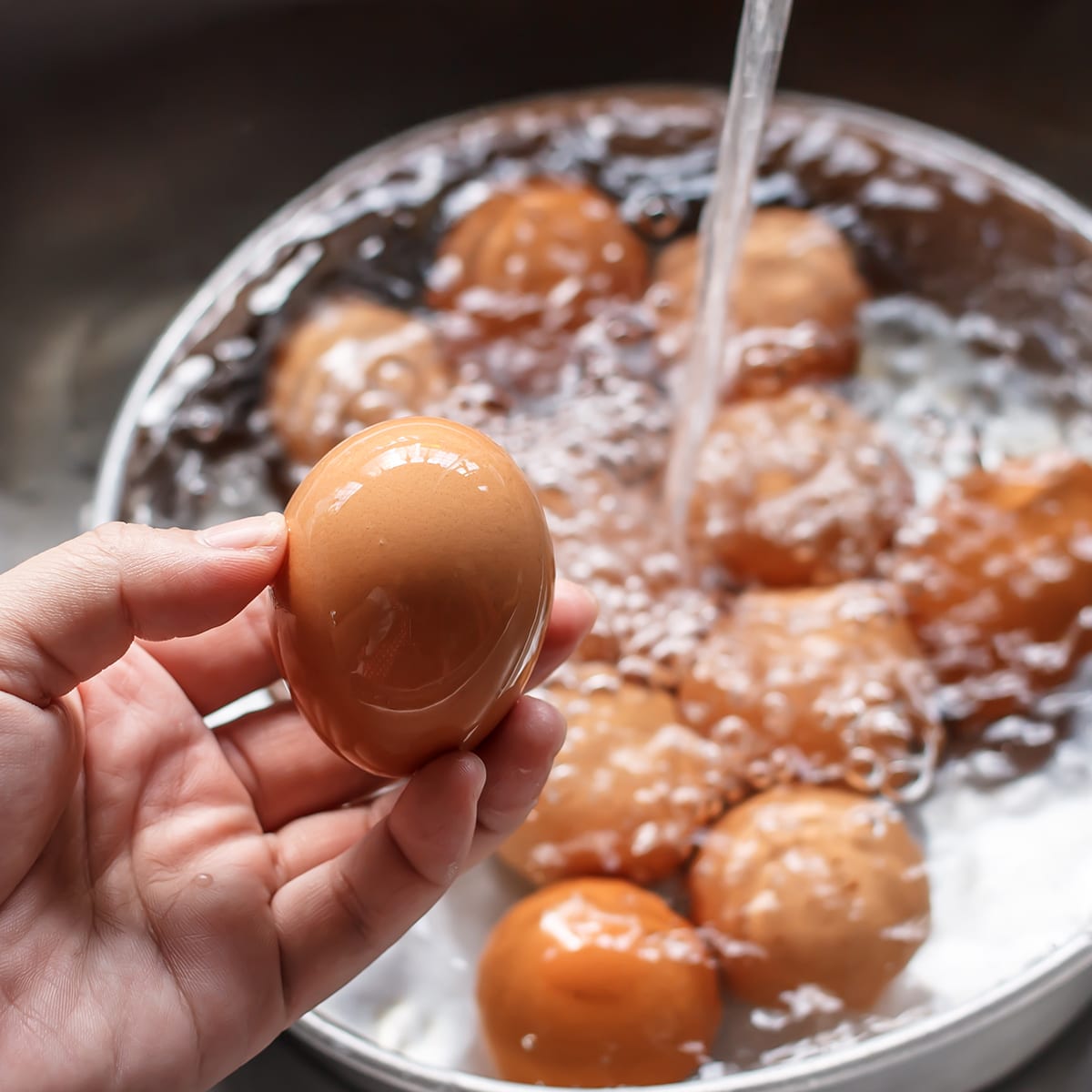 EASY BUTTERCREAM STEP-BY-STEP
Step 1–  Place pasteurized egg whites and powdered sugar in a stand mixer bowl. Attach the whisk and combine ingredients on low, then whip on high for 1-2 minutes to dissolve the powdered sugar. You do NOT need to whip to a meringue.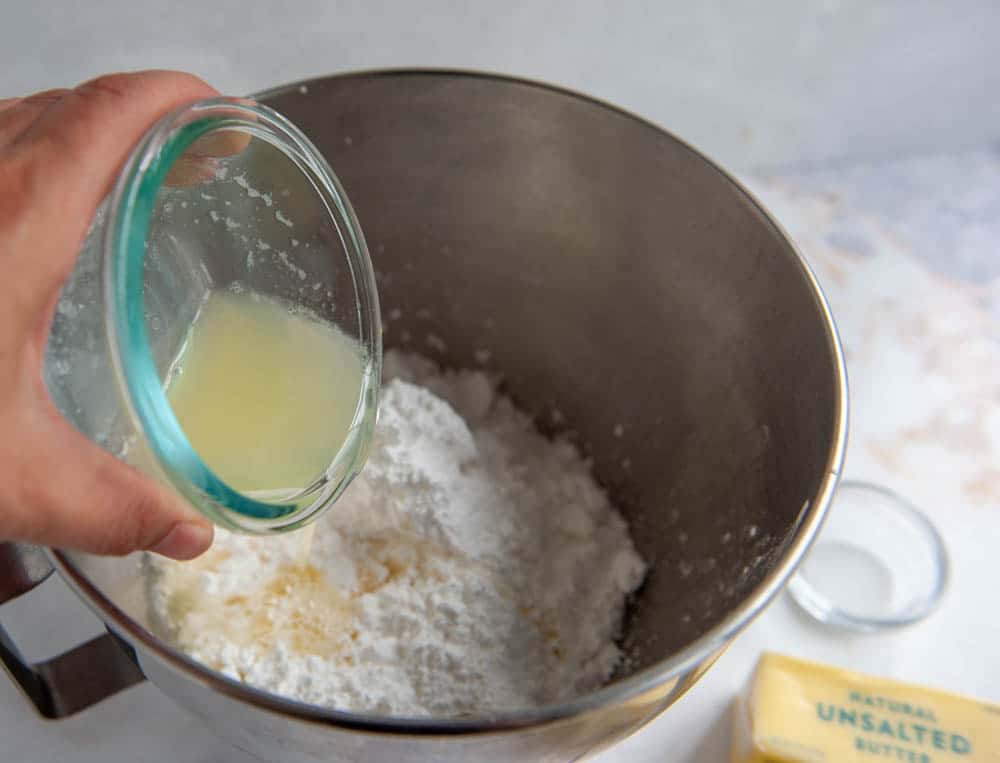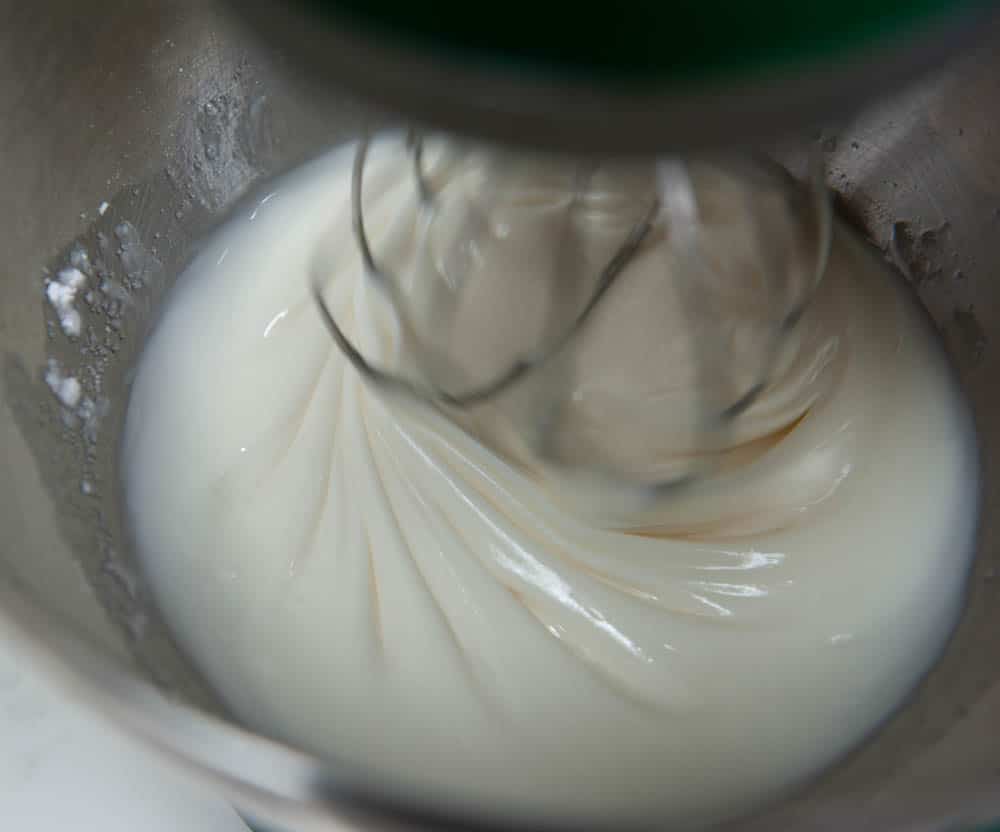 Pro-tip – In traditional SMBC, fresh egg whites and granulated sugar are cooked together to dissolve the sugar and cook the eggs. We skip this step by using pasteurized egg whites and powdered sugar. 
Step 2 – Add in your salt and vanilla extract. You can also substitute any other extract flavoring that you like, I love lemon or orange extract. Using clear vanilla extract will result in a whiter finished buttercream.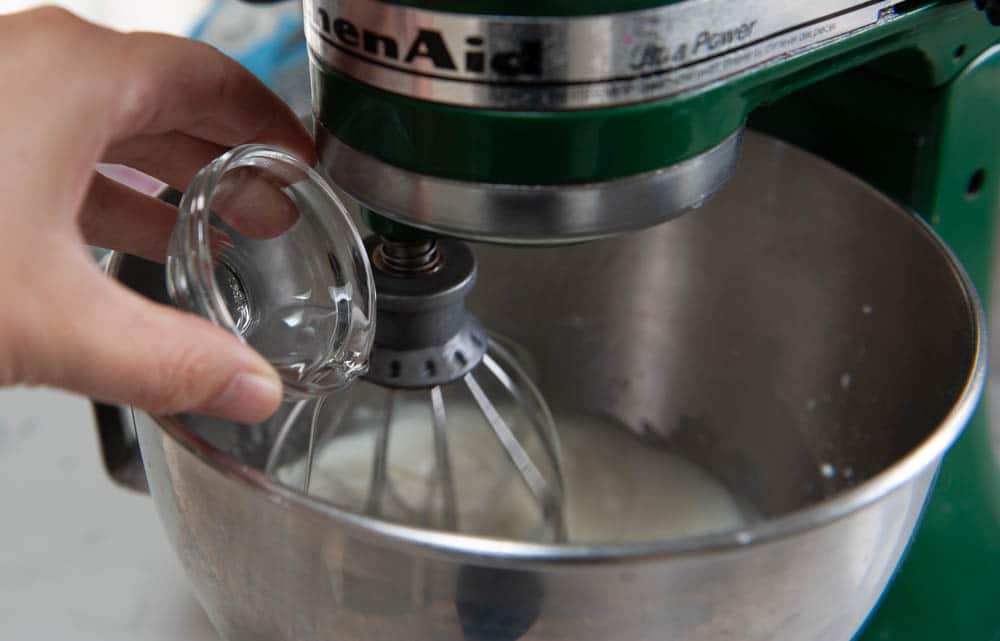 Step 3 – Add in your softened butter in chunks and whip with the whisk attachment on high. If you are using pasteurized egg whites from the fridge then you might notice this rim of cold butter forming. This is normal and can easily be fixed.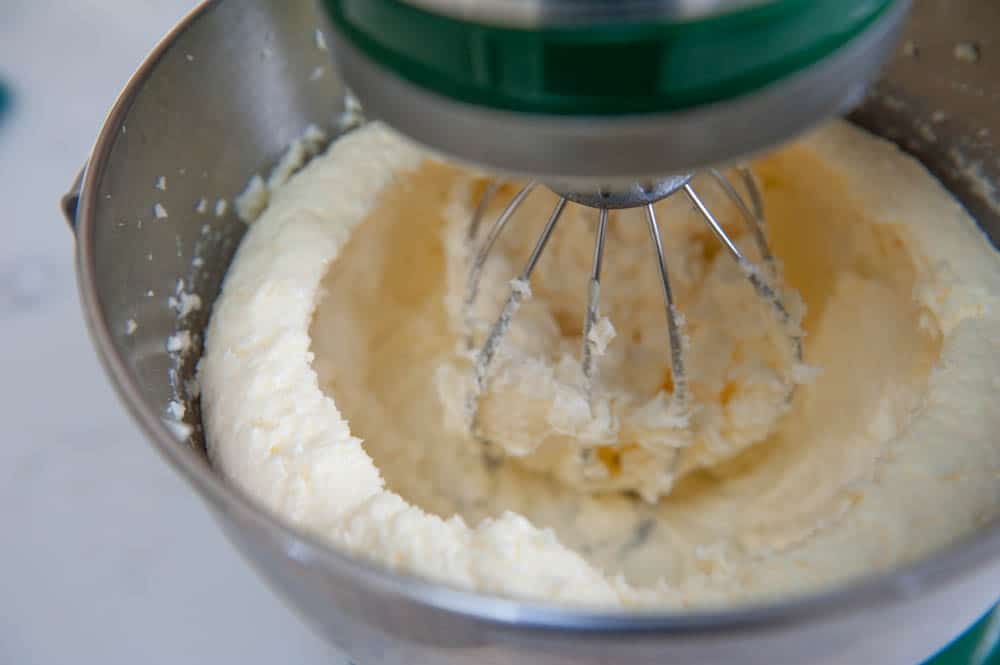 Simple stop your mixer and remove about ⅓ cup of the buttercream. Melt this in the microwave for about 20 seconds or until it's just barely melted. You don't want it hot!
Pour the mixture back into your whipping buttercream and the warmth from the melted buttercream will cause it all to come together and get creamy. This is honestly easier than taking out the egg whites ahead of time and trying to bring them to room temperature (at least for me).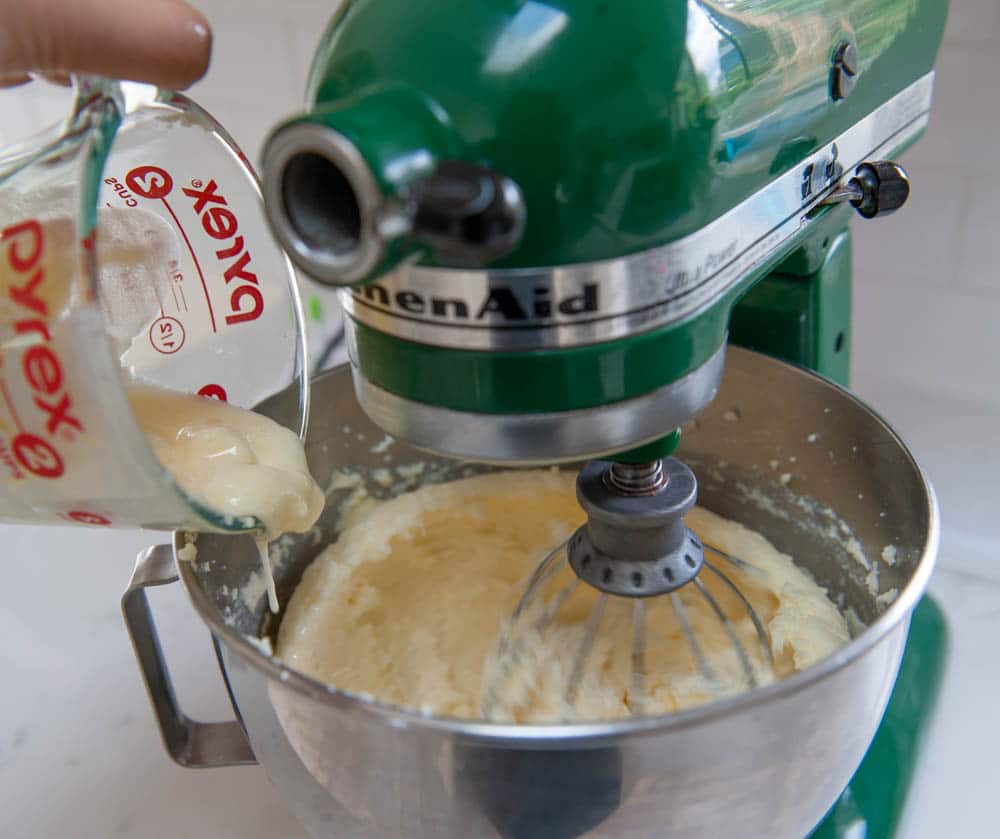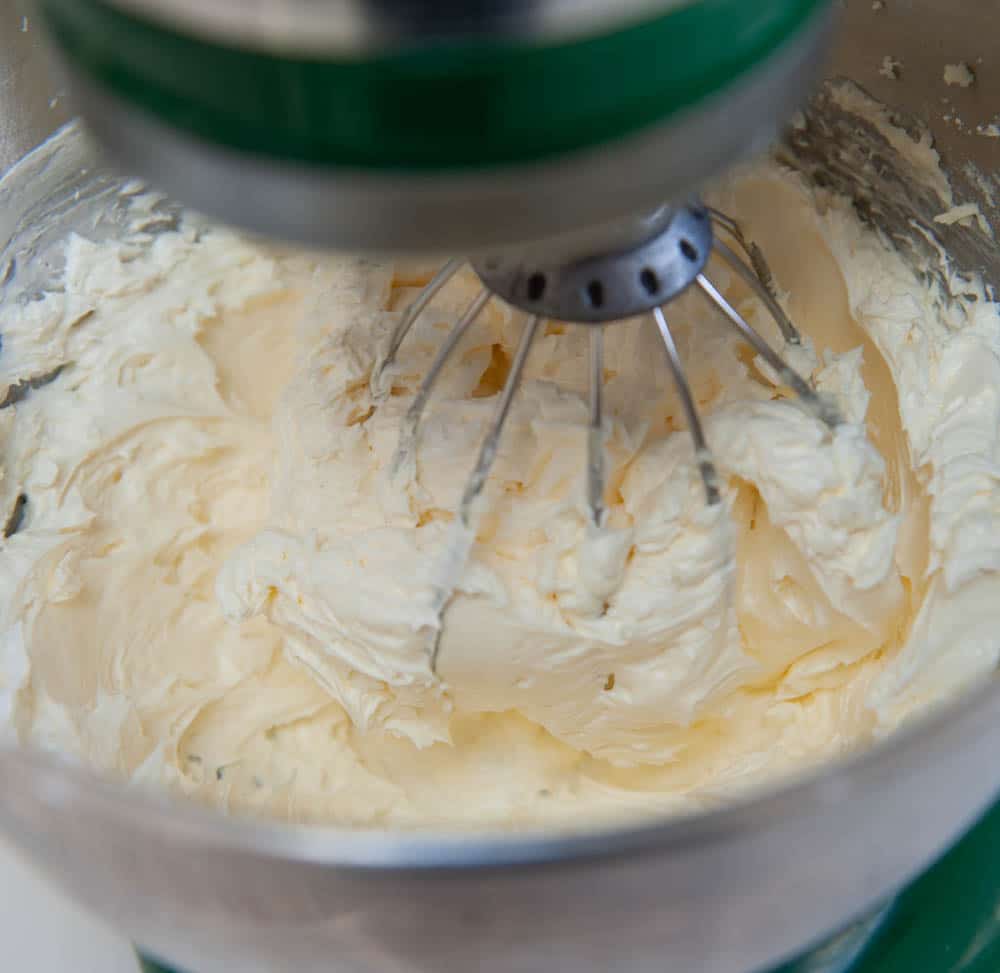 Step 4 - Now let the buttercream whip until white and fluffy. This will take 8-10 minutes with a KitchenAid, but taste it to see when it's done. When it no longer tastes like butter and is sweet like ice cream, it's done!
Pro-tip – If you want your buttercream super smooth, double the recipe so that the buttercream level is above the whisk attachment. As the buttercream whips, it works out all the bubbles so you get a super smooth buttercream with no bubbles.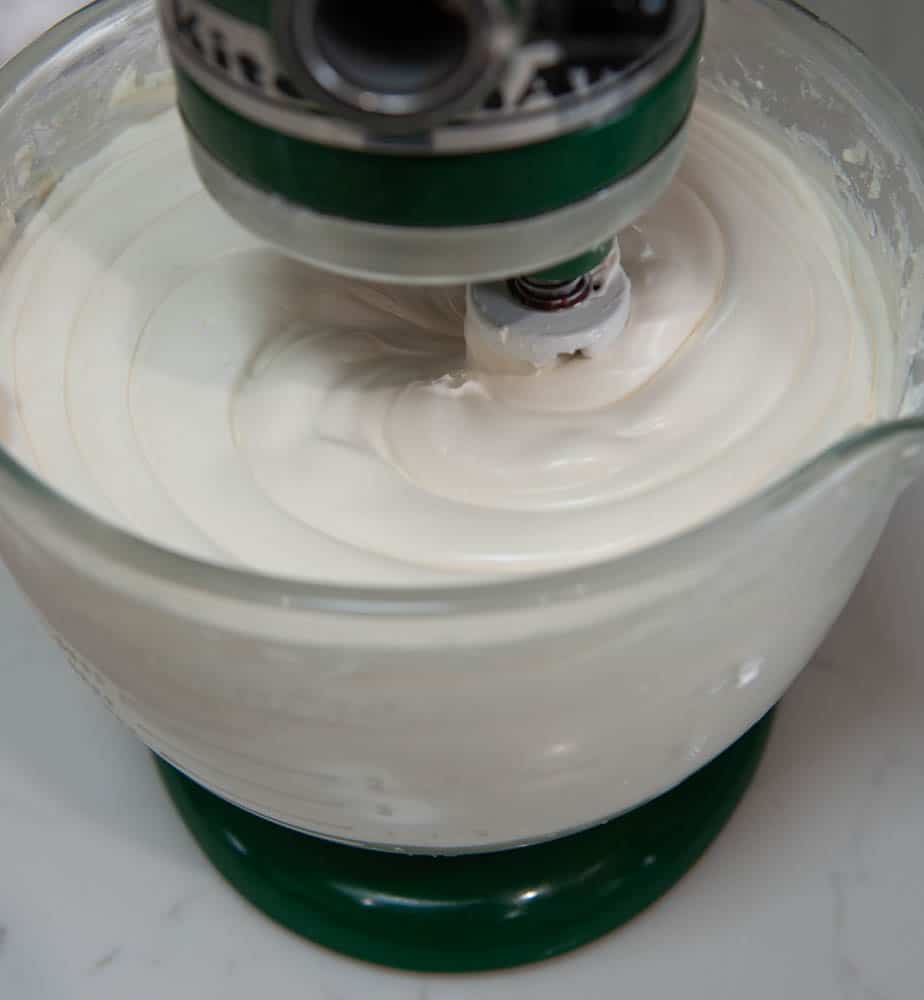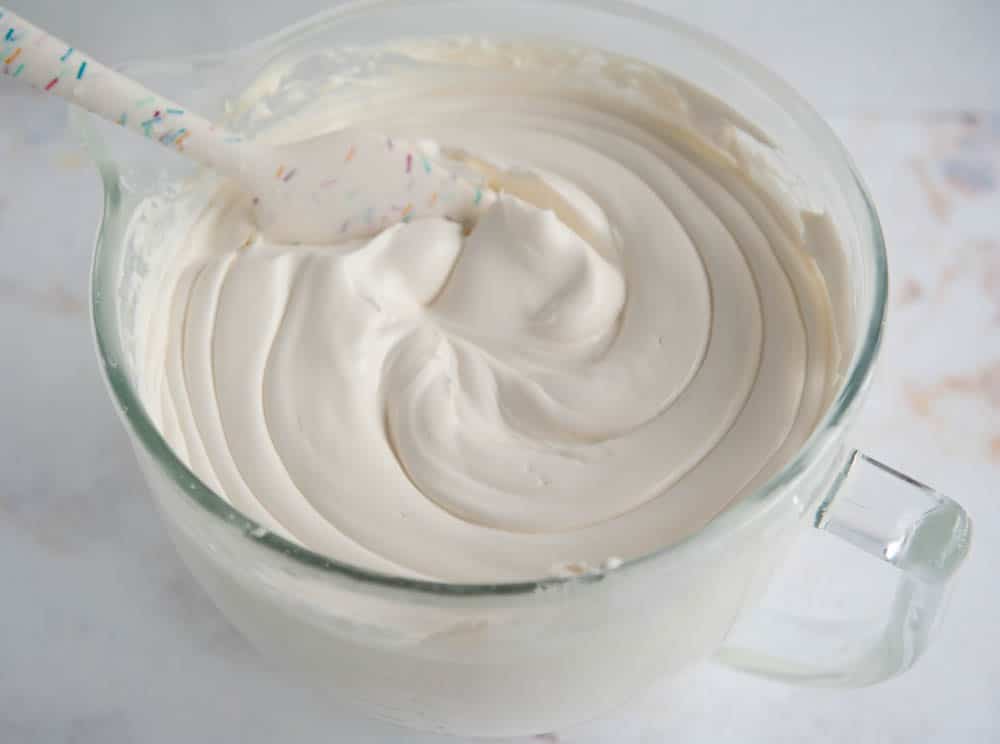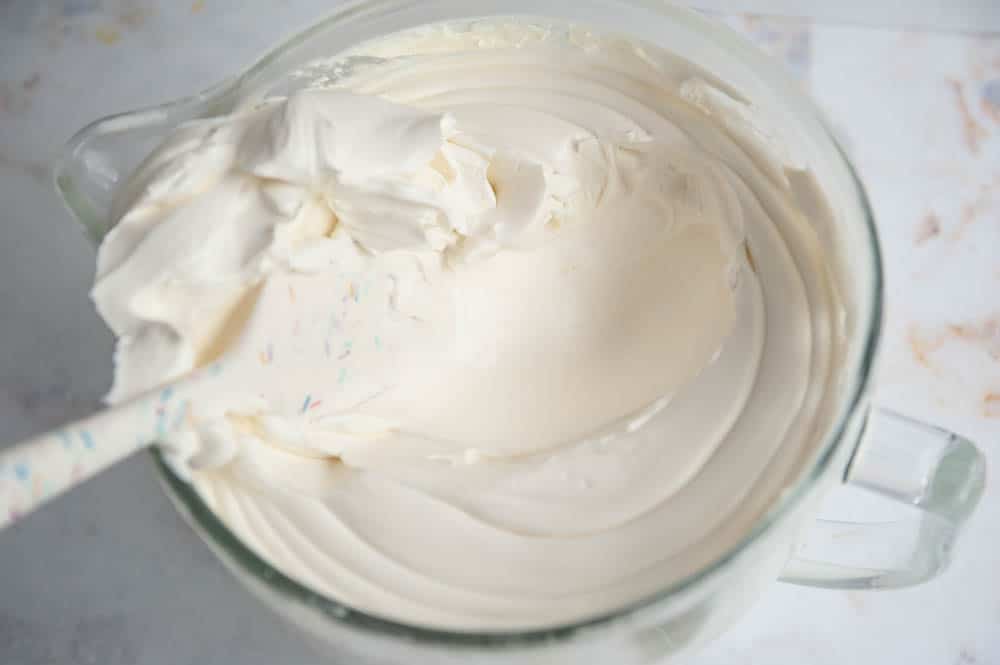 Step 5 – (Optional) To make your buttercream extra white, use the end of a toothpick to add in a TINY drop of purple food coloring and about 1 tablespoon of white food coloring. The purple will counteract the yellow in the butter and make it super white. Mix together.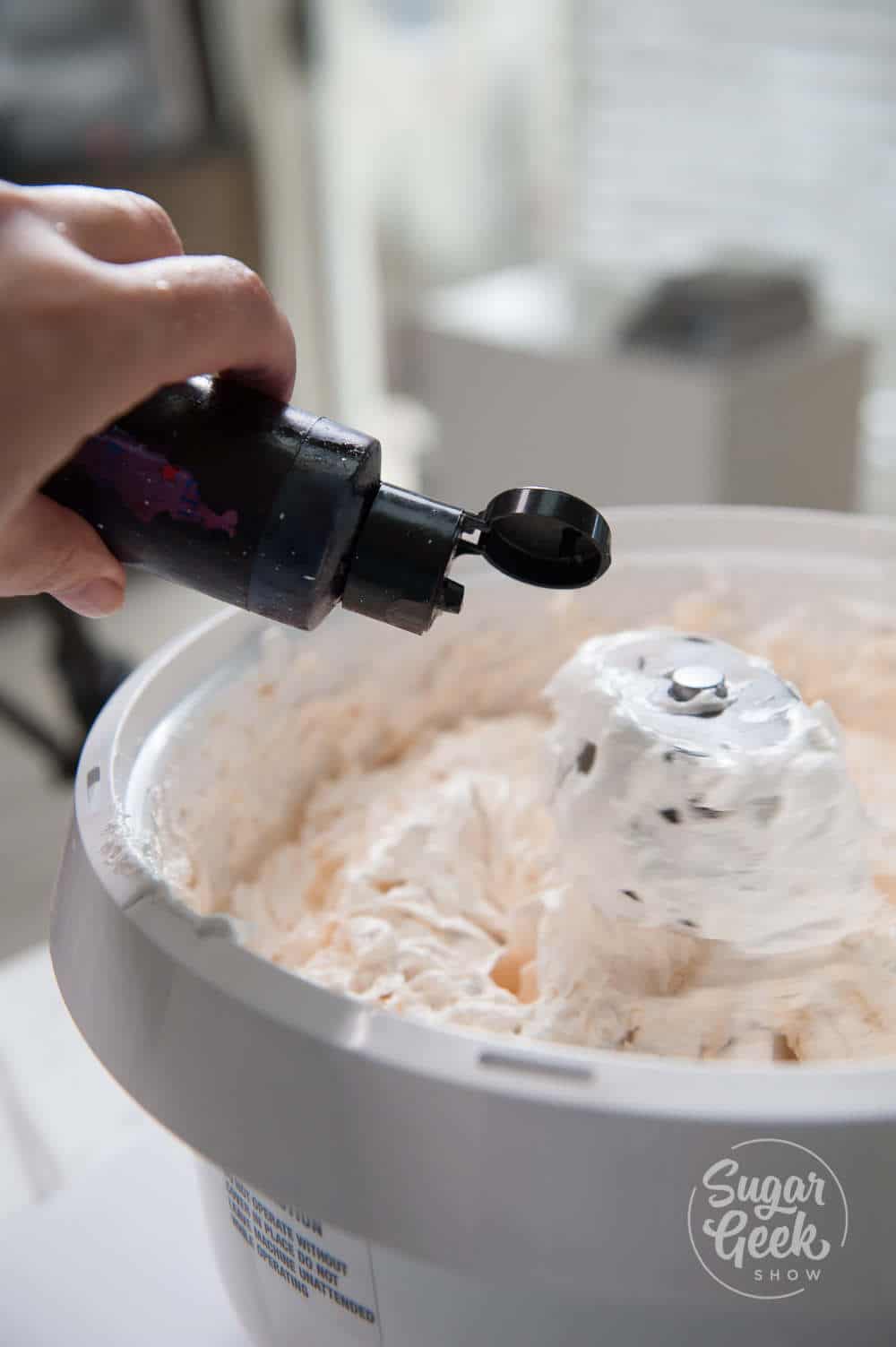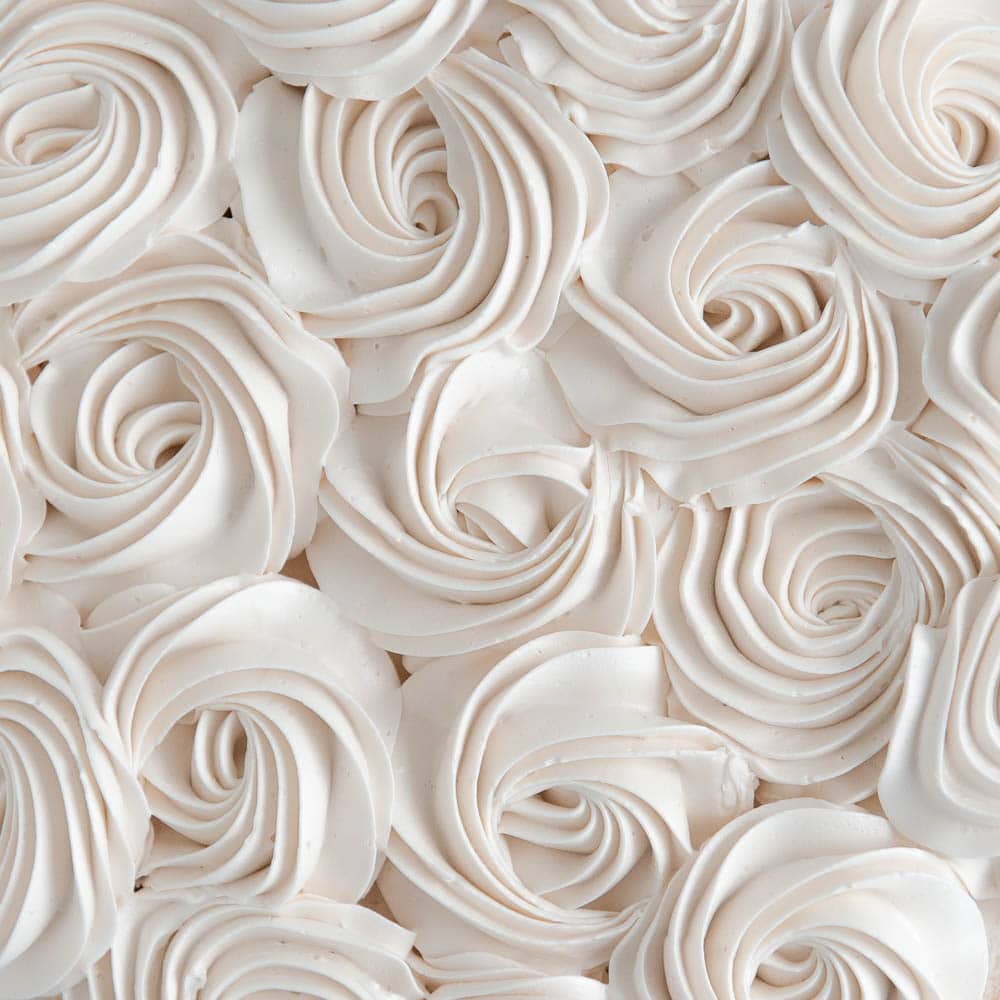 TIPS & FAQ
BUTTER SUBSTITUTES
Using good quality, real butter is best, but you can substitute it with margarine, vegan butter, or vegetable shortening. I can't guarantee the taste will be the same, but you can use whatever is your preference!
WHY IS MY BUTTERCREAM SPLITTING?
The buttercream splits because it's too cold. Take out ⅓ cup of the buttercream and melt it in the microwave until it's just melted and then whip it back in. That little bit of warm butter helps it all come together again.
MY BUTTERCREAM IS TOO SOFT, WHAT CAN I DO?
Buttercream is soft or firm depending on how warm it is. If it's too soft, it could be your butter was too soft when you added it in or the mixer warmed it up. Put the buttercream in the fridge for 20 minutes then whip it again and it should firm back up.
WHY IS MY EASY BUTTERCREAM GRITTY?
Some people have said their buttercream has a grainy consistency, but I have never experienced this before. If you have this issue, try sifting your powdered sugar before adding in the pasteurized egg whites and mixing the egg whites with the powdered sugar on medium for 5 minutes to dissolve the powdered sugar.
IS THIS GOOD TO USE UNDER FONDANT?
YES! I do all the time, just make sure to chill your cakes until the buttercream is firm to the touch before applying fondant. It goes great with my homemade marshmallow fondant too! Check out my video on how to cover a cake in fondant.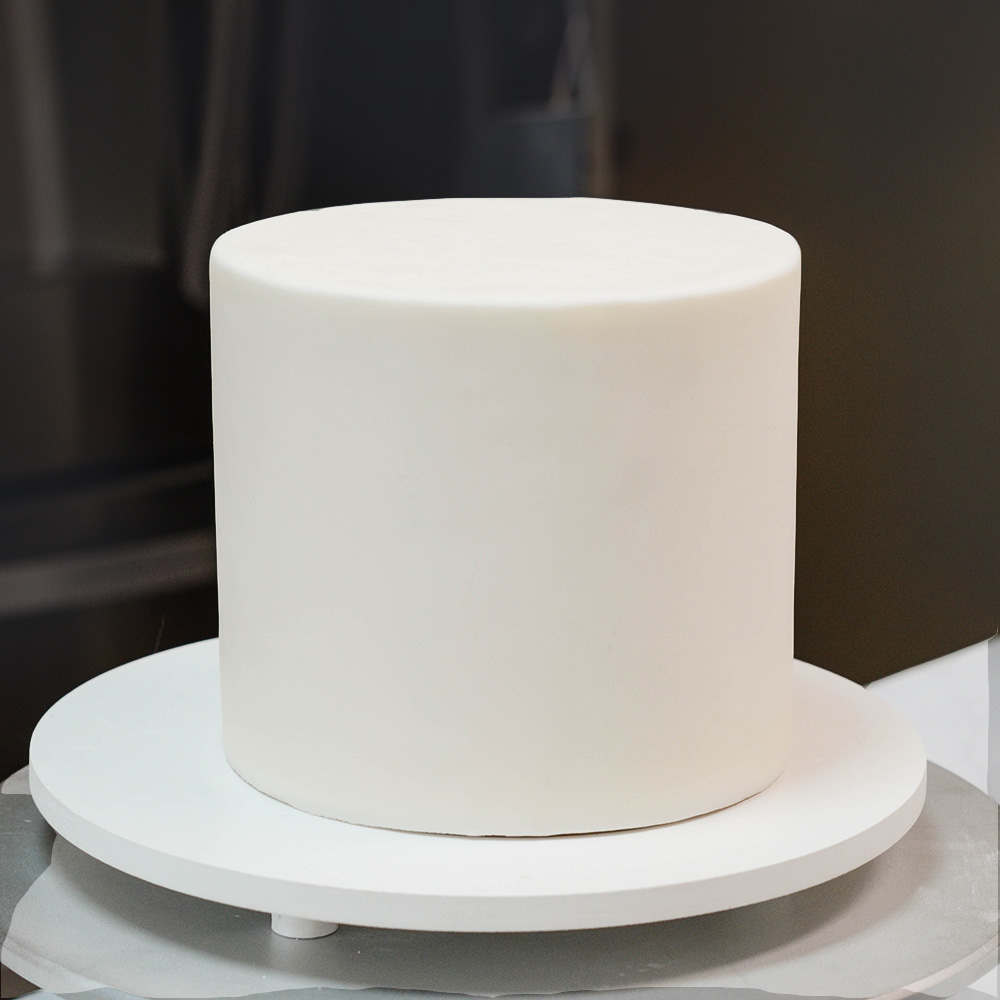 HOW STABLE IS THIS FROSTING?
This frosting will not crust, but is stable enough to pipe buttercream flowers and will last at room temperature for 2 days. It is ok at temperatures up to 85ºF  but will melt in direct sunlight in about 20 minutes so keep it in the shade! You can replace half the butter with shortening to make it more stable in high temperatures.
Easy buttercream is not as stable as American or Italian buttercream but is more stable than cream cheese frosting or whipped cream.
You can also make a white chocolate buttercream frosting by adding melted white chocolate into the buttercream frosting. This makes a SUPER stable buttercream frosting that is a combination of buttercream and white chocolate ganache.
HOW LONG DOES THIS BUTTERCREAM LAST?
Easy buttercream will last for 2 days at room temperature, 2 weeks in the fridge or 6 months in the freezer. If your buttercream is cold, make sure to whip it up again before using it. Bring your buttercream to room temperature and begin whipping it. Then remove ⅓ cup of the buttercream and microwave it until it's just barely melted, then pour it back in while whipping to make it smooth again.
If you're going to frost your cake tomorrow, just leave the buttercream on the countertop. You don't have to refrigerate it within 2 days because the butter and sugar act as its own preservation.
If your buttercream frosting has been sitting at room temperature for more than a day, mix it with the paddle attachment before using it to make it smooth again. Buttercream tends to get spongy after 24 hours and loses its creamy texture.
HOW TO COLOR EASY BUTTERCREAM
You can add a few drops of gel food coloring to this buttercream to color it. It holds color well and gets darker overnight. Just be sure to not add too much food coloring or you'll be able to taste it.
If you want to make darker colors, check out my neon buttercream blog post for more information.
ARE PASTEURIZED EGG WHITES SAFE TO EAT?
Yes! Pasteurized egg whites are heat-treated (like milk) so they are safe to eat. They usually come in a box carton in the egg aisle. If you don't have pasteurized egg whites then you can use my SMBC recipe instead. Note: undercooked egg whites are not recommended for pregnant women just to be on the safe side.
CAN I ADD MORE/LESS SUGAR?
This recipe is not very sweet, especially if you're used to American buttercream. You can add more powdered sugar if you want it to be sweeter, but you cannot reduce the sugar or the buttercream will be too soft.
HOW MUCH FROSTING DO I NEED?
This easy buttercream frosting recipe makes about 6 cups which is enough to frost and fill a three-layer, 8" round cake. You can use the frosting and cake batter calculator below to adjust the amount of frosting you will need depending on the size cake you want to make.
RELATED RECIPES:
How to make buttercream flowers
Ermine frosting (similar taste to easy buttercream but no eggs)
Cake Batter and Frosting Calculator
Select an option below to calculate how much batter or frosting you need. Adjust the servings slider on the recipe card to change the amounts the recipe makes.
Choose a pan type
Choose a cake pan size
(based on 2" tall cake pan)
Choose a cake pan size
(based on 2" tall cake pan)
Choose a cake pan size
(based on 2" tall cake pan)
Cups of Batter Needed
8 cups
Cups of Frosting Needed
5 cups
Recipe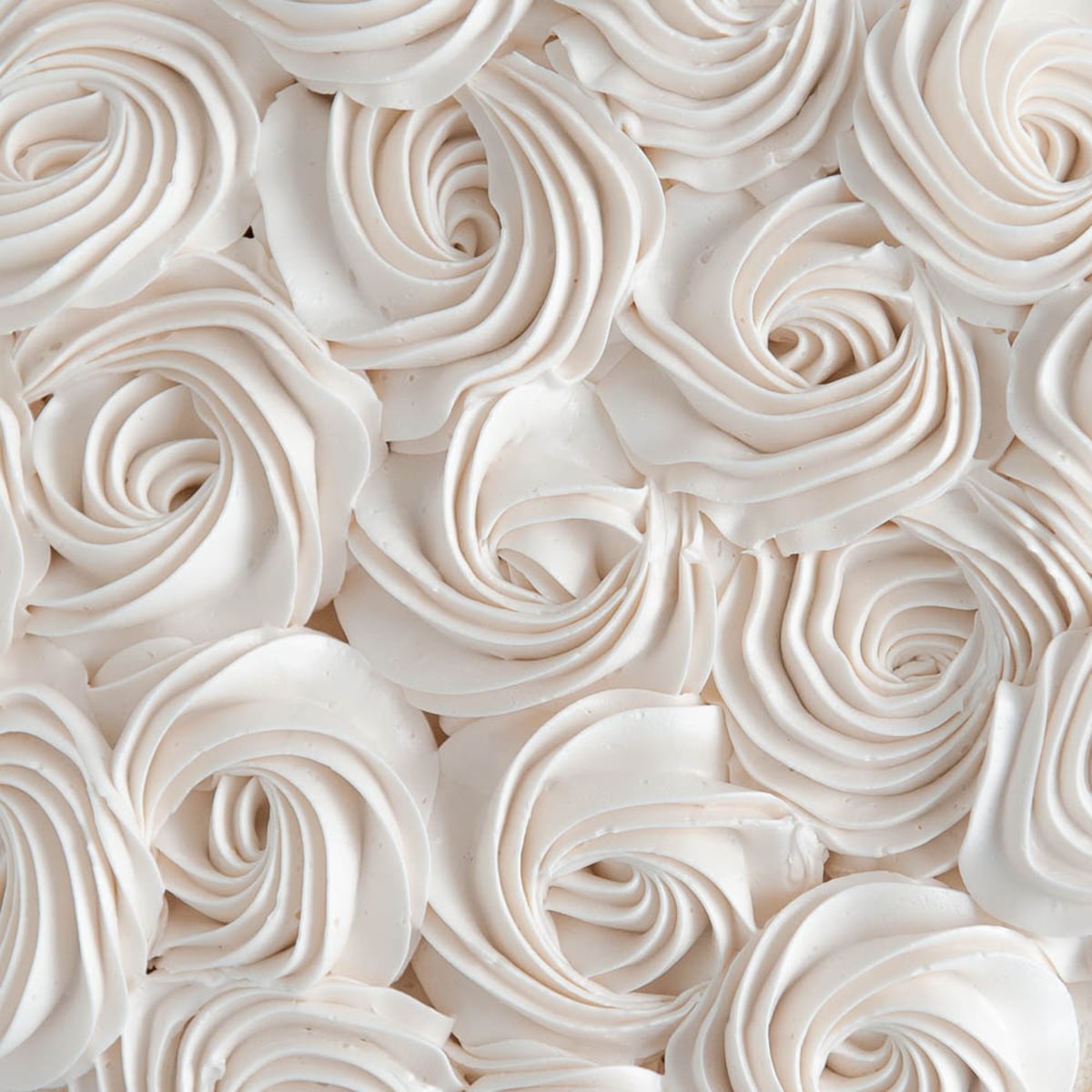 Servings: 6 cups
Calories: 849kcal
Ingredients
24 oz unsalted butter room temperature. You can use salted butter but it will affect the taste and you need to leave out additional salt
24 oz powdered sugar sifted if not from a bag
2 teaspoon vanilla extract
½ teaspoon salt
6 oz pasteurized egg whites room temperature
1 TINY drop purple food coloring (optional) for whiter frosting
Instructions
Place egg whites and powdered sugar in a stand mixer bowl. Attach the whisk and combine ingredients on low and then whip on high for 1 minute to dissolve the powdered sugar 

Add in your salt and vanilla extract

Add in your butter in chunks and whip with the whisk attachment to combine. It will look curdled at first. This is normal. It will also look pretty yellow. Keep whipping.

If your buttercream looks curdled, remove about ⅓ cup of buttercream and melt it in the microwave for 10-15 seconds until JUST barely melted. Pour it back into the whipping buttercream to bring it all together.

(Optional) Add your drop of purple food coloring. Whip on high with the whisk attachment for 8-10 minutes until it's very white, light and shiny. Taste the buttercream, if it tastes like sweet ice cream then it's ready!

Switch to a paddle attachment and mix on low for 15-20 minutes to make the buttercream very smooth and remove air bubbles. This isn't required but if you want really creamy frosting, you don't want to skip it.
Nutrition
Serving: 2oz | Calories: 849kcal | Carbohydrates: 75g | Protein: 2g | Fat: 61g | Saturated Fat: 38g | Cholesterol: 162mg | Sodium: 240mg | Potassium: 18mg | Sugar: 74g | Vitamin A: 2055IU | Calcium: 18mg | Iron: 0.4mg