Ermine frosting is light, fluffy and not too sweet
Ermine frosting (also called roux frosting or boiled milk frosting) is made by cooking flour and sugar with milk to make a sweet paste. This paste is then whipped into softened butter until light and fluffy. Vanilla and salt is added for flavoring.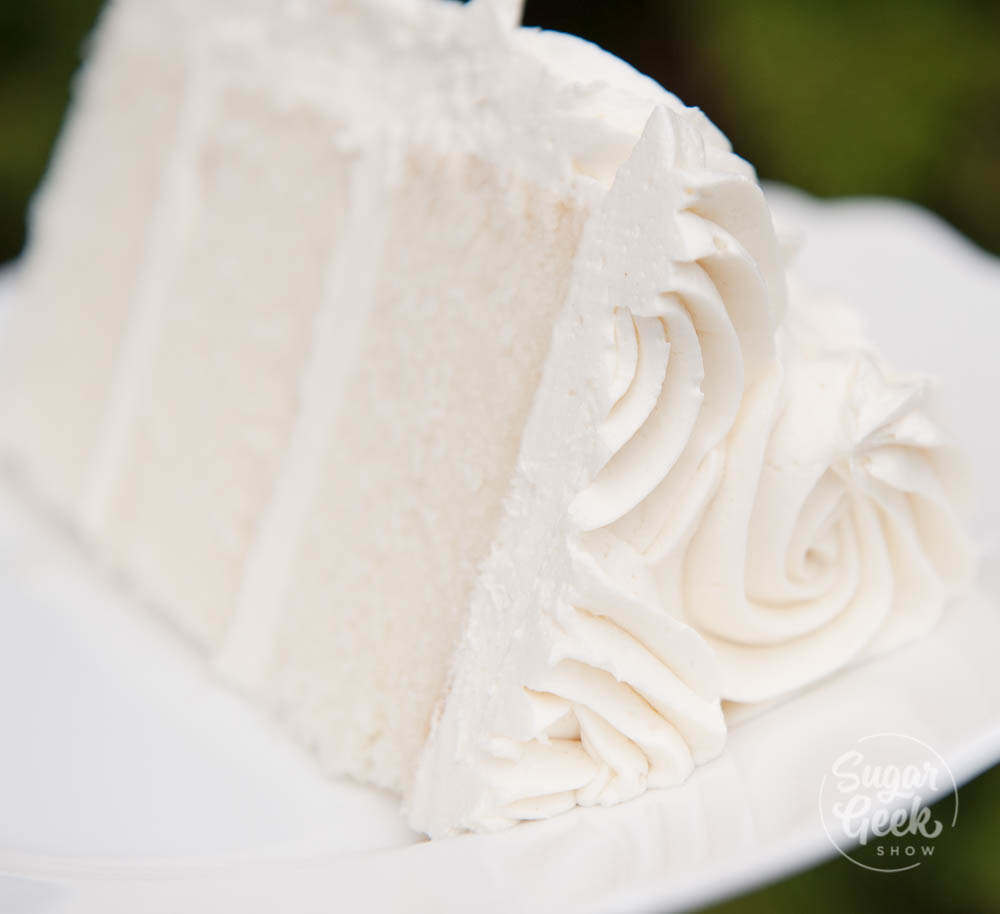 This might sound like a bizarre process (it did to me at first) but it's actually a delicious frosting! Ermine frosting reminds me a lot of that frosting that you find in a ding dong or twinkie. Very light and almost like whipped cream.
This frosting does not have eggs in it so it's a fantastic alternative to Swiss Meringue Buttercream if you want a light frosting but can't have eggs.
What does ermine frosting taste like?
Ermine frosting actually tastes really good! I admit making the roux did not seem very appetizing but after I gave it a taste, I could see why ermine frosting is the traditional frosting used with red velvet cake. It's so good!
The frosting is super smooth and creamy. A nice light vanilla flavor and no hint of a flour taste. I promise.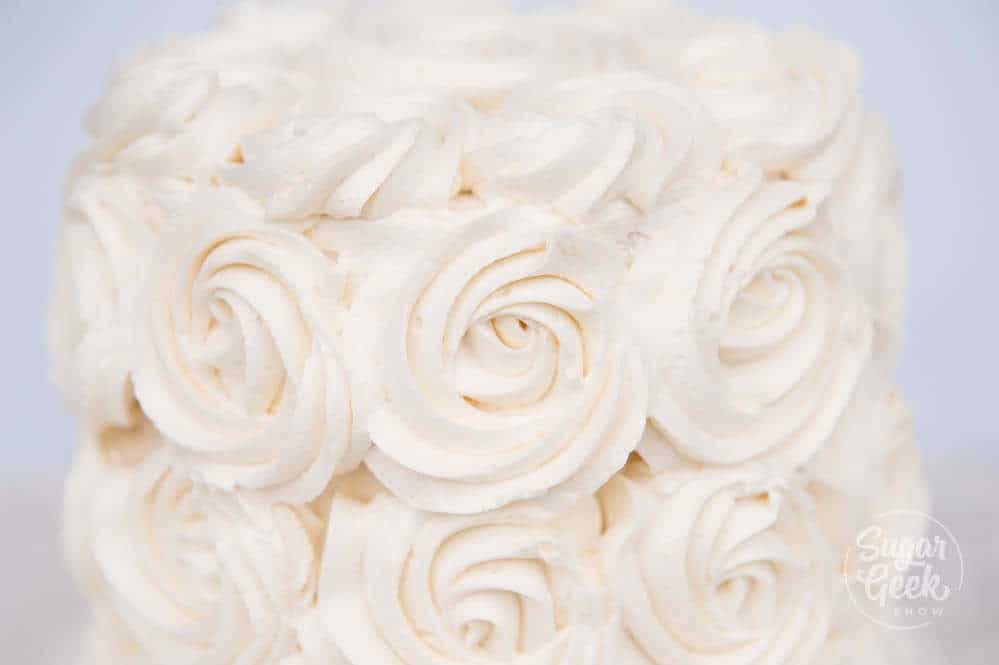 How do you make ermine frosting?
Making ermine frosting is actually pretty simple.
Combine your flour and sugar in a medium sized saucepan and toast on medium high heat for a couple of minutes to cook the flour.
Add in your milk and stir to combine. Bring to a simmer and reduce to medium heat. Cook until the mixture thickens. Make sure you stir constantly to prevent the milk from burning.
Pour the mixture into a heat-proof bowl and cover with plastic wrap (make sure the plastic touches the surface of the mixture) and let cool. I put mine in the fridge.
Place your butter in the bowl of your stand mixer with the whisk attached. Whisk until light and fluffy.
Add your flour mixture into your butter a little at a time. I used a spoon but you can also use a piping bag or measuring cup.
Add in your vanilla and salt and you're done!
Does ermine frosting need to be refrigerated?
This frosting can be left at room temperature for 6 hours as long as it's not too hot. You shouldn't have any buttercream in high heat anyway. Because it does contain milk then leftovers should be refrigerated for up to a week or frozen for up to 6 months. Similar to cream cheese frosting.
Ermine frosting should be eaten at room temperature. Bring your cake out of the fridge for an hour or two before consuming.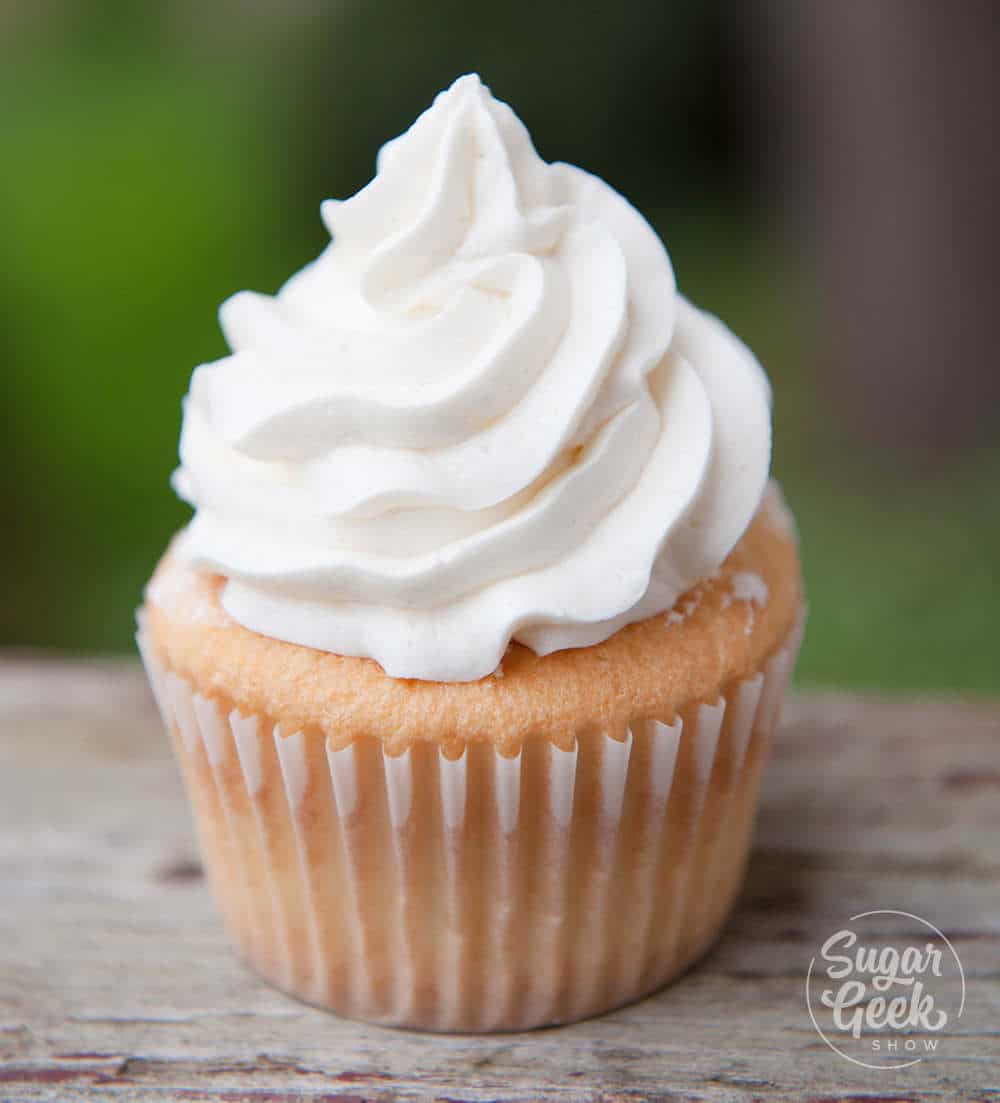 Can you use ermine frosting under fondant?
This frosting is definitely firm enough to be used under fondant but I prefer to use it as a filling and use a firmer frosting like my easy buttercream for the outside.
You can also pipe ermine frosting easily.
Cake Batter and Frosting Calculator
Select an option below to calculate how much batter or frosting you need. Adjust the servings slider on the recipe card to change the amounts the recipe makes.
Choose a pan type
Choose a cake pan size
(based on 2" tall cake pan)
Choose a cake pan size
(based on 2" tall cake pan)
Choose a cake pan size
(based on 2" tall cake pan)
Cups of Batter Needed
8 cups
Cups of Frosting Needed
5 cups
Recipe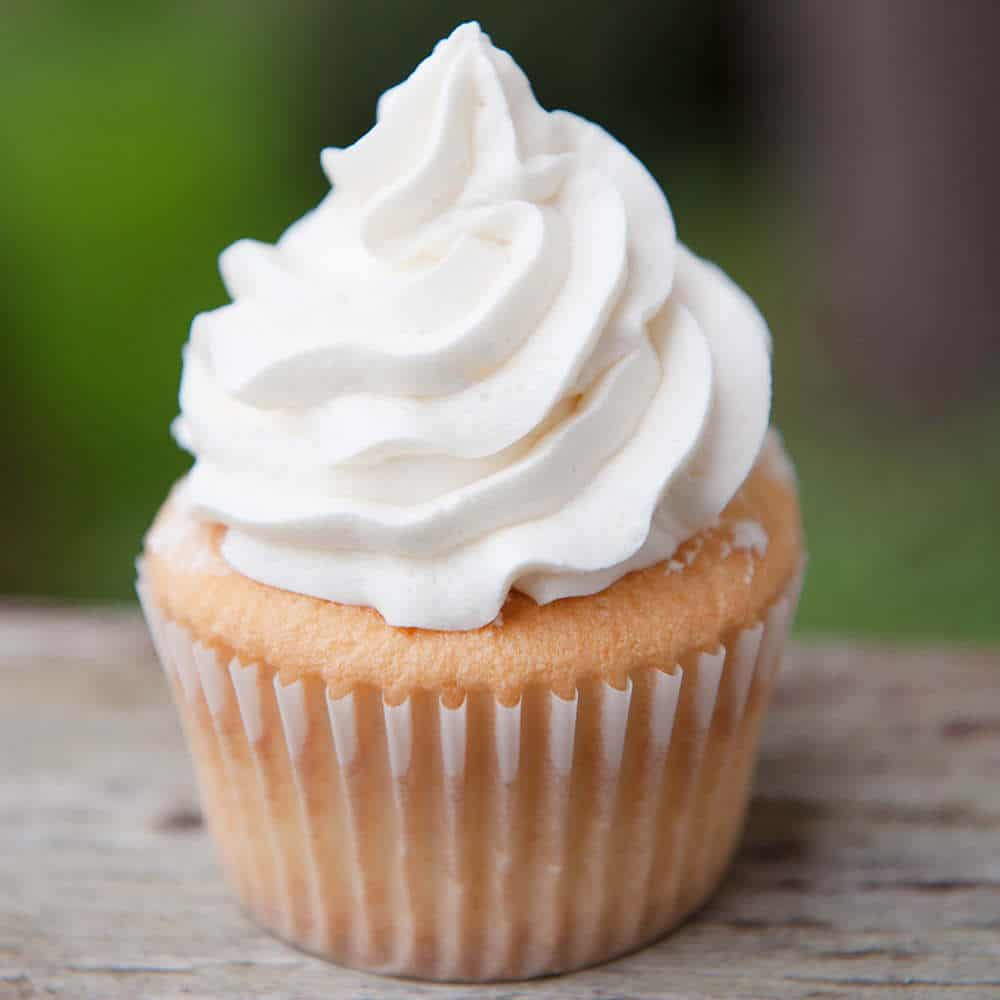 Servings: 50 oz
Calories: 107kcal
Ingredients
Ermine Frosting Ingredients
14 oz granulated sugar
3 oz flour
16 oz whole milk
16 oz unsalted butter room temperature
2 teaspoon vanilla extract
¼ teaspoon salt
Instructions
Ermine Frosting Instructions
Whisk together your flour and sugar in a medium saucepan over medium heat. Cook for about 2 minutes to toast the flour. Be careful not to burn it!

Slowly add in your milk, whisk to combine, and bring your heat to medium-high. Bring the mixture to a simmer, whisk continuously until it is thick and pudding-like. Once it's simmering, cook for one minute more.

(Optional) If your mixture has any lumps, place a colander on top of a heat-proof bowl and push your mixture through and into the bowl. Transfer the mixture into a heat-proof bowl. Cover the mixture with plastic wrap so that it is touching the surface without any air bubbles in between, this will prevent a skin from forming on the top of the mixture. Let cool in the refrigerator for a few hours or overnight. You can also transfer the mixture to a sheet pan, spread it out, cover it with plastic, and put it in the freezer for about 30 minutes to cool faster. Make sure the mixture is completely cool or it will melt your butter.

Add your softened butter to the bowl of your stand mixer and whisk on high until very light and fluffy, about 2-3 minutes.

Once the butter is fluffy, place the cooled flour mixture into a piping bag and slowly pipe it into your butter as your whip. Incorporating slowly ensures a smooth buttercream. 

Add in your vanilla and salt, then mix until everything is creamy. Use it to frost your cooled cake. This buttercream will set quickly, so it's best used immediately.
Notes
After your ermine frosting is fluffy and white, you can whip in ¼ cup sifted cocoa powder to make this chocolate.
Make sure your flour mixture is completely cool before making your frosting
Ermine frosting does not work well the next day. It's best to use it right after you make it as it tends to "set" and not stay creamy. 
Ermine frosting is not ideal for using under fondant because it is very soft but it is great for using it as a filling between layers. 
Nutrition
Serving: 2oz | Calories: 107kcal | Carbohydrates: 9g | Fat: 7g | Saturated Fat: 4g | Cholesterol: 20mg | Sodium: 16mg | Potassium: 15mg | Sugar: 8g | Vitamin A: 240IU | Calcium: 13mg | Iron: 0.1mg