Easy buttercream flowers for the absolute beginner
These easy buttercream flowers are the perfect project for the buttercream newbie. Even if you've never piped a flower before, these 5 petal flowers are easy to make!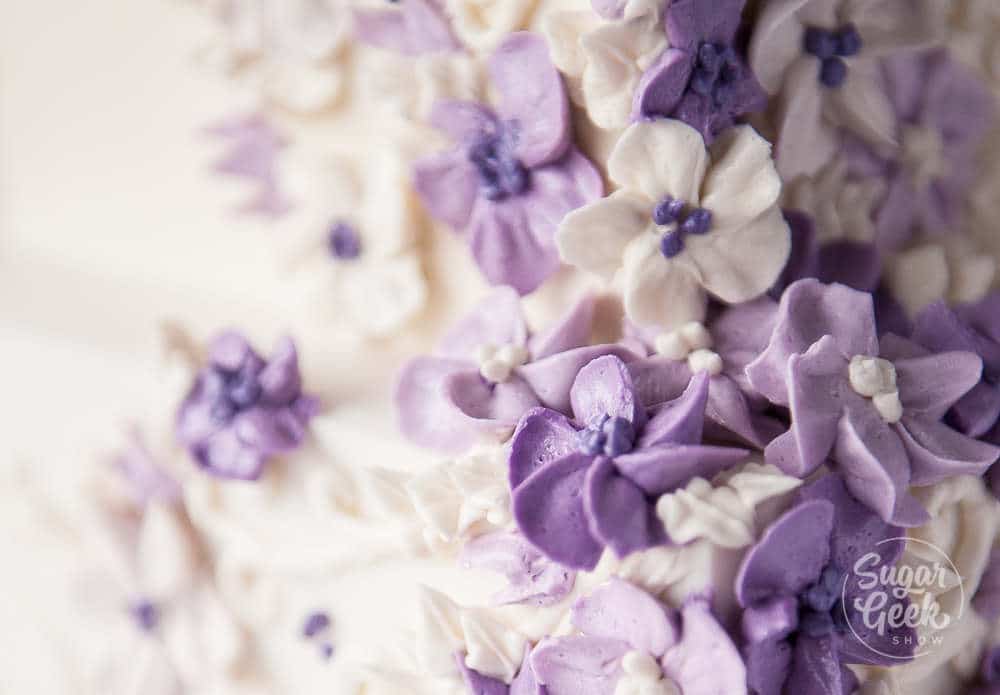 What kind of buttercream is best to use to make buttercream flowers?
You'll probably be shocked to find out that you can pipe with pretty much ANY kind of buttercream, whipped cream or ganache. A stiffer buttercream like American Buttercream will be more stable against heat but the petal edges will be a bit more jagged because of the extra powdered sugar. Another bonus is after they crust, they are harder to damage.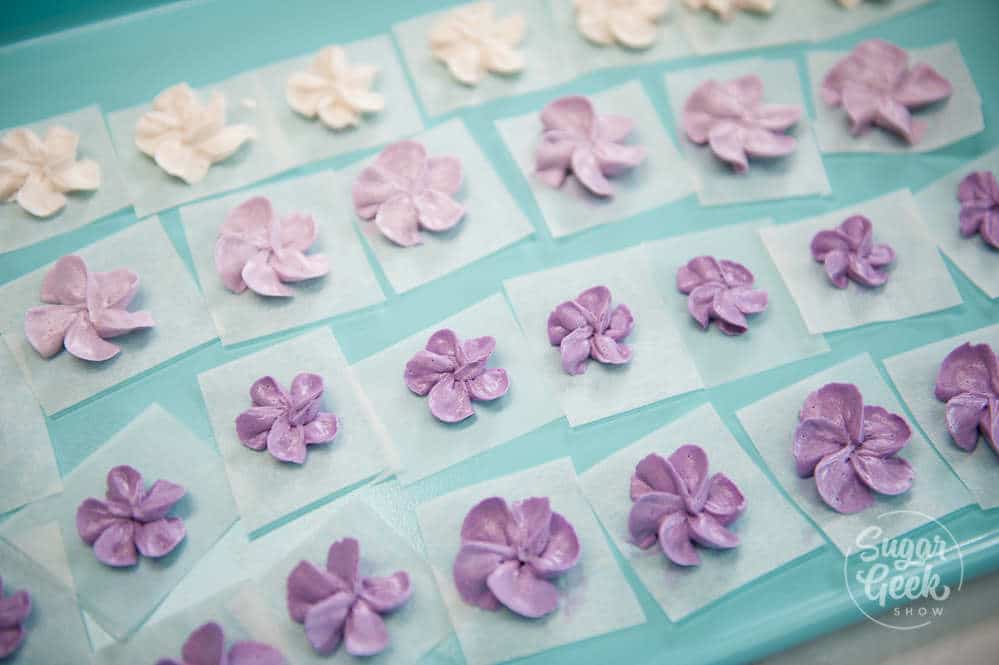 I like using easy buttercream frosting to pipe my flowers because the edges are smoother but they are more susceptible to heat. You can replace half or all of the butter in my easy buttercream frosting recipe to make the flowers stronger.
Easy buttercream flower pro-tip - Make sure your buttercream is smooth and bubble-free by mixing your buttercream on low with the paddle attachment for 10-15 minutes after you make it.
What tools do you need to make buttercream flowers?
To make easy buttercream flowers. You only need a few tools. I got mine a Michaels but you can also find these pretty easily online.
Flower nail
Piping bag
Coupler (optional)
#104 piping tip
#3 piping tip (optional)
#352 leaf tip (optional)
Parchment paper squares cut to 3"x3"
Cookie sheet or pan for freezing
Food coloring (optional)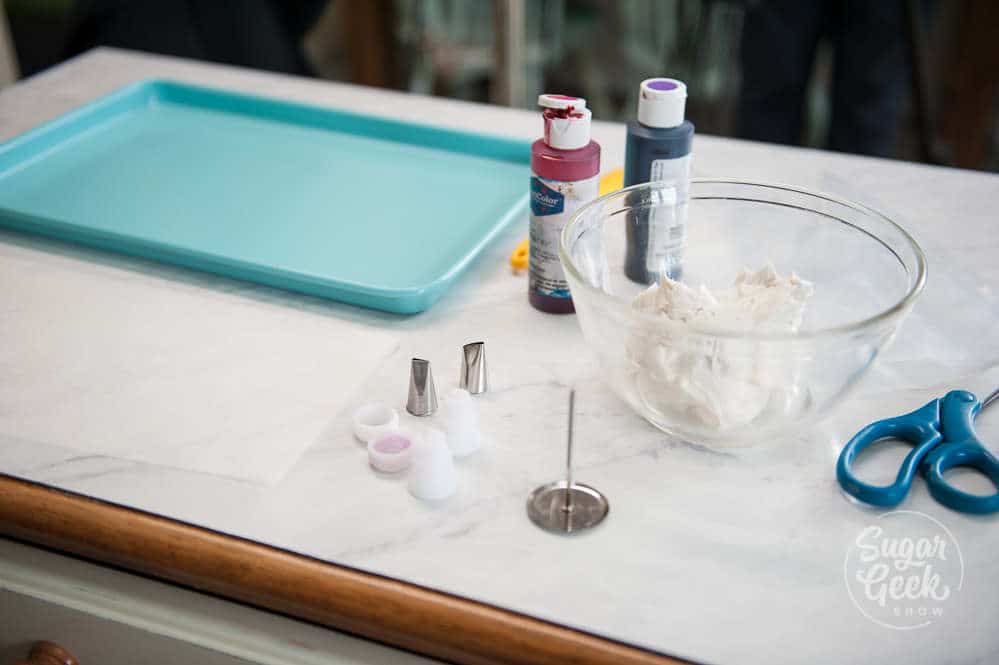 How do you make easy buttercream flowers?
Cut your parchment into small squares (about 3"x3")
Color your buttercream. I used electric pink food coloring and regal purple from Americolor
Unscrew the coupler and place the larger piece into the piping bag. Cut off the tip of the piping bag so that half of the coupler can fit through the hole.
Attach your 104 piping tip to the coupler and screw on the cap to secure the tip
Fill your bag with your preferred color of buttercream.
Put a little bit of buttercream on your piping nail to attach a parchment square
Hold the piping tip so the fattest part of the tip is at the center and the thin part is facing outward.
Making a small "U" shape, pipe your first petal, starting and stopping from the center.
Rotate your nail and pipe the next petal. Continue until you have piped 5 petals.
Remove the flower from the nail by lifting up the parchment and placing it onto a cookie sheet. We will freeze the buttercream flowers before placing them onto the cake.
Easy buttercream flower pro-tip - Practice 10-15 flowers FIRST before you try to keep any of them. You will learn quickly about how hard you need to squeeze and improve your technique. Just scrape the practice flowers back into the bowl.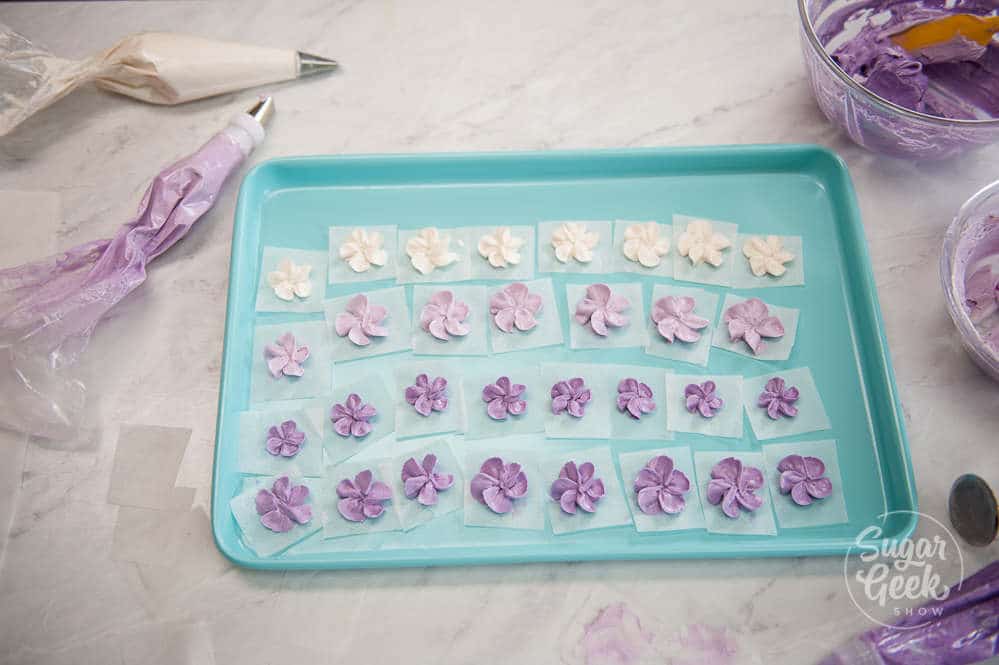 That's it! That's how you make easy buttercream flowers. I made my flowers for an upcoming wedding cake re-do were I re-create my first wedding cake! So keep an eye out for that tutorial.
In the meantime, if you're ready to check out some more awesome buttercream flowers, be sure to watch this buttercream flower cake tutorial from guest instructor Danette Short. It's free!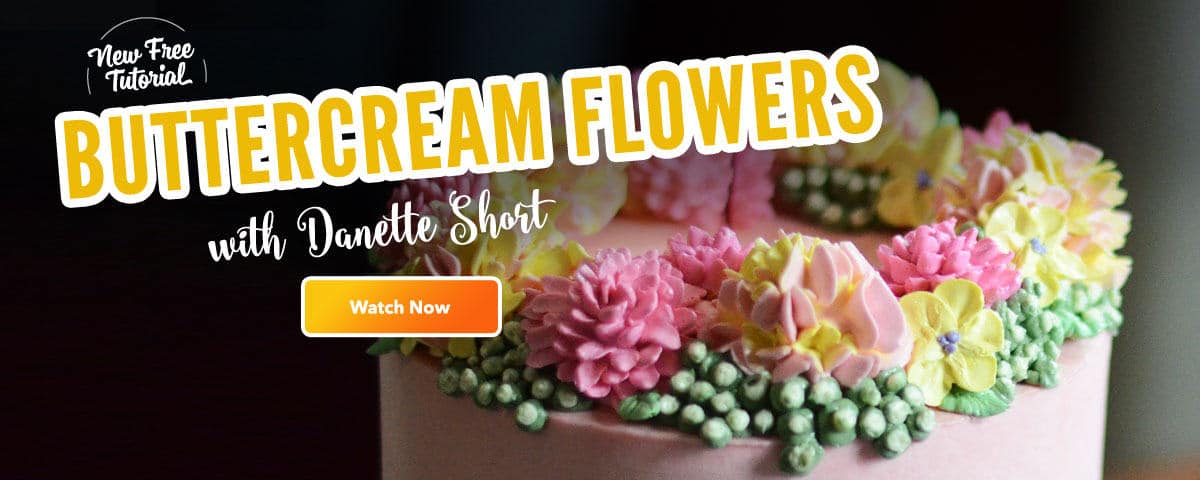 Recipe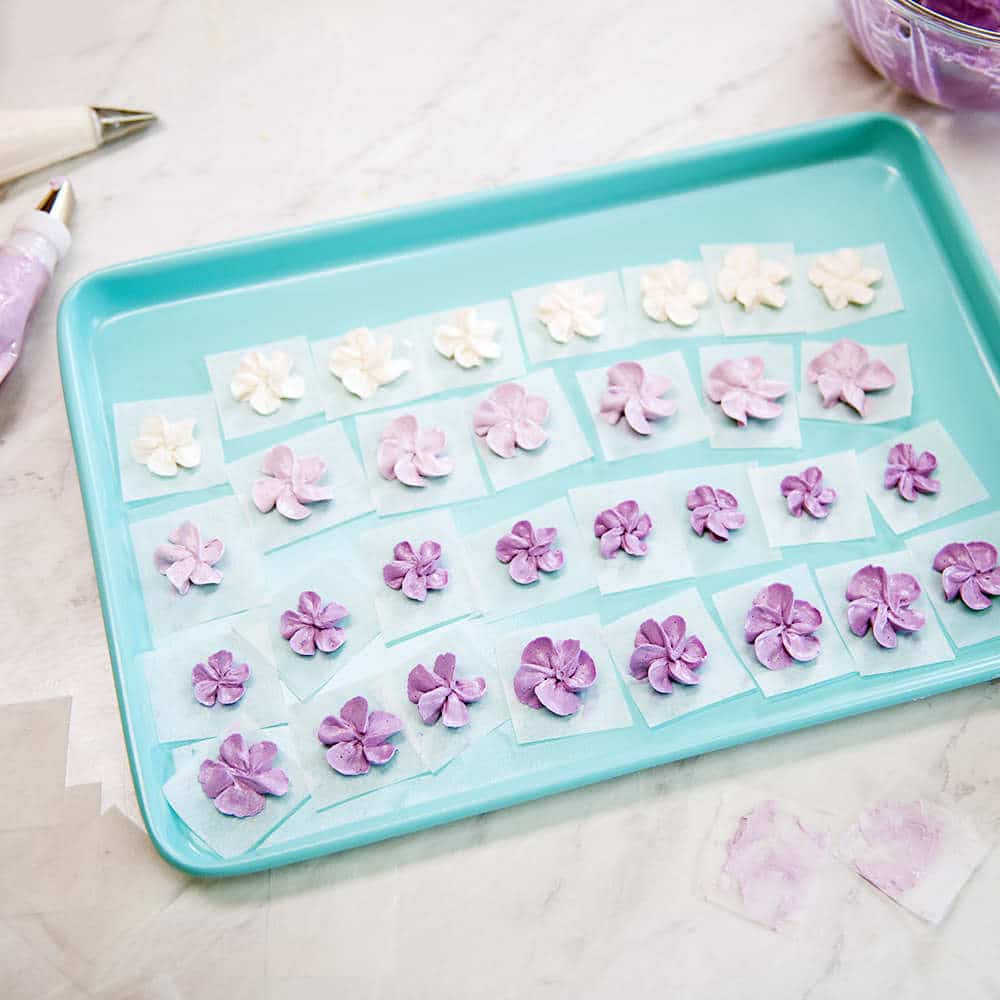 Ingredients
24

oz

unsalted butter

room temperature. You can use salted butter but it will affect the taste and you need to leave out additional salt

24

oz

powdered sugar

sifted if not from a bag

2

teaspoon

vanilla extract

½

teaspoon

salt

6

oz

pasteurized egg whites

1

TINY drop

purple food coloring

(optional) for whiter frosting
Instructions
Place egg whites and powdered sugar in a stand mixer bowl. Attach the whisk and combine ingredients on low and then whip on high for 5 minutes

Add in your butter in chunks and whip with the whisk attachment to combine. It will look curdled at first. This is normal. It will also look pretty yellow. Keep whipping.

Let whip on high for 8-10 minutes until it's very white, light and shiny.

Switch to a paddle attachment and mix on low for 15-20 minutes to make the buttercream very smooth and remove air bubbles. This isn't required but if you want really creamy frosting, you don't want to skip it.
Nutrition
Serving:
2
g
|
Calories:
849
kcal
|
Carbohydrates:
75
g
|
Protein:
2
g
|
Fat:
61
g
|
Saturated Fat:
38
g
|
Cholesterol:
162
mg
|
Sodium:
240
mg
|
Potassium:
18
mg
|
Sugar:
74
g
|
Vitamin A:
2055
IU
|
Calcium:
18
mg
|
Iron:
0.4
mg