This homemade chocolate buttercream frosting is super easy to do and tastes amazing! I like to make my chocolate frosting with a good quality cocoa powder for maximum taste and fluffy texture. You can definitely use melted chocolate to make chocolate frosting but it's a bit more finicky and I'm a big fan of easy! Takes less than 15 minutes to make!

When I was growing up, ice cream was the ultimate treat in our home. Chocolate ice cream to be exact. One of the main reasons I LOVE this chocolate buttercream frosting recipe is that to me, it tastes exactly like chocolate ice cream! I would mix my ice cream up in the bowl until it was creamy and smooth before savoring every bite.
We didn't have a lot of money but my Dad always managed to have a box (back when ice cream came in a rectangular box) in the freezer for special occasions. He would open up the box and literally cut us a slice of ice cream. I didn't actually know until I was much older, the rest of the world serves ice cream with a scoop. Please tell me I'm not the only one in the world who ate ice cream in slices up until I was about 14.
I also spent an awful lot of time arguing with my sisters about who's slice was bigger and how unfair that was.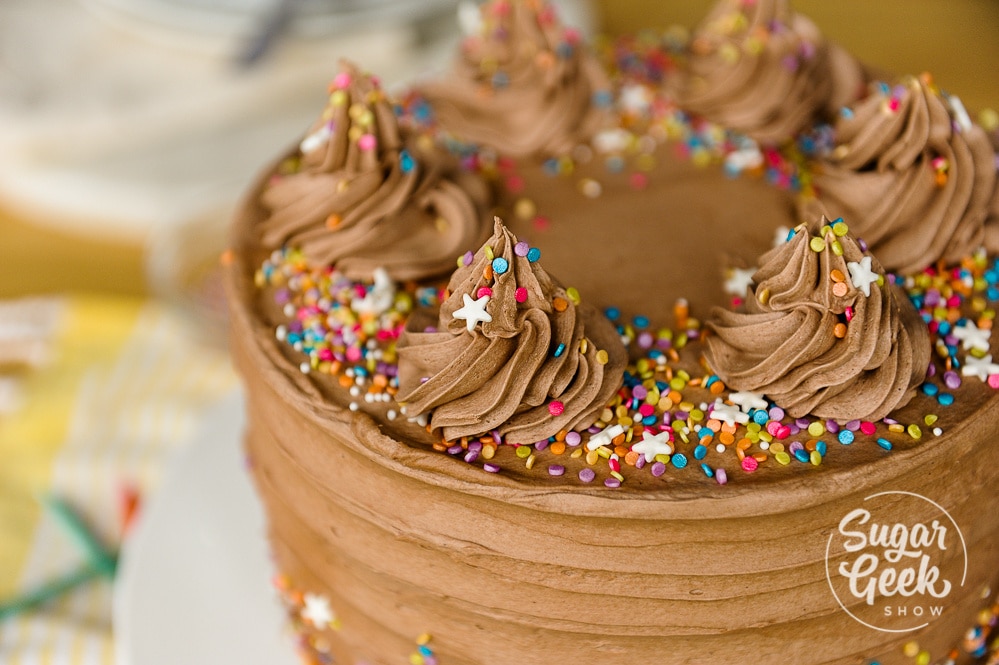 Easy chocolate buttercream frosting ingredients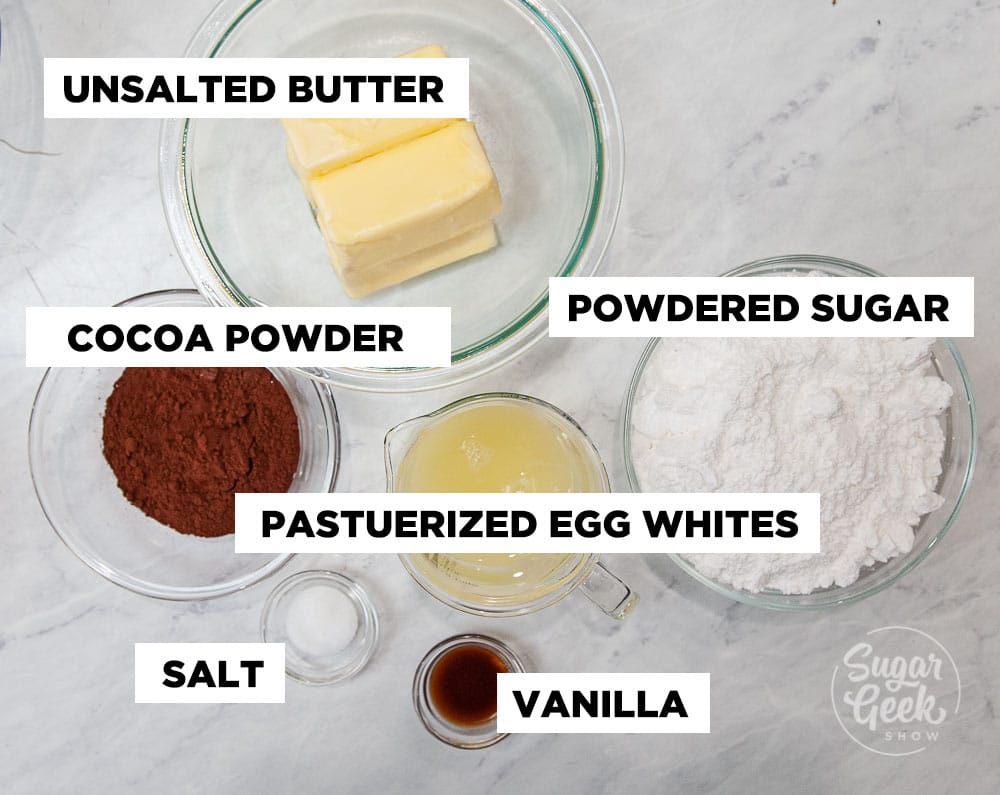 A lot of cake decorators ask me how to make chocolate buttercream. At first, I didn't really have a recipe because I literally would start with some easy buttercream and just add in cocoa powder until I liked the way it tasted.
Unfortunately not many consider that a real recipe so I actually measured out how much cocoa powder I added this time but the fact I have never measured before should tell you something. You don't HAVE to measure. If you want more chocolate, by all means, add more!
How to make chocolate buttercream frosting step-by-step
To me, the perfect buttercream frosting is light, fluffy, and smooth! This chocolate buttercream frosting is alllll that.
Step 1 Start by sifting your powdered sugar and cocoa powder into the bowl of your stand mixer to remove any lumps. The cocoa powder especially loves to clump up and make these ugly specks in the finished buttercream.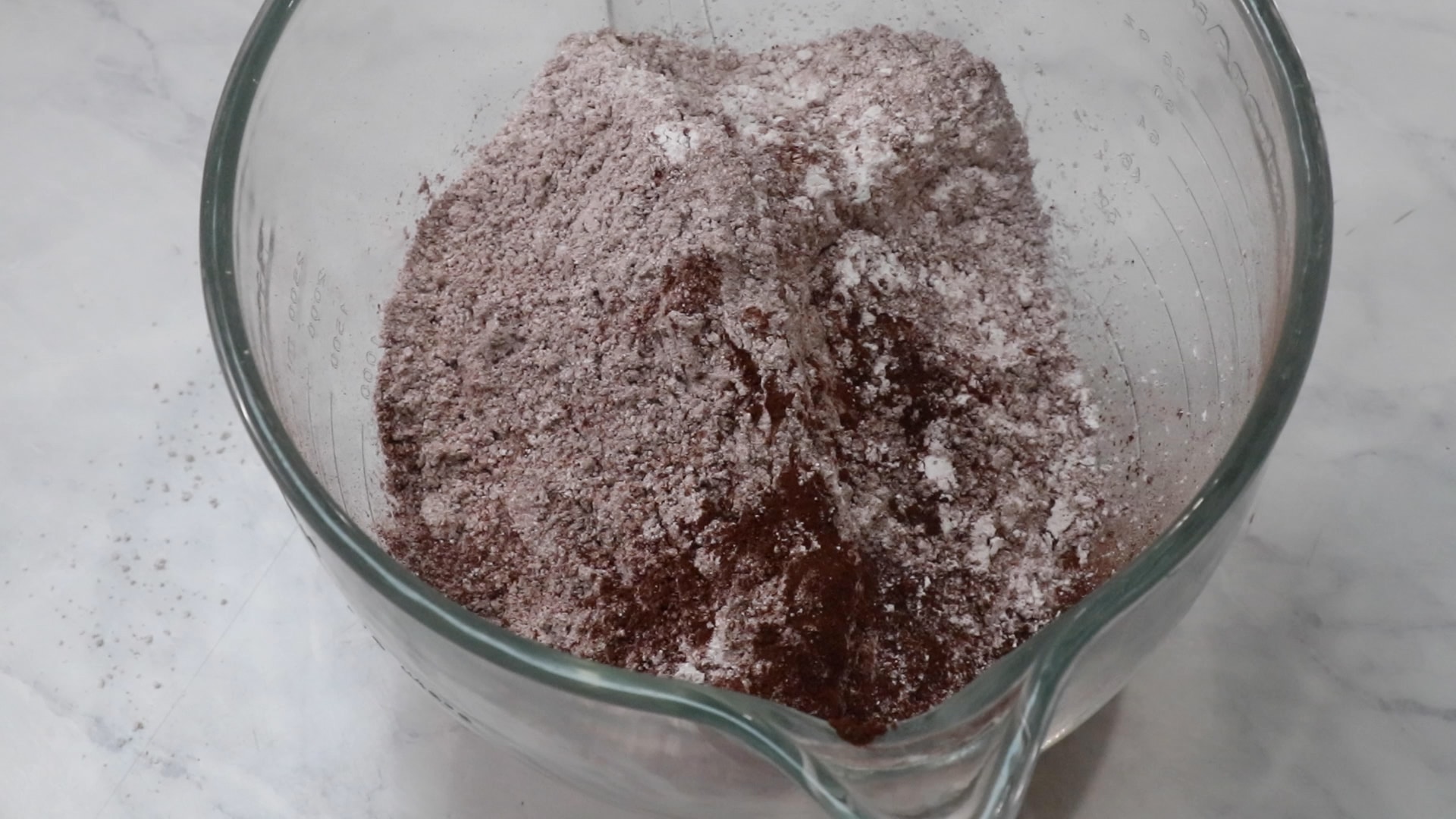 Step 2 Now add in your pasteurized egg whites (yes they need to be pasteurized). Mix everything together on low with the whisk attachment to combine it. Then mix on medium for 3-5 minutes to help the powdered sugar and cocoa powder dissolve properly.
Step 3 Reduce the speed to low and add in the vanilla and salt. Mix to combine.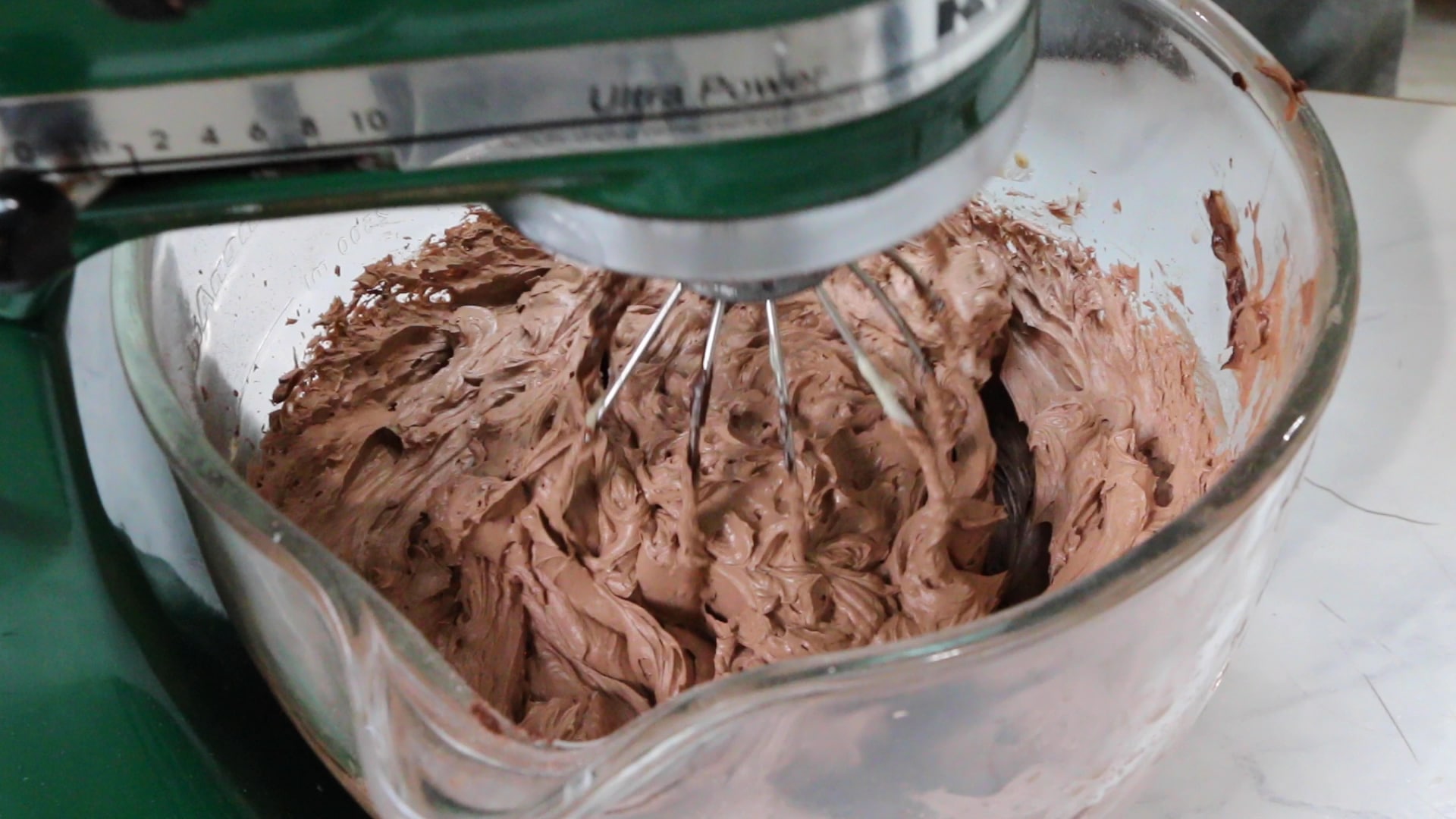 Pro-tip – You can switch up your extracts to change the flavor of your buttercream. Some extracts are stronger than others so make sure you don't add too much at first. You can always add more if you want more flavor.
Step 4 Now you want to turn up the speed to high and begin whipping in air! This makes the chocolate buttercream frosting super fluffy, light, and delicious. I whip mine for at least 5 minutes. Then I switch to the paddle attachment and mix on low for 10-15 minutes (totally optional) to remove excess air bubbles and make the buttercream really smooth.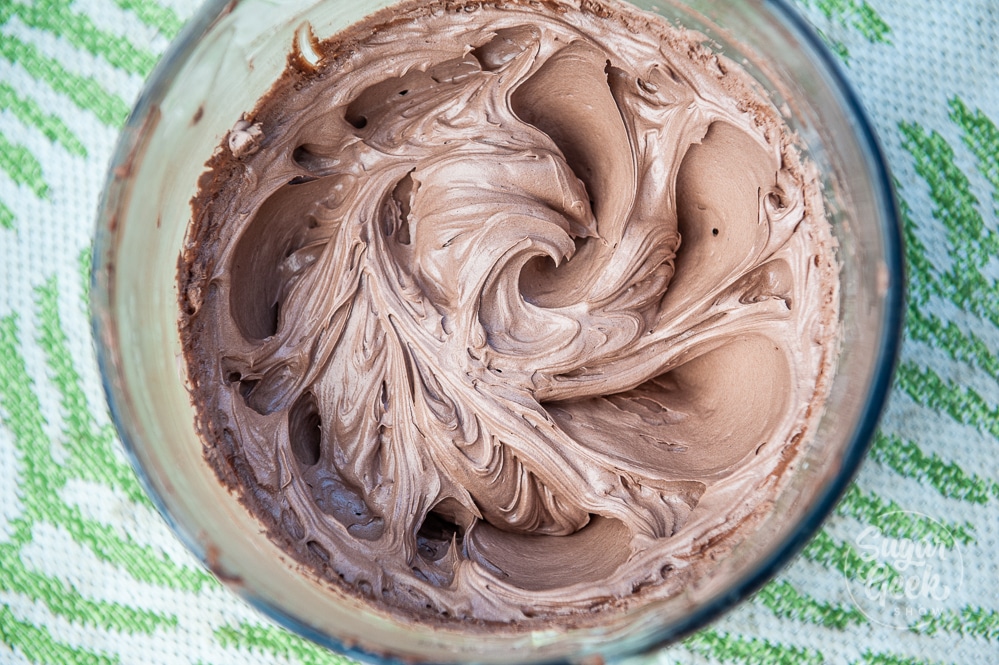 What to do if your chocolate buttercream frosting looks curdled or broken
Because we are using pasteurized egg whites straight from the fridge, it can make the buttercream curdle. You can easily fix this by continuing to whip your buttercream until it all warms up or you can use this simple hack.
Step 1 Remove about 1/2 cup of the buttercream mixture and place into a heat-proof bowl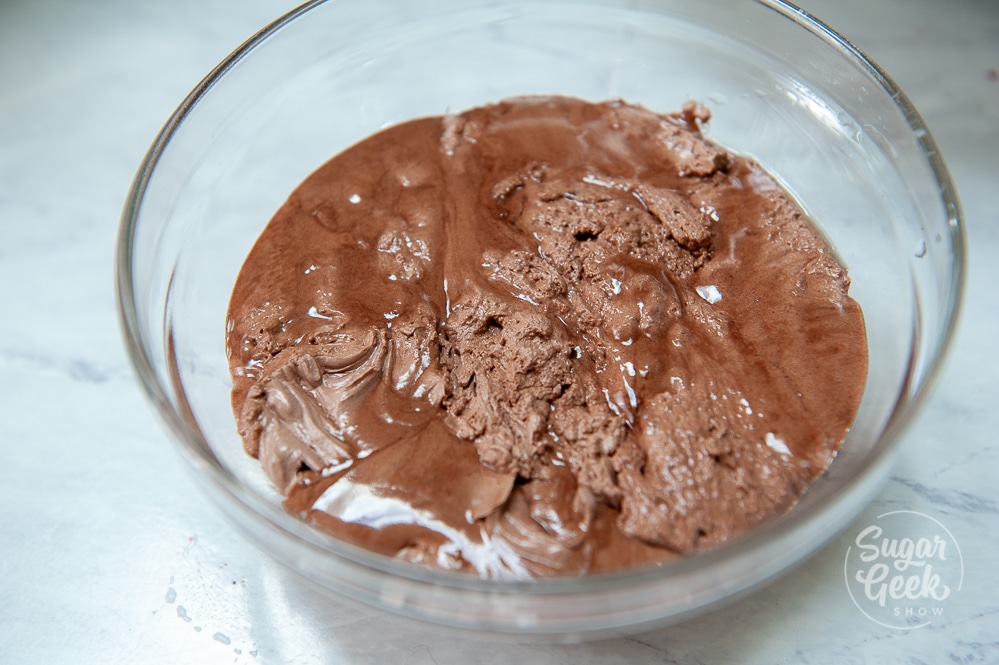 Step 2 Melt the buttercream in the microwave for about 10-15 seconds until it's JUST barely melted. You can also do this on the stovetop if you don't have a microwave. Do not overheat!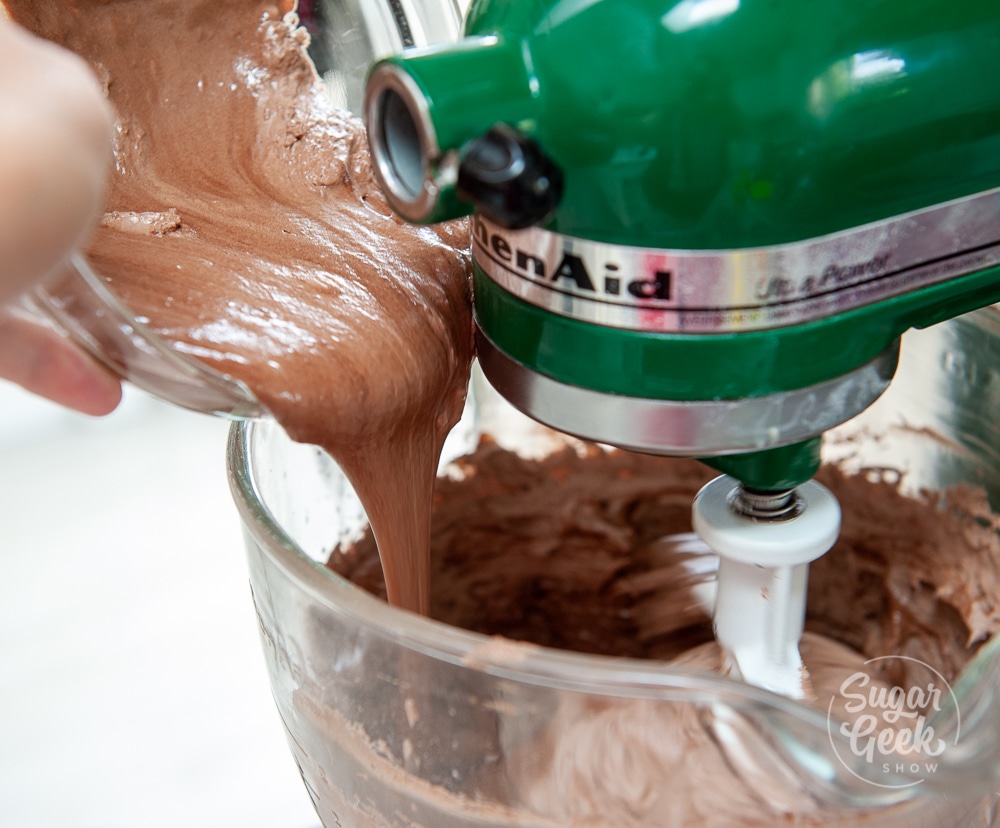 Step 3 While mixing on low, pour this half-melted mixture back into the curdled buttercream and mix until combined. Then increase the speed to high and whip!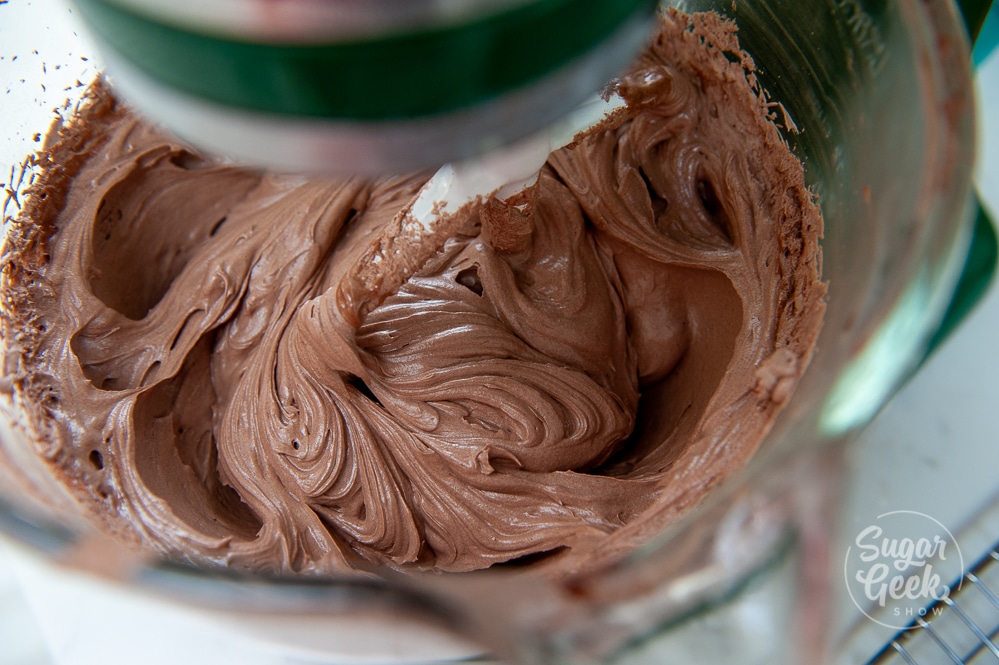 You will immediately notice the buttercream coming together and looking very smooth and glossy.
Can you make chocolate buttercream frosting with melted chocolate?
Yes! You can totally make buttercream with melted chocolate. I love using white chocolate in my buttercream to make it more stable but the same thing applies with melted chocolate for buttercream frosting.
Instead of using cocoa powder, you can melt down 4 oz (or more) of melted chocolate of your choice. Just remember, the better the chocolate the better tasting the buttercream will be. I personally love valhrona chocolate! Place your chocolate in a heat proof bowl and place over a pot of simmering water (about an inch is all you need) make sure the bottom of the bowl is not touching the water. Stir until melted.
Make sure you let your melted chocolate cool to about 80 F before you incorporate it into your buttercream or you'll end up with butter soup.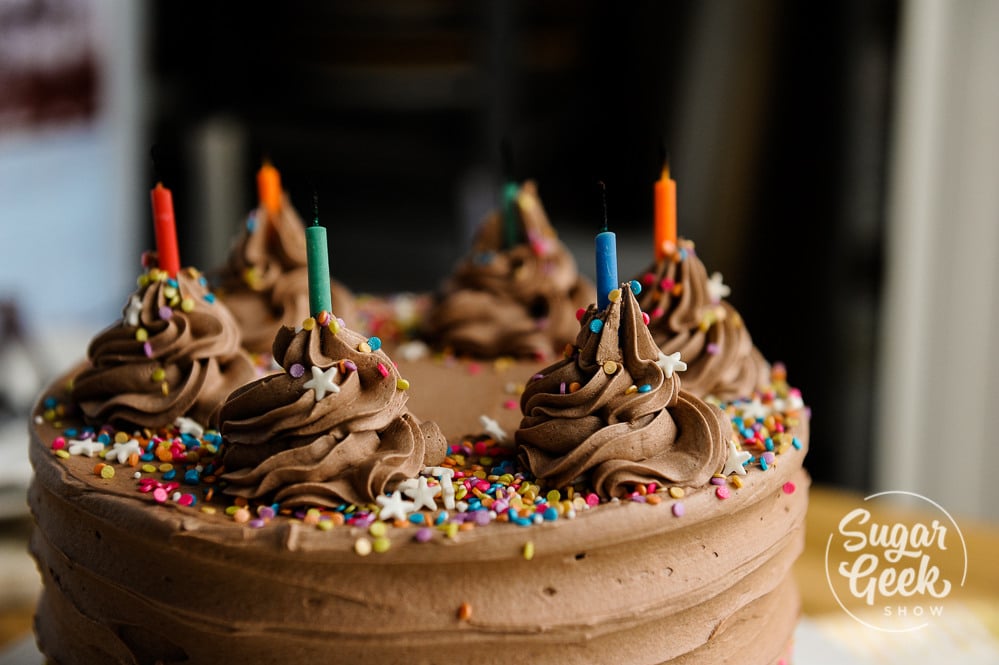 Why does my chocolate buttercream get darker overnight?
Have you ever noticed when you first make your buttercream it's a very light chocolate and then over time it might get darker? Or maybe if you use a hot spatula to smooth your buttercream you get some splotchy dark spots in some areas.
There's a reason for that. Oxidation. Sometimes you like it, sometimes you don't.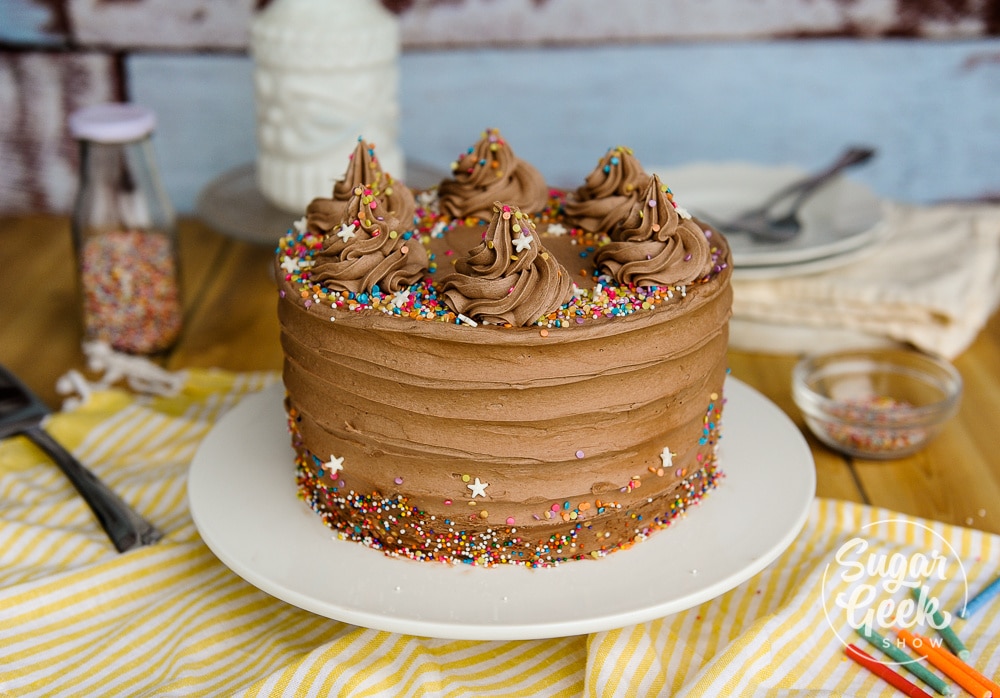 Sometimes you might want your chocolate buttercream to be darker though right? It's easy. Just combine your cocoa powder with a little of your butter and melt it in the microwave. Let it cool to 80F and add it into your buttercream. This will make your buttercream much darker. The other thing to do is up the amount of cocoa powder in your buttercream and use a special dark or dutched cocoa powder.
There's also chocolate american buttercream. Same rules apply here to our easy buttercream recipe. Either add in melted chocolate or cocoa powder to this crusting buttercream. American buttercream is much firmer than easy buttercream and a favorite for decorators in hot or humid areas. It "crusts" after a few minutes meaning it gets a crust of sugar on the outside of the cake and is much sweeter than easy buttercream.
Last but not least, you can make chocolate whipped cream! Um yes please! This is by far the lightest and least sweet of the frostings but not very stable, especially if it's really hot out. You can add in your cocoa powder to the whipped cream (start with 1 oz and see if you want more) along with the powdered sugar and then whip. Add in 1 tsp of melted gelatin (cooled to 80F) to make the whipped cream more stable.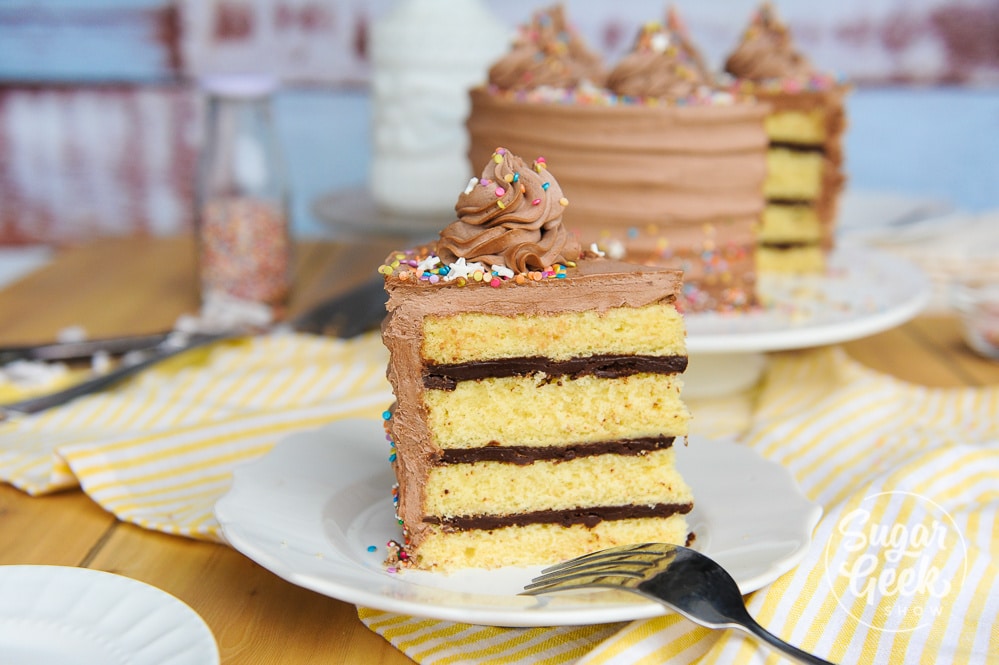 Can you use chocolate buttercream frosting as a cake filling?
Absolutely! In fact, I highly recommend it. Chocolate buttercream frosting is actually a really popular if not THE most popular filling for the classic yellow cake which is what I used in these photos. The little kid in me just loves a moist, classic yellow cake with chocolate buttercream frosting and sprinkles! So fun!
Will this buttercream hold up under fondant?
The great thing about making buttercream is the butter! If you want to cover your cake with buttercream and get it super smooth and then cover with fondant, this buttercream is great for that! You can watch my tutorial on how to cover cakes with fondant for more info or even make your own fondant using my marshmallow fondant recipe (LMF).
Check out these other great recipes!
Chocolate Swiss Meringue Buttercream
How To Pasteurize Egg Whites At Home
Easy Chocolate Cake Recipe
Cake Batter and Frosting Calculator
Select an option below to calculate how much batter or frosting you need. Adjust the servings slider on the recipe card to change the amounts the recipe makes.
Choose a pan type
Choose a cake pan size
(based on 2" tall cake pan)
Choose a cake pan size
(based on 2" tall cake pan)
Choose a cake pan size
(based on 2" tall cake pan)
Cups of Batter Needed
8 cups
Cups of Frosting Needed
5 cups
Did You Make This Recipe?Leave a rating and tell me how it went!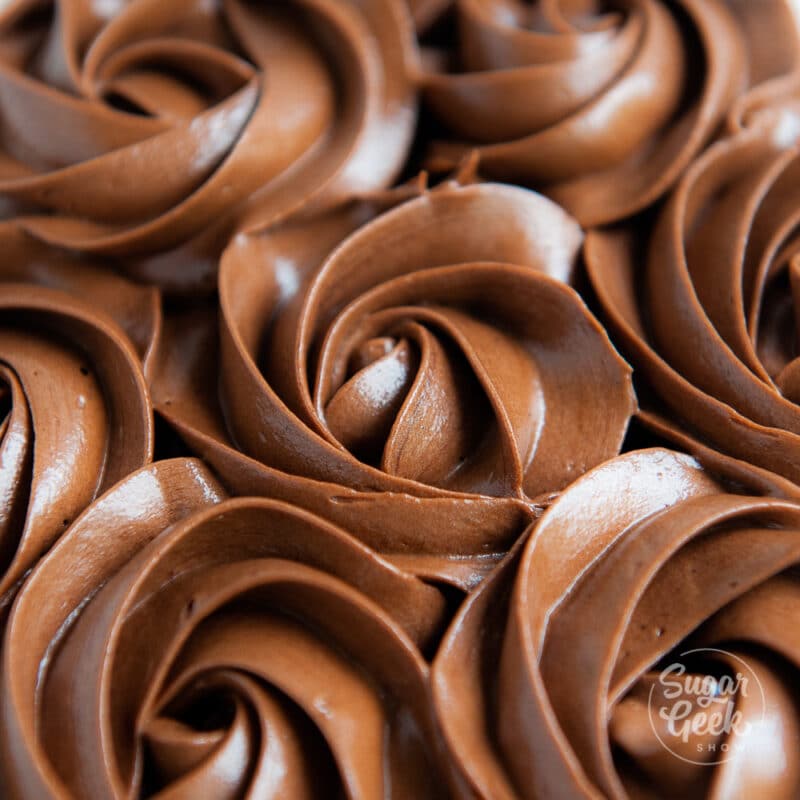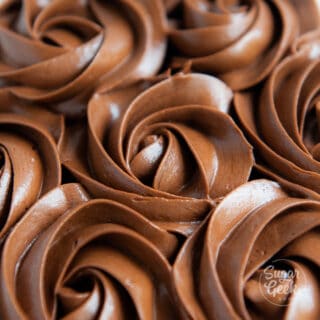 Easy Chocolate Buttercream Frosting
This easy chocolate buttercream frosting recipe comes together in minutes and tastes amazing! The secret is in the cocoa powder! This chocolate frosting isn't too sweet and tastes like chocolate ice cream! Soooo good!
Print
Rate
Never Miss A Cake
Serves: 6 cups
Calories: 874kcal
Ingredients
6 ounces (170 g) pasteurized egg whites
24 ounces (680 g) powdered sugar
3 ounces (85. g) cocoa powder
1 Tablespoon (1 Tbsp ) vanilla extract
1 teaspoon (1 tsp) salt
24 ounces (680 g) unsalted butter Room Temperature
Instructions
Sift together the powdered sugar and cocoa powder to remove any clumps.

Place egg whites, powdered sugar and cocoa powder in a stand mixer bowl.

Attach the whisk and combine ingredients on low and then whip on high for 5 minutes.

Add in your room temperature butter in chunks. Whisk on high for 8-10 minutes until light and fluffy. Don't be afraid to let it whip, when it's done it will no longer taste like butter.

Optional: If your buttercream looks curdled, remove one cup of the buttercream and melt it in the microwave for 10-15 seconds until its JUST barely melted. Add the melted buttercream back into the whipping buttercream and it will make it all come together.

Add in your salt and vanilla extract. Mix until combined.

Optional: Remove the whisk and place the paddle attachment onto the mixer. Let your buttercream mix on low until the mixture is smooth and creamy and there are no bubbles left. This can take 15-20 minutes and works best with a double batch of buttercream and the entire paddle is covered.
Notes
This buttercream can be left at room temperature for 24 hours, refrigerated for up to two weeks or frozen up to 6 months. 
After refrigerating or freezing, always re-whip your buttercream before use. I melt one cup of the buttercream and mix it back in while whipping on high to make it creamy again. 
You MUST use pasteurized egg whites for this recipe, if you don't have pasteurized egg whites then you can use my chocolate Swiss-meringue recipe instead. Pasteurized egg whites are heat-treated (like milk) so they are safe to eat, raw egg whites are not. 
You can also pasteurize your own egg whites
Nutrition
Serving: 1g | Calories: 874kcal (44%) | Carbohydrates: 82g (27%) | Protein: 5g (10%) | Fat: 63g (97%) | Saturated Fat: 40g (200%) | Cholesterol: 163mg (54%) | Sodium: 437mg (18%) | Potassium: 162mg (5%) | Fiber: 3g (12%) | Sugar: 74g (82%) | Vitamin A: 2054IU (41%) | Calcium: 30mg (3%) | Iron: 2mg (11%)