Chocolate swiss meringue buttercream is silky smooth and melts in your mouth
This easy buttercream is not quite as stable as classic chocolate swiss meringue buttercream but still very good and great if you're in a time crunch.
Prepare your tools
The most important thing to remember when making chocolate swiss meringue buttercream is to make sure all your utensils and the bowl of your mixer are grease-free. Butter or any fat-based residue will stop your meringue from whipping up which can be super frustrating.
Always use metal or glass bowls to make a meringue. Plastic tends to hold onto fat and can cause the meringue to fail. Plus, it's not so safe to be placing a plastic bowl over a boiling pan of water.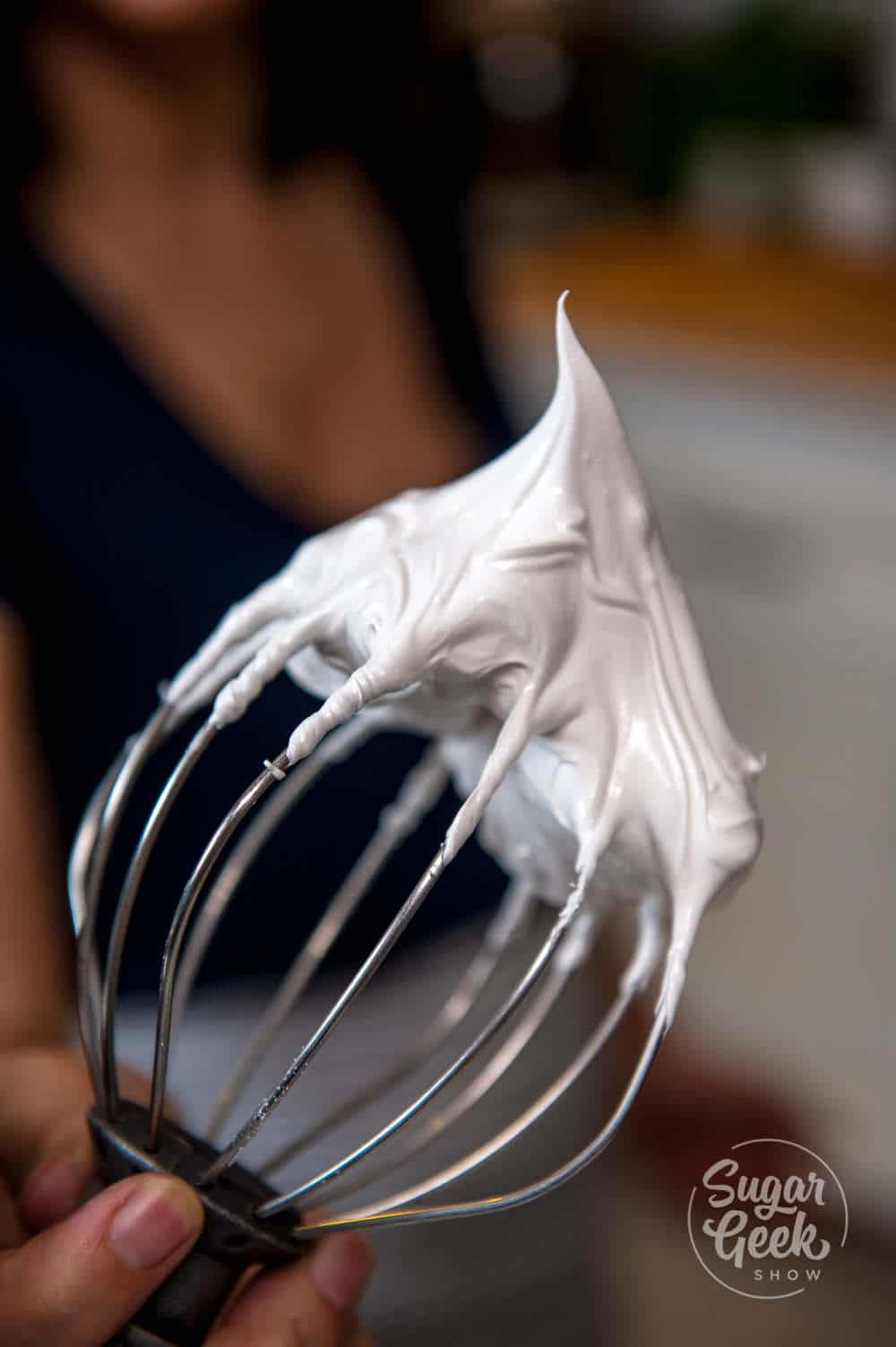 Gather your ingredients
Egg yolks are a common problem for causing the meringue to deflate. Even a tiny drop of yolk (which is a fat) can ruin a good meringue.
To avoid this, make sure that when you are cracking your eggs, you crack them one by one into a separate bowl then transfer that egg white to the main bowl. That way if you break an egg yolk, it doesn't ruin the whole batch.
Make sure your butter has been softened to room temperature so it whips in with the meringue without curdling.
Avoid using pasteurized egg whites for making chocolate swiss meringue buttercream. The egg whites are not suitable for whipping into a meringue and even if you do manage, the meringue will be very soft.
I'm using melted chocolate but you can also use cocoa powder if you prefer. Sift your cocoa powder to avoid getting lumps of cocoa powder in your finished product.
How to make chocolate swiss meringue buttercream
Fill a medium-sized saucepan with about two inches of water and bring to a simmer. Place your metal or glass mixing bowl on top of the pot of water. The bottom of the bowl should not touch the water. Watch out for escaping steam. It can make the bowl hot so be careful and use an oven mitt if needed to handle the bowl.
Place your egg whites and sugar in the bowl and whisk. Occasionally whisk the mixture to keep the outer edge of the egg whites from curdling and cooking.
Once the sugar is dissolved (feel with your fingers) you can remove the bowl from the pot of water and whip into your stiff meringue. Make sure the meringue is very stiff. It's very hard to over-do this part. Mixing can take 5-10 minutes depending on how strong your mixer is.
The meringue tips should stand straight up and feel very dense.
Place a bag of ice next to the bowl as you're mixing to cool the meringue down.
Once your meringue has cooled, whip in your softened butter, cooled melted chocolate, vanilla, and salt. Make sure you whip until your buttercream no longer has any taste of butter. It should be very light and creamy and dissolve in your mouth.
After your buttercream has whipped, I like to switch to the paddle attachment and mix on low for 10 minutes to remove any excess air bubbles.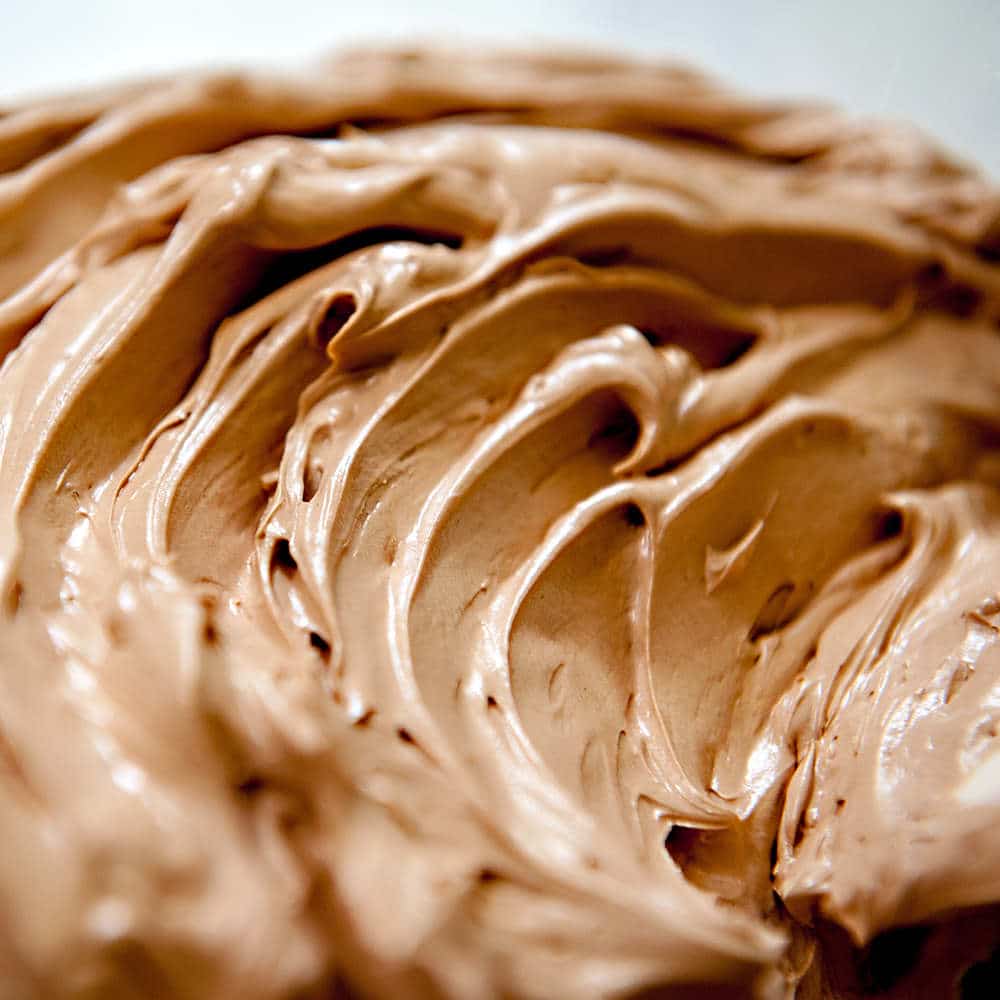 Problems with chocolate swiss meringue buttercream
The meringue won't whip up – Egg whites could have been too old or you got some grease in the mixture. Clean all your utensils again and use fresh egg whites.
My buttercream is curdled or looks separated – When fat (butter) tries to mix with water (egg whites) it has to be the same temperature. If your buttercream is curdled, chances are your butter was too cold. Either torch the side of the bowl with a creme brulee torch while mixing on low until it comes together or remove 1/4 cup of the mixture, melt it in the microwave and pour it back in to bring it all together.
My buttercream is too soft – If your buttercream is too soft and seems soupy, it might be too warm. Put the whole bowl into the fridge for 20 minutes then try whipping again.
The buttercream tastes gritty – You may not have dissolved your sugar all the way which can cause the meringue to crystalize. There isn't anything you can do to fix the grain other than starting over.
My buttercream tastes like pure butter – It is very common for people to under whip the buttercream. If you taste butter, continue whipping. Incorporating air is what makes the buttercream taste so amazing.
How do you store chocolate swiss meringue buttercream?
Chocolate swiss meringue buttercream can be kept at room temperature for 48 hours although I personally refrigerate after 24 hours if I don't need it. It can be kept in the fridge for 2 weeks or you can freeze it for 2 months or more.
Always re-mix your buttercream before using it to make it creamy again. If it's cold, bring it to room temperature first, then whip until it's creamy and smooth.
Other frosting recipes you might like
Ermine Frosting
Cream Cheese Frosting
American Buttercream
Swiss Meringue Buttercream