A yellow cake recipe that is full of flavor, moist and a family favorite
A good yellow cake recipe is hard to find! This recipe will be your go-to yellow cake from now on! It's full of flavor and pairs perfectly with a good chocolate ganache and chocolate buttercream.
Yellow cake is considered the "classic" American cake. It is the standard to which all other cakes are held. Why do you think that is? Probably because the best cake you ever ate was most likely a "yellow cake". But what IS yellow cake exactly? Why is it so magical and what gives it that pretty yellow color?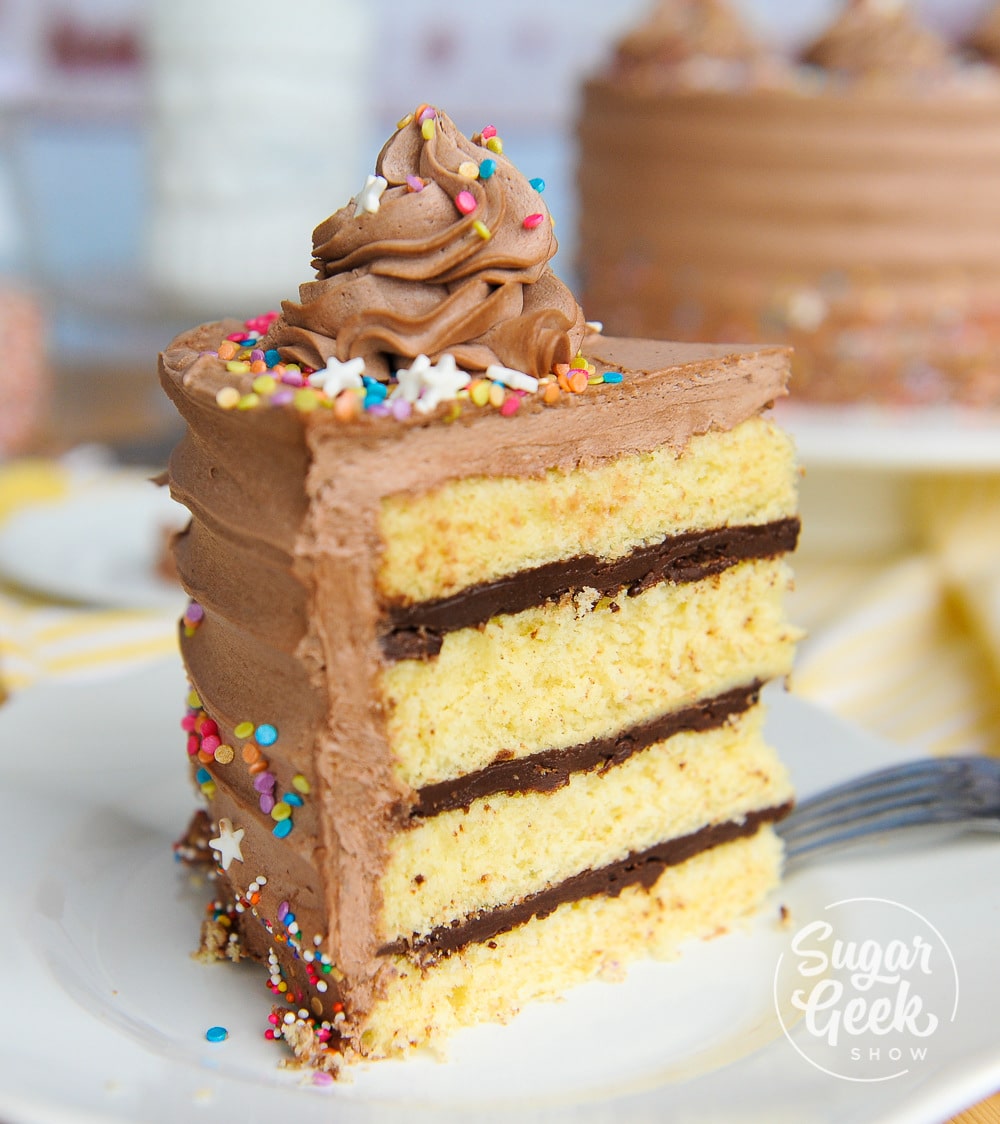 Is a yellow cake recipe and vanilla cake recipe the same thing?
I know you want so very badly to believe that yellow cake has some sort of magical ingredient that makes it taste special but… you're right. It does. They are called egg yolks! (gotcha) Vanilla cake and yellow cake are basically the same thing except that a yellow cake contains more egg yolks than a vanilla cake. Therefore, yellow cake is technically vanilla cake in flavor (kinda). Technically you could call my vanilla cake recipe a yellow cake but it is very pale. Usually, people want more yellow in their yellow cake so the added egg yolks provide a pretty color!
Pro tip: If you use farm eggs over those little white ones, you'll have a much more intense yellow color in your cake due to the darker color of the yolk. There will also be more flavor in the cake.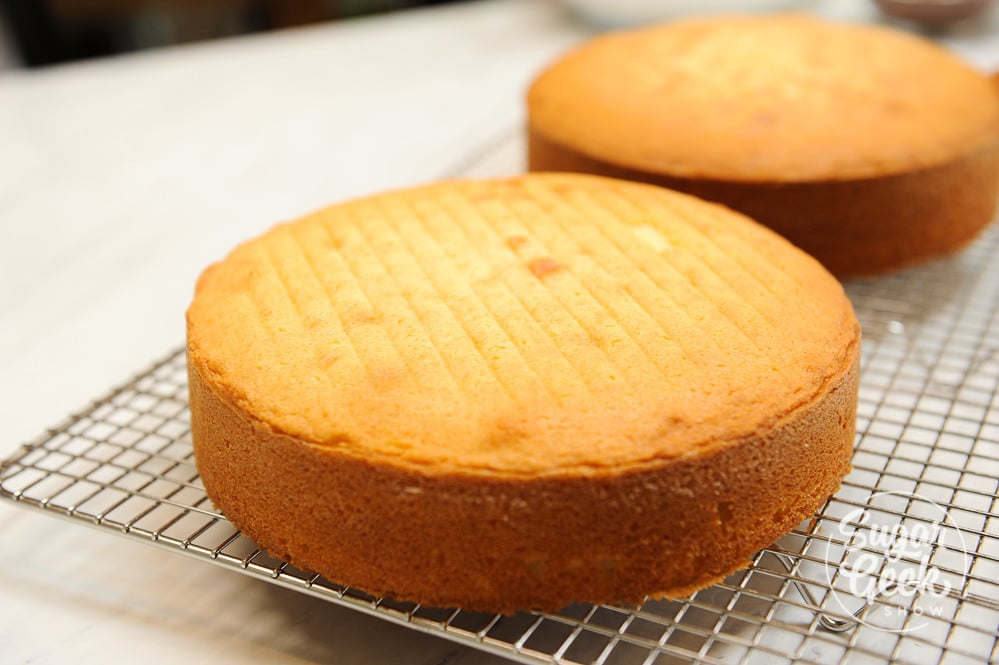 Best yellow cake recipe with chocolate frosting
To be honest, when I was growing up, my favorite cake was german chocolate cake with coconut pecan filling (because that was my Dad's favorite so therefore, also my favorite). I never thought yellow cake was all that special until I had it at a friends house in college. YES COLLEGE!
The cake was still warm out of the oven and as we spread on that gooey chocolate frosting, it melted all over the place and parts of the cake tore as we tried to frost it. Somehow this made the cake taste even better. I'm pretty sure we ate it right out of the sheet pan with a spoon and it was delish!
That's the feeling you get when you eat this cake. Like warm buttery/chocolate-y goodness and all is right with the world again.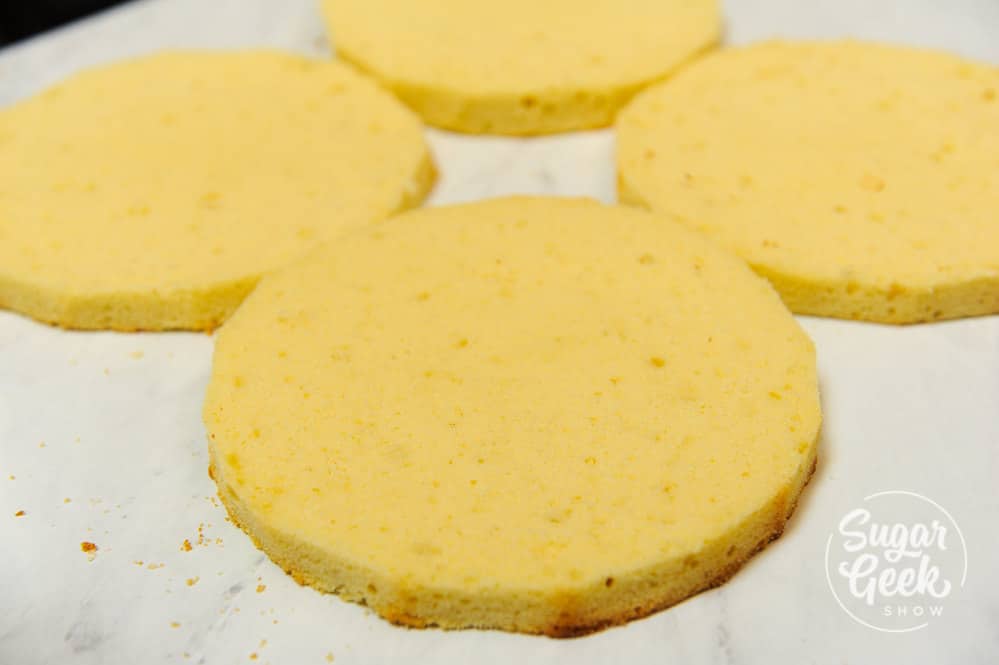 To make our cake, I bake up two layers of yellow cake and let them cool for about 10 minutes before wrapping in plastic and putting into the freezer to partially freeze. This locks in the moisture so it doesn't evaporate out of your cake.
After the cakes are cooled but not frozen, I tort them (cut them in half length-wise). Then I slather on a good 1/4″ of ganache so that you've got a good amount of filling in your cake.
Remember, ganache is hard at room temperature so you might need to nuke it for about 15 seconds and give it a stir before putting onto the cake.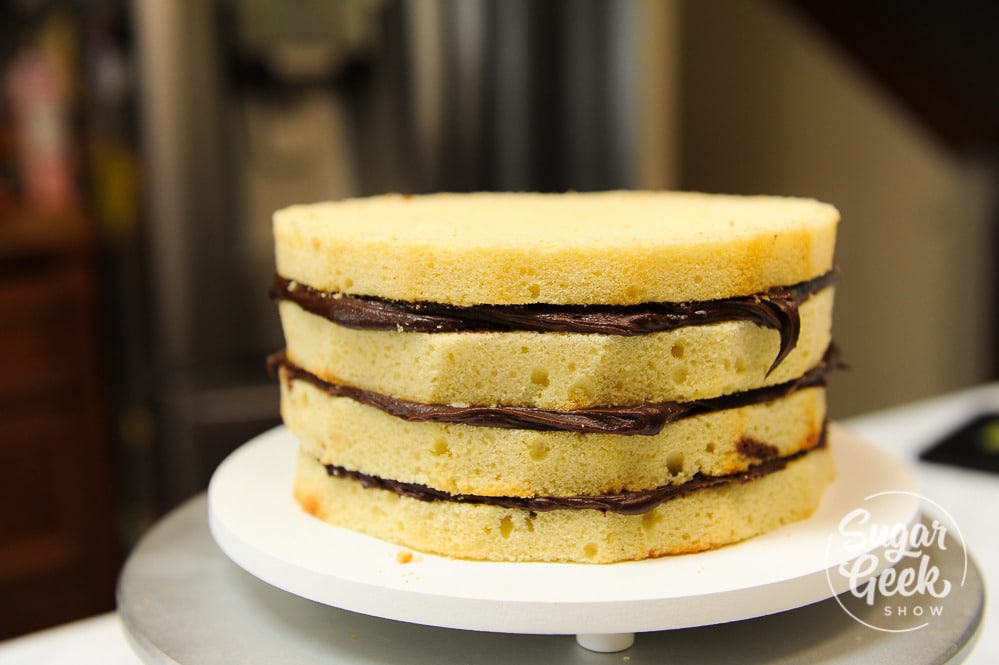 After I fill the cake, I frost it with a good amount of chocolate buttercream! I love the velvet-y smooth texture of my easy buttercream combined with some dutch cocoa powder for the perfect chocolate buttercream combo.
I topped my pretty birthday cake with some fun sprinkles from sprinkle pop! I'm obsessed with all of their fun colors! Great for a birthday cake.
Is this yellow cake recipe sturdy enough to carve or cover with fondant?
I decided not to cover my cake with fondant but you definitely could. I always work with chilled cakes so they are easier to hand and you can get cleaner, sharper edges with the fondant or buttercream.
When I cover my cakes with fondant, I like to chill the cakes first as stated before, then crumbcoat and let chill overnight in the fridge. This gives the cake time to settle and you'll get less air bubbles later. The next day I apply my final coat of buttercream and then my fondant. Don't worry, once the crumb coat is on the cake it doesn't lose it's moisture.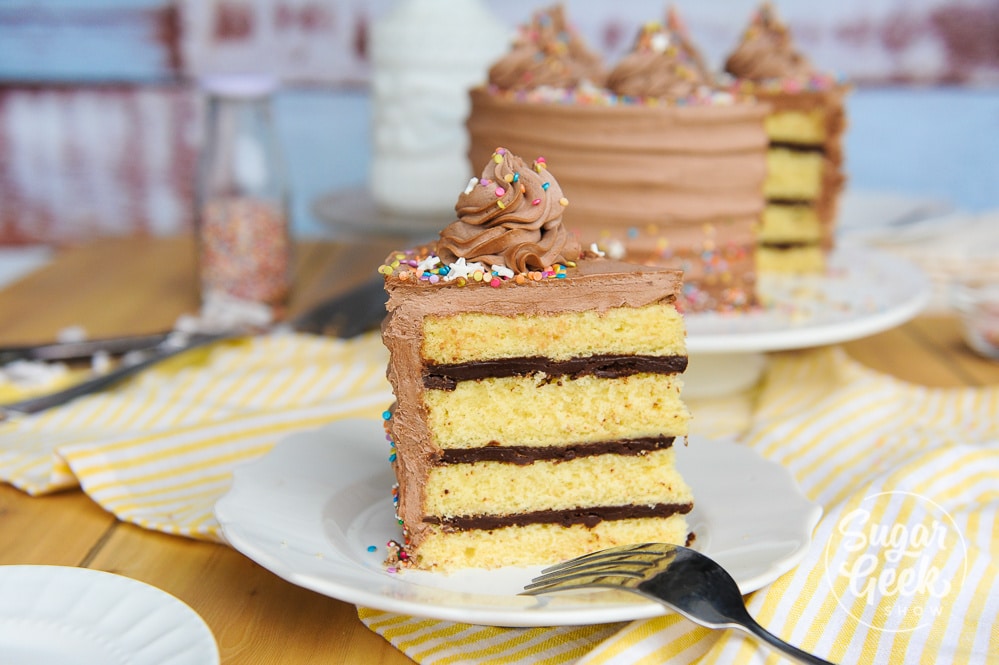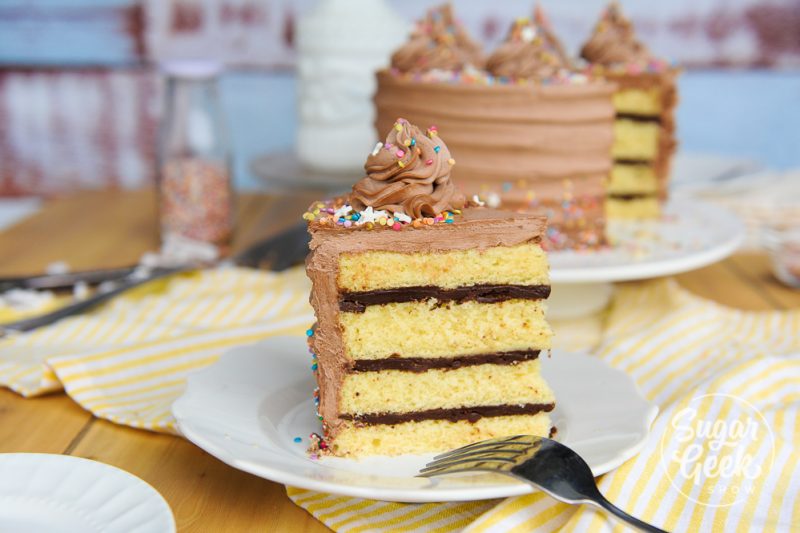 Is this yellow cake recipe moist?
The thing about cakes is that sometimes they can be dry. The reason for that varies. Sometimes the cake is over-baked, sometimes the ratios are off, sometimes it's even more basic than that. Lack of fat. Fat is what makes your cake taste moist (not liquids). This yellow cake tastes moist because it has oil and butter in it. Oil keeps the cake from drying out and even if the cake is a little cold, it will taste moist in your mouth. If you where to use butter rather than oil, you might end up with a dry cake. Butter doesn't actually add a lot of moisture but it adds flavor so don't leave it out.
The mixing method to this cake can by tricky because it's the reverse creaming method which means you cream the butter with the flour instead of the sugar and then add your liquids. Because we're using cake flour, you have to mix for longer than you might think.
Watch my video on how to make this yellow cake recipe before you try it for yourself and remember! Ingredients MUST be at room temperature, don't forget to measure (weigh) everything and follow the directions for mixing.
Cake Batter and Frosting Calculator
Select an option below to calculate how much batter or frosting you need. Adjust the servings slider on the recipe card to change the amounts the recipe makes.
Choose a pan type
Choose a cake pan size
(based on 2" tall cake pan)
Choose a cake pan size
(based on 2" tall cake pan)
Choose a cake pan size
(based on 2" tall cake pan)
Cups of Batter Needed
8 cups
Cups of Frosting Needed
5 cups
Did You Make This Recipe?Leave a rating and tell me how it went!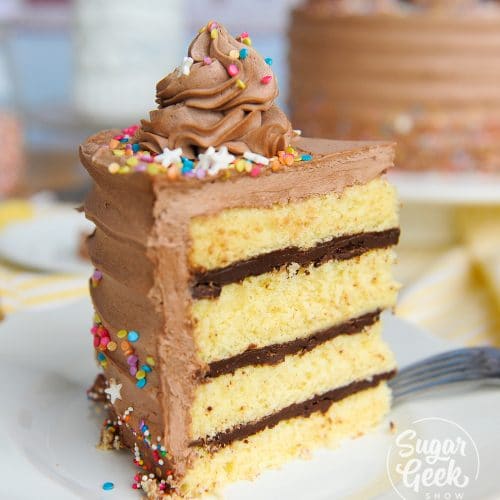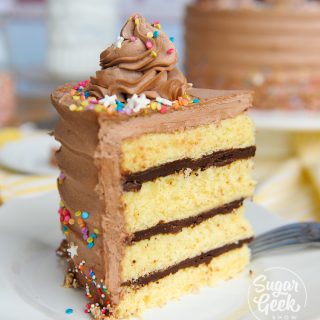 Yellow Cake Recipe
A moist and flavorful yellow cake recipe that pairs perfectly with chocolate ganache and chocolate buttercream! The classic example of a birthday cake
Print
Rate
Never Miss A Cake
Serves: 8 cups
Calories: 566kcal
Ingredients
Yellow Cake Recipe
14 oz (397 g) cake flour
12 oz (340 g) granulated sugar
2 tsp (2 tsp) baking powder
1 tsp (1 tsp ) baking soda
1 tsp (1 tsp ) salt
6 oz (170 g) unsalted butter room temperature
2 large (2 large) egg room temperature
3 large (3 large) egg yolks room temperature
8 oz (227 g) whole milk room temperature
2 oz (57 g) vegetable oil
1 Tbsp (1 Tbsp) vanilla extract
Chocolate Ganache Filling
16 oz (454 g) semi sweet chocolate
8 oz (227 g) heavy whipping cream
1/2 teaspoon vanilla extract
Chocolate Buttercream
16 oz (454 g) unsalted butter room temperature
16 oz (454 g) powdered sugar
2 oz (57 g) cocoa powder
2 tsp (2 tsp) vanilla extract
4 oz (113 g) pasteurized egg whites
1/2 teaspoon salt
Instructions
Yellow Cake Instructions
NOTE: It is SUPER IMPORTANT that all the room temperature ingredients listed above are room temperature and not cold so that the ingredients mix and incorporate correctly. 

Heat oven to 335º F/168º C — 350º F/177º C. I tend to use lower setting to prevent my cakes from getting too dark on the outside before the inside is done baking. Prepare your cake pans with cake goop or another preferred pan release.

Whisk together the eggs, egg yolk, milk, vanilla and vegetable oil together and set aside

Place the flour, sugar, baking powder, baking soda and salt into the bowl of your stand mixer with the paddle attachment.

Attach the paddle to the mixer, and turn on the slowest speed (setting 1 on Kitchen Aid mixers). Slowly add chunks of your softened butter until it is all added. Let mix until batter resembles coarse sand.

Add 1/3 of your egg/milk mixture to the flour mixture while mixing on low until just moistened. This part is crucial. Don't add too much liquid.

Increase mixing speed to medium (setting 5 on Kitchen Aid mixer). Let the mixture whip up until it has thickened and lightened in color (2 minutes of mixing). It should look like soft-serve ice cream. If you do not let the batter mix fully, you will end up with very short, crumbly cakes. 

Scrape the bowl. This is an important step. If you skip it, you will have hard lumps of flour and unmixed ingredients in your batter. If you do it later, they will not mix in fully.

While mixing on low, slowly add in the rest of your liquid ingredients, stopping to scrape the bowl one more time halfway through.

Divide your batter evenly between your pans

Bake for 30 minutes and then check your cakes. If they are still jiggly in the center bake for another 5-8 minutes. If they are almost set, bake for another 5 minute or until the center springs back when you touch it.

Let your cakes cool in the pan for 15 minutes or until the pan is just barely warm. Turn them out onto a cooling rack to cool the rest of the way. I like to put mine into the freezer (unwrapped and on the cooling rack to flash chill for one hour so I can begin frosting)

Once my cakes are cold, I fill them with the buttercream and give them a crumb coat. Chill the cake for 20 minutes to set the crumb coat then apply your final coat of buttercream. I decorated my cake with a 1M piping tip and piping bag.
Chocolate Ganache Instructions
Heat heavy cream to a simmer and pour over chocolate and add in vanilla. Let sit 5 minutes and whisk until creamy. Let firm up to a soft peanut butter consistency before using to fill the cake.
Chocolate Buttercream Instructions
Place egg whites and powdered sugar in the stand of your mixer with whisk attachment. Mix on low to combine. Add in your softened butter, salt and vanilla and whisk on high until light and fluffy. Add in your sifted cocoa powder and whisk until combined. Optional: switch to paddle attachment and mix on low for 10-15 minutes for a smoother/bubble-free frosting. Frost cake as desired. 
Notes
NOTE: It is SUPER IMPORTANT that all the room temperature ingredients listed above are room temperature and not cold so that the ingredients mix and incorporate correctly.  You can skip the chocolate ganache filling and just use the chocolate buttercream for filling and frosting the cake to save time, just double the ingredients.   
Nutrition
Serving: 1serving | Calories: 566kcal (28%) | Carbohydrates: 58g (19%) | Protein: 6g (12%) | Fat: 36g (55%) | Saturated Fat: 22g (110%) | Cholesterol: 109mg (36%) | Sodium: 180mg (8%) | Potassium: 236mg (7%) | Fiber: 3g (12%) | Sugar: 40g (44%) | Vitamin A: 907IU (18%) | Vitamin C: 1mg (1%) | Calcium: 63mg (6%) | Iron: 2mg (11%)