Simply the best white cake recipe made from scratch
This white cake recipe is the perfect classic white cake. Light and fluffy, moist and full of flavor. There is a joke in the cake world that white is not a flavor, it's actually a vanilla cake. But a white cake is not just white. Let's dive into what makes the perfect, best white cake recipe.
White Wedding Cake Recipe
White cake recipes where originally created for weddings. Only the rich could afford white flour and sugar so a white cake was considered a symbol of your wealth. These days, a white cake with a fine, moist crumb is probably the most common flavor cake baked for all types of occasions.
Ironically, where I am from (Portland, Oregon) the more organic and less refined your ingredients are, the more expensive they are. Funny how things tend to go full-circle.
What Is The Difference Between White Cake Recipe And Yellow Cake Recipe?
Many people confuse white cake recipes with yellow cake or even vanilla cake. Although similar, these actually are totally different types of cakes. Mostly to do with how the eggs are incorporated. A white cake recipe only uses the whites of the egg, sometimes whipped and then folded into the batter, sometimes added directly to the butter/sugar mixture. Vanilla cake uses both the egg whites and the egg yolks (usually) and results in a slightly off-white colored cake but in my opinion has the most flavor. A yellow cake is made with the egg yolks only so the batter has a very rich and golden color with lots of flavor and is a very moist cake.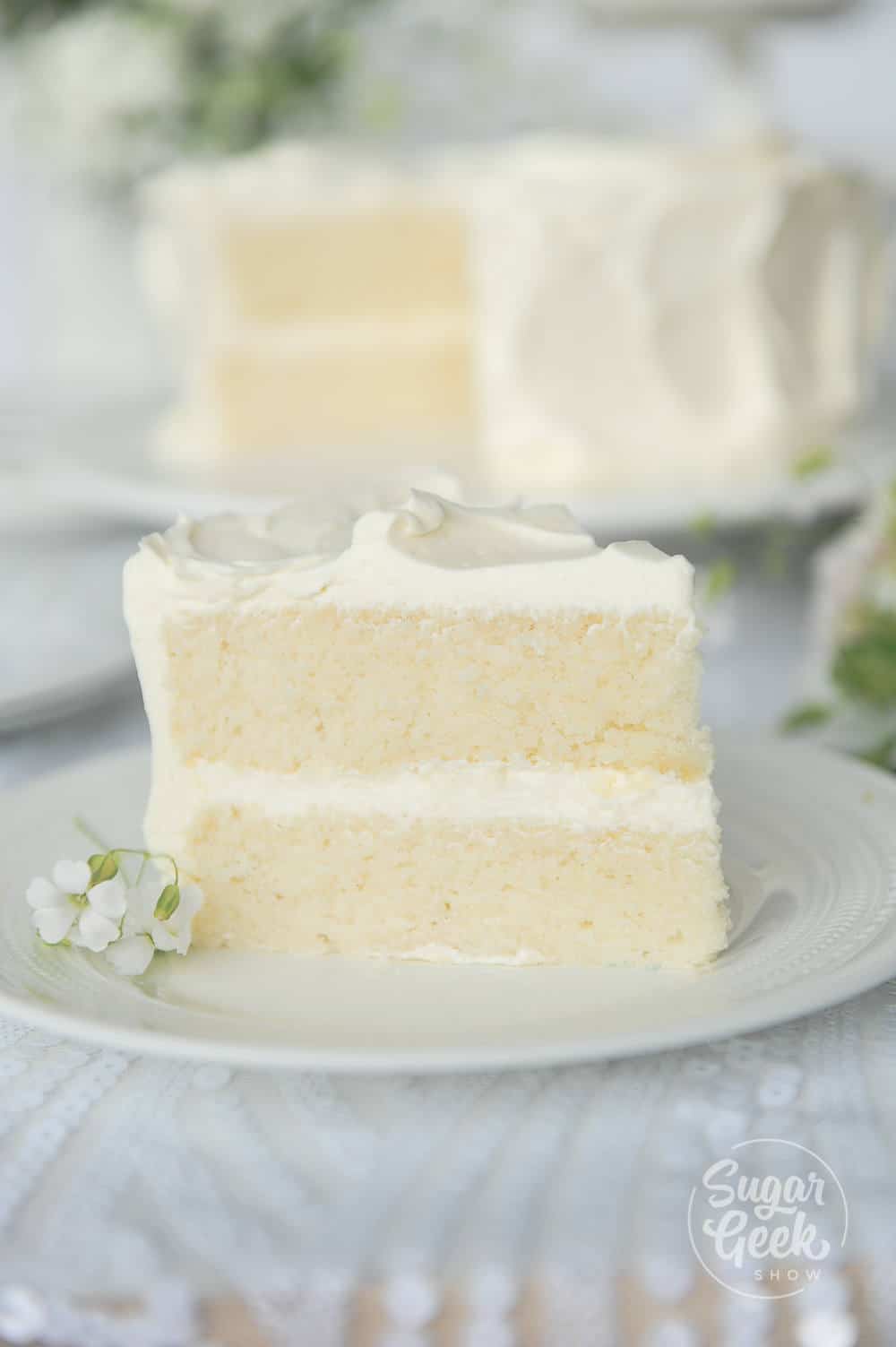 Vanilla and white cake recipes are both used in many different recipes as a base by substituting out spices or extracts. Yellow cake is traditionally paired with rich chocolate buttercream or ganache and is not often used as a base recipe for other flavors although it certainly could be.
Again, people laugh and say that "white" and "yellow" is not a flavor but making an order for "all egg yolk cake" just does not have the same ring to it. It's just a way of describing the cake so we all are on the same page.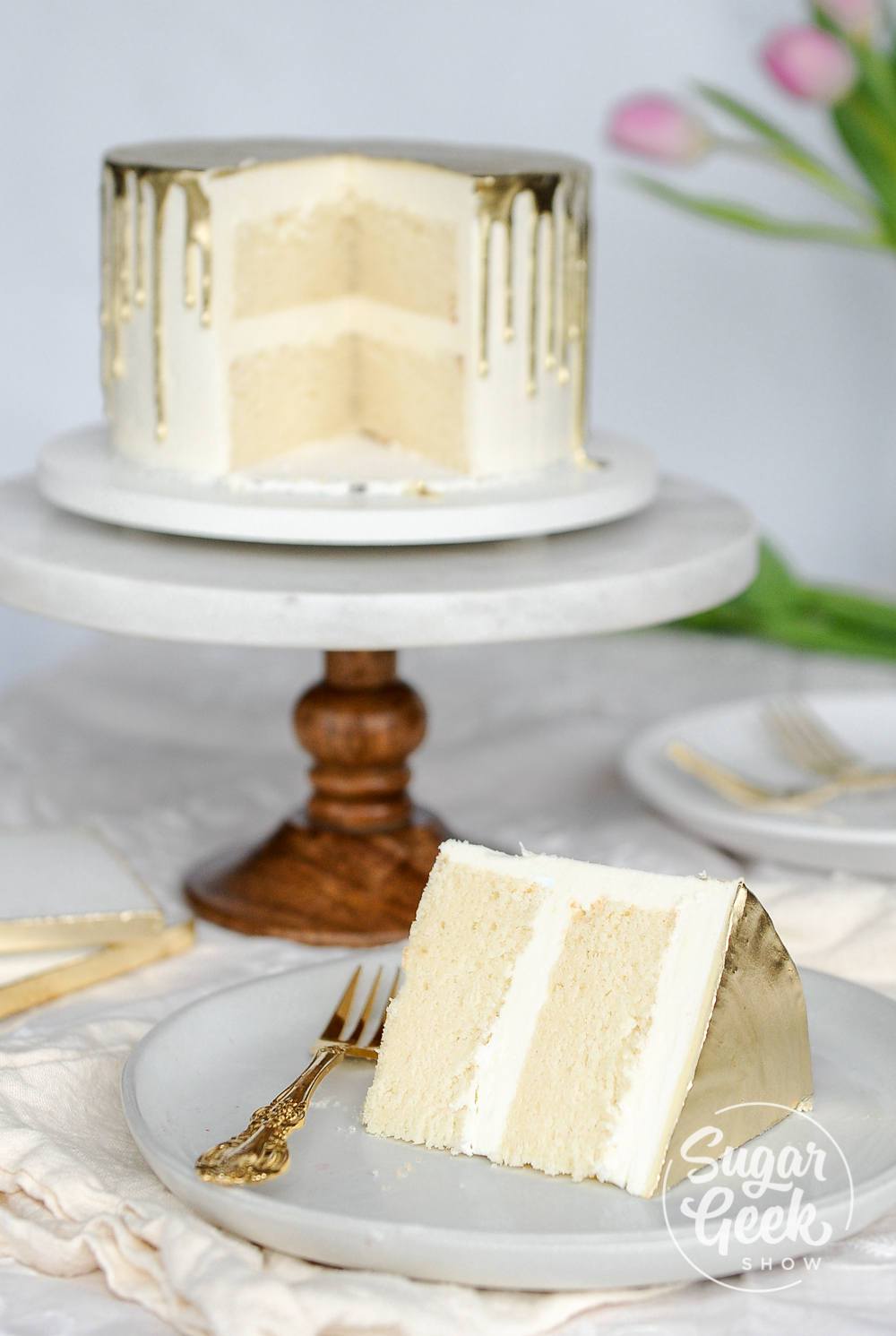 How Do You Make White Cake?
To make the best white cake recipe ever, you need to make sure you're using the right ingredients. For this recipe we are using AP flour because it is the most versatile. We are also using a high-quality butter that does not have any artificial dyes in it (did you know some companies dye their butter to be more yellow?) The whiter the butter, the whiter the cake. Traditional white cake uses almond extract which happens to also be clear. Now, I myself do not love the taste of almond extract so I prefer to use vanilla bean paste and vanilla extract.
BUT WAIT! You said that the ingredients had to be clear!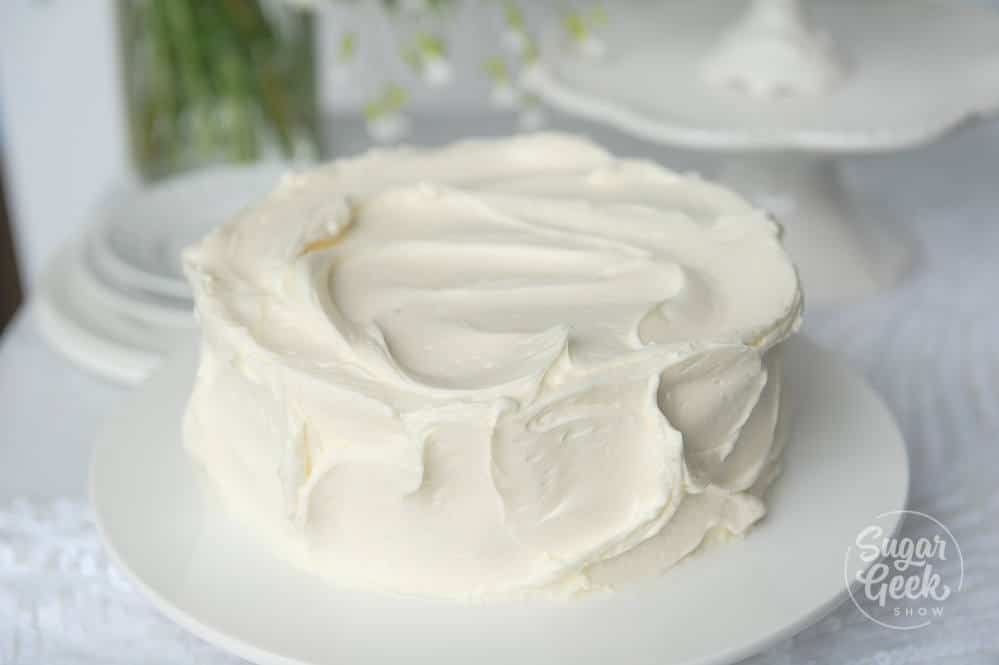 True, I did say that but here we come to one of those "taste over color" rules in my book. There are not a lot of ingredients in this recipe that bring flavor to the table but the quality of the extract is #1. The vanilla bean paste and the extract WILL slightly tinge the batter to not a PURE white but for me, I'd rather have that than no flavor at all. If you absolutely must have a white color then feel free to halve the vanilla in this recipe and add ½ teaspoon of almond extract.
Another reason you might want to use almond extract or you can even use clear vanilla (imitation) extract is if you're using this white cake recipe as a base for another cake recipe like my strawberry cake where color is really important. The whiter the cake batter, the truer the color will be after adding colors.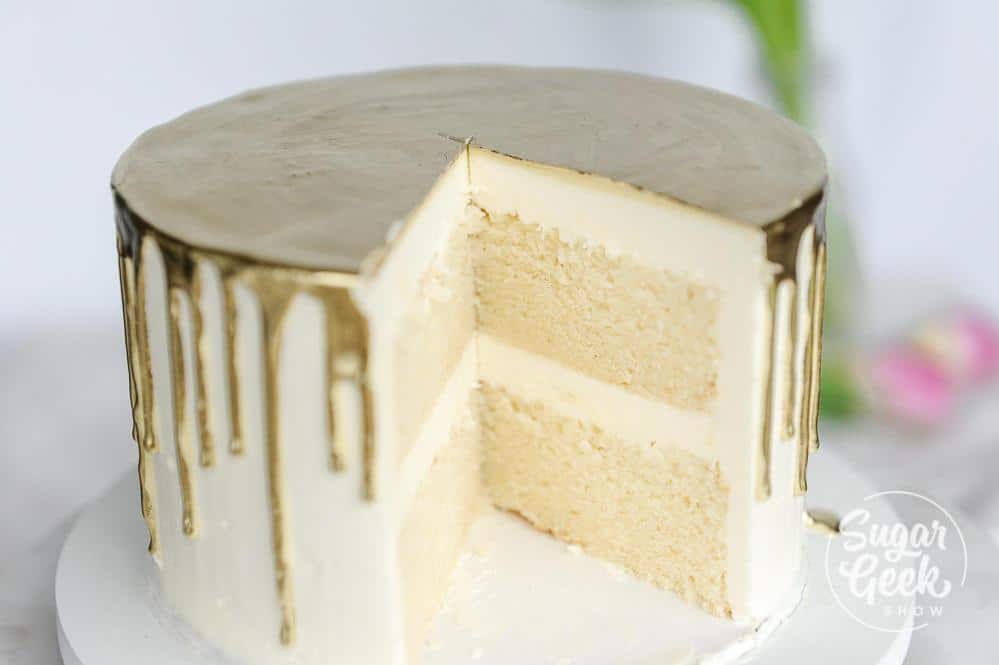 Why Is There Oil In This White Cake Recipe?
Funny thing, when we bite into a cake, certain things make us think "YUM!" Texture, flavor and moisture. Texture is achieved by proper mixing methods, flavor is achieved with high quality extracts but moisture is a tricky thing. You can't just dump more moisture into your cake batter or you'll end up with a gummy mess. One thing that makes your brain think "moist" is the addition of a little oil. I don't like to add too much, about an ounce will do. I prefer to use vegetable oil because it doesn't have a flavor and is colorless.
If you don't want to use vegetable oil you can use any other mild flavored oil.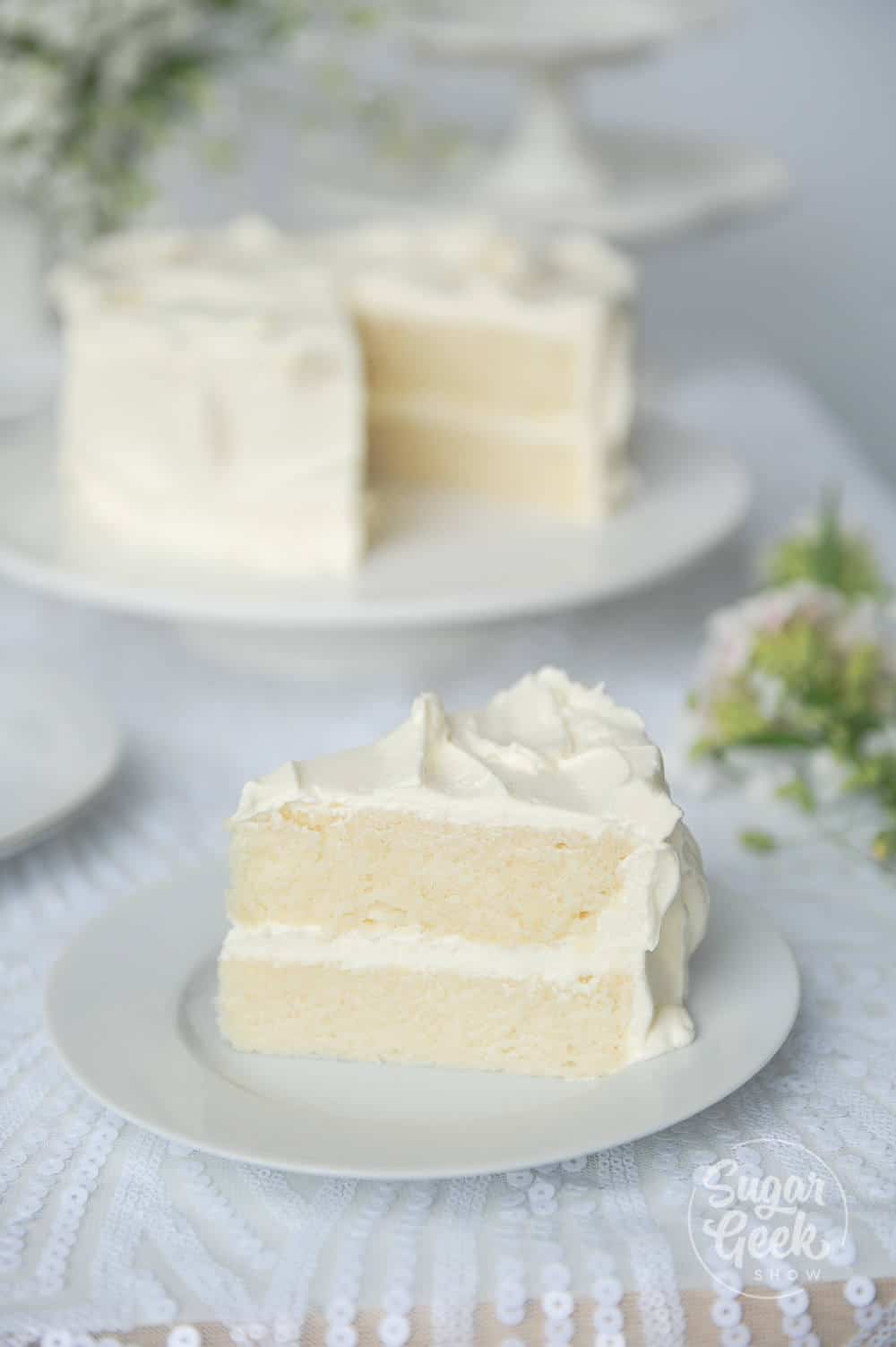 Should You Put Sour Cream In White Cake?
A long long time ago (we're not going to talk about how long) I remember reading in the cake forums about this magical white cake recipe called WASC cake that all the cake decorators used. I had no idea what it was but desperately wanted to know! Soon, I learned that WASC stood for White Almond Sour Cream cake and the first ingredient is a white box cake mix.
Whomp Whomp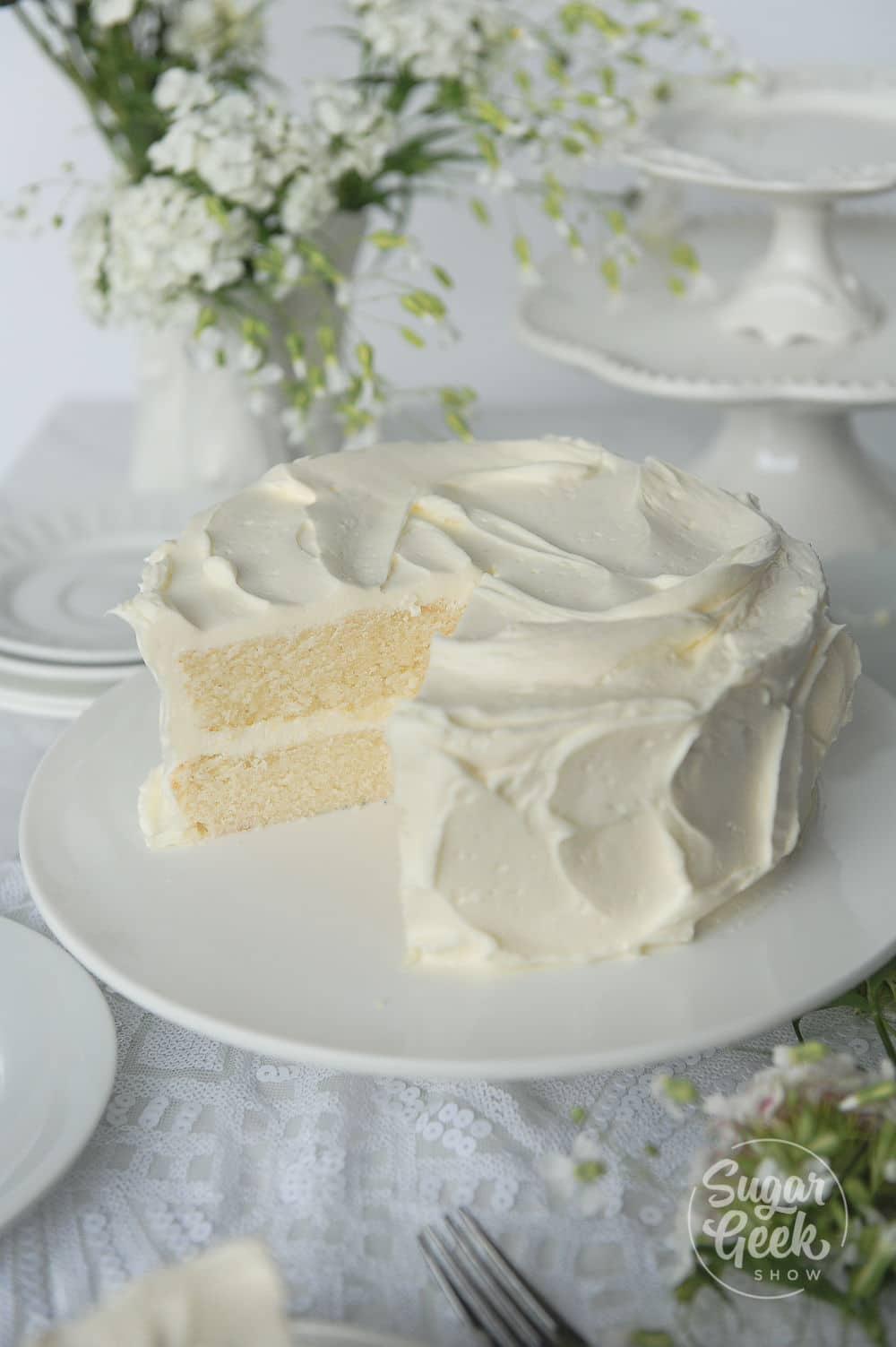 Now, I don't actually have anything against anyone who uses boxed mixes or doctors boxed mixes. For my personal journey as a cake decorator, I was looking to make my own recipes that would make me stand out. Anyone can whip up a box mix but then it just tastes like everyone else's cake. You see what I'm saying?
So why would you use this type of white cake recipe? Well not everyone is a scratch baker or wants to be. Or maybe they just want a quick and easy cake recipe that will for sure turn out. This recipe is definitely a no-fail and is what you might call a "doctored box mix". The addition of the sour cream and eggs makes it more flavorful and moist. It also detracts from that "chemical" taste that most box mixes have.
Would I suggest you make this instead of scratch mix? Well really that's up to you. I promise I won't hold it against you one way or the other. Just always be up-front with your customers (if you have them). If you say you bake from scratch then bake from scratch. If you use a box, it's perfectly ok to say you use "freshly baked cakes".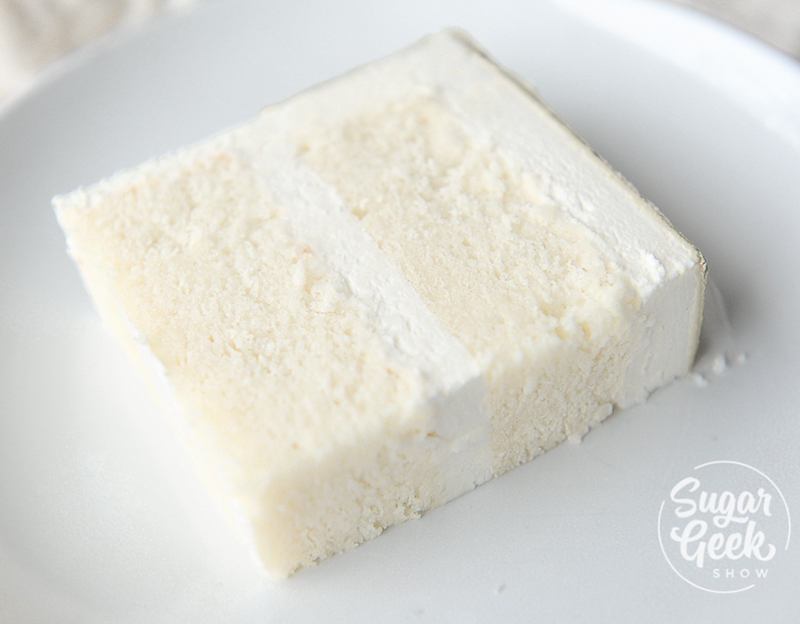 How To Make The Best White Cake Recipe From Scratch
So here's the deal with white cake recipes. Just like with most things, there more than one way to skin a cat... er... bake a cake.
Who even came up with that saying? So bizaar.
So anyway, as I was saying. There are multiple ways to make a white cake recipe but I'm going to make it REALLY easy for you. Option one is the traditional mixing style of creaming your butter and sugar together until light and fluffy. Then add in your egg whites until combined. Then add in dry ingredients and liquids. This is the route I go.
The other option is you whip up your egg whites to a soft but firm peak. Then you cream butter and sugar as usual and alternate your dry and liquid ingredients until combined. You then fold in your egg whites into the batter. This technique results in a lighter, more delicate cake but CAN potentially cause over-mixing.
You can try both ways and see what you like best.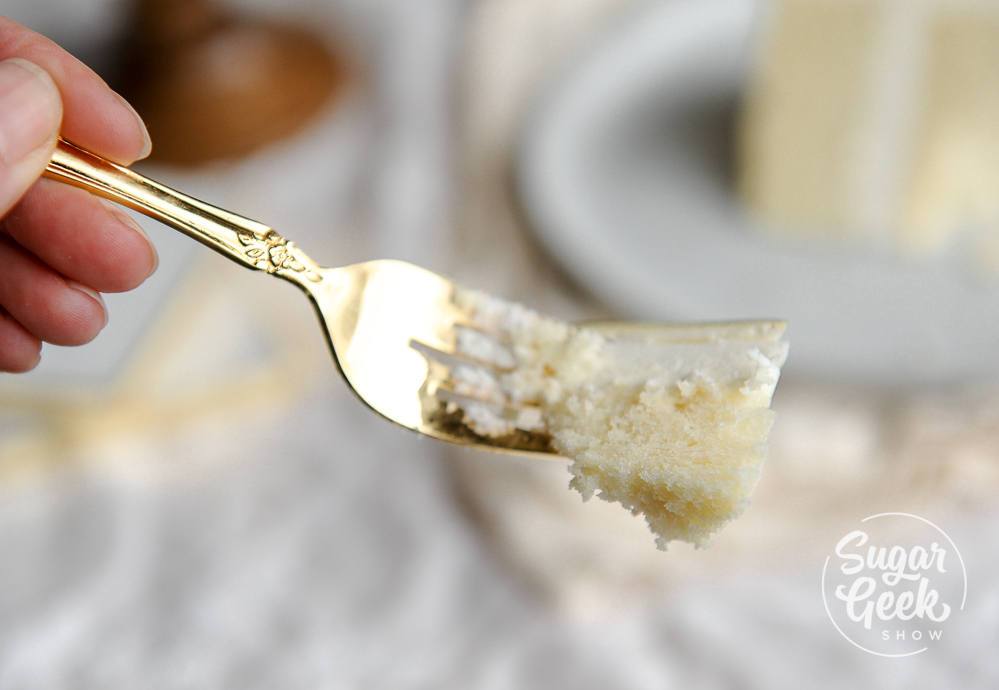 One more tip, I always wrap my cakes while they are still warm. Wrap in plastic wrap and then place into the freezer. This locks in the moisture of the cake. Once cooled but not frozen, you can trim the brown edges off your cake (optional but results in a whiter slice) and frost with a nice white buttercream or any frosting you desire.
I hope that answers all your burning questions about white cake! If there's something I missed, feel free to drop me a comment and if you like this recipe, please share and link back to me if you use it and I would love you forevah <3
Want to learn more about how to decorate a cake like a pro? Check out my FREE training on how to make your first cake ever!
Happy Baking!
- Liz

Cake Batter and Frosting Calculator
Select an option below to calculate how much batter or frosting you need. Adjust the servings slider on the recipe card to change the amounts the recipe makes.
Choose a pan type
Choose a cake pan size
(based on 2" tall cake pan)
Choose a cake pan size
(based on 2" tall cake pan)
Choose a cake pan size
(based on 2" tall cake pan)
Cups of Batter Needed
8 cups
Cups of Frosting Needed
5 cups
Recipe
Servings: 8 cups
Calories: 589kcal
Ingredients
White Cake Recipe Ingredients
8 oz unsalted butter room temp
14 oz sugar
6 large egg whites fresh not boxed at room temp
14 oz AP flour
2 ½ teaspoon baking powder
½ teaspoon salt
1 teaspoon almond extract use clear for a whiter cake
1 teaspoon vanilla extract
10 oz milk room temp
2 oz vegetable oil
Easy Buttercream Frosting
8 oz pasteurized egg whites room temperature
32 oz powdered sugar
32 oz unsalted butter room temperature
½ teaspoon salt
1 tablespoon vanilla extract
Gold Drip
6 oz white chocolate
1 oz warm water
1 teaspoon warm brown food coloring
2 teaspoon Truly Mad Plastics super gold
1 tablespoon Everclear lemon extract or rose water can be used
Instructions
White Cake Recipe Instructions
Preheat your oven to 335ºF and prepare two 8"x2" cake pans with cake goop or another preferred pan release.

Combine milk, oil and extracts and set aside

Combine your flour, baking powder and salt and set aside

Place butter in a stand mixer with a paddle attachment and cream until smooth. Sprinkle in your sugar and then let whip on high until light and white (about 5 minutes)

Add the egg whites one at a time (roughly) to the butter mixture while mixing on low and let fully combine after each addition before adding the next. If your egg whites aren't at room temperature you can microwave them for a few seconds. Be careful not to cook them! Cold egg whites will curdle the batter. 

Add in ⅓ of your dry ingredients to the egg/butter mixture and mix on low until just combined. Then add in ½ of your liquids, then dry, then liquids and the rest of your dry. Let mix until just combined. 

Add batter into prepared cake pans and bake at 335º F for 25-35 minutes or until a toothpick comes out clean when poked in the center. 

Let cool ten minutes then turn out cakes onto a cooling rack. Wrap warm and place into the freezer to flash chill. This locks in the moisture. Once cool but not frozen you can then trim off the brown edges of your cakes and frost as desired. Chill cake.
Easy Buttercream Frosting
Combine egg whites and powdered sugar in a mixing bowl with the whisk attachment. Whisk to combine on low then whisk on high, adding in your butter in small chunks, vanilla and salt. Turn mixer up to high and whip until light, fluffy and white.
Gold Drip
Melt chocolate and water in the microwave and whisk until smooth. Add in a couple drops of food coloring. Let cool to about 90 degrees before attempting to drip over the chilled cake. Once chocolate is set, you can combine the everclear and gold dust to make a paint and paint the drip.

*note: this is a non-toxic gold dust
Notes
Important Things To Note Before You Start
1. Bring all your ingredients to room temperature or even a little warm (eggs, buttermilk, butter, etc) to ensure your batter does not break or curdle. 
2. Use a scale to weigh your ingredients (including liquids) unless otherwise instructed (Tablespoons, teaspoons, pinch etc). Metric measurements are available in the recipe card. Scaled ingredients are much more accurate than using cups and help ensure the success of your recipe. 
3. Practice Mise en Place (everything in it's place). Measure out your ingredients ahead of time and have them ready before you start mixing to reduce the chances of accidentally leaving something out.
4. Chill your cakes before frosting and filling. You can cover a frosted and chilled cake in fondant if you wish. This cake is also great for stacking. I always keep my cakes chilled in the refrigerator before delivery for easy transporting. 
5. If the recipe calls for specific ingredients like cake flour, replacing it with all purpose flour and cornstarch is not recommended unless specified in the recipe that it's ok. Substituting ingredients may cause this recipe to fail. 
Nutrition
Serving: 1g | Calories: 589kcal | Carbohydrates: 61g | Protein: 4g | Fat: 37g | Saturated Fat: 23g | Cholesterol: 89mg | Sodium: 125mg | Potassium: 111mg | Sugar: 50g | Vitamin A: 1100IU | Calcium: 55mg | Iron: 0.9mg