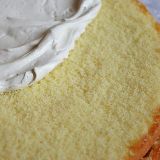 Vanilla Cake Recipe
This recipe is the base for most of my cakes. It's got a great crumb texture, tastes amazing and fresh and is dense enough to carve and stack for wedding cakes or sculpted cakes for special occasions.
Servings
2
8" cake rounds
Ingredients
15

oz

cake flour

14

oz

granulated sugar

1

tbsp

vanilla extract

12

oz

whole milk

1

Tbsp

baking powder

1

tsp

sea salt

4

large eggs

3

oz

vegetable oil

8

oz

butter

8oz is about 2 sticks of butter
Instructions
Heat oven to 335º F/168º C — 350º F/177º C. I tend to use lower setting to prevent my cakes from getting too dark on the outside before the inside is done baking.

Measure out the liquid ingredients and place them into a bowl.

Measure out dry ingredients and place them into the stand mixer bowl.

Attach the paddle to the mixer, and turn on the slowest speed (setting 1 on Kitchen Aid mixers). Slowly add chunks of your softened butter until it is all added. Let mix until batter resembles coarse sand.

Add 1/3 of your liquid ingredients while mixing on low until just moistened. This part is crucial. Don't add too much liquid.

Increase mixing speed to medium (setting 5 on Kitchen Aid mixer). Let the mixture whip up until it has thickened and lightened in color. It should look like soft-serve ice cream. If you do not let the batter mix fully, you will end up with very short, cumbly cakes. This mixing can take up to 2 minutes. It is important not to undermix or overmix your batter.

Scrape the bowl. This is an important step. If you skip it, you will have hard lumps of flour and unmixed ingredients in your batter. If you do it later, they will not mix in fully.

Slowly add in the rest of your liquid ingredients, stopping to scrape the bowl one more time halfway through. Your batter should be thick and not too runny. I have to spoon mine into pans with a rubber spatula.

Lightly grease 2 8" cake pans with vegetable shortening and dust with cake flour. Tap out excess flour. Fill pans 1/2 full. Give the pan a little tap on each side to level out the batter and get rid of any air bubbles.

I always start by baking for 20 minutes for 8" and smaller cakes and 30 minutes for 9" and larger cakes and then checking for doneness. If the cakes are still really jiggly, I add another 10 minutes. I check every 5 minutes after that until I'm close and then it's every 2 minutes. Cakes are done when a toothpick inserted in the center comes out with a few crumbs.

Remove cakes from oven. If they are domed up, place a clean tea towel on top and using an oven mitt, lightly press down until flat. This does not harm the cakes at all and cuts down on waste.

After cakes have cooled for 10 minutes or the pans are cool enough to touch, flip the cakes over and remove from the pans onto the cooling racks to cool completely. Wrap in plastic wrap and chill in the refrigerator.

Once the cakes are chilled in the refrigerator (about an hour for this size, longer for larger cakes), tort, fill and crumb coat all at once. If you do not plan on crumb coating the same day, you can leave the wrapped cakes on the countertop. Chilling can dry out your cakes before they are iced, so avoid keeping them in the refrigerator longer than necessary. Cakes can be frozen in freezer bags for later use as well.
Recipe Notes
Frequently Asked Questions
The cake is crumbly.
The cake was undermixed.

The cake is flat.
You added too much liquid in the first part of mixing.

The cake is dry.
Forgot oil or substituted an ingredient with less fat for one with higher fat content.
The cake may have been overbaked.

Cake has a lot of holes or is very tough, like bread.
The cake batter was overmixed.

Uneven top.
Oven hotter on one side than the other, rotate cake while baking halfway through.

Cake is dark outside, raw inside.
Oven is too hot, try lowering in 10º intervals until desired color is achieved and cake is baked through.

Short, dense cakes.
Could be:
• Oven temperature is too low
• Leavening agent is expired
• May have been undermixed
October 29, 2015