White Chocolate Ganache That Is Stable Enough For Icing Cakes And Tastes Delicious!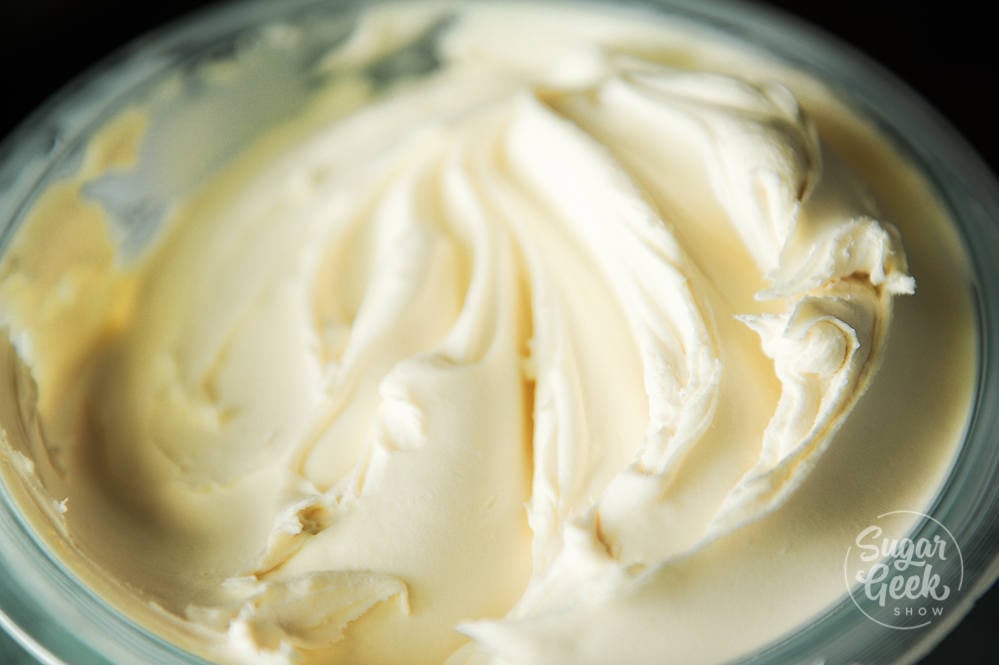 White chocolate ganache works great for making perfect drips on cakes, using as a glaze or for frosting your cakes instead of buttercream for a great vanilla flavor and is stable enough for using in high heat/humidity areas. Did you know white chocolate ganache doesn't sweat? SO important on those super humid days.
White Chocolate Ganache Frosting
I admit that it took me a really long time to fully understand how to make white chocolate ganache and even longer to figure out how to make it perfectly. I always felt like it was working really well for others and I was somehow missing the secret to making the perfect ganache. It was either too soft, too grainy or too hard! What's the secret?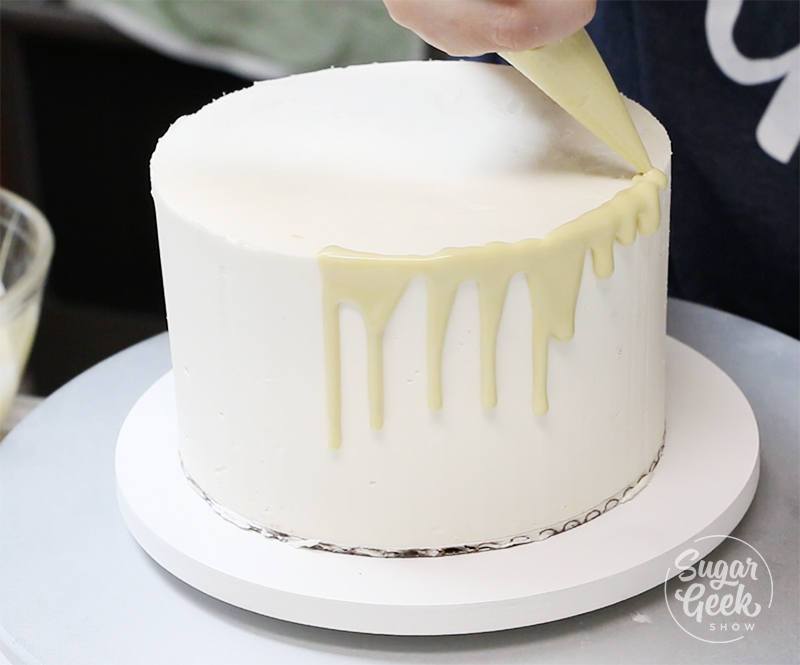 Turns out, the secret to making perfect ganache is time. Timing is everything! Ganache is made from chocolate and chocolate is very temperature sensitive. Too warm and it's a drippy mess. Too cold and it's rock hard. You need to use ganache at the right time.
When you first make ganache it's very soft and liquid. This is the perfect time to use it to make drips on your drip cake or for glazing your cold cake like my unicorn cake.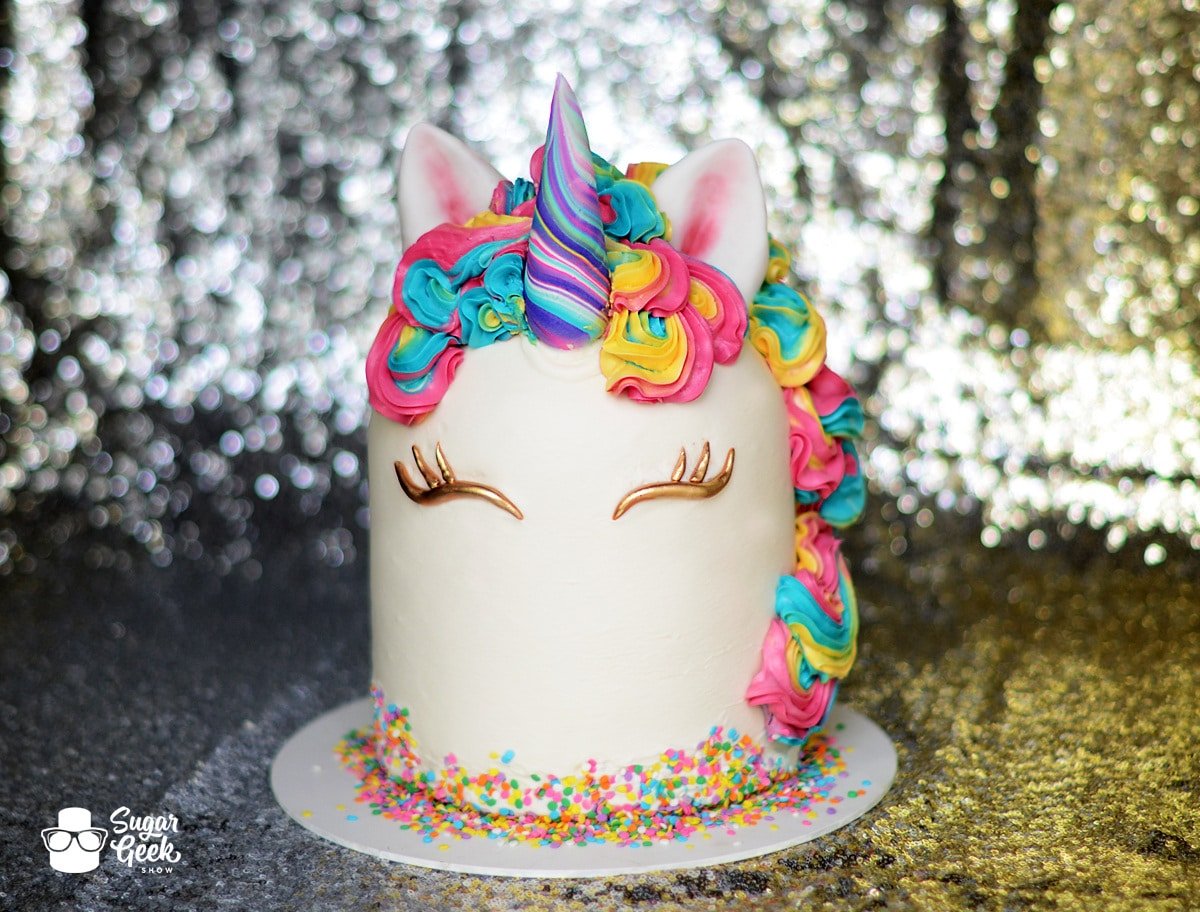 When you let the white chocolate ganache sit for a bit, the cocoa butter starts to harden and the consistency starts to resemble peanut butter. To speed up this process, I got a tip from my friend Cynthia from Caked By Cynthia. She works exclusively with ganache in her high heat/humid area of Miami, Fl. She told me to pour my ganache into a shallow dish so the ganache cools quickly. Total game changer.
Ganache is set in about 20 minutes to an hour depending on how cold it is in your room and now your ganache is ready to frost your cake!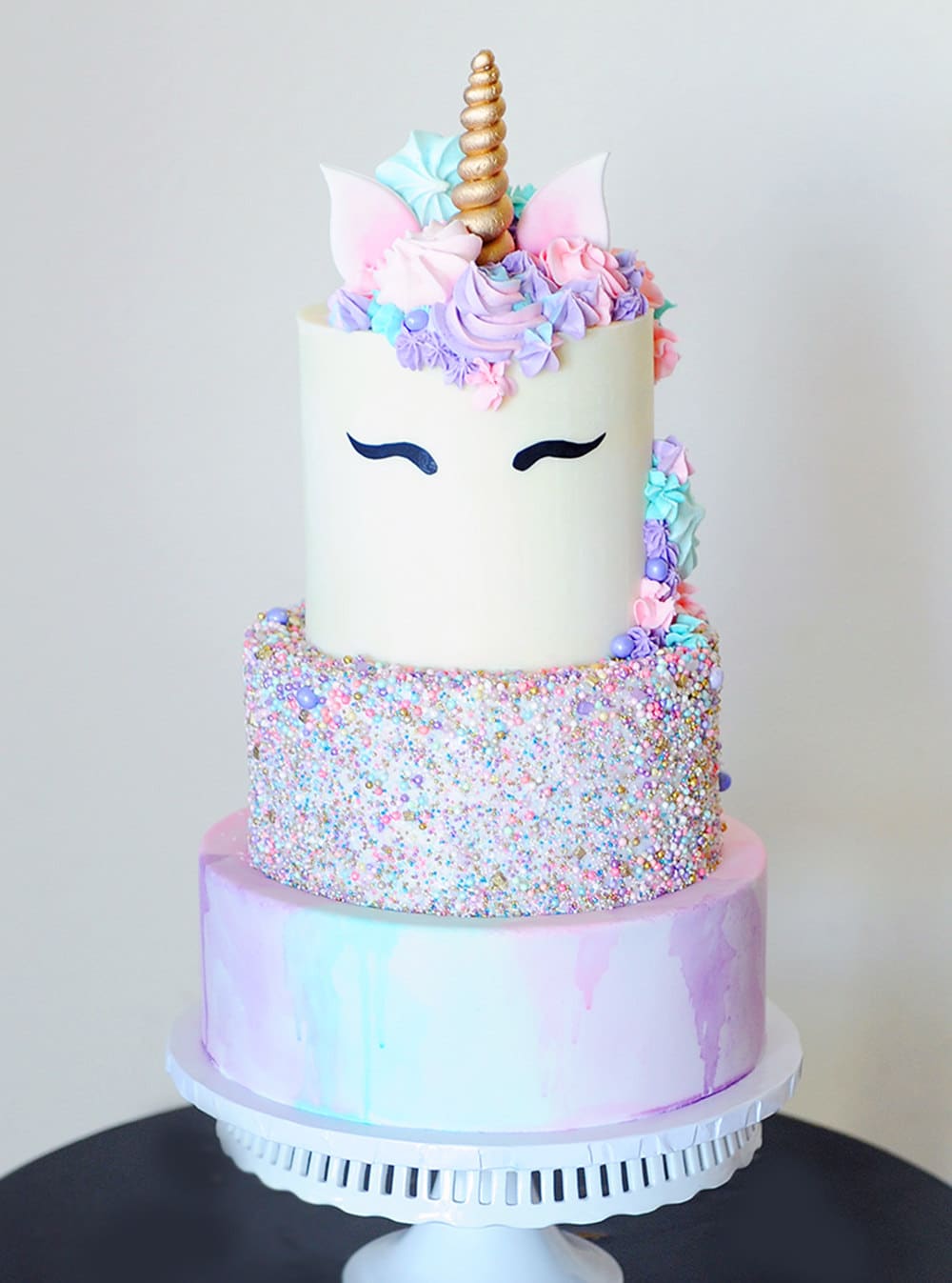 If your ganache get's too firm, just microwave for 10 seconds and stir until softened. Be careful not to heat too much or you could split your ganache and you'll have to wait for it to cool down all over again.
How To Make Perfect White Chocolate Ganache
Making white chocolate ganache is super simple. I weigh out my chocolate (using a scale is better than using cups for accuracy) and place into a heat proof bowl. I microwave for 1 minute to start softening the chocolate.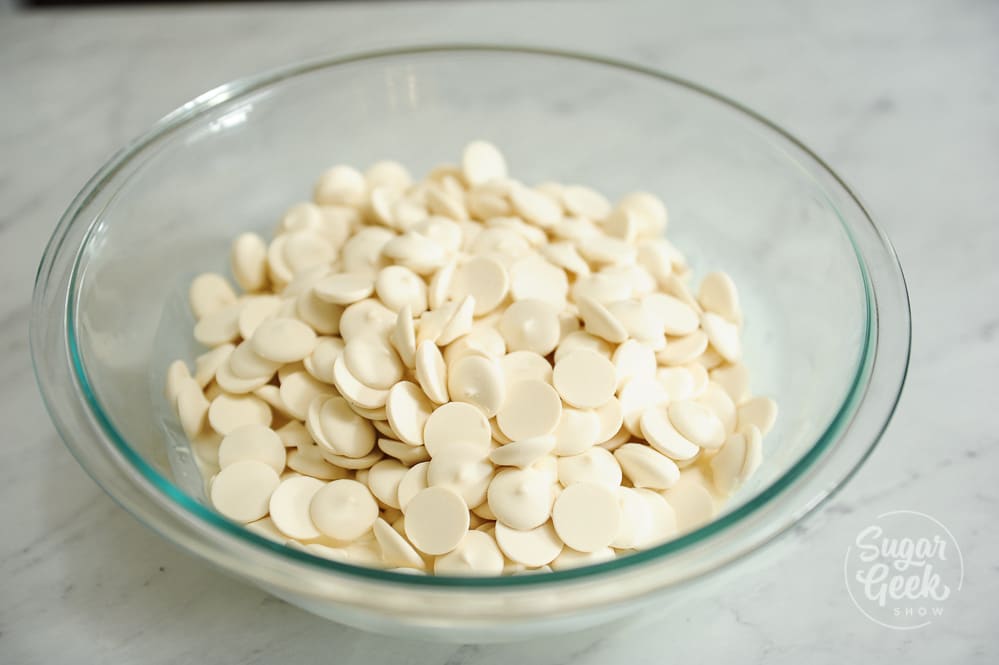 Then I bring the cream to a simmer and pour over the top of the chocolate.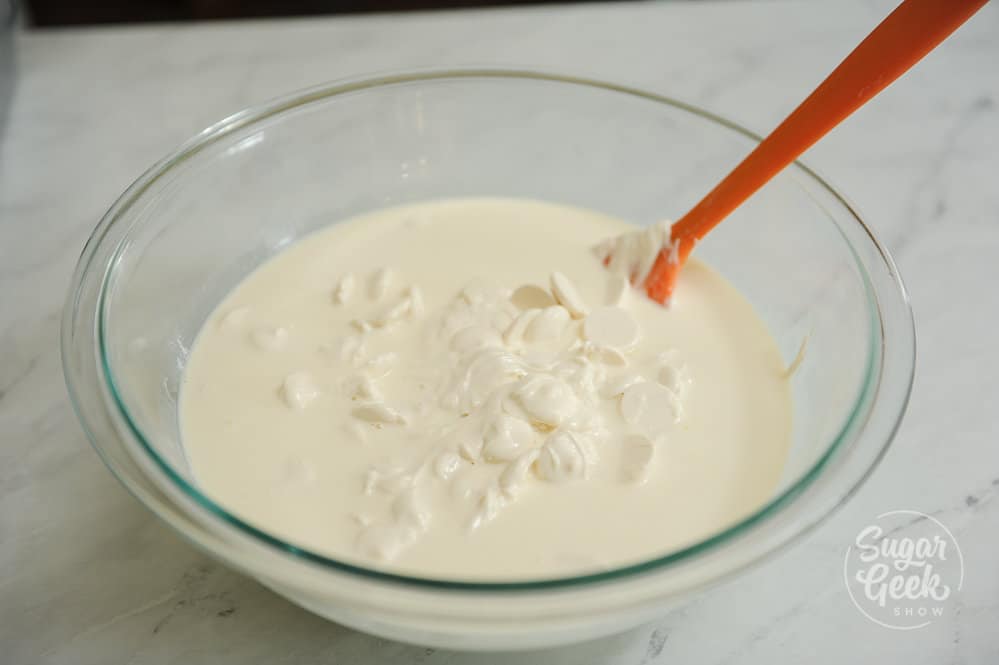 Make sure that your chocolate is covered by the cream. Let the mixture set for 5-10 minutes then whisk until combined.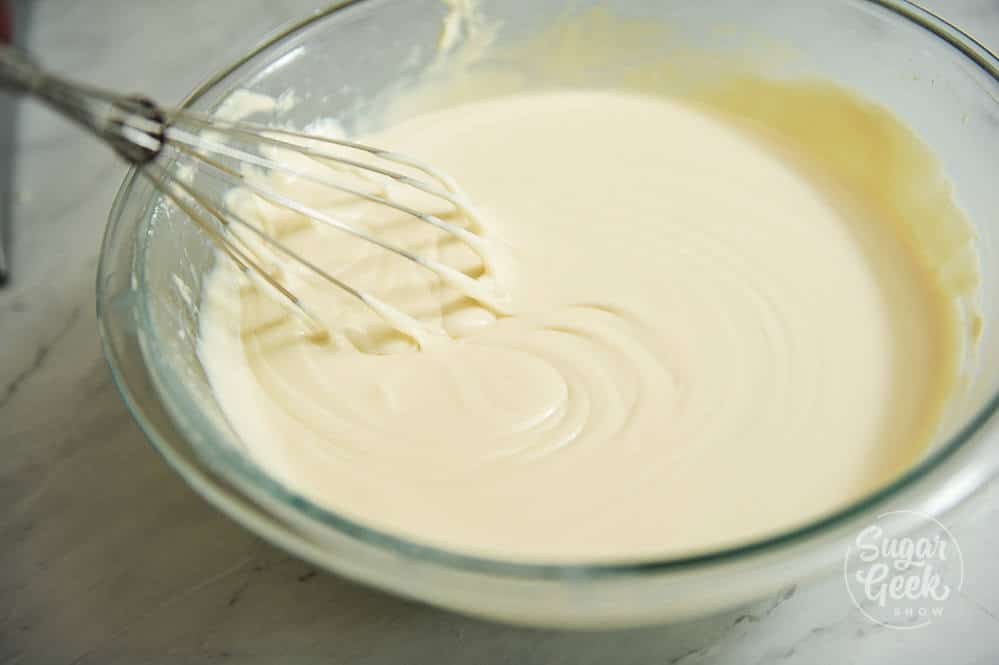 I poured my ganache into a cake pan to let it firm up. Took about an hour for me.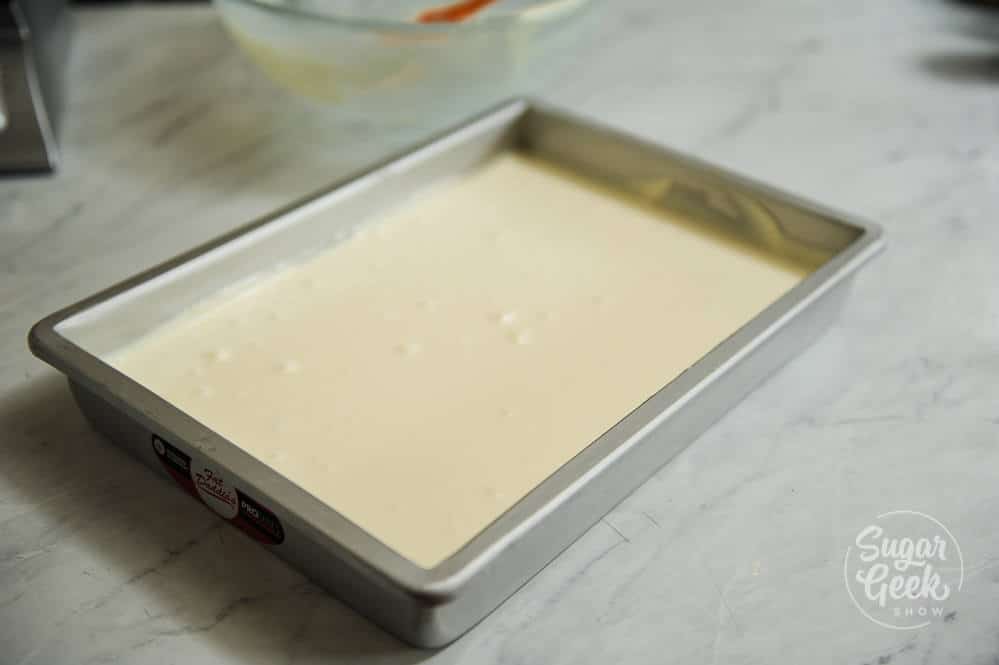 Cover your ganache with some plastic wrap (so it's touching the surface of the ganache) to keep a film from developing which can cause your ganache to be grainy.
Once the ganache is at the peanut butter consistency, you can use it to ice your cakes.
How Long Can You Keep White Chocolate Ganache
In general, white chocolate ganache can be kept at room temperature for up to two days but then needs to be refrigerated after that. Microorganisms need water to grow and ganache is mostly sugar and fat so it's pretty shelf-stable. It can separate over time though so it's best to keep it chilled when you're not using it.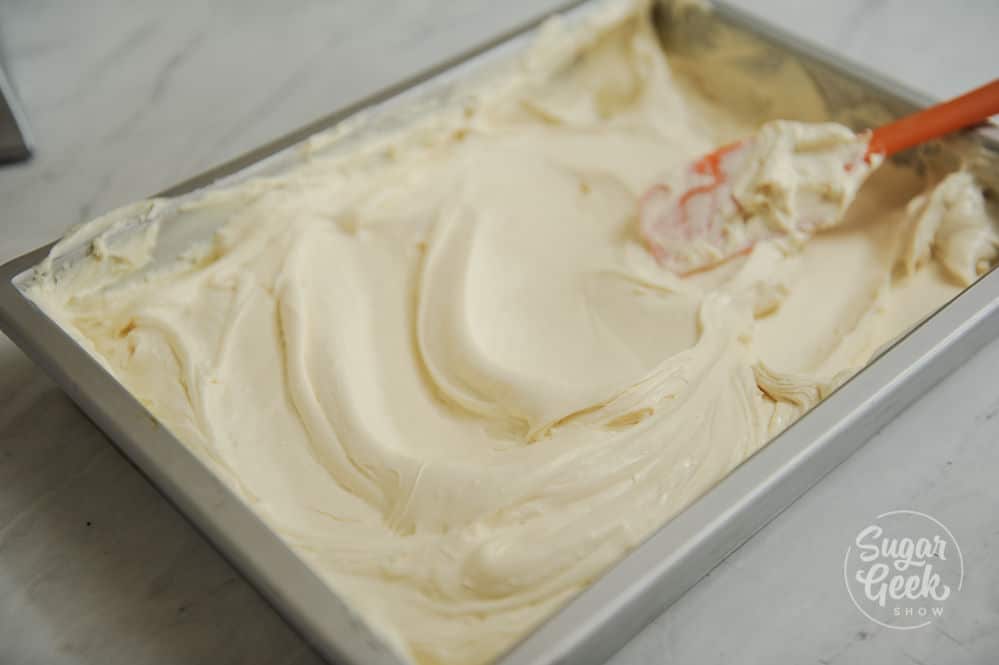 I always store my ganache with plastic wrap touching the surface to prevent a film from forming. Then I heat in the microwave to soften and stir until cream before use.
What Chocolate Ganache Glaze And Drip Recipe
To glaze your cake with ganache, it's important to wait until your ganache has cooled to 90℉. You can pour the ganache over the top of your frosted and chilled cakes for a super shiny and delicious coating!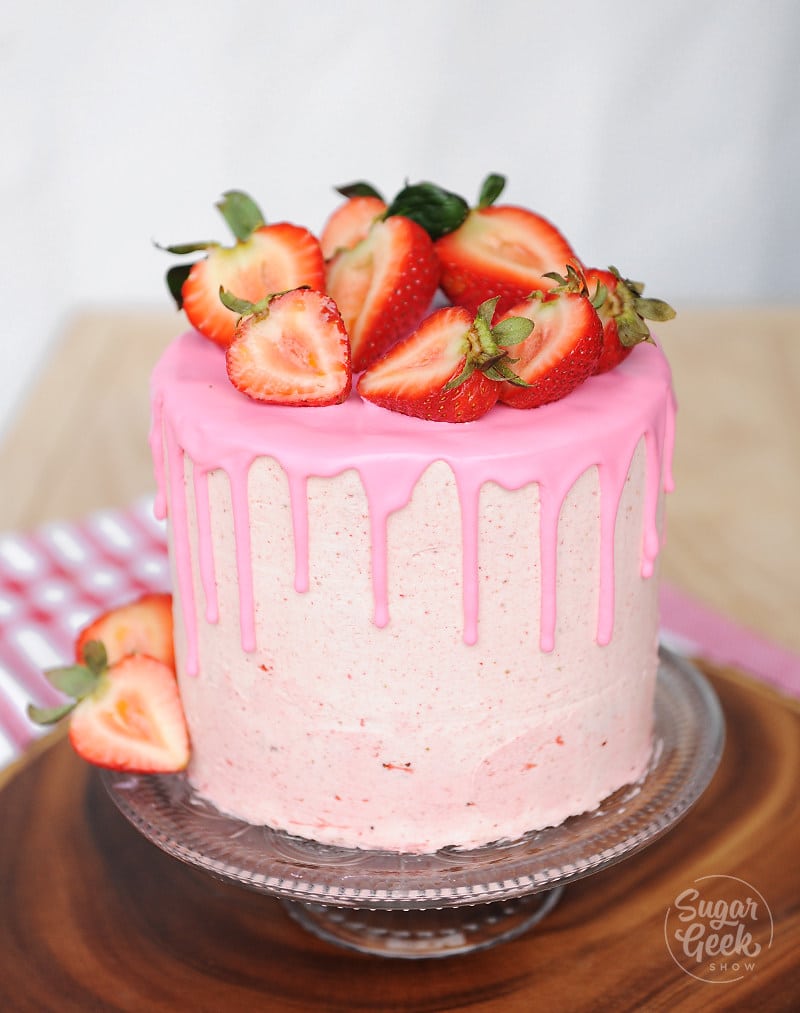 I use the same process for making perfect drips on my cakes! Or you can use water ganache which has a higher ratio of liquid to chocolate but is great in a pinch when you forget to buy cream at the store (guilty).
White Chocolate Ganache Ratio
You might often hear people talking about ratios like 3:1 or 4:1. What this means is the amount of chocolate to cream in a recipe. The reason it's expressed as a ratio is because depending on how much chocolate you have will define how much cream you add. This way the recipe can be scaled to what you need.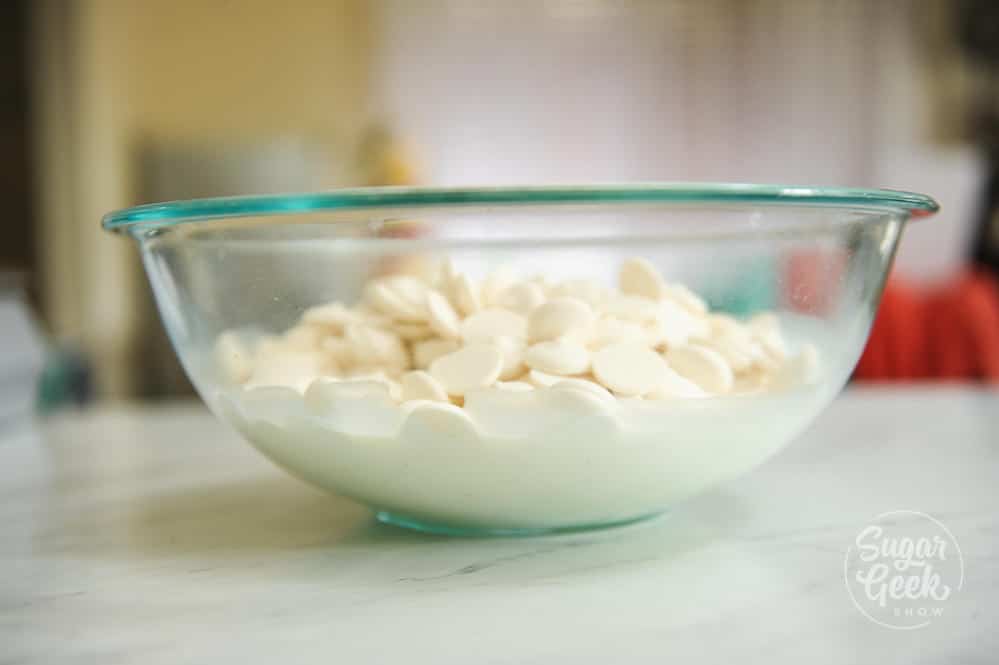 I usually go with a 3:1 ratio for my white chocolate ganache which produces a creamy but fairly firm ganache. Example, 3 lbs of white chocolate and 1 lb of cream. I am not in a super hot area though so if you are in a really hot/humid area, you might go with a 4:1 ratio so there is more chocolate in the recipe.
The type of chocolate you use also can effect how firm your chocolate sets. Using real chocolate will result in a firmer chocolate. Using candy melts will result in a softer chocolate so play around with your ratio to see what works for you. Once you find a ratio you like, stick with the same chocolate brand for the most consistent results.
How To Color White Chocolate Ganache
The great thing about white chocolate ganache is that you've already added liquid to your chocolate to form an emulsion which results in ganache. You don't have to worry about your chocolate "seizing" by adding food coloring. You can add any food coloring you like to your ganache to color it but if you want some really rich and bright colors, I highly recommend using artisan accents chameleon colors which are formulated for coloring chocolate. They also work great for buttercream!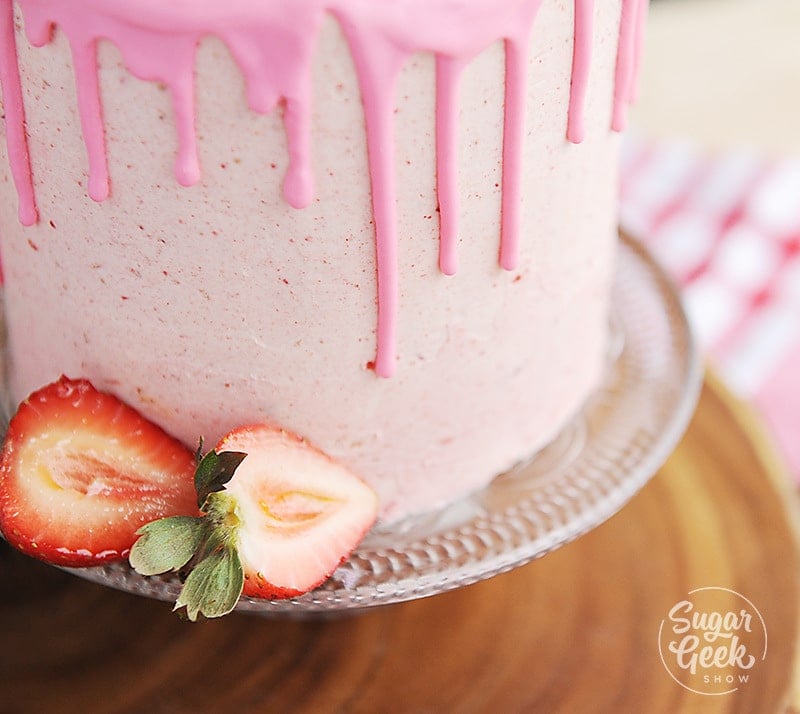 Do you love buttercream but want the stability of ganache? Get the best of both worlds from the white chocolate buttercream recipe! The white chocolate adds a delish vanilla flavor but also helps the buttercream set a little bit firmer than traditional easy buttercream.
How To Make Perfect Chocolate Ganache
If you want to make some dark chocolate ganache, we have a great recipe for that as well! I love using chocolate ganache for a fudgy filling in my cakes or for adding great stability for stacked and sculpted cakes.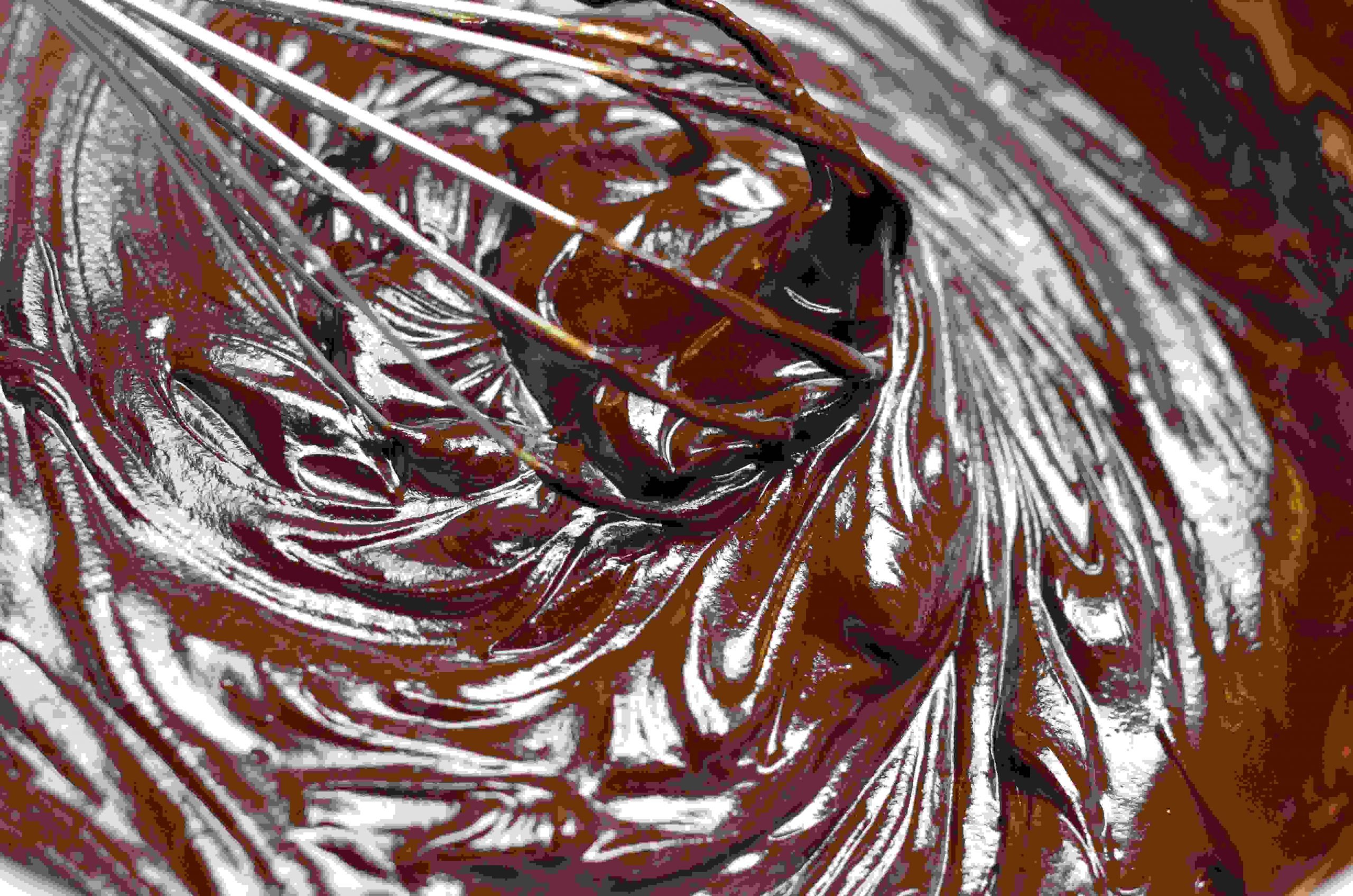 White Chocolate Ganache Tutorial
Watch my video on how to make white chocolate ganache!
Cake Batter and Frosting Calculator
Select an option below to calculate how much batter or frosting you need. Adjust the servings slider on the recipe card to change the amounts the recipe makes.
Choose a pan type
Choose a cake pan size
(based on 2" tall cake pan)
Choose a cake pan size
(based on 2" tall cake pan)
Choose a cake pan size
(based on 2" tall cake pan)
Cups of Batter Needed
8 cups
Cups of Frosting Needed
5 cups
Recipe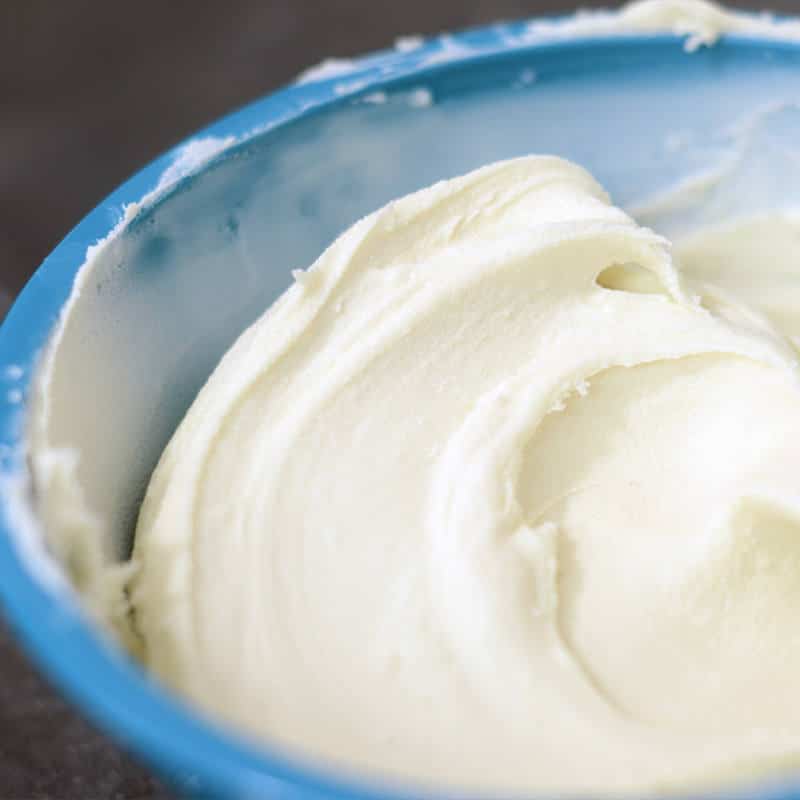 Servings: 2 lbs
Calories: 2224kcal
Ingredients
24 oz White Chocolate
8 oz Heavy Whipping Cream
Instructions
Microwave chocolate in microwave safe bowl for 1 minute to soften

Bring heavy whipping cream just to a simmer then pour over chocolate
Make sure the chocolate is fully covered
Let set for 5 minutes

Whisk gently to combine cream and chocolate, do not incorporate air

Use freshly made ganache for drips (make sure your cake is very cold so ganache sets quickly)

Pour into a shallow pan or dish to let stiffen up. Then stir until creamy before icing your cake. If your ganache is too firm, microwave for 10 seconds to soften and then stir until ganache is the desired consistency.
Nutrition
Calories: 2224kcal | Carbohydrates: 204g | Protein: 22g | Fat: 151g | Saturated Fat: 92g | Cholesterol: 226mg | Sodium: 349mg | Potassium: 1058mg | Sugar: 200g | Vitamin A: 1770IU | Vitamin C: 2.4mg | Calcium: 751mg | Iron: 0.8mg