Water ganache is just water and melted chocolate and makes the best drips!
Water ganache is ganache made with water instead of cream. The taste is still just as good but with no added dairy. You might make water ganache for a few reasons. Maybe you ran out of cream, maybe you have cottage laws in your area that prevent you from using fresh dairy. Maybe you're looking to make a vegan version of ganache. Whatever your reasons are, water ganache acts just the same as regular white chocolate ganache and is great for making those pretty drip cakes.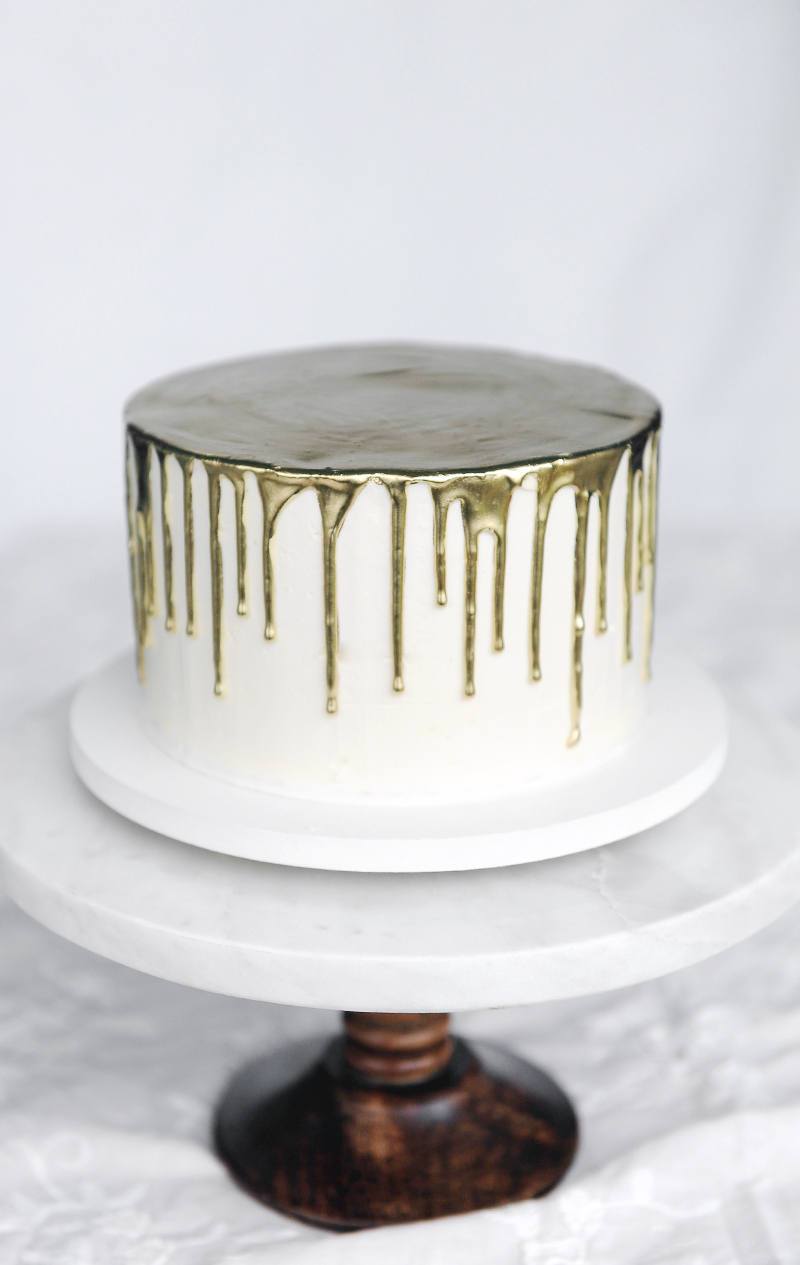 A long time ago, back when I was still Artisan Cake Company, I blogged about a very straight-forward recipe called water ganache for my heart of gold drip cake. I mostly made it just to show that ganache can be made with any type of liquid, not just water.
Even though people saw with their own eyes that you can make ganache with water, I would still get that question, "doesn't water seize the chocolate?"
So I decided to make a video demonstrating how cream actually acts very much like water in that it is mostly water with a very small amount of fat. If you were to add a little bit of cream to some melted chocolate it would seize up just as if you added a little water to the melted chocolate. The way you make it into "ganache" is by adding more water so that the liquid to chocolate ratio is correct.
How to make your drip cake gold
You can paint over ganache with metallic luster dust mixed with everclear or lemon extract or you can color your ganache with candy coloring made especially for adding color to chocolate. I like to add some yellow, orange and a touch of black to my chocolate to make a dirty brown color that resembles the tones of gold so if I miss a spot while painting, you can't really tell. Make sure you let your drip set in the fridge until firm before painting.
I like to use everclear because it is a high proof alcohol and evaporates very quickly, leaving behind a very high shine. Make sure when you are combining your alcohol with the metallic dust, you only add enough liquid to make a thick, paint-like consistency. If you add too much liquid you will not get good coverage. Also make sure the type of dust you are using is a high-shine. I like the super gold from truly mad plastics which is non-toxi and has the best shine in my opinion.
If you are looking for fully edible metallics check out the gold from rainbow dust metallics or edible artist decorative paints metallics.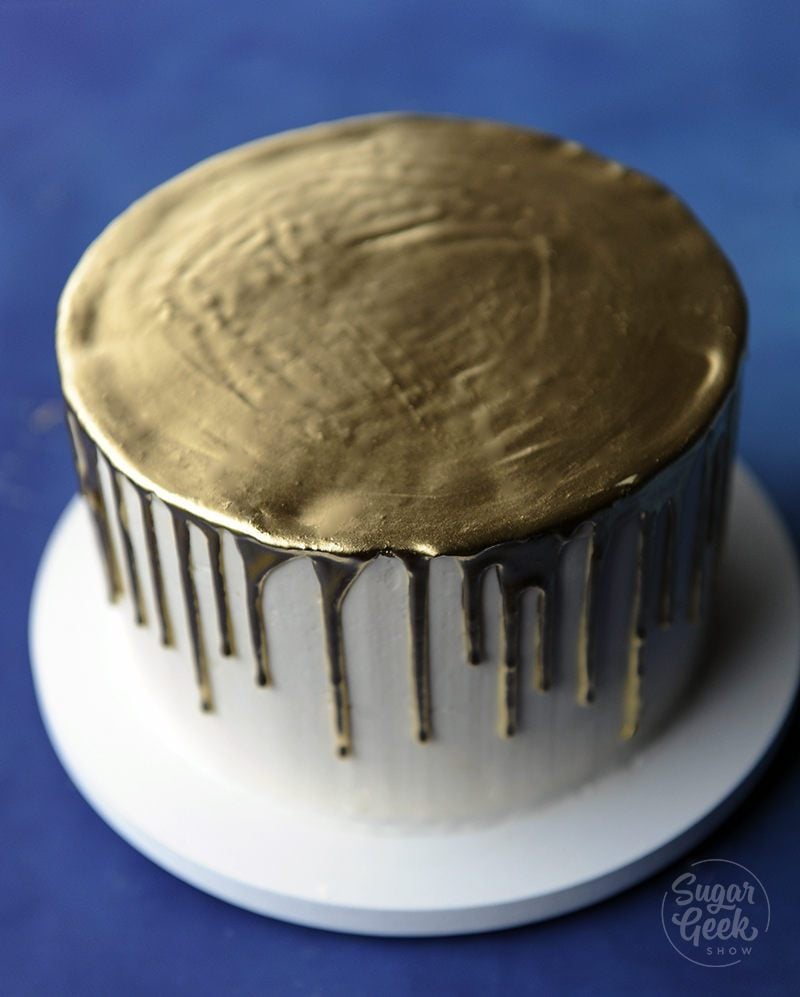 Pink strawberry drip cake
I recently experimented with making strawberry buttercream using dehydrated strawberries for flavoring and really like the finish it gave my strawberry cake. I thought what better way to finish this off than with a pretty pink drip. I hardly ever color anything with just one color. To get this nice natural strawberry pink, I used pink chameleon colors from artisan accents with a touch of yellow. Doesn't it remind you of melting strawberry ice cream? Yum!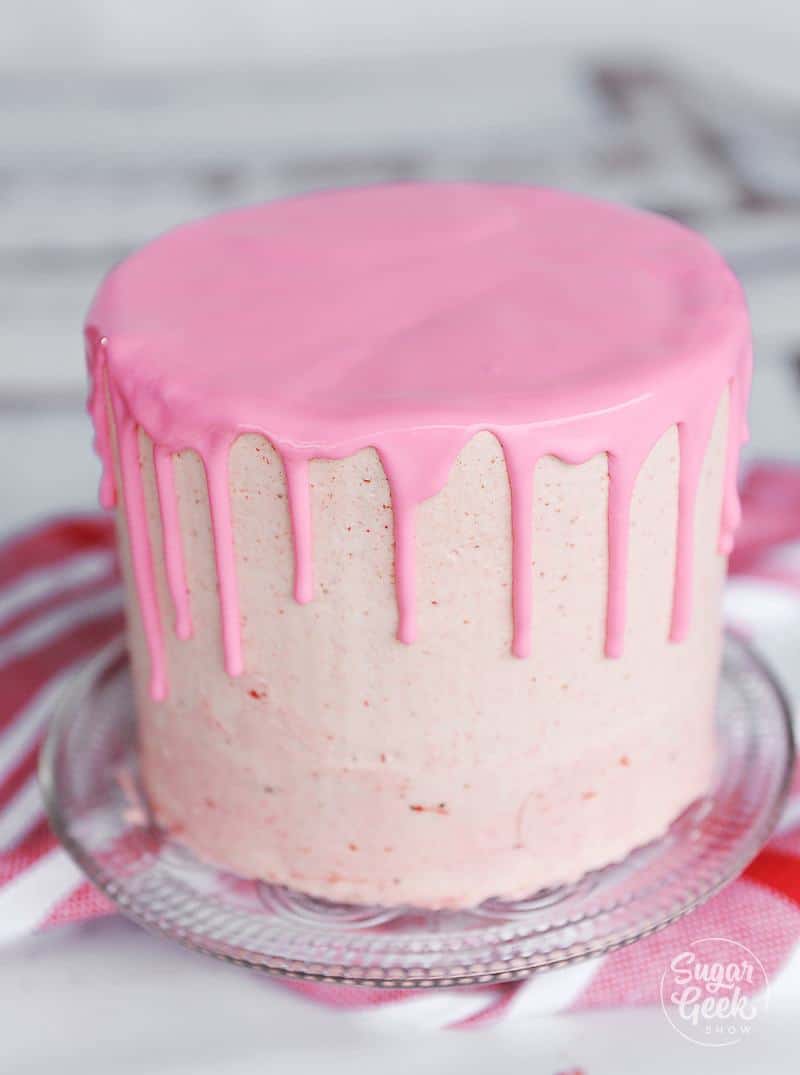 How to make a white chocolate ganache drip
The traditional way of making a ganache is to heat the cream until it is about to boil and then pour it over the chocolate and let it sit for about 5 minutes. The cream softens the chocolate which you can then whisk and combine together to make ganache. This works really well with milk or dark chocolate but not as well with white chocolate ganache. The reason is that white chocolate isn't actually chocolate. It's just cream, sugar, cocoa butter and vanilla and in some cases other ingredients that act as stabilizers.
So if you where to use the same ratio of cream/white chocolate then your ganache would never set and would be very soupy. Some people say that a 4:1 ratio (four times as much white chocolate as cream) works but I prefer even less liquid for a drip.
To make your white chocolate ganache all you have to do is measure out 6 oz of white chocolate (I prefer Guittard white chocolate wafers but wilton candy melts will also work great. Just avoid using white chocolate chips because they do not melt very well) and 1.5 oz of heavy whipping cream.
Melt your white chocolate in a glass bowl either over a double boiler or in a microwave until softened. For me it was about a minute.
Add in your heavy cream (room temp or warmed slightly in the microwave) and stir to combine and all chocolate is melted
At this point you can color your ganache
Wait until your ganache has cooled to about 95 degrees before you try to pipe it over your chilled cake or the drips might run too far down your cake.

How do you do a white chocolate ganache drip on a cake?
Some people like to use a spoon to put the ganache onto the cake but I find that I have more control if I use a piping bag or a bottle. You could even use a plastic bag with the tip cut off if you really had to. The key to making the ganache drip look really good to alternate big drips with little drips. This makes a really pretty pattern and looks very natural.
Once you get drips all the way around the cake, you can fill in the center with more ganache and then smooth it out with a spatula, completing that seamless drip look.
Easy drip cake ganache recipe using water
The process for making ganache with water instead of cream is basically the same. The only difference is you want to use slightly less water than cream. For my recipe, I use 6oz of Guittard white chocolate wafers and 1 oz of warm water and then stir until combined. I still let it cool to 90 degrees before piping. This is technically a 6:1 ratio so when it sets, it is very firm.
You could also use this ratio to make a white chocolate ganache for the outside of the cake.
You can color your water ganache the same way we colored the ganache made with cream. Store ganache in the fridge for up to a week or freeze for up to a year. Cakes that have ganache on them do not need to be refrigerated.
How to make a dairy-free water ganache
White chocolate (even melties) contain dairy. If you want your ganache to be 100% dairy-free then you would need to use dairy-free white chocolate.
You can watch this video tutorial on how to make the different types of ganache for drip cakes including how to paint the drip gold.
Cake Batter and Frosting Calculator
Select an option below to calculate how much batter or frosting you need. Adjust the servings slider on the recipe card to change the amounts the recipe makes.
Choose a pan type
Choose a cake pan size
(based on 2" tall cake pan)
Choose a cake pan size
(based on 2" tall cake pan)
Choose a cake pan size
(based on 2" tall cake pan)
Cups of Batter Needed
8 cups
Cups of Frosting Needed
5 cups
Recipe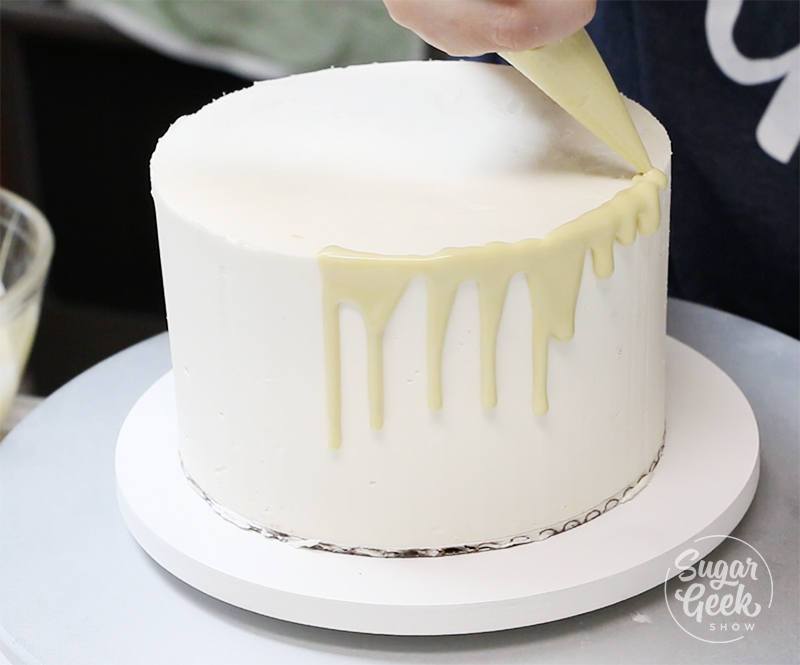 Servings: 7 oz
Calories: 130kcal
Ingredients
White Chocolate Water Ganache
6 oz white chocolate I prefer guittard white chocolate wafers
1 oz warm water
Dark Chocolate Water Ganache
6 oz chocolate I use guittard semi-sweet chocolate
1.5 oz warm water
Instructions
Instructions
Melt your white chocolate in a glass bowl over a double boiler or in the microwave. Do not over-heat

Stir in your water until combined and smooth. Add in colorings as desired.

Let cool to 90 degrees before piping onto the cake or if using to frost your cake, let thicken to peanut butter consistency before using.
Nutrition
Calories: 130kcal | Carbohydrates: 14g | Protein: 1g | Fat: 7g | Saturated Fat: 4g | Cholesterol: 5mg | Sodium: 21mg | Potassium: 69mg | Sugar: 14g | Vitamin A: 5IU | Vitamin C: 0.1mg | Calcium: 48mg | Iron: 0.1mg