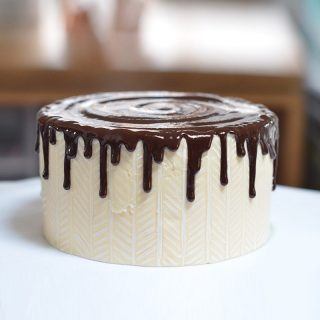 How to use Ganache
This is my recipe on how to make a great ganache recipe that can be used in multiple ways, by drizzling it over the edges of cakes, by using it with piping or by getting super sharp edges on your cake.
Ingredients
Ingredients
1

lb

semi-sweet chocolate

good quality, at least 55% cocoa

1

cup

heavy whipping cream

1 cup is 8oz, you can also use half & half

1

pinch

sea salt

for taste
Instructions
Instructions
Weigh out your chocolate and measure 1 cup of heavy whipping cream.

Heat cream in a sauce pan until it just starts to steam.

Put chocolate in a large bowl and pour hot cream over the chocolate and let it set for 2 minutes. Make sure the cream completely covers the chocolate.

Whisk the cream and chocolate together. Add a pinch of salt to taste.

Sometimes it all won't mix together and you'll be able to see a couple lumps. If you have lumps, put the bowl in the microwave for 30 seconds to completely melt all your chocolate, otherwise this can ruin the ganache later when the chocolate re-crystalizes.

Pour this ganache into a squeeze bottle to drizzle ganache onto a cake.

Watch video for instructions on how to get a clean drip with the ganache on a cake.
Piping Ganache
Follow the drizzle ganache steps 1-4 above.

Let the ganache set for 2-3 hours, until it's the consistency of soft peanut butter. Mix a couple times since the inside and outside of the ganache will cool at different rates.

Put ganache into a piping bag with a star tip, or whatever tip you want to use.

Use about 1.5-2 cups of ganache at a time.
Truffle Ganache
Follow the drizzle ganache steps 1-4 above.

Let the ganache set up overnight on your counter top (NOT in the fridge) and it will be a hard consistency.

Use a spoon or tool to carve shavings of ganache or to make ganache truffles by rolling it in your hands.

If you need to melt your ganache once it is in this stage, pop it in the microwave for a seconds to make it melty.
Recipe Notes
Don't put your ganache in the refrigerator.
Nutrition Facts
How to use Ganache
Amount Per Serving
Calories 1149
Calories from Fat 783
% Daily Value*
Total Fat 87g 134%
Cholesterol 117mg 39%
Sodium 58mg 2%
Potassium 916mg 26%
Total Carbohydrates 81g 27%
Protein 10g 20%
* Percent Daily Values are based on a 2000 calorie diet.

October 29, 2015