My easy chocolate cake recipe is moist, decadent and only needs one bowl!
Easy chocolate cake recipe with fudge frosting and a decadent chocolate drip! No special mixing or ingredients. Just one bowl! This easy chocolate cake recipe is not only easy to make but makes an incredibly moist, fudgy and decadent chocolate cake that is sure to please even the pickiest of chocolate lovers!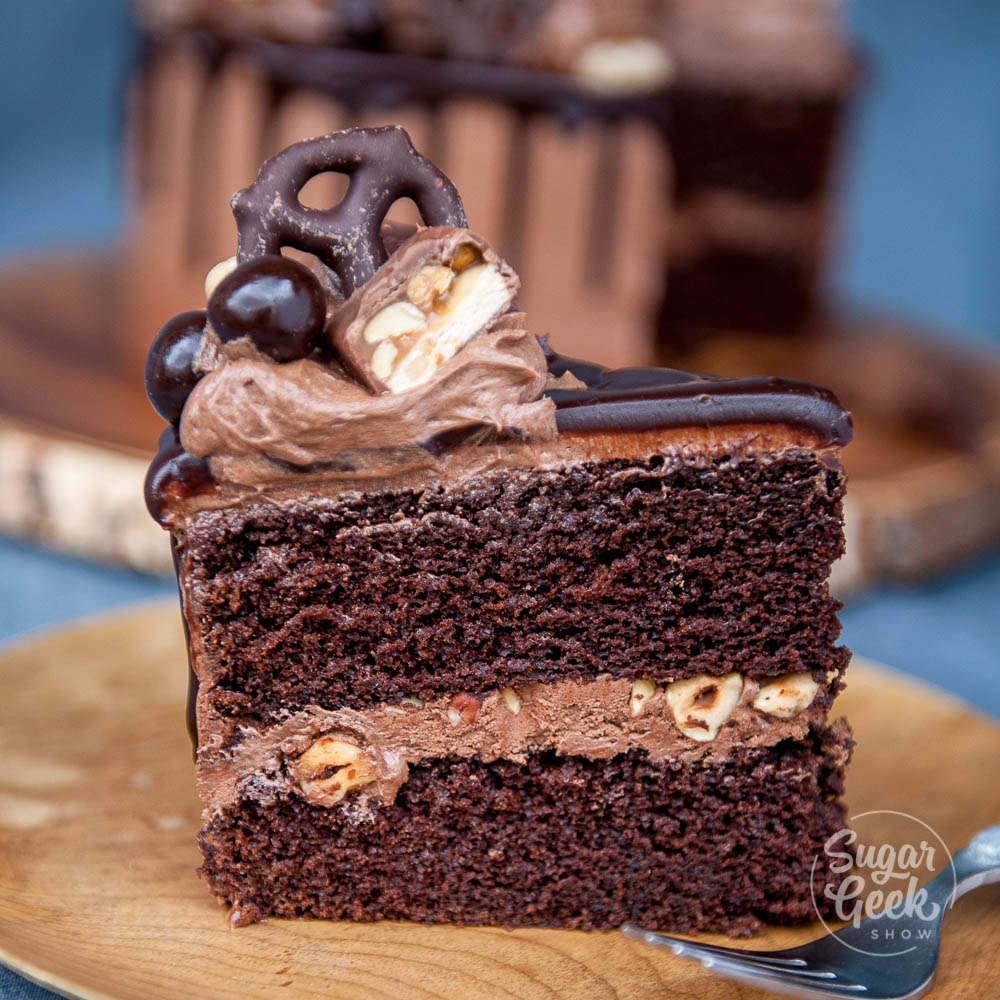 If you love my death by chocolate cake but want less fuss, this is the cake for you!
I'm a cake snob when it comes to accuracy. I weigh all my ingredients, follow precise measuring and always use a scale but when you're starting out, that can be a bit overwhelming so I've also included this recipe in cups in the recipe card for you beginners.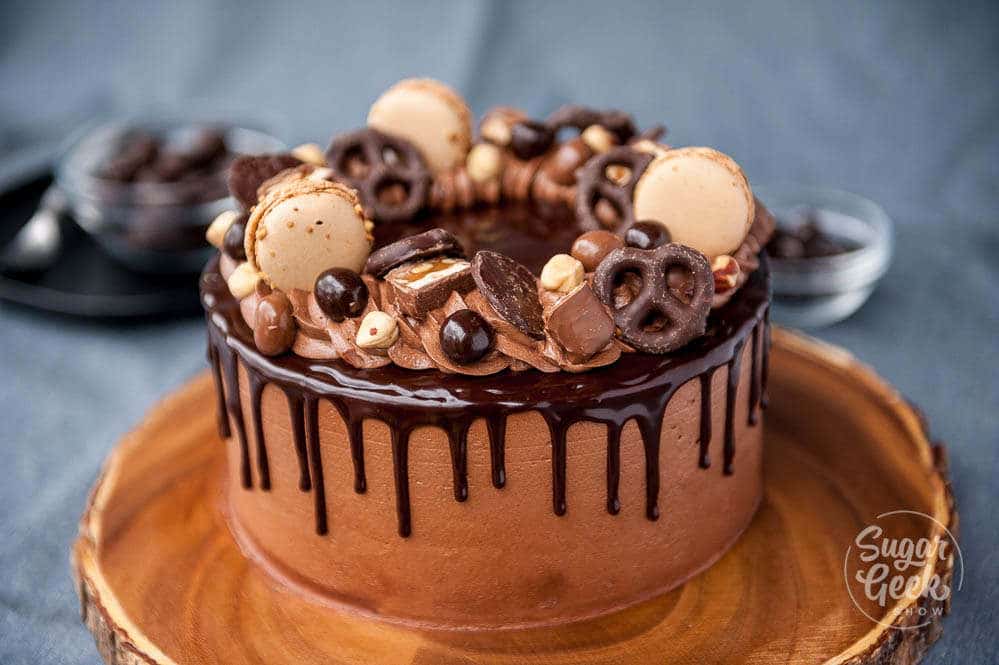 This recipe is perfect when you want a delicious chocolate cake without the fuss and it's great for kids. My daughter Avalon LOVES to bake with me and this one is so easy for her to do. She also loves chocolate! Usually, she just licks the chocolate frosting off the top but she actually loves the flavor of this cake and gobbles it all up!
What makes this easy chocolate cake so moist?
We're using natural, unsweetened cocoa powder (not dutched). This is the most common type of cocoa powder and because it's natural, that means it's slightly acidic which is why we're using baking soda and buttermilk in this recipe.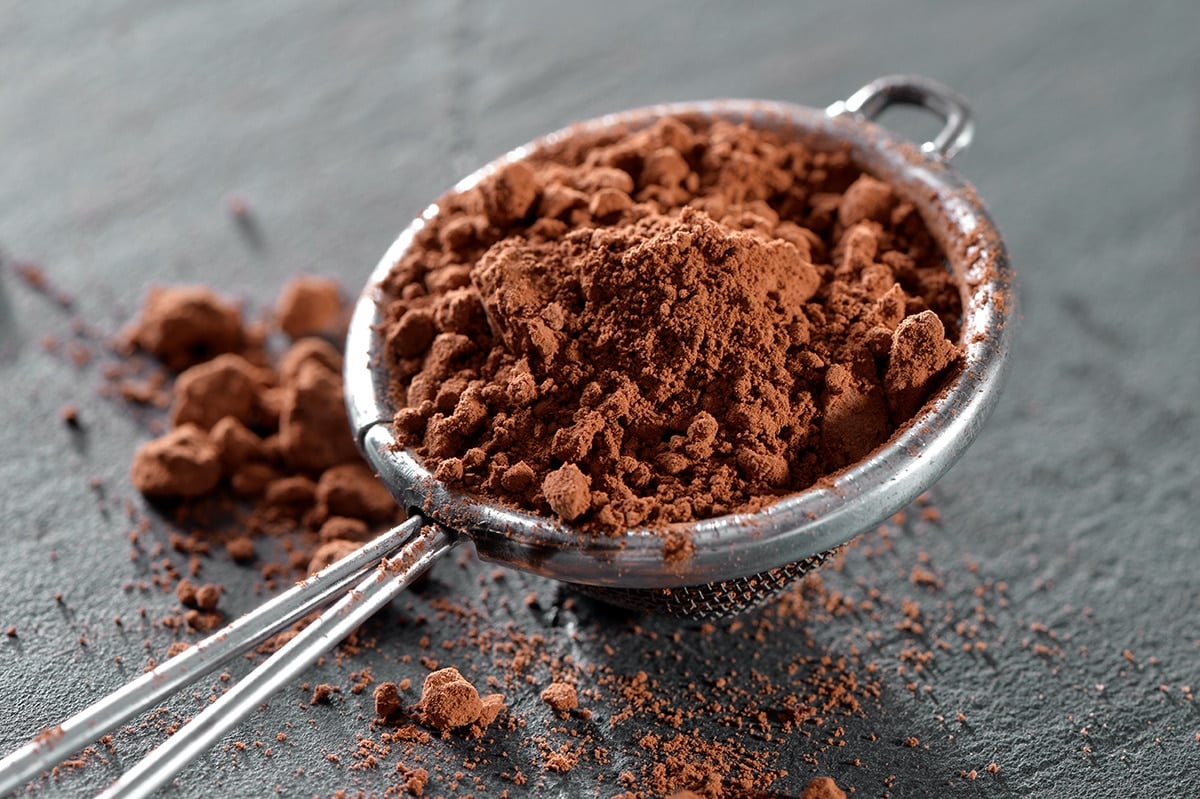 Right now the cocoa powder and the baking soda are sitting happily in the bowl together and aren't going to have any sort of reaction. Once we add in the buttermilk though, things are going to start fizzing and reacting so it's important to have all your ingredients measured and ready to go before you start mixing so you can get your cakes in the oven right away.
That bubbling is what's going to give the cake an amazing texture and make it super moist.
We're also using hot coffee in this recipe. Coffee brings out the flavor of chocolate and makes it super decadent. Don't worry, it doesn't make your cake taste like coffee. You can use hot water if you don't want to use coffee.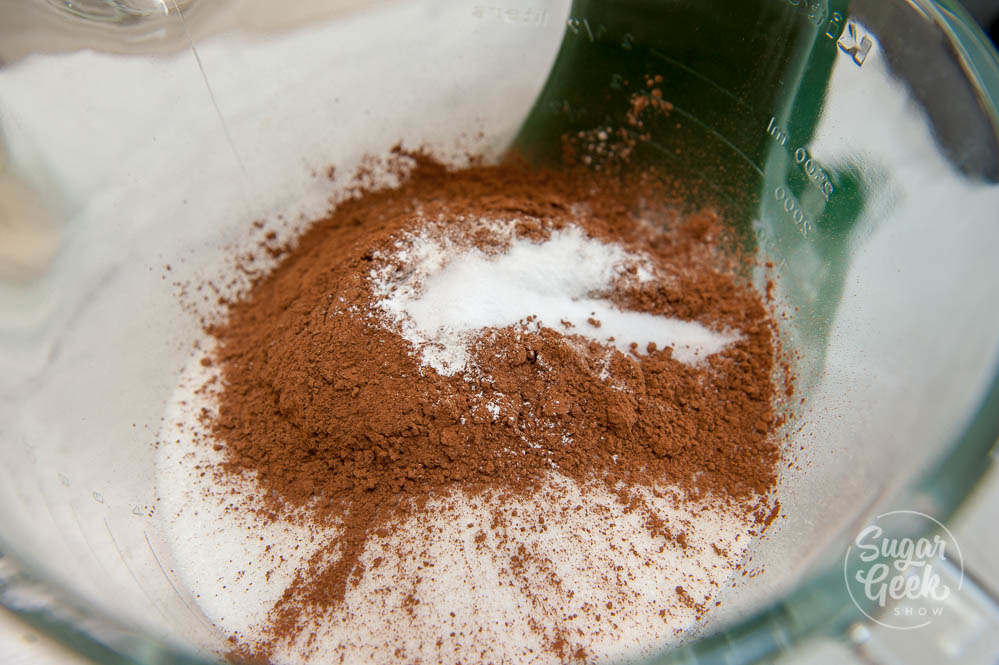 How to make the easiest chocolate cake ever
Place your sugar, flour, cocoa powder, baking soda and baking powder in a big, heatproof bowl.
Now we're going to add in our eggs, buttermilk, oil, and vanilla and mix up our batter for 2 minutes. This mixing is not only combining our ingredients together but it's also developing the cake's structure.
If you under-mix your cake, it can collapse in the oven before it's finished baking. If you over-mix, you'll activate too much of the gluten in the recipe and you'll end up with a cake that tastes more like bread and might have some holes running through it.
Once you're done mixing, add in your hot coffee. Mix that up until it's just combined.
You can see the batter is very liquid and that is normal.
Divide the batter evenly between two 8″ cake pans and bake at 350ºF for 30-35 minutes until a toothpick comes out cleanly.
How to make easy fudge frosting
While your cakes are baking you can make your buttercream.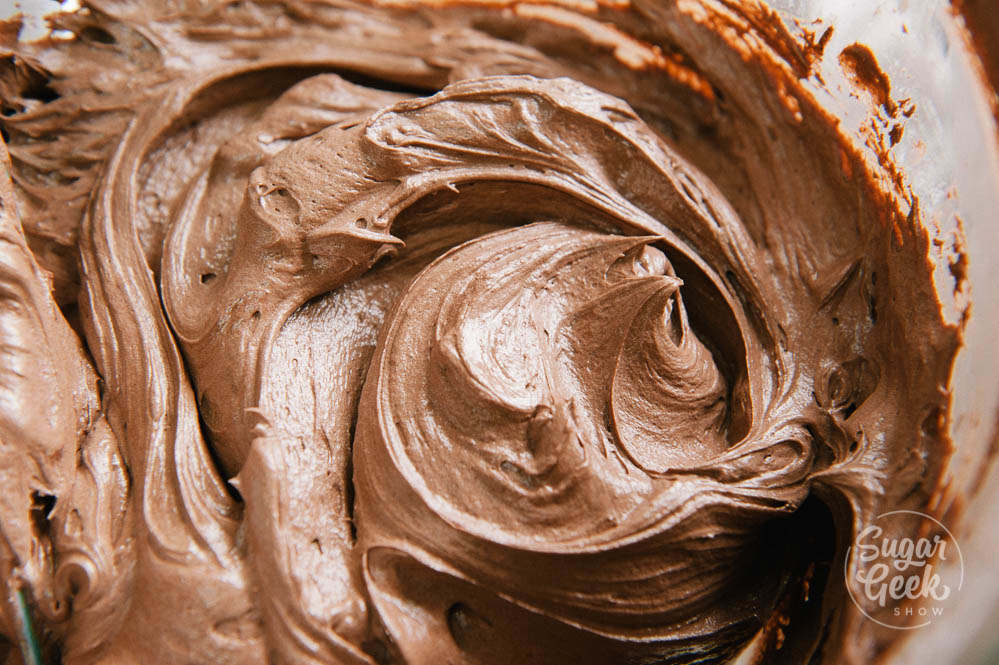 First, we need to make our ganache. Go ahead and measure out your semi-sweet mini chocolate chips and heat them in the microwave for about 30 seconds. The reason I'm using mini chocolate chips is that they are easier to melt. If you can't find mini chocolate chips, you can chop up regular chocolate.
Then heat up your heavy cream. I microwaved mine for about 1 minute but you can also heat on the stove top as well.
Pour your hot cream over the chocolate and let sit a minute or two then whisk until smooth. Let this cool before adding it to your buttercream.
Sift your powdered sugar and cocoa powder together to remove any lumps
Cream your softened butter until smooth, then start adding in your powdered sugar mixture. Then add in your salt and vanilla. Whip until light and fluffy
Fold in your cooled ganache until everything is combined. Frosting will be soft.
How to frost your chocolate cake
Ok time to frost our cakes! Trim the domes off the tops of your cakes. Put some frosting between the layers and smooth it out with an offset spatula. Then cover the whole cake in a thin layer of frosting. This is called the crumb coat and it seals in the crumbs of the cake so they don't get into the final layer of frosting.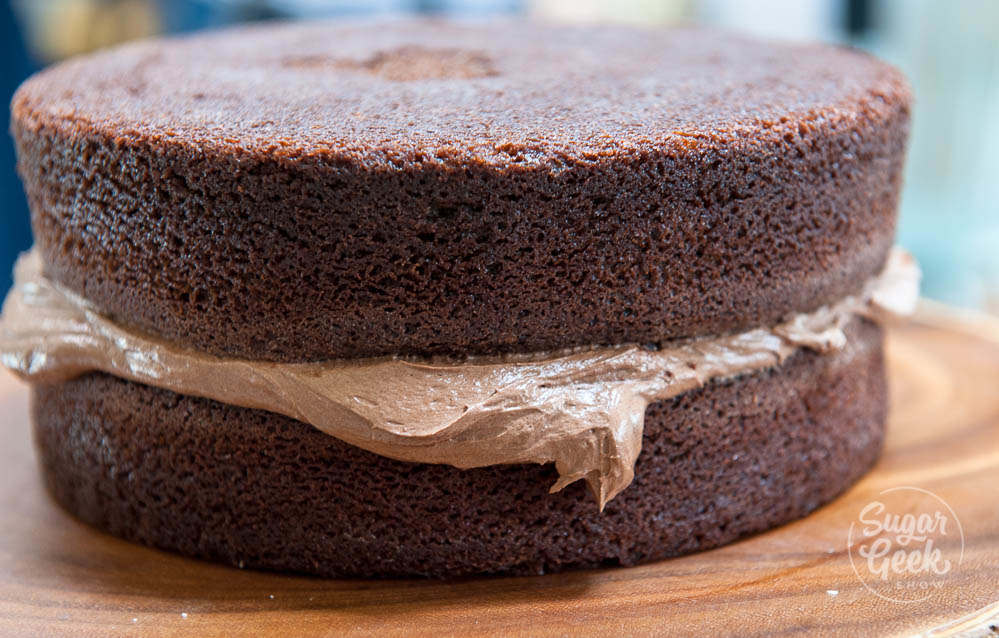 Then chill your cake in the fridge for 20 minutes while you make your ganache drip and prepare your toppings.
How to make a chocolate ganache drip
This chocolate drip looks amazing and takes the cake design over the top. It might look fancy but it couldn't be easier to make!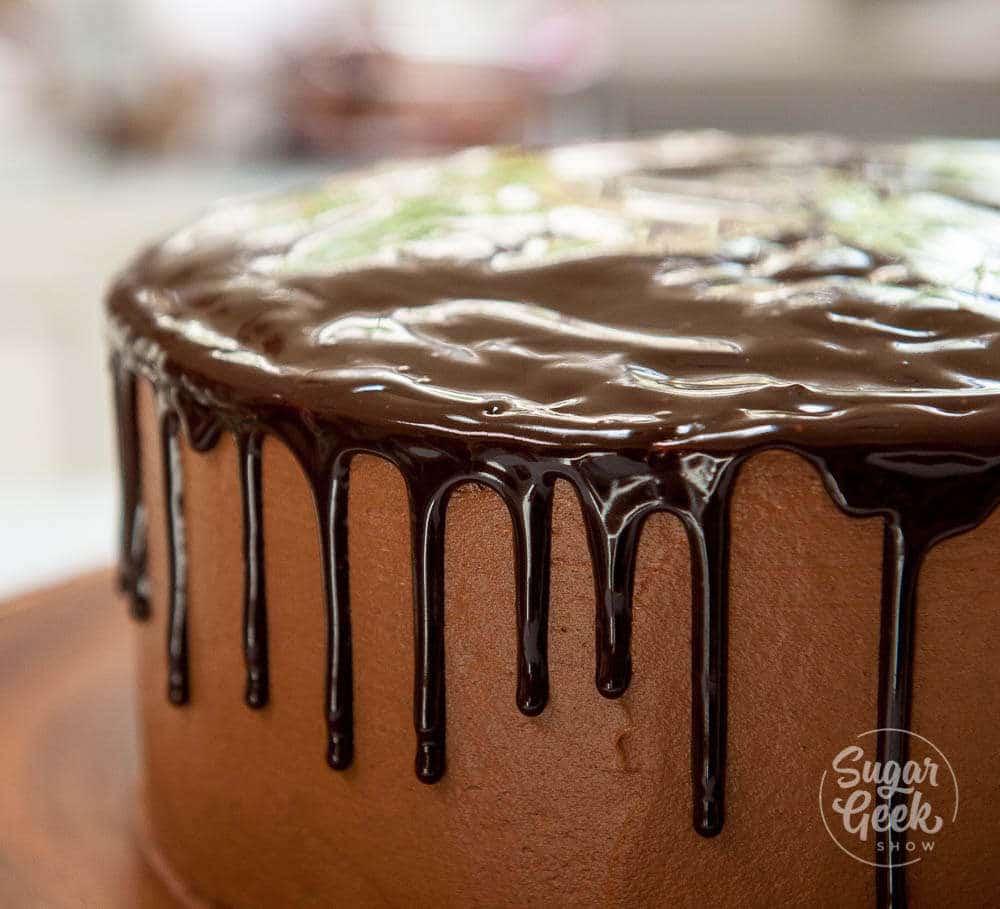 Measure out chocolate and cream.
Heat cream in the microwave (or in a saucepan) until steaming.
Pour hot cream over the chocolate and let sit for 2-3 minutes.
Whisk until smooth. Microwave another 30 seconds if there are some unmelted bits of chocolate.
Let cool until. It should still feel slightly warm when it's ready to pipe but not hot.
Decorating your easy chocolate cake
Ok let's put on the final coat of buttercream on our chilled cake. I use a bench scraper to smooth out the sides of the cake and an offset spatula to smooth the top. For more information on how to stack a smooth a cake, refer to my "how to make your first cake" tutorial.
Let's get to the fun part! Decorating!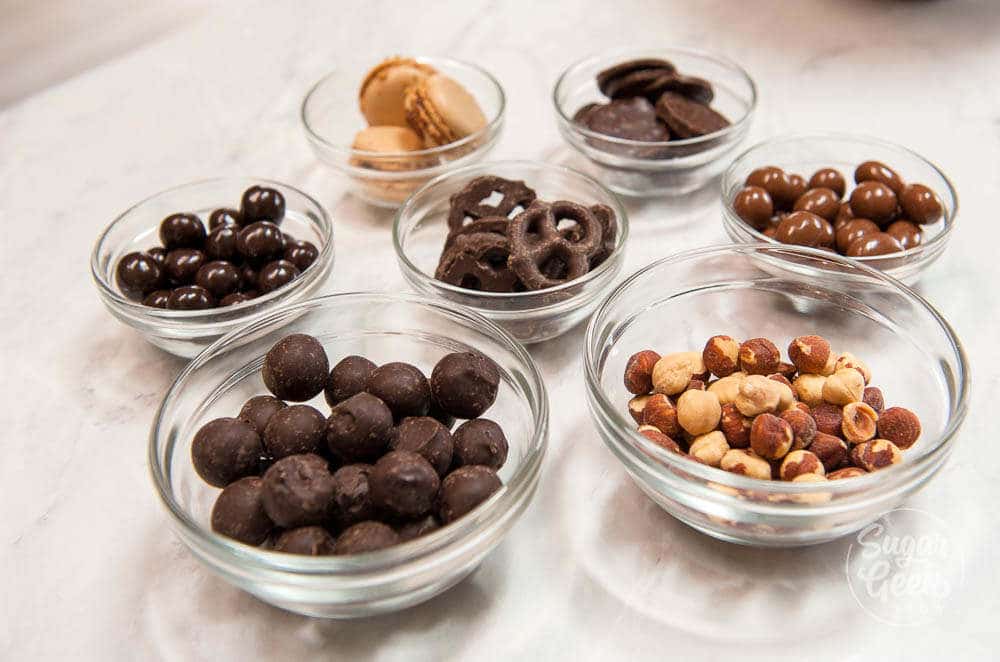 You don't need a ton of fancy skills to make this cake! All you need is CANDY! Whatever you have on hand, candy bars, cookies, even little donuts. It all looks great on top of this cake.
Before we add the candy, we're going to do our chocolate drip. I've placed my cooled ganache into a piping bag but you could also use a squeeze bottle. Do a little test squeeze to make sure your chocolate drip is the right consistency.
The secret to a perfect drip is the big squeeze little squeeze. Big squeeze little squeeze. Continue all the way around. Don't worry if it's not perfect.
Now we're going to pipe some of our buttercream on top to create a base for the chocolate. I'm using a Wilton 1M piping tip. I'm piping a rope border all the way around the top. Easy and pretty!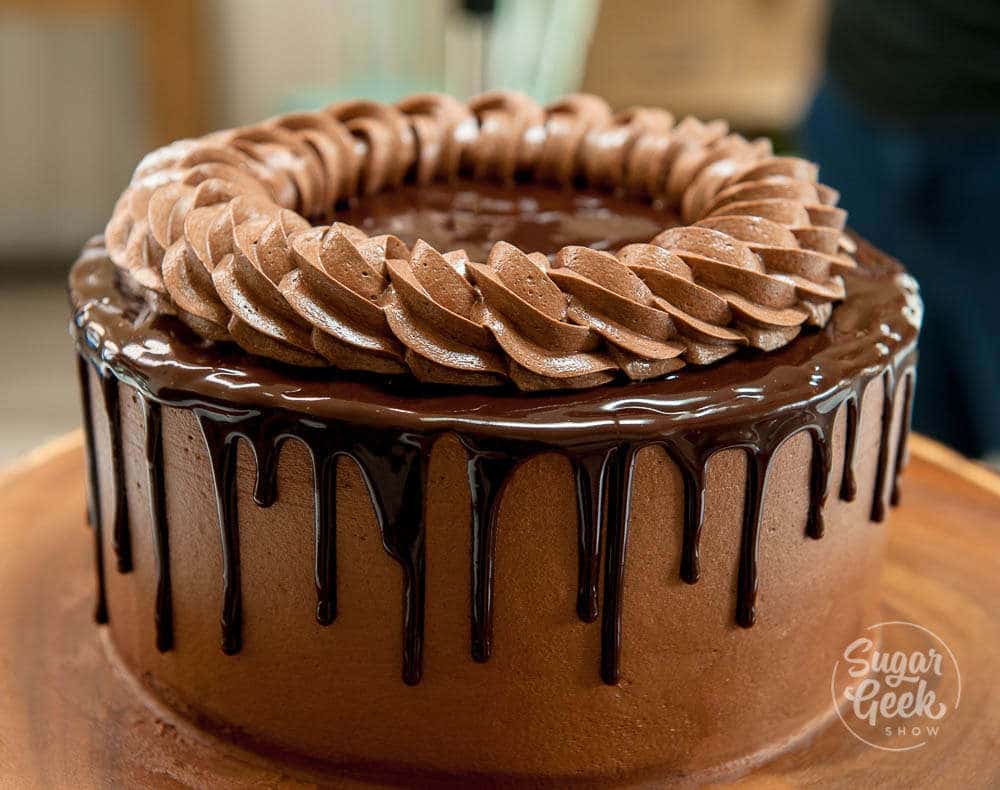 Now all that's left to do is add your candies and cookies! This really is a super easy chocolate cake recipe and a ton of fun.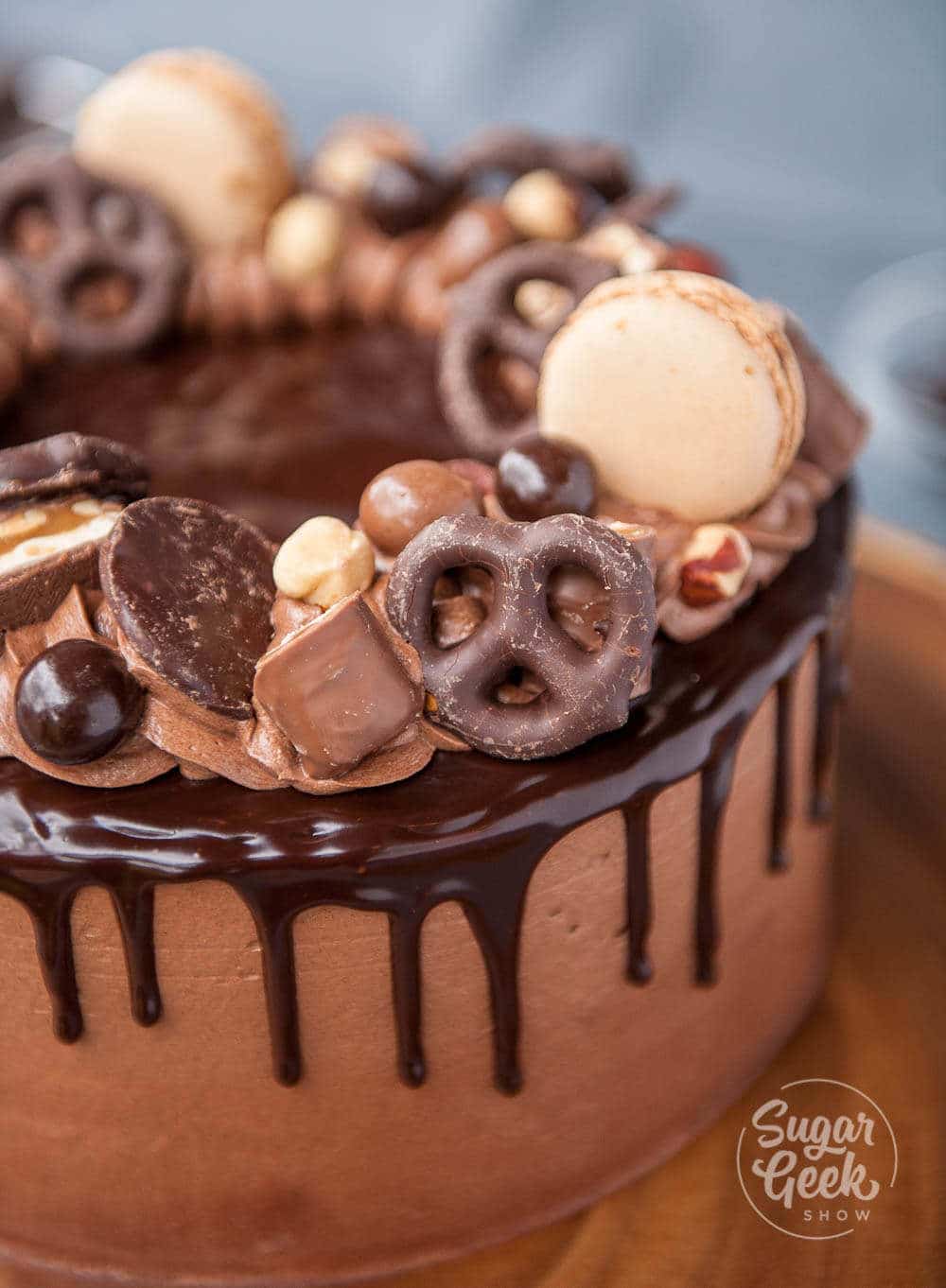 Can this recipe be used for chocolate cupcakes?
Yes! I did a little test batch with some leftover cake batter and they rose up beautifully. I only filled the cups about halfway. Some overflowed because I filled them too much. Did not stop me from eating them though!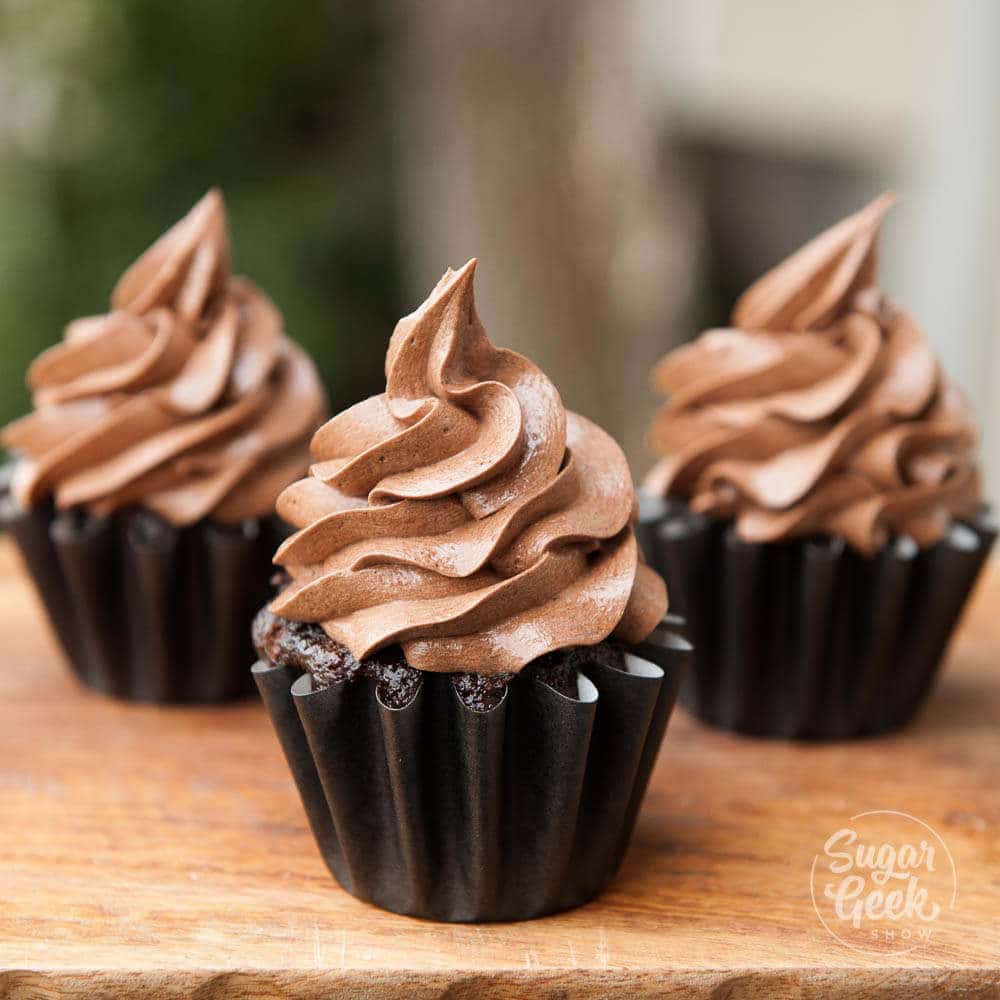 Check out the full video below on how I created this fun and decadent easy chocolate cake.
Cake Batter and Frosting Calculator
Select an option below to calculate how much batter or frosting you need. Adjust the servings slider on the recipe card to change the amounts the recipe makes.
Choose a pan type
Choose a cake pan size
(based on 2" tall cake pan)
Choose a cake pan size
(based on 2" tall cake pan)
Choose a cake pan size
(based on 2" tall cake pan)
Cups of Batter Needed
8 cups
Cups of Frosting Needed
5 cups
Did You Make This Recipe?Leave a rating and tell me how it went!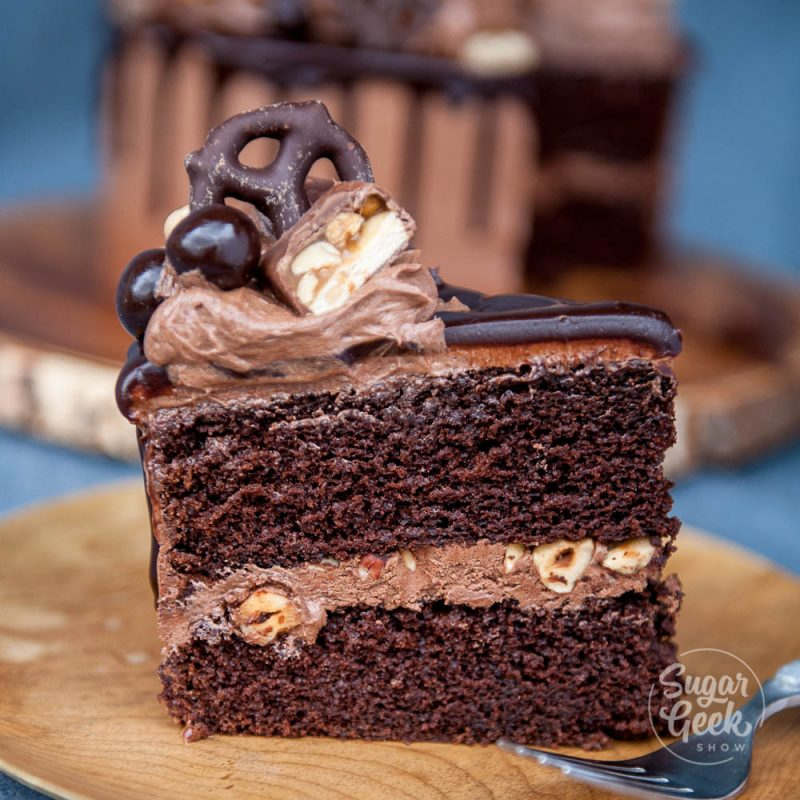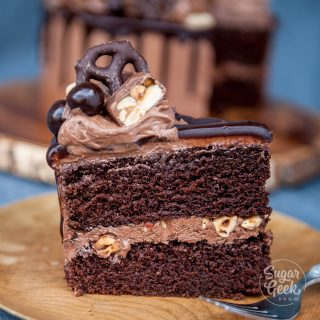 Easy Chocolate Cake
An easy chocolate cake recipe that requires no special mixing method or ingredients. This chocolate cake is super moist, decadent and delicious! Makes two 8"x2" round cakes with fudge frosting and a chocolate drip.
Print
Rate
Serves: 6 cups
Calories: 416kcal
Ingredients
Easy Chocolate Cake Recipe
10 oz AP flour 2 cups
14 oz granulated sugar 2 cups
4 oz natural cocoa powder like HERSHEYS 1 cup
1 1/2 tsp baking powder
2 tsp baking soda
1 tsp salt
2 large eggs room temperature
8 oz buttermilk room temperature - 1 cup
8 oz hot coffee or hot water - 1 cup
4 oz vegetable oil 1/2 cup
2 tsp vanilla extract
Chocolate Fudge Frosting
6 oz unsalted butter softened
10 oz powdered sugar
1.5 oz cocoa powder
1 oz milk
10 oz semi-sweet chocolate chips
6 oz heavy cream
1 tsp vanilla extract
1 tsp salt
Chocolate Drip
6 oz semi-sweet chocolate
4 oz heavy whipping cream
Instructions
Easy chocolate cake instructions
Heat oven to 350ºF and prepare two 8" cake pans with cake goop or preferred pan release

Combine flour, sugar, cocoa powder, baking powder, baking soda, and salt in the bowl of your stand mixer with the paddle attachment. Mix on low 5 seconds.

Add in eggs, buttermilk, oil and vanilla and mix on medium speed for 2 minutes. Scrape the bowl.

Turn mixer down to low and add in hot coffee and mix until just combined.

Pour batter into prepared pans. Bake 40-45 minutes or until a toothpick inserted into the center comes out clean. Cool in the pan about 15 minutes (or until the pan is barely warm to the touch) then invert onto wire racks to cool completely before frosting. 
Fudge Buttercream Instructions
Heat cream until just steaming and pour over chocolate. Let sit 5 minutes and whisk until smooth. Transfer to another bowl and let cool.

Place softened butter in the stand of your mixer with the whisk attachment and whisk until smooth

Sift the cocoa powder and sugar into the butter and whisk. It will by dry and crumbly at first, keep going until smooth

Add in milk 1 Tbsp at a time. Then vanilla and salt. Whisk on high until fluffy.

Fold in cooled ganache. Frosting is soft. Chill for 20 minutes if you want it firmer.
Chocolate drip recipe
Heat cream until just steaming and pour over chocolate. Let sit 5 minutes then whisk until smooth. Let cool until slightly warm to the touch before piping onto your CHILLED cake.
Nutrition
Serving: 1serving | Calories: 416kcal (21%) | Carbohydrates: 50g (17%) | Protein: 4g (8%) | Fat: 23g (35%) | Saturated Fat: 15g (75%) | Cholesterol: 51mg (17%) | Sodium: 272mg (11%) | Potassium: 253mg (7%) | Fiber: 3g (12%) | Sugar: 35g (39%) | Vitamin A: 400IU (8%) | Vitamin C: 0.1mg | Calcium: 57mg (6%) | Iron: 2.5mg (14%)