Cake Batter and Frosting Calculator
Select an option below to calculate how much batter or frosting you need. Adjust the servings slider on the recipe card to change the amounts the recipe makes.
Choose a pan type
Choose a cake pan size
(based on 2" tall cake pan)
Choose a cake pan size
(based on 2" tall cake pan)
Choose a cake pan size
(based on 2" tall cake pan)
Cups of Batter Needed
8 cups
Cups of Frosting Needed
5 cups
Recipe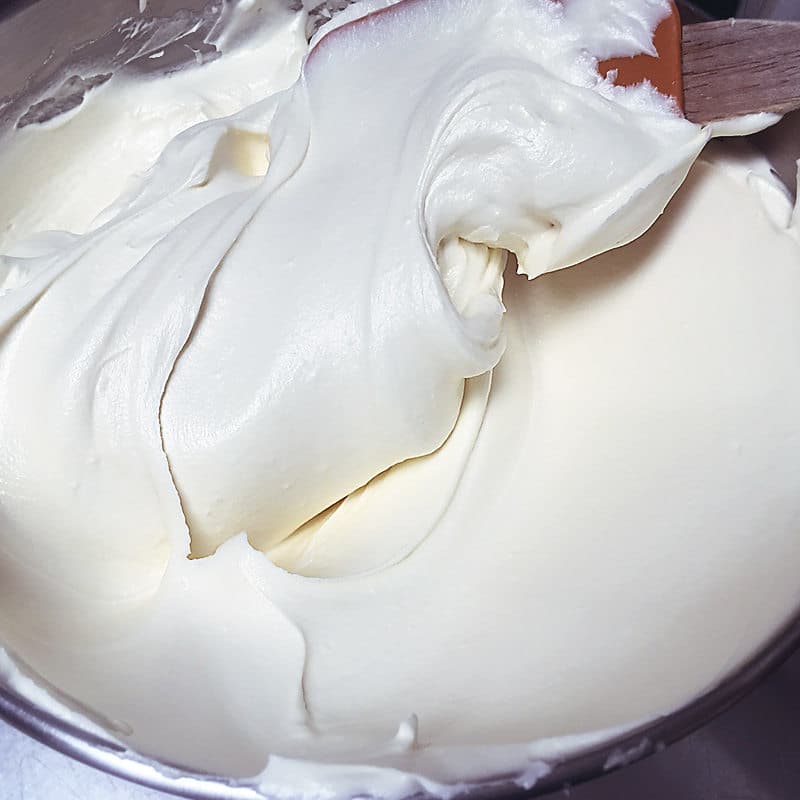 Servings: 6 cups
Calories: 1271kcal
Ingredients
Ingredients
4 oz Pasturized liquid egg whites
3 teaspoon Créme bouquet optional flavoring
¼ teaspoon Fine salt
16 oz Powdered sugar
1 teaspoon Vanilla extract
1 dash Lemon extract
6 oz White chocolate Good quality
24 oz Butter room temperature
Instructions
Instructions
Melt white chocolate. Make sure it's completely smooth! Set aside while you mix the other ingredients.

Start blending egg whites & powdered sugar slowly in stand mixing bowl with whisk attachment until powdered sugar is combined.


Add crème bouquet, salt, vanilla, and dash lemon extract. Speed up to high until thick and glossy (about 4-5 minutes).


Add butter, a large piece at a time, while continually whisking on medium speed. Whisk until fully blended. Mixture may look a bit curdled. No worries! The next step fixes that.

Add melted white chocolate to mixture, careful not to touch sides of bowl. I like to make a well in the center of the bowl & pour the white chocolate into it. Start whisk on slow & quickly increase to medium-high. Do not let the white chocolate touch the sides of the bowl, sit for any length of time, or not get mixed in immediately or it will cool into lumps throughout the icing. Scrape it down several times until fully mixed in.

Whisk on medium-high for a few minutes, until light & fluffy and white in color.
Notes
I love the Cremé bouquet, but if you don't want to use that no worries. Just use your vanilla. The dash of lemon extract really brings out the flavor & cuts the sweetness, but again, optional. This is a great base for just about any flavor too. Start with this, then mix in strawberries, salted caramel, oreos, etc etc. To make a chocolate version, just sub ¼ cup cocoa for ¼ cup of the powdered sugar, reduce egg whites to 75 g & change white chocolate to semi-sweet chocolate chips. It does tend to be softer though, no matter what. Tastes amazing though!
Nutrition
Calories: 1271kcal | Carbohydrates: 92g | Protein: 4g | Fat: 101g | Saturated Fat: 63g | Cholesterol: 249mg | Sodium: 964mg | Potassium: 138mg | Sugar: 90g | Vitamin A: 2840IU | Vitamin C: 0.2mg | Calcium: 84mg | Iron: 0.1mg