Black velvet cake with sweet neon buttercream frosting
This black velvet buttermilk cake is super soft, moist and oh so dark. I paired my black velvet cake with some bright fuchsia sweet frosting. This sweet frosting is similar to that frosting you find at the grocery store. Yes, even I crave that sweet stuff once in a while! It's so nostalgic!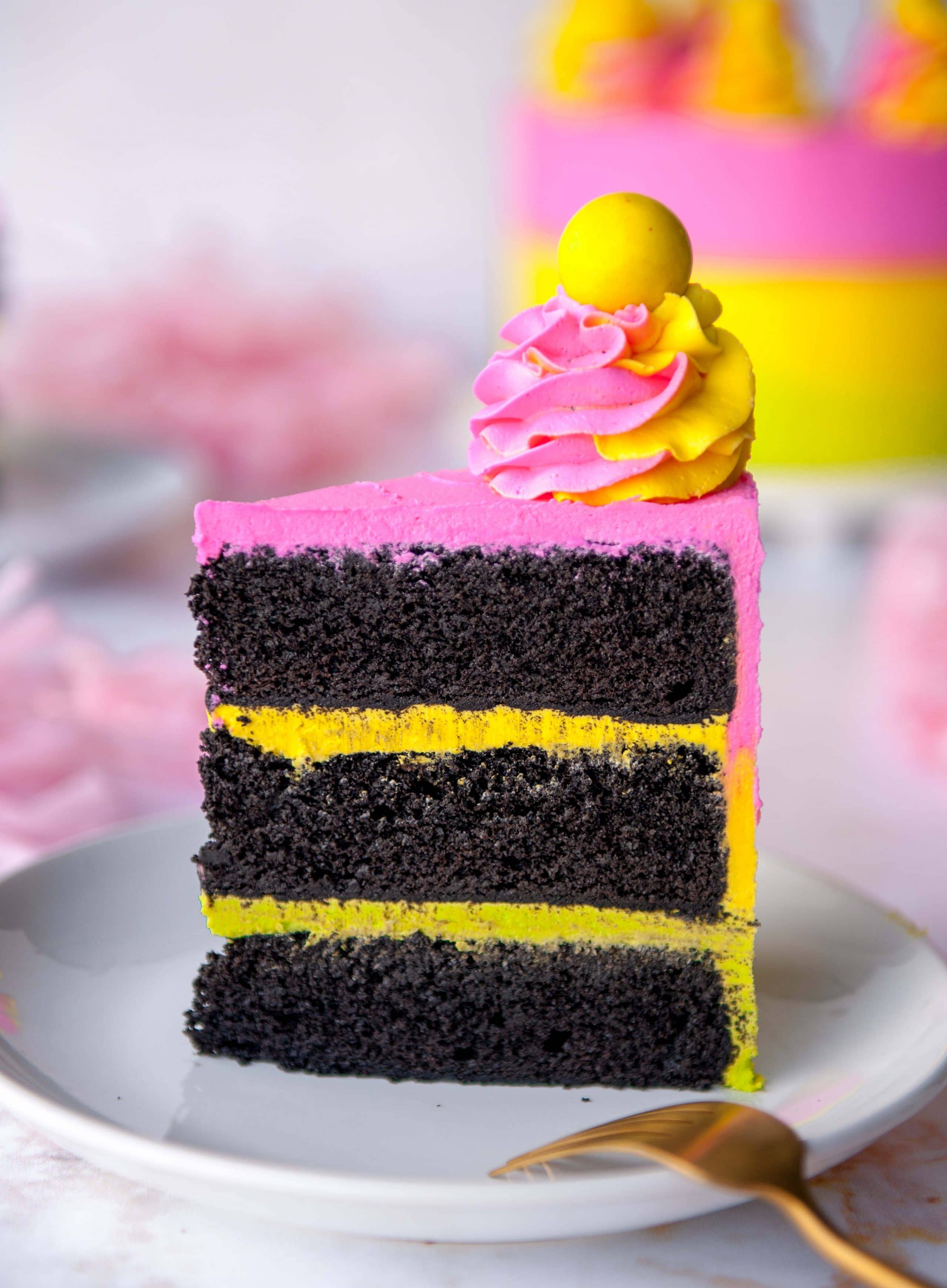 I also wanted to show you guys how to color frosting bright colors. American buttercream (sweet frosting) is the easiest of all the frostings to color but the technique is the same for any buttercream.
How do you make a black velvet cake?
Haven't you heard? Black is the new black! How do you make a black velvet cake without tons of food coloring though? Well, the secret is in the cocoa powder!
Did you know not all cocoa powder is created equally? You might read our blog post on cocoa powder to find out more about how using dutched or natural cocoa powder can really affect the final cake!
For years I have been making a delicious chocolate cake recipe using cake flour and it has been a huge hit with my brides! I love it! One of the reasons it's so delicious is that it uses a very high-quality type of cocoa powder. The cake is moist, fudgy and delicious and perfect for wedding cakes. Now that I am teaching mostly online sculpted cakes, I have found myself sometimes in need of a more sturdy cake recipe.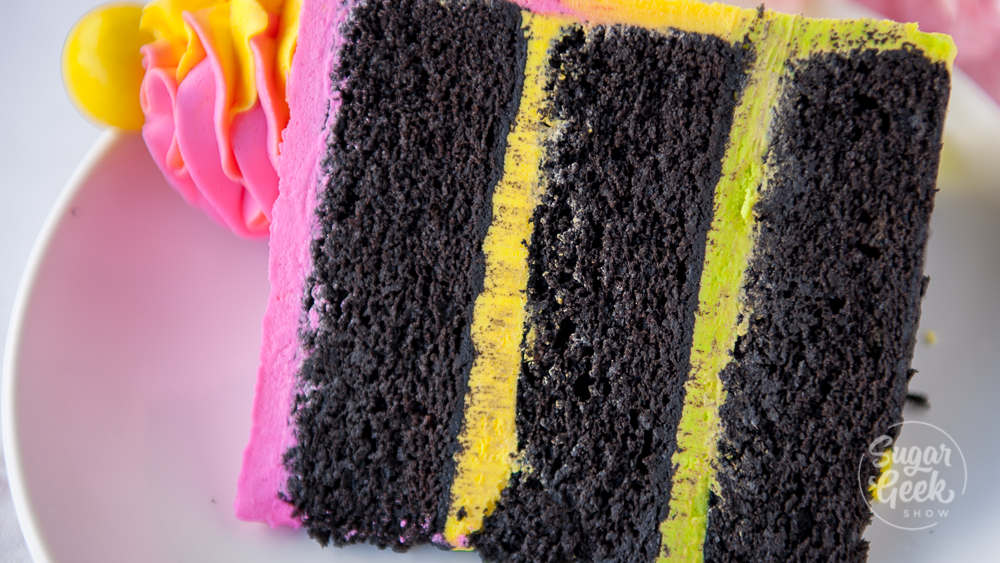 What makes a velvet cake velvet?
Velvet cakes are cakes that are baked using buttermilk or vinegar that reacts with baking soda and results in a velvety smooth cake texture. The buttermilk adds a delicious tang to the cake flavor that is classic velvet.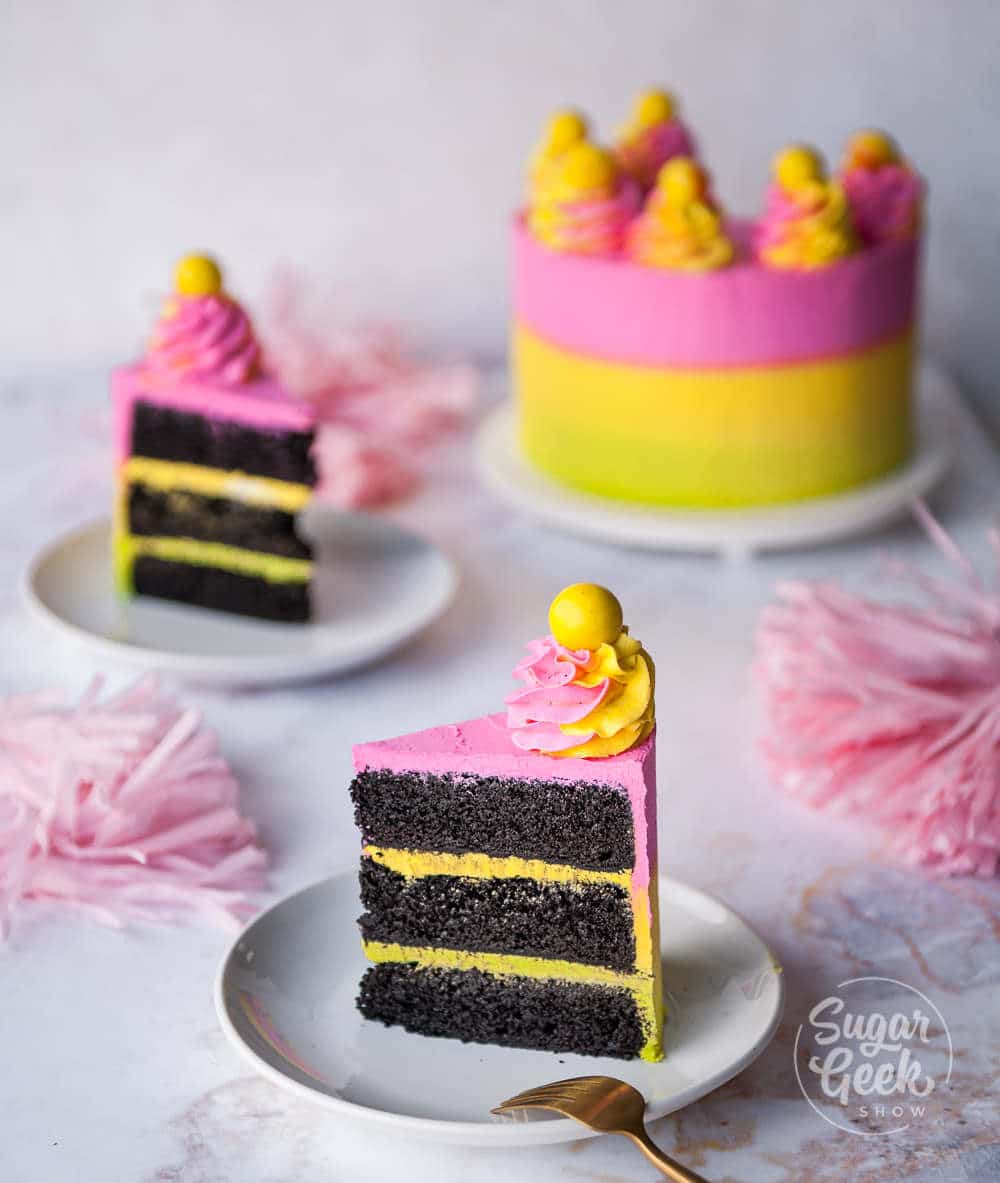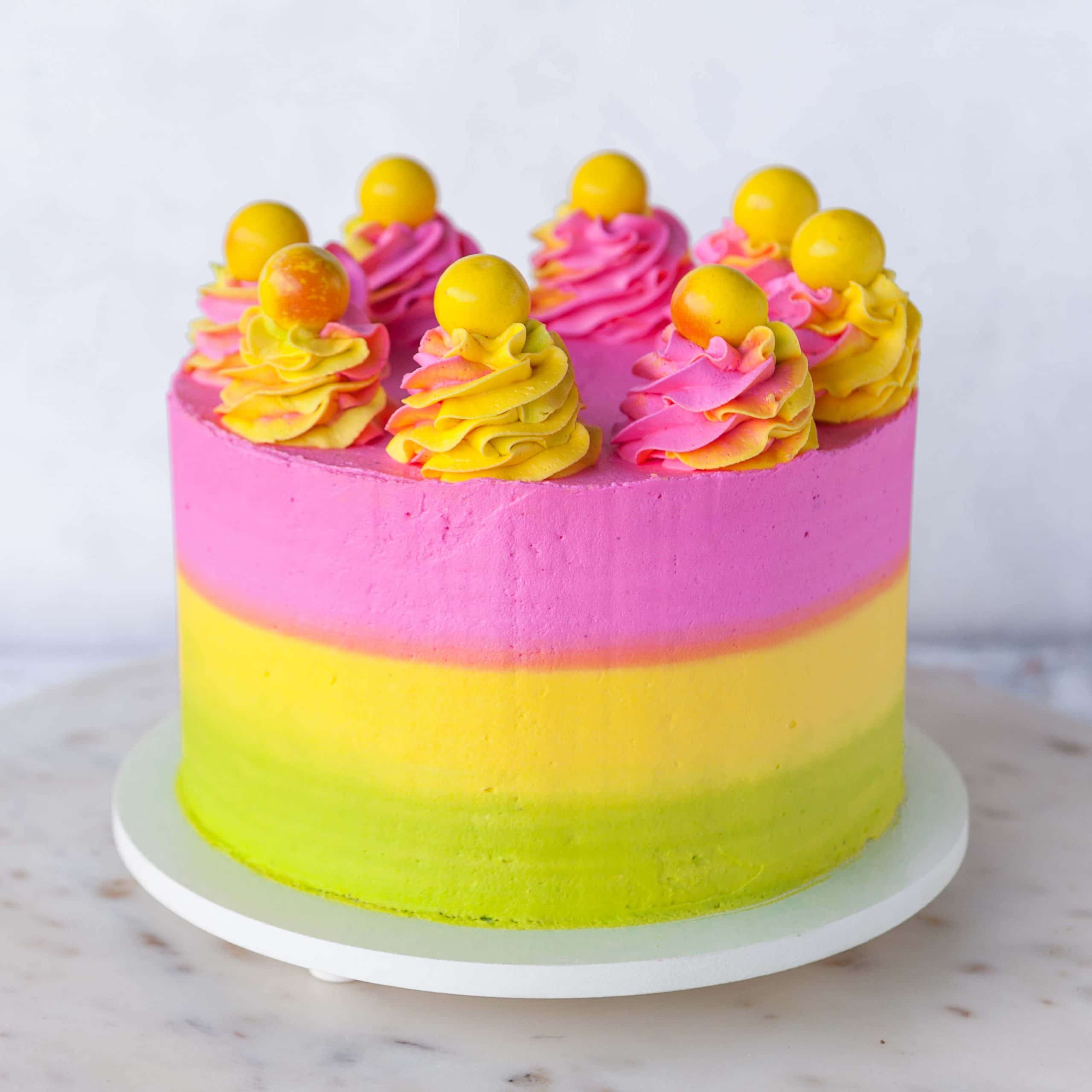 How do you make bright-colored frosting?
This is the easiest way to make bright colors in your frosting.
Mix up your buttercream frosting. American buttercream colors the easiest but you can color SMBC, IMBC or easy buttercream this way as well.
Add 1-2 teaspoons of food coloring to your frosting and mix it in with the paddle. You don't want to incorporate more air.
Take out ¼ cup of the buttercream and melt it in the microwave until it's barely melted. You don't want it super hot. Add your food coloring to the melted buttercream and stir well.
Mix that back into the buttercream while mixing on low until combined.
Leave your buttercream to deepen in color overnight (cover with plastic wrap)
Give your frosting a quick mix before you use it!
Check out my other velvet cake recipes
Authentic red velvet cake
White velvet buttermilk cake
Pink velvet cake

Cake Batter and Frosting Calculator
Select an option below to calculate how much batter or frosting you need. Adjust the servings slider on the recipe card to change the amounts the recipe makes.
Choose a pan type
Choose a cake pan size
(based on 2" tall cake pan)
Choose a cake pan size
(based on 2" tall cake pan)
Choose a cake pan size
(based on 2" tall cake pan)
Cups of Batter Needed
8 cups
Cups of Frosting Needed
5 cups
Recipe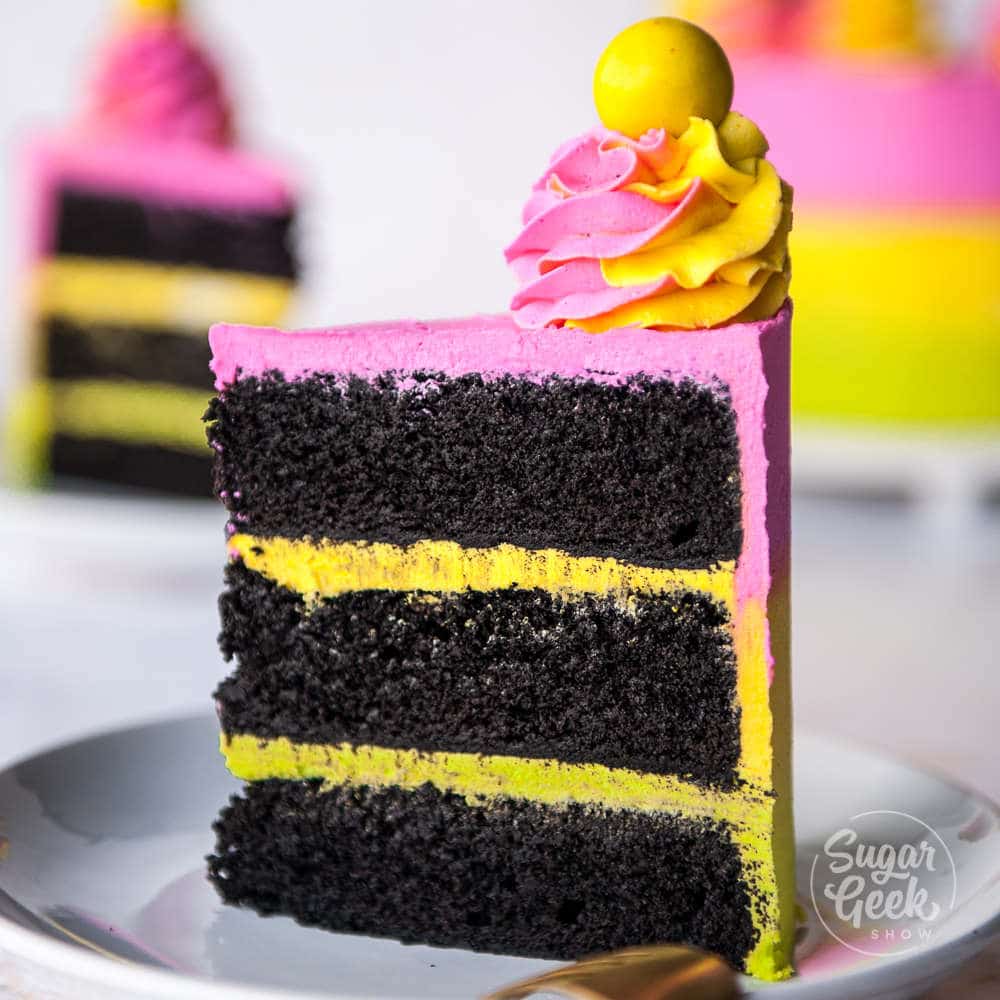 Servings: 8 cups
Calories: 517kcal
Equipment
Stand mixer with paddle attachment
Ingredients
For the black velvet cake
13 oz AP flour
6 oz unsalted butter room temperature
16 oz granulated sugar
4 oz black cocoa powder we used Guittard 100% Cocoa Noir
2 ounces melted chocolate
4 large eggs room temperature
1 teaspoon salt
2 teaspoon baking powder
1 teaspoons baking soda
4 oz strong coffee hot
8 oz buttermilk warm (110ºF)
4 ounces vegetable oil
1 tablespoon vanilla extract
Sweet Frosting
8 ounces unsalted butter room temperature
8 ounces vegetable shortening
24 ounces sifted powdered sugar
2 Tablespoon clear vanilla extract
½ teaspoon salt
4 Tablespoons milk or water
2 teaspoons food coloring optional
Instructions
For the cake
NOTE: If you use a cocoa powder that is different than listed, your cake will not be as dark. You can supplement the color with 1 teaspoon of super black food coloring

Adjust an oven rack to the middle position and preheat to 350ºF/176ºC.

Grease three 8" cake pans with cake goop.

Whisk together melted chocolate, cocoa powder, hot coffee, vanilla, and oil until combined (it will look lumpy). Then mix in the warm buttermilk and whisk until combined. Then set aside.

Add butter to stand mixer and beat at medium-high speed until smooth and shiny, about 30 seconds. Gradually sprinkle in the sugar, beat until mixture is fluffy and almost white, about 3-5 minutes. Add the eggs 1 at a time, mixing in fully before adding the next egg.

Whisk the flour, baking powder, baking soda, and salt in a medium bowl.

With the mixer at the lowest speed, add about a third of the dry ingredients to the batter, followed immediately by about a third of the chocolate mixture, mix until ingredients are almost incorporated into the batter. Repeat the process 2 more times. When the batter appears blended, stop the mixer and scrape the sides of the bowl with a rubber spatula. Return the mixer to low speed, beat until the batter looks like satin, about 15 seconds longer.

Divide the batter evenly between the prepared pans. Smooth the tops with a rubber spatula. Bake cakes until they feel firm in the center and a toothpick comes out clean or with just a few crumbs on it, about 30-35 minutes.Transfer pans to a wire rack and let cool for 10 minutes. Invert cakes onto the rack and pop cakes out of pans. Cool completely before frosting.
Sweet Buttercream Frosting
Cream your butter until smooth with the whisk attachment (by hand or in the stand mixer is fine)

Add the vegetable shortening to the butter and cream until smooth

While mixing on low, start adding in your powdered sugar one cup at a time until it's all combined with the butter mixture

Add in your salt, vanilla and milk and whip on medium for 10-15 minutes until very light and fluffy

If your frosting is too thick, you can add in 1-2 more Tablespoons of water or milk to thin it down to your desired consistency.

You can now add in your desired food coloring if you prefer your frosting to be colored. I used electric pink, electric green and electric pink food coloring from americolor.com. Remember, the frosting color will deepen after 24 hours.
Video
Notes
If you can't find black cocoa powder you can use regular dutch cocoa powder plus 1 teaspoon of black food coloring or 2 Tablespoons activated charcoal mixed in with your liquid ingredients before adding it to your batter. 
Nutrition
Serving: 1serving | Calories: 517kcal | Carbohydrates: 61g | Protein: 3g | Fat: 30g | Saturated Fat: 16g | Cholesterol: 72mg | Sodium: 219mg | Potassium: 92mg | Fiber: 1g | Sugar: 49g | Vitamin A: 484IU | Calcium: 40mg | Iron: 1mg