White velvet cake is a soft, delicate cake with a hint of buttermilk and vanilla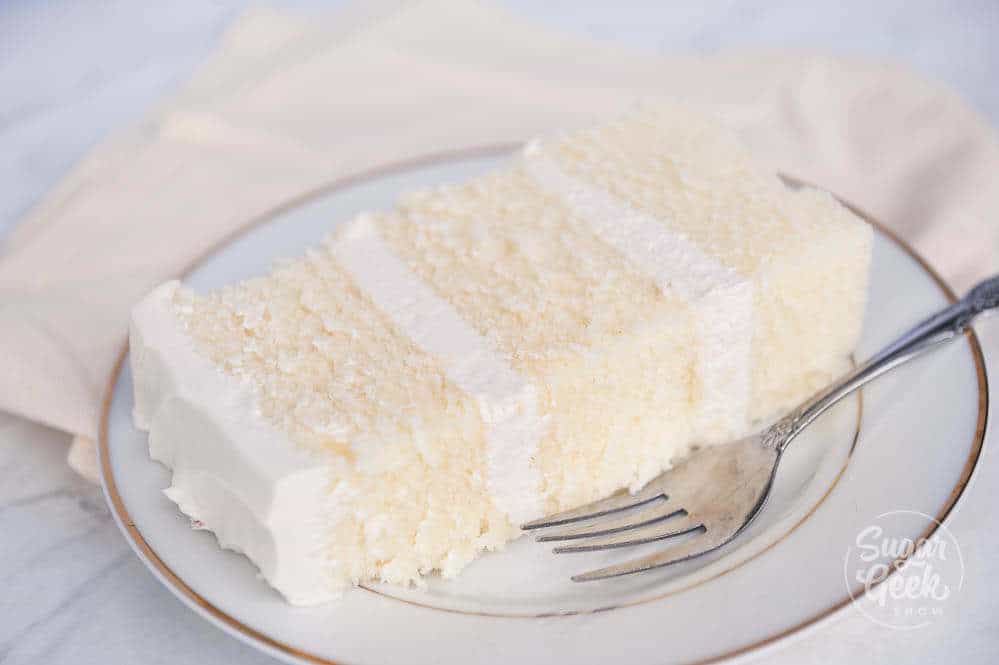 White velvet cake is red velvet's pretty little sister. Red velvet cake has been around for ages and probably one of the most popular cake flavors of all time. But not everyone want's to eat red food coloring or maybe they have special dietary requirements that don't allow them to eat red food dye. Whatever the reason, options are always good.
A lot of people wonder if you can just leave out the red food color and get white velvet and the answer is yes, kinda. You also need to leave out the cocoa powder. All the things that make red velvet cake delicious can be left in.
sidenote... the more I spell the word "velvet" the weirder it looks... velvet. velvet VELVET. Starts to look wrong.
But anyway...
What is white velvet cake?
White velvet cake is basically red velvet without the red. It's a buttermilk cake base that results in a VERY soft, fluffy and moist cake. If you leave out all the color and the cocoa powder you have yourself a nice white velvet cake. Neat huh. The buttermilk gives this southern inspired cake it's rich and velvety texture.
Traditional red velvet cake has a little bit of cocoa powder in it. Some will tell you that red velvet is actually chocolate cake (wrong) or that it's just white cake with red food color added (so wrong). The cocoa powder does add a little bit of flavor to the cake but not enough to call it chocolate so when you leave it out, it doesn't affect the flavor that much.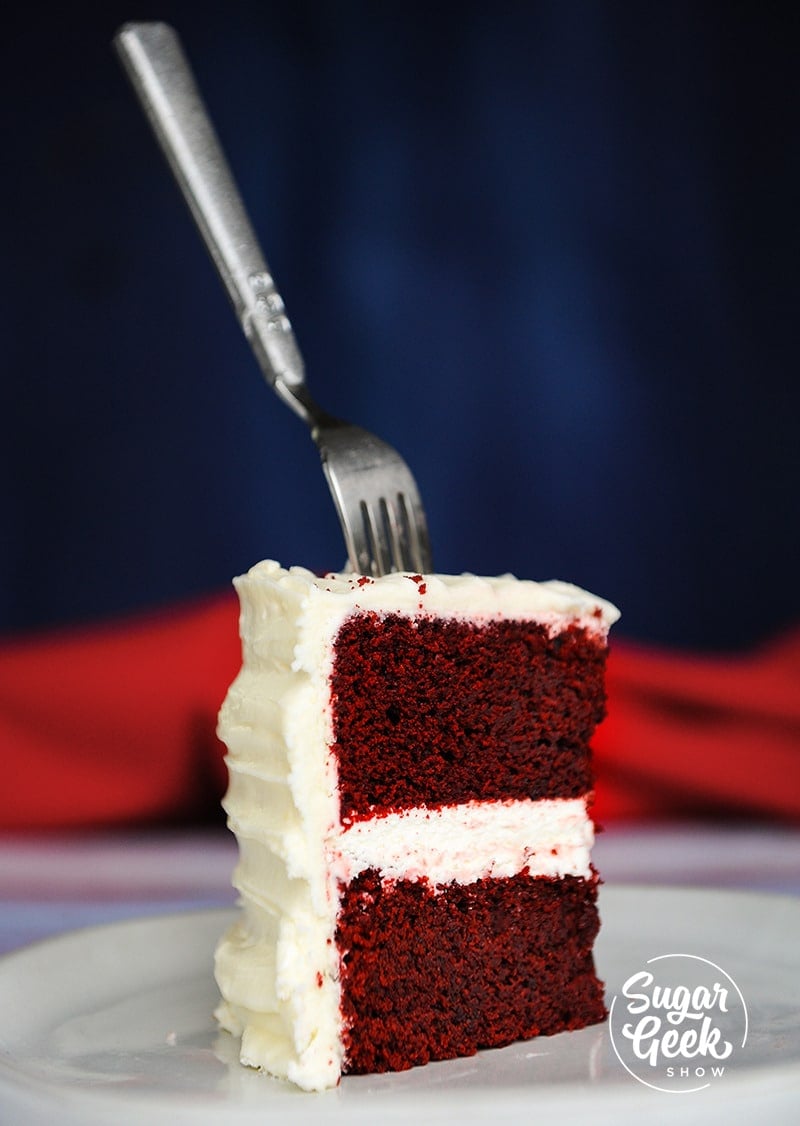 What's so great about white velvet?
So one of the BEST things about this recipe, in my opinion, is the texture. The crumb is soooo soft and well... velvety! I love how it looks when you cut it. Soft and pillowy. It's like magic!
What Is Buttermilk?
Buttermilk is basically fermented milk that has gone sour. I know it sounds weird but it actually tastes amazing in baked goods. The tanginess in buttermilk adds a great flavor and the acidity in buttermilk actually breaks down gluten so baked goods are more tender than if you used regular milk.
I mean, there's a reason recipes like "buttermilk pancakes" and "buttermilk" biscuits always seem better than just... pancakes. Ya know?
Don't have any buttermilk? You can make it! Add 1 Tablespoon of white vinegar to 1 cup of regular milk, stir and let it sit for about 10 minutes. You'll see the milk begin to thicken and curdle. Voila. Homemade buttermilk.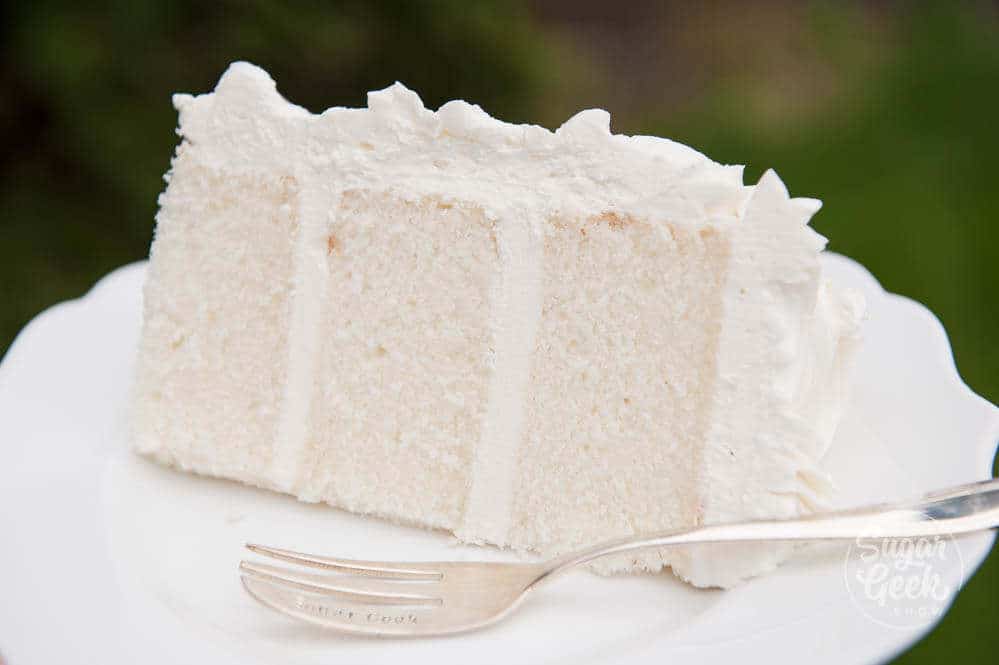 How does white velvet cake taste like?
White velvet cake tastes so amazing BECAUSE of the buttermilk! It just adds a little tang and zip that for some reason your tastebuds just love.
The crumb is super fine like my white cake recipe or my vanilla cake recipe and is definitely a great cake for flavor to just bake up for a special occasion.
What frosting goes with white velvet cake?
The traditional frosting that goes with velvet cake is ermine frosting. Ermine frosting is made by cooking sugar with a bit of flour and then whipping it into softened butter.
Ermine frosting is super creamy, not too sweet and tastes amazing with white velvet cake. In my opinion it tastes very similar to a swiss-meringue buttercream but without the eggs so it's a nice alternative if you have an egg allergy.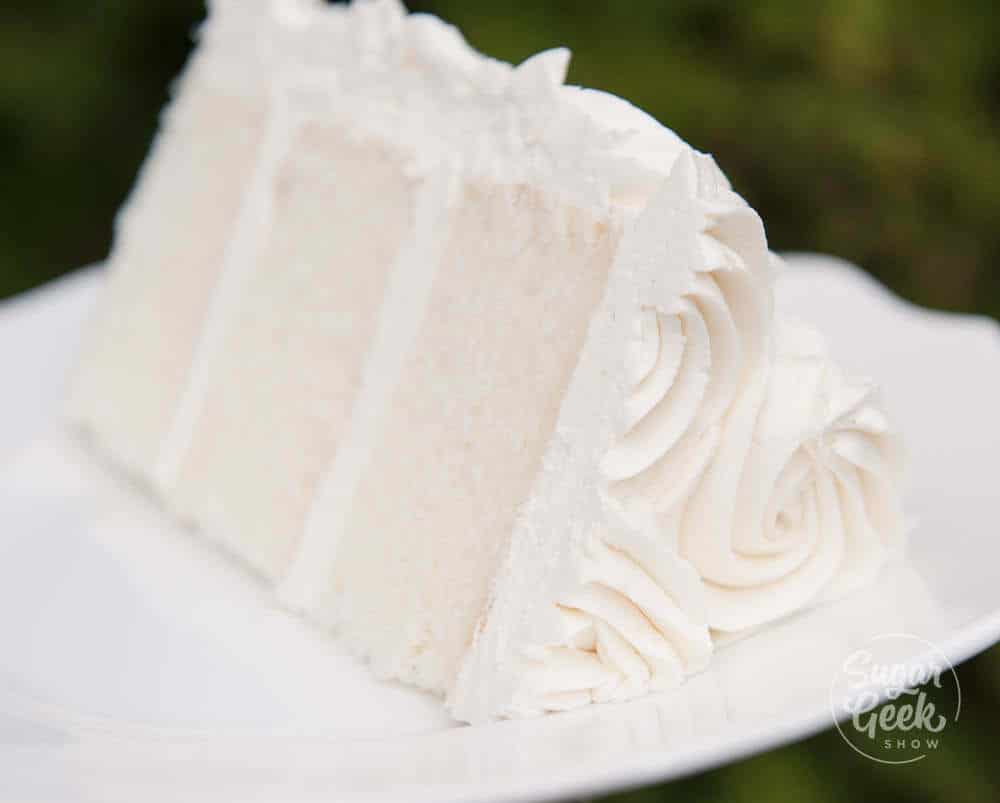 How do you make blue velvet cake?
To make blue velvet cake, simply add in 1 oz of electric blue food color (for a light blue cake) or royal blue food color (for darker blue) to the base white velvet recipe.
For a more natural blue, add 1-2 teaspoon of natural cocoa powder ( not dutched. I like Hershey's special dark) The cocoa powder will tone down the bright blue just a little so it's not so VIVID and make a nice natural blue. Or if you want a really bright blue you can leave the cocoa powder out.
Blue velvet is a great cake for gender reveals, birthday cakes or just because blue velvet is awesome.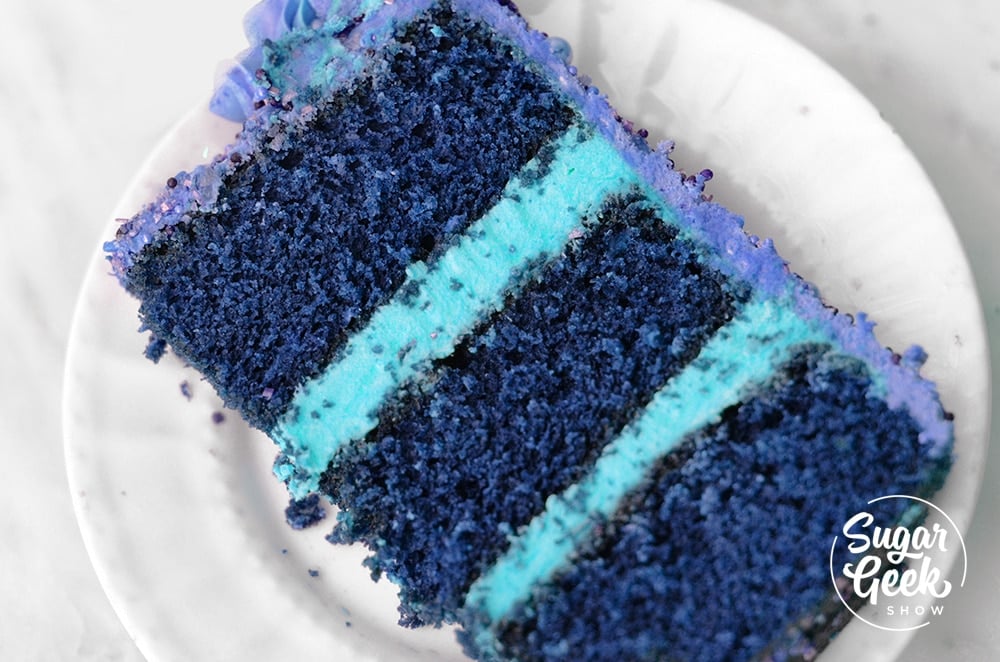 Can you can make velvet cake with different colors?
Yes! If you want a different color of velvet cake then simply replace the food color with any other color you like. You can do a white velvet rainbow, ombre or go with neon. The color possibilities are endless!

I made this lovely green velvet cake for st patricks day! I added in the cocoa powder for a more natural shade of green and used 1 oz of leaf green americolor food color gel.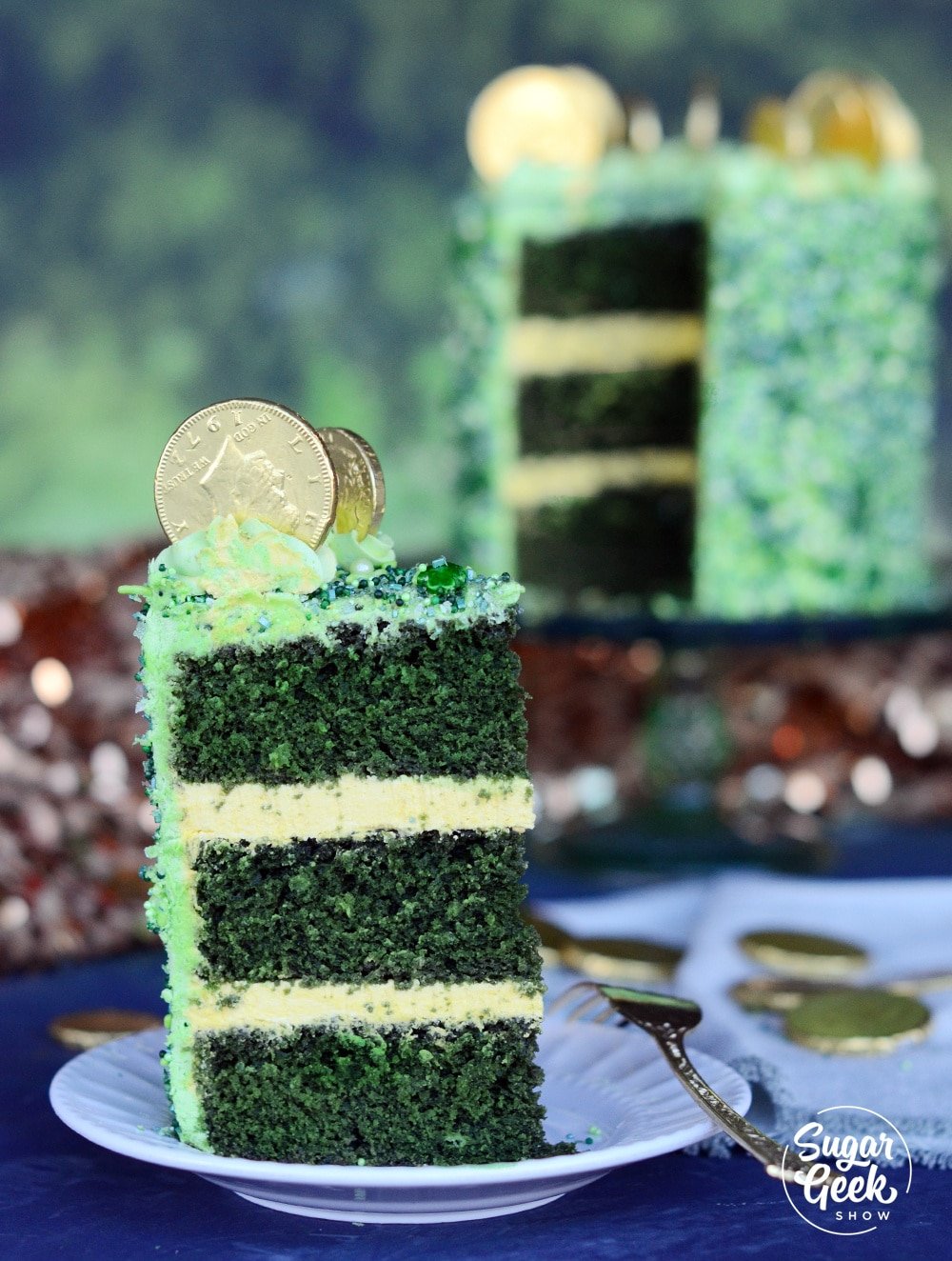 What about black velvet cake?
Ok so TECHNICALLY I have another recipe called black velvet cake that does not use this velvet cake base. Why? Because it's really a chocolate cake. It doesn't have any buttermilk in it, vinegar or food coloring! So why even bother calling it black velvet?
Well it's got a nice velvet-y texture. In the future I may experiment further with a true black velvet recipe working from the base velvet recipe but upping the cocoa powder. Too many cake ideas, so little time.
Related Recipes
Rainbow Cake
Green Velvet Cake
Pink Velvet Cake
Black Velvet Cake
Red Velvet Cake
Cake Batter and Frosting Calculator
Select an option below to calculate how much batter or frosting you need. Adjust the servings slider on the recipe card to change the amounts the recipe makes.
Choose a pan type
Choose a cake pan size
(based on 2" tall cake pan)
Choose a cake pan size
(based on 2" tall cake pan)
Choose a cake pan size
(based on 2" tall cake pan)
Cups of Batter Needed
8 cups
Cups of Frosting Needed
5 cups
Recipe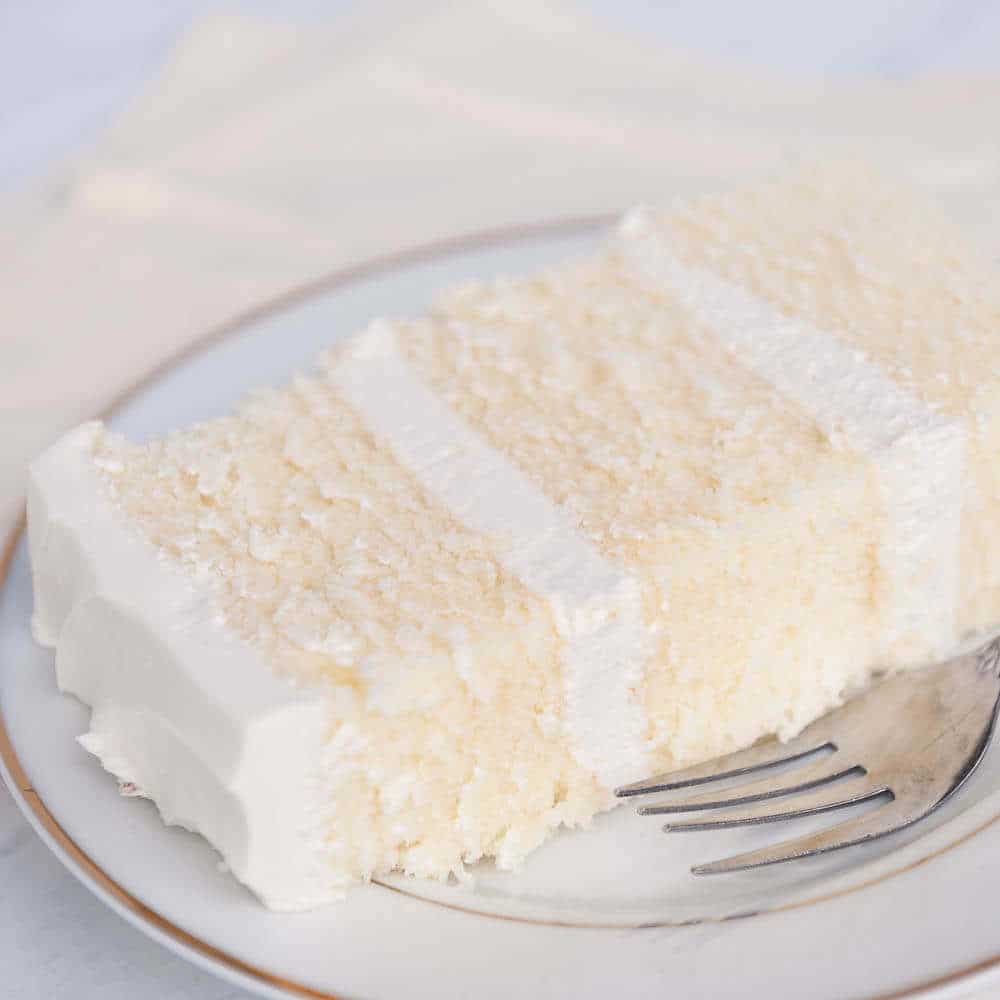 Servings: 8 cups
Calories: 208kcal
Equipment
Stand Mixer

Whisk Attachment

Paddle Attachment
Ingredients
White Velvet Cake Ingredients
14 oz cake flour
13 oz granulated sugar
1 teaspoon salt
1 tablespoon baking powder
½ teaspoon baking soda
5 oz egg whites room temperature
4 oz vegetable oil
10 oz buttermilk room temperature or slightly warm
6 oz butter unsalted and softened
2 teaspoon vanilla
Ermine Frosting Ingredients
14 oz granulated sugar
3 oz flour
16 oz whole milk
16 oz unsalted butter room temperature
2 teaspoon vanilla extract
¼ teaspoon salt
Instructions
NOTE: It is SUPER IMPORTANT that all the room temperature ingredients listed above are room temperature and measured by weight so that the ingredients mix and incorporate correctly. Heat oven to 335º F/168º C — 350º F/177º C. I tend to use lower setting to prevent my cakes from getting too dark on the outside before the inside is done baking.

Prepare two 8"x2" (or three 6") cake pans (with a little leftover batter) with cake goop or preferred pan spray. Fill your pans about ¾ of the way full of batter.

Combine flour, sugar, baking powder, baking soda and salt in the bowl of .a stand mixer with paddle attachment. Mix 10 seconds to combine.

Combine ½ cup of the milk and the oil together and set aside.

Combine the remaining milk, egg whites and vanilla together, whisk to break up the eggs and set aside.

Add your softened butter to the dry ingredients and mix on low until mixture resembles a coarse sand (about 30 seconds). Add in your milk/oil mixture and let mix until dry ingredients are moistened and then bump up to med (setting 4 on my kitchenaid) and let mix for 2 minutes to develop the cakes structure. If you don't let your cake mix on this step your cake could collapse.

Scrape your bowl and then reduce speed to low. Add in your egg white mixture in three batches, letting the batter mix for 15 seconds between additions.

Scrape down the sides again to make sure everything has incorporated then pour into prepared pans. Bake 35-40 minutes until a toothpick inserted into the center comes out cleanly but the cake has not begun to shrink yet from the sides of the pan. IMMEDIATELY TAP PAN FIRMLY on countertop once to release the steam from the cake. This stops the cake from shrinking. 

Let cakes cool for 10 minutes inside the pan before flipping them out. The cake will shrink a bit and that is normal. Flip onto a cooling rack and let cool fully. I chill my cakes before handling or you can wrap them in plastic wrap and freeze them to trap moisture in the cake. Thaw on the countertop while still wrapped before frosting.
Ermine Frosting Instructions
Whisk together your flour and sugar in a medium sauce pan over medium heat. Cook for about 2 minutes to toast the flour.

Slowly add in your milk, whisk to combine and bring your heat to medium-high. Whisk continuously until mixture is thickened and pudding like. Cover with plastic wrap and let cool.

Add your butter to the bowl of your stand mixer and whisk on high until light and fluffy. Slowly add in your cooled flour mixture one spoon at a time as you whip. Incorporating slowly insures a smooth buttercream.

Add in your vanilla and salt until everything is creamy and then you can frost your cooled cake.
Notes
IMPORTANT: Make sure all your ingredients are at room temp and you're using a scale to measure. Substituting ingredients may cause this recipe to fail. (see notes at the bottom of the recipe)
Important Things To Note Before You Start
1. Bring all your ingredients to room temperature or even a little warm (eggs, buttermilk, butter, etc) to ensure your batter does not break or curdle. 
2. Use a scale to weigh your ingredients (including liquids) unless otherwise instructed (Tablespoons, teaspoons, pinch etc). Metric measurements are available in the recipe card. Scaled ingredients are much more accurate than using cups and help ensure the success of your recipe. 
3. Practice Mise en Place (everything in it's place). Measure out your ingredients ahead of time and have them ready before you start mixing to reduce the chances of accidentally leaving something out.
4. Chill your cakes before frosting and filling. You can cover a frosted and chilled cake in fondant if you wish. This cake is also great for stacking. I always keep my cakes chilled in the refrigerator before delivery for easy transporting. 
5. If the recipe calls for specific ingredients like cake flour, replacing it with all purpose flour and cornstarch is not recommended unless specified in the recipe that it's ok. Substituting ingredients may cause this recipe to fail. 
Nutrition
Serving: 1serving | Calories: 208kcal | Carbohydrates: 21g | Protein: 1g | Fat: 13g | Saturated Fat: 8g | Cholesterol: 28mg | Sodium: 111mg | Potassium: 60mg | Sugar: 15g | Vitamin A: 335IU | Calcium: 31mg | Iron: 0.2mg