White velvet cake is a soft, delicate cake with a hint of buttermilk and vanilla
White velvet cake is red velvet's pretty little sister. Red velvet cake has been around for ages and probably one of the most popular cake flavors of all time. But not everyone want's to eat red food coloring or maybe they have special dietary requirements that don't allow them to eat red food dye. Whatever the reason, options are always good.
A lot of people wonder if you can just leave out the red food color and get white velvet and the answer is yes, kinda. You also need to leave out the cocoa powder. All the things that make red velvet cake delicious can be left in.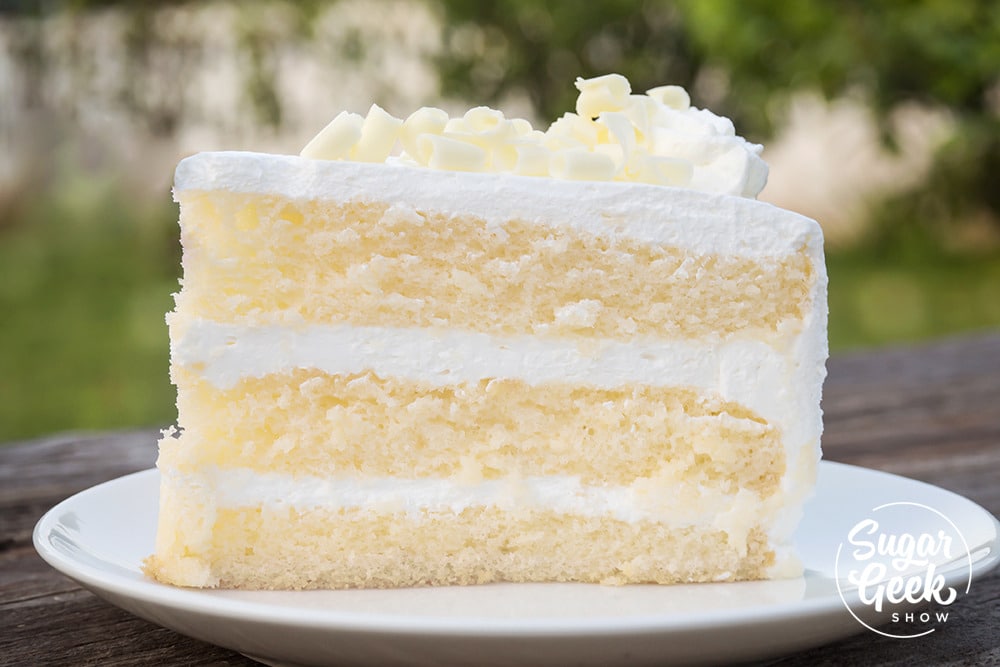 sidenote… the more I spell the word "velvet" the weirder it looks… velvet. velvet VELVET. Starts to look wrong.
But anyway…
What is white velvet cake?
White velvet cake is basically red velvet without the red. It's a buttermilk cake base that results in a VERY soft, fluffy and moist cake. If you leave out all the color and the cocoa powder you have yourself a nice white velvet cake. Neat huh. The vinegar and buttermilk gives this southern inspired cake it's rich and velvety texture
Traditional red velvet cake has a little bit of cocoa powder in it. Some will tell you that red velvet is actually chocolate cake (wrong) or that it's just white cake with red food color added (so wrong). The cocoa powder does add a little bit of flavor to the cake but not enough to call it chocolate so when you leave it out, it doesn't affect the flavor that much.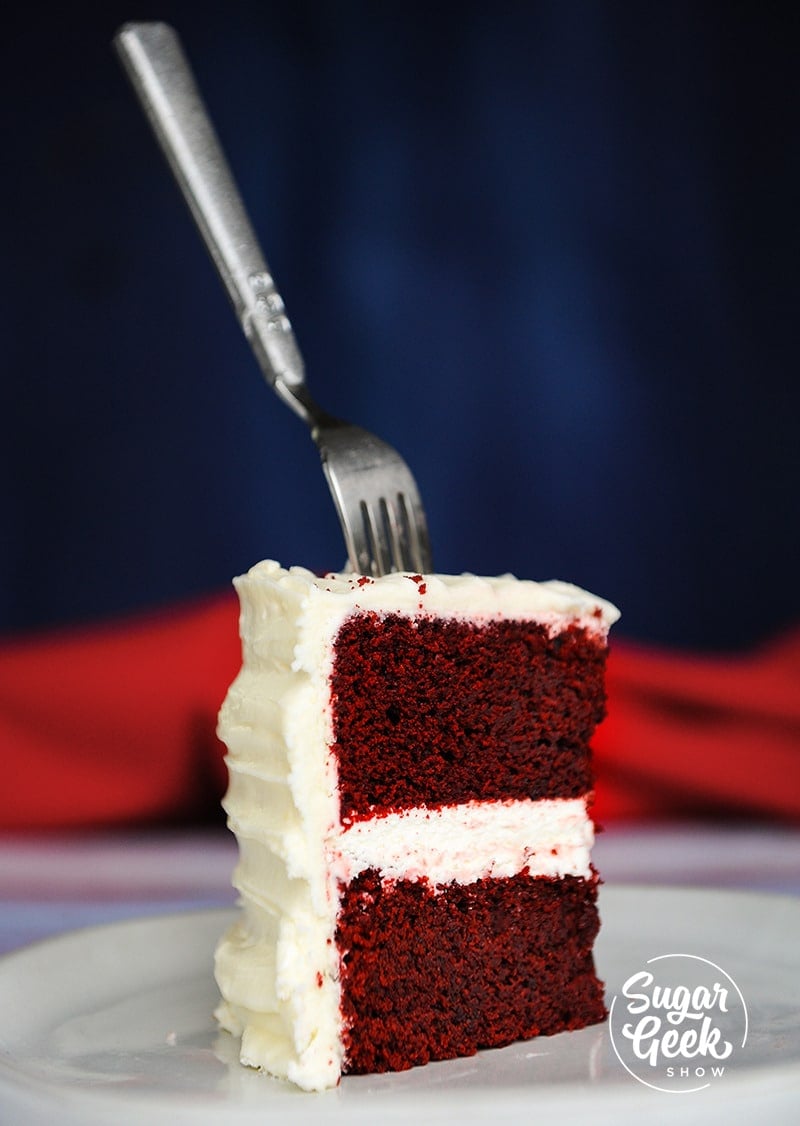 What's so great about white velvet?
So one of the BEST things about this recipe in my opinion is it's basically the easiest cake ever to make. It's like a scratch made box mix. Dump it all in the mixer and blend. Why it works for this cake and not other? MAGIC.
No not really.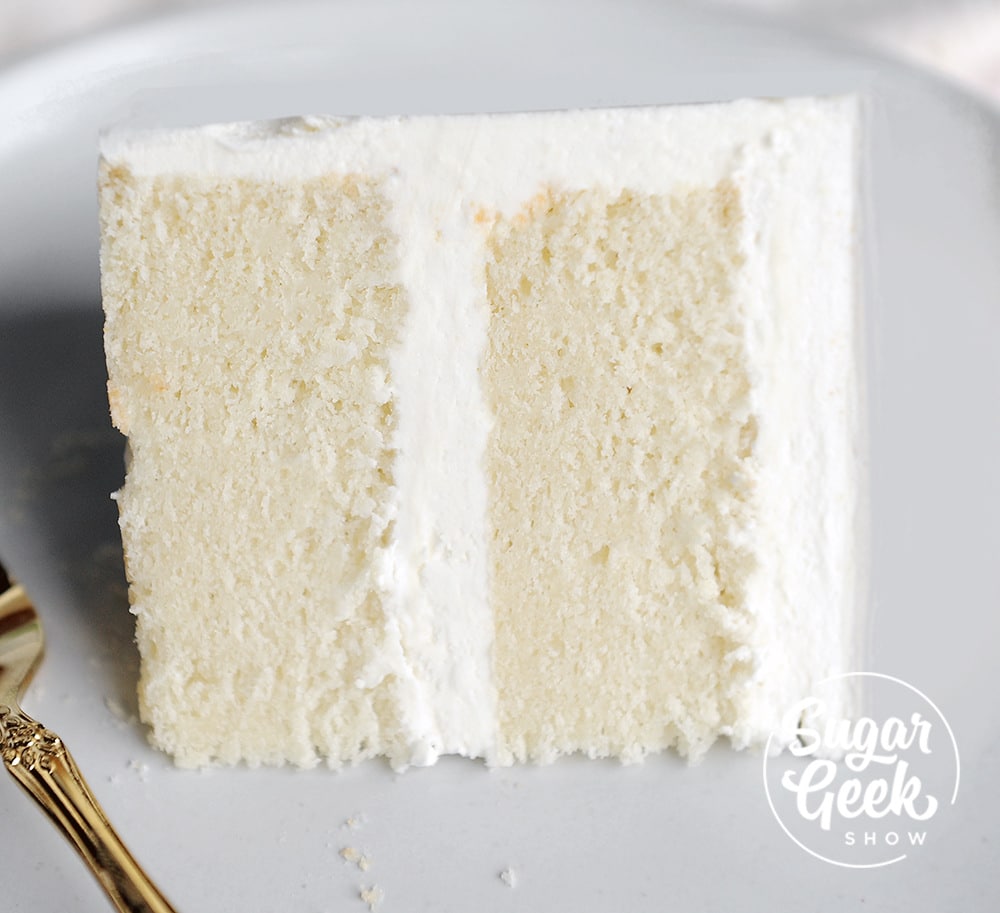 I actually don't know why it works. I do know however that the crumb is extremely tender. I imagine that has something to do with all that vinegar and buttermilk keeping the gluten from getting too tough and making the cake turn into a brick. I mean, there's a reason recipes like "buttermilk pancakes" and "buttermilk" biscuits always seem better than just… pancakes. Ya know?
The one thing I would warn against as a professional cake decorator is this cake is VERY soft. Not sure I would suggest using this for sculpted cakes because it doesn't really hold it's shape that well. If you are going to use it, make sure it's well chilled first.
How does white velvet cake taste like?
White velvet cake tastes so amazing BECAUSE of the buttermilk! It just adds a little tang and zip that for some reason your tastebuds just love.
The crumb is not as fine as a my white cake recipe or my vanilla cake but is definitely a great cake for flavor and to just bake up really quickly for a birthday cake.
Pair white velvet cake with cream cheese frosting, easy buttercream, fruit fillings or even ganache! I don't think I've ever paired it with a flavor that wasn't delish.
Pro-tip. Add a little lemon or orange zest to your cream cheese frosting and frost your white velvet cake with that and WOWZERS that is one yummy flavor combination!
How do you make blue velvet cake?
To make blue velvet cake, use 4 egg whites instead of whole eggs. If you leave the egg yolks in the mixture, you could end up with green. Then simply add in 1 oz of electric blue food color (for a light blue cake) or royal blue food color (for darker blue) to the base white velvet recipe.
For a more natural blue, add 1-2 tsp of natural cocoa powder ( not dutched. I like Hershey's special dark) The cocoa powder will tone down the bright blue just a little so it's not so VIVID and make a nice natural blue. Or if you want a really bright blue you can leave the cocoa powder out.
Blue velvet is a great cake for gender reveals, birthday cakes or just because blue velvet is awesome.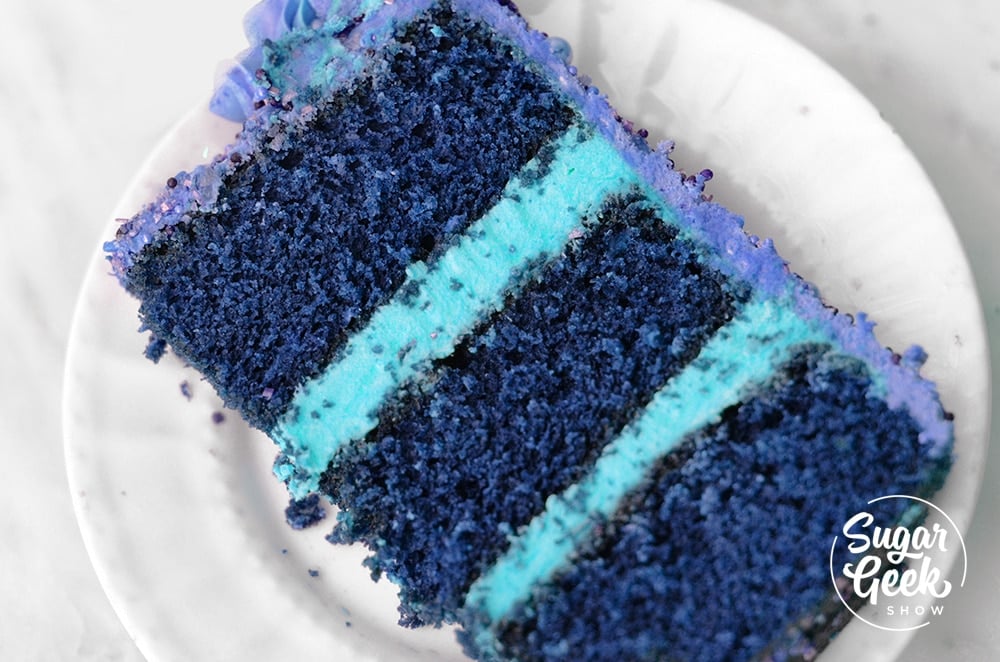 Can you can make velvet cake with different colors?
Yes! If you want a different color of velvet cake then simply replace the food color with any other color you like. You can do a velvet rainbow, ombre or go with neon. The color possibilities are endless!

I made this lovely green velvet cake for st patricks day! I added in the cocoa powder for a more natural shade of green and used 1 oz of leaf green americolor food color gel.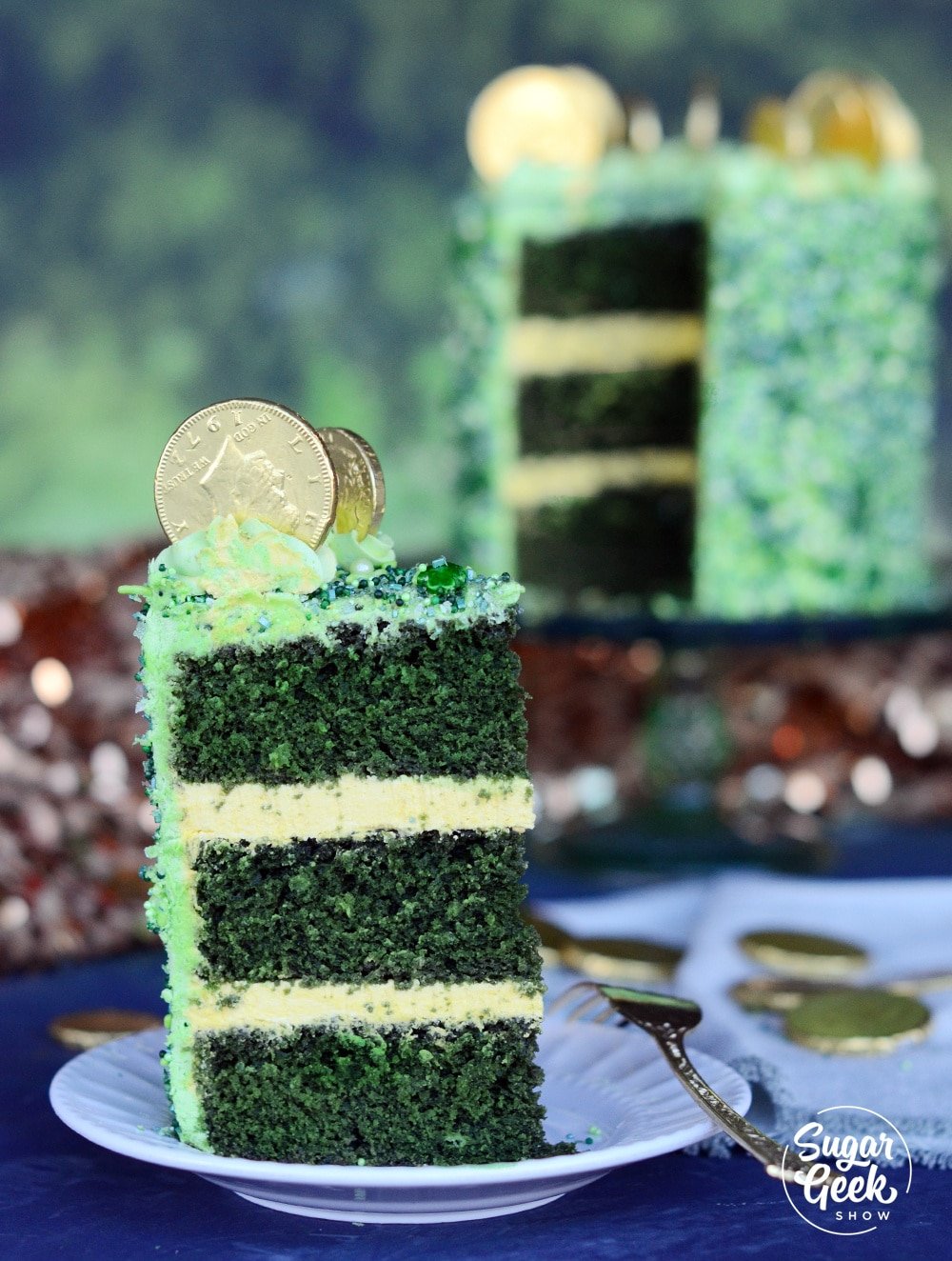 What about black velvet cake?
Ok so TECHNICALLY I have another recipe called black velvet cake that does not use this velvet cake base. Why? Because it's really a chocolate cake. It doesn't have any buttermilk in it, vinegar or food coloring! So why even bother calling it black velvet?
Well it's got a nice velvet-y texture. In the future I may experiment further with a true black velvet recipe working from the base velvet recipe but upping the cocoa powder. Too many cake ideas, so little time.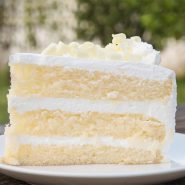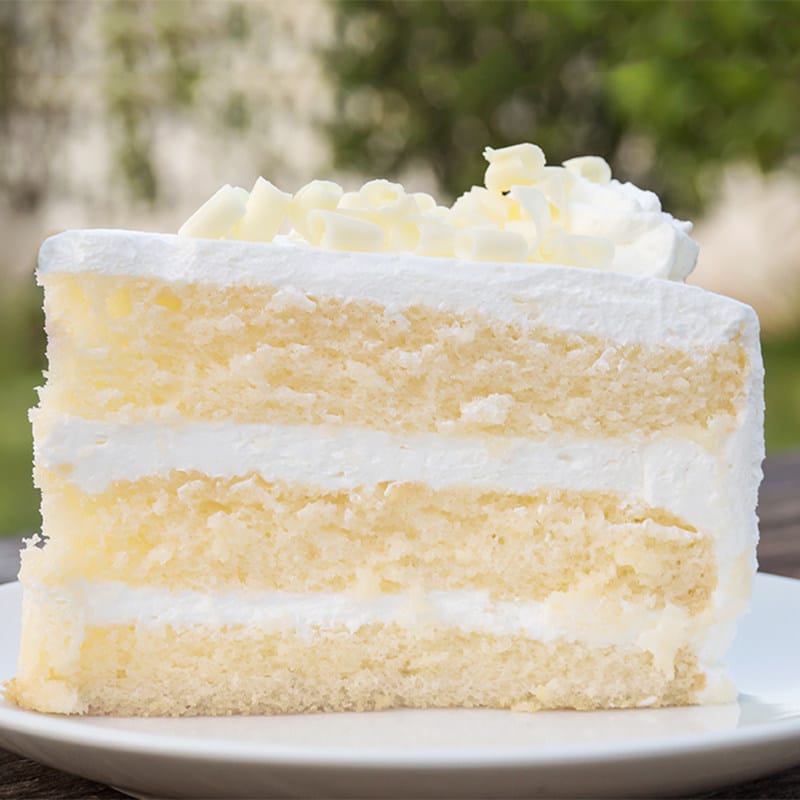 White velvet cake recipe
White velvet cake gets it's flavor from buttermilk and a touch of vinegar. A moist, tender cake that is great for any special occasion. This recipe makes two 8" round cakes about 2" tall
Ingredients
12

oz

AP flour

14

oz

granulated sugar

1

tsp

salt

1

tsp

baking soda

1

Tbs

white vinegar

4

large

egg whites

4

oz

vegetable oil

8

oz

buttermilk

4

oz

melted butter

unsalted

2

tsp

vanilla
Instructions
Preheat oven to 350F and prepare two 8" cake pans with cake good or preferred pan spray

Whisk up egg whites with oil, buttermilk, vinegar and melted butter and food coloring (optional) until combined and set aside.

Place dry ingredients into the bowl of your stand mixer and mix for a few seconds to combine

Add wet ingredients into your dry and mix on medium high for about a minute until combined

Pour into cake pans and bake for about 30 minutes or until a toothpick comes out cleanly. Pairs perfectly with our cream cheese buttercream.
Nutrition Facts
White velvet cake recipe
Amount Per Serving
Calories 800
Calories from Fat 324
% Daily Value*
Total Fat 36g 55%
Cholesterol 44mg 15%
Sodium 810mg 34%
Potassium 147mg 4%
Total Carbohydrates 111g 37%
Protein 9g 18%
* Percent Daily Values are based on a 2000 calorie diet.
March 9, 2018