Moist green velvet cake with rainbow buttercream frosting
Green velvet cake is the recipe that I seem to use more and more. I first created it for my St. Patrick's Day cake tutorial but have since used it for Dr. Seuss cakes, sports-themed cakes, and even birthday cakes. You never know when you're going to need a good green velvet cake! You can easily switch out the green for other dark colors like blue or purple too if that's the color that you need.
This cake was adapted from my real red velvet cake and has a wonderful tangy buttermilk cake flavor that is light, fluffy, moist and really delicious.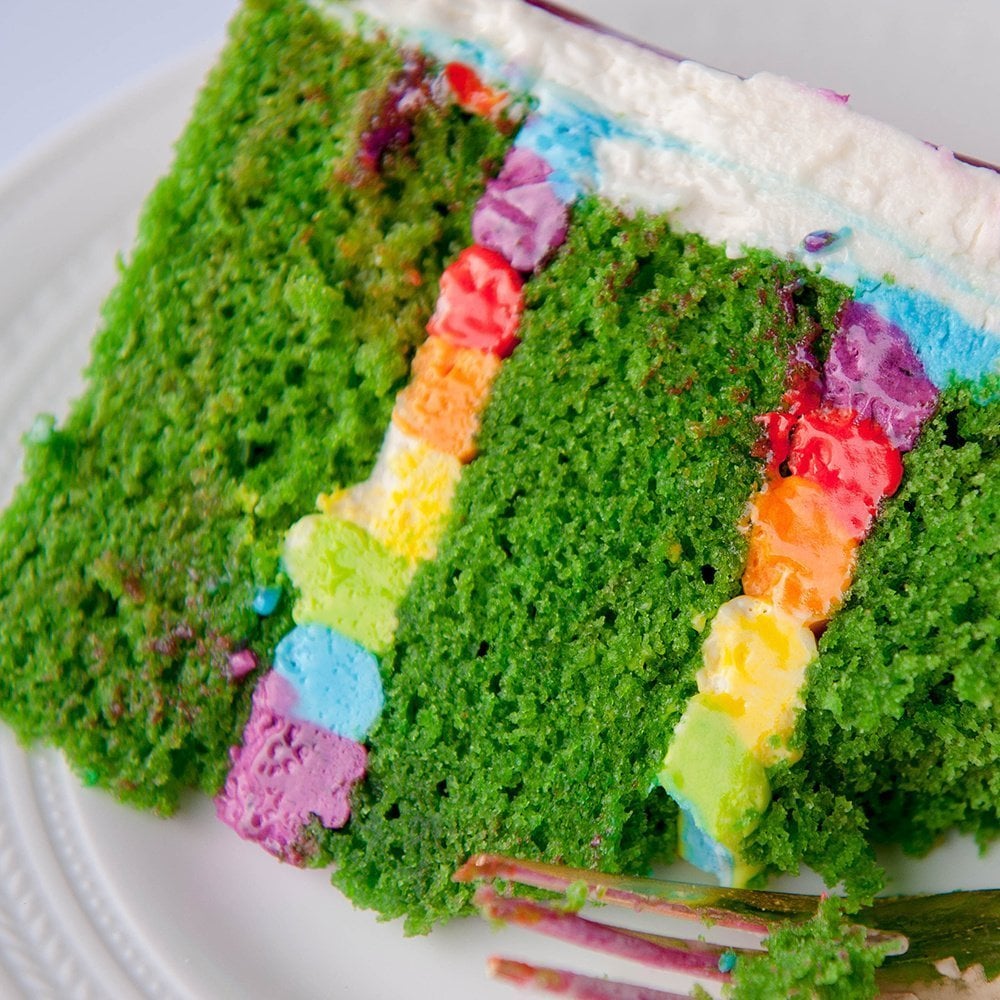 What does green velvet cake taste like?
Green velvet cake is actually just red velvet cake but with green food coloring instead of red. The taste is sweet with a hint of tanginess from the buttermilk. There is cocoa powder in this recipe but the cake definitely doesn't taste like chocolate.
The cake is super moist, has a very tender crumb and is actually really delicious!
How to make green velvet cake
This green velvet cake is so easy to make, my daughter made it for the recipe tutorial. Simple combine all your wet ingredients (including eggs) in a bowl and whisk together. Then combine all your dry ingredients in the bowl of your stand mixer with the paddle attachment. Pour the wet ingredients into the dry and let mix for one minute to develop the texture.
Pour your batter into two 8″ round pans or three 6″ round pans. Let them cool before frosting. I love my easy buttercream to use as a filling but cream cheese frosting works great as well.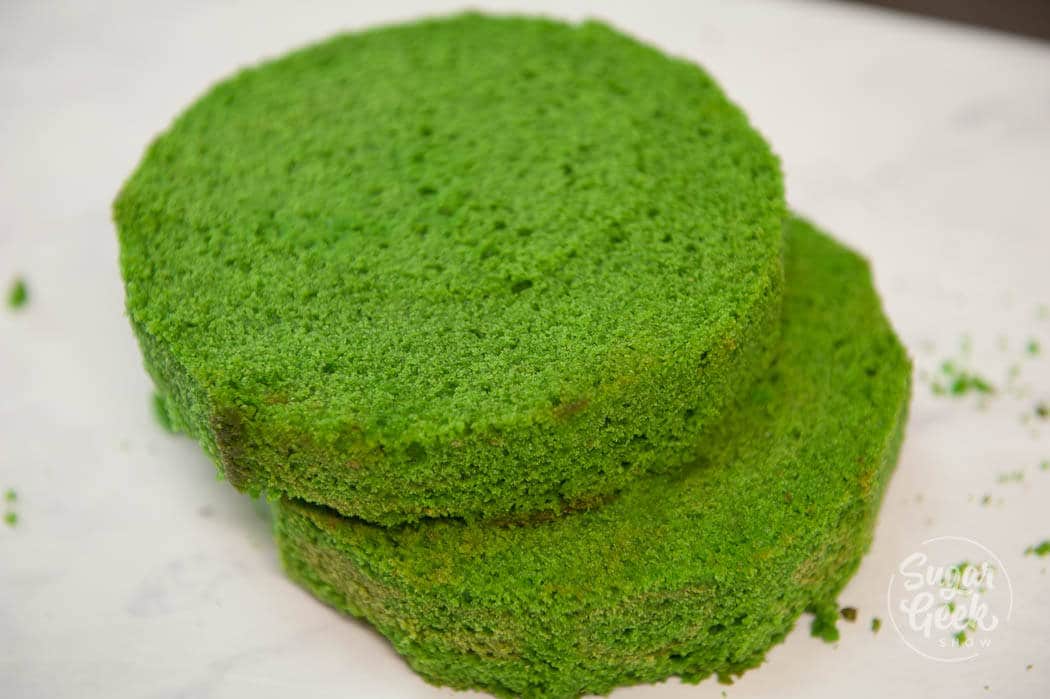 If you're looking for more ways to decorate your green velvet cake, check out my rainbow drip pot of gold cake for Saint Patrick's Day.
I love how the rainbow buttercream looks inside the green velvet cake. Very festive!
How to make rainbow buttercream for green velvet cake
To make my rainbow frosting, I simply colored about 1/2 cup of buttercream with regular food coloring gel. I used red, orange, yellow, lime green, light blue, and violet/pink. Place your colors in a small piping bag and trim off the tip.
Pipe concentric circles onto your cake layers starting with blue and working your way in order to purple. You can start over with red again if you need more buttercream.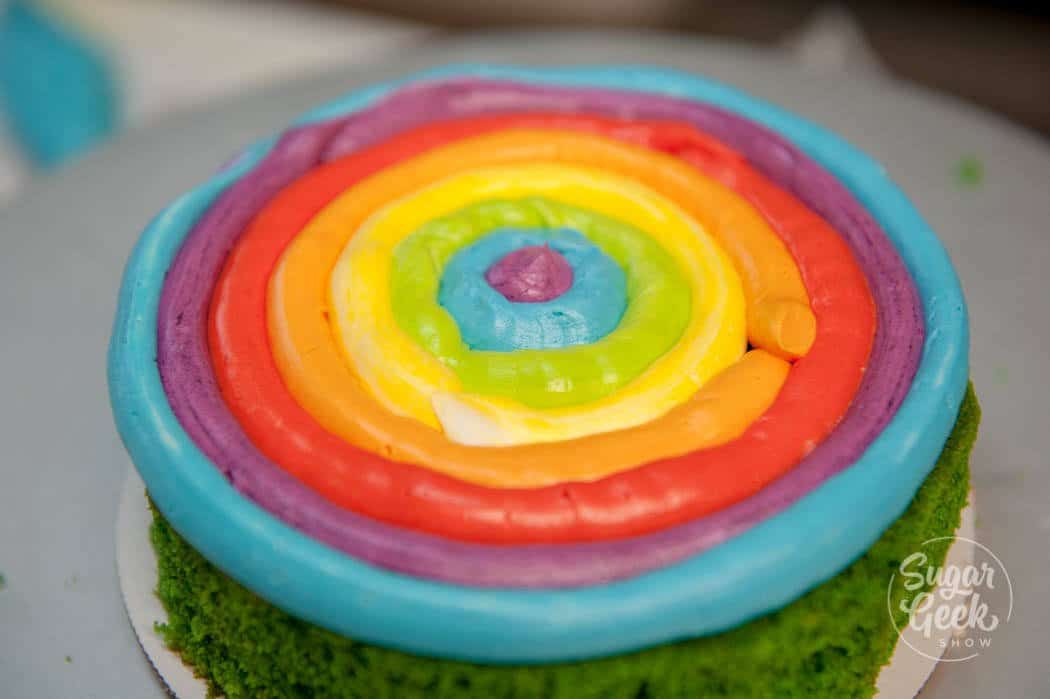 The best thing about this green velvet cake is that it actually tastes really really good. It has a nice tangy buttermilk flavor and you can't taste the food coloring at all. A great way to make your cake fun on the inside and the outside.
Cake Batter and Frosting Calculator
Select an option below to calculate how much batter or frosting you need. Adjust the servings slider on the recipe card to change the amounts the recipe makes.
Choose a pan type
Choose a cake pan size
(based on 2" tall cake pan)
Choose a cake pan size
(based on 2" tall cake pan)
Choose a cake pan size
(based on 2" tall cake pan)
Cups of Batter Needed
8 cups
Cups of Frosting Needed
5 cups
Did You Make This Recipe?Leave a rating and tell me how it went!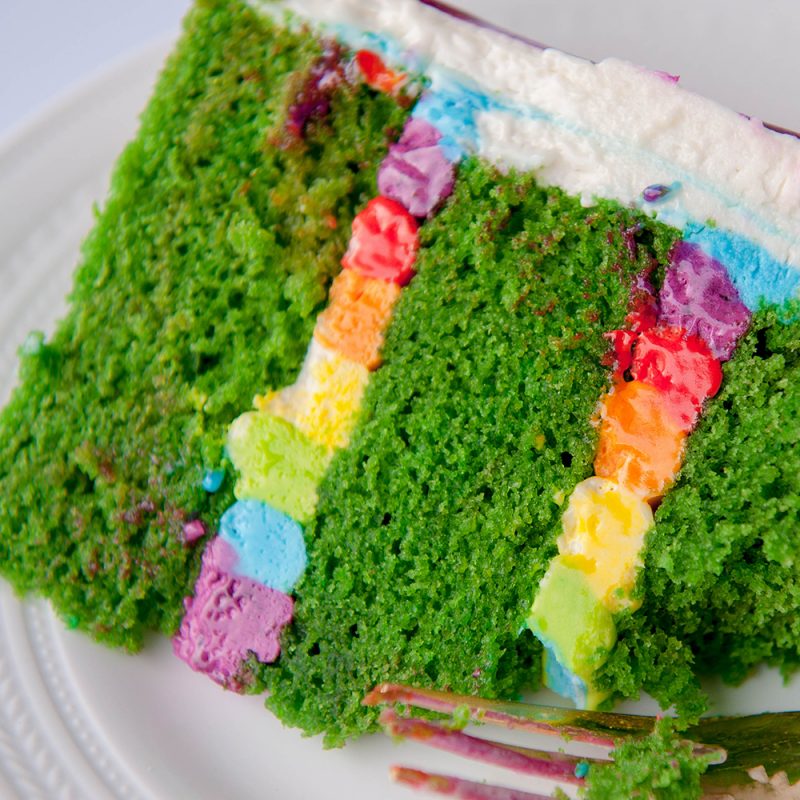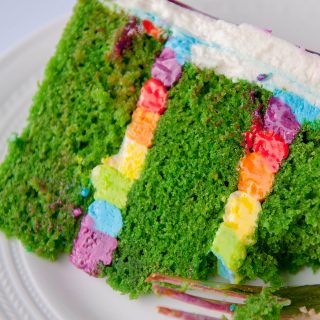 Green Velvet Cake Recipe
This green velvet cake is so fun to make for St Patricks Day or any other holiday where you need a pretty green cake that also tastes amazing! Adapted from my very popular red velvet cake recipe.
Print
Rate
Never Miss A Cake
Serves: 8 cups
Calories: 1077kcal
Ingredients
Cake Ingredients
14 oz (340 g) AP flour
14 oz (397 g) Granulated Sugar
2 tsp natural (not dutched) cocoa powder I like Hershey's Special Dark
1 tsp salt
1 tsp baking soda
2 large eggs
4 oz (114 g) vegetable oil
8 oz (227 g) buttermilk
1 Tbsp white vinegar
4 oz (114 g) unsalted butter
1 tsp vanilla
1-2 tsp yellow food coloring
1 tsp green food color
Easy Buttercream Frosting
4 oz pasteurized egg whites
16 oz unsalted butter
16 oz powdered sugar
1 Tbsp vanilla
1/2 tsp salt
1/2 tsp food coloring optional
Instructions
Cake Instructions
Preheat oven to 350F and prepare two 8" cake pans with cake good or preferred pan spray

Whisk up eggs with oil, buttermilk, vinegar and melted butter and food coloring until combined and set aside.

Place dry ingredients into the bowl of your stand mixer and mix for a few seconds to combine

Add wet ingredients into your dry and mix on medium high for about a minute until combined

Pour into cake pans and bake for about 30 minutes or until a toothpick comes out cleanly. Cool and chill before frosting
Buttercream Instructions
Place egg whites and powdered sugar in a mixing bowl with the whisk attachment. Whisk to combine. Add in butter in small chunks then vanilla and salt. Whip on high until light and fluffy and white. Optional: switch to the paddle attachment and mix on low for 15-20 minutes until all air bubbles are gone.

Divide into 7 separate bowls and add your food coloring (yellow, orange, red, pink, purple, blue, green) Put the buttercream into a piping bag to fill your cake

Frost the outside of the cake as desired
Nutrition
Serving: 1serving | Calories: 1077kcal (54%) | Carbohydrates: 112g (37%) | Protein: 6g (12%) | Fat: 68g (105%) | Saturated Fat: 44g (220%) | Cholesterol: 188mg (63%) | Sodium: 409mg (17%) | Potassium: 74mg (2%) | Sugar: 92g (102%) | Vitamin A: 2035IU (41%) | Calcium: 44mg (4%) | Iron: 1.6mg (9%)