Chocolate Irish Cream Cake Packs A Punch With Guinness Beer Infused Cake and Bailey's Irish Cream Ganache.
Chocolate Irish cream cake starts with my death by chocolate cake and while it's still warm, you poke it full of holes and drizzle a rich and decadent irish cream sauce all over it. This makes this cake incredibly moist. After the cake is chilled, you fill and frost the cake with a bailey's irish cream white chocolate ganache. Be careful though, this cake is definitely boozy and not for kids.
**This recipe is based off of a drink called an Irish Car Bomb. I had originally named the recipe that but was quickly informed that the name is highly offensive so I changed it. Please forgive me if you where offended, I would never ever want to offend anyone and had no idea there was an issue with the name.
You can read more about why the term Irish Car Bomb is offensive here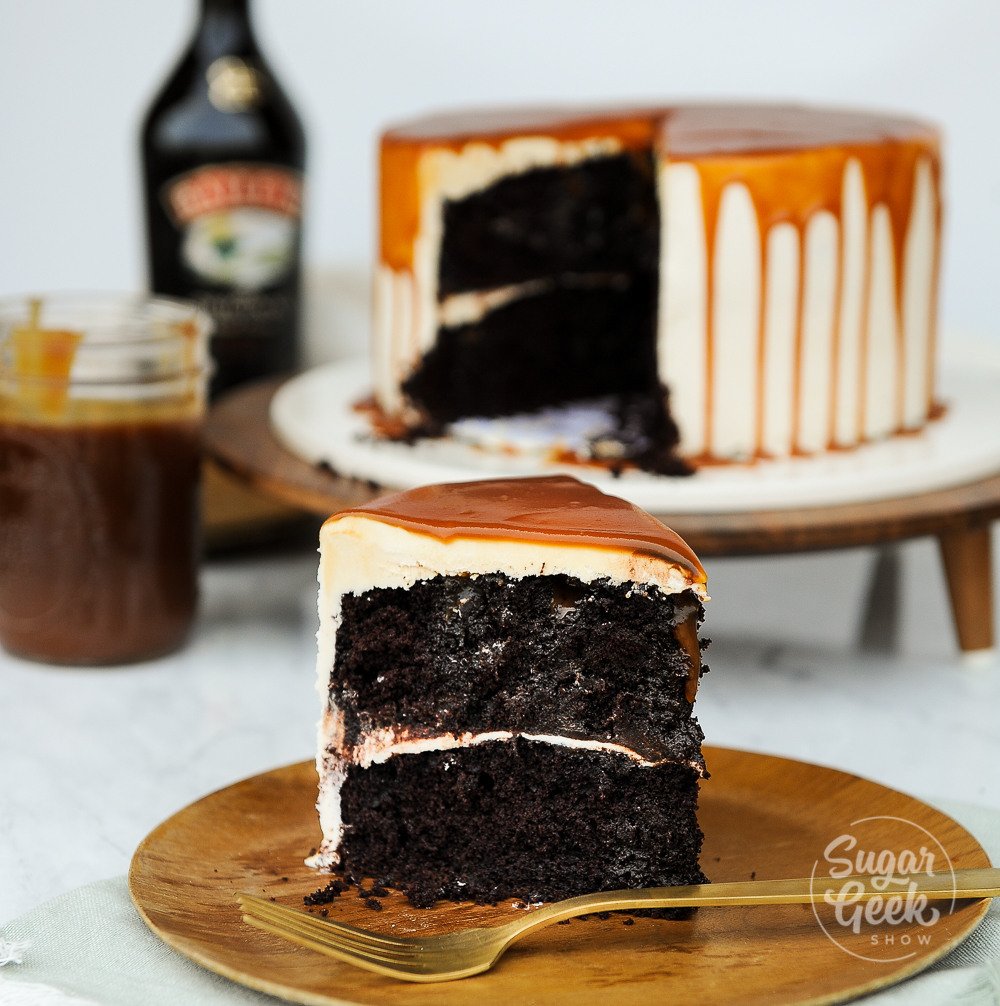 What Is An Irish Car Bomb?
Not many know this about me but waaaaay back in the day I actually used to be a bartender. I actually really enjoyed it even though I'm pretty introverted. Nothing brings people together like a few drinks!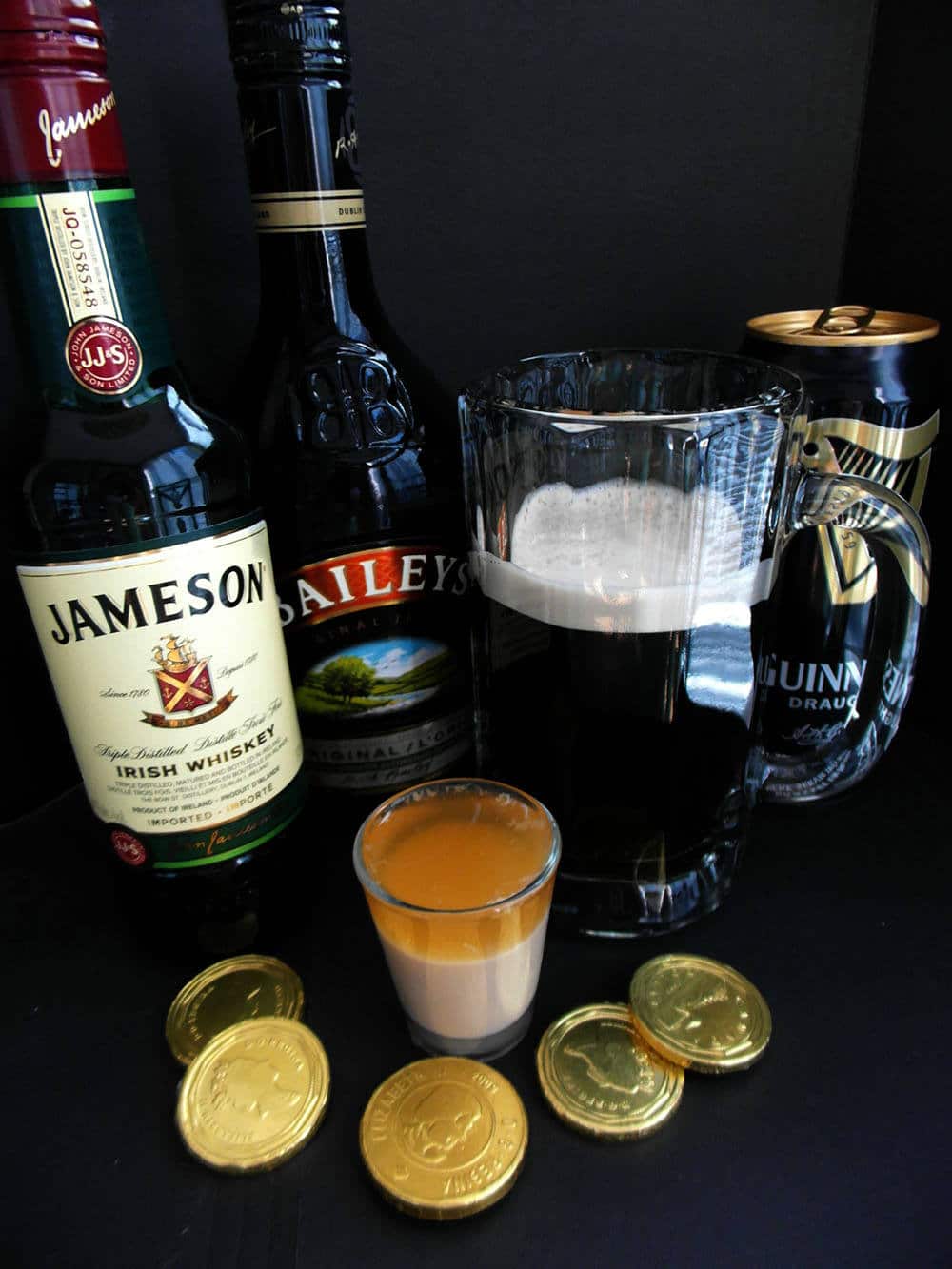 The Irish car bomb was really popular on the weekends. Basically it's a shot of Irish whiskey combined with a tad bit of bailey's Irish cream then you drop the whole shot into a pint of Guinness. Then you chug it of course! The whole point of this drink is to drink it before the whiskey curdles in the Irish cream (blech) Sure to get you more than a little bit tipsy in five minutes flat.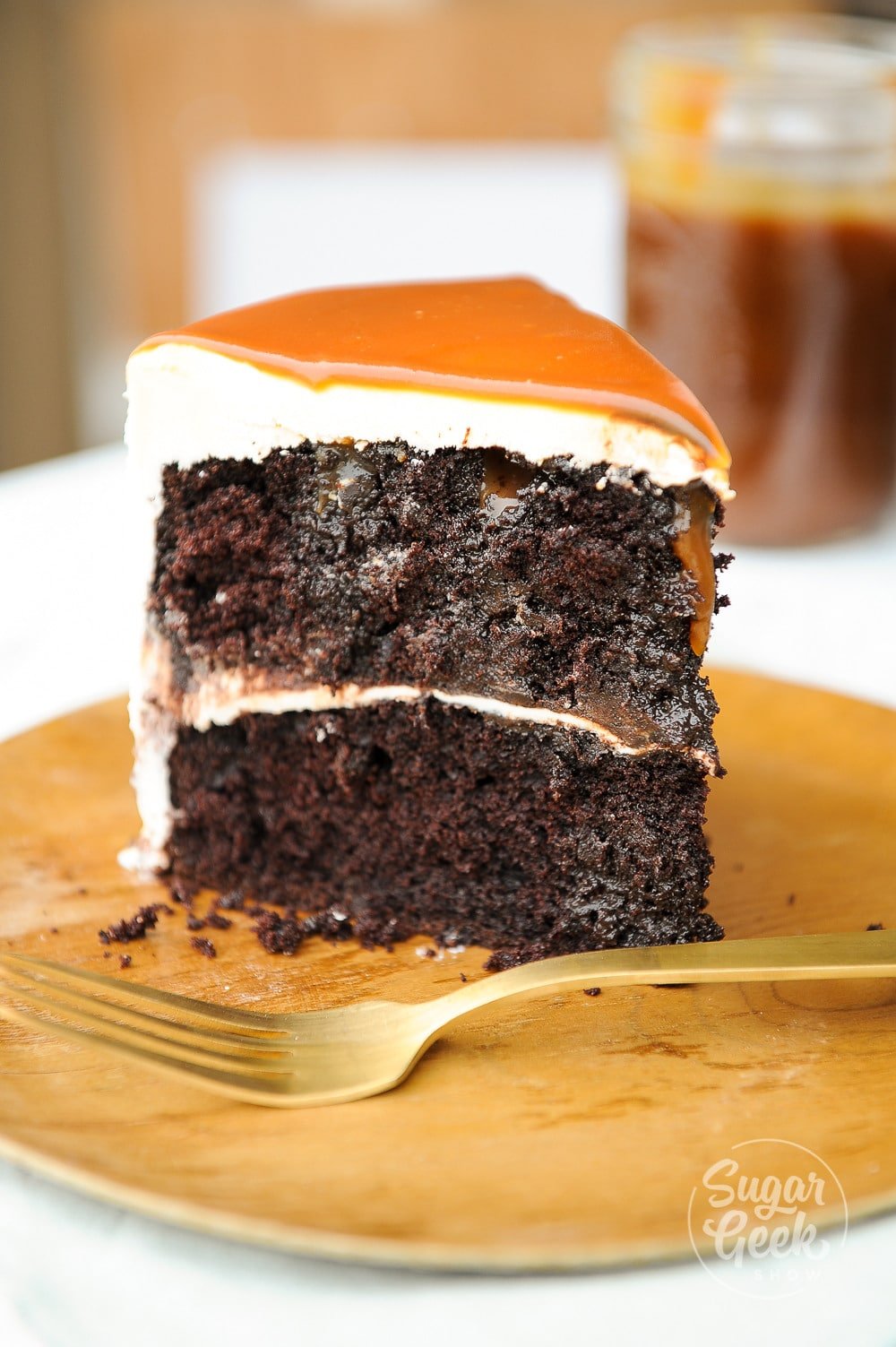 The great thing about Guinness is it already has a rich and creamy, almost chocolate ice cream flavor so it works really really well in this recipe.
How To Make Chocolate Irish Cream Cake
The first thing you want to do is to make your cake. We are using my death by chocolate cake recipe for this cake but you could also use the Guinness cake recipe. You just want a nice strong chocolate flavor and the beer in the recipe actually brings out the flavor of chocolate in the cake. It doesn't really taste like beer but it's great to tell the beer lover eating the cake that it's made with beer!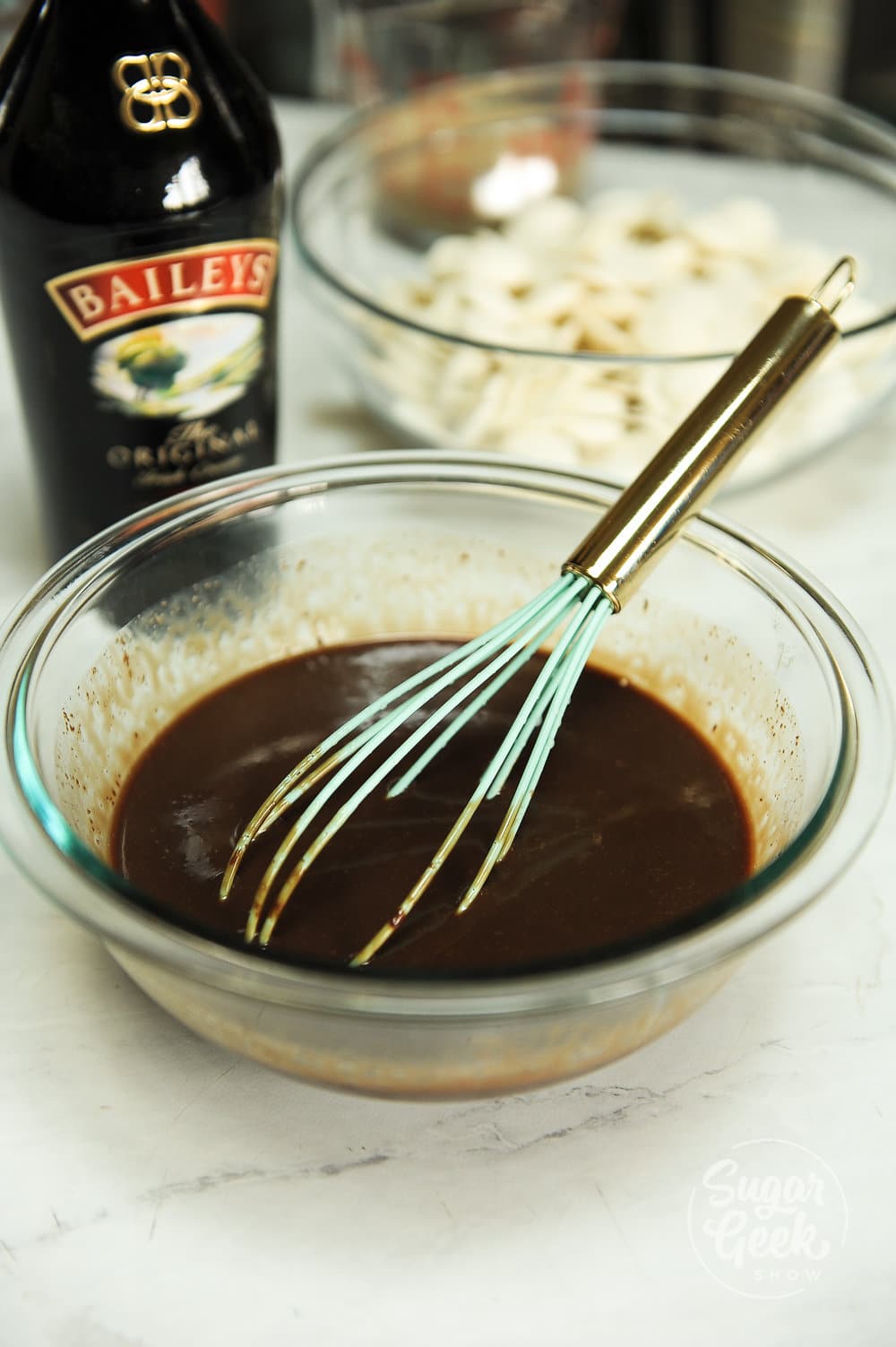 Next we need to make the sauce. It's super easy! Just heat some bailey's Irish cream together with some sweetened condensed milk and a bit of chocolate. Once your cake is finished baking and cooled for about 15 minutes, turn the cake out of the pan. Place some plastic wrap into the bottom of the pan and put the cake back in. This keeps the sauce from making the cake stick to the pan.
Then you poke poke poke some holes and drizzle that amazing sauce allllll over the cake. The sauce goes down into all those nooks and crannies and makes it extra rich and moist. Cover with more plastic wrap and let it chill overnight. The chocolate in the sauce hardens up and allows you to handle the cake once it's fully cooled.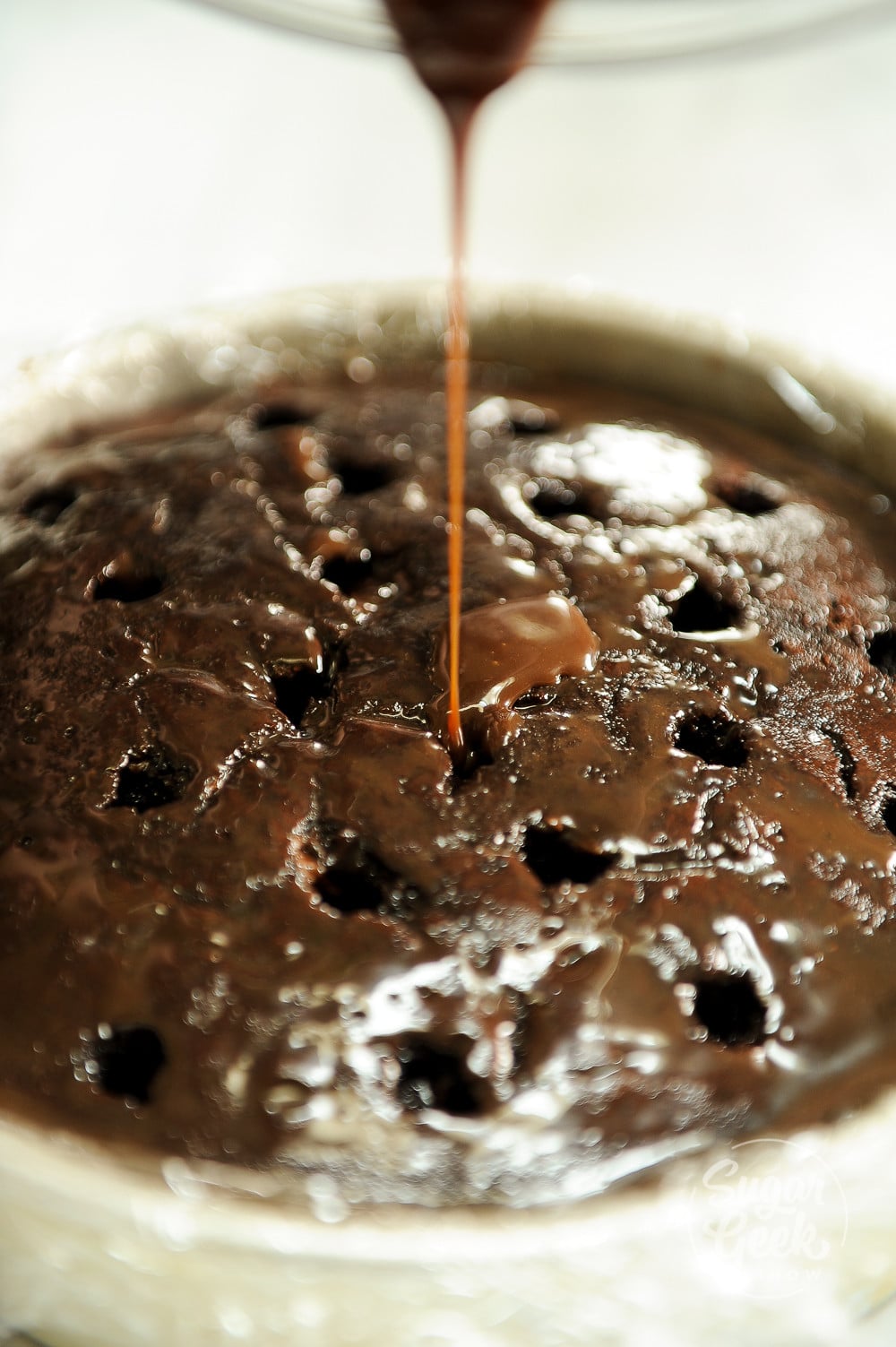 Finally you make the bailey's white chocolate ganache! Sooo easy to make! Simple heat up your cream and your bailey's and pour it over your white chocolate. Let it sit a few minutes to get that chocolate softened. Add in your whiskey, vanilla and salt then whisk away until it's nice and creamy.
You'll have to wait until the ganache cools to a peanut butter consistency before you can frost your Chocolate Irish cream cake.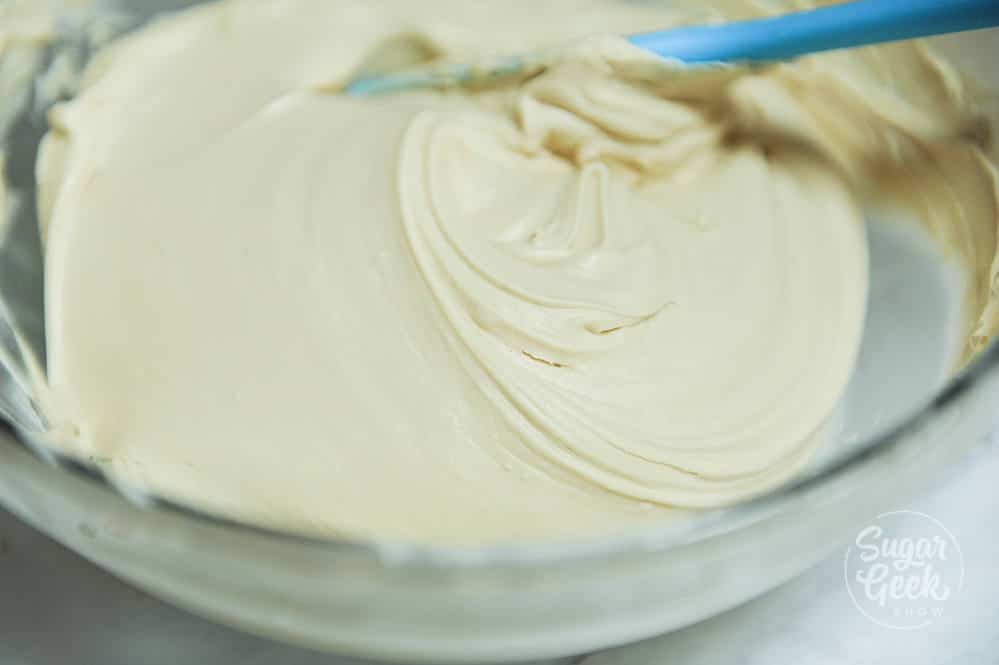 I decided to top my cake with a bit of a caramel drizzle but that's totally optional!
Whiskey Bottle Cake
My best friend's husband is full on Irish and loves his whiskey! I was so excited to try out this recipe on him and he loved it! I used this cake to sculpt this gravity defying whiskey bottle cake. It was definitely challenging!! The hardest part was figuring out how to make the glass clear and pour in something that looked semi-transparent like whiskey. I had a lot of fails for sure!
In the end I was happy with how the cake looked but I think I'll have to do some simplifying before I turn this one into a tutorial. Let me know in the comments if you'd like to see this as a tutorial on the site.
Be sure to watch the full video below on how to make this super yummy Chocolate Irish Cream Cake! Great for beer lovers, 21st birthday cakes and manly cakes!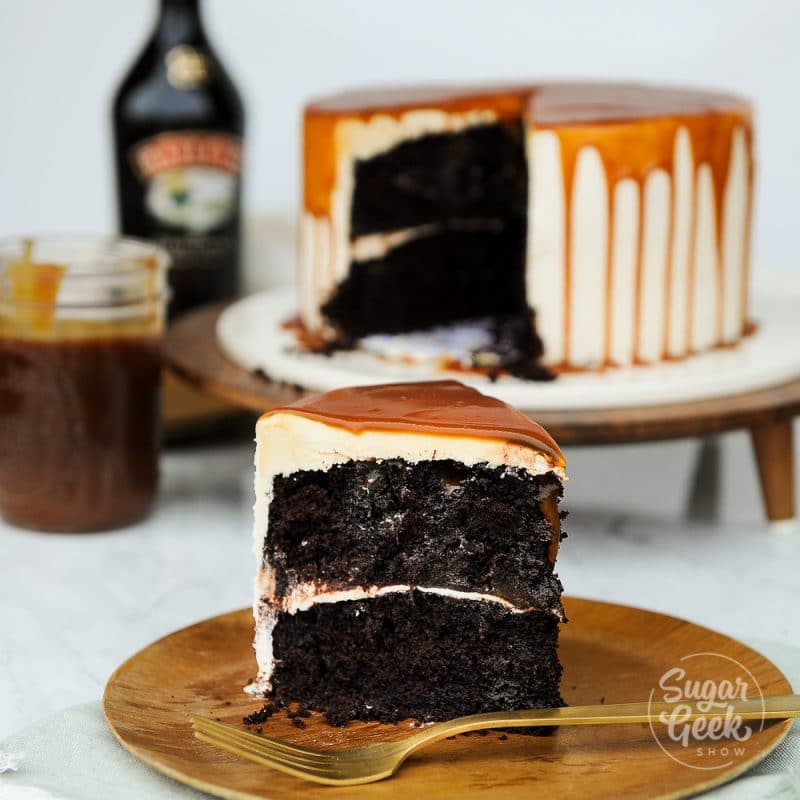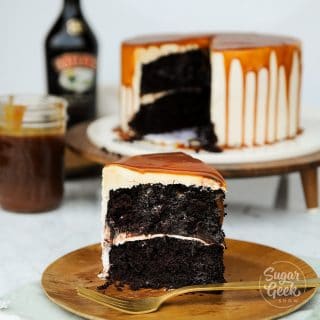 Chocolate Irish Cream Cake
Chocolate Irish Cream Cake starts with my death by chocolate cake and you drizzle on a rich and creamy sauce made from Bailey's Irish Cream Liqour and finish with Bailey's Irish Cream white chocolate ganache! This recipe makes two 8"x2" cakes or three 6"x2" cakes.
Ingredients
Death By Chocolate Cake
14

oz

Stout Beer

1 1/2

Tbsp

Espresso Powder

2

tsp

Real Vanilla

14

oz

Cake Flour

1

tsp

Baking powder

2

tsp

Baking soda

1 1/2

tsp

Salt

6

oz

Dutched Cocoa Powder

10

oz

Unsalted Butter

16

oz

Granulated Sugar

4

Large

Eggs

6

oz

Mayonnaise

6

oz

Mini chocolate chips
Bailey's Poke Filling
8

oz

Sweetened Condensed Milk

4

oz

Bailey's Irish Cream Liqour

4.5

oz

Semi-sweet chocolate
Bailey's White Chocolate Ganache
24

oz

White chocolate

4

oz

Bailey's Irish cream liqour

4

oz

Heavy Whipping Cream

1

tsp

Vanilla Extract

1

Tbsp

Irish Whiskey (Jameson)

1/4

tsp

Salt
Instructions
Death By Chocolate Cake
NOTE: It is SUPER IMPORTANT that all the room temperature ingredients listed above are room temperature and not cold so that the ingredients mix and incorporate correctly.

Heat oven to 335º F/168º C — 350º F/177º C. I tend to use lower setting to prevent my cakes from getting too dark on the outside before the inside is done baking.

In a large measuring cup combine the stout, espresso powder and vanilla. Whisk together and set aside.

Sift together the flour, cocoa, salt, baking powder and baking soda in a large bowl and set aside.

Place softened butter in the bowl of a stand mixer with the paddle attachment. Cream until smooth and shiny. With mixer on low, gradually sprinkle in the sugar. Beat until mixture is fluffy and almost white. About 3-5 minutes.

Add your eggs one at a time. Let the egg incorporate fully before adding in the next egg to avoid breaking your batter. Add in your mayo and mix until combined.

With the mixer on low, add in 1/3 of your dry ingredients and mix until almost combined. Add in 1/3 of your liquid ingredients. Repeat the process two more times until everything is combined.

Gently fold in the mini chocolate chips and divide equally into two 8" cake pans. Bake for 30 - 40 minutes until a toothpick comes out cleanly but with a few sticky crumbs. Don't over bake.

Let cool and then wrap in plastic wrap and chill until the cakes are firm enough to handle. You can flash chill in the freezer if you need to cool them quickly.
Bailey's Poke Filling
In a microwave safe bowl, combine the sweetened condensed milk and Bailey's Irish Cream. Microwave until almost boiling.

Pour heated mixture over the chocolate chips and let sit for 2 minutes to let the chocolate melt. Mix until combined.
Bailey's Irish Cream White Chocolate Ganache
In a microwave safe bowl, combine the heavy whipping cream and Bailey's Irish Cream. Microwave until almost boiling.

Pour heated mixture over the white chocolate and let sit for 2 minutes to let the chocolate melt. Add vanilla, whiskey and salt and whisk until smooth and creamy

Let ganache cool until creamy in texture, like peanut butter consistency before frosting your cake
Nutrition Facts
Chocolate Irish Cream Cake
Amount Per Serving (1 g)
Calories 2160
Calories from Fat 1161
% Daily Value*
Fat 129g198%
Cholesterol 374mg125%
Sodium 1648mg69%
Potassium 1078mg31%
Carbohydrates 252g84%
Protein 25g50%
Vitamin A 2980IU60%
Calcium 196mg20%
Iron 8.5mg47%
* Percent Daily Values are based on a 2000 calorie diet.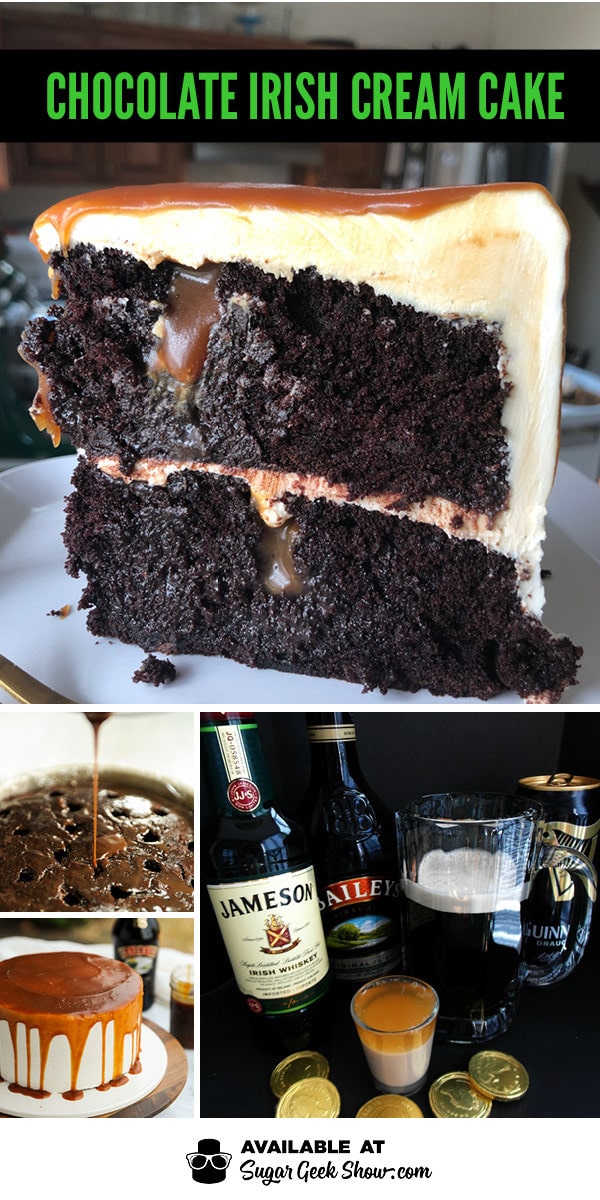 September 5, 2019