Traditional Irish soda bread is made with only four ingredients
Today we're making traditional Irish soda bread for Saint Patricks day! Irish soda bread is soft and tender on the inside and has a delightfully crunchy crust on the outside.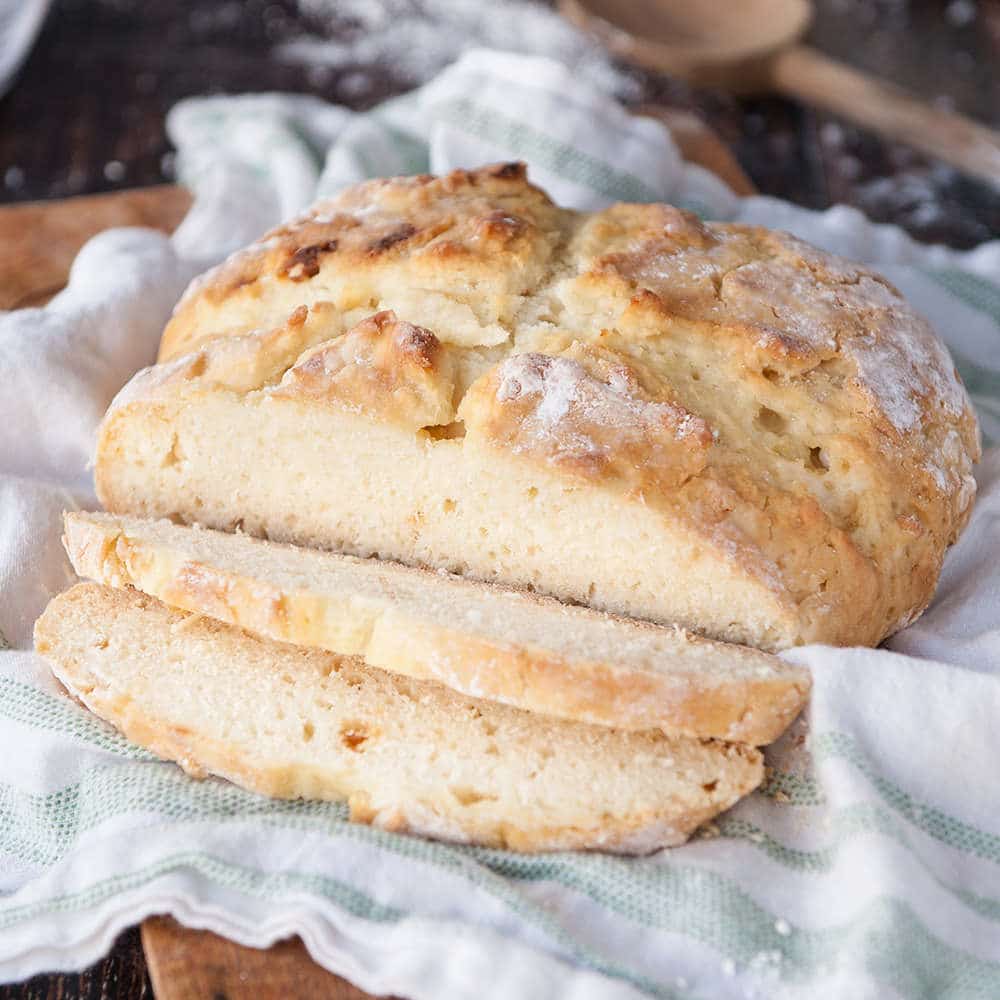 No yeast required to make traditional Irish soda bread. All you need is four simple ingredients.
Pastry or cake flour
Baking soda
Buttermilk
Salt
That's it! These four ingredients make some delicious bread that tastes amazing fresh out of the oven and slathered in butter and jam.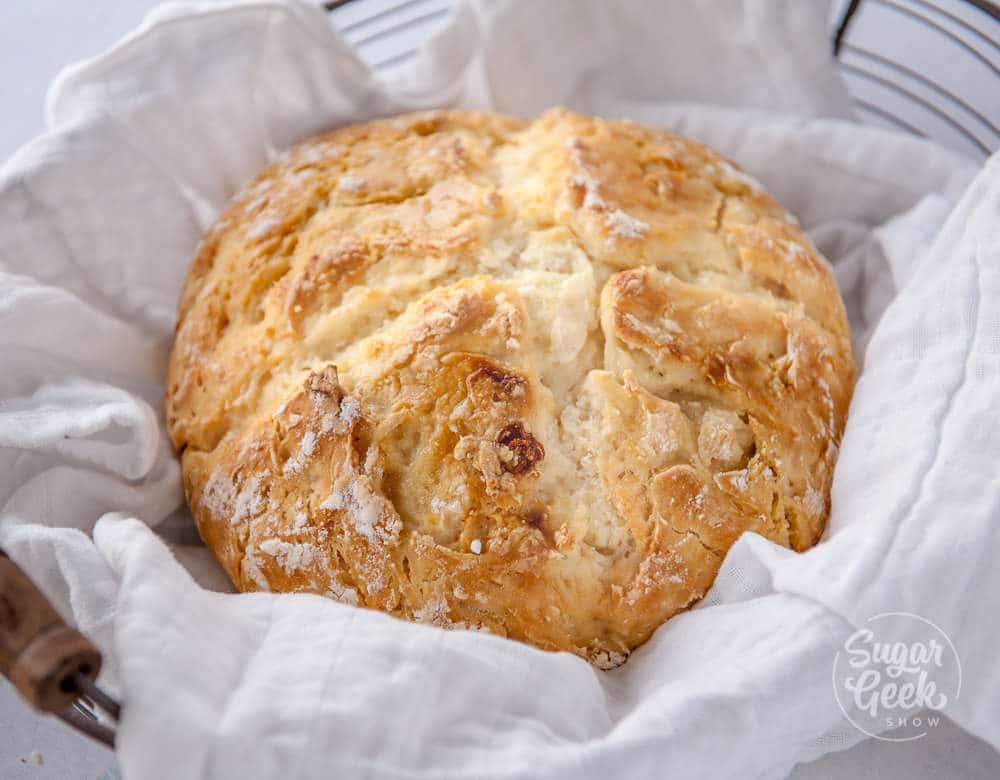 Do you have to use pastry or cake flour for Authentic Irish soda bread to turn out?
I have seen a lot of recipes online for Irish soda bread that uses All-Purpose flour and honestly, if you use this flour your bread will be very tough. You really need to use that low protein, soft flour such as cake or pastry flour so that your bread will be nice and fluffy and not dense.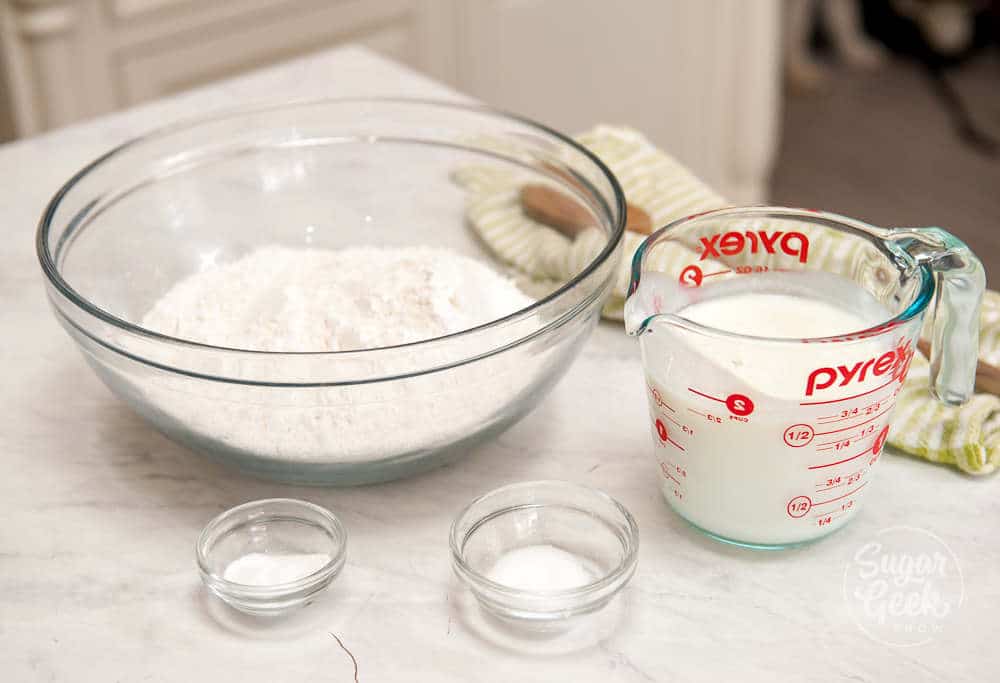 Read on below for the history of Irish soda bread and why cake and pastry flour was used instead of All-purpose or plain flour.
What is Traditional Irish soda bread?
Soda bread is a quick bread that is made with baking soda instead of yeast. It became popular in Ireland around the time of the Irish potato famine of 1845-1849 as an inexpensive but nourishing food.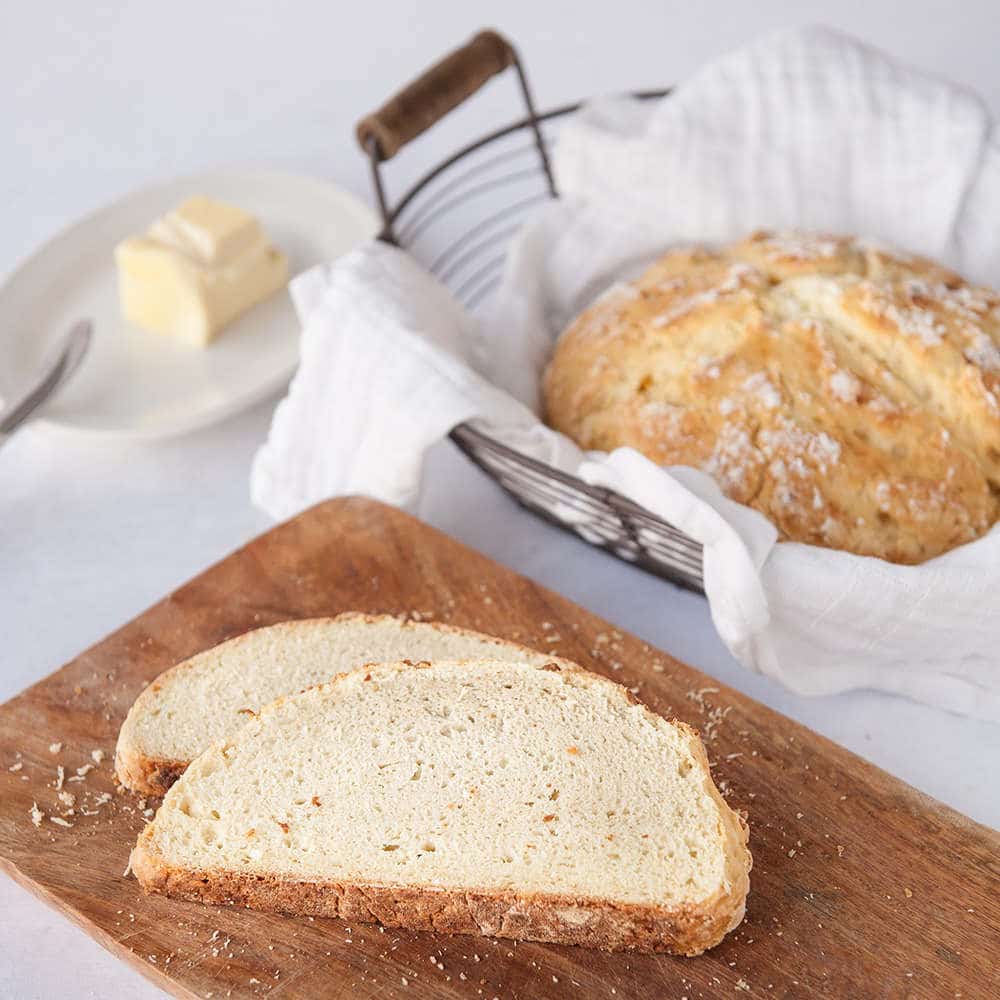 The traditional Irish soda bread recipe only uses four ingredients, Flour, Salt, Baking Soda, Buttermilk.
I'm typically a sucker for truly traditional and authentic recipes but I must say I prefer modern alterations that have butter and eggs added. Some variations also include raisins or currents which give Irish soda bread a bit more flavor.
Do you need buttermilk for Authentic Irish soda bread?
Traditional Irish soda bread is made from inexpensive ingredients that were available at the time.
Sour milk was actually what was originally used, not buttermilk. Sour milk is milk that has gone sour. Not great for drinking. So dairies had to think of a way to sell milk that was otherwise useless.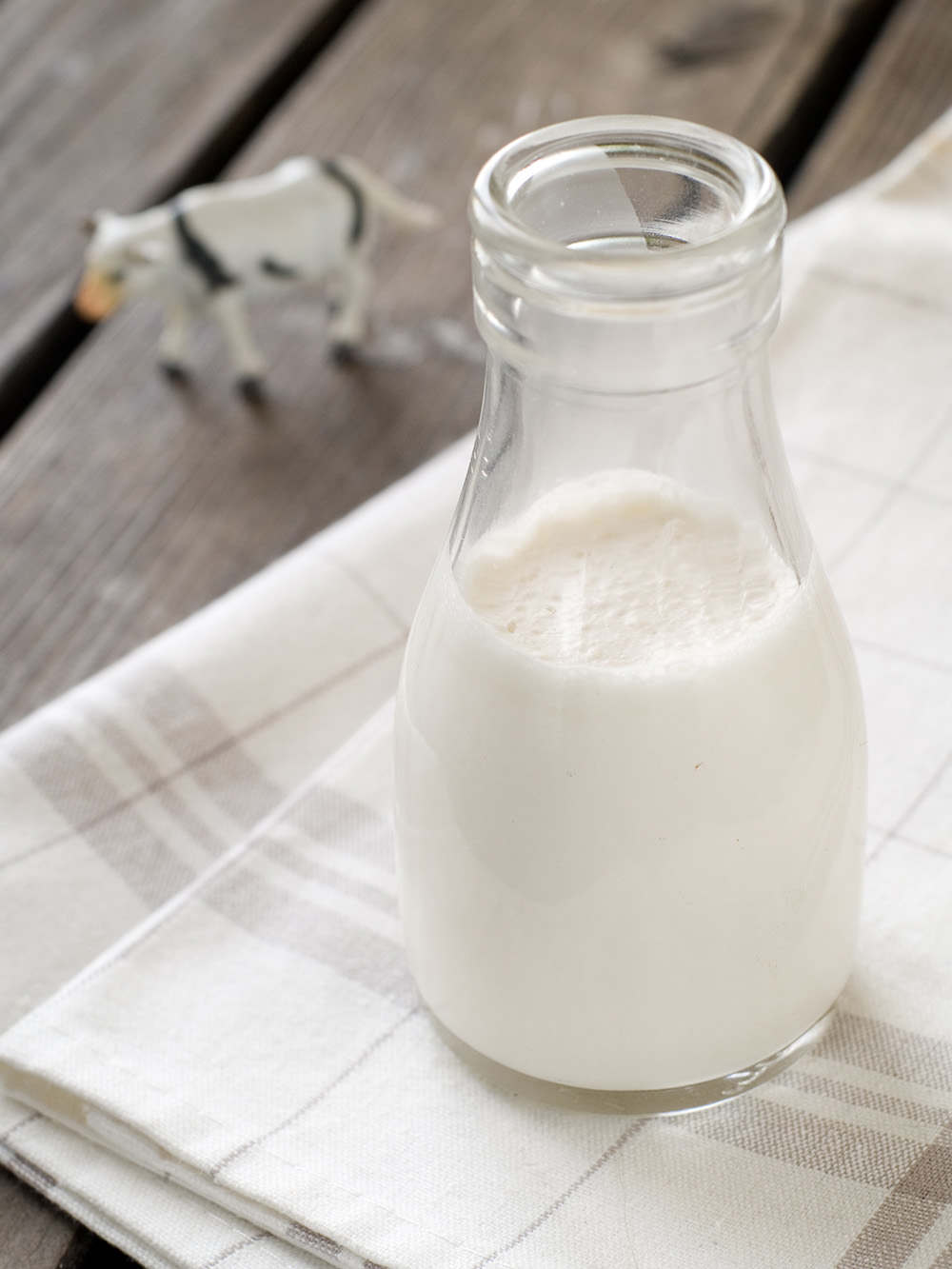 Buying sour milk was cheaper than buying fresh milk so it was a great option for baking with. But to make sour milk work in a recipe, baking soda was needed to cause a reaction (aka bubbles) to get the bread to rise.
Nowadays, we have buttermilk which is similar to sour milk. If you don't have buttermilk, you can add two tablespoons of white vinegar or lemon juice to two cups of regular milk and stir.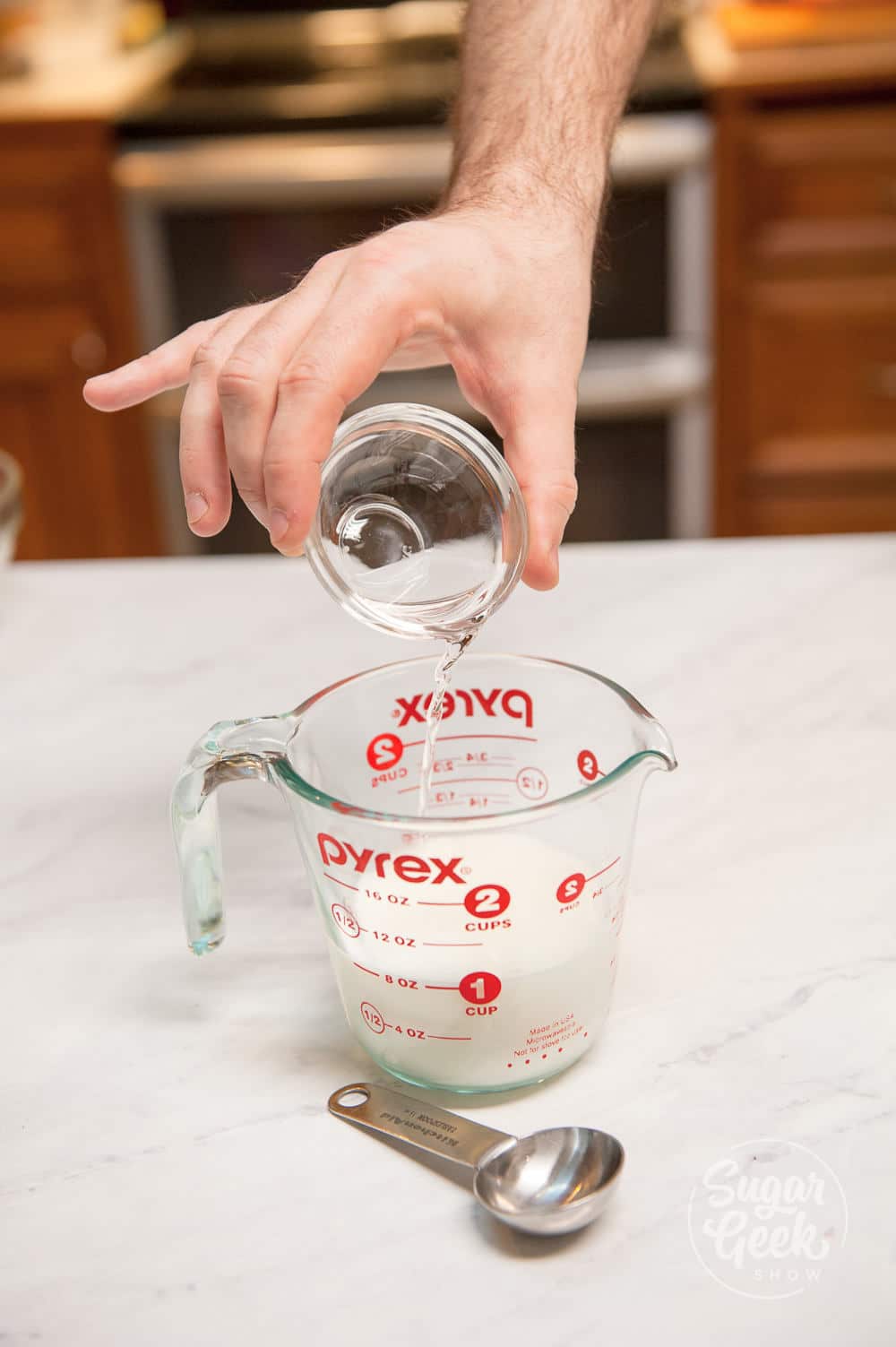 You can also add 1 ½ teaspoons of cream of tartar to the milk and get similar results.
Voila, homemade buttermilk.
You can also buy powdered buttermilk that you add to water so you can have buttermilk whenever you want without worrying about it spoiling in the fridge.
How do you make Irish soda bread?
Making Irish soda bread could not be easier. Simple sift together the cake flour, baking soda, and salt and then make a well in the center. Add in half your buttermilk and gently fold the dry ingredients from the outside in towards the center. Then add in the rest of the milk and fold until everything is moistened.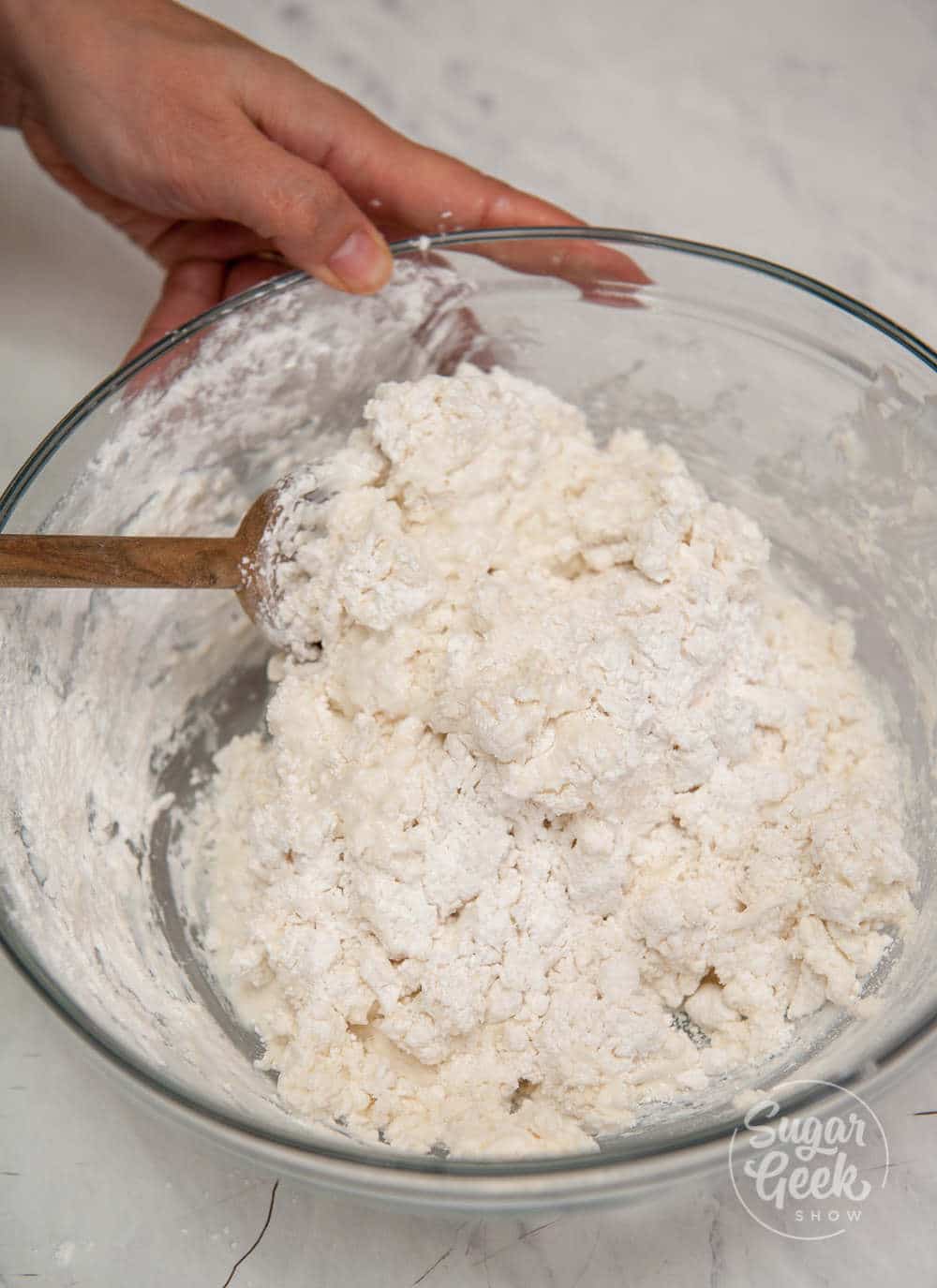 Form into a rough ball shape, dust the surface with some flour and don't forget to cut a cross on top!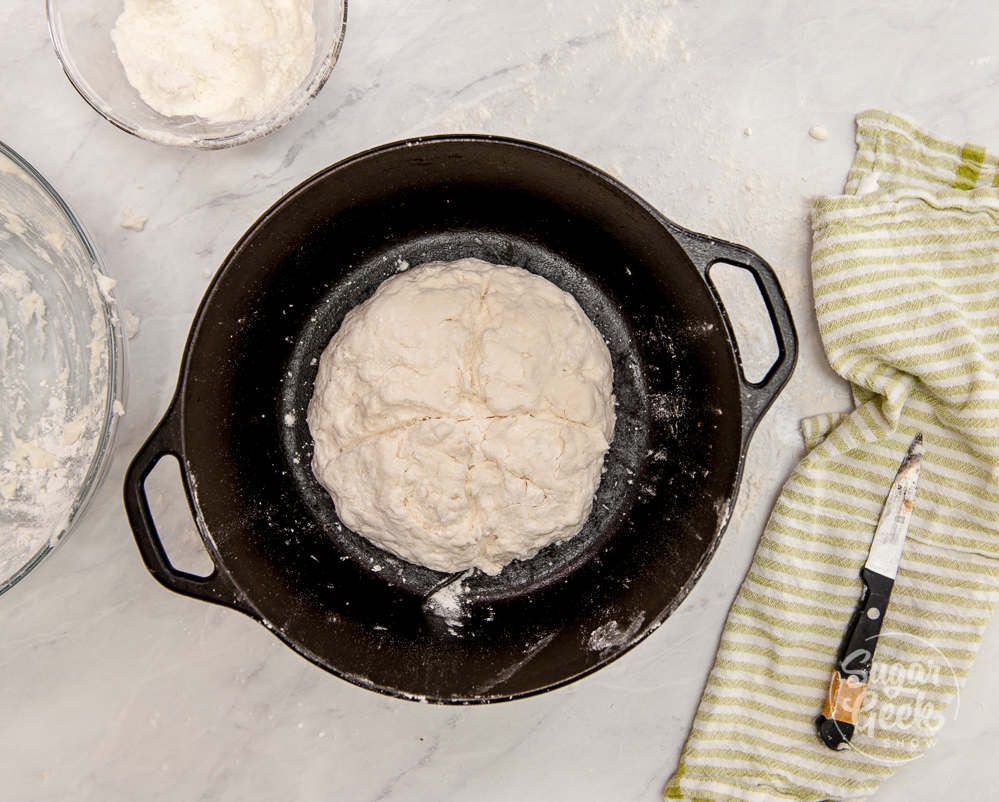 Bake in a dutch oven or a heavy pan with a cake pan on top. That's it!
What does the cross mean on Irish soda bread?
A cross is often cut onto the top of Irish soda bread before baking. This cut allows the bread to properly spread without splitting and become misshapen. These four sections are also known as "farls". When serving, divide the bread into quarters using the cross on top of the loaf as a guide.
Irish legend also states that this cross on the bread keeps evil spirits at bay!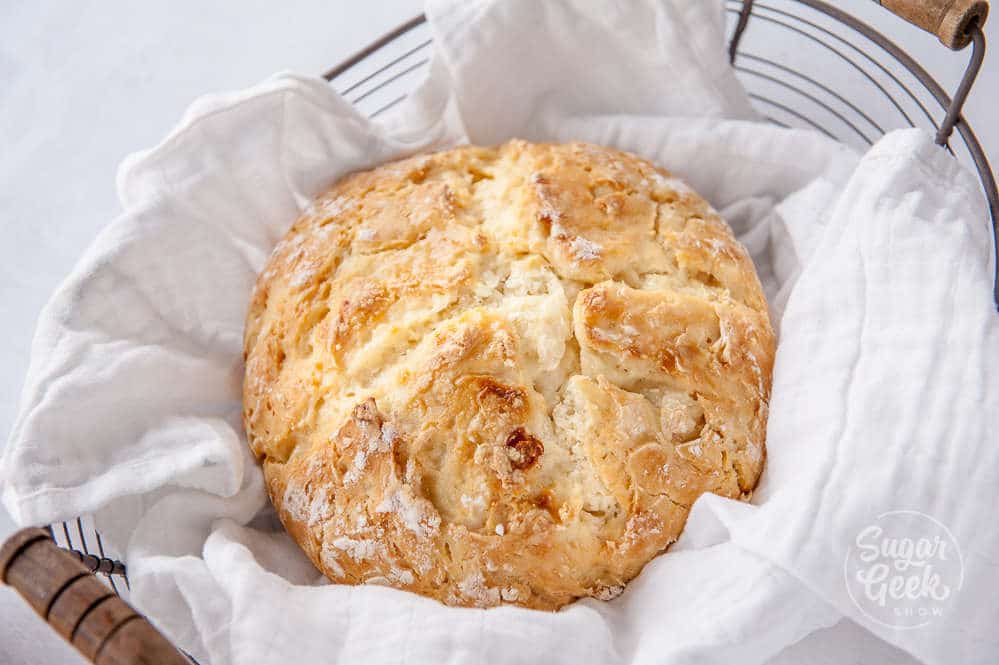 Is Irish soda bread really Irish?
Soda bread was not invented in Ireland but the Irish made it what it is today out of necessity. When baking soda became available as a rising agent, the Irish began using it to make inexpensive bread from the soft winter wheat flour (aka cake or pastry flour) that is commonly grown in Ireland's harsh environment.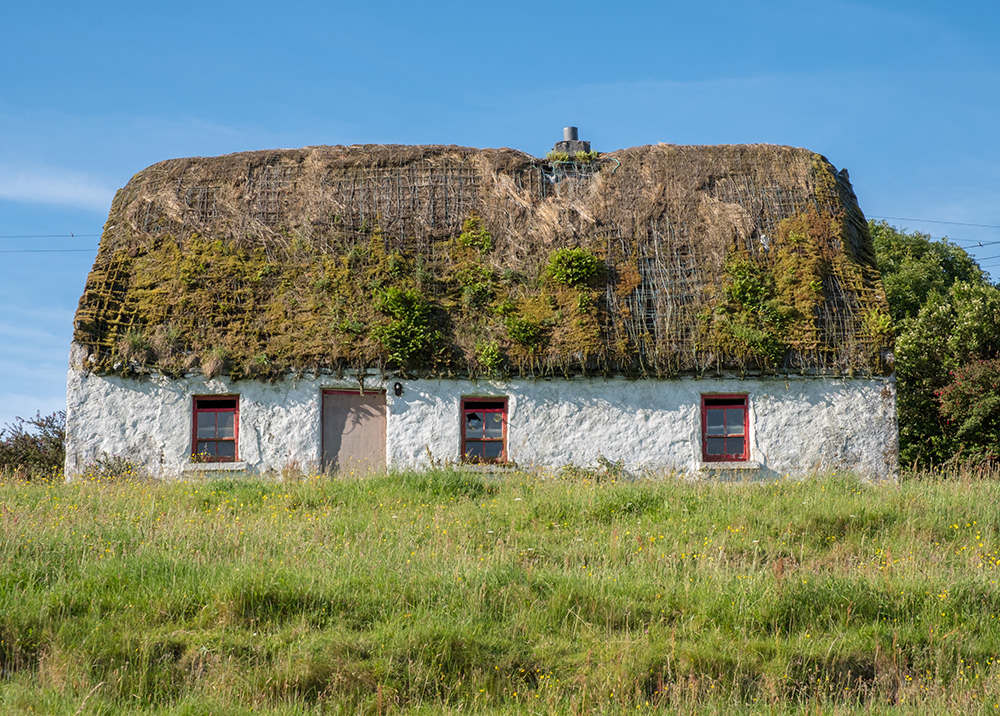 Traditionally, yeast is used to make bread but it needs hard wheat flour (aka All-purpose flour) to work well which was expensive and hard to come by.
After the 20th century, while the rest of the world moved towards yeasted bread, the Irish stuck with their soda bread and it has thusly named Irish soda bread.
What does Irish soda bread taste like?
The first time I ate Irish soda bread I was a little surprised it wasn't very bread-like. Bread is in the name after all. But really, Irish soda bread is like a giant scone. Soft and fluffy on the inside but with a crunchy crumbly crust.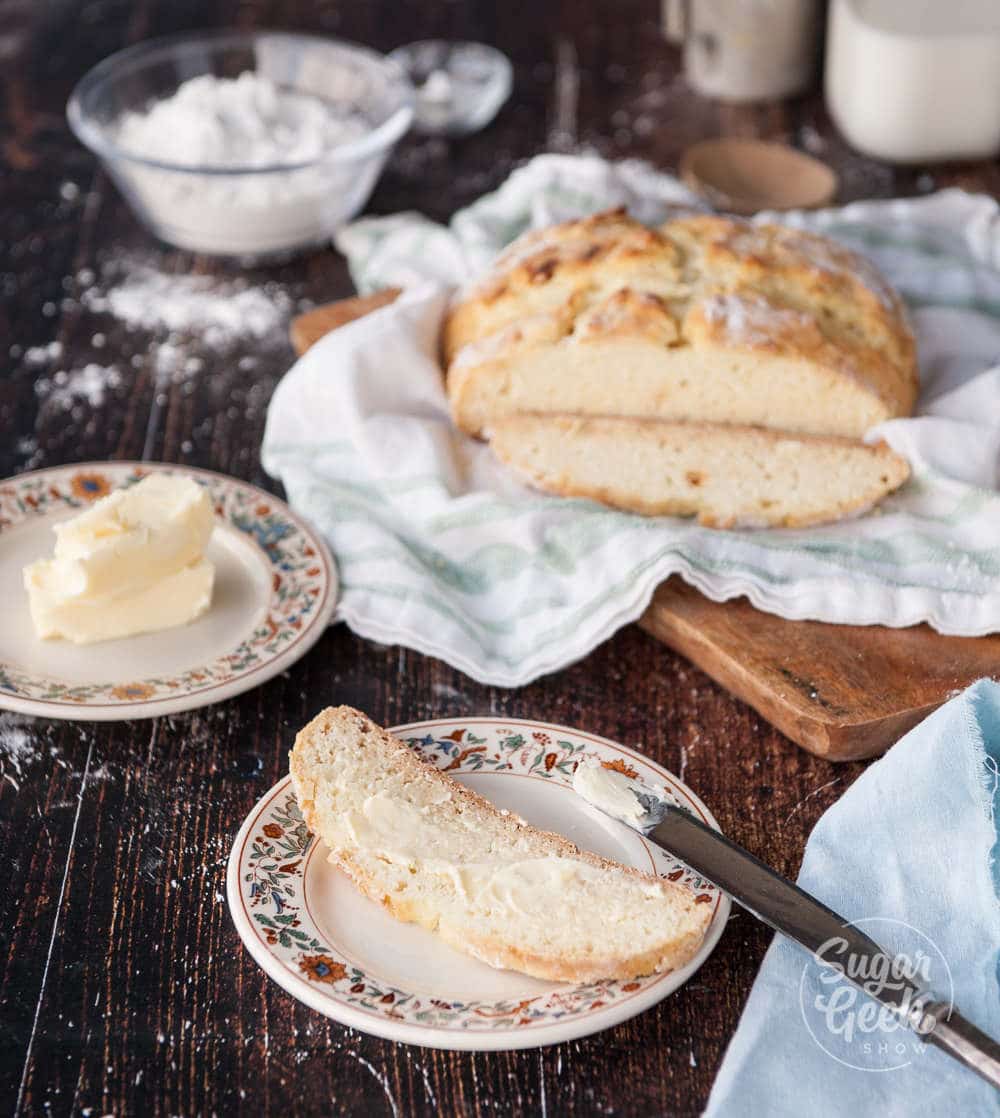 The taste of traditional Irish soda bread is pretty bland. Not much flavor going on in this bread because it's really meant to be served alongside a meal like Irish Stew. The texture of authentic Irish soda bread is firm but not tough and has a wonderful crunchy outer crust.
Sweet Irish soda bread may have sugar, eggs, butter and other ingredients like caraway seeds and raisins added. This modern version of Irish soda bread is more like a sweet biscuit or scone than bread and is much softer to eat but is more like a dessert.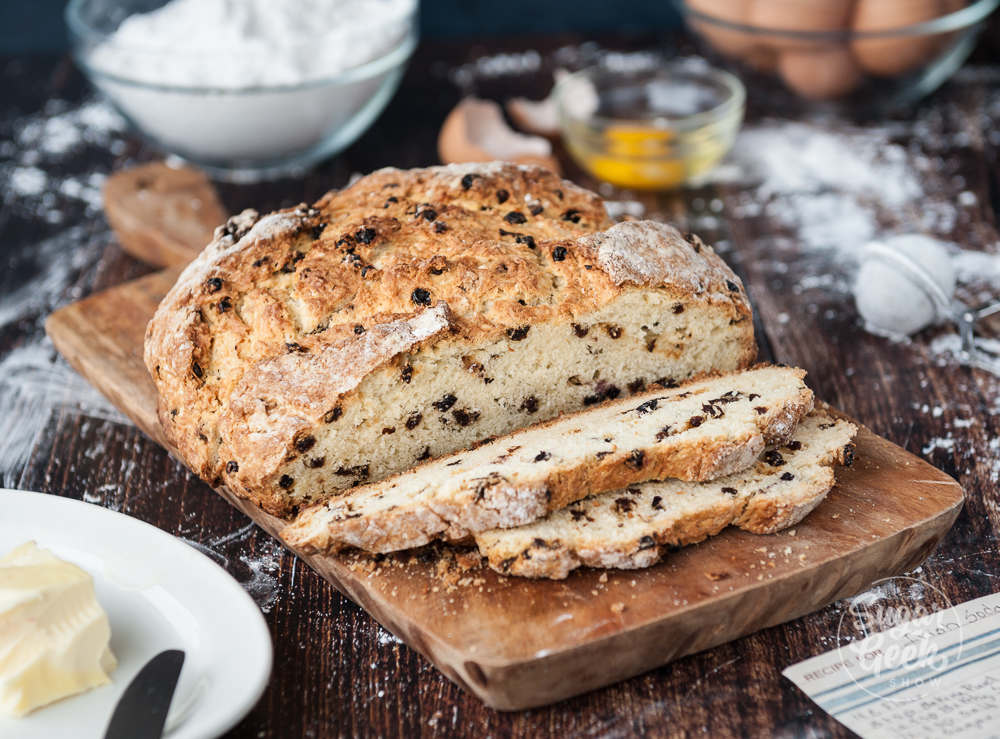 What's the best way to eat Irish soda bread?
So if Irish soda bread is like a giant scone then the best way to eat it is like you're eating a scone. Warm with a little bit of butter or jam tastes the best.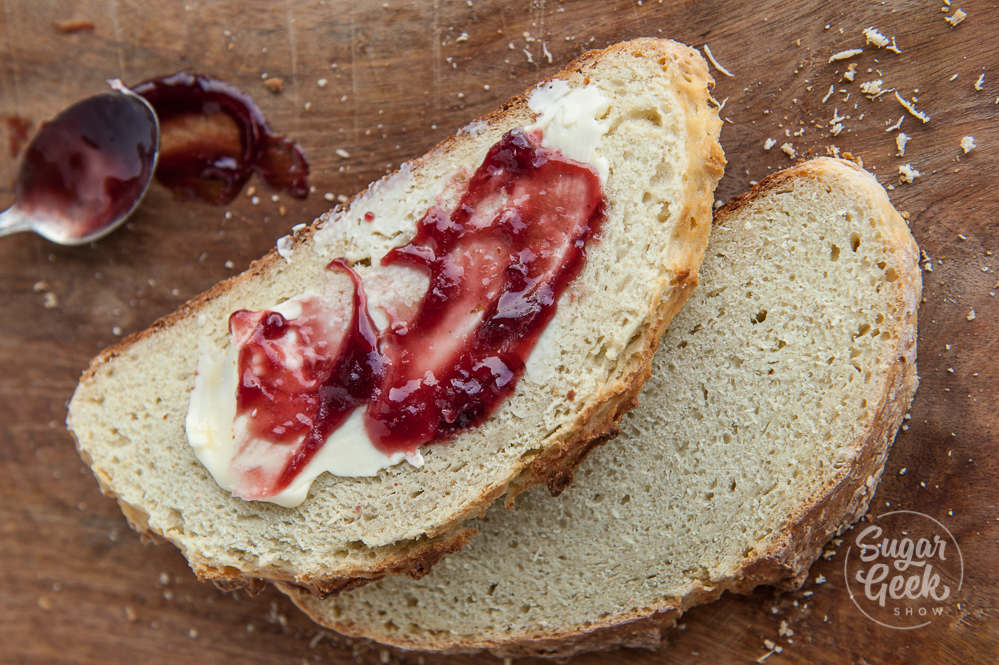 Slice your Irish soda bread and toast it for a minute or two to warm it up then top it with some soft butter. I actually love a warm slice of Irish soda bread in the morning with my coffee.
Want more Irish recipes? Check these out!
Sweet Irish soda bread
Bailey's Irish Cream Cake
Green velvet cake
Guinness beer cake
Recipe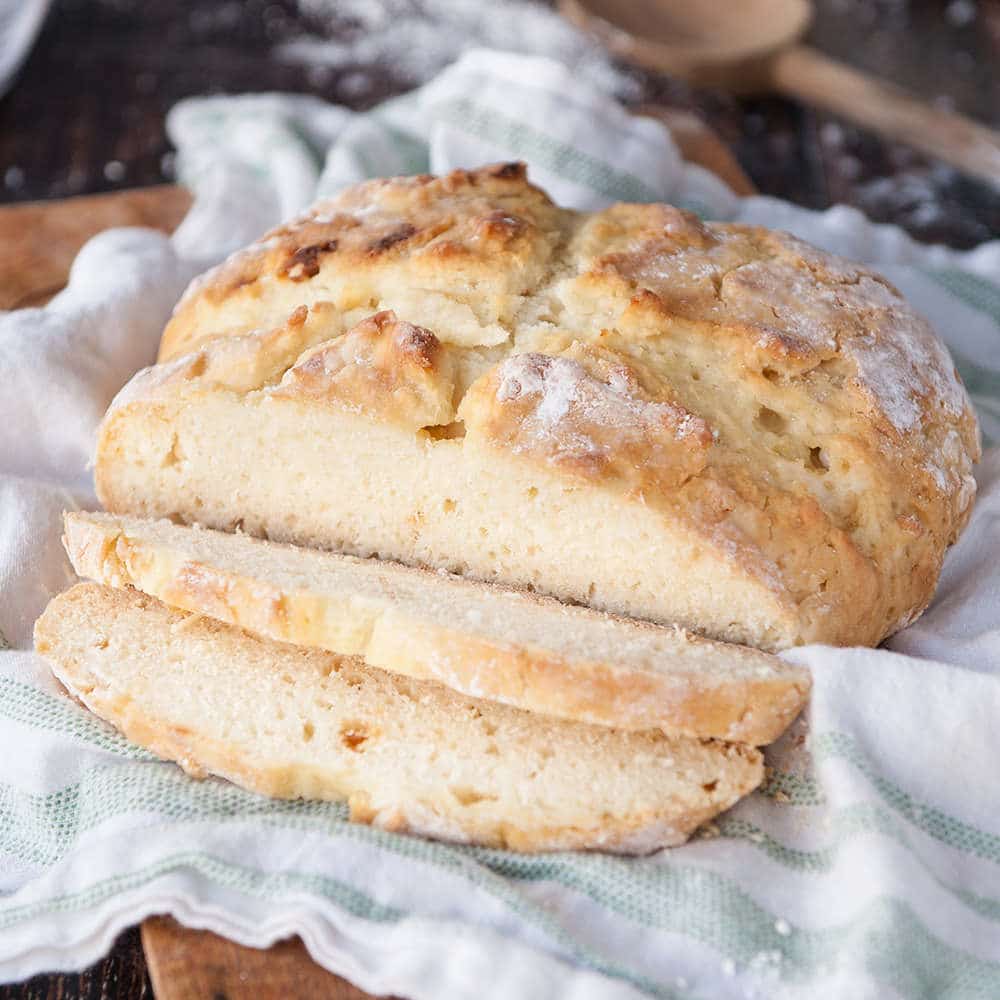 Equipment
Dutch oven or large covered pot
Ingredients
16

ounces

cake flour

or pastry flour (9% protein or lower)

1 ½

teaspoons

baking soda

1

teaspoon

salt

14

ounces

buttermilk

or 14 ounces milk plus 2 Tablespoons white vinegar
Instructions
Preheat your oven to 425ºF

Sift together your flour, baking soda and salt in a large bowl

Make a well in the center and then add in half your buttermilk, stir gently to combine

Add in the rest of your buttermilk and continue to gently stir until a sticky dough forms

Place the sticky dough onto a flour-dusted work bench

Fold the dough a few times (2-3) to form a ball but do not over-work it or the bread will be tough.

Use a sharp knife to cut a "cross" in the top of the dough to allow for expanding during baking

Place the dough into your dutch oven and cover. Bake at 425ºF for 30 minutes then uncover and bake for another 15 minutes or until the internal temperature of your bread reaches 195ºF-200ºF

Serve your Irish soda bread warm with some butter and jam or along side a hearty stew. This bread will keep for up to two days but is really meant to be eaten on the day it's made.
Notes
Cake or pastry flour is very important in this recipe for a nice tender bread. Look for soft flour or low protein flour in your area with a protien content of 9% or less. 
You can substitute buttermilk for regular milk plus 2 Tablespoons of white vinegar added
You can also use powdered buttermilk with water
For the best possible results, read through the blog post and recipe to avoid common mistakes.
Use a scale to

weigh your ingredients

(including liquids) unless otherwise instructed (Tablespoons, teaspoons, pinch etc). Metric measurements are available in the recipe card. Scaled ingredients are much more accurate than using cups and help ensure the success of your recipe. 
Metric measurements (grams) are available by clicking the small box under the ingredients in the recipe card labeled "metric"
Practice Mise en Place (everything in it's place). Measure out your ingredients ahead of time and have them ready before you start mixing to reduce the chances of accidentally leaving something out.
Try to use the same ingredients as the recipe calls for. If you must make a substitution, be aware that the recipe may not come out the same. I try to list substitutions where possible.
Nutrition
Serving:
1
serving
|
Calories:
235
kcal
|
Carbohydrates:
44
g
|
Protein:
8
g
|
Fat:
3
g
|
Saturated Fat:
1
g
|
Cholesterol:
5
mg
|
Sodium:
549
mg
|
Potassium:
124
mg
|
Fiber:
1
g
|
Sugar:
3
g
|
Vitamin A:
82
IU
|
Calcium:
66
mg
|
Iron:
1
mg