How to make a buttermilk substitute
This buttermilk substitute only uses two ingredients and takes 5 minutes to make. Need buttermilk for a recipe? Don't rush to the grocery store when you can make your own buttermilk substitute at home. I've also included a BUNCH of other variations including dairy-free so you're sure to find one that works for you.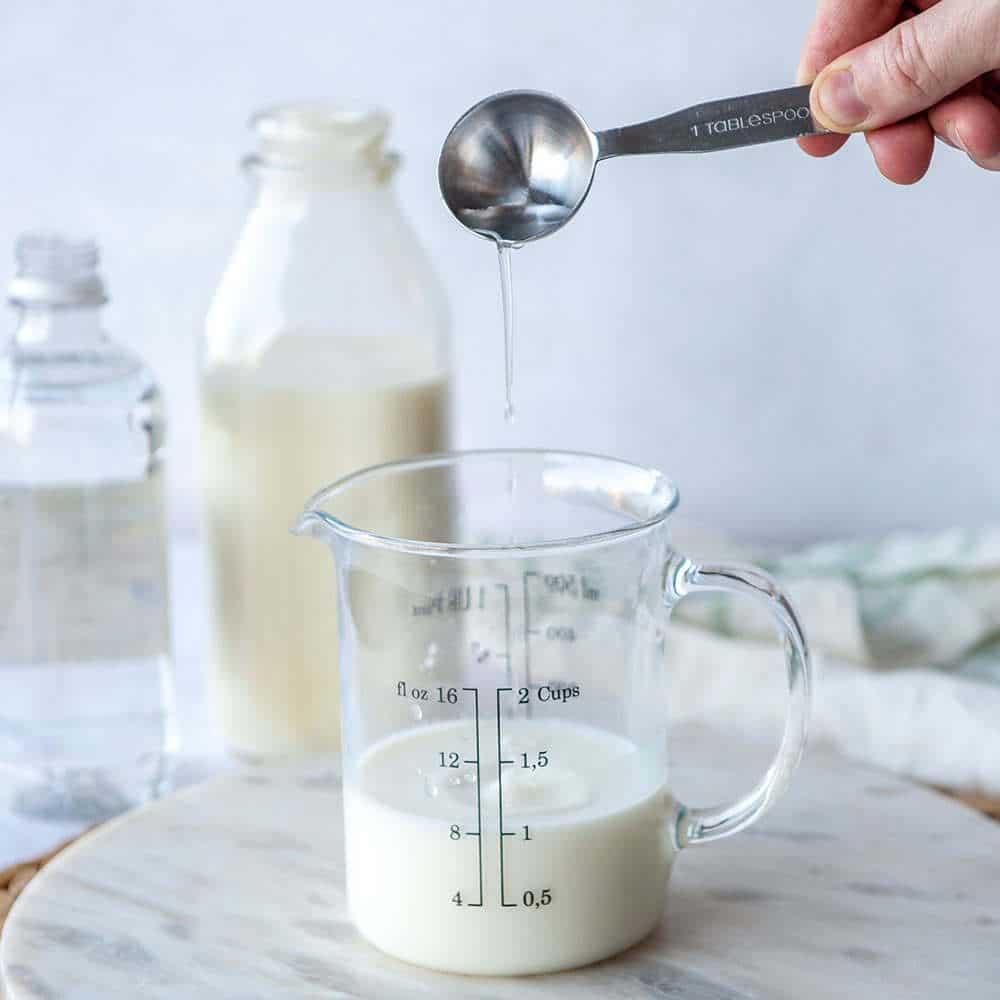 I never used to buy buttermilk that often until I created the red velvet cake recipe. I never got so many compliments on a cake. Soon enough people were begging me for a white velvet cake recipe and a black velvet cake recipe.
Now, buttermilk is one of those ingredients I absolutely cannot skip when I go to the grocery store.
But sometimes I forget to stock up and. I realize I only have a couple of ounces of buttermilk on hand but I need 8 ounces! EEK!
So I looked up how to make a good buttermilk substitute and I was pleasantly surprised to see that making your own buttermilk is not only super simple but you probably have these ingredients in your fridge already.
Read on for more information about what buttermilk really is and why it's one of the best ingredients you can have on hand for baking.
What is buttermilk?
Traditionally, buttermilk is the liquid that is left over after making butter. Did you you know you can make your own butter? I need to try that one!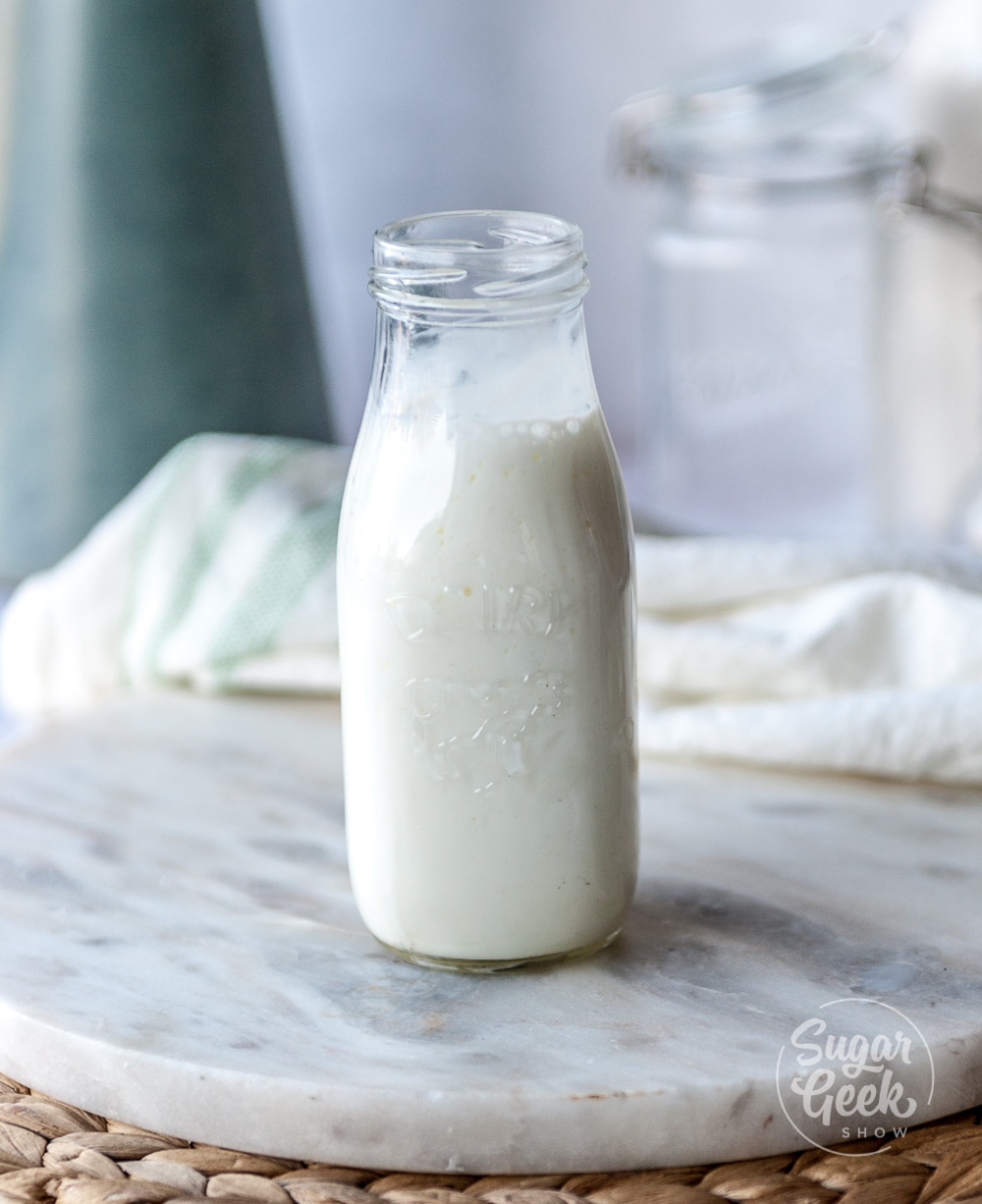 But I digress...
Buttermilk is low in fat and contains most of the protein originally in the milk. True buttermilk ferments naturally into a thick, tangy cream and is acidic in nature. Don't worry, cultured buttermilk has also been pasteurized (just like all commercial milk) to kill any bacteria and make it safe for drinking.
Nowadays buttermilk is commercially made by introducing a special culture to low-fat milk to make that thick and creamy buttermilk. Some people even drink it!
Why is buttermilk so great for baking?
Buttermilk brings a pleasant tang to cakes, bread, and biscuits while adding very little fat. Like yogurt and sour cream, this acidic ingredient also helps tenderize gluten, giving baked goods a softer texture and more body. Look at this amazing texture on my pink velvet cake.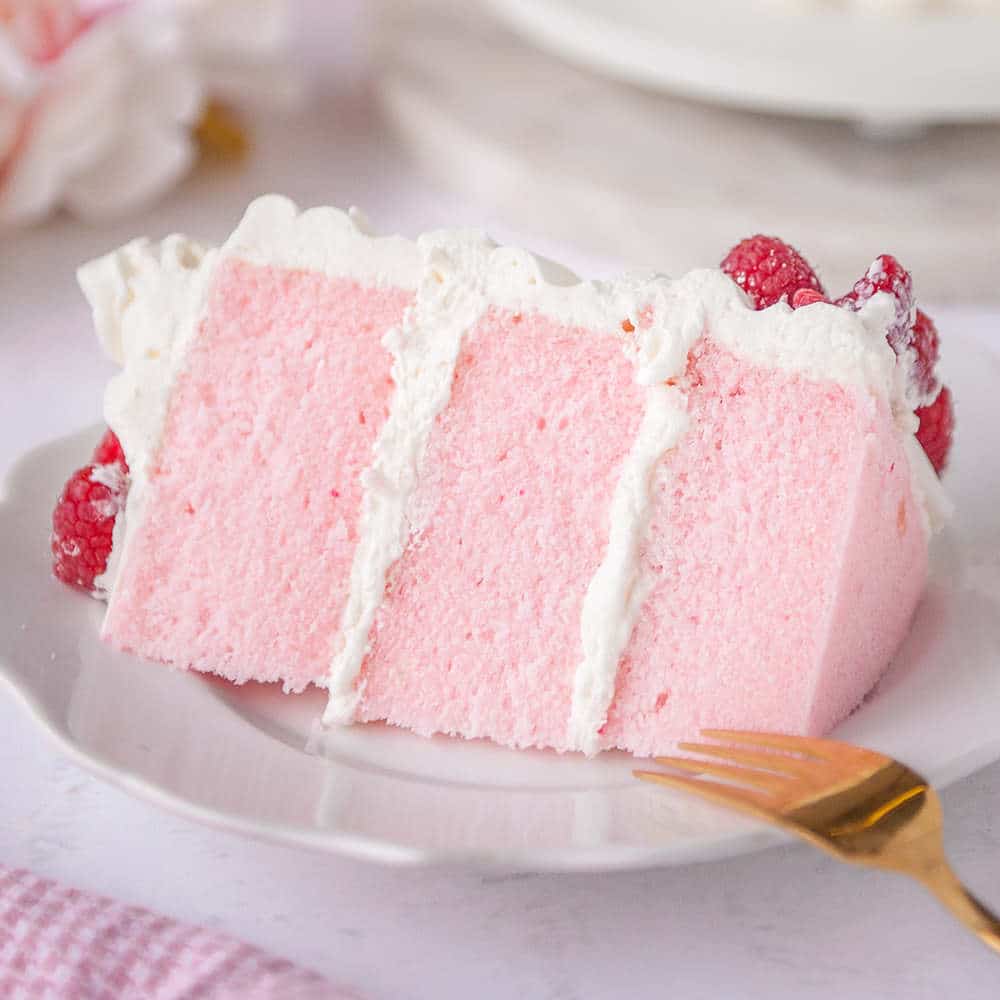 Buttermilk reacts with baking soda and helps quick bread recipes rise better.
You can replace the milk in any recipe with buttermilk but you might have to adjust the rising agents. If the recipe only calls for baking powder, you should reduce the baking powder a little and replace it with baking soda.
If you want to replace buttermilk in a recipe with regular milk then you'll have to do the opposite. Reduce the baking soda and increase the baking powder. Exact amounts will vary and is something you should test.
How do you make a homemade buttermilk substitute?
There are a BUNCH of ways to make a buttermilk substitute. One of these is bound to suit your needs so take a look at your pantry and see what you have available then choose any of the following ways to make your own buttermilk substitute.
Soured Milk
8 ounces milk
1 Tablespoon white vinegar or lemon juice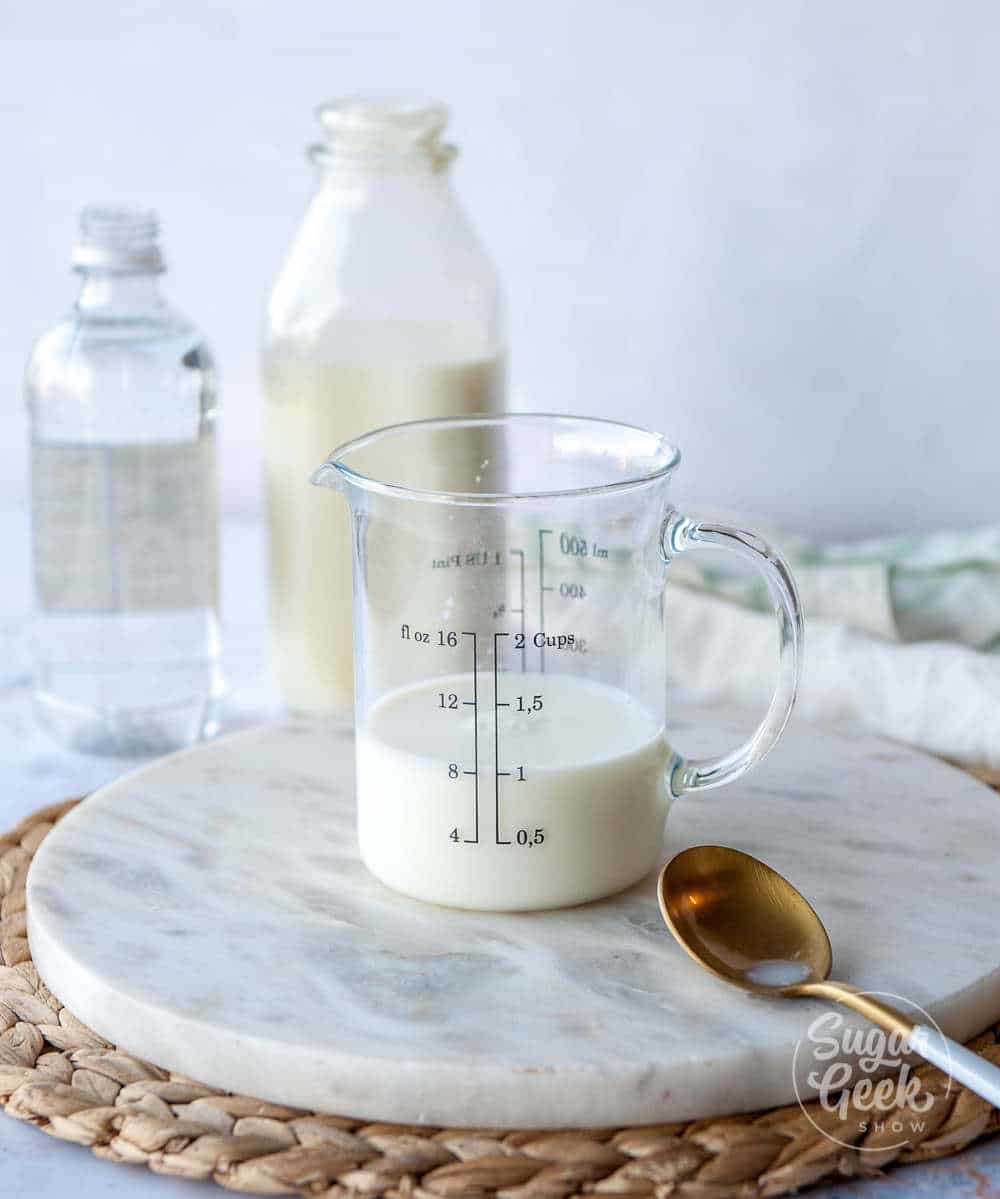 Add your vinegar or lemon juice to your milk and stir. Let it stand for 5 minutes and it will begin to thicken. now it's ready to use.
Soured Milk With Cream of Tartar
Cream of tartar is literally powdered acidity.
8 ounces milk
1 ½ teaspoons cream of tartar
Add your cream of tartar to your milk, stir and let stand at room temperature for 5 minutes before using.
Sour Cream Buttermilk Substitute
You can replace buttermilk with sour cream in equal amounts for any recipe.
Greek Yogurt Buttermilk Substitute
You can also use greek yogurt as a buttermilk substitute but it should be thinned down slightly with regular milk.
¼ cup regular milk
¾ cup greek yogurt
Stir the milk and greek yogurt together and then use as directed in your recipe.
Powdered buttermilk
If you don't use buttermilk that often but you want to have the real deal on hand at all times then you can purchase a can of powdered buttermilk. SACO is a popular brand. Powdered buttermilk is also great for traveling.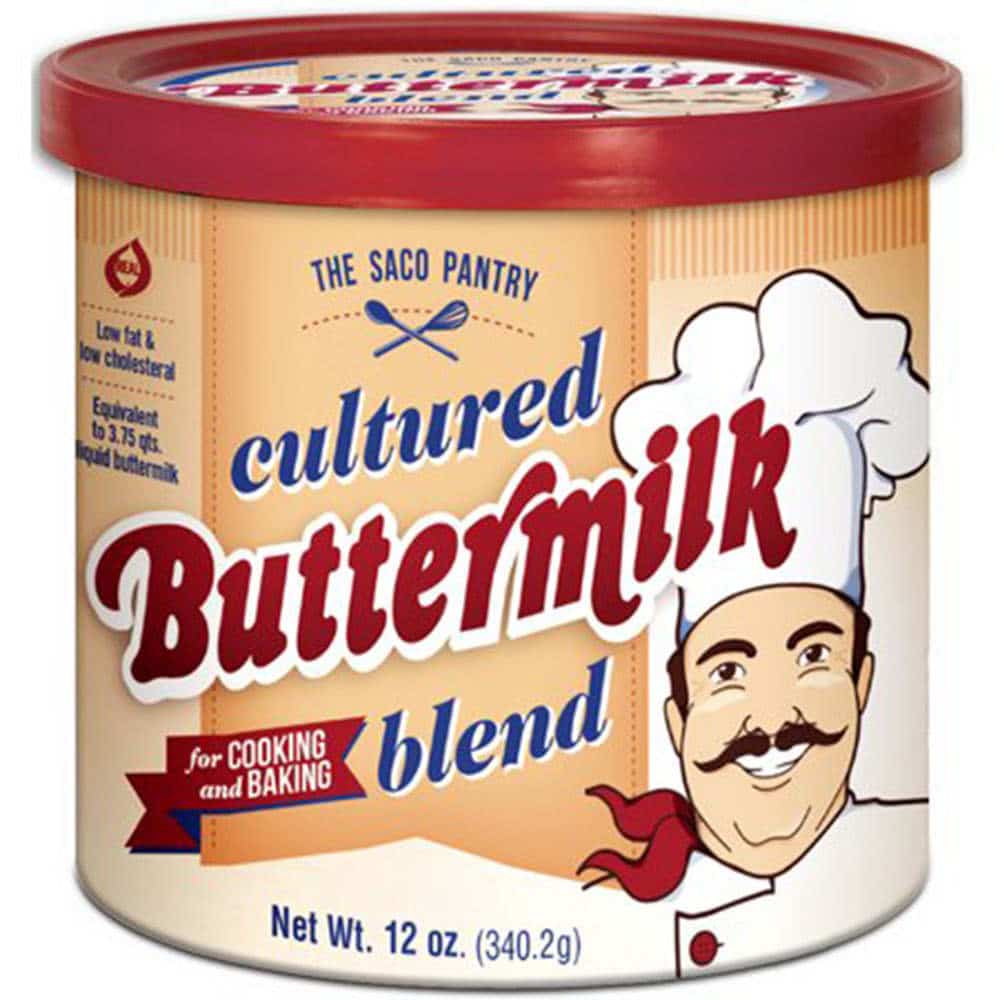 Interestingly enough, the instructions for SACO powdered buttermilk is to add the powdered buttermilk to your dry ingredients then add in an appropriate amount of water with the wet ingredients.
Example: 1 cup buttermilk = 4 tablespoon Saco buttermilk blend + 1 cup water.
Dairy-Free Buttermilk Substitute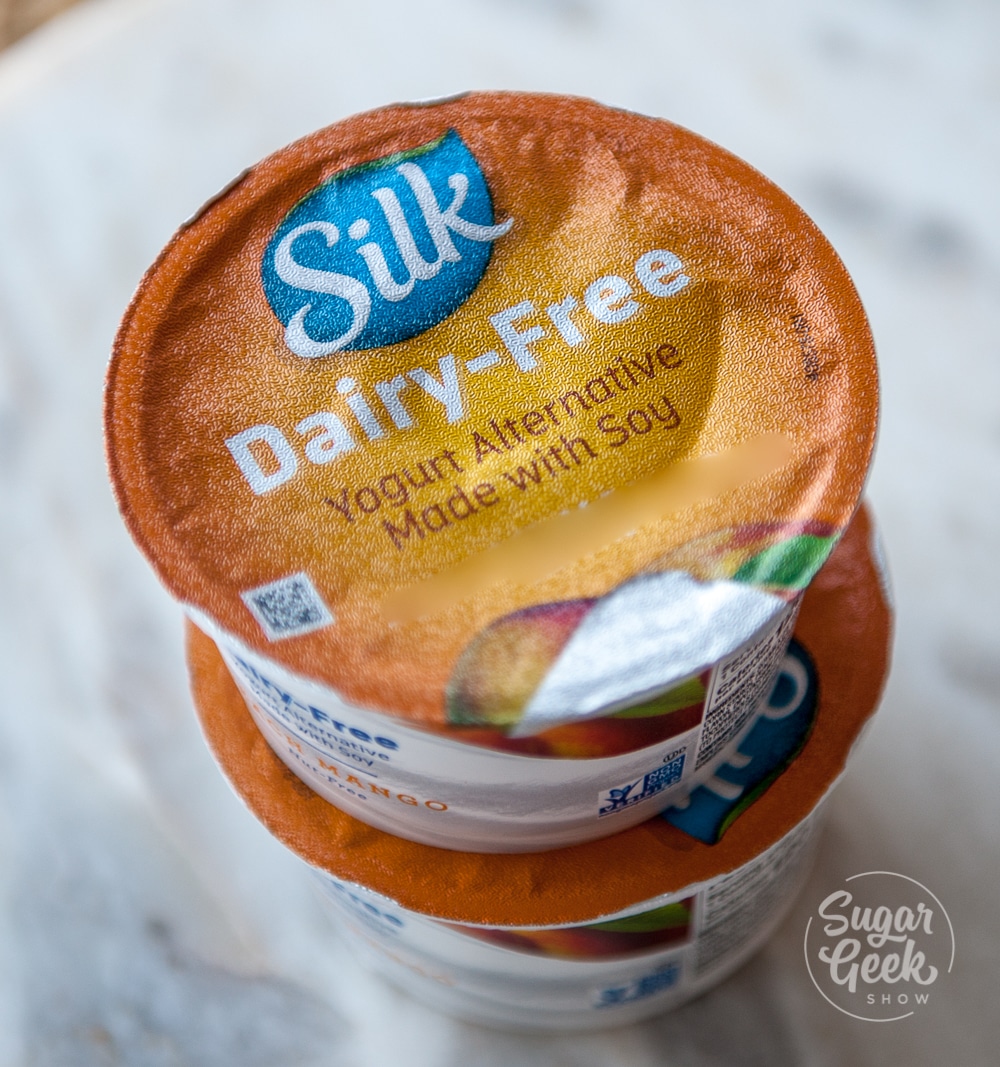 6 ounces dairy-free yogurt
2 ounces almond, soy or rice milk
½ teaspoon white vinegar
Combine yogurt, dairy-free milk, and ½ teaspoon white vinegar. Let stand for 5–10 minutes before using.
Can you freeze buttermilk?
If you're like me and you can't resist a deal, you might be tempted to buy buttermilk in big containers from places like COSTCO or Smart Food Service. If you've got more buttermilk than you can use, you can easily freeze it.
I HIGHLY suggest freezing it in pre-measured portions for easy measuring later.
A popular technique is to pour buttermilk into ice cube trays. One ounce per cube so you can easily count out how many ounces you need depending on the recipe you are making.
Defrost and go! How easy is that?
To measure my ice cubes accurately, I use my kitchen scale. Place the tray on. your scale and press the tare button to bring the weight back to zero.
Pour your buttermilk into the first cube until you reach one ounce then stop. Move onto the next cube and continue this way until the. the whole tray is full.
Ready to see what buttermilk can do? Check out these recipes!
White velvet buttermilk cake
Red velvet buttermilk cake
Pink velvet buttermilk cake
Black velvet buttermilk cake
Sweet Irish soda bread
Lemon blueberry buttermilk cake
Recipe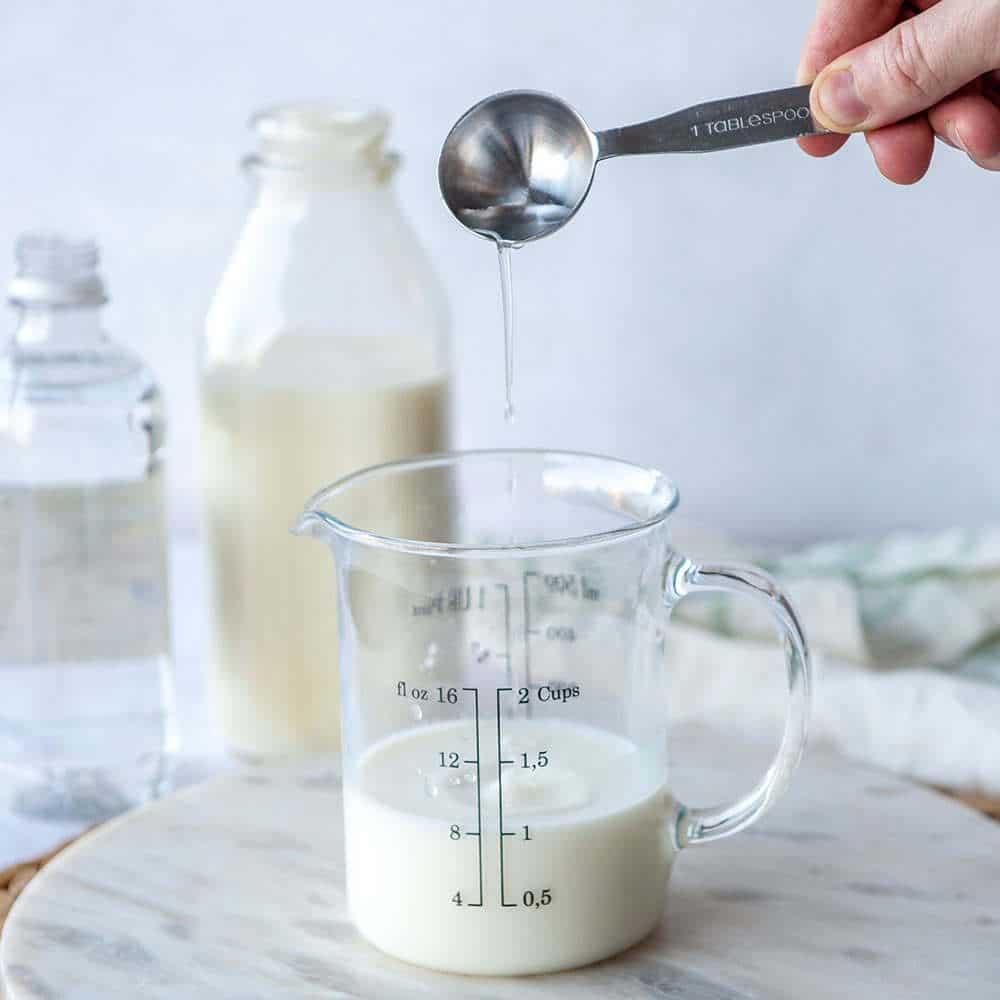 Ingredients
8

ounces

milk

1

Tablespoon

white vinegar

or lemon juice
Instructions
Add your vinegar to your milk and stir. Let stand for 5 minutes before using it.
Nutrition
Serving:
8
ounces
|
Calories:
18
kcal
|
Carbohydrates:
1
g
|
Protein:
1
g
|
Fat:
1
g
|
Saturated Fat:
1
g
|
Cholesterol:
3
mg
|
Sodium:
12
mg
|
Potassium:
37
mg
|
Sugar:
1
g
|
Vitamin A:
46
IU
|
Calcium:
32
mg