Lemon blueberry cake with lemon cream cheese frosting and juicy blueberries
This lemon blueberry cake is like no other cake you have tasted. The lemon cake has a soft, velvety and fluffy texture and beautiful natural lemon flavor which is balanced out by those sweet blueberries. Smooth and tangy cream cheese frosting that is just firm enough to frost a cake but not too sweet makes this one of my favorite summer cake flavors.
My husband has always loved my lemon cake and for years it was our most popular wedding cake flavor after vanilla cake. Recently I have fallen in love with using buttermilk in my cake recipes whenever possible. So I have updated my beloved lemon cake recipe to use buttermilk and then tweaked it again to make a truly delicious lemon blueberry cake!
I thoroughly enjoyed taste testing this cake. Not gonna lie.
How to keep blueberries from sinking in lemon cake
It wasn't that hard to get the lemon cake to a place where I was happy with it but the blueberries were a real problem! They kept sinking to the bottom! To counteract this problem I have a couple of tricks for you to keep those pesky fruits from sinking to the bottom of your cake.
Wash your blueberries off and then dust them in flour. The flour coating helps adhere them to the cake batter and keeps them from sinking.
Sprinkle half your blueberries on the top of the cake and don't mix them in. They sink naturally.
Now the real trick. After 15 minutes of baking, sprinkle some more blueberries on top of the cake batter. Yes… while it's baking in the oven. I know it's crazy but I tried it and it worked!
Decadent Cream Cheese Frosting
I've actually tried this lemon blueberry cake recipe with a few different frostings like my easy buttercream and stabilized whipped cream.
But I feel like the perfect compliment to this cake is my classic cream cheese frosting. The tart and tangy flavor tastes so amazing with the sweet and sour lemon blueberry combo. It's a match made in heaven really!
Making this cream cheese frosting is pretty easy. It's a little more stable than some cream cheese frostings but not as stable as my crusting cream cheese frosting recipe. It's a balance of the two.
To make the frosting, place your butter in the bowl of a stand mixer with the whisk attachment (or use a hand-mixer). Cream the butter until smooth and lump-free.
Add in your softened cream cheese in small pieces and combine with the butter.
Then add in your extract and salt and done! So easy!
Make sure you don't over-mix the cream cheese frosting though, it can separate if you mix for too long.
How to decorate your lemon blueberry cake
Once your cakes are cooled you can frost them. I prefer to chill mine a bit so they are easier to handle.
I also like to trim the brown tops and sides off my cake so the slices look better but that's just me. Not necessary! If you want more info on how to professionally frost and fill your cakes check out my how to make your first cake tutorial.
I filled my cake with a healthy layer of cream cheese frosting then a quick crumb coat and back into the fridge to chill. After about 20 minutes I put on a second layer of cream cheese frosting and just kept the finish rustic.
Slice some of your lemon in some really thin slices and arrange them on the outside of the cake. If you see any big seeds, take them out. They kind of ruin the look.
Sprinkle some fresh blueberries on top of the cake and sprinkle with some powdered sugar. I also added some pretty purple violas to finish the look.
Is this lemon blueberry cake recipe good for cupcakes?
Yes! I did a little test batch and made this lemon blueberry cake into cute little cupcakes topped with cream cheese frosting. I filled my cupcake liners half full then sprinkled 3-4 blueberries on top.
Bake at 350ºF for 18-20 minutes until set. After they are cooled you can frost with cream cheese frosting and top with some fresh blueberries and a lemon slice.
Can you cover this cake in fondant?
The answer is yes! You can cover this cake in fondant but you don't want to use cream cheese frosting. Cream cheese frosting doesn't do well next to fondant, it makes it weep and get soggy.
You CAN fill a cake with cream cheese frosting with a dam of regular buttercream to keep it inside and frosted on the outside. Just remember that cream cheese frosting can be at room temperature for 2-3 hours but has to be refrigerated after that.
Recipe
Lemon Blueberry Buttermilk Cake Recipe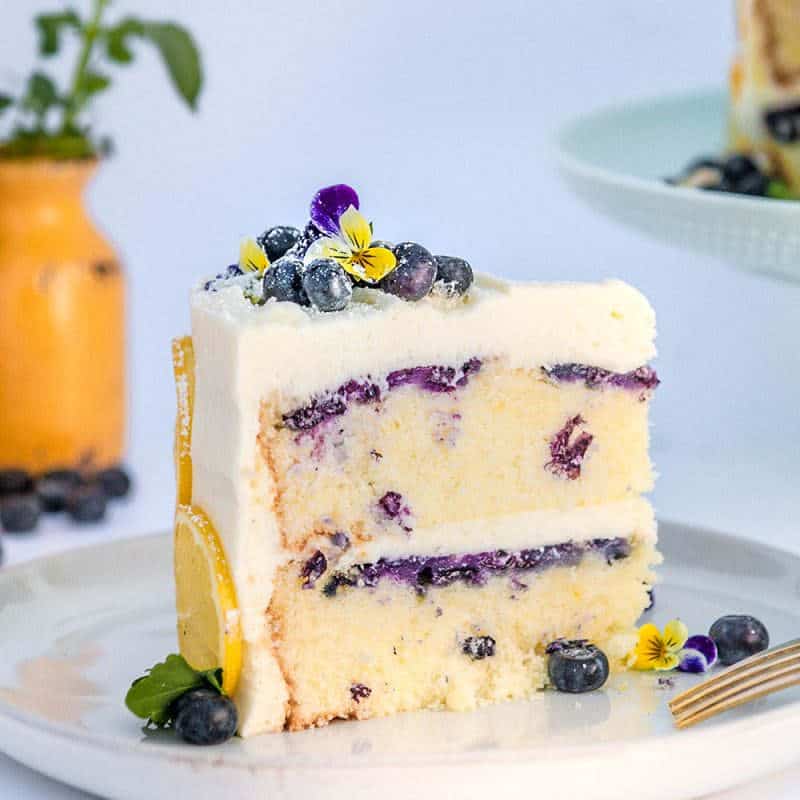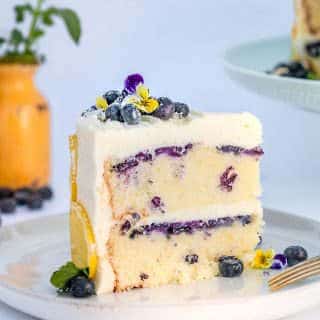 Moist and velvety lemon cake with juicy blueberries and tangy cream cheese frosting! The buttermilk in this cake recipe makes the lemon cake extra tender. The perfect dessert for a summer BBQ! Makes three 6"x2" cakes or two 8"x2" cakes
Ingredients
Lemon Blueberry Cake Ingredients
13

oz

cake flour

12

oz

granulated sugar

1/2

tsp

salt

2

tsp

baking powder

1/2

tsp

baking soda

8

oz

unsalted butter

8

oz

buttermilk

Or regular milk with 1 Tbsp white vinegar added

3

oz

vegetable oil

3

large eggs

2

Tbsp

lemon zest

2

Tbsp

fresh lemon juice

2

tsp

lemon extract

2

Tbsp

AP Flour

for dusting blueberries

2

cups

blueberries

You can use frozen but don't thaw them
Cream Cheese Frosting
16

oz

cream cheese

room temperature

8

oz

unsalted butter

room temperature

1

tsp

lemon extract

1/2

tsp

salt

32

oz

powdered sugar

sifted
Instructions
Cake Instructions
Heat oven to 335º F/168º C — 350º F/177º C. I tend to use lower setting to prevent my cakes from getting too dark on the outside before the inside is done baking. Make sure all ingredients are at room temperature or slightly warm (eggs, buttermilk, butter)

Measure out buttermilk. Place 4 oz in separate measuring cup. Add oil to the 4oz of buttermilk and set aside. To the remaining milk, add your eggs (lightly whisked to break them up) extract and lemon zest.

Measure out dry ingredients and place them into the stand mixer bowl.

Attach the paddle to the mixer, and turn on the slowest speed (setting 1 on Kitchen Aid mixers). Slowly add chunks of your softened butter until it is all added. Let mix until batter resembles coarse sand.

Add your milk/oil mixture all at once to the dry ingredients and mix on medium (speed 4 on kitchenaid) for 2 full minutes.

Scrape the bowl. This is an important step. If you skip it, you will have hard lumps of flour and unmixed ingredients in your batter. If you do it later, they will not mix in fully.

Slowly add in the rest of your liquid ingredients in 3 parts, stopping to scrape the bowl one more time halfway through. Your batter should be thick and not too runny.

Lightly grease 2 8" cake pans cake goop or other pan release. Fill pans 3/4 full. Give the pan a little tap on each side to level out the batter and get rid of any air bubbles.

Wash berries and toss in flour. Sprinkle half the blueberries on top of your batter. Do not stir them in.

Bake for 15-20 minutes then sprinkle in the second half of your blueberries on top of the cake.

Bake for another 10-15 minutes then check for doneness. If the cakes are still really jiggly, I add another 5 minutes. I check every 3 minutes after that until I'm close and then it's every 1 min. Cakes are done when a toothpick inserted in the center comes out with a few crumbs. 

Remove cakes from oven and give them a tap on the countertop to release air and prevent too much shrinking.

After cakes have cooled for 10 minutes or the pans are cool enough to touch, flip the cakes over and remove from the pans onto the cooling racks to cool completely. Wrap in plastic wrap and chill in the refrigerator.

Once the cakes are chilled in the refrigerator (about an hour for this size, longer for larger cakes), tort, fill and crumb coat all at once. If you do not plan on crumb coating the same day, you can leave the wrapped cakes on the countertop. Chilling can dry out your cakes before they are iced, so avoid keeping them in the refrigerator longer than necessary. Cakes can be frozen in freezer bags for later use as well.
Cream Cheese Frosting Instructions
Place softened butter in the bowl of your stand mixer with paddle attachment and cream on low until smooth

Place softened cream cheese in the bowl with butter in small chunks and cream on low until smooth and combined

Add in sifted powdered sugar one cup at a time until combined

Add your extract and salt and combine until smooth. Don't over-mix or your frosting could separate
Notes
Moist and delicious lemon cake with lemon curd and lemon buttercream! 
Nutrition
Serving:
1
serving
|
Calories:
432
kcal
|
Carbohydrates:
50
g
|
Protein:
6
g
|
Fat:
24
g
|
Saturated Fat:
15
g
|
Cholesterol:
62
mg
|
Sodium:
254
mg
|
Potassium:
84
mg
|
Fiber:
1
g
|
Sugar:
38
g
|
Vitamin A:
680
IU
|
Vitamin C:
0.7
mg
|
Calcium:
41
mg
|
Iron:
0.6
mg