This lemon blueberry layer cake is like no other cake you have tasted. The lemon cake has a soft and fluffy texture with a fresh lemon flavor thanks to freshly zested lemons. The sweet blueberries and smooth and tangy classic cream cheese frosting make this one of my favorite summer cake flavors.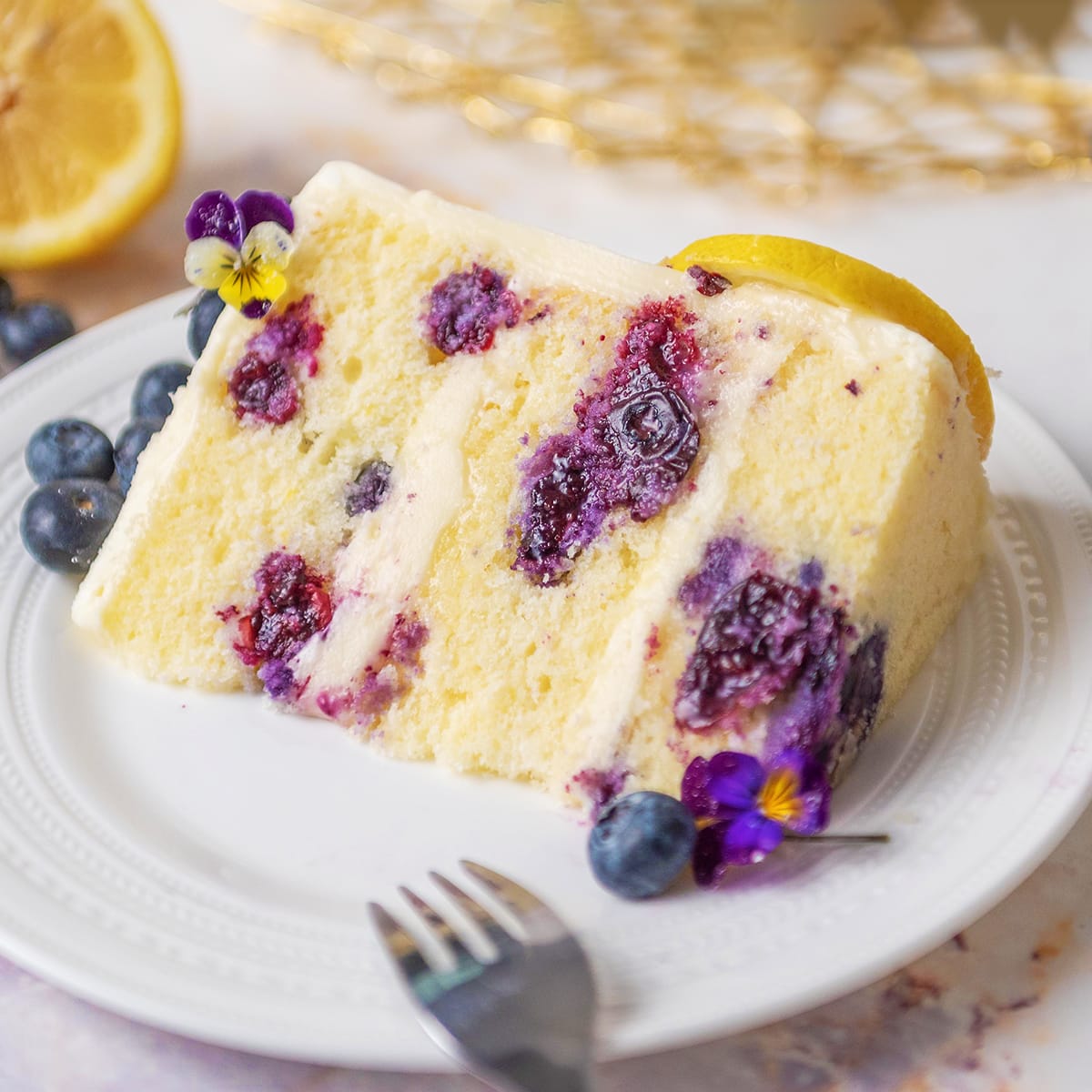 My husband has always loved my lemon cake and for years it was our most popular wedding cake flavor after vanilla cake. Even people who do not like lemon flavors love this lemon cake! The secret to a truly delicious lemon cake is using a good low-protein cake flour, good quality unsalted butter and lots of fresh lemon zest, and high-quality lemon oil. That way your lemon cake has lots of real lemon flavor and doesn't taste like lemon cough syrup (yuk).
Lemon Blueberry Cake Recipe Ingredients And Substitutions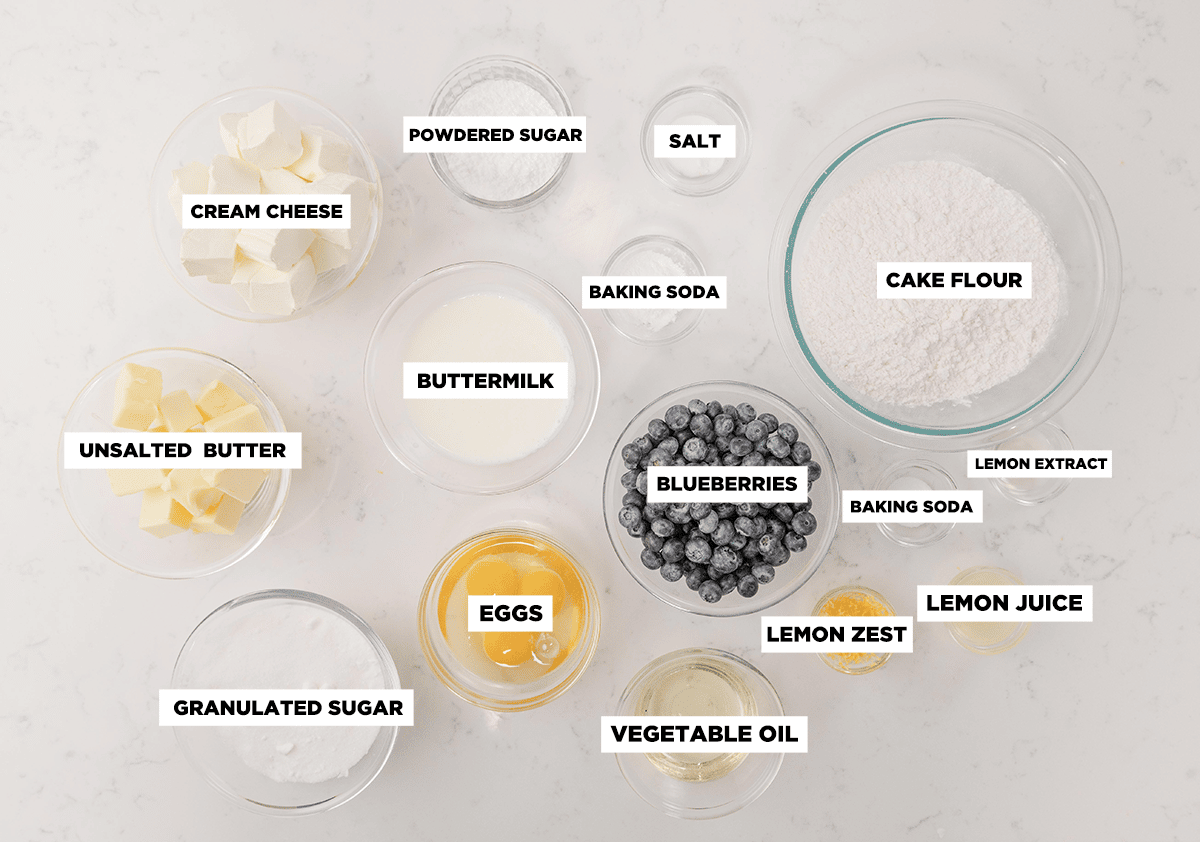 Cake Flour - Cake flour is a low-protein flour that makes cakes extra tender and moist. Using cake flour will ensure this cake is super soft and fluffy. If you cannot get cake flour you can make your own cake flour substitute but keep in mind the texture will be slightly different.
Pro-tip – If you're in the UK, search for Shipton mills soft cake and pastry flour or flour that has a protein level of 9% or less.
Buttermilk - The acidity in buttermilk not only breaks down the gluten structure, making baked goods more tender, but it also adds a delicious flavor. If you do not have buttermilk you can make your own buttermilk substitute using milk and white vinegar or substituting sour cream.
Blueberries - Fresh blueberries are heavy so to prevent them from sinking I dust them with flour and add them halfway through baking. You can also use frozen blueberries (not thawed) the same way.
Fresh Lemons - The zest of a lemon is where all the flavor is. If you want more lemon flavor you can add more zest. Lemon juice does not have a lot of lemon flavor.
Tips For Baking Layer Cakes From Scratch (AKA The Science Part)
*This post may contain affiliate links which means if you click on them, I might get a few pennies.
I suggest purchasing a kitchen scale if you don't already have one to make the best cake recipes. One cup of cake flour can vary from scoop to scoop depending on how packed the flour is, humidity, and the type of flour, which can ruin your cake recipe. All my cake recipes (except doctored box mixes) use a scale.
Practice Mise en Place (everything in its place) which means you measure everything before you start mixing so you don't accidentally forget something or add any ingredients out of order. I use a set of medium and small pyrex glass bowls I got from goodwill for this and it makes things SO much easier.
Room temperature ingredients are a must. If your milk and eggs are cold (even a little) then they will actually repel the fats in your recipe (butter) and your cake batter will split causing your cake texture to be off or even collapse. Don't worry, warming up your ingredients is really easy, this is how I make my ingredients room temperature in 5 minutes (which is actually a little warmer than room temperature).
If you have never decorated a cake before, you can watch my free step-by-step tutorial on how to decorate your first cake.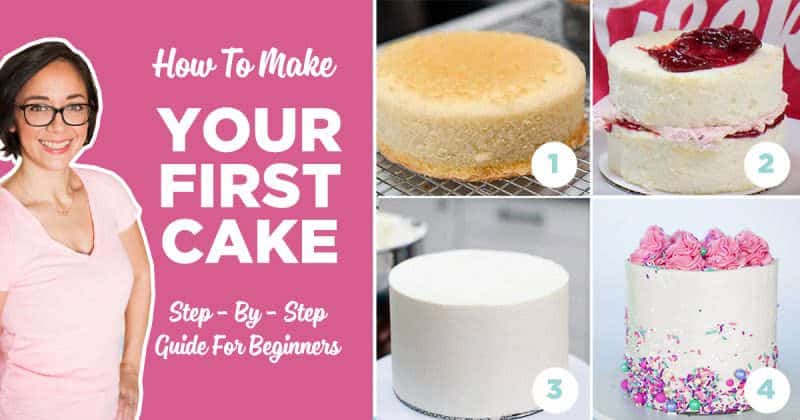 How To Make The Lemon Blueberry Cake
Preheat your oven to 335ºF and prepare three 6-inch pans (6"x2") with cake goop (homemade pan release) or another preferred pan release. You don't need parchment paper but you can use it if you want.
Make sure all your wet ingredients are measured out and slightly warm (see my room temperature ingredients hacks)
Divide your buttermilk in half so it's in two separate medium bowls or containers. In the first container, add your oil and set it aside.
To the remaining measurement of buttermilk, add the eggs, lemon extract, lemon zest, and lemon juice. Whisk lightly to break up the eggs. Pro-tip – If you want your lemon cake to be more yellow, you can add a couple of drops of yellow food coloring to this mixture.
In the bowl of your stand mixer, add your cake flour, sugar, baking soda, baking powder, and salt with the paddle attachment attached.
Add in your softened butter in chunks while mixing on low speed. Continue to mix the butter and dry ingredients on medium until it looks like coarse sand.
To the flour-butter mixture, add the milk/oil mixture all at once and mix on medium speed for two full minutes to develop the cake's structure.
The batter will be light, white, and not curdled looking or broken. Make sure to scrape your bowl if needed.
Reduce the speed to low and slowly add in about ⅓ of the milk/egg mixture.
Let it fully incorporate, then add in another ⅓ of the milk/egg mixture letting it fully incorporate before adding the last ⅓ of the milk/egg mixture. Don't worry, you will not over-mix the batter.
Wash your blueberries off and then dust them with a tablespoon of flour. The flour coating helps adhere them to the cake batter and keeps them from sinking to the bottom of the pan. If you are using frozen blueberries, skip this step.
Sprinkle your blueberries on the top of the cake and don't mix them in, they will sink naturally.
Bake at 335ºF for 35 - 40 minutes until a toothpick comes out clean and the center of the cake springs back when you touch it.
Remove the cakes from the oven and place them onto a wire rack to cool. Let them cool down until the pans are warm to the touch but no longer hot.
After the cake layers have cooled, flip them out onto the wire rack to cool until barely warm.
Carefully wrap them in plastic wrap and put them in the freezer for 60 minutes to get the cake to firm up so it's easier to handle and frost. Pro-tip – If you're not planning on frosting your cake right away you can wrap your layers in two layers of plastic wrap and freeze them for up to 6 weeks. Freezing your cakes while warm locks in moisture and keeps them fresh tasting for longer.
How To Make Smooth Classic Cream Cheese Frosting
This lemon blueberry cake is a great recipe that pairs so well with many different types of frostings. I tried this recipe with a few different frostings like my easy buttercream and stabilized whipped cream. I discovered that the perfect compliment to this cake is my classic cream cheese frosting. The tart and tangy flavor tastes so amazing with the sweet and sour lemon blueberry combo. It's a match made in heaven.
Making this cream cheese frosting is easy. It's a little more stable than some cream cheese frostings but not as stable as my crusting cream cheese frosting recipe. It's a balance of the two.
Pro-tip – It is VERY important that the butter and the cream cheese are both soft so you do not get cream cheese lumps. Do not add in the powdered sugar until the butter and cream cheese are completely blended.
Place the softened butter in the bowl of a stand mixer with the whisk attachment (I know I am using a paddled attachment in these pics but I've noticed the cream cheese frosting is creamier when using a whisk). Cream the butter until smooth and lump-free.
Add the softened cream cheese in small pieces and combine with the butter until smooth and completely lump-free.
With the mixer on low speed, start adding in your sifted powdered sugar one cup at a time until it's all added and everything is smooth.
Then add in the vanilla extract and salt and mix until just incorporated.
Make sure you don't over-mix the cream cheese frosting though, it can separate and liquefy if mixed for too long.
How To Decorate The Lemon Blueberry Cake
Begin by trimming the dome off of your cake layers with a serrated knife. I also like to trim the brown edges off the sides and bottom of the cake layers.
Place your first layer onto a cardboard round or onto a cake platter.
Spread an even layer of your cream cheese frosting with your offset spatula.
Place the second layer of cake on top and repeat the process with the second and third layers.
Cover the entire cake in a thin layer of frosting (the crumb coat).
Place the cake into the fridge to chill for 20 minutes.
While the cake is chilling, you can cut some thin slices of lemon to decorate (the thinner the better). Don't forget to remove the seeds so the slices look nicer. Dry them off with a paper towel and set them aside.
Frost your cake with a final layer of cream cheese frosting.
Add your thin lemon slices, blueberries, and I also added some fresh pansy (which are edible flowers) and dusted some powdered sugar on top.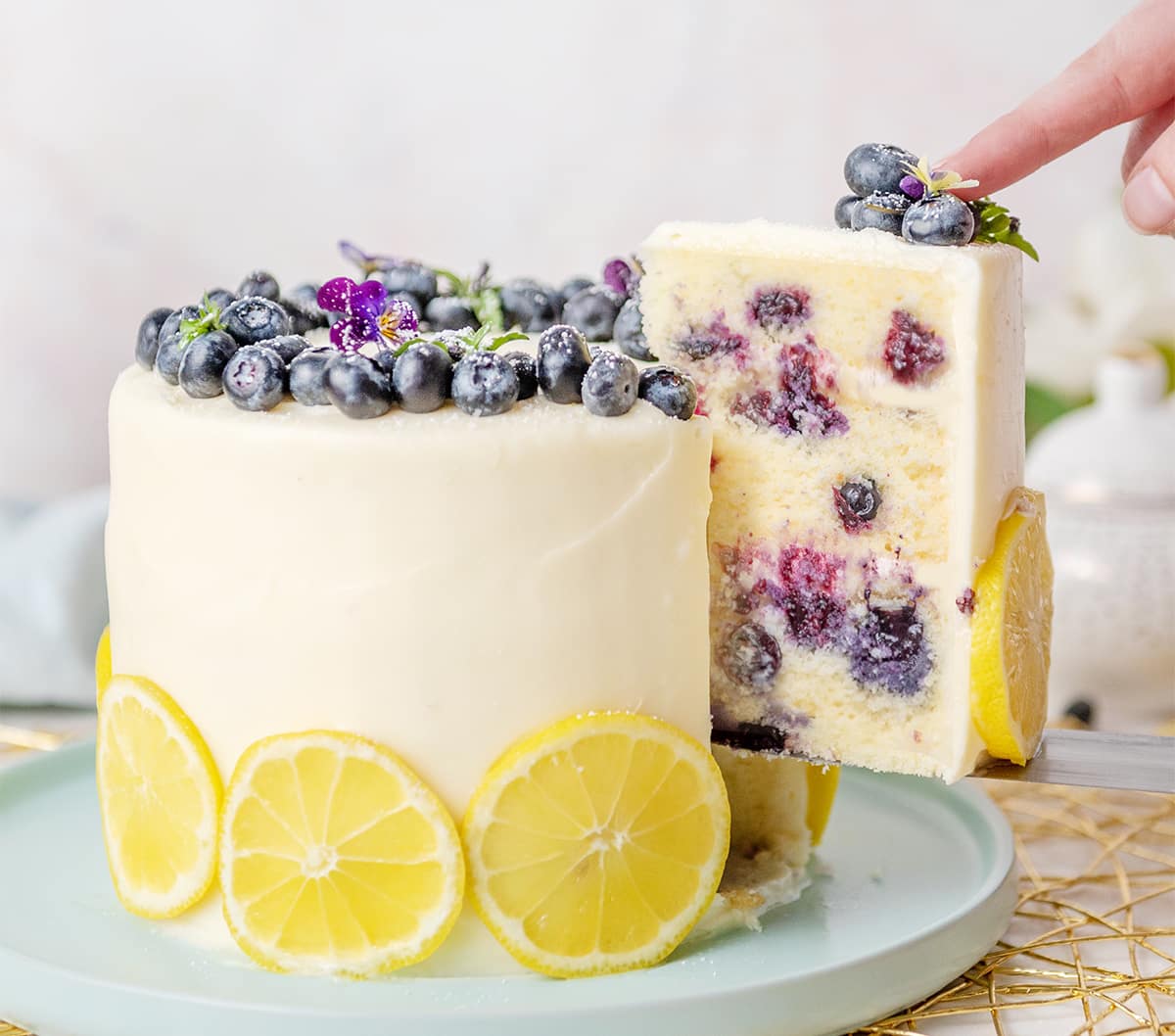 FAQ
Can this recipe be used for cupcakes?
Yes! I did a little test batch and made this lemon blueberry cake into cute little cupcakes topped with cream cheese frosting. I filled my cupcake liners half full then sprinkled 3-4 blueberries on top.
Bake at 350ºF for 18-20 minutes until set. After they are cooled you can frost them with cream cheese frosting and top with some fresh blueberries and a lemon slice. 
This recipe made 36 cupcakes.
Can you cover this cake in fondant?
The answer is yes! You can cover this cake in fondant but do not use cream cheese frosting on the exterior. Cream cheese frosting has too much moisture and will melt the fondant. You CAN fill a cake with cream cheese frosting with a dam of regular easy buttercream to keep it inside and frosted on the outside. Just remember that cream cheese frosting can be at room temperature for 2-3 hours but has to be refrigerated after that. 
What can I use if I don't have cake flour?
You can try using a cake flour substitute but keep in mind the texture may not be exactly the same because of the higher protein content in all purpose flour.
Can I bake this in a loaf pan?
Yes you can bake this cake in any size cake pan. Baking times will vary the bigger the pan size.
More Recipes You Will Love
Recipe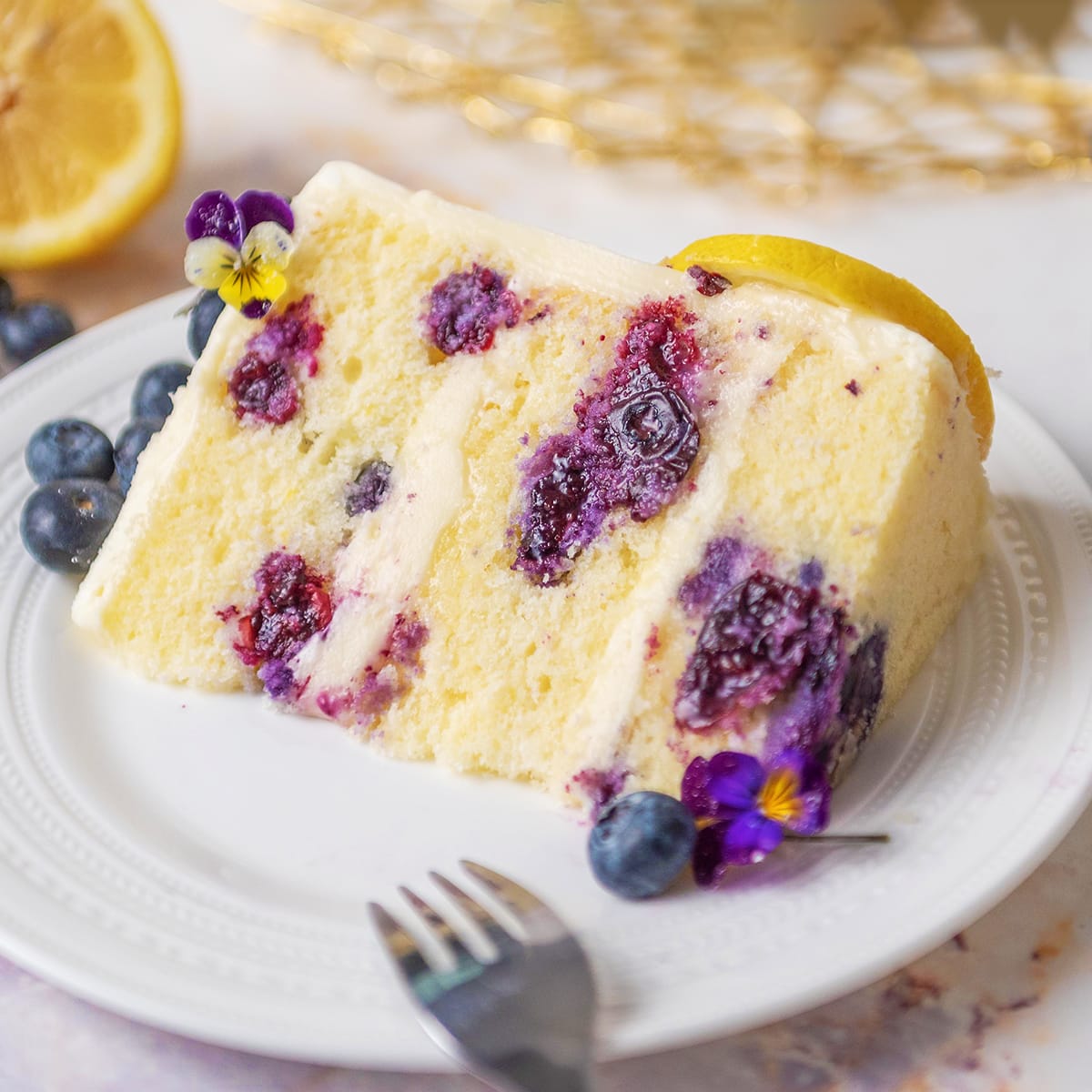 Equipment
3 6"x2" cake pans

or two 8"x2" pans
Ingredients
Lemon Blueberry Cake Ingredients
8

ounces

buttermilk

slightly warmed

3

ounces

vegetable oil

3

large

eggs

slightly warmed

2

Tablespoons

lemon zest

2

Tablespooms

fresh lemon juice

2

teaspoons

lemon extract

12

ounces

cake flour

11

ounces

granulated sugar

½

teaspoon

salt

2

teaspoon

baking powder

½

teaspoon

baking soda

8

ounces

unsalted butter

softened but not melted

2

Tablespoons

AP Flour

for dusting blueberries

3

cups

blueberries

You can use frozen but don't thaw them
Cream Cheese Frosting
16

ounces

cream cheese

softened

8

ounces

unsalted butter

softened but not melted

1

teaspoon

lemon extract

½

teaspoon

salt

32

ounes

powdered sugar

sifted
Instructions
Cake Instructions
Heat your oven to 335º F/168º C. Prepare three 6"x 2" round cake pans (or two 8"x2" pans) with cake goop or another pan release that you prefer.

Divide your buttermilk into two separate containers. I use a measuring cup.

To the first measurement, add your oil and set it aside.

To the remaining buttermilk, add your eggs, lemon extract, lemon juice and lemon zest and gently whisk to combine. Set it aside.

Place the flour, sugar, baking powder, baking soda, and salt into the bowl of your stand mixer with the paddle attachment.

Turn the mixer onto the slowest speed (setting 1 on Kitchen Aid mixers). Slowly add chunks of your softened butter until it is all added then let everything mix until it looks like coarse sand.

Add your milk/oil mixture all at once to the dry ingredients and mix on medium (speed 4 on kitchenaid) for 2 full minutes to develop the structure. Don't worry, this will not over-mix the cake.

Scrape the bowl. This is an important step. If you skip it, you will have hard lumps of flour and unmixed ingredients in your batter. If you do it later, they will not mix in fully.

Slowly add in the rest of your liquid ingredients in 3 parts, stopping to scrape the bowl one more time halfway through. Your batter should be thick and not too runny.

Fill your pans ½ full with cake batter. Give the pan a little tap on each side to level out the batter and get rid of any air bubbles.

Wash your berries (if they are fresh) and toss in flour. If berries are frozen skip washing and just toss in flour. Sprinkle the blueberries on top of your cake batter. Do not stir them in.

Remove cakes from the oven and give them a tap on the countertop to release air and prevent too much shrinking. Let them cool on a cooling rack until they are barely warm.

After cooling, place the cooling rack on top of the cake, placing one hand on top of the cooling rack and one hand under the pan and flip the pan and the cooling rack over so the pan is now upside down on the cooling rack. Remove the pan carefully. Repeat with the other pan.

After the cakes are barely warm, carefully wrap them in plastic wrap and place them into the freezer or fridge for about 60 minutes to firm up the cakes and make them easier to handle for stacking.
Cream Cheese Frosting Instructions
Place softened butter in the bowl of your stand mixer with the whisk attachment and cream on low until smooth and lump-free.

Place softened cream cheese in the bowl with butter in small chunks and cream on low until smooth and combined.

Add in the sifted powdered sugar one cup at a time while mixing on low until combined.

Add your extract and salt and combine until smooth. Don't over-mix or your frosting could separate.

After your cakes are chilled, trim the domes off them to make them level and fill them with your cream cheese frosting and frost the outside. I finished my cake with some more fresh blueberries and organic pansies (edible). If you're not familiar with decorating cakes, check out my how to make your first cake blog post!
Notes
Weigh your ingredients to avoid cake failure. Using a kitchen scale for baking is super easy and gives you the best results every single time. 
Make sure all your cold ingredients are room temperature or slightly warm (butter, milk, eggs, to create a cohesive batter. Curdled batter causes cakes to collapse.
No buttermilk? You can make your own buttermilk 
To prevent blueberries from sinking, I wash them (to get them wet) then roll them in flour. Then I add them to the batter halfway through baking
Do not fall for the "just add cornstarch to regular flour" trick. It does not work for this recipe. Your cake will look and taste like cornbread. If you can't find cake flour, use pastry flour which isn't quite as soft as cake flour but it's better than all-purpose flour. 
Make your own pan release (cake goop!) The best pan release ever! 
If you're in the UK search for Shipton mills cake and pastry flour. If you're in another part of the country, search for low protein cake flour.
Need more help with making your first cake? Check out my how to decorate your first cake blog post. 
Nutrition
Serving:
1
serving
|
Calories:
432
kcal
|
Carbohydrates:
50
g
|
Protein:
6
g
|
Fat:
24
g
|
Saturated Fat:
15
g
|
Cholesterol:
62
mg
|
Sodium:
254
mg
|
Potassium:
84
mg
|
Fiber:
1
g
|
Sugar:
38
g
|
Vitamin A:
680
IU
|
Vitamin C:
0.7
mg
|
Calcium:
41
mg
|
Iron:
0.6
mg