Lemon cake recipe that is light, fluffy and fully of natural lemon flavor!
There is something so refreshing about lemon cake. Easy to make and oh-s0-delicous either on it's own or paired with lemon curd, fruits and berries or fresh blackberry buttercream.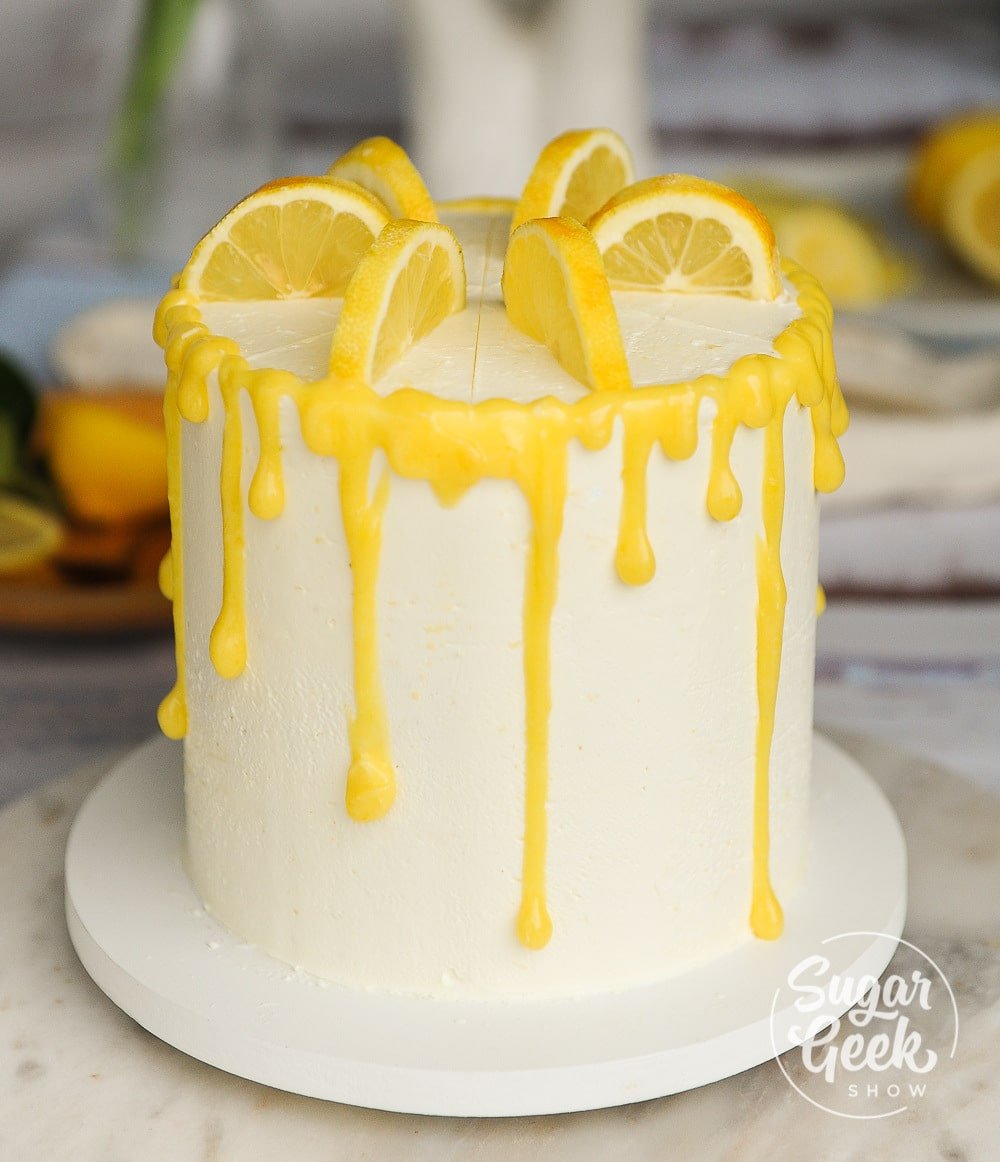 I honestly thought I hated lemon cake for the longest time. Every time I had lemon flavored anything it just did not sit well. Turns out I just hate fake lemon flavoring. It reminds me of cough drops. Not exactly what I'm looking for in a lemon cake.
The first time I used lemon zest in a lemon cake recipe was in pastry school. Talk about an AH-HA moment! When I took a bite of that tasty lemon pound cake and that zest hit me right in the taste buds making my mouth water, I knew I had a new favorite cake flavor.
This lemon cake recipe was always the most popular with my brides and nothing screams summer wedding like lemon and fresh berries!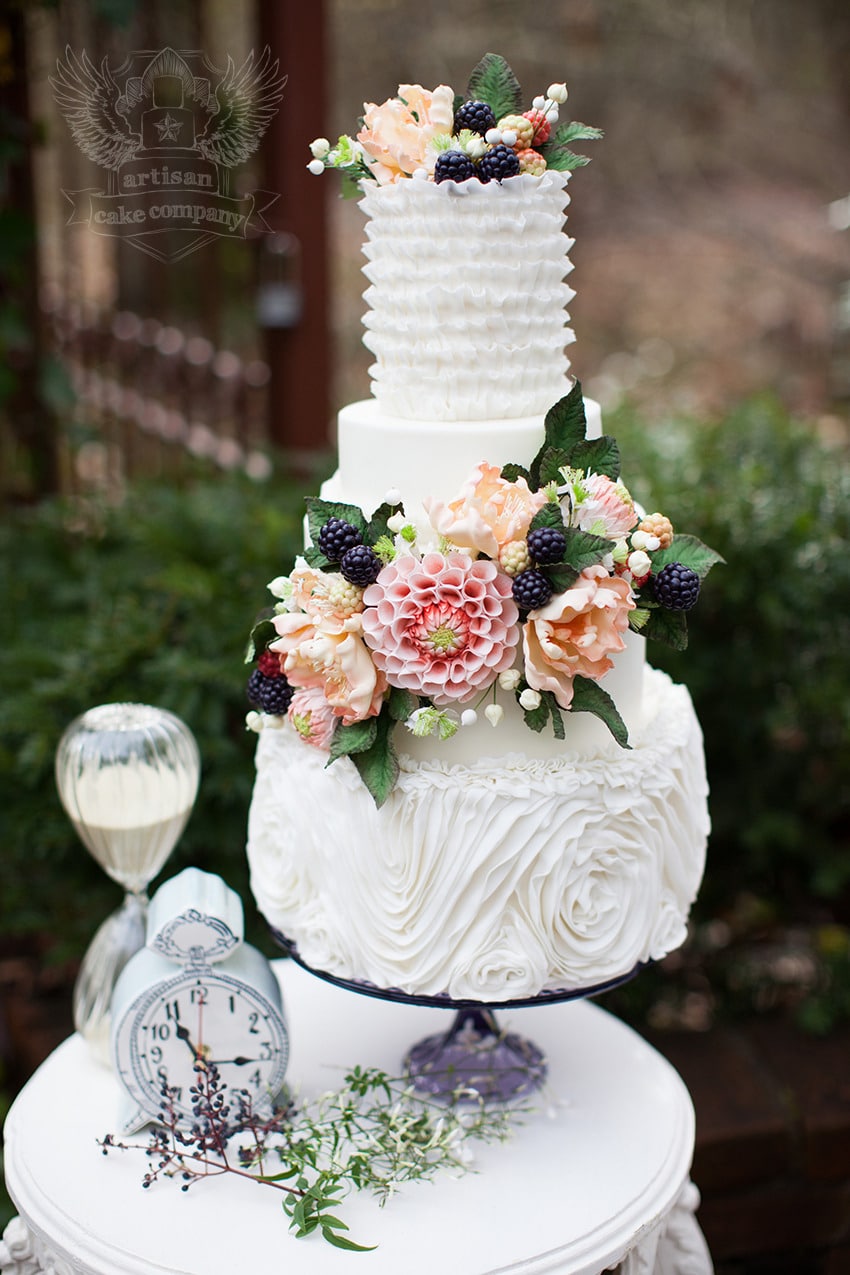 What is a lemon cake?
Well it has to be one of two things. A cake in the shape of a lemon, or a cake that is lemon flavored but I suppose it could be both! Double lemon! It definitely is delicious. This lemon cake recipe is a variation of Liz's moist vanilla cake recipe and can be used for any cake from weddings to sculpted!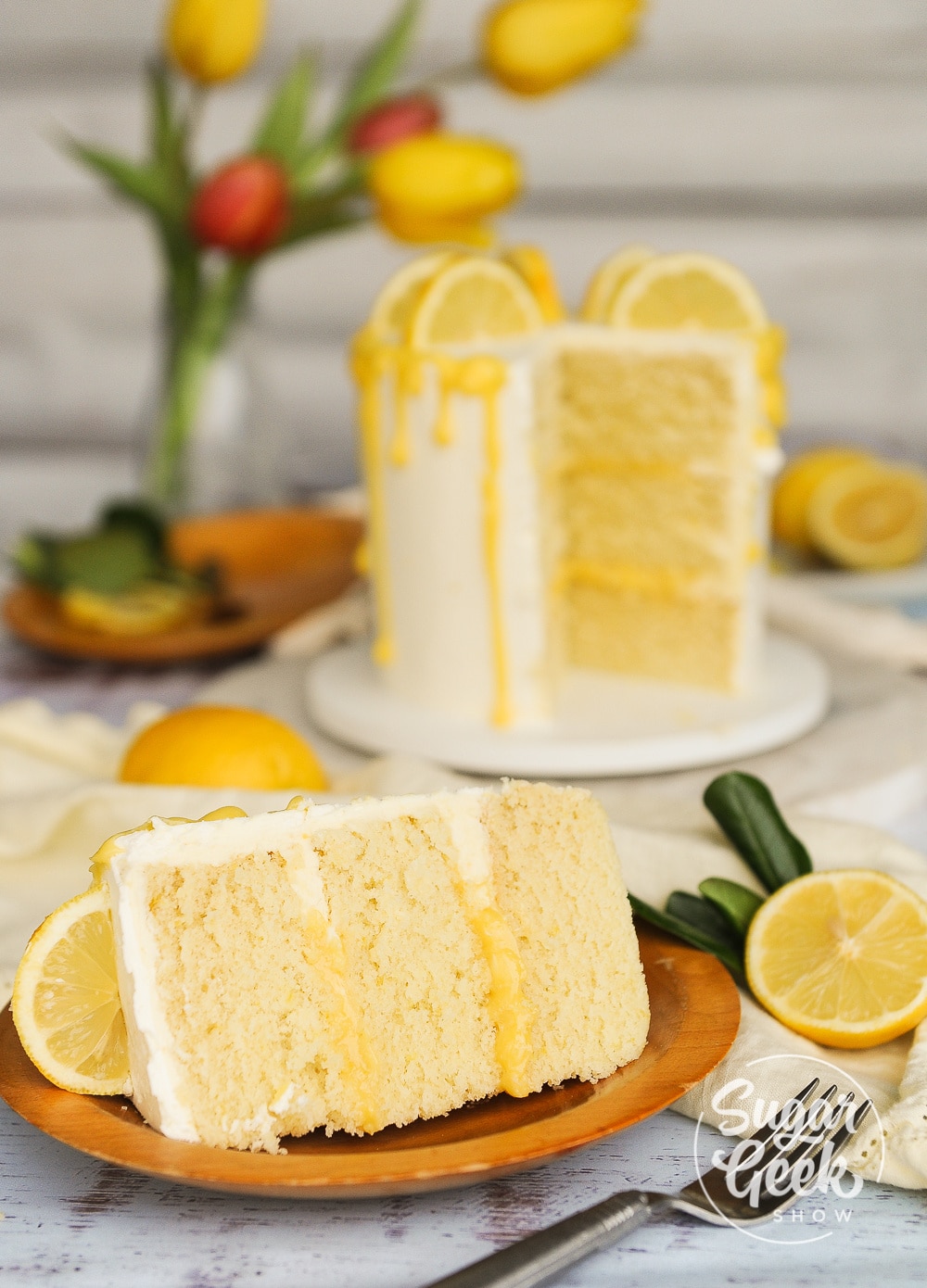 This lemon cake get's it's citrus zing from lots of lemon zest and a touch of lemon extract. You can pump up the zest if you want more lemon flavor or add in some lemon curd for those ultimate lemon lovers out there (like me).
Lemon cake goes so well with so many flavors but especially other fruits! We love lemon curd filling with our strawberry cake recipe or fill the lemon cake recipe with some yummy marion berry buttercream!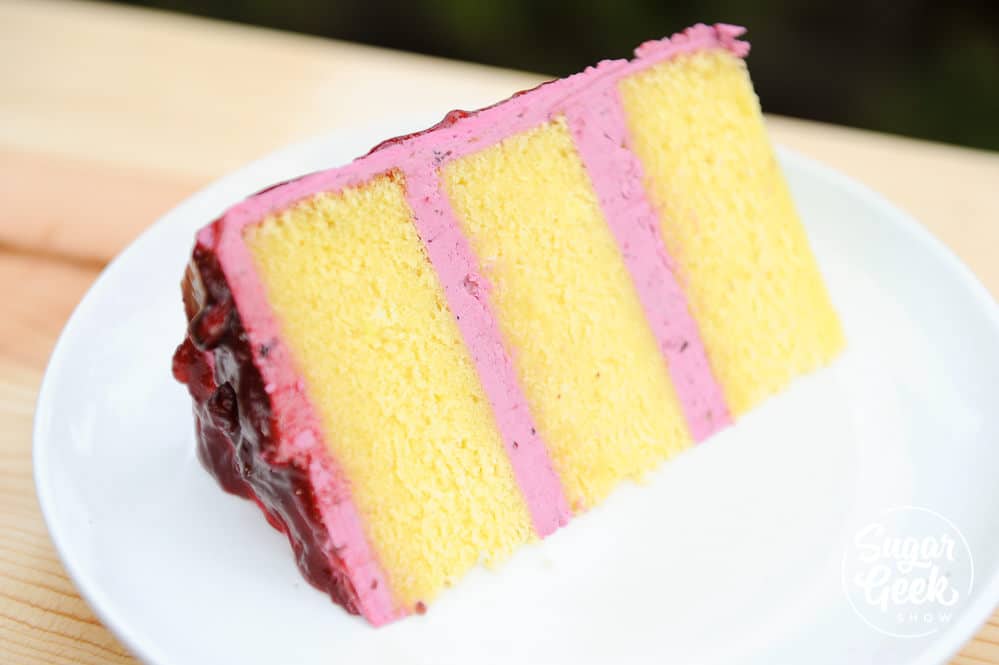 Can you use lemon juice in place of lemon extract?
Not really no. I hate to be a bubble burster but lemon juice has a such a different level of acidity that it really can't be thrown in place of lemon extract.
Lemon extract is a high concentration of lemon flavor mixed with alcohol that will evaporate leaving the lemon flavor. To be honest if you are looking for a replacement for lemon extract, lemon zest would be a better choice.
How do you make homemade lemon extract?
To make your own lemon extract at home you're mostly going to need time. It is definitely not something you can just whip up and use right away but it can be a great alternative to store bought extract if you are willing to wait for it.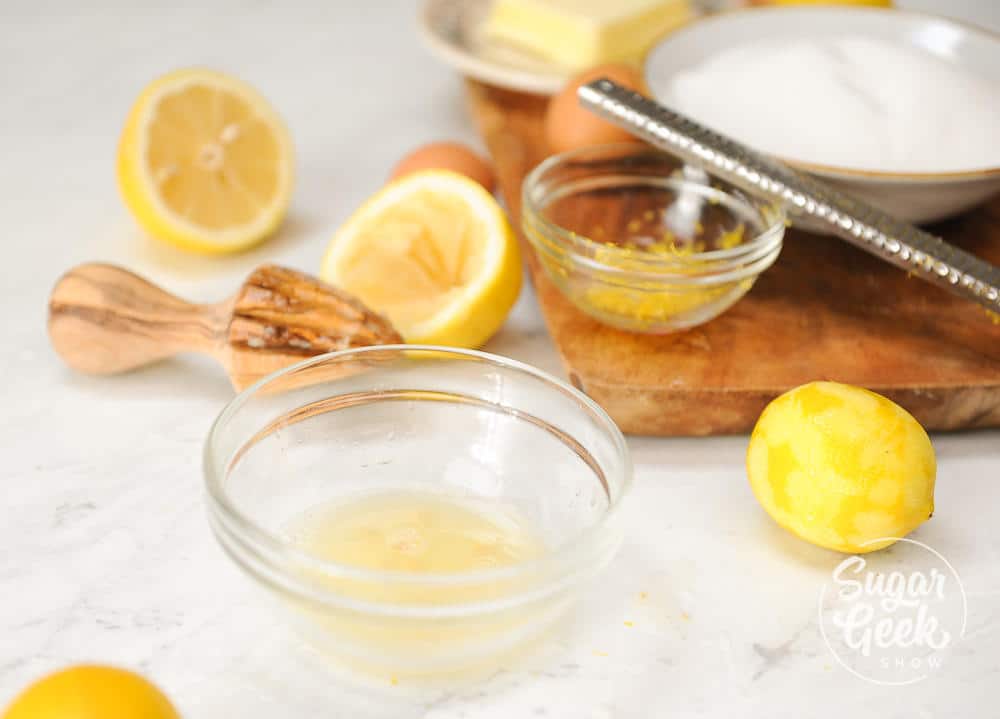 You can easily make lemon extract at home by using a vegetable peeler to peel off thin slices of the lemon peel to place in a jar. Then simply cover the peels in some vodka and let sit for 4 to 6 weeks depending on how potent you like your extract. Once it's ready, strain the liquid into a clean jar and it is ready for use.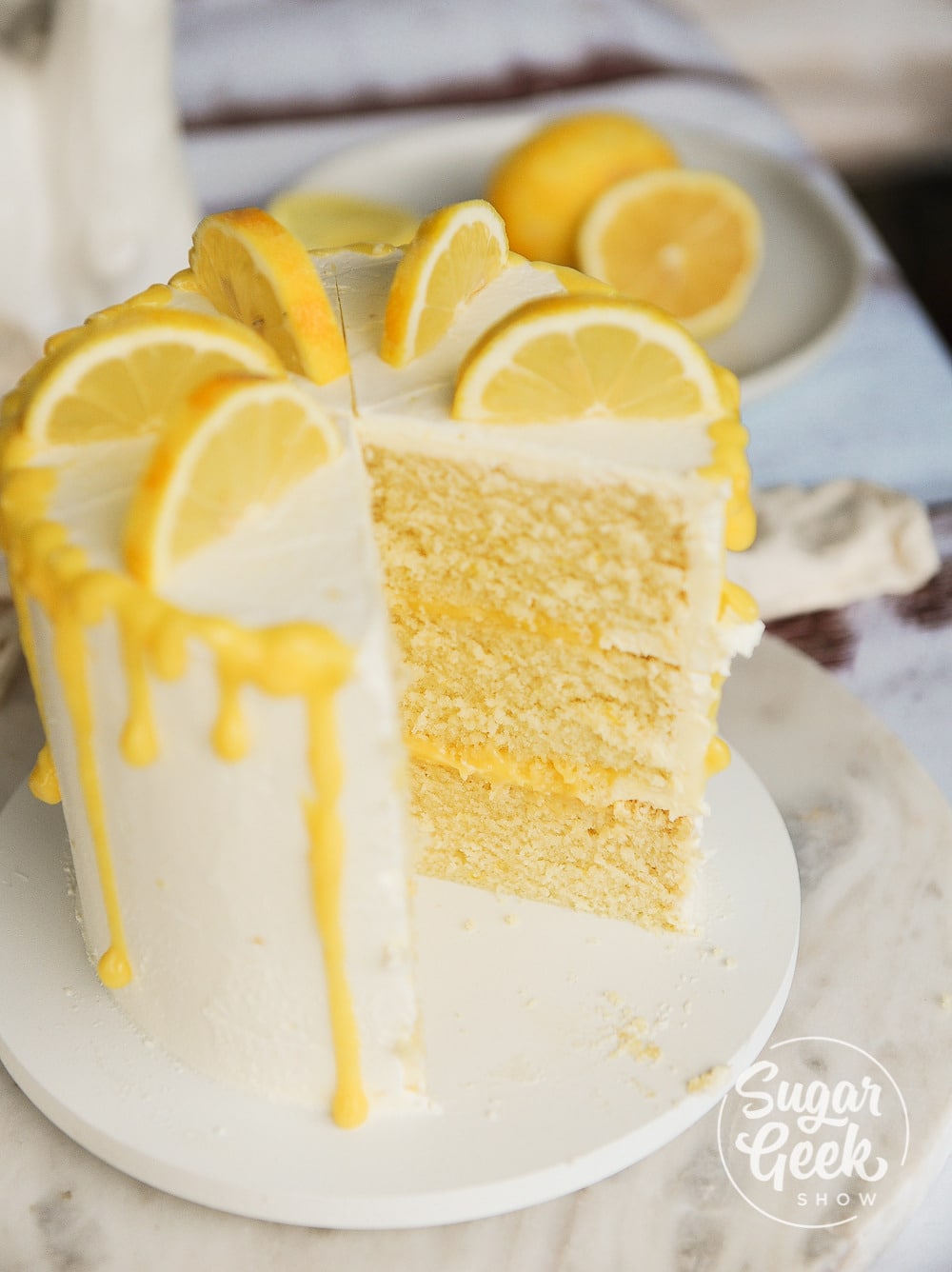 How do you make a lemon cake?
Assuming we are talking about the lemon flavored cake here and not a lemon shaped cake, lemon cake really isn't very different from any other cake recipe with the exception of the lemon flavor which comes from the addition of fresh lemon zest and lemon extract.
Because lemons are acidic, I have recently added in 1 tsp of baking soda to the recipe to account for the acidity.
If you want your lemon cake to be more "lemon colored" you can add in a touch of lemon yellow food coloring but I tend to like my cakes in their natural form.
Easy Moist Lemon Cake Recipe
The use of cake flour versus all purpose flour in this recipe really gives it a nice fine crumb with a smooth texture. Using both oil and butter makes it extra moist and fresh lemon zest plus lemon extract give the cake it's burst of flavor.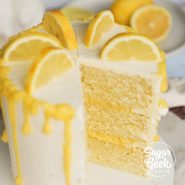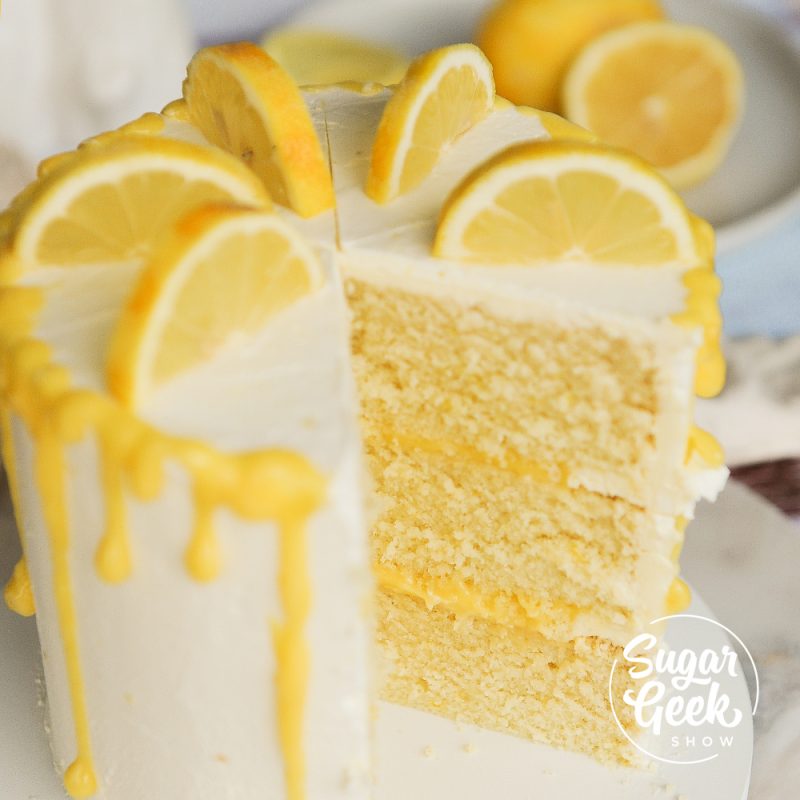 Lemon Cake Recipe
A simple variation on my vanilla cake recipe, this lemon recipe is full of flavor, moist and delicious, but also solid and dense for stacking and sculpting 3D cakes. This recipe makes three 6"x2" cake rounds or two 8"x2" cake rounds.
Ingredients
Lemon Cake Ingredients
15

oz

cake flour

14

oz

granulated sugar

12

oz

whole milk

1

tsp

sea salt

4

large eggs

2

oz

vegetable oil

1

whole lemon zest

2

tsp

baking powder

1

tsp

baking soda

2

tsp

lemon extract

8

oz

unsalted butter
Lemon Curd
8

oz

lemon juice

1

whole

lemon zest

6

oz

sugar

5

egg

yolks

1/4

tsp

salt

4

oz

unsalted butter
Lemon Buttercream
1/2

cup

pasteurized egg whites

room temperature

1

lbs

unsalted butter

room temperature

1

lbs

powdered sugar

2

tsp

lemon extract

1/2

cup

lemon curd

room temperature

1/2

tsp

salt
Instructions
Cake Instructions
Heat oven to 335º F/168º C — 350º F/177º C. I tend to use lower setting to prevent my cakes from getting too dark on the outside before the inside is done baking.

Measure out the liquid ingredients and place them into a bowl.

Measure out dry ingredients and place them into the stand mixer bowl.

Attach the paddle to the mixer, and turn on the slowest speed (setting 1 on Kitchen Aid mixers). Slowly add chunks of your softened butter until it is all added. Let mix until batter resembles coarse sand.

Add 1/3 of your liquid ingredients while mixing on low until just moistened. This part is crucial. Don't add too much liquid.

Increase mixing speed to medium (setting 5 on Kitchen Aid mixer). Let the mixture whip up until it has thickened and lightened in color. It should look like soft-serve ice cream. If you do not let the batter mix fully, you will end up with very short, cumbly cakes. This mixing can take up to 2 minutes. It is important not to undermix or overmix your batter.

Scrape the bowl. This is an important step. If you skip it, you will have hard lumps of flour and unmixed ingredients in your batter. If you do it later, they will not mix in fully.

Slowly add in the rest of your liquid ingredients, stopping to scrape the bowl one more time halfway through. Your batter should be thick and not too runny. I have to spoon mine into pans with a rubber spatula.

Lightly grease 2 8" cake pans with vegetable shortening and dust with cake flour. Tap out excess flour. Fill pans 3/4 full. Give the pan a little tap on each side to level out the batter and get rid of any air bubbles.

I always start by baking for 20 minutes for 8" and smaller cakes and 30 minutes for 9" and larger cakes and then checking for doneness. If the cakes are still really jiggly, I add another 10 minutes. I check every 5 minutes after that until I'm close and then it's every 2 minutes. Cakes are done when a toothpick inserted in the center comes out with a few crumbs.

Remove cakes from oven. If they are domed up, place a clean tea towel on top and using an oven mitt, lightly press down until flat. This does not harm the cakes at all and cuts down on waste.

After cakes have cooled for 10 minutes or the pans are cool enough to touch, flip the cakes over and remove from the pans onto the cooling racks to cool completely. Wrap in plastic wrap and chill in the refrigerator.

Once the cakes are chilled in the refrigerator (about an hour for this size, longer for larger cakes), tort, fill and crumb coat all at once. If you do not plan on crumb coating the same day, you can leave the wrapped cakes on the countertop. Chilling can dry out your cakes before they are iced, so avoid keeping them in the refrigerator longer than necessary. Cakes can be frozen in freezer bags for later use as well.
Lemon Curd Instructions
In a large glass bowl or non reactive metal bowl whisk together the egg yolks, lemon juice, zest, sugar, and salt.

Bring about a ½" to 1" of water to a boil in a medium saucepan, place the bowl with the mixture on top so that the steam from the water will cook the curd mixture.

Continuously whisk the mixture until the temperature reaches 170ºF-180ºF

Removing the curd at 170º will yield a thinner consistency while removing at 180º will be thicker.

Immediately add butter in small pieces. Whisk until smooth. Strain mixture to remove any large pieces of zest or seeds.

If using a metal bowl to cook the mixture, transfer to a glass bowl and cover the curd with plastic wrap so that it is touching the surface of the curd without any air bubbles in between, this will prevent a skin from forming on the top of the curd.

Refrigerate until cool before serving.

Store in the fridge for up to one week or freeze for up to a year
Lemon Buttercream Instructions
Place egg whites and powdered sugar in a mixing bowl with the whisk attachment. Whisk to combine. Add in butter in small chunks then lemon extract and salt. Whip on high until light and fluffy and white. Optional: switch to the paddle attachment and mix on low for 15-20 minutes until all air bubbles are gone.

Fold in room temperature lemon curd until smooth and the frost cake as desired.
Recipe Video
Recipe Notes
Moist and delicious lemon cake with lemon curd and lemon buttercream! 
Nutrition Facts
Lemon Cake Recipe
Amount Per Serving
Calories 2108
Calories from Fat 1116
% Daily Value*
Total Fat 124g 191%
Cholesterol 408mg 136%
Sodium 874mg 36%
Potassium 420mg 12%
Total Carbohydrates 239g 80%
Protein 17g 34%
* Percent Daily Values are based on a 2000 calorie diet.

January 8, 2019