The fluffiest lemon cake recipe with lemon buttercream and lemon curd is bursting with natural lemon flavor!
Lemon cake is one of my favorite cake flavors. I've been perfecting this lemon cake recipe over the years until it's just right. The secret is lots of lemon zest, buttermilk and using lemon curd in the filling and in the easy buttercream for maximum lemon flavor!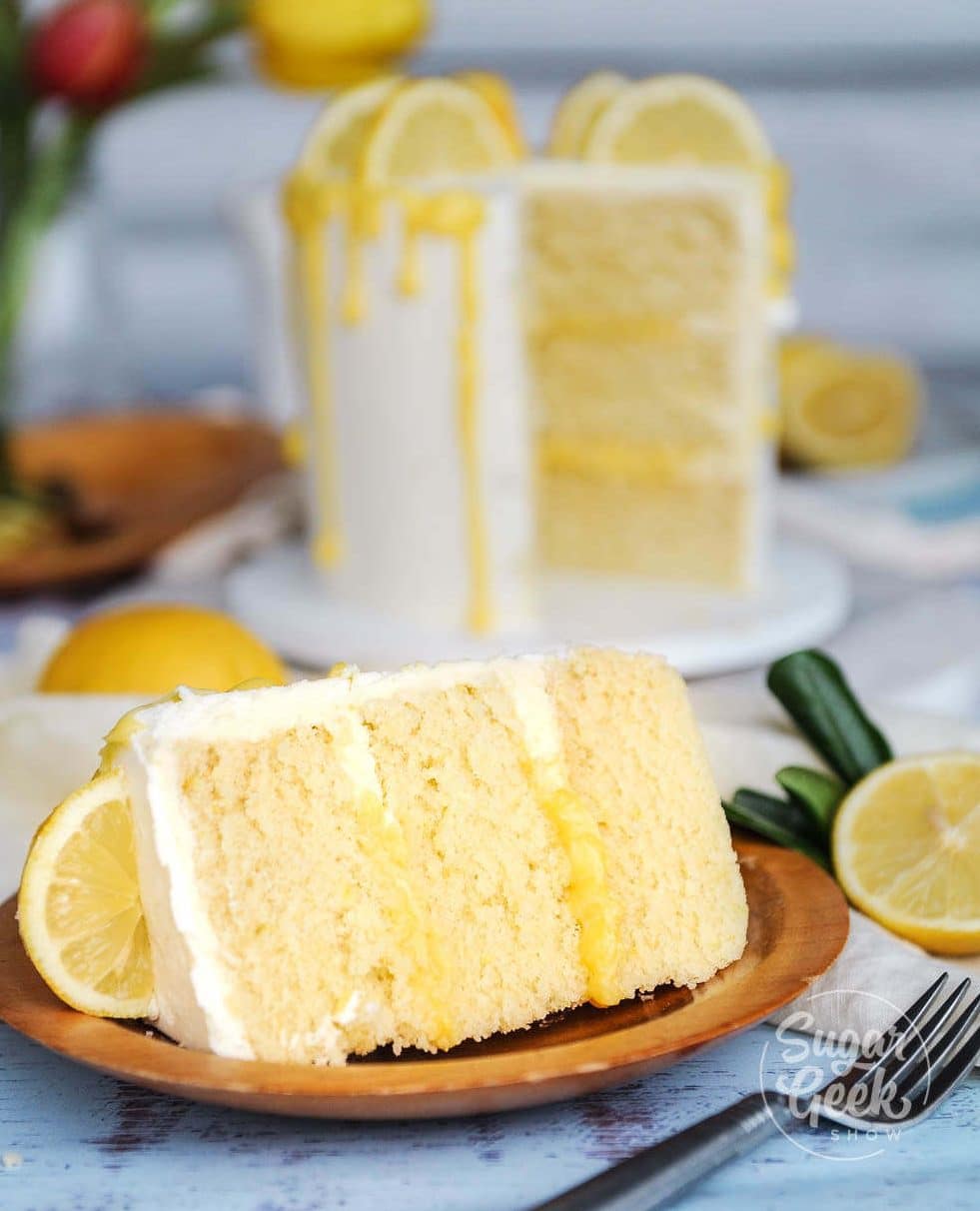 I honestly thought I hated lemon cake for the longest time. Every time I had lemon flavored anything it just did not sit well. Turns out I just hate fake lemon flavoring. It reminds me of cough drops. Not exactly what I'm looking for in a lemon cake.
Now I can't get enough lemon cake! If you love lemon as much as I do, check out my lemon raspberry cake and my lemon blueberry cake!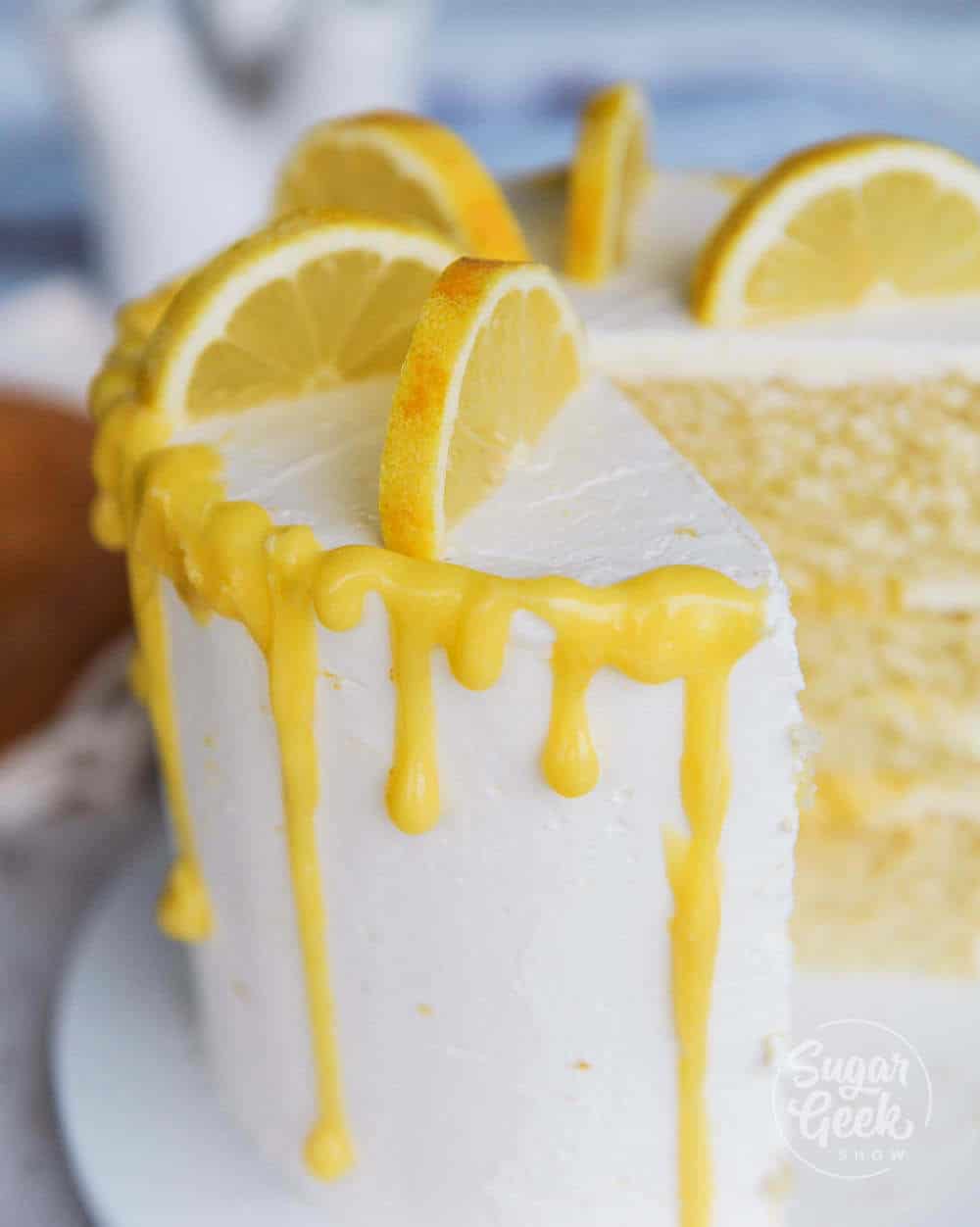 The first time I used lemon zest in a lemon cake recipe was in pastry school. Talk about an AH-HA moment! When I took a bite of that tasty lemon pound cake and that zest hit me right in the taste buds making my mouth water, I knew I had a new favorite cake flavor.
What makes this lemon cake so moist?
This lemon cake recipe, much like my other cake recipes like vanilla cake and white velvet buttermilk cake has some key ingredients for maximum moistness and melt-in-your mouth velvet texture.
Buttermilk – breaks down the gluten in cake flour and reacts with acidic ingredients to create a very light and fluffy cake taht is extremely tender!
Cake flour – cake flour has less gluten in it than AP flour, resulting in a very tender cake crumb. **note, you can't do that trick where you replace AP flour with cornstarch or you'll end up with cornbread.
Reverse mixing method – The reverse mixing method is the process of coating your dry ingredients with butter before you add the liquids. This butter "shortens" the gluten strands and gives the cake it's velvet crumb.
Oil – Very important in butter cakes to keep your cakes from drying out. When a cake is cold, the butter in the cake get's hard and can make the cake taste dry. Cakes should always be consumed at room temperature for best results.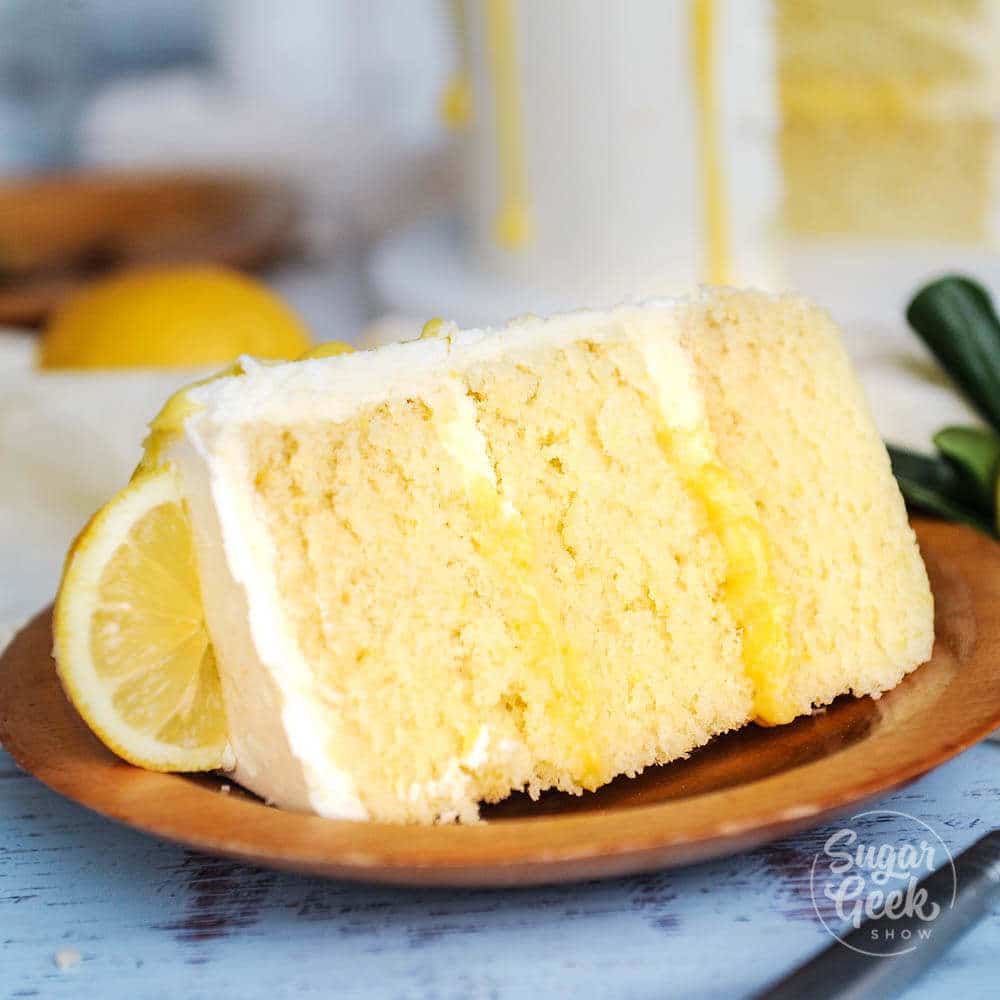 What's the best way to incorporate lots of lemon flavor into a lemon cake recipe?
This lemon cake get's it's citrus zing from lots of lemon zest and a touch of lemon extract. You can pump up the zest if you want more lemon flavor or add in some lemon curd for those ultimate lemon lovers out there (like me). I have even used lemon oil in my buttercream but it's pretty expensive.
Lemon cake goes so well with so many flavors but especially other fruits! We love lemon curd filling with our strawberry cake recipe or fill the lemon cake recipe with some yummy marion berry buttercream!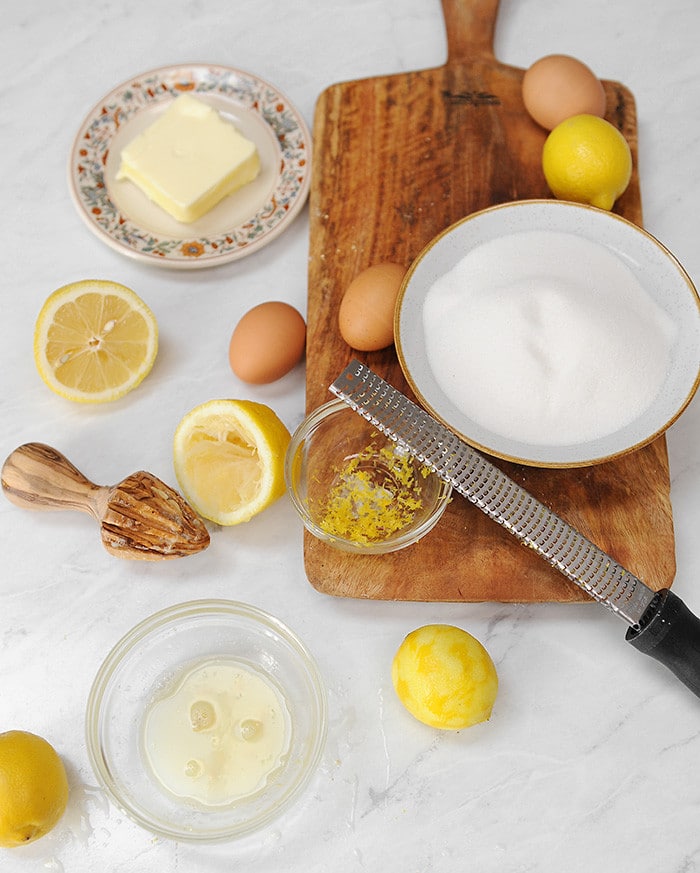 Can you use lemon juice in place of lemon extract?
Not really no. I hate to be a bubble burster but lemon juice has a such a different level of acidity that it really can't be thrown in place of lemon extract.
Lemon extract is a high concentration of lemon flavor mixed with alcohol that will evaporate leaving the lemon flavor. To be honest, if you are looking for a replacement for lemon extract, lemon zest would be a better choice.
How do you make a lemon cake?
Making the most delicious lemon cake you've ever had isn't complicated but it does take careful measuring and mixing for best results. Make sure your ingredients are slightly warm (eggs, buttermilk, butter) or your cake batter could curdle. Preheat oven to 335ºF. Prepare two 8″ round cake pans with cake goop or preferred cake release.
Place 1/2 cup of the milk and place it into a separate measuring cup. Add the oil to the milk and set aside.
To the remaining milk, add the eggs, extract and lemon zest.
Measure out flour, sugar, baking soda, baking powder and salt and place them into the stand mixer bowl. Attach the paddle to the mixer, and turn on the slowest speed.
Slowly add in your chunks of softened butter and let it mix until everything resembles coarse sand.
Add in your milk/oil mixture to the dry ingredients and mix on medium (setting 4 on KitchenAid) and mix for 2 minutes to develop the cake's texture. Don't worry, you're not going to over-mix it.
Scrape the bowl then add in the milk/egg mixture in 3 parts mixing on low.
Divide batter into your pans and bake for 30-35 minutes or until a toothpick comes out clean.
How to make a lemon layer cake with lemon curd drip
First time making a cake? Watch my how to make your first cake tutorial to learn all about stacking and filling a cake the professional way.
I like to bake my lemon cake layers the day before I need them to let them rest. Wrap them in plastic wrap and leave them on the countertop overnight but you can also chill them for easier handling.
I also make my lemon curd the day before I need it to give it time to cool down. Make sure you cover the top of your lemon curd with plastic wrap so it's touching the surface to prevent a weird skin from forming.
You can make the buttercream the day before or the day of. I do the day of so that it's nice and smooth. Add about 1 cup of your lemon curd to your buttercream with 1 tsp of lemon extract and some more lemon zest if desired. Mix until smooth.
Trim off the brown edges around the tops, bottoms and sides of the cake for a prettier cake slice. Not necessary but if you're a perfectionist like me, then you don't want to miss this step.
Place your cake on a cake cardboard round and work on a turntable for ease. Create a dam of buttercream around the outside of your first layer of cake. Fill the center with about 1/4″ of lemon curd and smooth out. Repeat with the second layer of cake.
Crumb coat your cake with a thin layer of buttercream and chill overnight or in the freezer for about 1 hour.
Finish your cake in a final coat of buttercream and decorate with some more lemon curd for the drip and freshly cut lemons.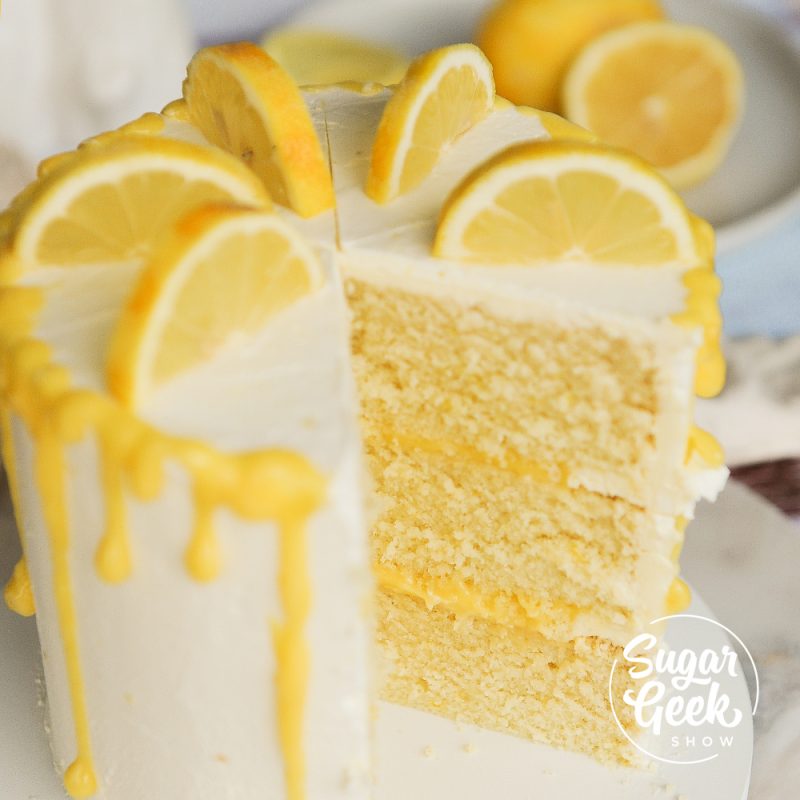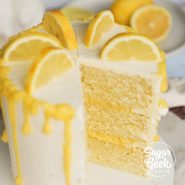 Lemon Cake Recipe
Moist and velvety lemon cake with lemon buttercream and lemon curd! For a true lemon lover! Makes three 6"x2" cakes or two 8"x2" cakes
Ingredients
Lemon Cake Ingredients
13

oz

cake flour

13

oz

granulated sugar

1/2

tsp

salt

2

tsp

baking powder

1/2

tsp

baking soda

8

oz

unsalted butter

10

oz

buttermilk

Or regular milk with 1 Tbsp white vinegar added

3

oz

vegetable oil

3

large eggs

1

Tbsp

whole lemon zest

2

tsp

lemon extract

2

Tbsp

lemon juice
Lemon Curd
8

oz

lemon juice

1

whole

lemon zest

6

oz

sugar

5

egg

yolks

1/4

tsp

salt

4

oz

unsalted butter
Lemon Buttercream
8

oz

pasteurized egg whites

room temperature

16

oz

unsalted butter

room temperature

16

oz

powdered sugar

2

tsp

lemon extract

4

oz

lemon curd

room temperature

1/2

tsp

salt
Instructions
Cake Instructions
Heat oven to 335º F/168º C — 350º F/177º C. I tend to use lower setting to prevent my cakes from getting too dark on the outside before the inside is done baking. Make sure all ingredients are at room temperature or slightly warm (eggs, buttermilk, butter)

Measure out buttermilk. Place 4 oz in separate measuring cup. Add oil to the 4oz of buttermilk and set aside. To the remaining milk, add your eggs (lightly whisked to break them up) extract and lemon zest.

Measure out dry ingredients and place them into the stand mixer bowl.

Attach the paddle to the mixer, and turn on the slowest speed (setting 1 on Kitchen Aid mixers). Slowly add chunks of your softened butter until it is all added. Let mix until batter resembles coarse sand.

Add your milk/oil mixture all at once to the dry ingredients and mix on medium (speed 4 on kitchenaid) for 2 full minutes.

Scrape the bowl. This is an important step. If you skip it, you will have hard lumps of flour and unmixed ingredients in your batter. If you do it later, they will not mix in fully.

Slowly add in the rest of your liquid ingredients in 3 parts, stopping to scrape the bowl one more time halfway through. Your batter should be thick and not too runny.

Lightly grease 2 8" cake pans cake goop or other pan release. Fill pans 3/4 full. Give the pan a little tap on each side to level out the batter and get rid of any air bubbles.

I always start by baking for 35 minutes for 8" and smaller cakes and 30 minutes for 6" and cakes and then checking for doneness. If the cakes are still really jiggly, I add another 5 minutes. I check every 3 minutes after that until I'm close and then it's every 1 min. Cakes are done when a toothpick inserted in the center comes out with a few crumbs. 

Remove cakes from oven and give them a tap on the countertop to release air and prevent too much shrinking.

After cakes have cooled for 10 minutes or the pans are cool enough to touch, flip the cakes over and remove from the pans onto the cooling racks to cool completely. Wrap in plastic wrap and chill in the refrigerator.

Once the cakes are chilled in the refrigerator (about an hour for this size, longer for larger cakes), tort, fill and crumb coat all at once. If you do not plan on crumb coating the same day, you can leave the wrapped cakes on the countertop. Chilling can dry out your cakes before they are iced, so avoid keeping them in the refrigerator longer than necessary. Cakes can be frozen in freezer bags for later use as well.
Lemon Curd Instructions
In a large glass bowl or non reactive metal bowl whisk together the egg yolks, lemon juice, zest, sugar, and salt.

Bring about a ½" to 1" of water to a boil in a medium saucepan, place the bowl with the mixture on top so that the steam from the water will cook the curd mixture.

Continuously whisk the mixture until the temperature reaches 170ºF-180ºF

Removing the curd at 170º will yield a thinner consistency while removing at 180º will be thicker.

Immediately add butter in small pieces. Whisk until smooth. Strain mixture to remove any large pieces of zest or seeds.

If using a metal bowl to cook the mixture, transfer to a glass bowl and cover the curd with plastic wrap so that it is touching the surface of the curd without any air bubbles in between, this will prevent a skin from forming on the top of the curd.

Refrigerate until cool before serving.

Store in the fridge for up to one week or freeze for up to a year
Lemon Buttercream Instructions
Place egg whites and powdered sugar in a mixing bowl with the whisk attachment. Whisk to combine. Add in butter in small chunks then lemon extract and salt. Whip on high until light and fluffy and white. Optional: switch to the paddle attachment and mix on low for 15-20 minutes until all air bubbles are gone.

Fold in room temperature lemon curd until smooth and the frost cake as desired.
Recipe Video
Nutrition Facts
Lemon Cake Recipe
Amount Per Serving
Calories 520
Calories from Fat 288
% Daily Value*
Total Fat 32g 49%
Cholesterol 95mg 32%
Sodium 189mg 8%
Potassium 97mg 3%
Total Carbohydrates 57g 19%
Protein 4g 8%
* Percent Daily Values are based on a 2000 calorie diet.

June 24, 2019