Gluten-Free Cake From Scratch With Low Sugar Strawberry Frosting
You won't believe this is a gluten-free cake! Bob's Red Mill 1:1 baking flour is my favorite for making gluten-free cake that tastes just like the real thing. I really like this particular flour because it doesn't have an odd aftertaste or strange texture. This cake is so light and fluffy, no one even realizes it's gluten-free! I like to pair this cake with my stabilized whipped cream recipe mixed with some strawberry puree light and low carb cake.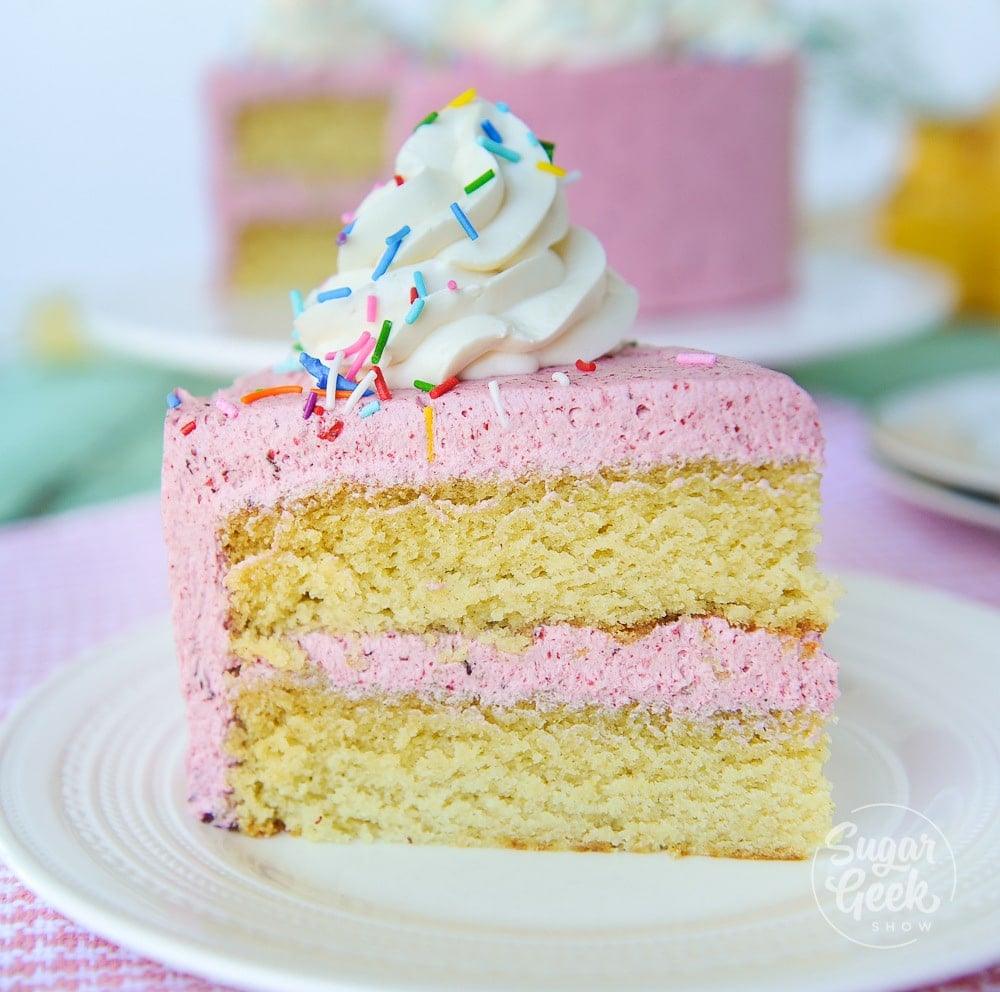 If you wanted to make this cake even lower in sugar, replace the sugar in the cake recipe with Swerve baking sugar which can usually be found in the grocery store baking aisle.
This gluten-free cake recipe is great for a birthday celebration for that special someone! Everyone deserves to have cake on their birthday right? My dad can't have gluten and he loves this gluten-free vanilla cake with my chocolate ganache.
Easy Gluten Free Cake Recipe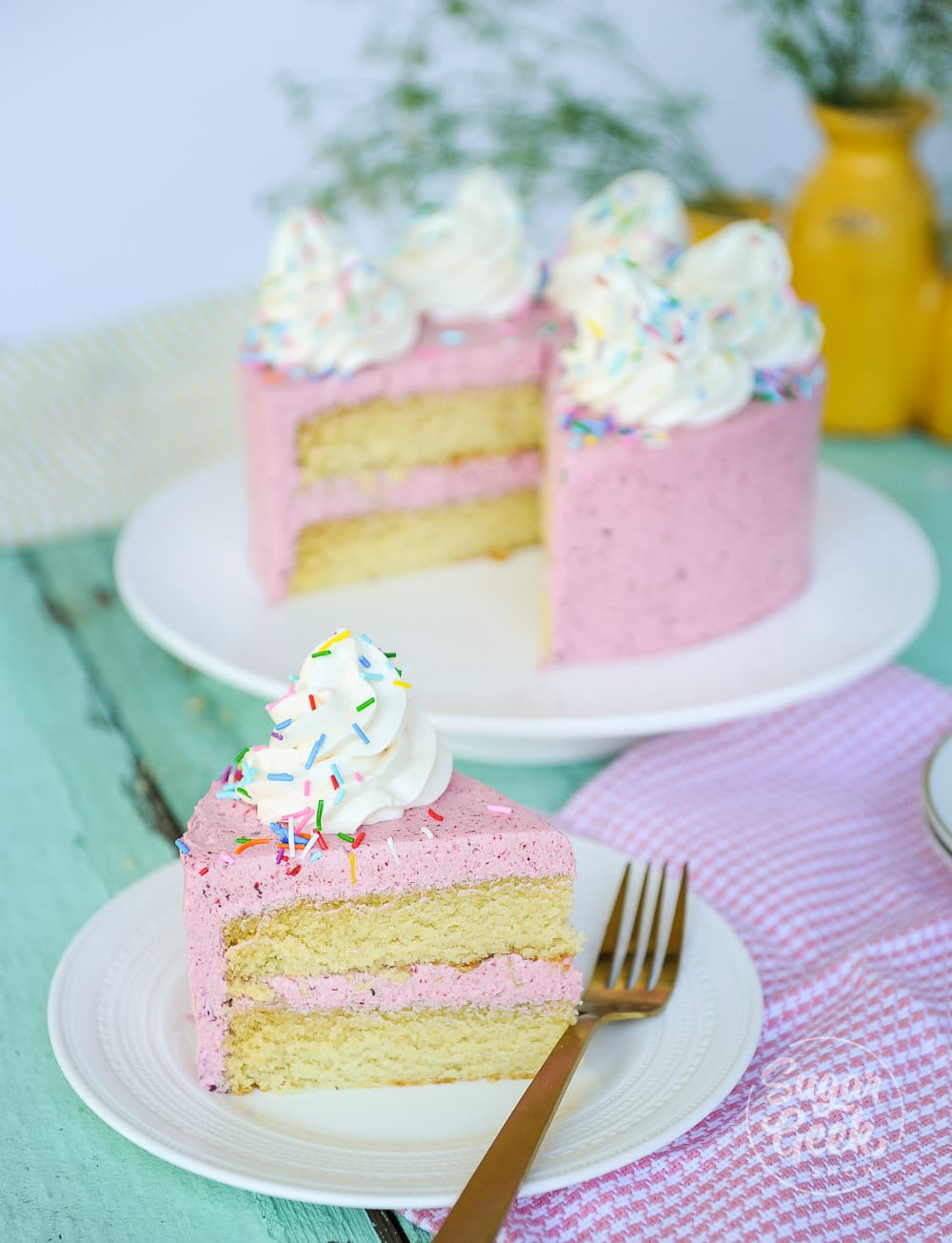 My Dad developed a gluten allergy about 10 years ago at the age of 62. He had such bad pain in his chest that he thought he was having a heart attack and went to the hospital. If you knew my old-school tough guy Dad, you'd know what a big deal that was!
All his doctors told him he was fine and healthy and gave him steroids for his chest pain. (Insert annoyed eye roll from me). After talking with my Dad about his pain, I remembered a friend of mind who also was allergic to wheat and her symptoms seemed very similar. I urged my Dad to try giving up wheat for a week and he laughed at me .
"I've been eating bread my whole life. I'm not allergic to bread"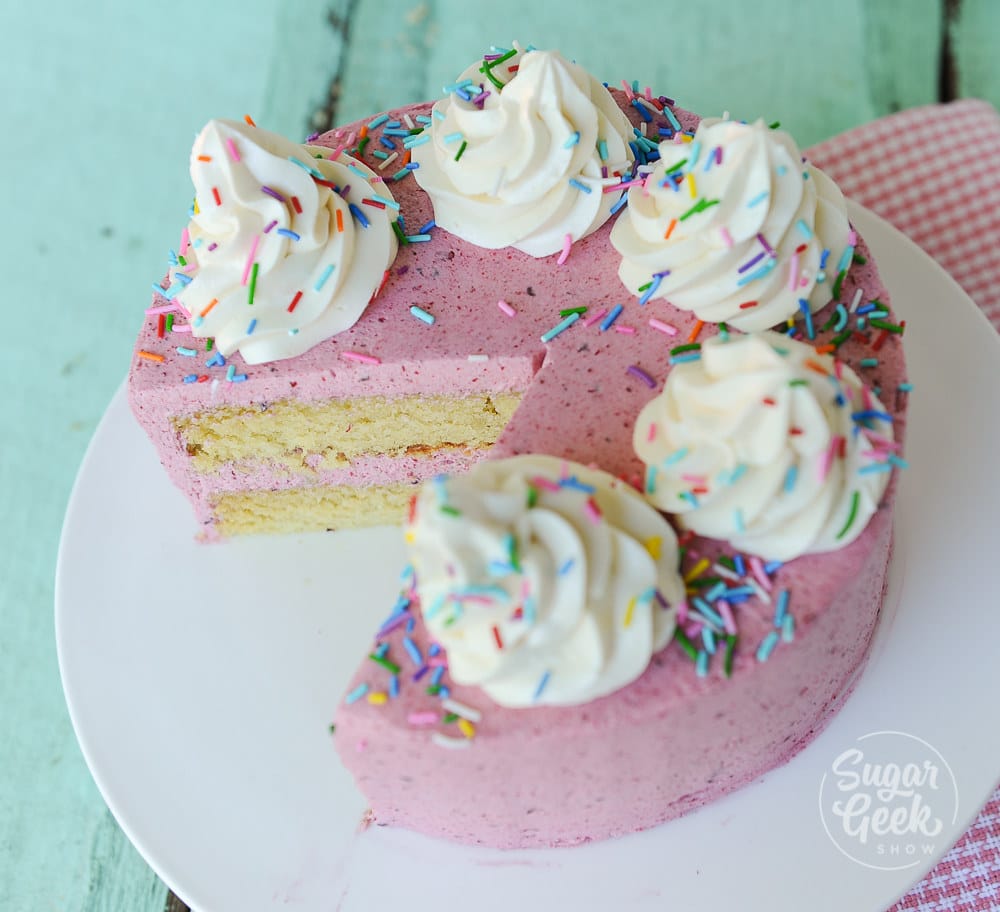 After a few weeks my Dad's symptoms got so bad he couldn't eat anything. He couldn't lay down and he could barely walk he was in so much pain. After a few days of only drinking water, he felt better. The first thing he did when he felt better was to try and eat some bread.
His pain was so bad he said he almost passed out. That's when he really knew it was the wheat. He was devastated! How was he going to eat? He was sure he was going to starve to death lol.
Of course, he didn't and ten years later, he's healthier than I've ever seen him and 50 lbs lighter. A lot of his other health issues disappeared with the wheat consumption (like inflammation in his knees and migraines).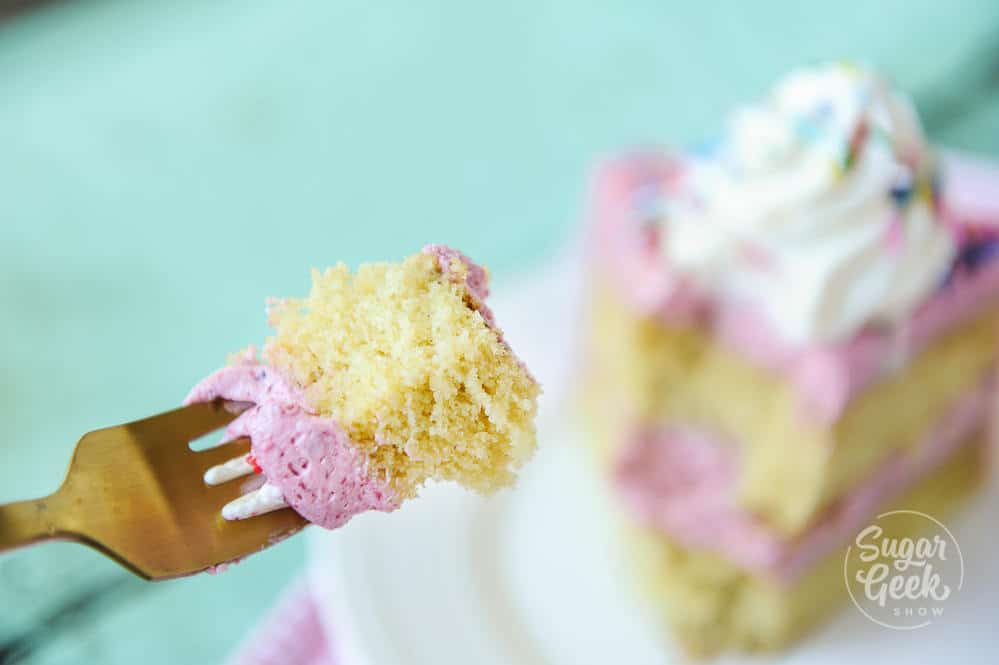 When I see comments online laughing about how people never used to be allergic to wheat and that they must be making it up, I wish I could introduce them to my dad. He is never one to complain or admit weakness.
He most definitely did not choose to be gluten-free but it has changed his whole life. I still make my Dad goodies whenever I go visit using bobs red mill 1:1 gluten-free baking flour because I don't have to change any of my recipes. I just replace the flour with the gluten-free flour and it turns out perfect every time.
The texture of this cake is seriously so wonderful! Light, fluffy and moist!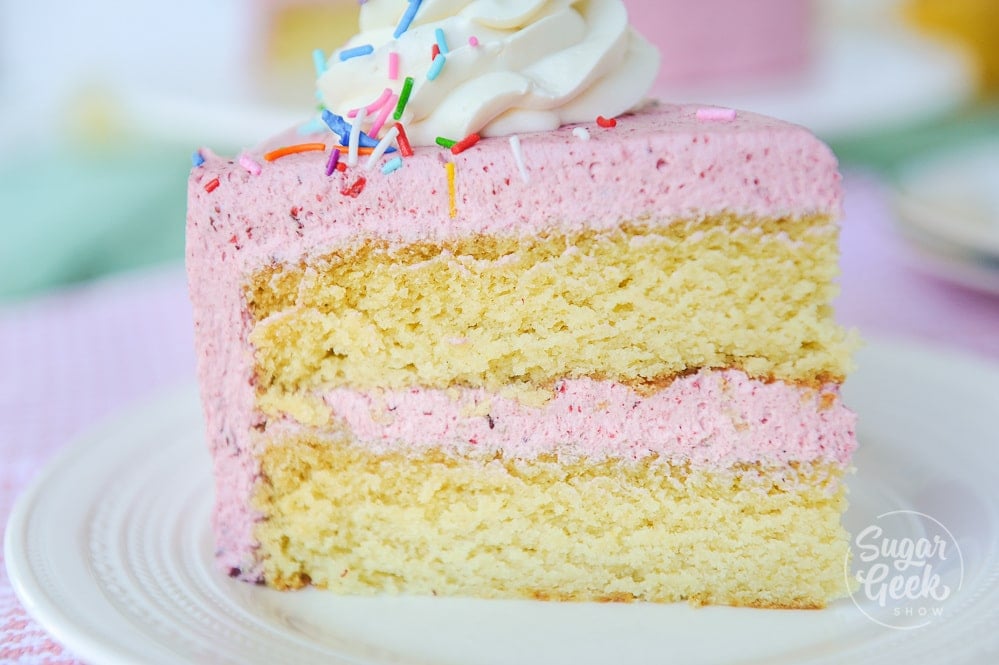 There might be other brands of 1:1 gluten-free flour in your area or you can order from Amazon but I can't guarantee the same results. Just make sure you look for something that says 1:1 replacement, not just gluten-free flour.
Tips For Making A Great Gluten Free Cake Recipe
Make sure you whip it good! As I said, this recipe uses the reverse mixing method which is the same way I make my famous vanilla cake recipe. Reverse mixing makes a nice tender crumb but you also have to remember that there isn't any gluten in this cake (aka structure) so it's SUPER important that you do that first bit of mixing for the full 2 minutes to develop your structure.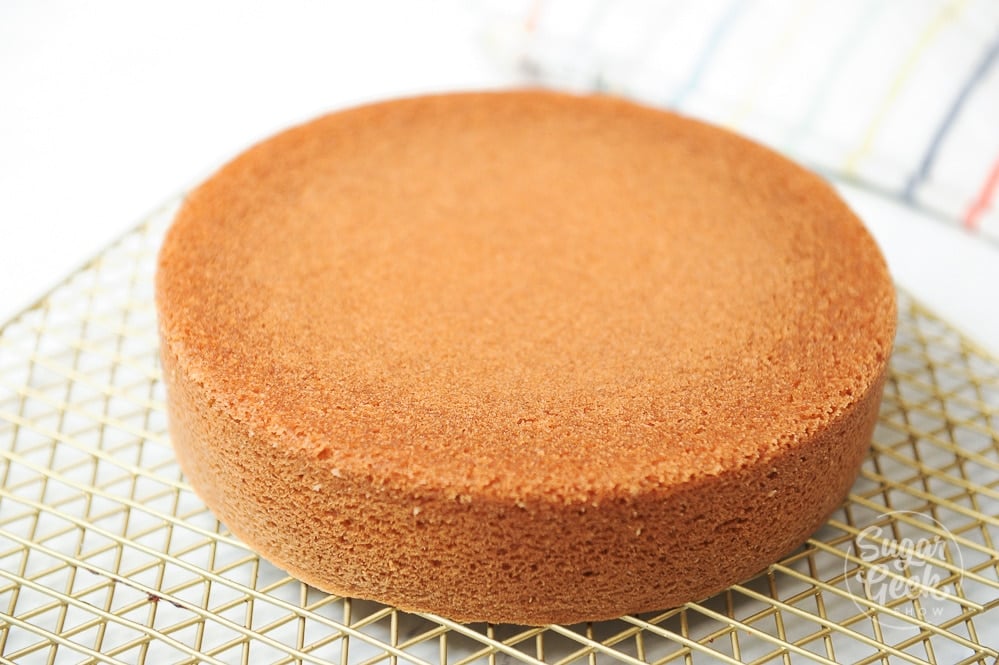 Make sure your eggs, butter and milk are room temperature. Everyone always forgets this step and it can cause the cake to get a wet gummy layer at the bottom or worse, collapse. No bueno.
Sugar Free Strawberry Frosting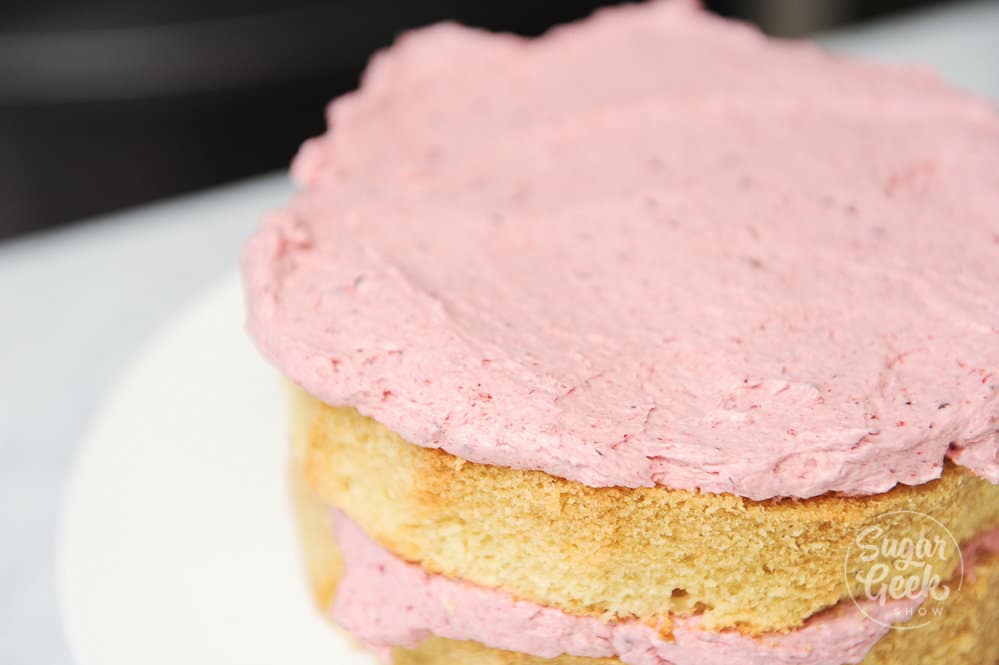 I don't like super sweet frostings and wanted this cake to be as low carb/low sugar as possible. I decided to go with some stabilized whipped cream and add in some strawberry puree (made without added sugar) to make it taste sweet without actually adding any sugar. The taste is soooo good! If you don't want to make your own puree then you can get some sugar free strawberry jam and that works just as good!
The stabilized whipped cream is strong enough to frost the cake and hold its shape for days. Amazing what a little gelatin can do.
Gluten Free Cake Mix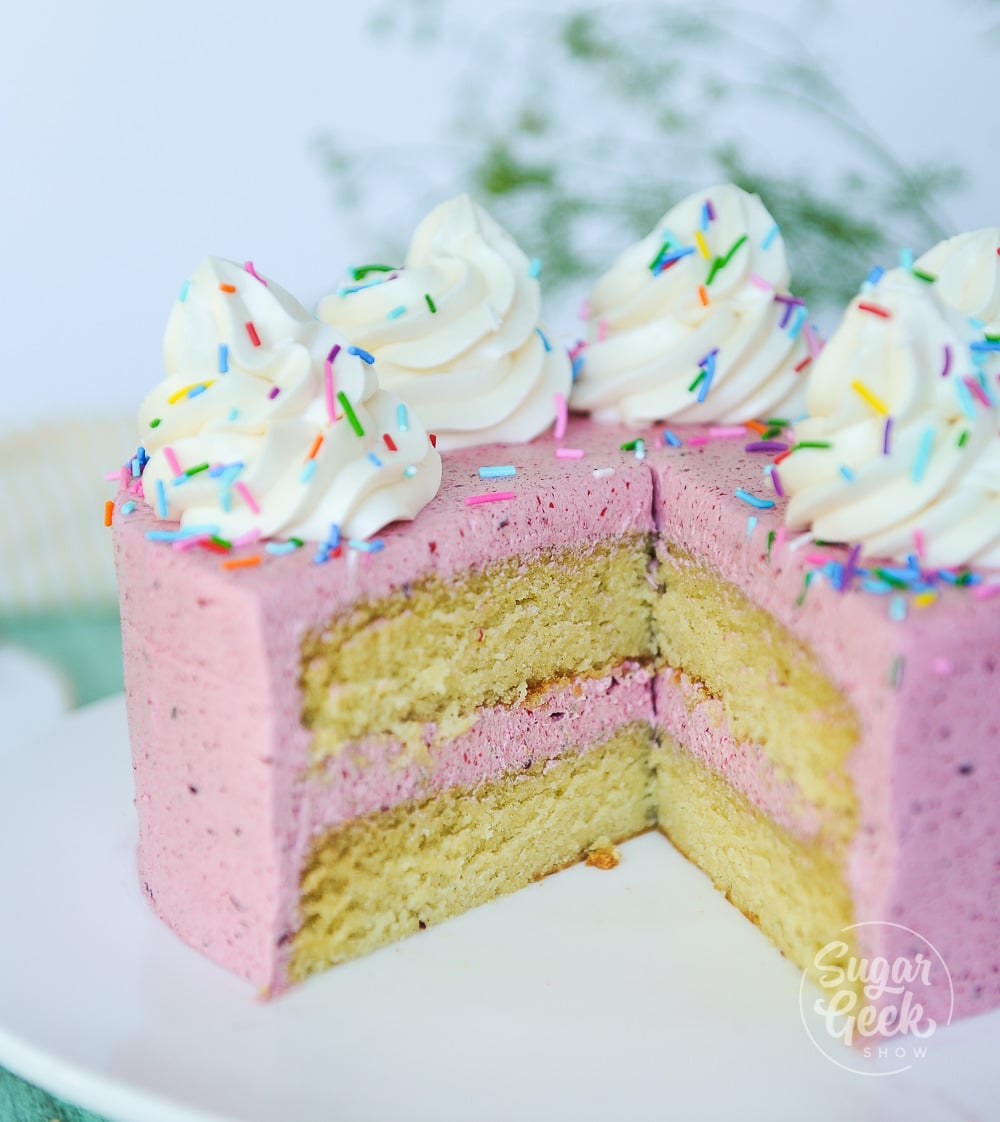 Don't want to fuss with making your cake from scratch? Bob's Red Mill makes some really amazing cake mixes as well! Vanilla or chocolate. The best thing about them is that they don't have any weird aftertaste. I can't even tell the difference.
Most grocery stores carry Bob's Red Mill cake mixes, I get mine from Safeway in the gluten-free section.
Gluten-Free Cupcakes
This recipe makes some really great gluten-free cupcakes as well! Just use a small ice cream scoop or a spoon to portion out your batter into your cupcake pans with cupcake liners. Try not to overfill (like I did) so that you have a nice even top. Bake at 350℉ for 18-20 minutes until the center is just set. Let cool. Frost your cupcakes with your favorite buttercream! So yummy!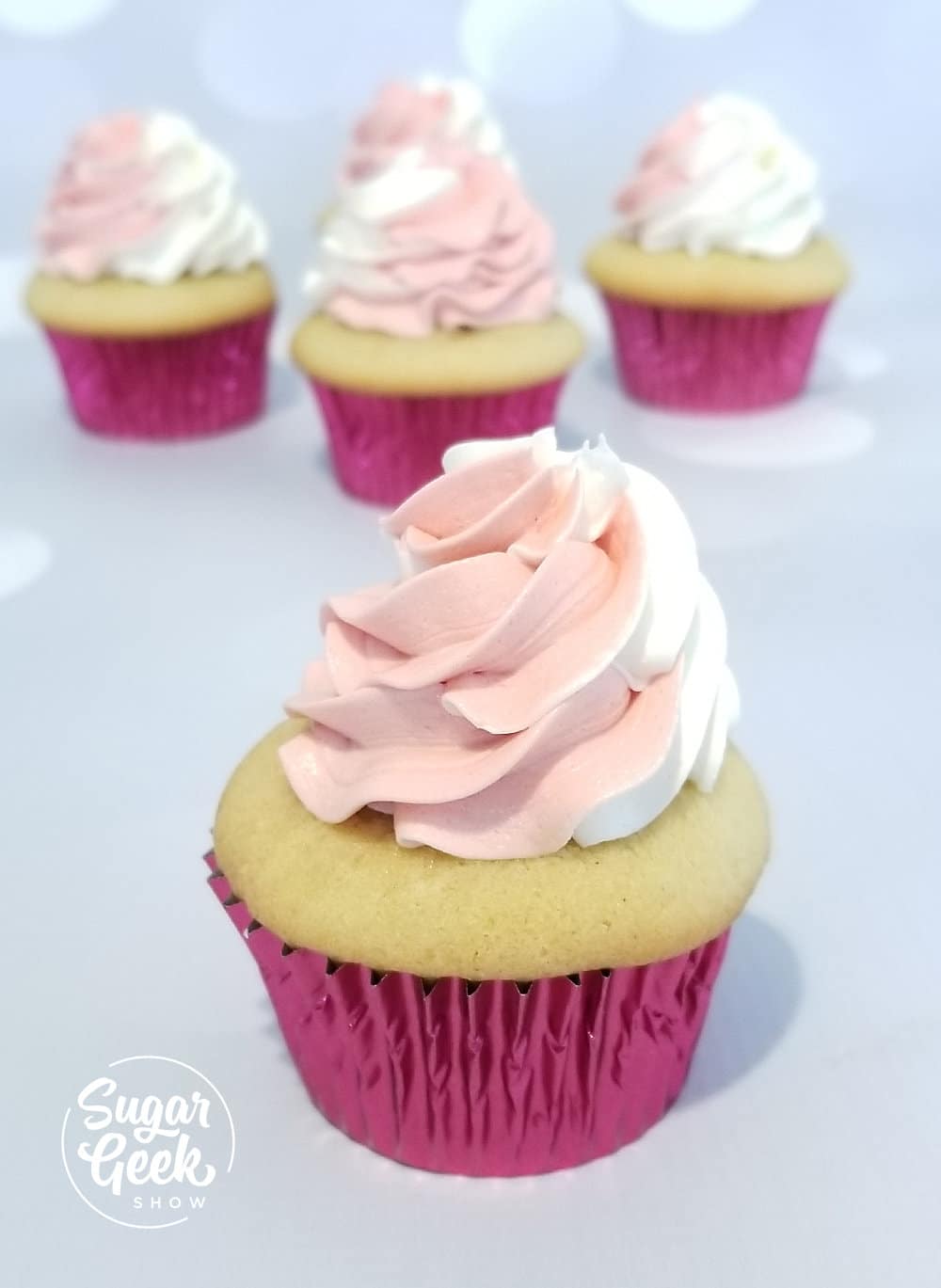 Ready to make the most delicious gluten-free cake ever? Watch my video tutorial on how to make my super moist and tender gluten-free vanilla cake recipe with fresh buttercream frosting.
Cake Batter and Frosting Calculator
Select an option below to calculate how much batter or frosting you need. Adjust the servings slider on the recipe card to change the amounts the recipe makes.
Choose a pan type
Choose a cake pan size
(based on 2" tall cake pan)
Choose a cake pan size
(based on 2" tall cake pan)
Choose a cake pan size
(based on 2" tall cake pan)
Cups of Batter Needed
8 cups
Cups of Frosting Needed
5 cups
Recipe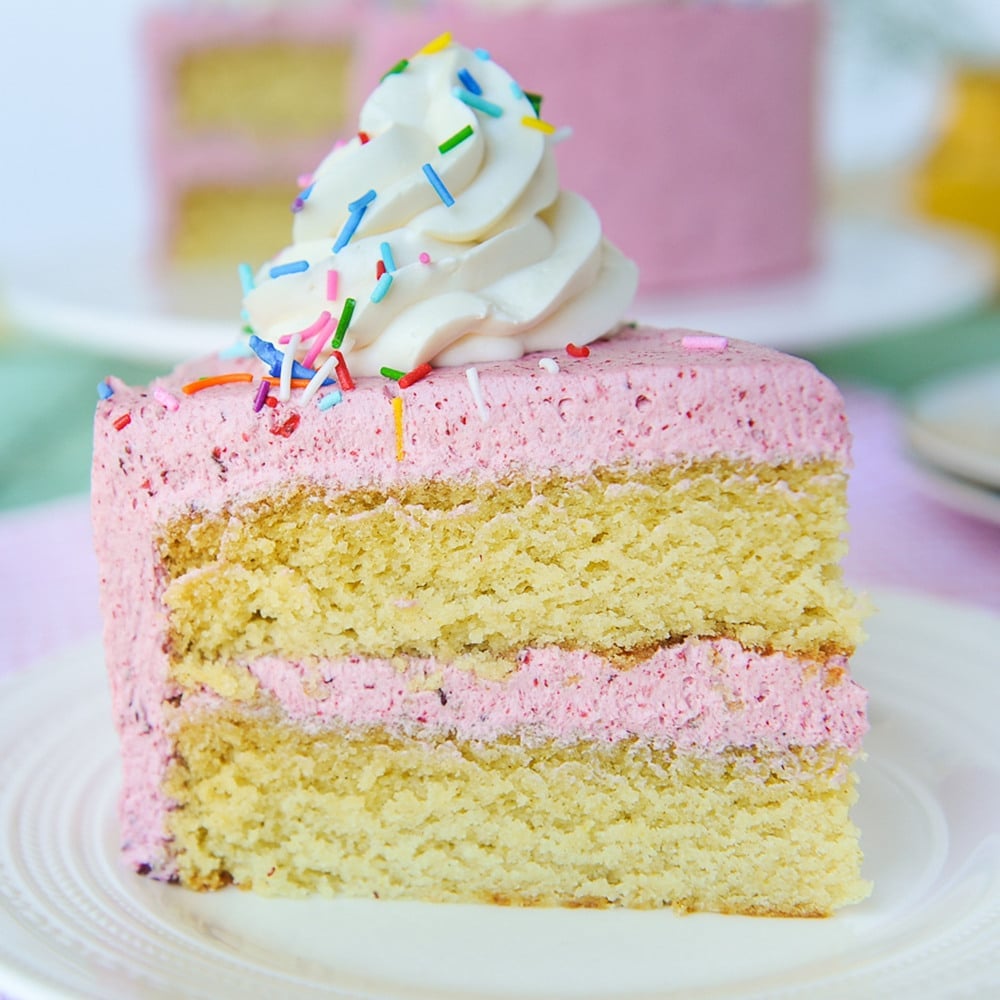 Servings: 24
Calories: 293kcal
Ingredients
Gluten Free Cake Ingredients
12 oz granulated sugar or sugar substitute. follow directions on package
1 teaspoon baking soda
2 teaspoon baking powder
1 teaspoon salt
1 tablespoon vanilla extract
10 oz whole milk
3 large eggs
1 oz vegetable oil
6 oz butter
Strawberry Whipped Cream Frosting
8 oz heavy cream
8 oz strawberry puree
1 teaspoon powdered gelatin
1 tablespoon cold water
1 teaspoon heavy cream
Instructions
Cake Directions
Heat oven to 350º F and prepare two 8" round cake pans with pan release

Measure out the liquid ingredients and place them into a bowl. Whisk to combine.

Measure out dry ingredients and place them into the stand mixer bowl.

Attach the paddle to the mixer, and turn on the slowest speed (setting 1 on Kitchen Aid mixers). Slowly add chunks of your softened butter until it is all added. Let mix until batter resembles coarse sand.

Add ⅓ of your liquid ingredients while mixing on low until just moistened. This part is crucial. Don't add too much liquid.

Increase mixing speed to medium (setting 5 on Kitchen Aid mixer). Let the mixture whip up until it has thickened and lightened in color. It should look like soft-serve ice cream. If you do not let the batter mix fully, you will end up with very short, crumbly cakes. I let mine mix for a full 2 minutes.

Scrape the bowl. This is an important step. If you skip it, you will have hard lumps of flour and unmixed ingredients in your batter. If you do it later, they will not mix in fully.

Slowly add in the rest of your liquid ingredients, stopping to scrape the bowl one more time halfway through. Your batter should be thick and not too runny. I have to spoon mine into pans with a rubber spatula.

Fill pans ½ full. Give the pan a little tap on each side to level out the batter and get rid of any air bubbles. I always start by baking for 30 minutes for 8" and smaller cakes and 35 minutes for 9" and larger cakes and then checking for doneness. If the cakes are still really jiggly, I add another 10 minutes. I check every 5 minutes after that until I'm close and then it's every 2 minutes. Cakes are done when a toothpick inserted in the center comes out with a few crumbs.

After cakes have cooled for 10 minutes or the pans are cool enough to touch, flip the cakes over and remove from the pans onto the cooling racks to cool completely. Wrap in plastic wrap and chill in the refrigerator.

Once the cakes are chilled in the refrigerator (about an hour for this size, longer for larger cakes), tort, fill and crumb coat all at once. If you do not plan on crumb coating the same day, you can leave the wrapped cakes on the countertop. Chilling can dry out your cakes before they are iced, so avoid keeping them in the refrigerator longer than necessary. Cakes can be frozen in freezer bags for later use as well.
Strawberry Frosting
Sprinkle gelatin over water and let set for 5 minutes. Heat in microwave for 5 seconds until granules are dissolved.Whip cream to soft peaks and then add in your vanilla. Add in 1 teaspoon cream to gelatin mixture then drizzle in your melted gelatin while mixing on low.Fold in ½ cup cold pureed strawberries or sugar free jam
Notes
Gluten free cake that is so tasty, no one will even know it's gluten free!
Nutrition
Serving: 1g | Calories: 293kcal | Carbohydrates: 27g | Protein: 2g | Fat: 19g | Saturated Fat: 12g | Cholesterol: 95mg | Sodium: 376mg | Potassium: 155mg | Sugar: 26g | Vitamin A: 640IU | Vitamin C: 9.7mg | Calcium: 77mg | Iron: 0.3mg