Lemon curd made from fresh lemons is sweet, tart and so easy to make !
Lemon curd is made with fresh lemon juice, sugar, lemon zest, egg yolks, cornstarch and butter. It is "cooked" over a bain-marie so that the egg yolks thicken the mixture.
Lemon curd makes a fantastic cake filling, flavoring for buttercream, making drip cake drizzles or for just eating with your favorite scone!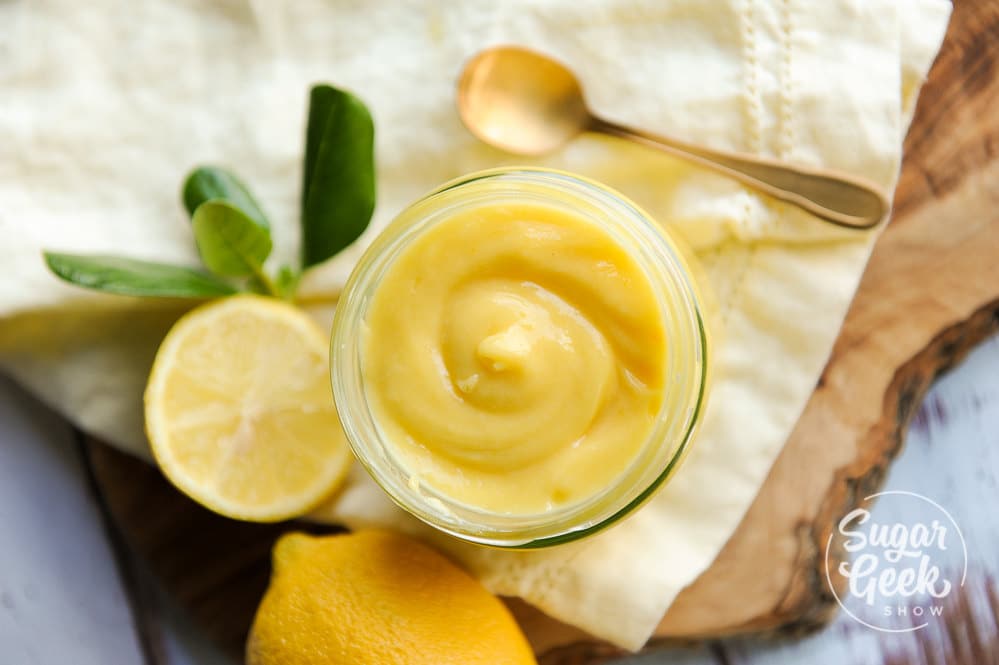 You might be intimidated by the idea of making your own lemon curd from scratch but I promise it's super easy! If you're like me, you end up with leftover egg yolks pretty often from making a white cake. In fact, I think lemon curd might have been invented specifically to use up those leftover egg yolks. Smart guys those Frenchies.
What is lemon curd used for?
I think most people in this world fall into two categories. Those who love all things rich, decadent and chocolatey and those that love berries, fruits and citrus! Although I definitely love my occasional chocolate, I've always been a HUGE sucker for lemon, specifically lemon curd. The more lemon-y, the better!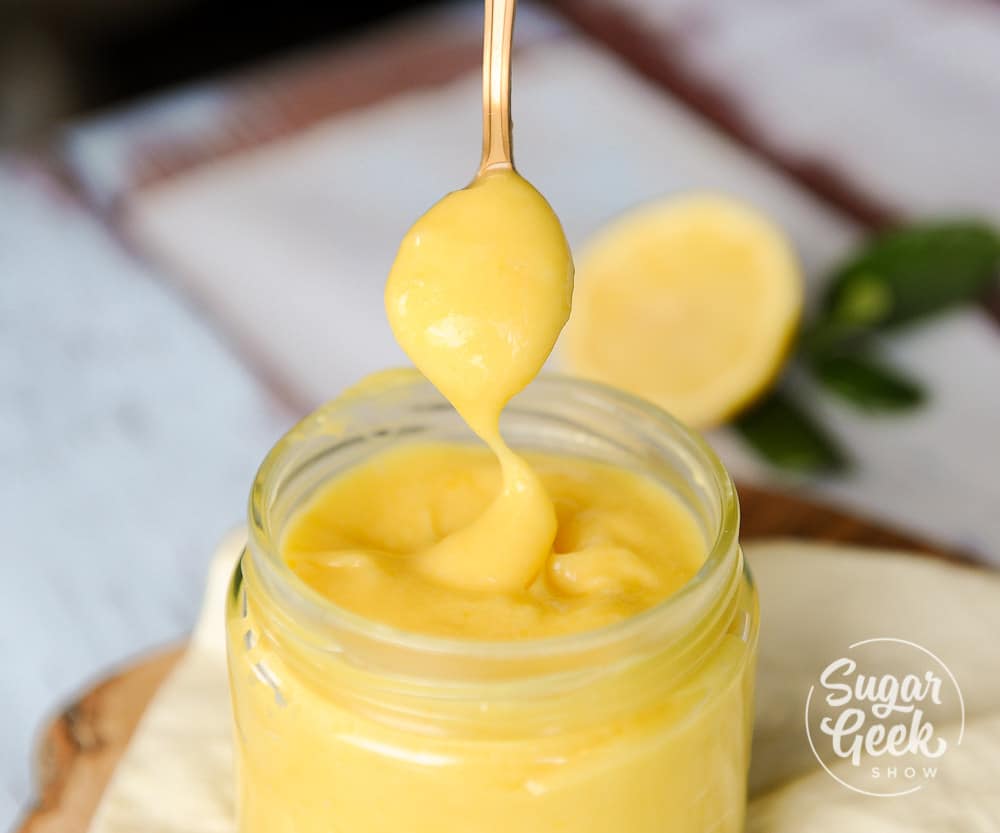 I'm not a big fan of super sweet lemon curd. I like mine to be pretty tart. Pair lemon curd with some freshly whipped cream and berries for a summer treat. Pipe it into the middle of your lemon cakes for extra lemon flavor or spoon it onto your biscuits in the morning. My mouth is literally salivating as I type this.
Easy lemon curd recipe
Since the ingredient used in lemon curd is egg yolks, we have to be very careful about how quickly we heat the mixture. If you walk away for even a minute, the eggs can curdle and you'll have lemon scrambled eggs. Yuck.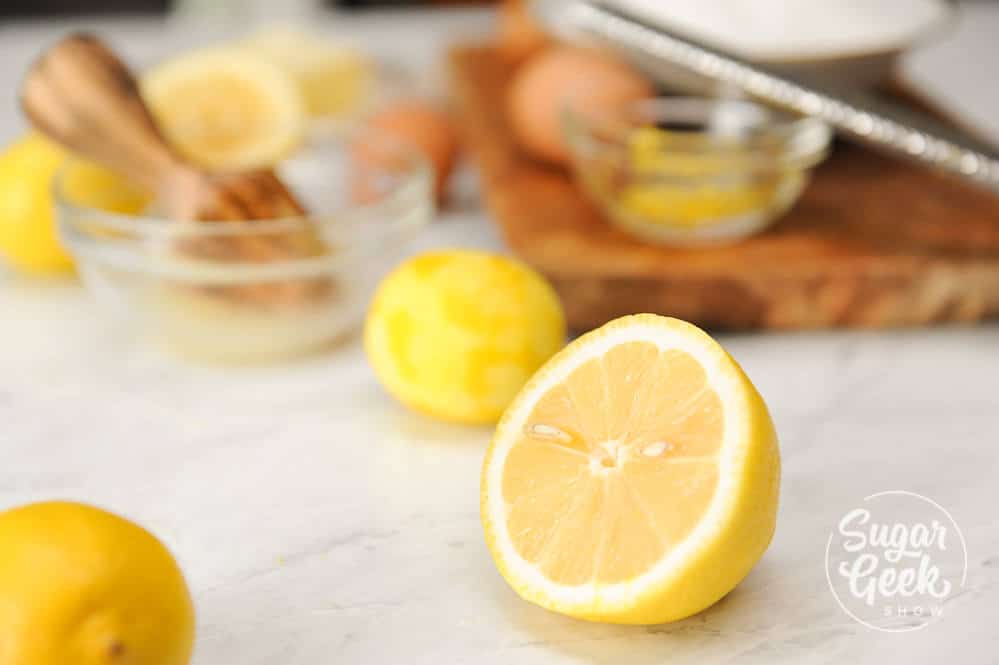 The key to successful lemon curd is controlling your heat. Start by placing about an inch of water in the bottom of a saucepan and bring it to a simmer (gentle bubbles) and place a heatproof bowl over the top of the pan. This is what we call a bain-marie or a double boiler. It's a way to heat very gently so the chances of burning it are lower. If you use a double boiler like this your chances of messing up your curd are pretty much 0%.
Place your curd mixture into the bowl and begin whisking. In about 10 minutes you'll notice your mixture starting to thicken up as your yolks begin to cook.
Once you reach a temperature of about 170 F your curd is done. This can take up to 20 minutes so don't get impatient.
Take your mixture off the heat and then add your butter in one chunk at a time, stirring in between additions.
Cover your mixture with some plastic wrap and make sure you press it against the surface of the curd. This will prevent the curd from getting a thick skin over the top of it while it cools.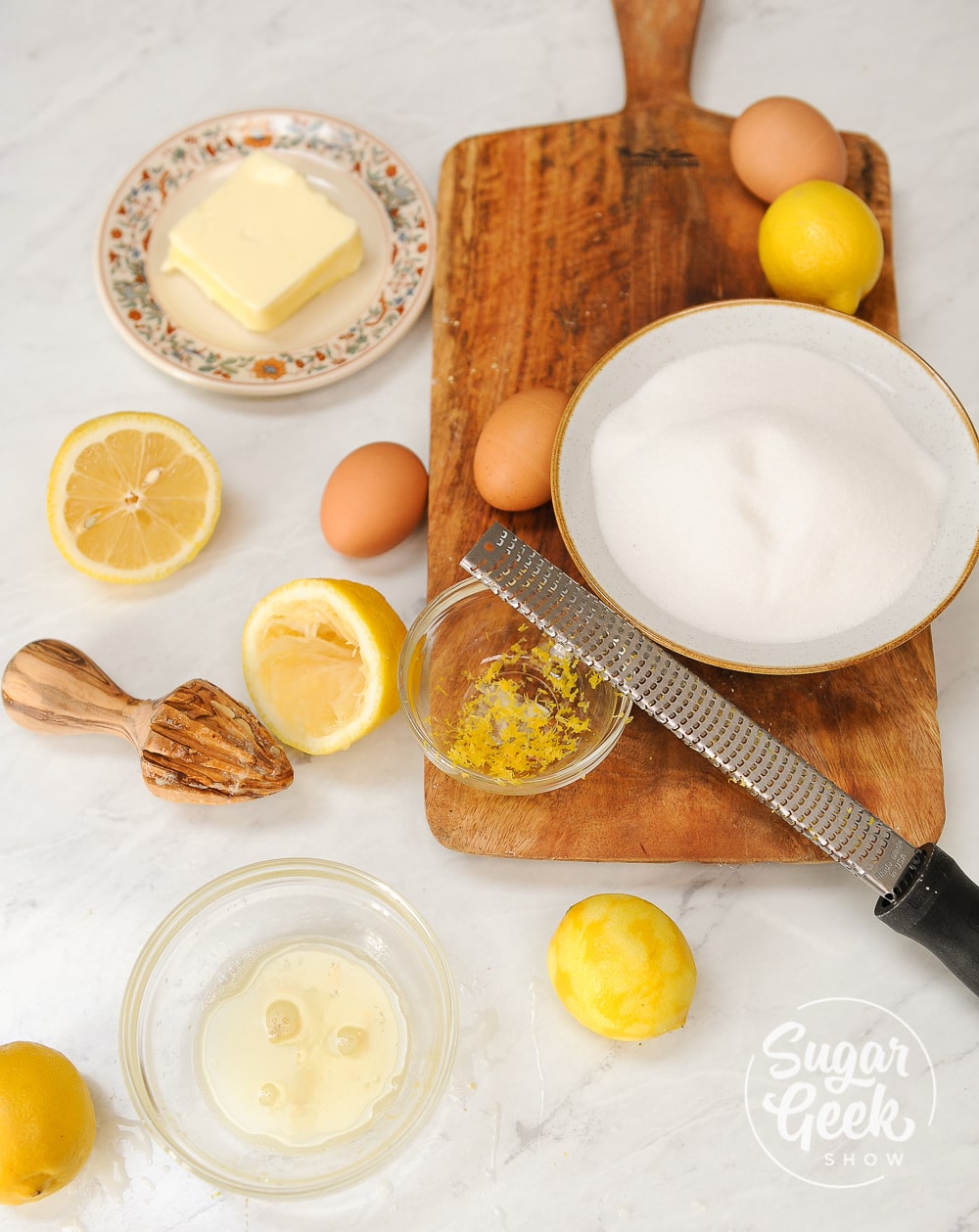 How do you store lemon curd?
You can store your lemon curd in the fridge for up to a week or you can freeze it for up to a year (or longer). Some people even can their lemon curd which I totally want to try this year. Lemon curd on hand whenever you want? Yes please!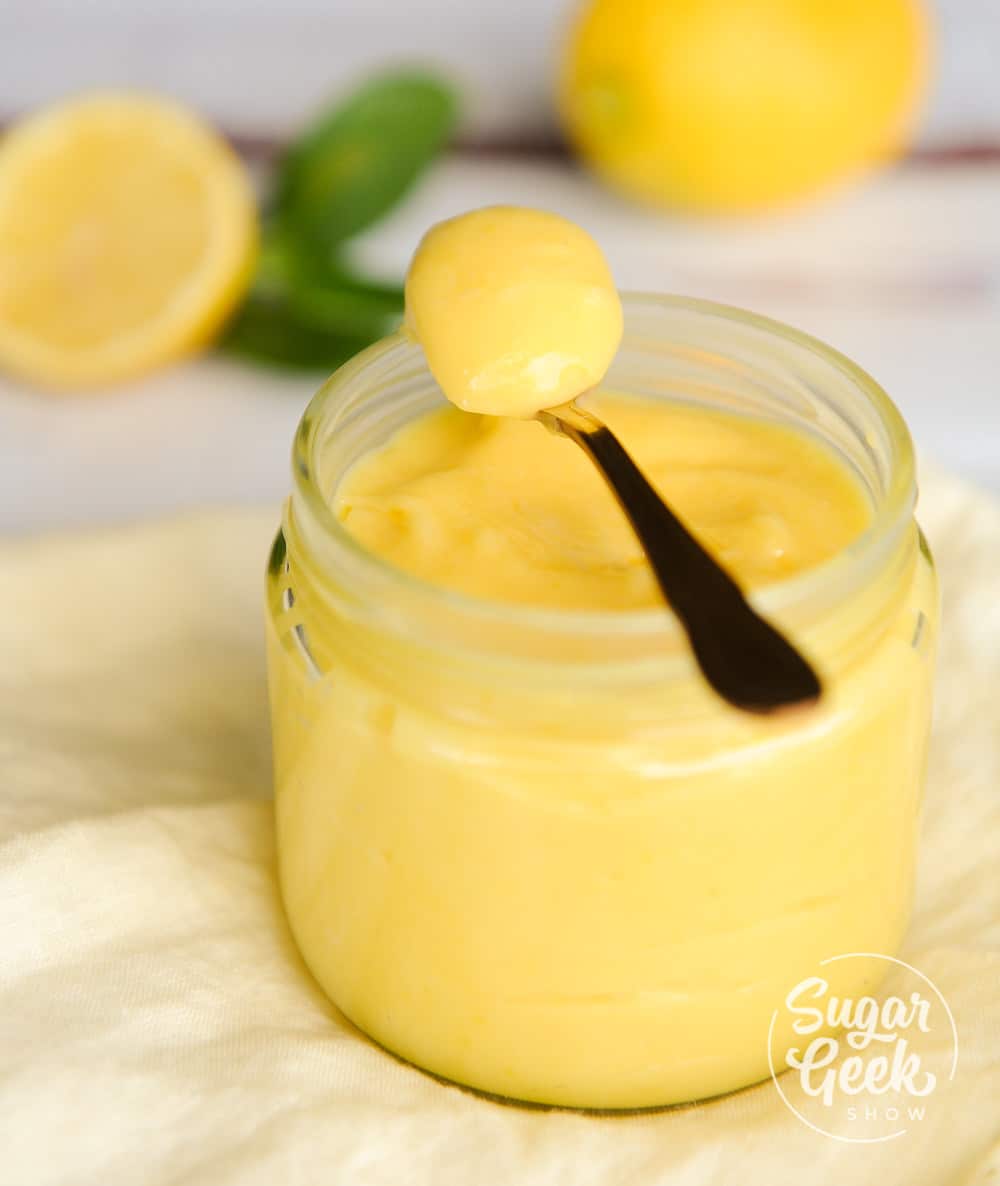 Can you use lemon curd as a cake filling?
Heck yes you can! Lemon curd makes a fantastic filling for cakes, tarts, donuts and so much more. It's a very versatile filling. You DEFINITELY want to make sure you cook your lemon curd to at least 175 F though if you're going to use it as a cake filling. If you don't, you could end up with runny lemon curd which isn't going to be very stable in the cake.
When you're using lemon curd in a cake for a filling, make sure you create a dam (ring of buttercream) around the outside layer of your cake. Then fill the center with no more than 1/8″ of curd. The dam will keep the curd from oozing out from the layers. I love using lemon curd for my lemon cake filling for EXTRA lemon-y flavor!
You can also use lemon curd in your buttercream to make lemon buttercream. Just whip about 1/2 cup of curd into your buttercream. Add in extract if you want more lemon punch!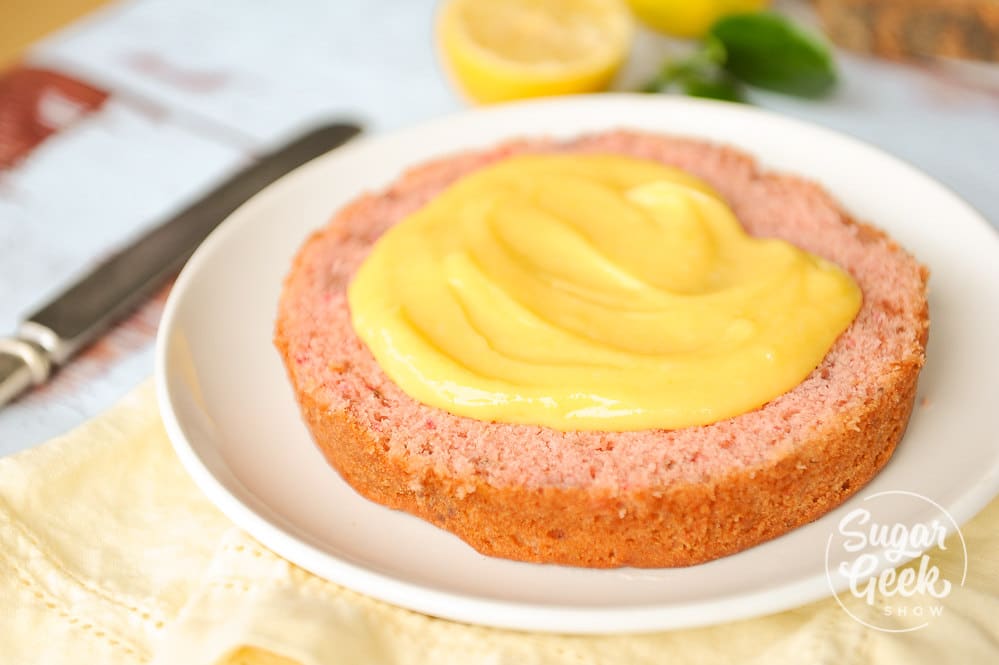 Is there a difference between lemon curd and lemon pie filling?
Yes, there is a difference. Lemon curd is smooth, creamy and never really "sets" completely. If you fill a tart shell with lemon curd and bite into it, the curd will slowly ooze out.
Pie filling is set with either corn starch or flour and when it's poured into the shell, it is then baked so when you slice the pie, the filling does not move a bit. This is how lemon meringue pie is made and one of my favorite pies of all time. Now I want pie.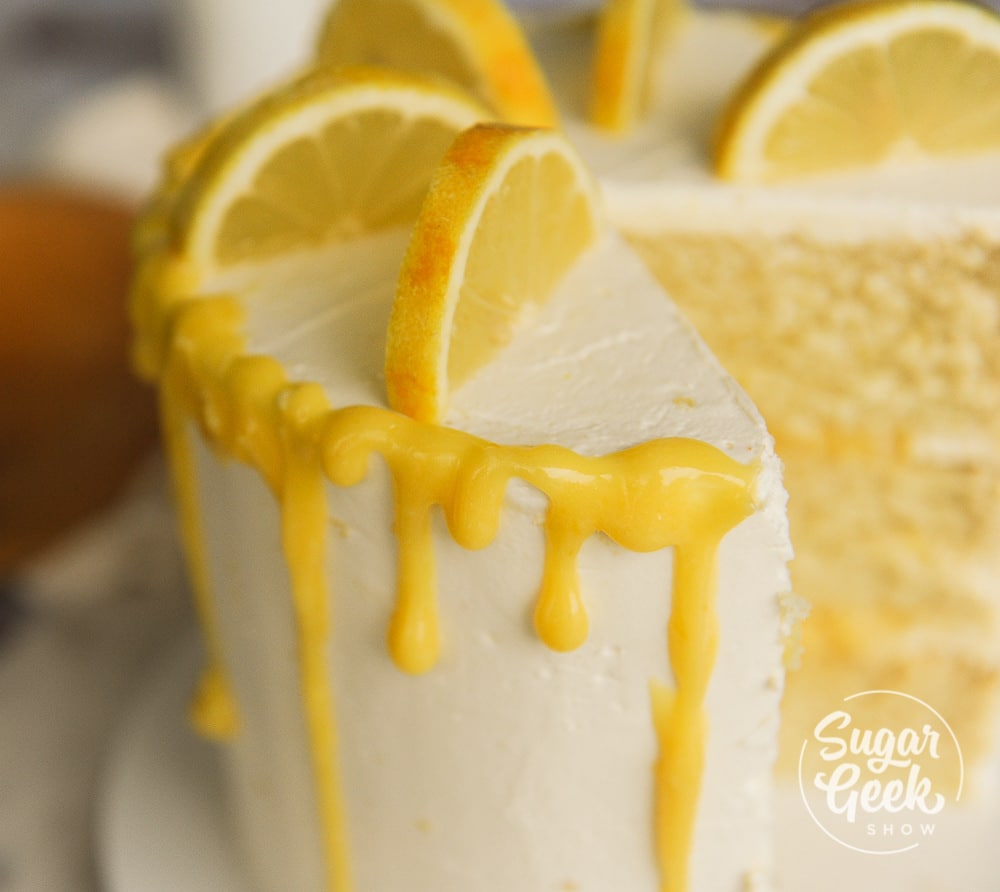 Tips for lemon curd success
Get yourself a lemon zester. This tool is vital for getting that zest off the lemons in really fine pieces. No one likes big chunks of lemon zest in their curd.
Speaking of zesting, make sure you avoid the pith (white part) of the lemon. That part is super bitter and will make your curd taste off if you get too much of that in there.
Use the right lemons. Meyer lemons are not the same as regular lemons. Meyer lemons are smaller, have a smoother skin and are not as tart. Not saying a Meyer lemon curd wouldn't be delicious but make sure you're using the right lemon for the job.
Strain your curd after you add in the butter. Not TOTALLY necessary but you might catch the rogue seed or some extra large chunks of zest in there and if you want a super smooth curd, this step is vital.
Did You Make This Recipe?
Leave a rating and tell me how it went!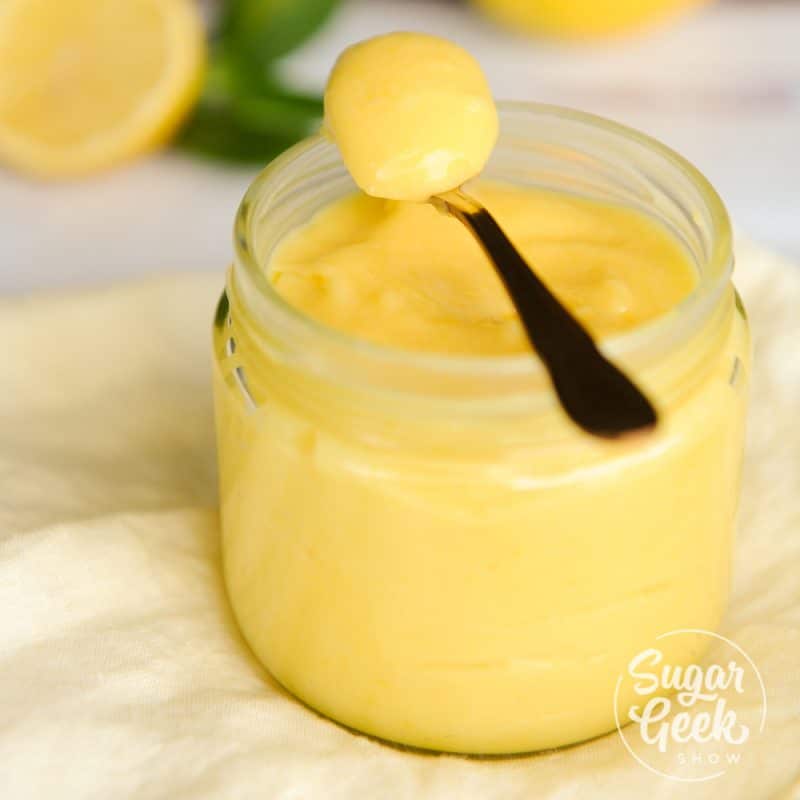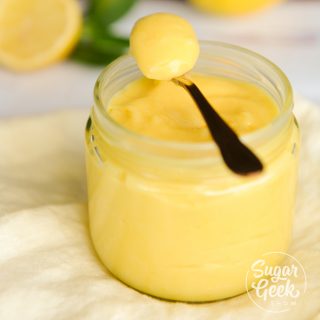 Lemon Curd
Lemon curd makes a great filling for cakes or tarts. You can mix it with buttercream, drip cakes and more! Super easy to make and a great way to use those leftover egg yolks.
Print
Rate
Ingredients
8

ounces

(

227

g

)

lemon juice

About 6 large fresh lemons

2

Tablespoons

(

zest

1

)

lemon zest

6

ounces

(

170

g

)

sugar

5

egg

(

5

egg

)

yolks

1/4

teaspoon

(

1/4

tsp

)

salt

1

Tablespoon

(

1

Tbsp

)

cornstarch

4

ounces

(

113

g

)

unsalted butter
Instructions
Zest the lemons, then slice in half and juice them. Use a small colander or a lemon juicer to keep out any seeds. 

Place the egg yolks, cornstarch and salt in a large bowl. Whisk well to combine and set aside. (You will be adding more to this later, so make sure it's a large enough bowl.)

Add your lemon juice, granulated sugar and lemon zest to a large, shallow sauté pan.

Stir constantly and bring to a simmer over medium heat.

When it has reached a simmer, scoop about 1 cup of the lemon juice mixture and slowly add it into the egg yolk mixture while whisking. Add about 2 cups of liquid total.

Add the tempered egg mixture into the lemon mixture while whisking. Keep an eye on it and keep whisking, if you walk away for even a minute, the eggs can curdle.

Whisk constantly and cook over medium heat until desired thickness. I cook mine for about 2 minutes because I like thick lemon curd. 

Removing the curd at 170ºF  will yield a thinner consistency while removing at 180ºF  will be thicker.

Add in your butter in chunks and whisk until combined. Remove from the heat. It will continue to thicken as it cools. 

Pour into a heat-proof jar and store in the fridge for up to one week or freeze for up to a year. Cover the curd with plastic wrap so that it is touching the surface of the curd without any air bubbles in between, this will prevent a skin from forming on the top of the curd. 
Notes
Weigh your ingredients to avoid failure. Using a kitchen scale for baking is super easy and gives you the best results every single time. 

Roll your lemons before slicing to release the juices better. Make sure you avoid the pith (white part) of the lemon. That part is super bitter and will make your curd taste weird.

Adding some of the hot lemon mixture into the egg yolks is called "tempering." This helps the eggs mix in smoothly and not curdle. 

Test the thickness of your curd by dipping the back of a spoon into your lemon curd and drag your finger across it. If it holds the shape without dripping off too quickly, it's done!

If you intend to use this as a cake filling, make sure to cook your lemon curd to at least 175º F. If you don't, you could end up with runny lemon curd.

If your mixture is lumpy, you can strain it to remove any large pieces of zest, seeds or curdled eggs.

Meyer lemons are not the same as regular lemons. You'll want to use regular lemons for this recipe. You can also use bottled lemon juice if needed, but fresh is best.
Nutrition
Calories:
1537
kcal
(77%)
|
Carbohydrates:
185
g
(62%)
|
Protein:
2
g
(4%)
|
Fat:
93
g
(143%)
|
Saturated Fat:
58
g
(290%)
|
Cholesterol:
298
mg
(99%)
|
Sodium:
600
mg
(25%)
|
Potassium:
233
mg
(7%)
|
Sugar:
175
g
(194%)
|
Vitamin A:
2905
IU
(58%)
|
Vitamin C:
87.8
mg
(106%)
|
Calcium:
41
mg
(4%)
|
Iron:
0.2
mg
(1%)