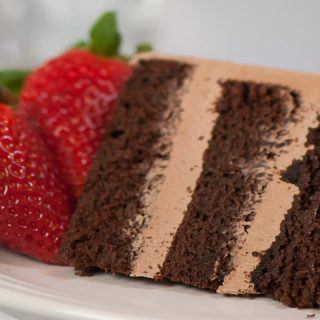 Chocolate Cake Recipe
This is my signature chocolate cake recipe that I have been using for a little over 6 years. It was the first chocolate cake that I ever made from scratch that tasted like what I think in my mind chocolate cake should taste like! A little bit fudgy, full of chocolate flavor and melt in your mouth delicious!
7 cups of batter makes about 2 8" round cakes.
Servings
7
cups of batter
Ingredients
2.25

oz

Dutch cocoa powder

8

oz

water

3

large eggs

2

tsp

vanilla extract

4

oz

Mayonaise

14

oz

Unbleached cake flour

15

oz

granulated sugar

2

tsp

baking powder

1 tsp

baking soda

1

tsp

sea salt

6

oz

unsalted butter

at room temperature
Instructions
Bring the water to a boil. Add in cocoa powder.

Whisk until smooth then place bowl into freezer to chill to room temperature.

Weigh out all liquid ingredients and mayonaise and set aside.

Weigh out all dry ingredients and place into a stand mixer bowl and attach the paddle attachment.

Turn mixer on low (setting 1 on Kitchen Aid mixers). Add in your room temperature butter in small chunks. Combine on low until you achieve a sandy mixture.

Once your chocolate mixture is cooled, combine it with your liquid ingredients and give it a little whisk to break up the eggs and combine things together.

Add 1/3 of your liquid ingredients into your dry ingredients and mix on medium-high for 2 minutes. If you do not do this step, your recipe will not turn out.

Turn your mixer back down to low and add in the rest of your liquids slowly. Stop once or twice to scrape the bowl as needed.


Once they are all combined, turn back up to medium-high for another 30 seconds.

Lightly grease 2 8" round cake pans with vegetable shortening and dust with cake flour. Tap out the excess flour. Fill pans 3/4 full. Chocolate cake rises slightly less than vanilla cakes.

Bake for 35-45 minutes at 335ºF/168ºC depending on how big your pans are. The bigger the pan, the longer it will take for them to bake.

When a toothpick comes out of the center with a few sticky crumbs on it, the cake is done.

If the cakes are domed up, place a clean tea towel on top and using an oven mitt, lightly press down until flat. This does not harm the cakes at all and cuts down on waste.

After the cakes have cooled for about 10 minutes, or the pans have cooled to the point they can be touched, flip the cakes over and remove from the pans onto a cooling rack to cool completely. Wrap in plastic wrap and chill in the refrigerator.

Once the cakes are chilled in the refrigerator (about an hour for this size, longer for larger cakes), tort, fill and crumb coat all at once. If you do not plan on crumb coating the same day, you can leave the wrapped cakes on the countertop. Chilling can dry out your cakes before they are iced, so avoid keeping them in the refrigerator longer than necessary. Cakes can be frozen in freezer bags for later use as well.

Recipe Notes
This recipe works great for carving sculpted cakes! I use the same recipe for wedding and sculpted. I always bake them, de-pan them, wrap them in plastic wrap and then chill in the fridge or freezer (depending on how much of a rush I'm in) and then carve. Chilled cakes make carving or stacking SO much easier!

September 28, 2016