This chocolate cake is dense, fudgy and full of rich chocolate flavor
My favorite chocolate cake recipe! This cake is super moist and full of a RICH chocolate flavor. The secret? dutched cocoa powder, lots of butter and mayonnaise!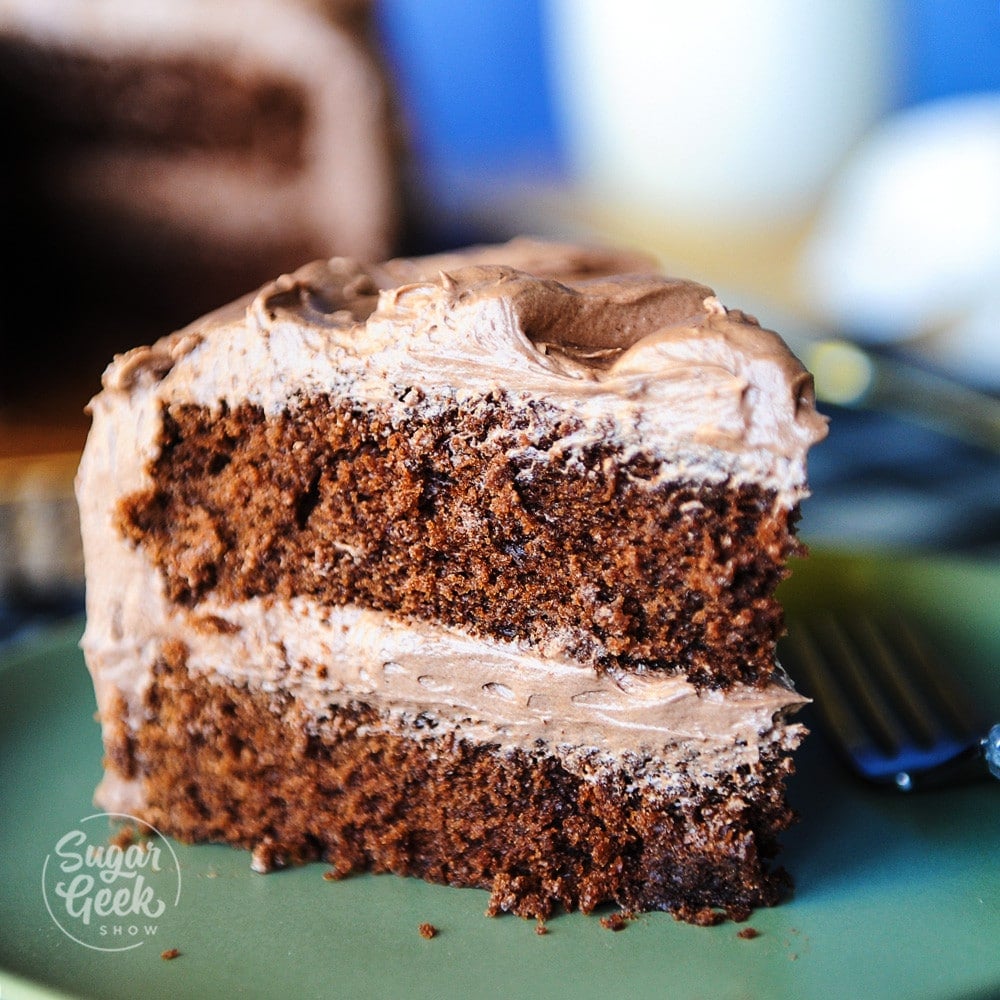 I know mayonnaise might sound a bit odd but if you think about it, mayo is just eggs and oil in fluffy form. Who doesn't wan't more fluff in their cake amirite?
One of the reasons this chocolate cake is so popular with cake decorators and clients alike is that it's got an amazing texture just like my super popular vanilla cake recipe.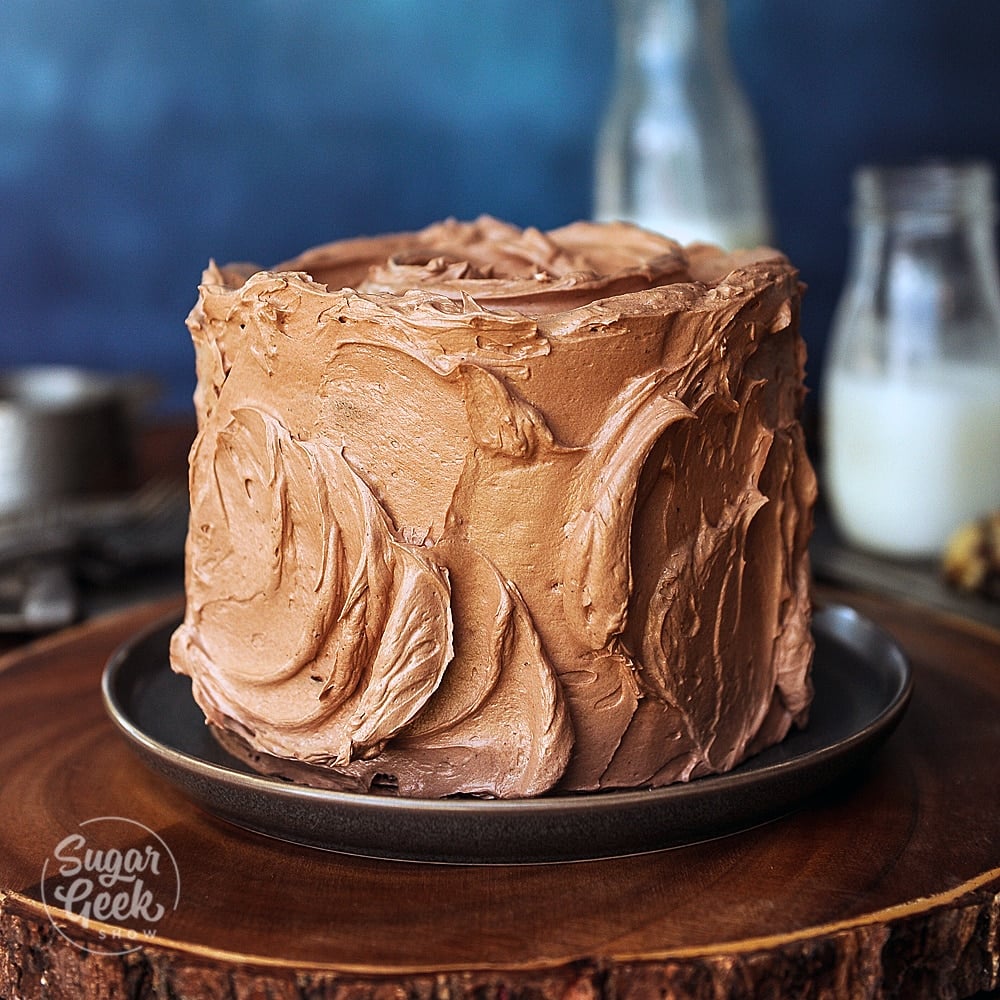 This cake also uses the reverse mixing method resulting in a nice tight crumb that is soft and moist. This cake also has a powerful chocolate flavor thanks to our friend dutched cocoa powder.
What is Dutched Cocoa? Dutched cocoa doesn't mean it's from Holland, it just means it's been through a process that reduces the acidity of the chocolate. Dutch processed cocoa powder has a smoother, more mellow flavor that's often associated with earthy, woodsy notes and is pretty darn delicious if I do say so myself!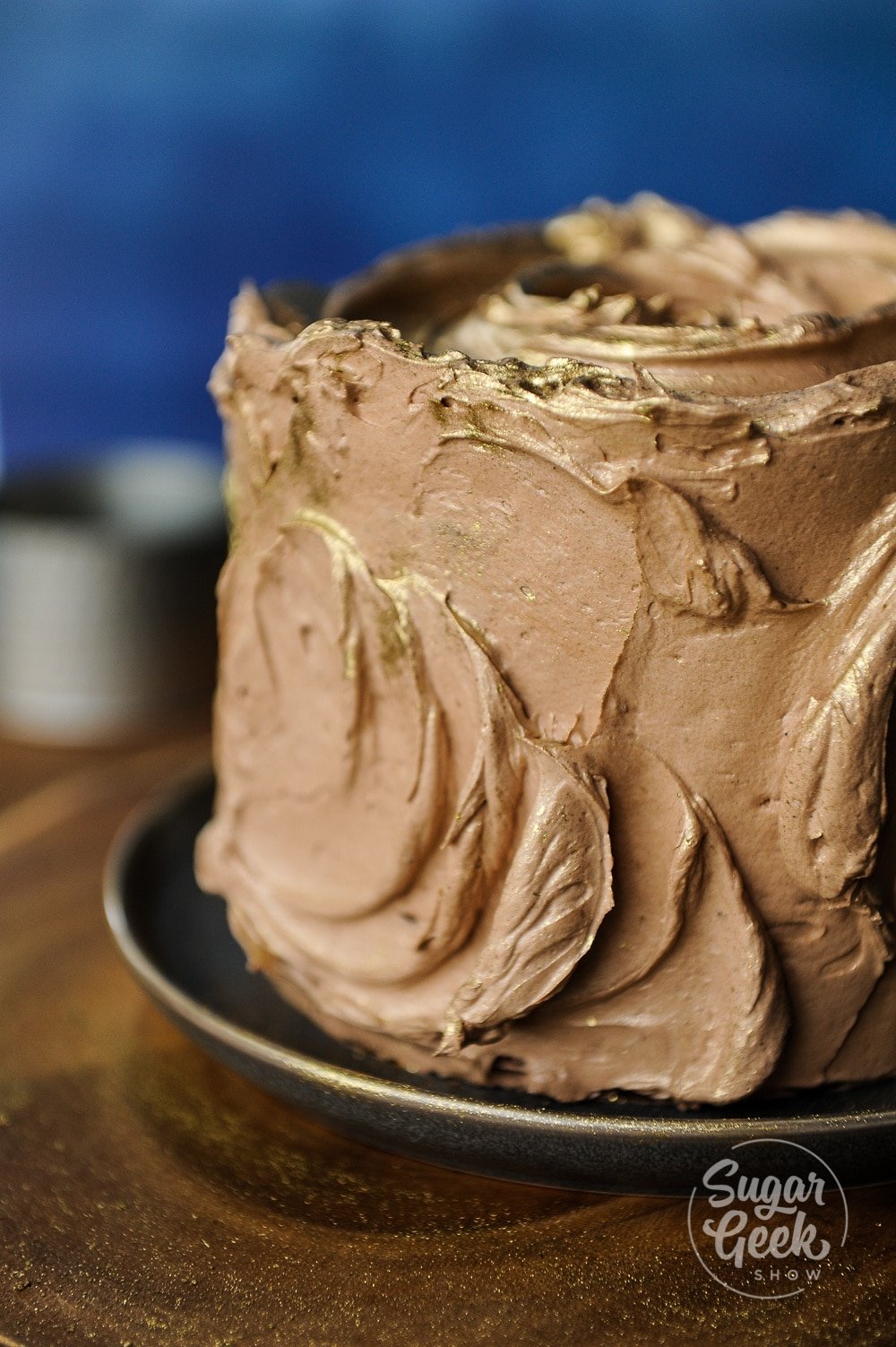 Homemade Chocolate Cake Recipe
This chocolate cake recipe is my go-to when I want a great cake for family or friends. Way better than a box mix (in my opinion) and easy to make.
People are always impressed with the flavor of this cake because it is so rich. I like to pair this cake with my chocolate buttercream but if you want to really please the chocolate-lover in your life then go with the luxurious dark chocolate ganache.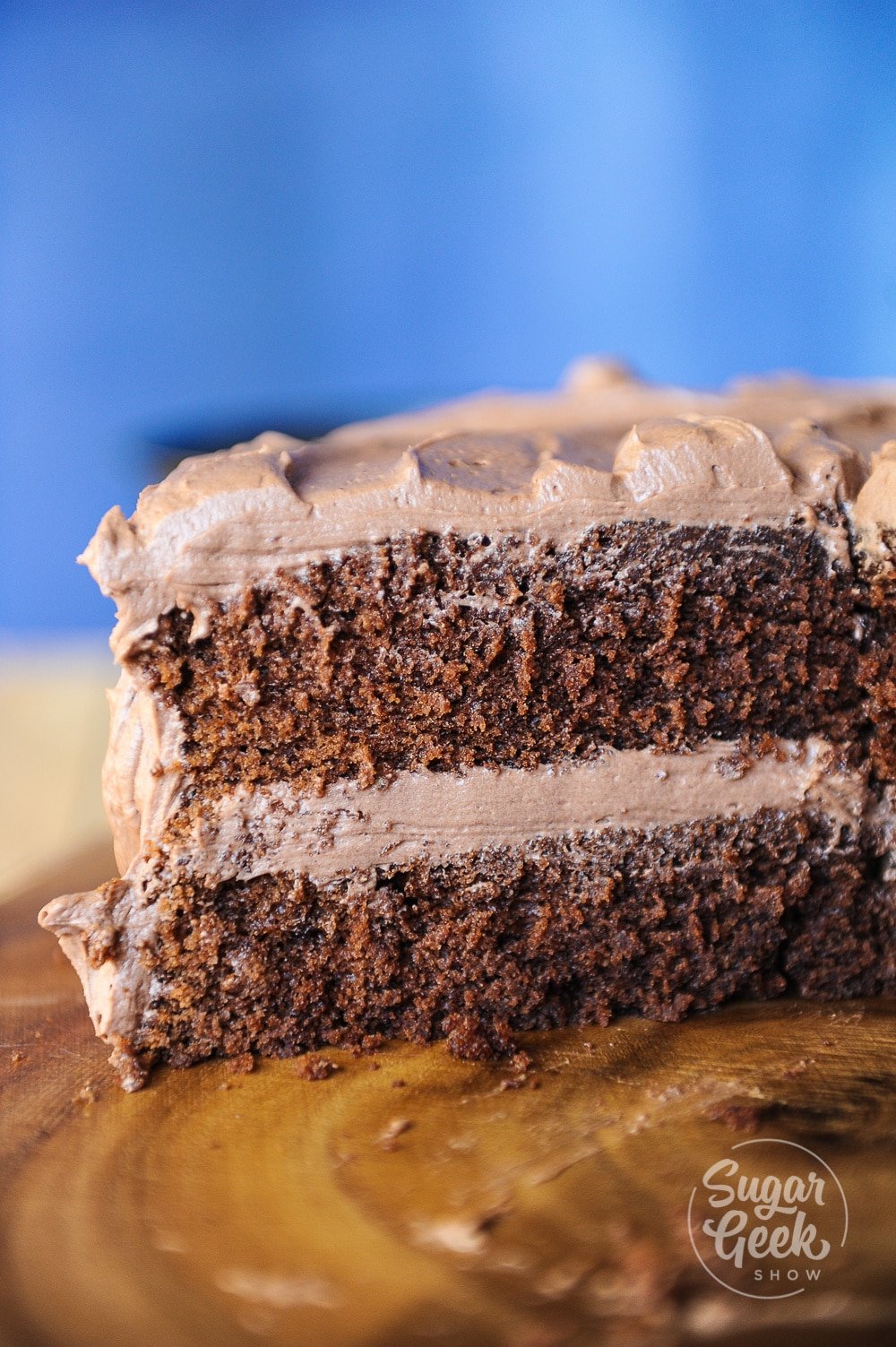 When I was growing up, we always made chocolate cake for special occasions. My Dad's favorite cake was german chocolate cake with that coconut pecan filling. We would bake up a box cake and before it was barely cooled we would slather on a can of that frosting.
This cake has officially taken the place of family favorite.
Dark Chocolate Cake Recipe
One of the coolest things about this particular chocolate cake recipe (in my opinion) is the color of the cake. It's soooo dark and almost reddish colored. That's from the cocoa powder.
I never really put much thought into cocoa powders and the different types until I started experimenting with a chocolate cake recipe for my wedding cake clients. I always say other bakers raving about the Hershey's recipe but when I tried it, I found it to be quite bitter tasting and not at all what I was looking for in a chocolate cake recipe.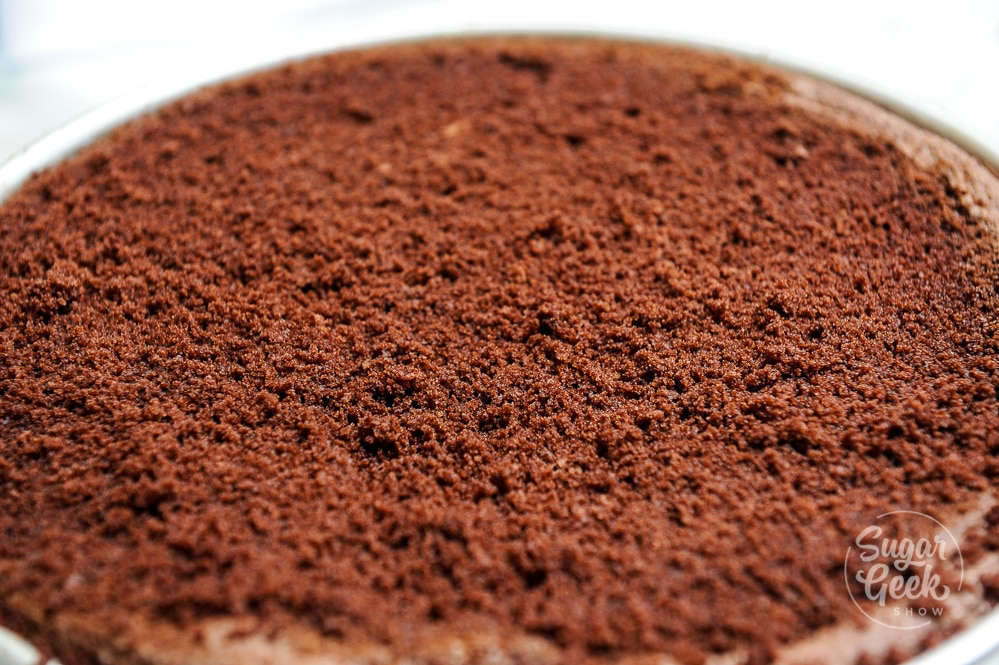 I really like Cacao Barry Extra Brute cocoa powder because it's pretty inexpensive, has a fantastic flavor and is pretty easy to find. I buy mine on Amazon but did you know there are black cocoa powders? Like SUPER black.
I have tried a few and some of them are better than others but the one I really like I could only find in Canada and the shipping was crazy expensive. Nowadays you can find black cocoa powder pretty much anywhere online, even Valrhona makes one!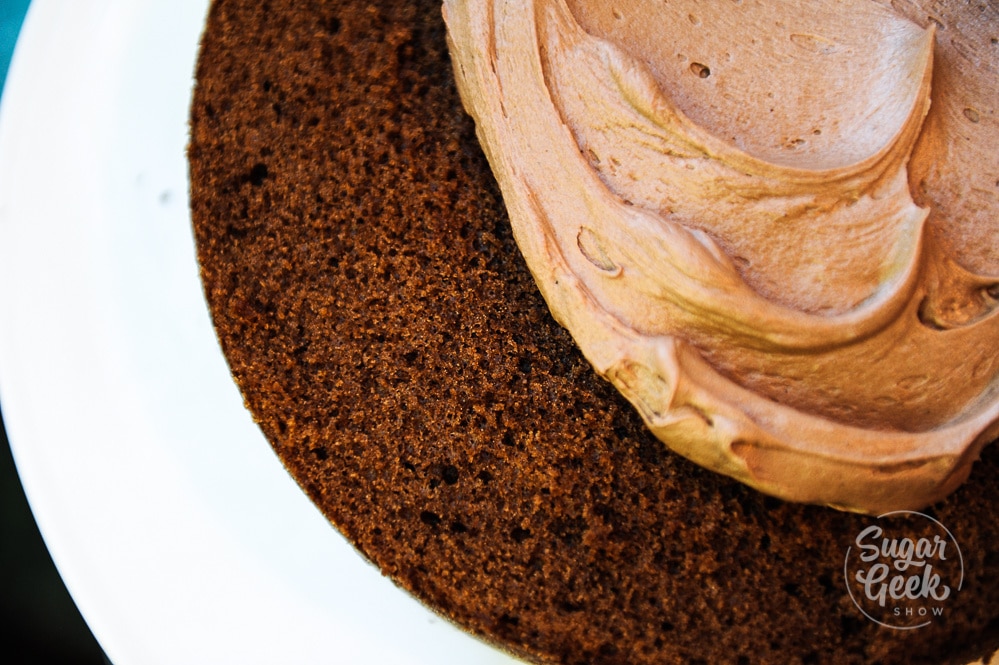 Moist Chocolate Cake Recipe
What's the secret to a moist chocolate cake recipe? Probably something that you would never think of putting in a cake.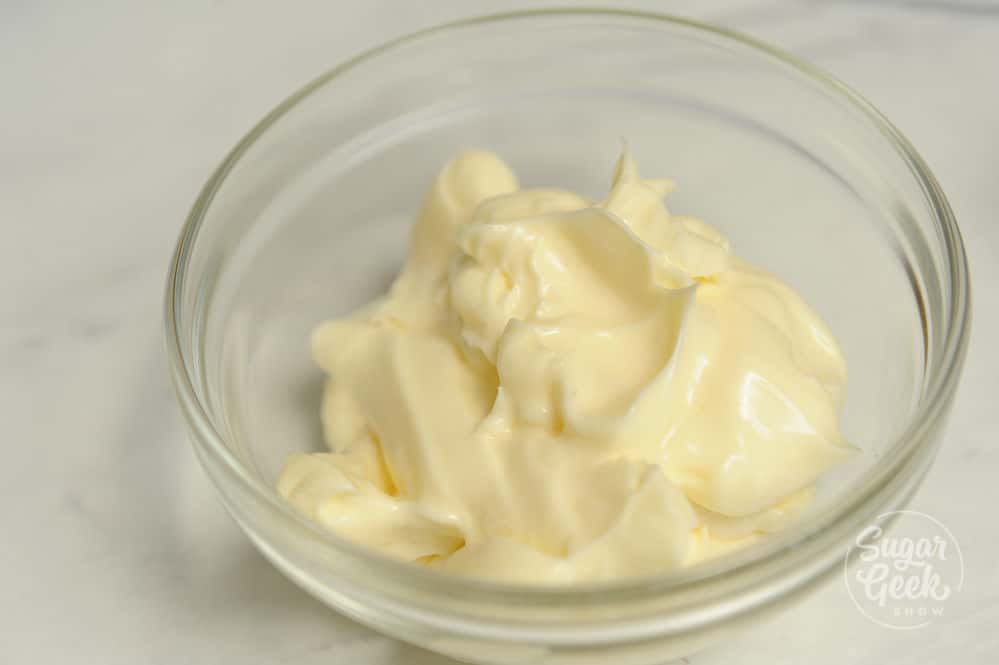 One word. Mayonnaise.
I know what you're thinking. WHAT? This isn't a chicken salad sandwich here. Mayonnaise is going to make my chocolate cake taste weird!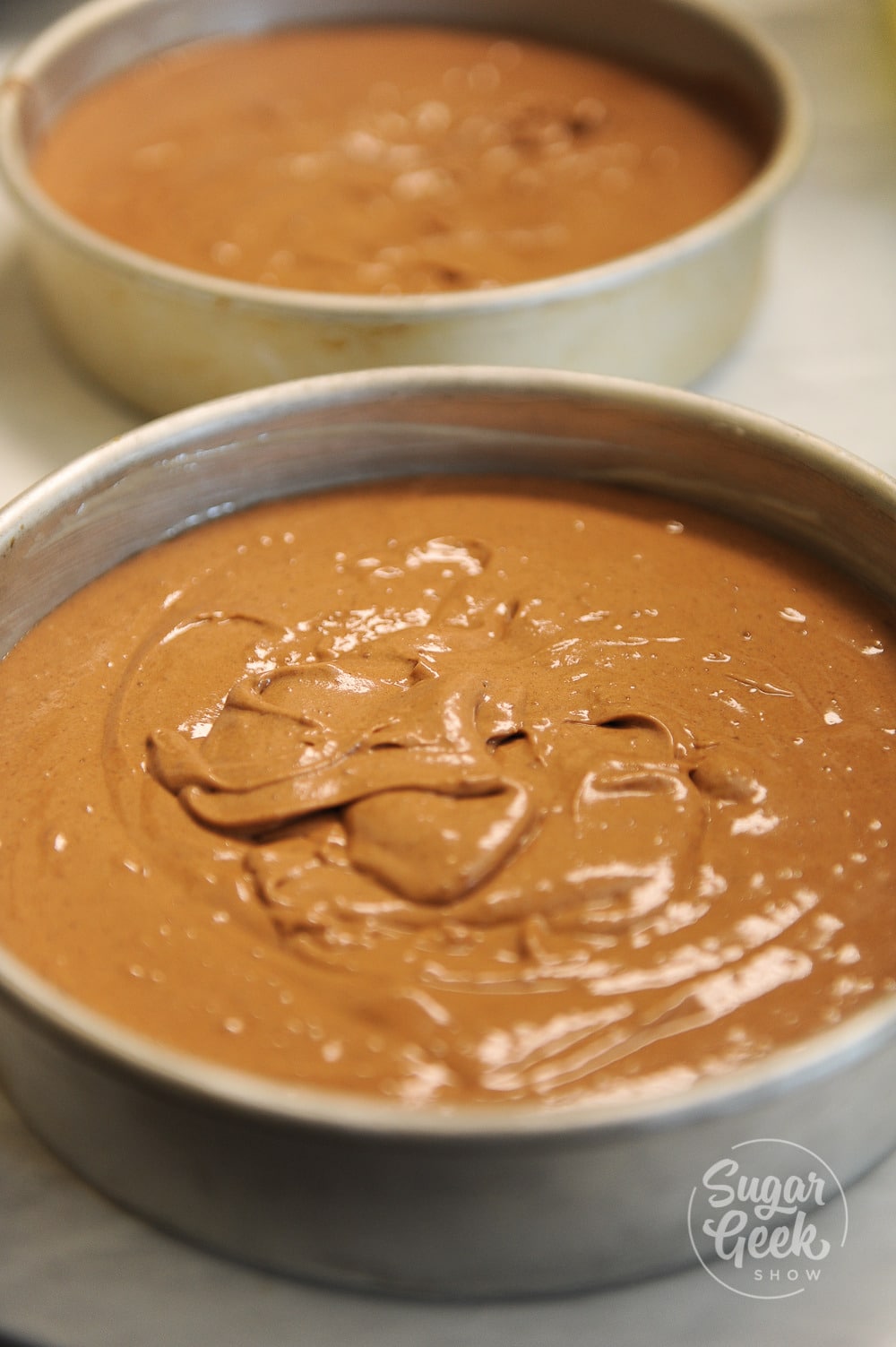 Fret not. Mayonnaise cake is a real thing. And if you think about what mayonnaise really is, it's made of whipped eggs and oil. Two things that go great in cake and add some nice moisture and flavor.
Go with a nice neutral mayonnaise for the best flavor.
Easy Moist Chocolate Cake Recipe
If you're just not into putting the effort into baking your cake from scratch, have no fear. You can go with the ever delicious doctored box mix. This is the chocolate version of WASC recipe.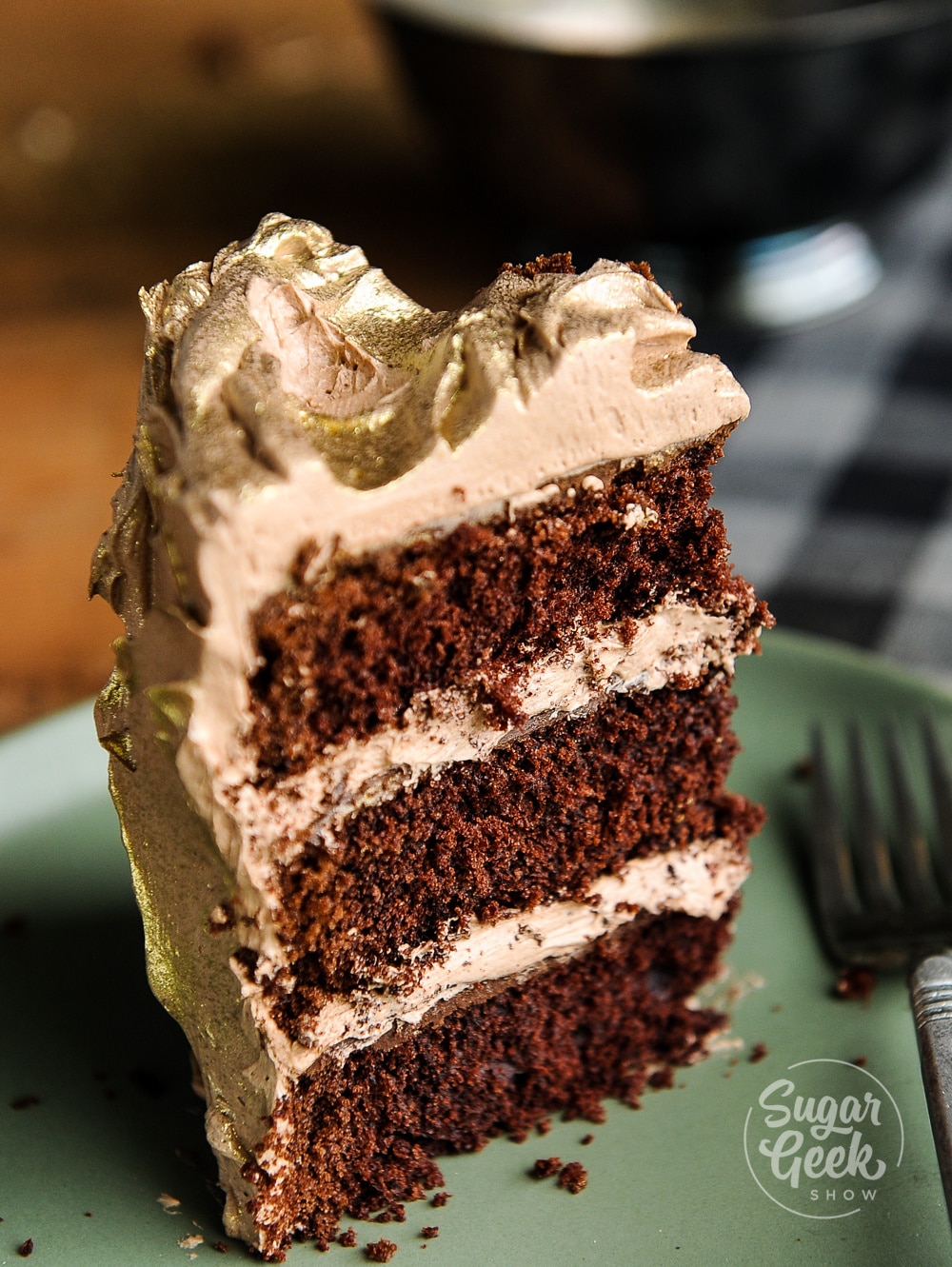 Chocolate WASC cake is easy to make and tastes delicious. I tweaked my recipe a bit to include a bit of butter to make the cake more stable for stacking and filling or for using in sculpted cakes.
Chocolate Cake Recipe with Chocolate Frosting
Chocolate cake goes with a lot of different flavors but to me nothing beats chocolate buttercream. I use the same dutched cocoa powder that I use for the cake in the easy buttercream frosting. The frosting tastes just like melted chocolate ice cream to me and is my absolute favorite.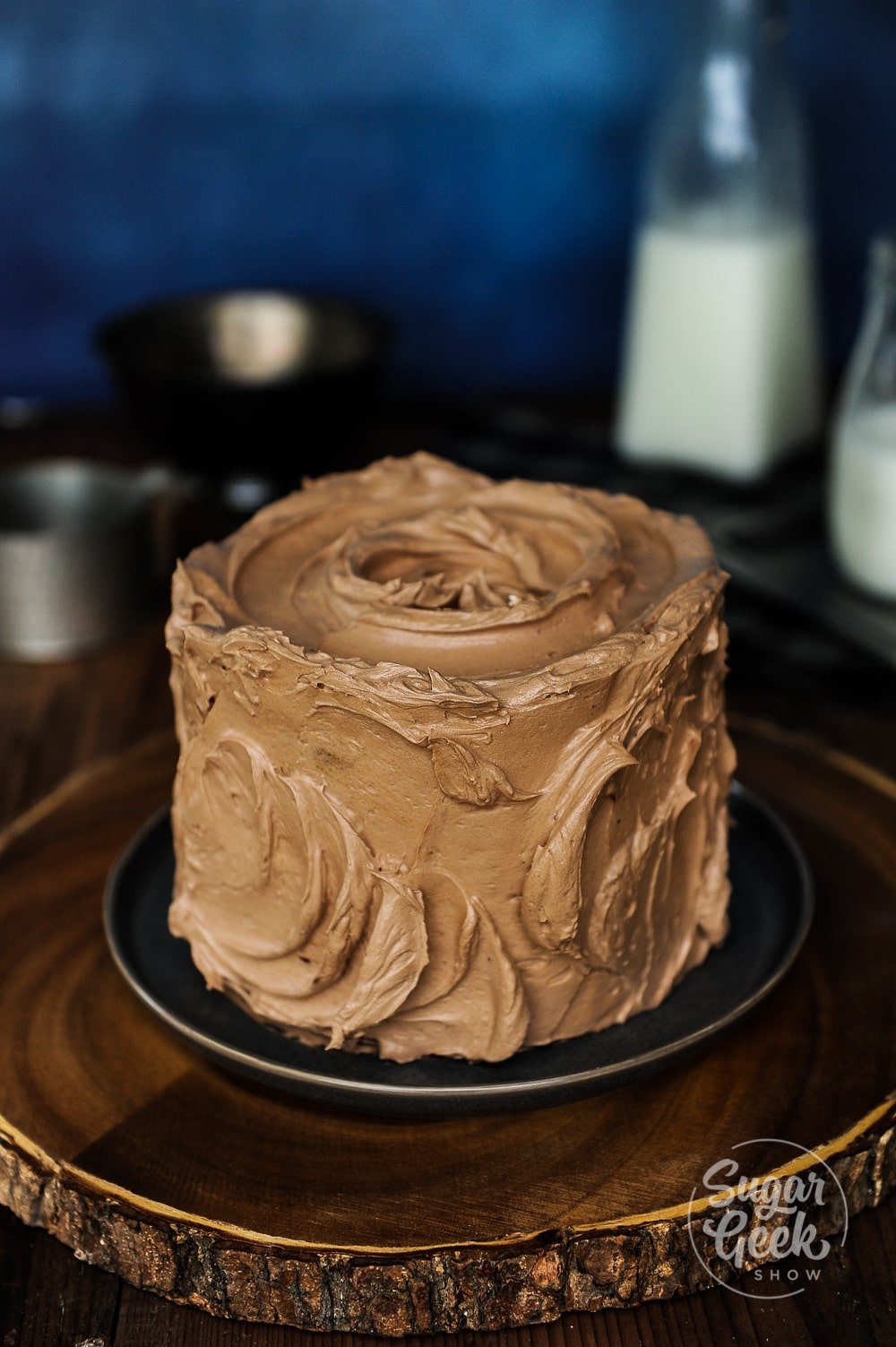 Gluten Free Chocolate Cake Recipe
There are lots of pretty tasty gluten free chocolate cake box mixes out there as more and more people are needing gluten free options (my dad included). I have made this cake gluten free successfully using Bob's Red Mill 1:1 Flour .
Dairy Free Chocolate Cake Recipe
To make this chocolate cake dairy free you can replace the milk with almond milk and the butter with earth balance butter although I would leave out the salt in the recipe otherwise it can taste really salty.
Dairy Free Chocolate Cake Recipe
This chocolate cake can be made into cupcakes with no issue and bake up beautifully. This recipe makes about 24 cupcakes.
Can You Use Cups Instead Of A Scale
This recipe (and all my recipes) are made using weight measurements instead of cups because I truly want you to succeed! So many things can go wrong in the science that is baking and measuring in cups is not exact. Weighing your ingredients greatly reduces your chances of the recipe failing and who wants to waste precious butter and vanilla at todays crazy prices?
Not familiar with the reverse mixing method? Watch how I make my best chocolate cake recipe step by step in this video.
Cake Batter and Frosting Calculator
Select an option below to calculate how much batter or frosting you need. Adjust the servings slider on the recipe card to change the amounts the recipe makes.
Choose a pan type
Choose a cake pan size
(based on 2" tall cake pan)
Choose a cake pan size
(based on 2" tall cake pan)
Choose a cake pan size
(based on 2" tall cake pan)
Cups of Batter Needed
8 cups
Cups of Frosting Needed
5 cups
Recipe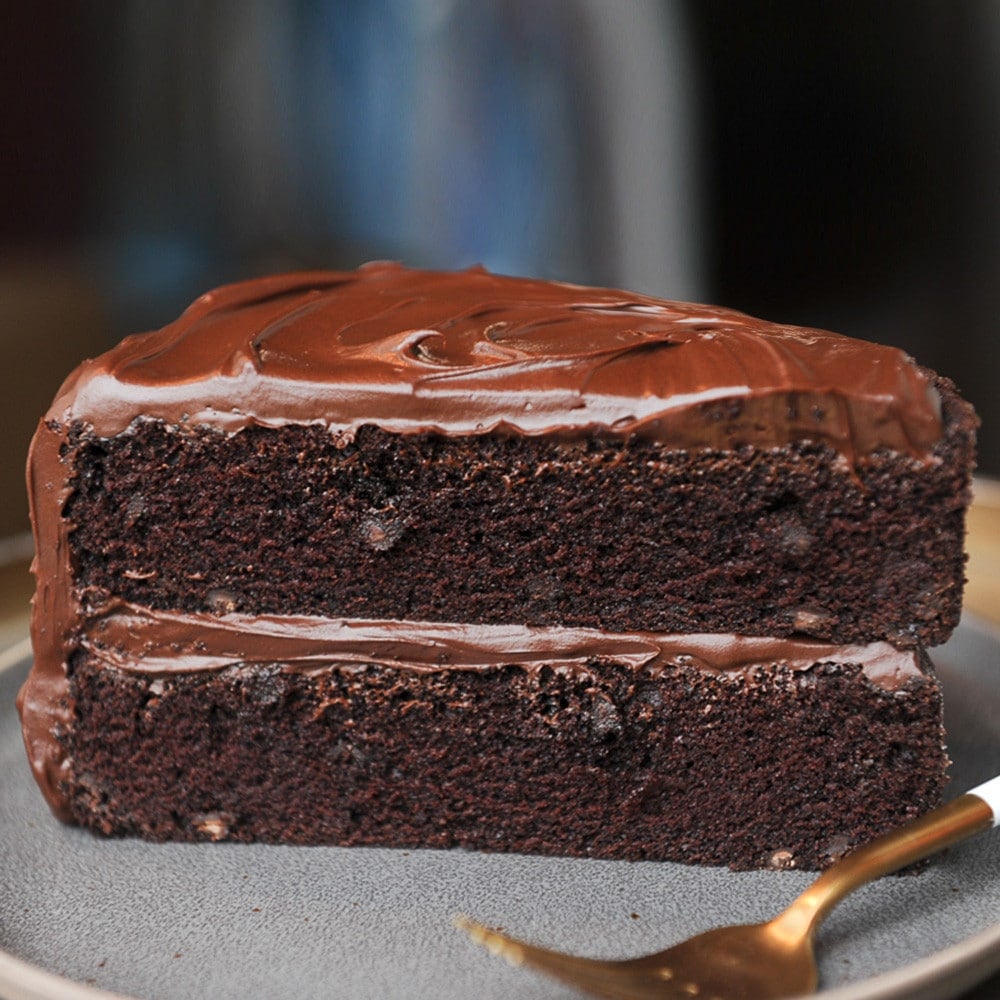 Servings: 7 cups
Calories: 2269kcal
Ingredients
Cake Ingredients
2.25 oz Dutch cocoa powder
8 oz water
3 large eggs
2 teaspoon vanilla extract
4 oz Mayonaise
14 oz Unbleached cake flour
15 oz granulated sugar
2 teaspoon baking powder
1 tsp baking soda
1 teaspoon salt
6 oz unsalted butter at room temperature
Chocolate Buttercream
8 oz pasteurized egg whites room temperature
32 oz powdered sugar
36 oz unsalted butter room temperature
1 tablespoon vanilla extract
1 tsp salt
4 oz cocoa powder
Instructions
Cake Instructions
Bring the water to a boil. Add in cocoa powder.Whisk until smooth then add in cold mayonnaise, vanilla and eggs. Whisk to break up the eggs.

Weigh out all dry ingredients (flour, sugar, baking powder, baking soda and salt) and place into a stand mixer bowl and attach the paddle attachment.

Turn mixer on low (setting 1 on Kitchen Aid mixers). Add in your room temperature butter in small chunks. Combine on low until you achieve a sandy mixture.

Add ½ of your liquid ingredients into your dry ingredients and mix on medium for 2 minutes. If you do not do this step, your cake could collapse.

Turn your mixer back down to low and add in the rest of your liquids slowly. Stop once or twice to scrape the bowl as needed.
Once they are all combined, turn back up to medium for another 30 seconds.

Lightly grease two 8" round cake pans prepared with your choice of pan release. I prefer cake goop.

Bake for 30 minutes at 350ºF depending on how big your pans are. The bigger the pan, the longer it will take for them to bake. When a toothpick comes out of the center with a few sticky crumbs on it, the cake is done.

After the cakes have cooled for about 10 minutes, or the pans have cooled to the point they can be touched, flip the cakes over and remove from the pans onto a cooling rack to cool completely. I cover mine in plastic wrap to keep them from drying out why they cool.

Once the cakes are completely cool you can trim them and frost them.

Chocolate Buttercream Instructions
Place egg whites, powdered sugar in a stand mixer bowl.
Attach the whisk and combine ingredients on low and then whip on high for 5 minutes.Reserve 8 oz of your butter and melt in microwave until JUST melted, don't over heat. Combine melted butter with cocoa powder and mix until smoothAdd in butter in small chunks and continue whipping until the mixture is light and white and creamy. Give it a taste, if it still tastes buttery then keep whipping.Add in chocolate mixture, vanilla and salt and continue whipping until mixture is combined. Scrape bowl if needed. Remove the whisk and place the paddle attachment onto the mixer. Let your buttercream mix on low until the mixture is smooth and creamy and there are no bubbles left. This can take up to 20 minutes
Notes
This recipe works great for carving sculpted cakes! I use the same recipe for wedding and sculpted. I always bake them, de-pan them, wrap them in plastic wrap and then chill in the fridge or freezer (depending on how much of a rush I'm in) and then carve. Chilled cakes make carving or stacking SO much easier!
Nutrition
Calories: 2269kcal | Carbohydrates: 247g | Protein: 19g | Fat: 143g | Saturated Fat: 83g | Cholesterol: 407mg | Sodium: 886mg | Potassium: 649mg | Fiber: 9g | Sugar: 188g | Vitamin A: 4240IU | Calcium: 150mg | Iron: 5.1mg