Chocolate Cake Recipe From Scratch That's Moist, Tender And Has A Delicious Chocolately Flavor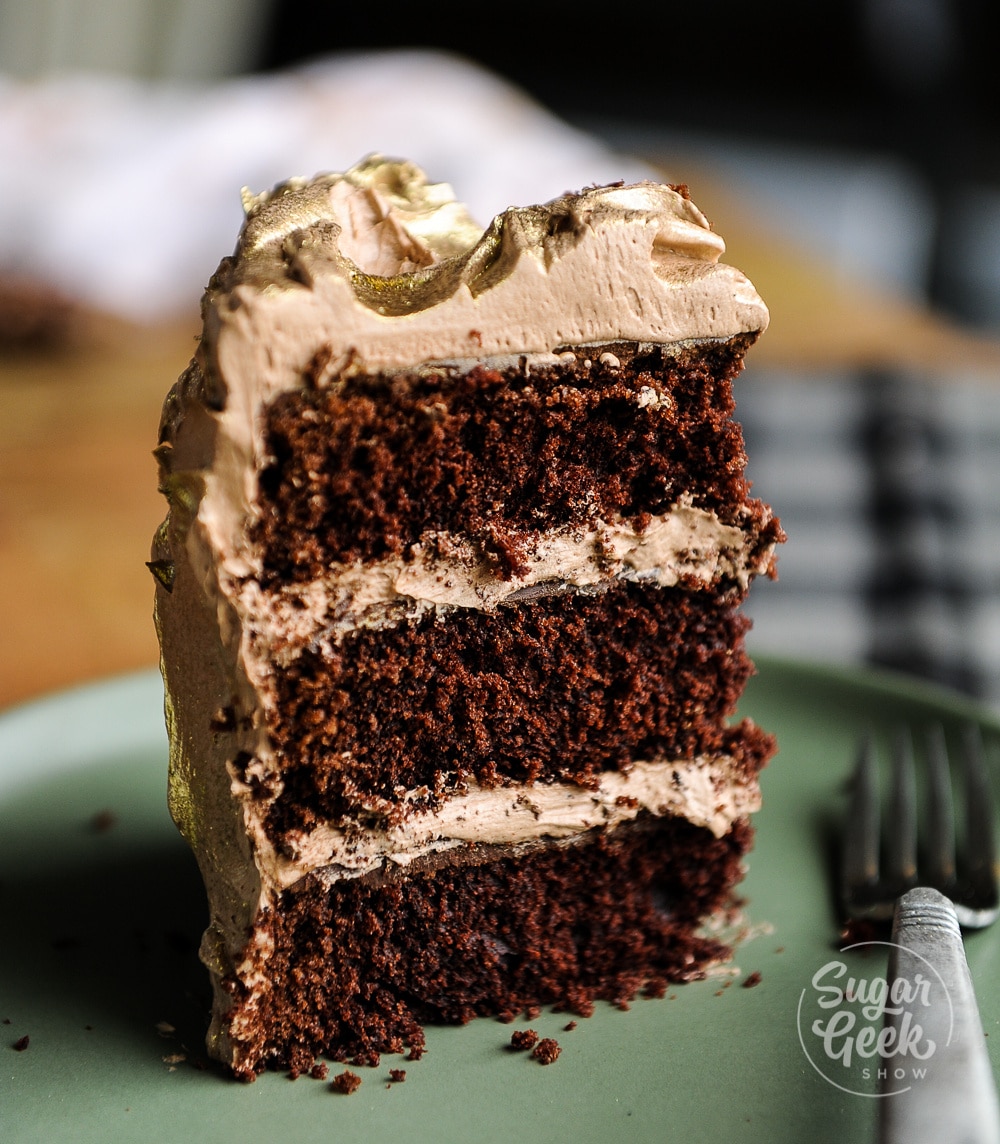 A chocolate cake recipe that is a real winner is hard to find. Everyone claims that their chocolate cake recipe is the best. I do have a few different chocolate cake recipes but I've been using this recipe for almost ten years for clients, family and friends and always have rave reviews.
One of the reasons this chocolate cake is so popular with cake decorators and clients alike is that it's got an amazing texture just like my super popular vanilla cake recipe. This cake also uses the reverse mixing method resulting in a nice tight crumb that is soft and moist. This cake also has a powerful chocolate flavor thanks to our friend dutched cocoa powder.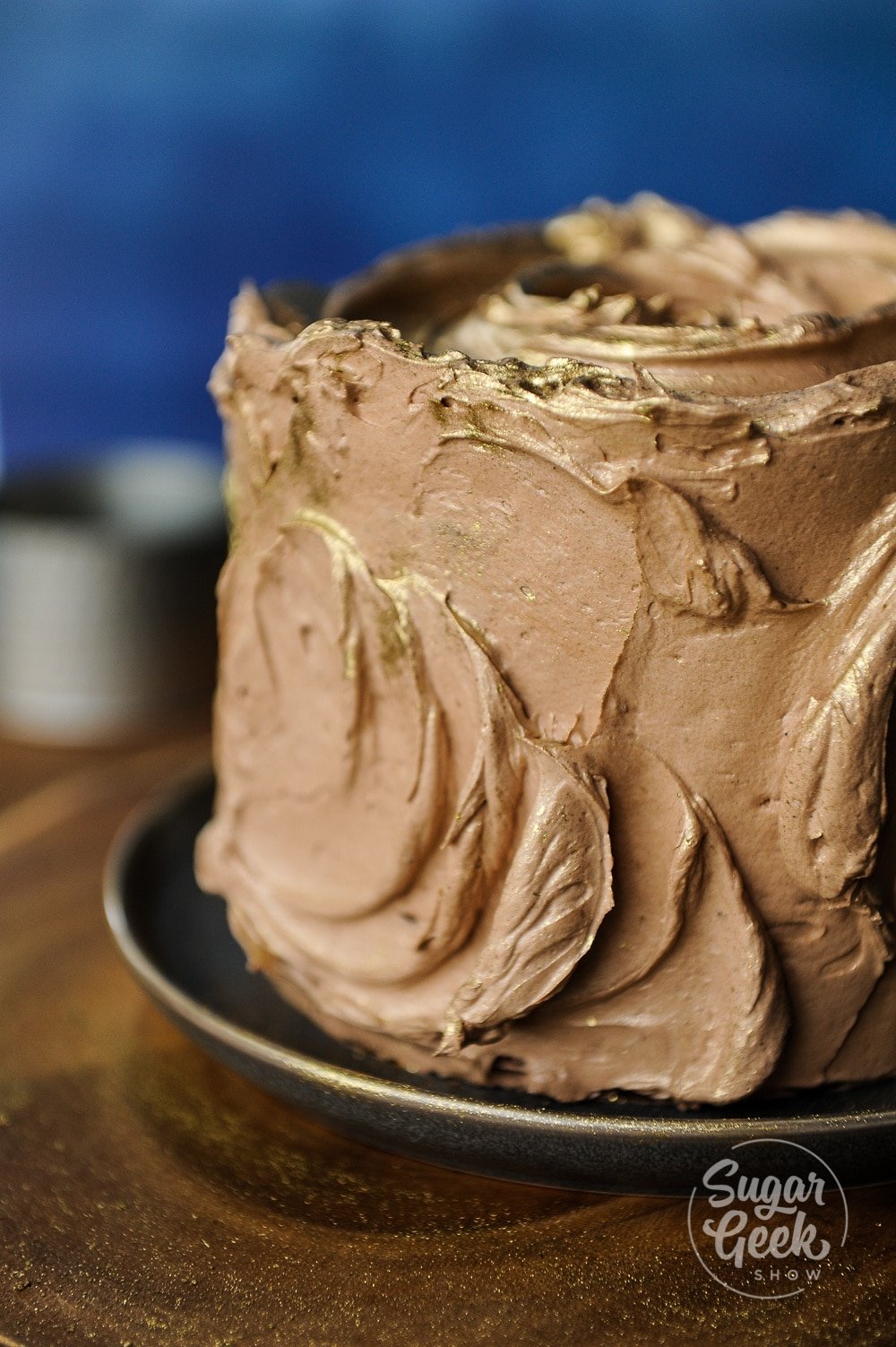 Homemade Chocolate Cake Recipe
This chocolate cake recipe is my go-to when I want a great cake for family or friends. Way better than a box mix (in my opinion) and easy to make.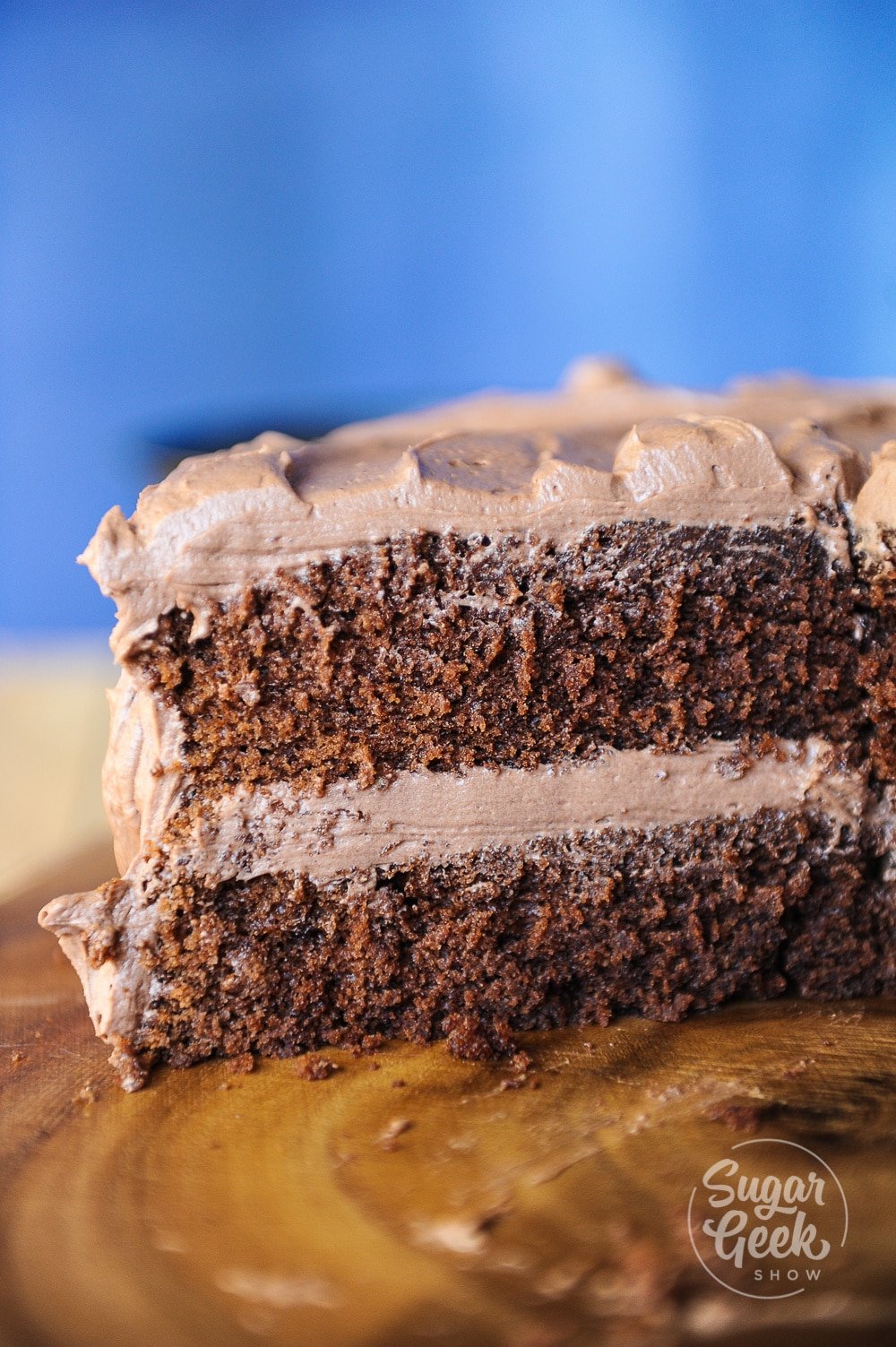 When I was growing up, we always made chocolate cake for special occasions. My Dad's favorite cake was german chocolate cake with that coconut pecan filling. We would bake up a box cake and before it was barely cooled we would slather on a can of that frosting.
This cake has officially taken the place of family favorite.
Dark Chocolate Cake Recipe
To make a nice dark chocolate cake recipe, all you really need is some dutched cocoa powder. Dutched cocoa powder cakes result in darker, richer and more flavorful cake.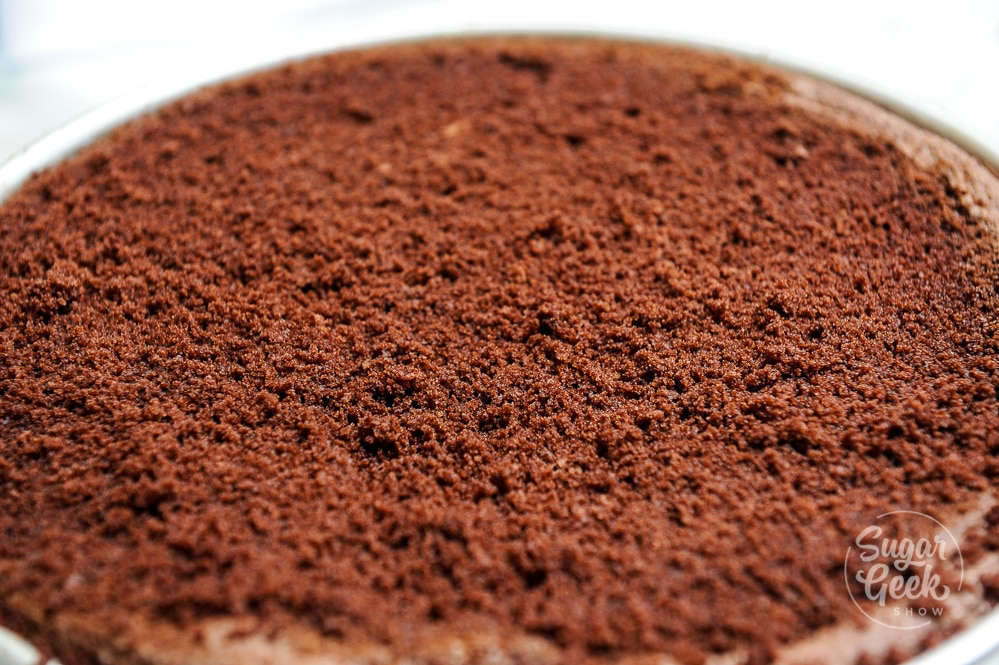 I really like Cacao Barry Extra Brute cocoa powder because it's pretty inexpensive, has a fantastic flavor and is pretty easy to find. I buy mine on Amazon.
How do you know if your cocoa powder is dutched? It should say on the bag or it might say "alkalized" which also means it's dutched. It's super important to know which cocoa you are using or your chocolate cake might turn out flat. Literally.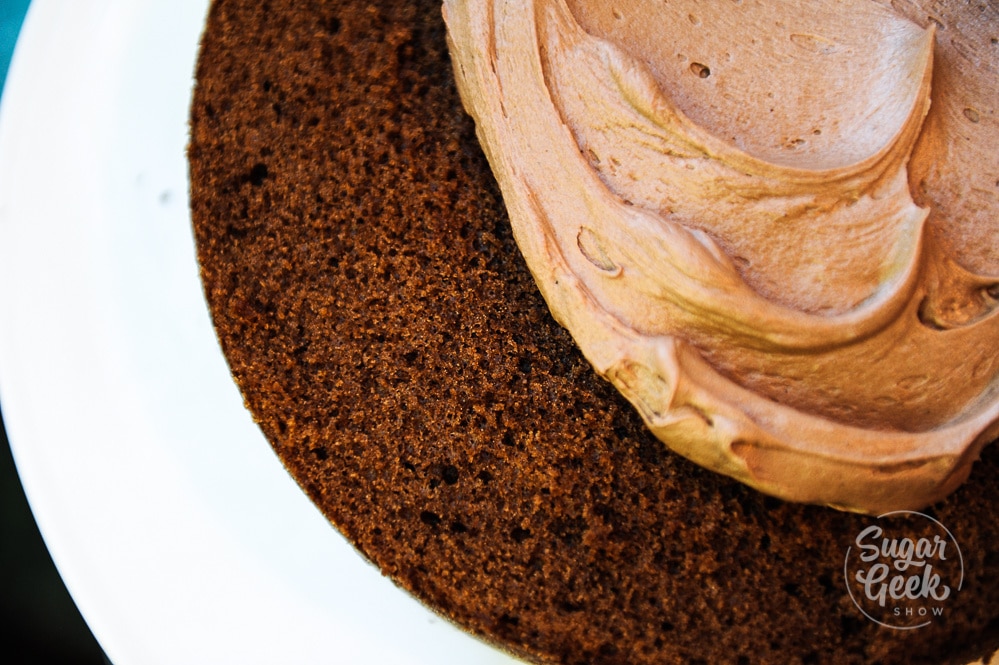 Chocolate cake with dutched cocoa powder in them use baking powder as the main leavener and reacts with the alkaline in the baking powder. Natural cocoa powder like Hershey's uses baking soda.
Moist Chocolate Cake Recipe
What's the secret to a moist chocolate cake recipe? Probably something that you would never think of putting in a cake.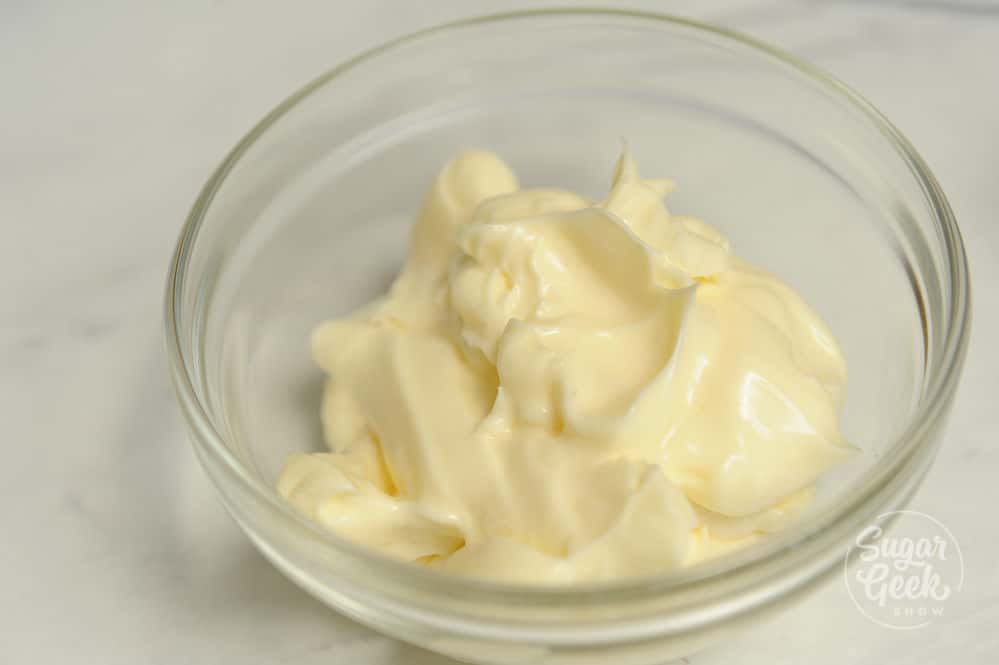 One word. Mayonnaise.
I know what you're thinking. WHAT? This isn't a chicken salad sandwich here. Mayonnaise is going to make my chocolate cake taste weird!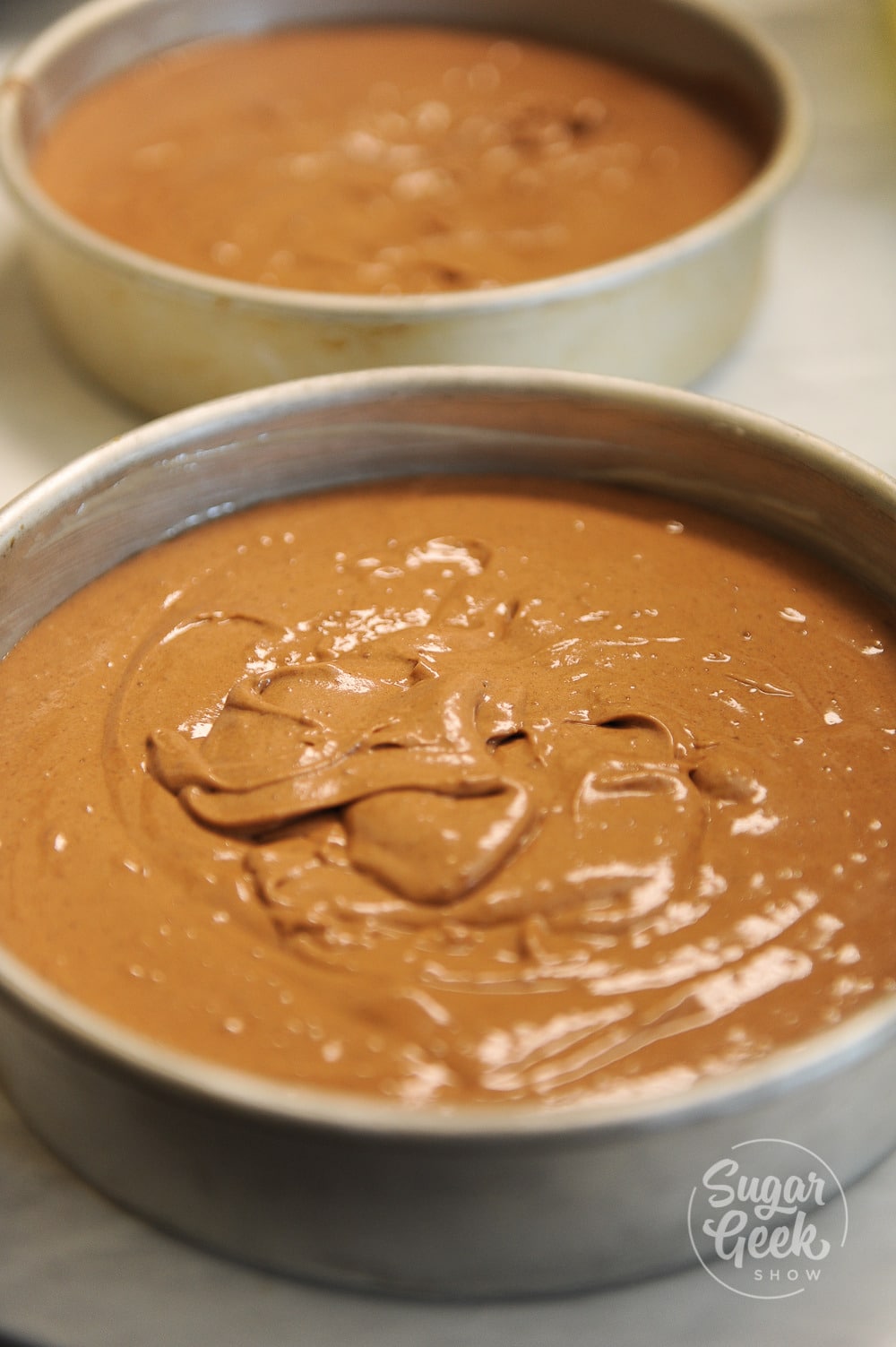 Fret not. Mayonnaise cake is a real thing. And if you think about what mayonnaise really is, it's made of whipped eggs and oil. Two things that go great in cake and add some nice moisture and flavor.
Go with a nice neutral mayonnaise for the best flavor.
Easy Moist Chocolate Cake Recipe
If you're just not into putting the effort into baking your cake from scratch, have no fear. You can go with the ever delicious doctored box mix. This is the chocolate version of WASC recipe.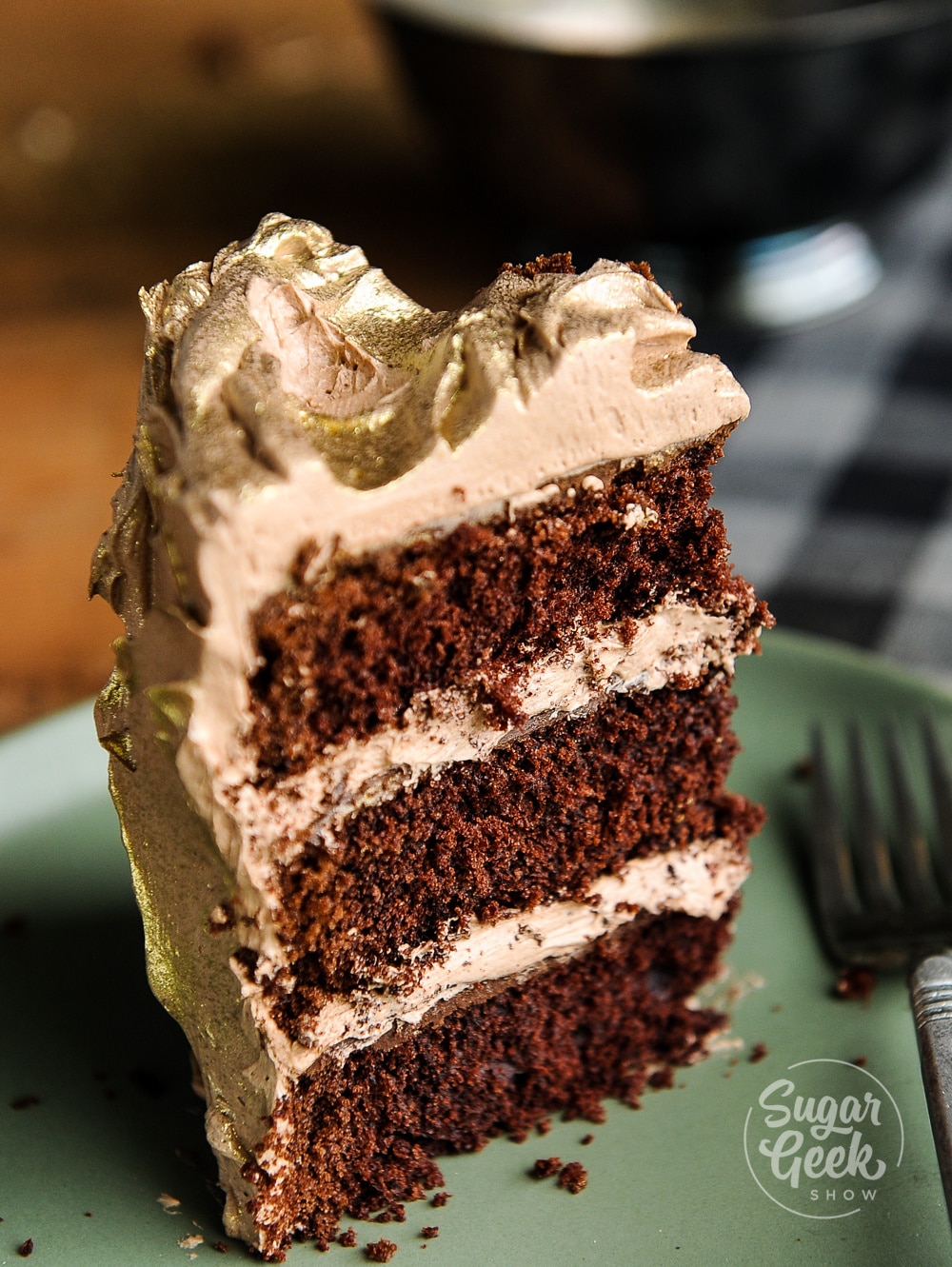 Chocolate WASC cake is easy to make and tastes delicious. I tweaked my recipe a bit to include a bit of butter to make the cake more stable for stacking and filling or for using in sculpted cakes.
Chocolate Cake Recipe with Chocolate Frosting
Chocolate cake goes with a lot of different flavors but to me nothing beats chocolate buttercream. I use the same dutched cocoa powder that I use for the cake in the easy buttercream frosting. The frosting tastes just like melted chocolate ice cream to me and is my absolute favorite.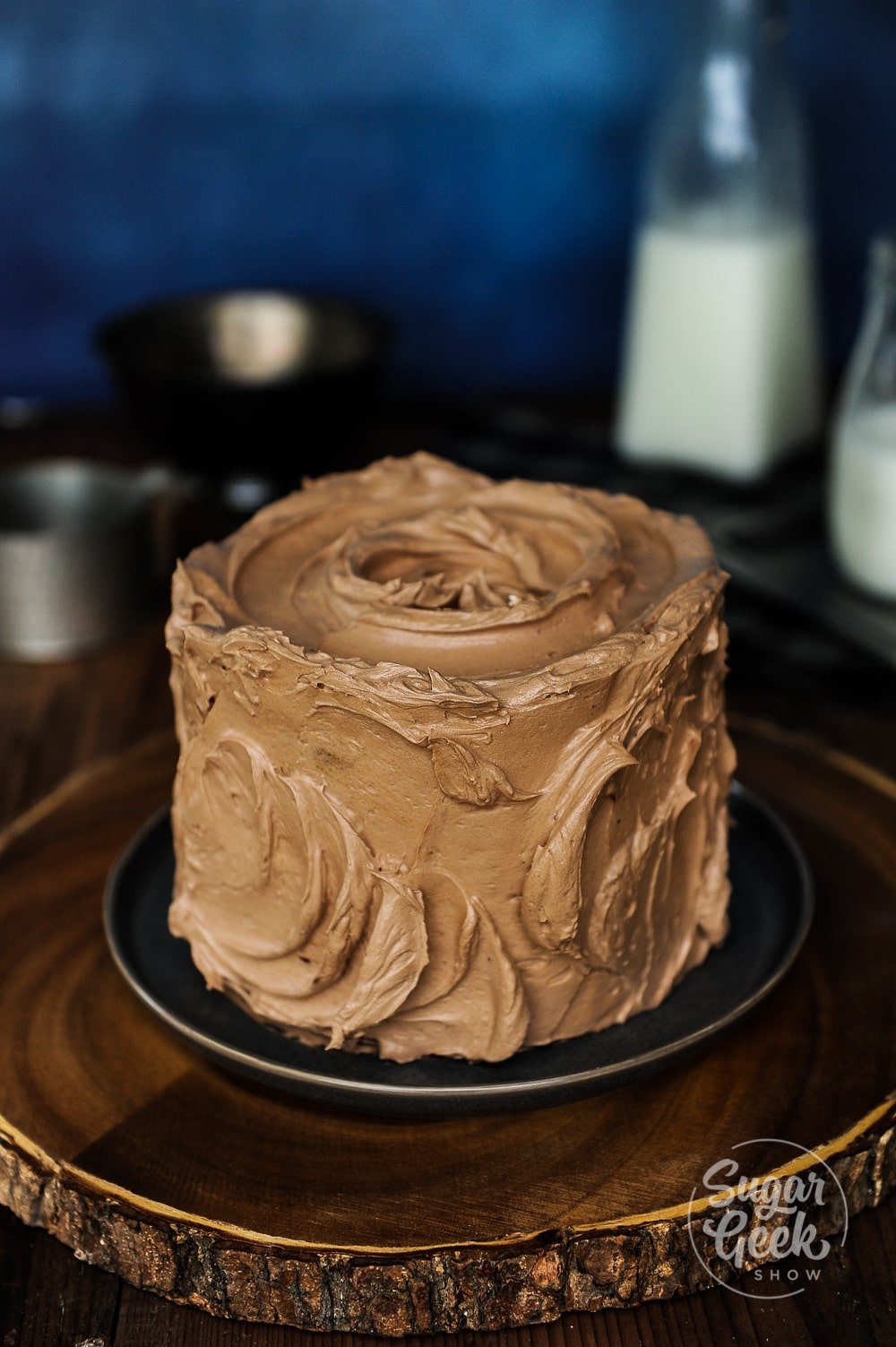 Watch how I make my best chocolate cake recipe step by step in this video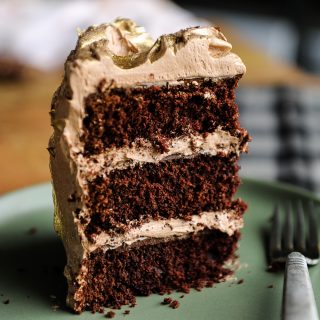 Chocolate Cake Recipe
This is my signature chocolate cake recipe that I have been using for a little over 6 years. It was the first chocolate cake that I ever made from scratch that tasted like what I think in my mind chocolate cake should taste like! A little bit fudgy, full of chocolate flavor and melt in your mouth delicious!
7 cups of batter makes about two 8" round cakes.
Ingredients
Cake Ingredients
2.25

oz

Dutch cocoa powder

8

oz

water

3

large eggs

2

tsp

vanilla extract

4

oz

Mayonaise

14

oz

Unbleached cake flour

15

oz

granulated sugar

2

tsp

baking powder

1 tsp

baking soda

1

tsp

sea salt

6

oz

unsalted butter

at room temperature
Chocolate Buttercream
1

cup

pasteurized egg whites

room temperature

2

lbs

powdered sugar

2

lbs

unsalted butter

room temperature

1

Tbsp

vanilla extract

1

tsp

salt

4

oz

cocoa powder
Instructions
Cake Instructions
Bring the water to a boil. Add in cocoa powder.

Whisk until smooth then place bowl into freezer to chill to room temperature.

Weigh out all dry ingredients and place into a stand mixer bowl and attach the paddle attachment.

Turn mixer on low (setting 1 on Kitchen Aid mixers). Add in your room temperature butter in small chunks. Combine on low until you achieve a sandy mixture.

Once your chocolate mixture is cooled, combine it with your liquid ingredients and your mayonnaise and give it a little whisk to break up the eggs and combine things together.

Add 1/3 of your liquid ingredients into your dry ingredients and mix on medium for 1 minute. If you do not do this step, your recipe will not turn out.

Turn your mixer back down to low and add in the rest of your liquids slowly. Stop once or twice to scrape the bowl as needed.


Once they are all combined, turn back up to medium-high for another 30 seconds.

Lightly grease two 8" round cake pans prepared with your choice of pan release. I prefer cake goop.

Bake for 35-45 minutes at 335ºF/168ºC depending on how big your pans are. The bigger the pan, the longer it will take for them to bake.

When a toothpick comes out of the center with a few sticky crumbs on it, the cake is done.

If the cakes are domed up, place a clean tea towel on top and using an oven mitt, lightly press down until flat. This does not harm the cakes at all and cuts down on waste.

After the cakes have cooled for about 10 minutes, or the pans have cooled to the point they can be touched, flip the cakes over and remove from the pans onto a cooling rack to cool completely. Wrap in plastic wrap and chill in the refrigerator.

Once the cakes are chilled in the refrigerator (about an hour for this size, longer for larger cakes), tort, fill and crumb coat all at once. If you do not plan on crumb coating the same day, you can leave the wrapped cakes on the countertop. Chilling can dry out your cakes before they are iced, so avoid keeping them in the refrigerator longer than necessary. Cakes can be frozen in freezer bags for later use as well.

Chocolate Buttercream Instructions
Sift together the powdered sugar and cocoa powder to remove any clumps.

Place egg whites, powdered sugar and cocoa powder in a stand mixer bowl.

Attach the whisk and combine ingredients on low and then whip on high for 5 minutes.

Once the meringue is light, white, fluffy and shiny, add in your butter in chunks. Add in vanilla and salt.

Remove the whisk and place the paddle attachment onto the mixer. Let your buttercream mix on low until the mixture is smooth and creamy and there are no bubbles left. This can take up to 20 minutes
Recipe Notes
This recipe works great for carving sculpted cakes! I use the same recipe for wedding and sculpted. I always bake them, de-pan them, wrap them in plastic wrap and then chill in the fridge or freezer (depending on how much of a rush I'm in) and then carve. Chilled cakes make carving or stacking SO much easier!
Nutrition Facts
Chocolate Cake Recipe
Amount Per Serving
Calories 2269
Calories from Fat 1287
% Daily Value*
Total Fat 143g 220%
Cholesterol 407mg 136%
Sodium 886mg 37%
Potassium 649mg 19%
Total Carbohydrates 247g 82%
Protein 19g 38%
* Percent Daily Values are based on a 2000 calorie diet.
September 28, 2016