Chocolate WASC Is The Easiest Way To Make Box Mix Taste Like Scratch
Chocolate WASC is the chocolate version of our popular WASC recipe that with an addition of a few ingredients, your box cake will taste almost like scratch. The texture is light and fluffy but is still sturdy enough to carve a cake or stack into for a wedding cake. Chocolate WASC is a great option if you're not quite ready to take the plunge into baking a chocolate cake recipe from scratch.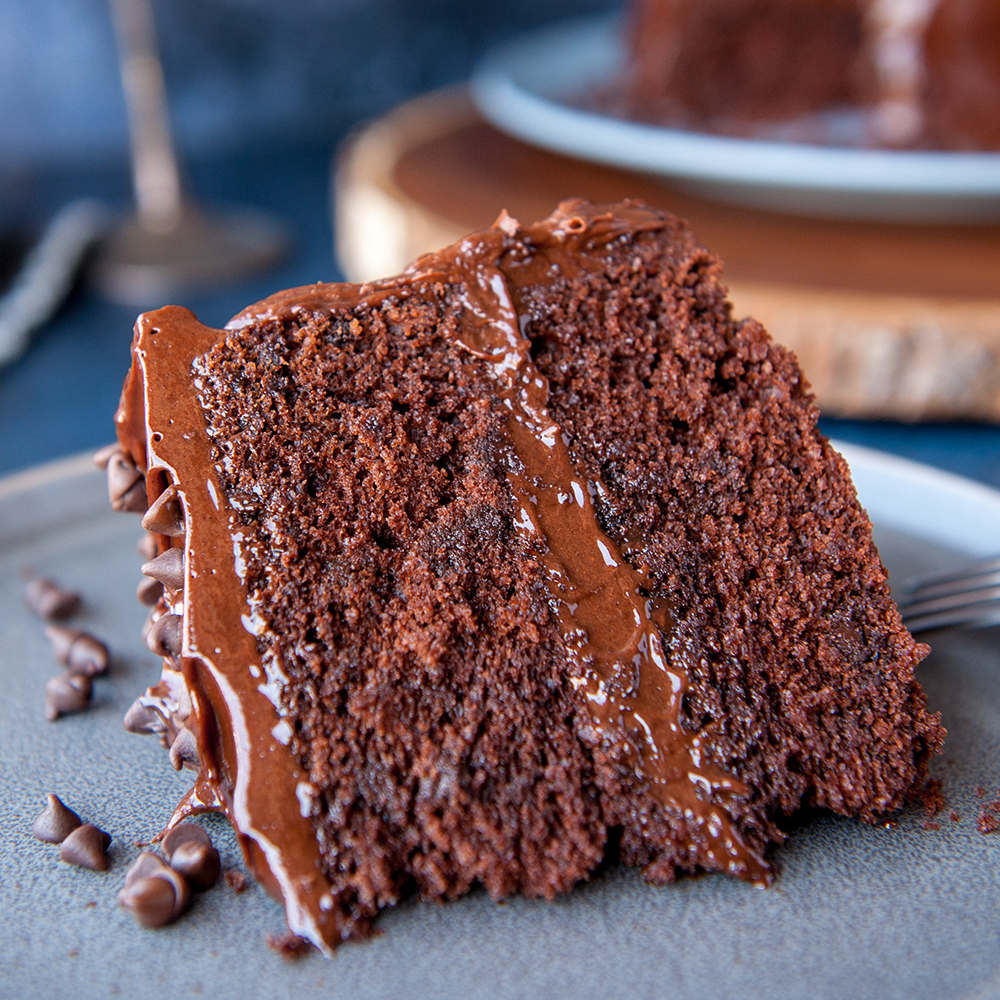 Chocolate Sour Cream Cake
One of the ingredients that makes this cake so dang good is the sour cream. It adds a nice tang to the flavor and an extra level of moistness. Sour cream is a popular ingredient used in a lot of chocolate cake recipes giving it a similar flavor that you might get from using buttermilk or mayonnaise.
Chocolate Cake With Coffee
I like to use coffee as my liquid instead of water because the coffee brings out the chocolate flavor. Your batter will smell like strong coffee but don't worry, it won't taste like coffee. You don't have to use coffee, you can use water or even milk if you want.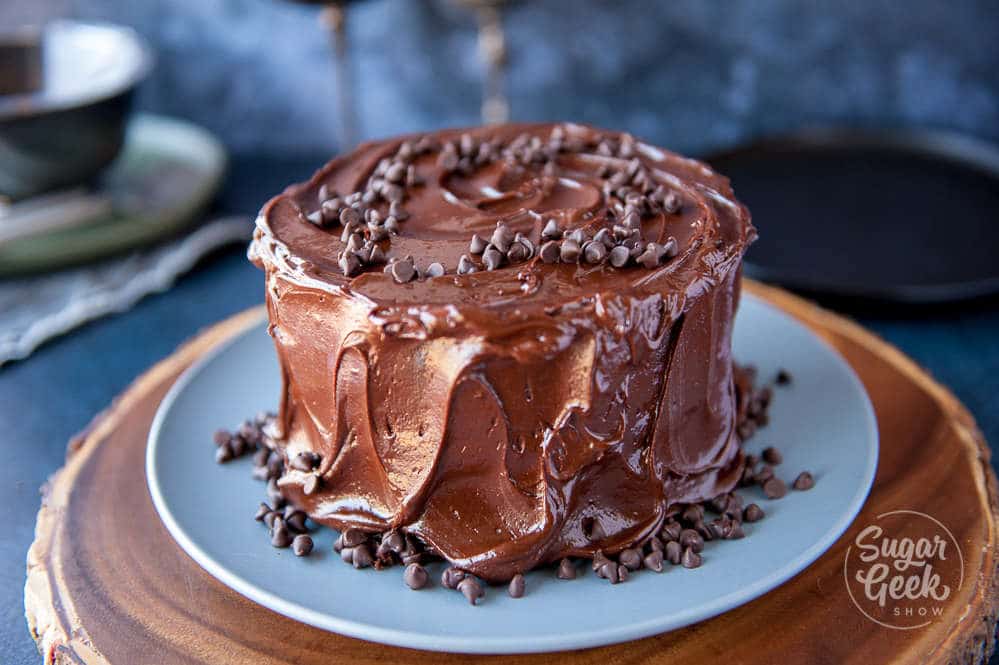 How To Make Chocolate WASC
Chocolate WASC starts with a nice chocolate-y box mix. I usually use Duncan Hines chocolate fudge cake but devils food cake will also do nicely. Just pour the contents of the mix into a bowl and add in your extra ingredients. Just ignore the instructions on the back of the box and use the recipe below instead.
Mix all your ingredients together until combined and then mix vigorously for two minutes. I used a stand mixer with a paddle attachment but you can also just use a bowl and a spoon.
I tweaked this recipe to contain melted butter so that when you chill it the cake is a bit firmer and easier to handle.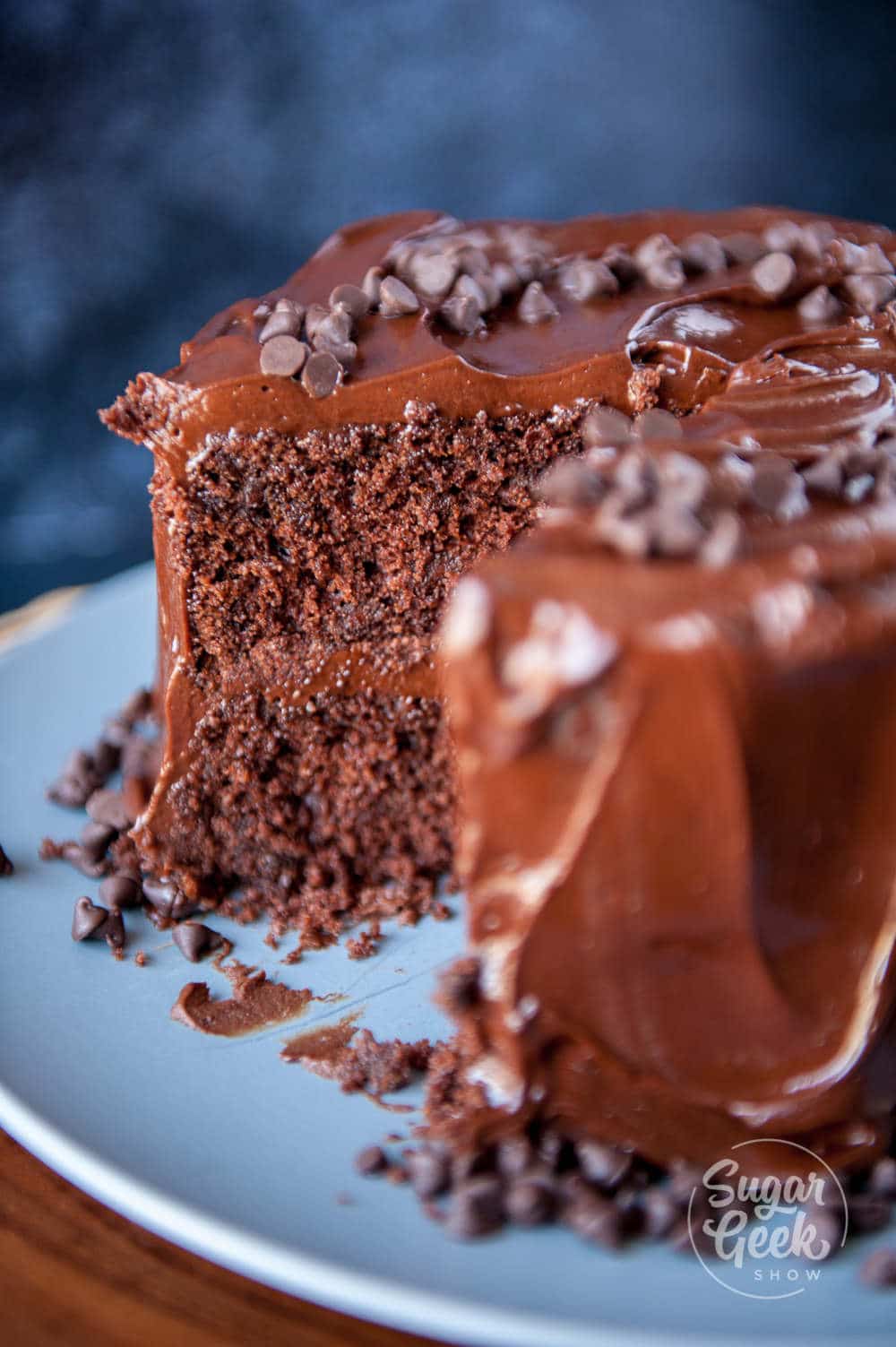 Why not just make it from scratch?
I get this question a lot. A LOT. I get it. If you're going to go through all this trouble of adding so many ingredients to a box mix, why not just make it from scratch? I used to think the same thing. But over the years of teaching countless bakers of all skill levels, I have learned that a lot of people are super intimidated to bake from scratch. They have little to no knowledge of how to measure, how to mix or even what a good scratch cake should taste like.
The thing about box mix is it isn't just the same ingredients as a cake from scratch. A box contains emulsifiers that basically make the cake bake up perfectly no matter what you do to it. The problem? Those emulsifiers make the cake taste a bit fake. Like eating strawberry flavored candy. It's good but doesn't exactly taste like a real strawberry right?
So adding in these extra ingredients gives you the best of both worlds. A recipe that makes the baker do more than just opening a box but the emulsifiers still ensure that the cake bakes up successfully and the added ingredients make the cake taste more like homemade. Thus giving the baker much-needed confidence and a bit of a taste of what a homemade cake tastes like so if they choose to take a leap two baking from scratch, it's not so scary.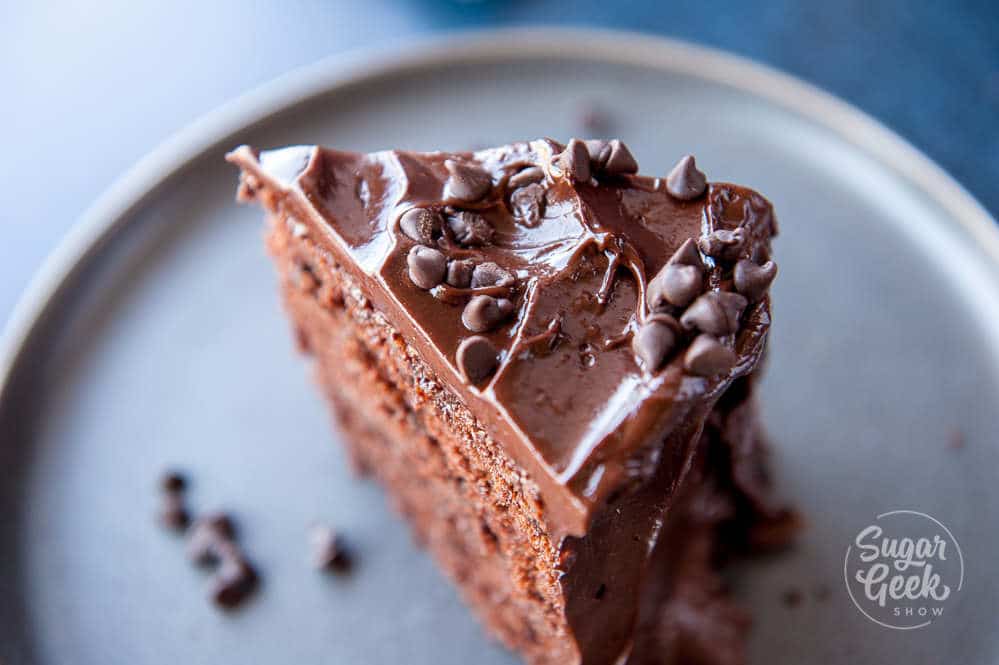 Chocolate WASC Cake For Cupcakes
This recipe works great for cupcakes and rise up perfectly. I get about 36 cupcakes from one box.
I like using my chocolate buttercream for this recipe. The yummy flavor pairs perfectly with the chocolate cake without it being too heavy. If you're looking for other yummy chocolate cake recipes, check out my guinness beer cake which is the epitome of decadent.
Other doctored box mix recipes you might want to try!
WASC (white almond sour cream cake)
Strawberry cake mix recipe
Cake Batter and Frosting Calculator
Select an option below to calculate how much batter or frosting you need. Adjust the servings slider on the recipe card to change the amounts the recipe makes.
Choose a pan type
Choose a cake pan size
(based on 2" tall cake pan)
Choose a cake pan size
(based on 2" tall cake pan)
Choose a cake pan size
(based on 2" tall cake pan)
Cups of Batter Needed
8 cups
Cups of Frosting Needed
5 cups
Recipe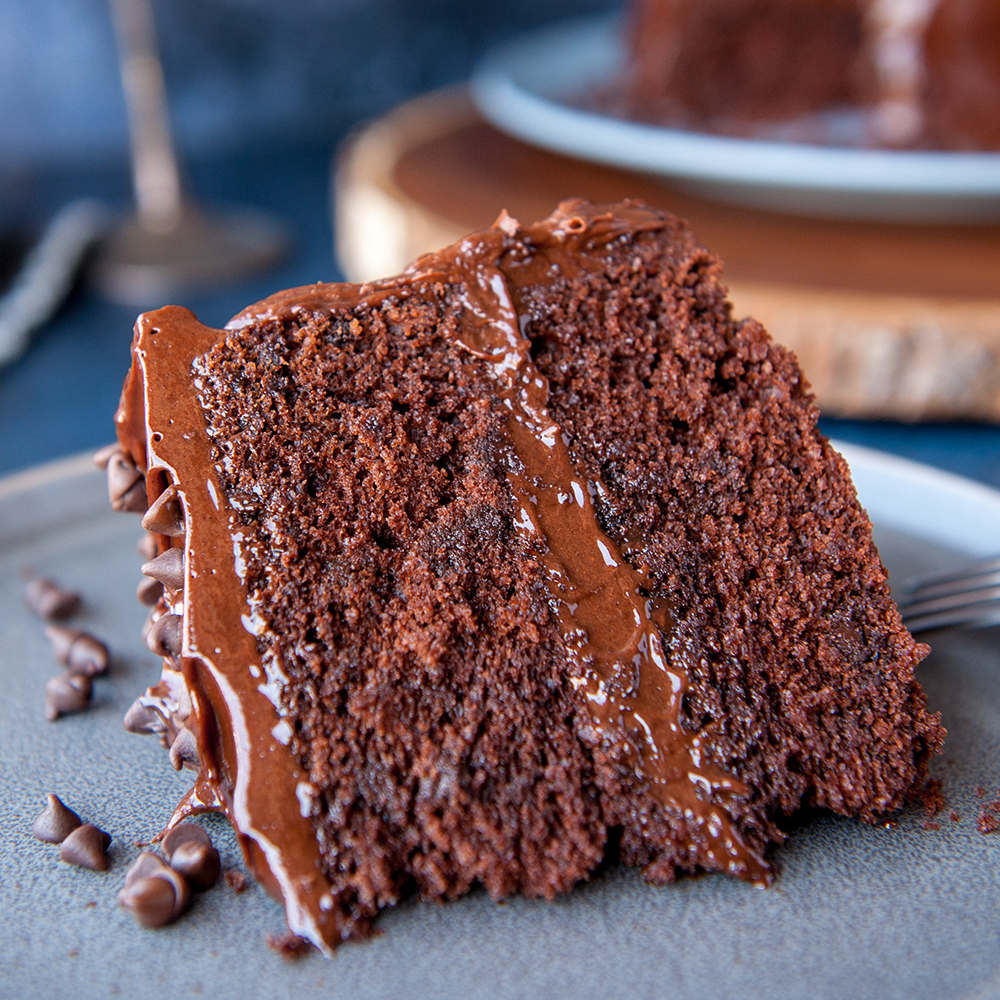 Servings: 8 cups
Calories: 390kcal
Ingredients
Chocolate WASC Recipe
1 box Duncan Hines Chocolate Fudge Cake Mix
5 oz Ap flour 1 cup
2 oz cocoa powder ½ cup
12 oz cold coffee 1 ½ cups
2 oz vegetable oil ¼ cup
4 oz melted butter ½ cup
3 large eggs
6 oz sour cream ¾ cup
7 oz sugar 1 cup
1 teaspoon salt
1 tablespoon vanilla extract
Chocolate Frosting
16 ounces Semi-Sweet Chocolate
16 ounces heavy whipping cream
½ teaspoon salt
Instructions
Chocolate WASC Instructions
Preheat oven to 335℉. Prepare two 8" round cake pans. I prefer to use cake goop.

Add all dry ingredients into the bowl of your stand mixer with a paddle attachment. Add in the rest of your ingredients and mix on low for 1 minute. 

Stop and scrape the bowl and then mix on medium for two minutes.

Pour batter into your cake pans and bake for 30- 35 minutes until a toothpick comes out of the center with just a few sticky crumbs clinging to the toothpick. 

Let cool a few minutes in the pan before turning out onto a cooling rack. Let cool fully and frost.
Chocolate Frosting
Place the heavy whipping cream into a medium-sized pot over medium-high heat. Whisk occasionally to prevent burning. Do not walk away!

Heat cream until steam is rising from the surface but it isn't boiling.

Pour hot cream over the chocolate and let sit for 5 minutes

Add in salt and whisk until smooth. If you have any un-melted lumps, you can use an immersion blender to get them out.

Pour chocolate into a shallow dish and cover with plastic wrap let cool at room temperature until a peanut butter consistency. If chocolate is too firm, you can microwave for 10 seconds and then stir with a spatula or whip with a hand mixer.

Frost cake as desired.
Notes
Don't worry about any of the ingredients on the back of the box, just use the ingredients listed in the recipe.  This recipe makes enough batter for three 6"x2" cakes or two 8"x2" cakes (round).  This recipe makes 40 cupcakes with about 1.25 ounces of batter per cupcake tin.  You can use dark beer in place of coffee or just plain water. 
Nutrition
Serving: 1g | Calories: 390kcal | Carbohydrates: 38g | Protein: 5g | Fat: 26g | Saturated Fat: 15g | Cholesterol: 67mg | Sodium: 353mg | Potassium: 250mg | Fiber: 3g | Sugar: 22g | Vitamin A: 488IU | Vitamin C: 1mg | Calcium: 68mg | Iron: 3mg