Classic German chocolate cake with coconut-pecan filling and chocolate buttercream
German chocolate cake is a very light, moist chocolate cake with a rich coconut-pecan filling and a little chocolate swiss meringue buttercream to hold it all together. The cake does not have a strong chocolate flavor, almost like a red velvet cake without the food coloring. If my death by chocolate cake is the epitome of a chocolate lovers cake, then German chocolate cake is the polar opposite.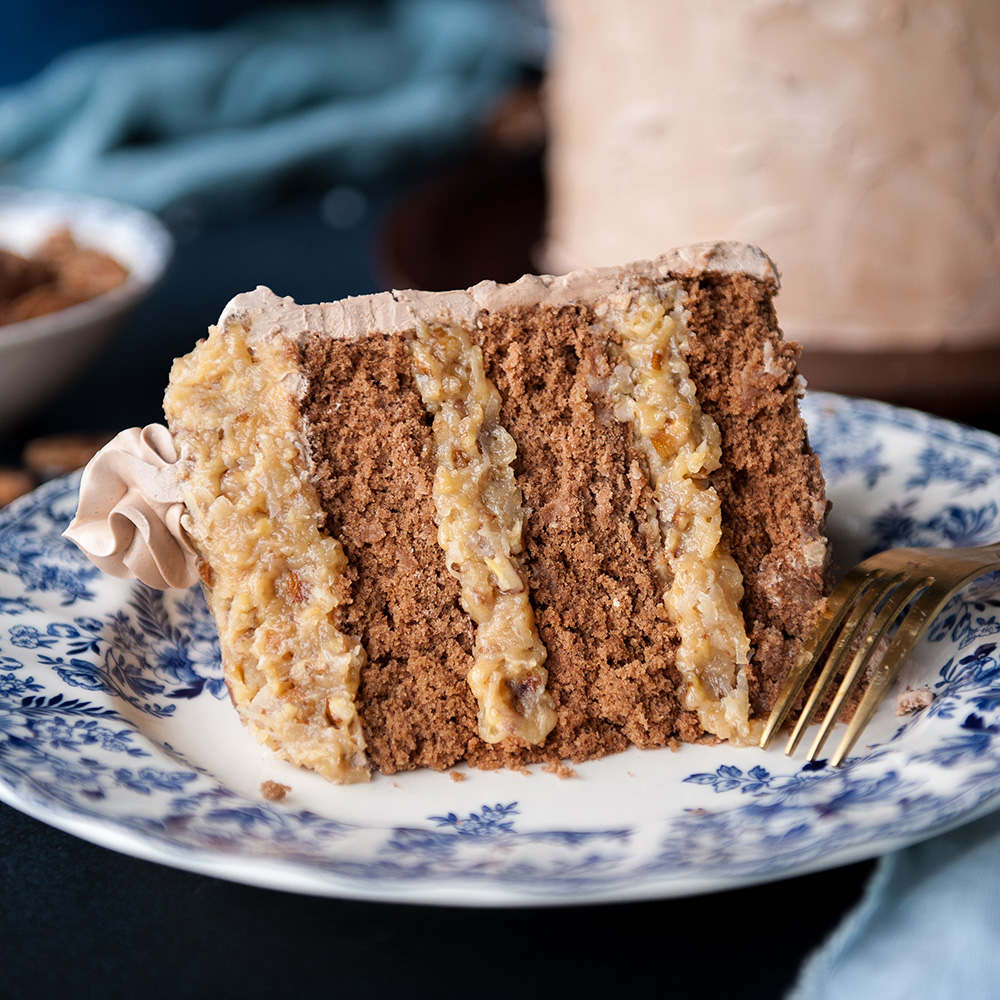 German chocolate cake is German at all. It's actually American and is named after Samuel German, the creator of a popular dark bakers chocolate. The cake was developed to market the sweet chocolate which is used in the original recipe for German chocolate cake.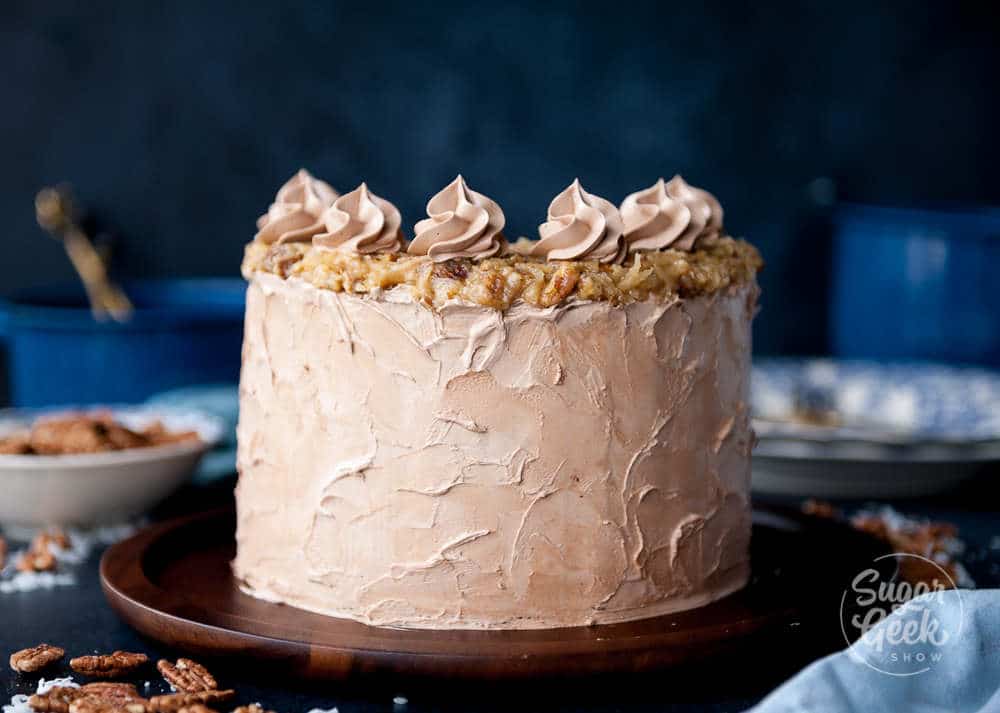 German chocolate cake was actually my Dad's favorite cake. Every year for his birthday we would buy a box of Duncan Hines German chocolate cake mix and a can of the coconut pecan frosting. Into a glass baking and into the oven. Thirty minutes later I would be unsuccessfully trying to frost a warm cake with a cold can of frosting and tearing the thing to pieces. Oh, I wish I knew then what I know now. Chill your cakes!
So I do believe it's time I re-created this classic cake and shared it with you all. This recipe is pretty true to the original recipe you can find on the inside of the Baker's chocolate packaging with the addition of a little vegetable oil which I feel makes the cake a bit moister. It truly is delicious made from scratch!
What does Baker's German Sweet Chocolate taste like?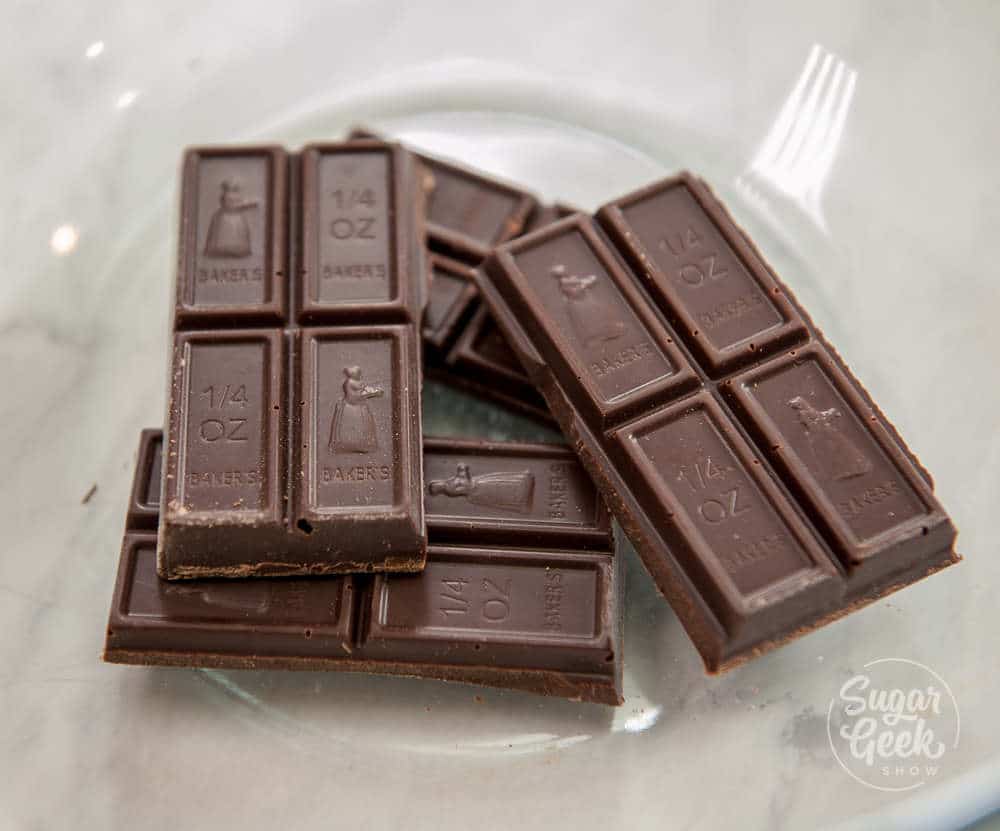 German's sweet chocolate is not as bitter as a bar of typical dark chocolate but also not as sweet as a bar of standard milk chocolate. It's a cross between the two with 48% cocoa content.
You can buy Baker's German chocolate from most grocery stores like Target or Kroger in the baking aisle.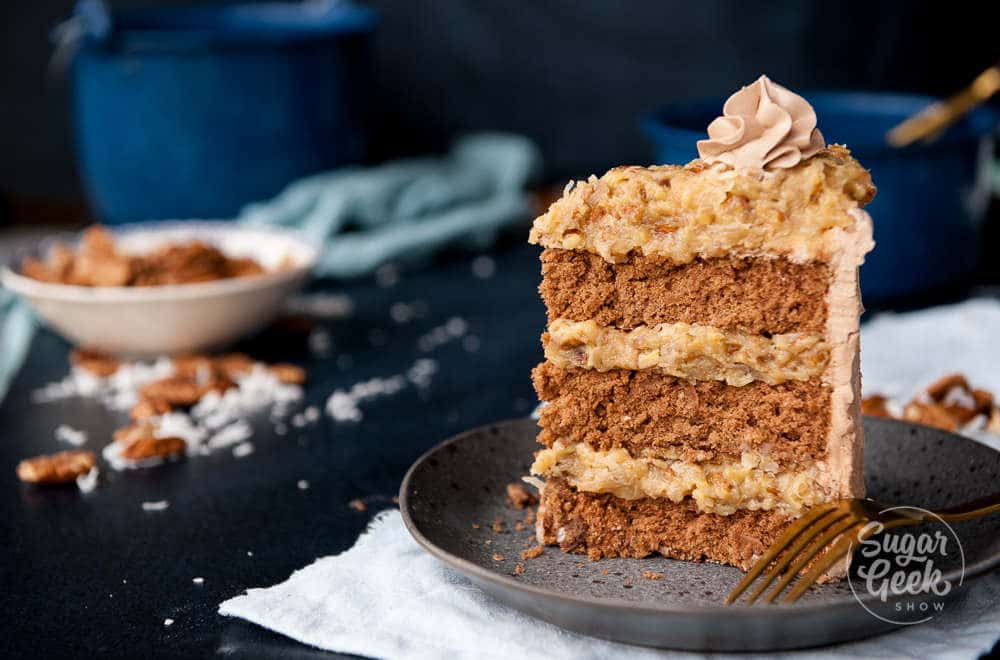 What's the difference between german chocolate cake and regular chocolate cake?
The main differences between german chocolate cake and regular chocolate cake is the type of chocolate used and the amount of chocolate you taste. A regular chocolate cake is flavored with milk chocolate cocoa powder and has a strong chocolate flavor.
German chocolate cake does not have a strong cocoa flavor, the star of the show is the coconut pecan frosting. It is sometimes frosted with chocolate buttercream to hold in the filling and occasionally decorated with marachino cherries.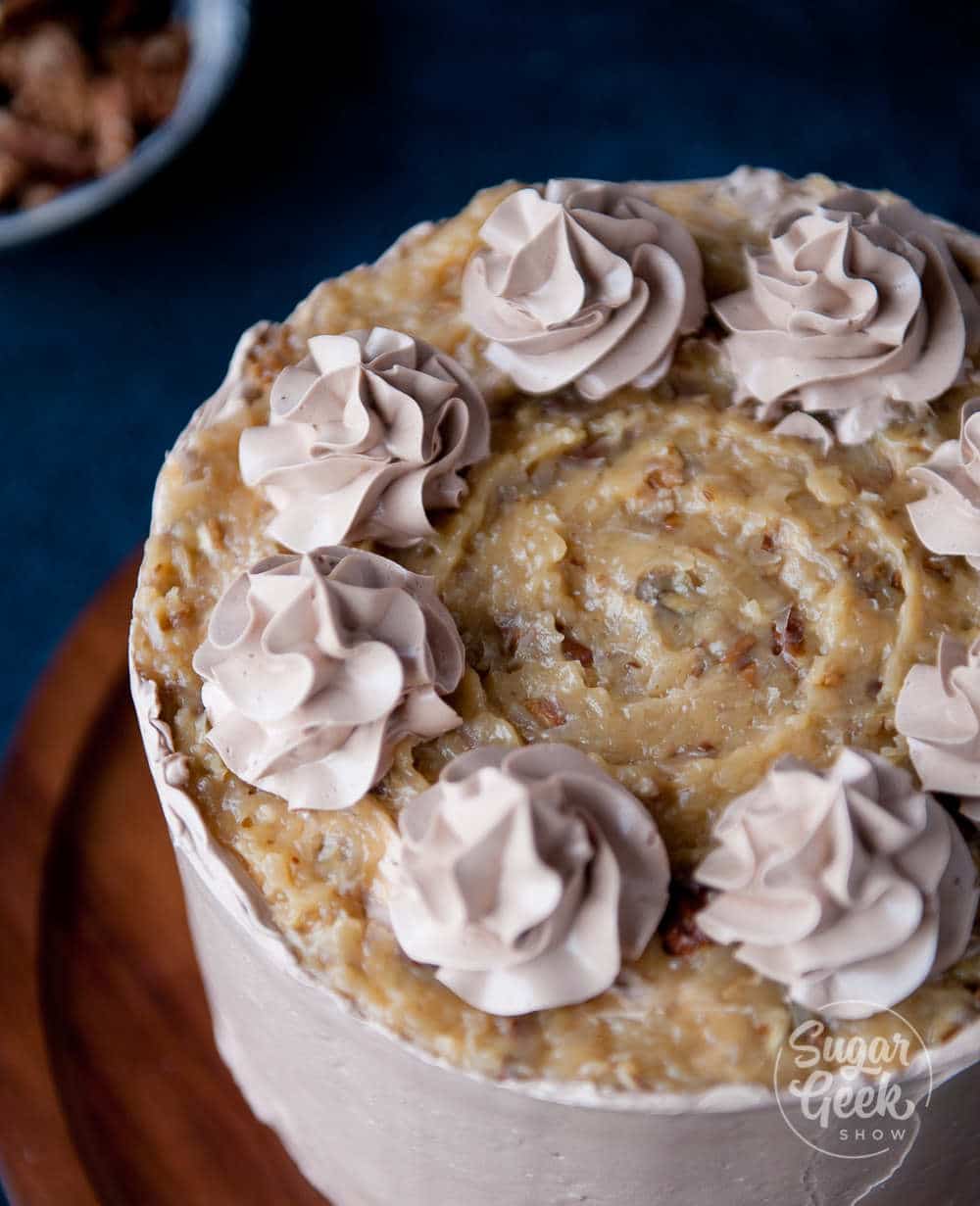 How to make German chocolate cake from scratch
The first thing you should do when baking this German chocolate cake is melt your chocolate and let it cool. I melted the chocolate for the swiss meringue buttercream and the cake batter all at once in a glass bowl then set it aside to cool down.
To make your chocolate cake, gather all your ingredients ahead of time to make sure you have everything you need and you're not rushing to find certain ingredients. I'm following the recipe from the inside of the chocolate bar box with the addition of some vegetable oil for moisture.
The mixing method is very similar to my southern coconut cake. Whipping up egg whites and then folding them into the finished batter makes a very light and tender cake.
Be careful when you are folding your egg whites into the cake batter and take care not to crush all the air out the egg whites. Fold your batter gently by using a spatula and gently lifting the batter from the bottom of the bowl and folding it over onto itself.
The box calls for three 9" cake pans but I only have two so I used 8" cake pans instead and it worked out great. The color of the finished cakes will be very light.
Coconut-Pecan filling
The next thing you should do is make your coconut-pecan filling. This also takes a bit to cool down so it's best to make it before you bake your cakes.
The filling actually comes together really easily but you need to basically be whisking the mixture for 12 minutes straight to ensure your eggs don't curdle.
I have made coconut pecan filling with regular milk before but the traditional way is to use evaporated milk. Evaporated milk stands up to high heat better than milk so it's less likely to curdle or scorch. Evaporated milk is not the same thing as condensed milk which has sugar added.
After your filling has thickened and darkened in color, all that's left to do is fold in your coconut and pecans. To me, this is the best part of a German chocolate cake!
German chocolate buttercream
While my cake was baking, I made my swiss meringue buttercream. I could have added a little cocoa powder to the buttercream to make it chocolate but I wanted to stick with the bakers chocolate flavor so I used melted chocolate instead.
Oh my GOSH was it delicious and so creamy! I might make all my chocolate buttercream this way in the future. I also noticed it stayed cream even the next day instead of getting kind of spongy like my easy buttercream tends to do.
Because you have to heat the egg whites to melt the sugar, you have to give the meringue time to cool down before you add in the butter or your buttercream will turn to butter soup. I speed up the cooling process by putting some ice around the base of the bowl while it's mixing but you can also scoop all the meringue out and put it into a shallow pan and into a the fridge to cool.
If you don't want to fuss with making SMBC then you can use my easy chocolate buttercream instead.
Other cake recipes you might enjoy
White Velvet Buttermilk Cake
Ermine Buttercream frosting
Easy Chocolate cake
Whipped Chocolate Ganache
Cake Batter and Frosting Calculator
Select an option below to calculate how much batter or frosting you need. Adjust the servings slider on the recipe card to change the amounts the recipe makes.
Choose a pan type
Choose a cake pan size
(based on 2" tall cake pan)
Choose a cake pan size
(based on 2" tall cake pan)
Choose a cake pan size
(based on 2" tall cake pan)
Cups of Batter Needed
8 cups
Cups of Frosting Needed
5 cups
Recipe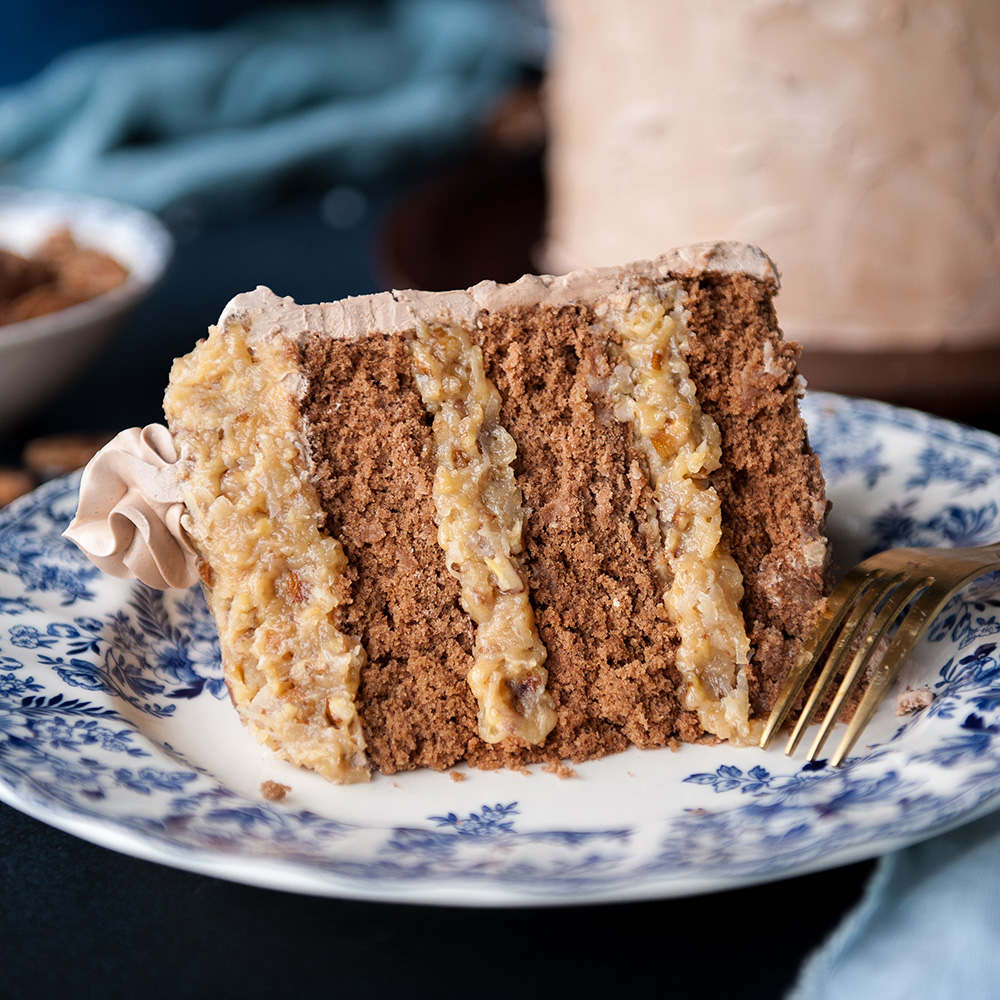 Servings: 24 servings
Calories: 645kcal
Equipment
Stand Mixer

Whisk Attachment
Ingredients
For the German Chocolate Cake
4 ounces Baker's German Chocolate melted
4 ounces water warmed
4 large eggs (yolks and whites separated) room temperature
12 ounces All-purpose flour
1 teaspoon baking soda
¼ teaspoon salt
8 ounces unsalted butter room temperature
14 ounces granulated sugar
1 teaspoon vanilla extract
8 ounces buttermilk
4 ounces vegetable oil
For the Coconut-Pecan Filling
4 egg yolks
12 ounces evaporated milk
2 teaspoons vanilla extract
10 ounces granulated sugar or brown sugar for a richer flavor
6 ounces unsalted butter
7 ounces flaked coconut
7 ounces pecans chopped
½ teaspoon salt
For the Chocolate Swiss Meringue Buttercream
Instructions
German Chocolate Cake Instructions
Preheat the oven to 350ºF (177ºC).

Prepare three 8″x2″ cake pans with cake goop or another preferred pan spray.

Melt your chocolate in a heatproof bowl in 15-second increments until just melted. Do not overheat or you could burn your chocolate.

Then, add your warm water to the chocolate and whisk to combine. Set aside.

Next, place the room temperature egg whites in a separate bowl with the whisk attachment and whip until you reach firm but moist peaks. They shouldn't look broken or crumbly. Set aside.

Combine the room temperature buttermilk and the vegetable oil and then set aside.

Whisk together the flour, baking soda, and salt and then set aside.

Then, in the bowl of your stand mixer, cream together the room temperature butter and sugar until it is light and fluffy in color.

Add in your egg yolks one at a time, letting each mix in fully before adding in the next.

While mixing on low, add in your melted and cooled chocolate and vanilla and then mix until it's combined.

Next, while mixing on low, add in ⅓ of the flour mixture, and then ⅓ of the buttermilk mixture. Repeat two more times with the remaining flour and buttermilk.

Gently fold in your egg whites until they are blended.

Pour the batter into your prepared pans.

Bake the cakes immediately at 350ºF (177ºC) for 30 minutes, or until a toothpick comes out from the center clean.

Let the cakes cool for 10 minutes inside of the pan before flipping them out.

Flip the cake onto a cooling rack and let it cool completely. I chill my cakes before handling them, or you can wrap them in plastic wrap and freeze them to trap moisture in the cake.

Thaw the cake on the countertop while it's still wrapped before frosting.
Coconut-Pecan Filling Instructions
In a medium-sized saucepan, whisk together the evaporated milk, egg yolks, and vanilla over medium heat until blended.

Add in your butter and sugar and continue to cook over medium heat until the mixture begins to thicken (this will take about 12 minutes). Whisk continuously or you risk overcooking your eggs. The mixture will be thick and golden brown when it's ready.

Remove the mixture from the heat and fold in your coconut and pecans.

Transfer the filling to a heat-proof bowl and cool it completely. You can make this a day ahead and refrigerate it for up to 4 days.
Chocolate Swiss Meringue Buttercream
Bring 2″ of water to a boil in a medium saucepan then reduce the heat until it's just simmering.

Next, place your metal or glass mixing bowl on top. The bowl should not be touching the water.

Then, pour the egg whites and sugar in the bowl and whisk occasionally to dissolve the sugar and keep the egg whites from cooking. Once the mixture reaches 110ºF or you can no longer feel any granules of sugar in between your fingers, it's ready.

Place the bowl on your stand mixer and whip on high speed (setting 4 on my Bosch Mixer, setting 8-10 on a KitchenAid) until you reach VERY stiff peaks. This can take between 10-15 minutes. The tips should stand straight up when you touch them and the meringue should feel very thick and dense.

Pour your meringue out into a shallow dish and pop it into the fridge for about 10 minutes to cool the meringue. You can also put your entire bowl of meringue into the fridge, but it will take longer to cool. If you don't cool the meringue it will melt your butter. Then you'll have buttercream soup. You can also place a large bag of ice under the bowl as you're mixing to cool the meringue down faster.

Reduce the speed to low, then slowly add in your butter in small chunks (remove this part about the salt, chocolate and vanilla) followed by your salt, melted and cooled chocolate, and vanilla extract.

Whip it on high for 8 to 10 minutes until the color is light and fluffy. Give it a taste and if it still tastes buttery, keep whipping.

Reduce the speed to low again and then drizzle in your cooled chocolate, salt, and vanilla and mix until it's smooth.
Notes
If you don't want to fuss with making SMBC then you can use my easy chocolate buttercream instead. 
Important Things To Note Before You Start
Bring all your ingredients to room temperature or even a little warm (eggs, buttermilk, butter, etc) to ensure your batter does not break or curdle. 
Use a scale to weigh your ingredients (including liquids) unless otherwise instructed (Tablespoons, teaspoons, pinch etc). Metric measurements are available in the recipe card. Scaled ingredients are much more accurate than using cups and help ensure the success of your recipe. 
Practice Mise en Place (everything in it's place). Measure out your ingredients ahead of time and have them ready before you start mixing to reduce the chances of accidentally leaving something out.
Using Baker's German chocolate will really set your recipe up for success. You can buy Baker's German chocolate from most grocery stores like Target or Kroger in the baking aisle.
If you do not have buttermilk on hand, you will want to use one of my preferred buttermilk substitutions. 
Make sure you allow the meringue to cool down before adding butter! This is very important. 
Chill your cakes before adding the filling and frosting. Learn more about decorating your first cake. 
Nutrition
Serving: 1serving | Calories: 645kcal | Carbohydrates: 61g | Protein: 5g | Fat: 44g | Saturated Fat: 27g | Cholesterol: 80mg | Sodium: 201mg | Potassium: 152mg | Fiber: 2g | Sugar: 48g | Vitamin A: 944IU | Vitamin C: 1mg | Calcium: 64mg | Iron: 1mg