Strawberry cake with strawberry buttercream made from fresh strawberries!
Strawberry cake made with fresh strawberries and no Jell-O? Yes, it's possible and it's delicious! The secret is adding a fresh strawberry reduction to your cake batter and mix the rest into your buttercream frosting for a fresh strawberry cake recipe that tastes like real strawberries!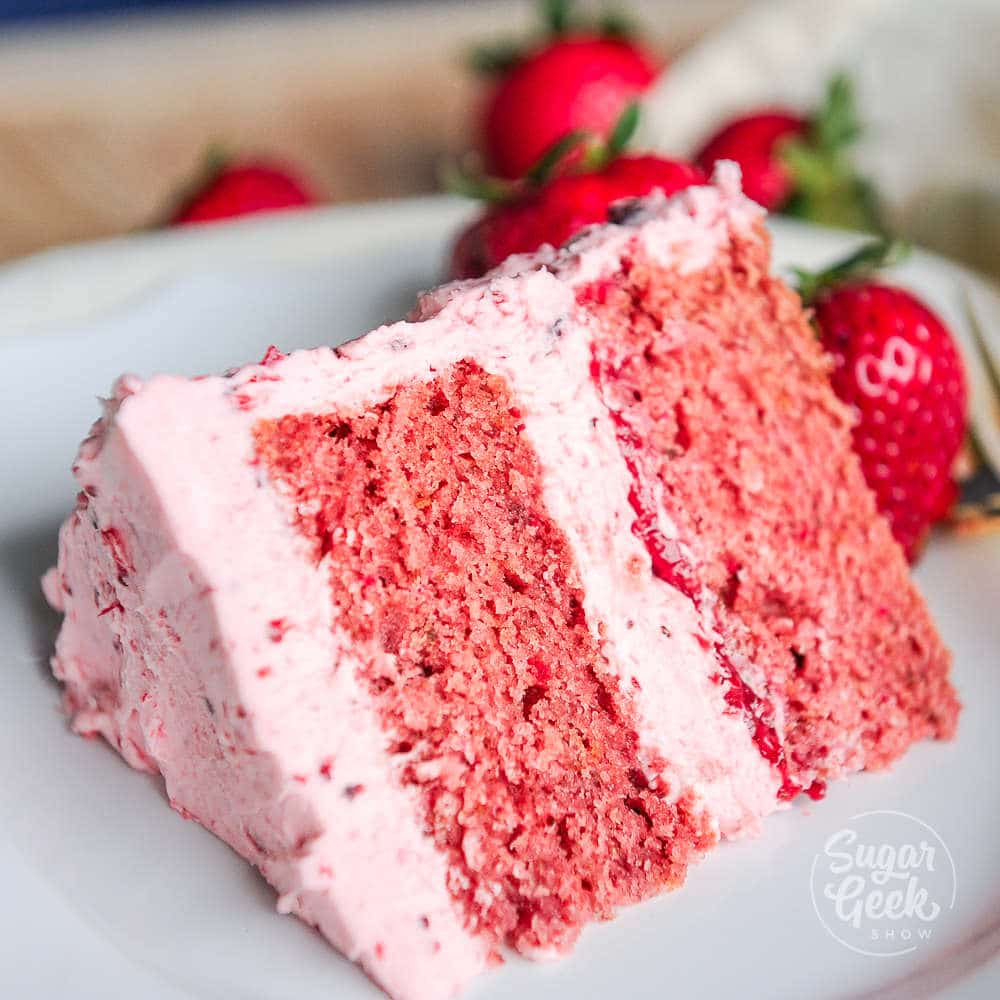 If you've been to Pinterest lately, you will have approximately one TRILLION recipes for strawberry cake. I tried a few from some big-name blogs that I thought would for sure delivery and boy was I disappointed. Most recipes contained either Jell-O for the strawberry flavor or the use of a boxed mix.
"silently cries tears of pain"
I just wanted an easy scratch recipe made with real strawberries! Is that not too much to ask?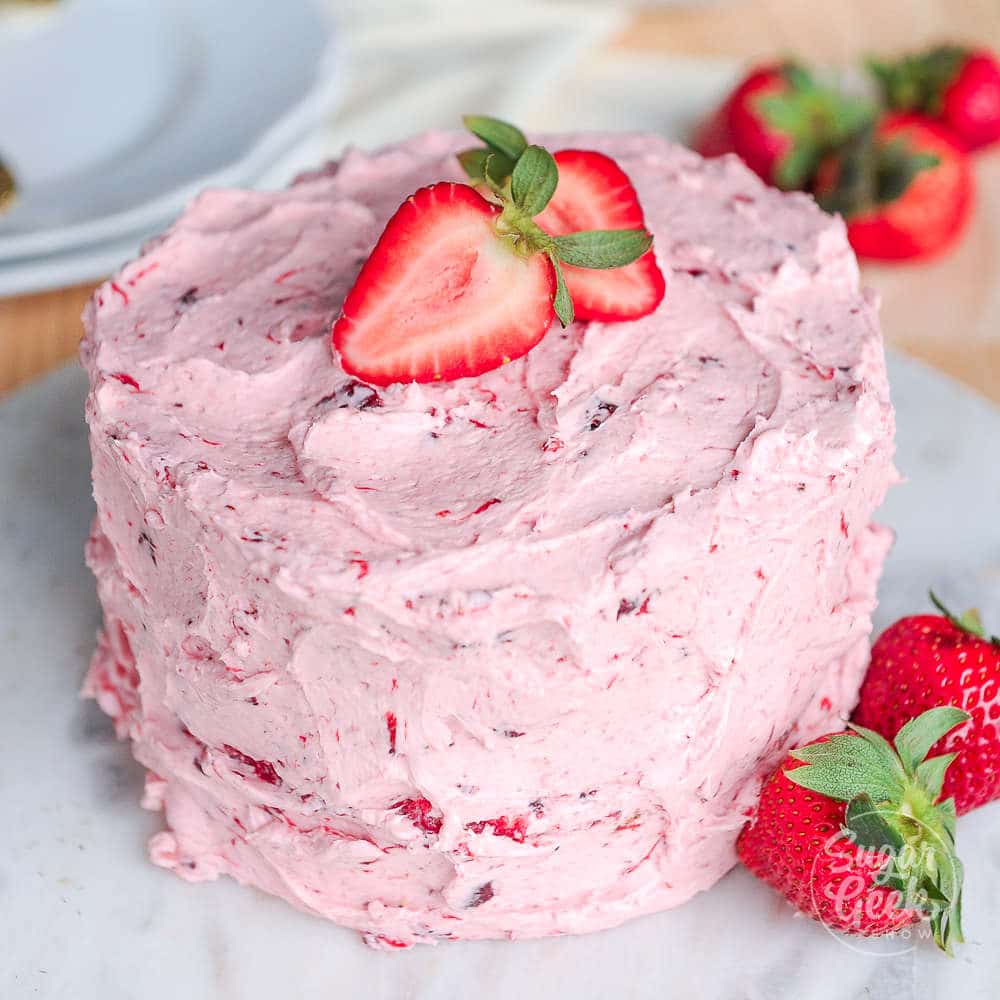 Now I am definitely not the best baker in the world but I do enjoy a challenge so I set myself up to see if I could make a really good strawberry cake. I gave myself two rules. I had to use real strawberries and the flavor had to taste like real strawberries in the cake alone.
Can you make a fresh strawberry cake without Jell-O?
Now don't get me wrong. I love me some Jell-O but not in my cakes. Gelatin is not something I would think to add to my cake to make the texture light in fluffy, more like gummy and dense. I think the worst thing about a strawberry cake made with Jell-O is that it tastes like fake strawberries.
Pretty tasty in jolly ranchers but not so much in my cake. So one of my personal challenges was to make a strawberry cake without gelatin.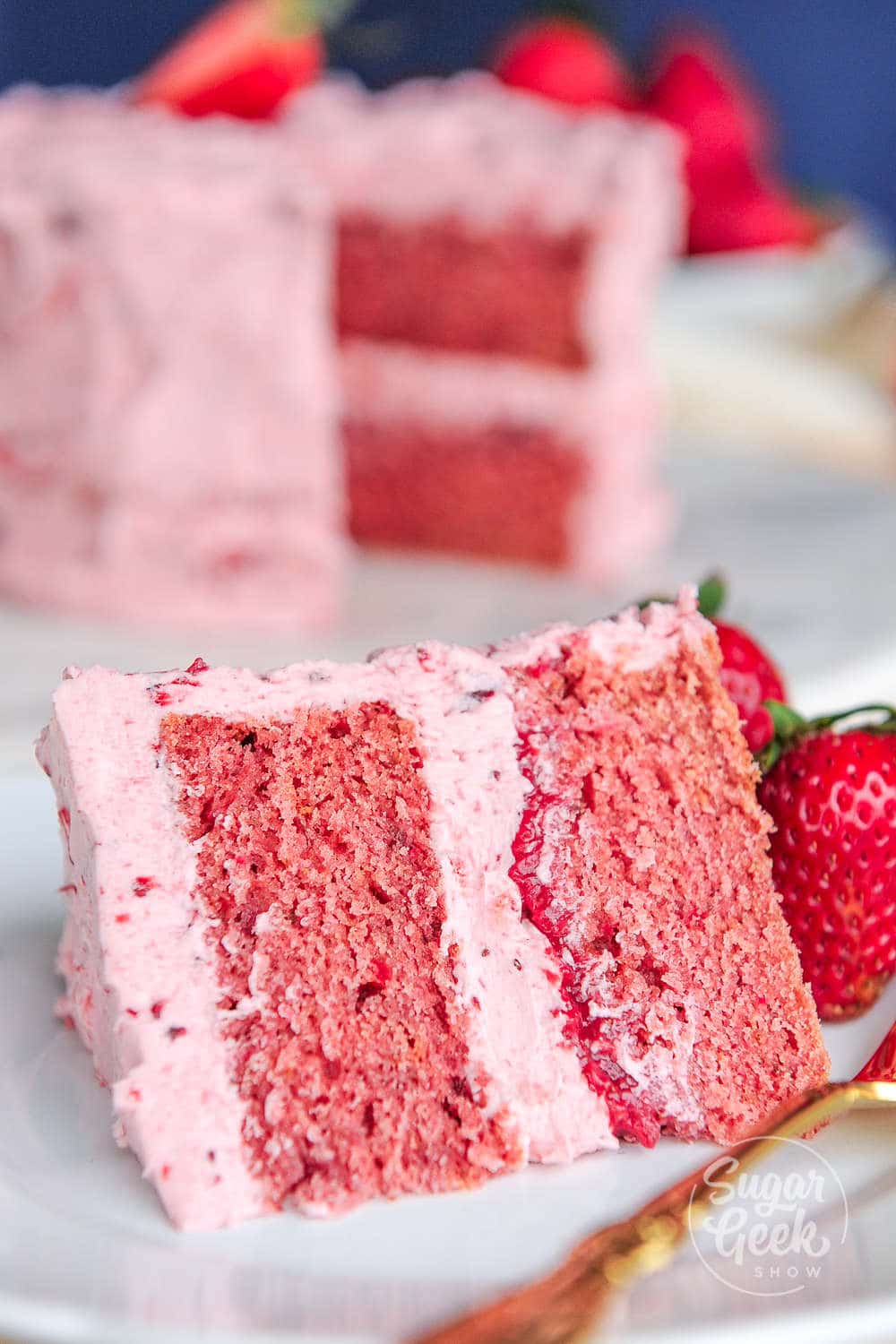 Fresh strawberry cake tests and fails
So I began testing my own strawberry cake recipes. I have never worked so long an hard on one recipe. SO many failed attempts and I almost gave up. This is probably way more information than you ever needed to know about strawberry cake.
Here are some of the things I tried to make a successful strawberry cake with fresh strawberries.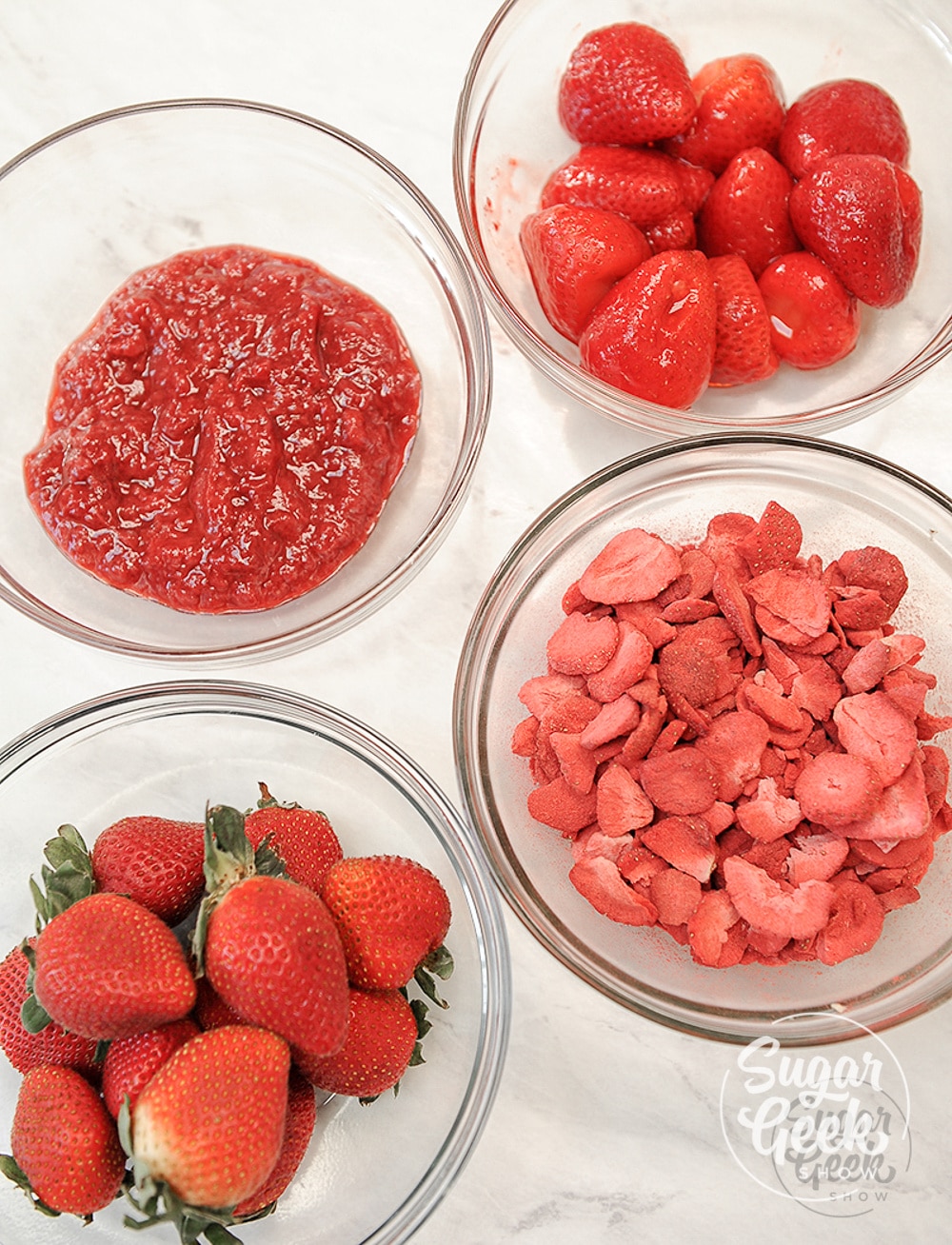 Can you just add fresh strawberries to vanilla cake to make a strawberry cake?
Have you ever seen a baking video where they just chop up fresh strawberries and add them to the cake batter and claim it tastes amazing? I'm sorry, but that's a big fat lie.
When strawberries are baked, not only do they lose their strawberry flavor but they turn a really weird and sad grey color. It actually looks like pockets of rotten fruit in the cake batter. NOT appetizing at all!
In my first test, I chopped up some fresh strawberries and drained the juices. I added the chopped strawberries to the batter and the juice to the milk. I subtracted the same amount of milk as the juice that I added so I was not adding more liquid to my batter. I reduced the sugar by 1 oz to account for any sugar in the strawberries.I was pretty sure this would not work but I just wanted to make sure. Just as I feared, this cake was very wet, dense, and brown. Not the pretty strawberry cake I was imagining.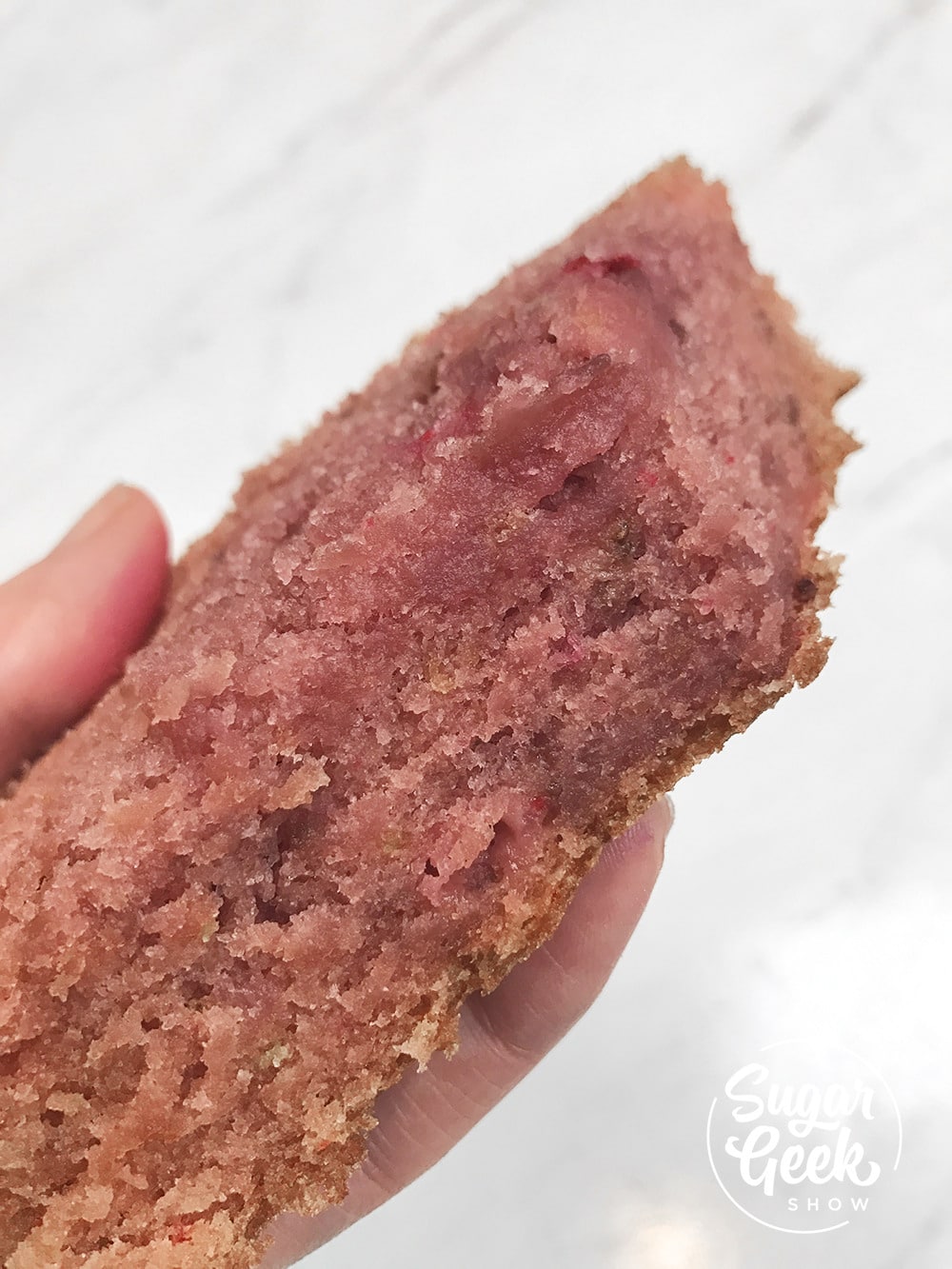 Freeze-Dried Strawberry Cake Test
In this test, I decided to use freeze-dried strawberries. Definitely not as easy to find as fresh but most places carry them. They are not cheap either. 1.7oz bag cost me about $4. I used the whole bag.
I ground up my strawberries in a spice grinder, sifted out the large chunks and added it to my dry ingredients. I had a feeling this cake might need some extra moisture so I upped the liquids and added a little vegetable oil. I also added a touch of pink and red food coloring to counteract the brown.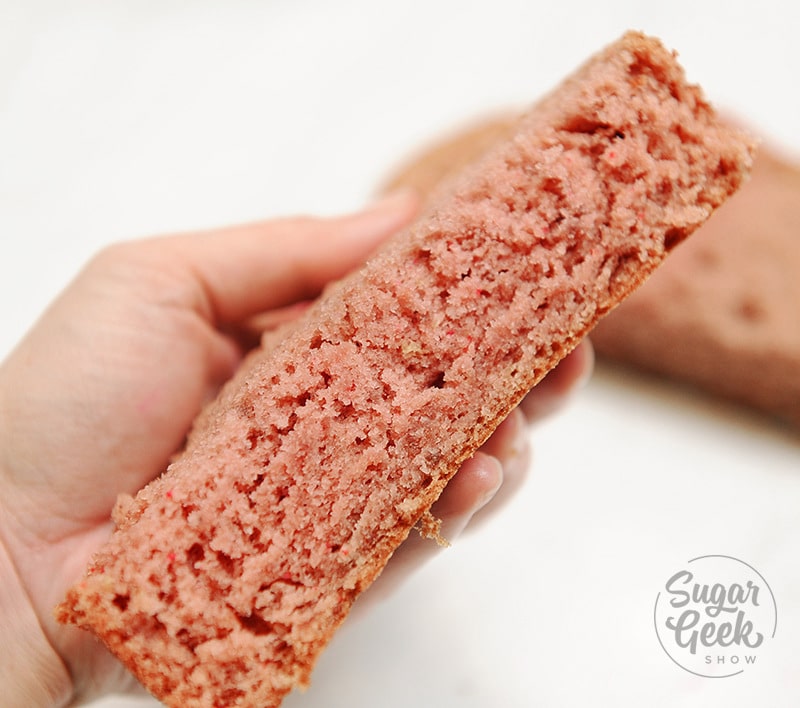 This cake was really good! The crumb was very nice, the flavor was a very bright, tart strawberry flavor and definitely a win in my book! But I was still searching for that recipe with REAL strawberries.
I decided to do one more test.
Fresh strawberry cake made with a strawberry reduction
I had tried using a strawberry reduction in previous tests but the texture was still really gummy. This time I tried reducing the liquids further to make a really thick reduction. I also added in lemon zest to intensify the tartness of the strawberry flavor.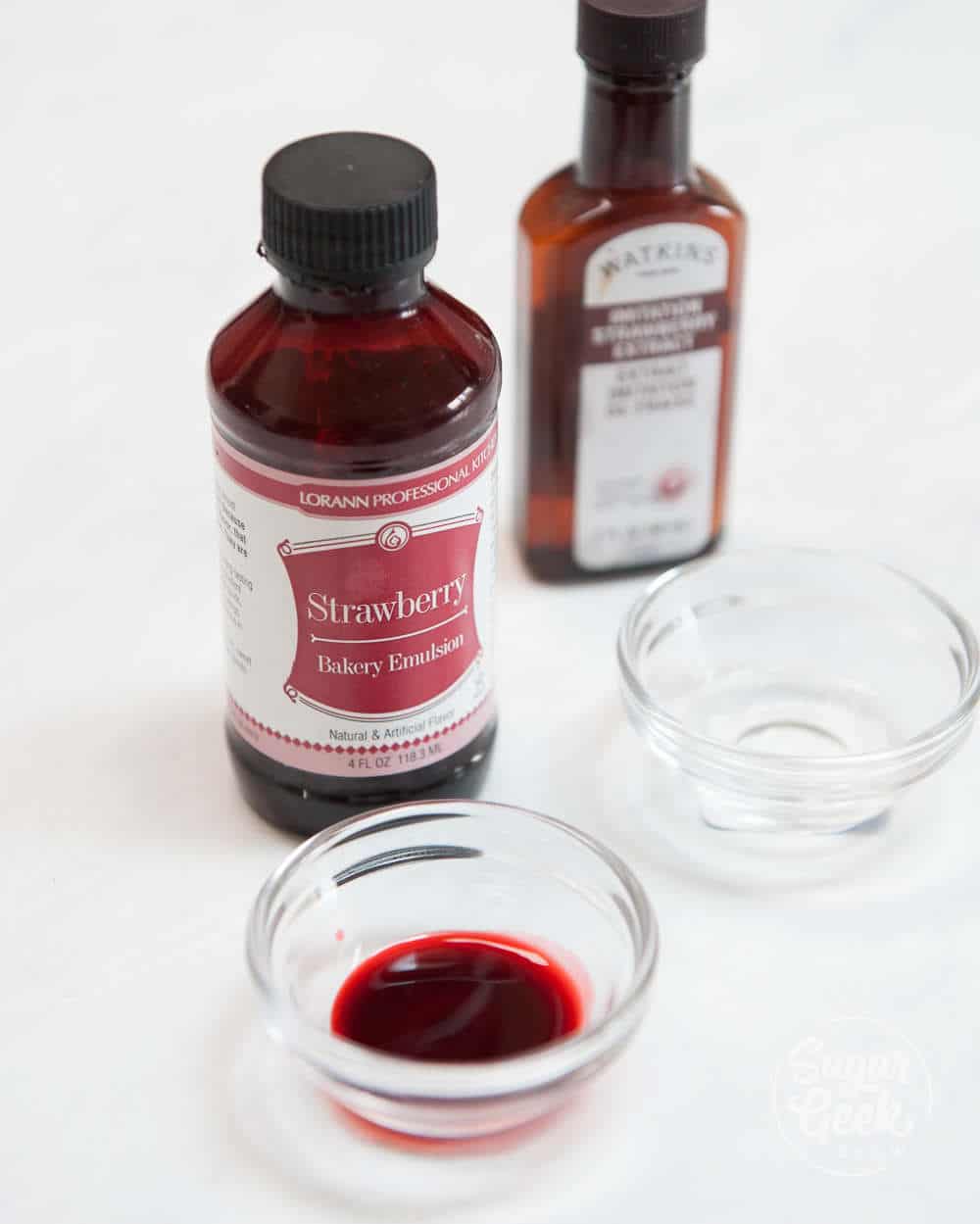 I also used strawberry emulsion instead of strawberry extract (not necessary but helps with color and flavor). I also added a couple of drops of electric pink food coloring to get that pink color I was looking for.
The result? An incredibly moist and delicate strawberry cake that tasted EXACTLY like strawberries.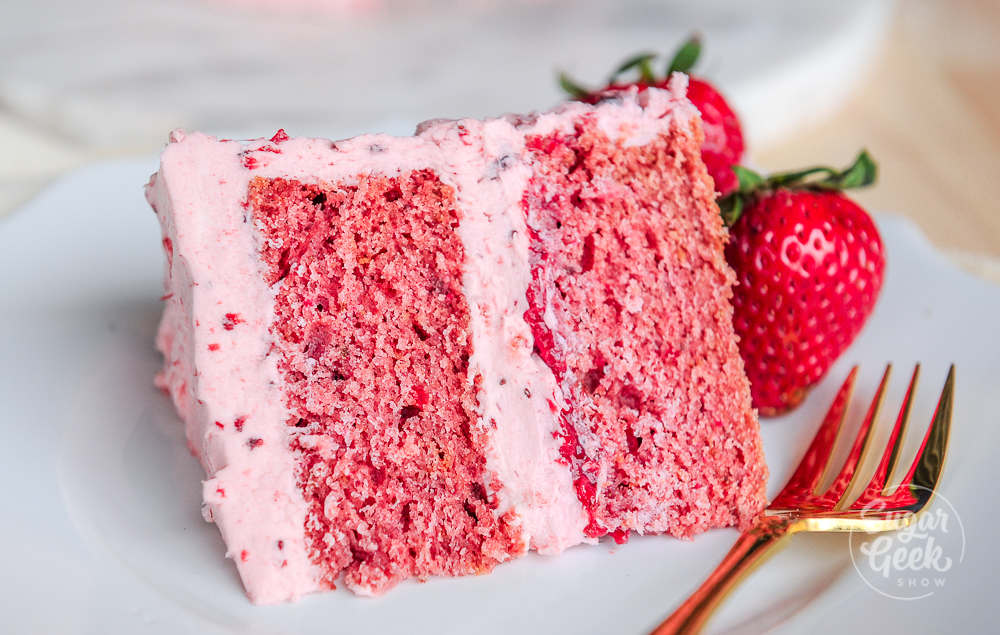 I kid you not, I screamed with joy when I cut into this cake! The crumb was PERFECT! The flavor is amazing! I pretty much ran to all the rooms of the house forcing my daughter, husband and assistant to all try the cake immediately. I wanted to make sure I wasn't just going crazy. That this was the real deal!
Rave reviews all around! *self high-five*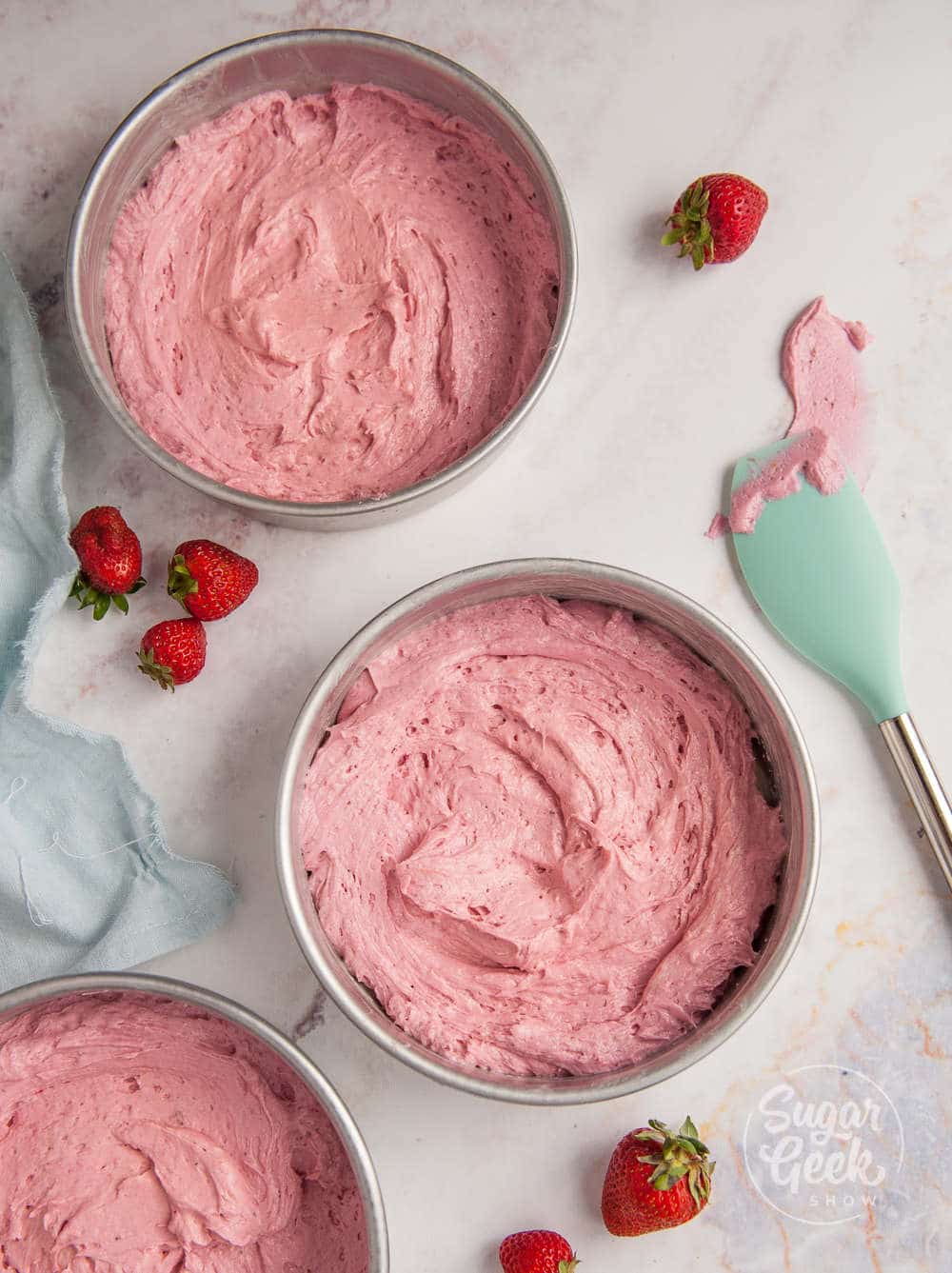 How to make a strawberry reduction
Combine your strawberries and sugar in a medium saucepan. If they are frozen, defrost them first. If they are fresh remove the tops and chop into chunks. Blend with an immersion blender if you prefer a smooth reduction.
Bring the mixture to a boil and then reduce to low and let simmer. Occasionally stir to prevent burning.
Once the strawberry reduction is thick like tomato paste, you're good to go!
Mix in the lemon zest, juice and salt.
Let the strawberry reduction cool before using it in your cake batter. I use half in the batter and half in the frosting!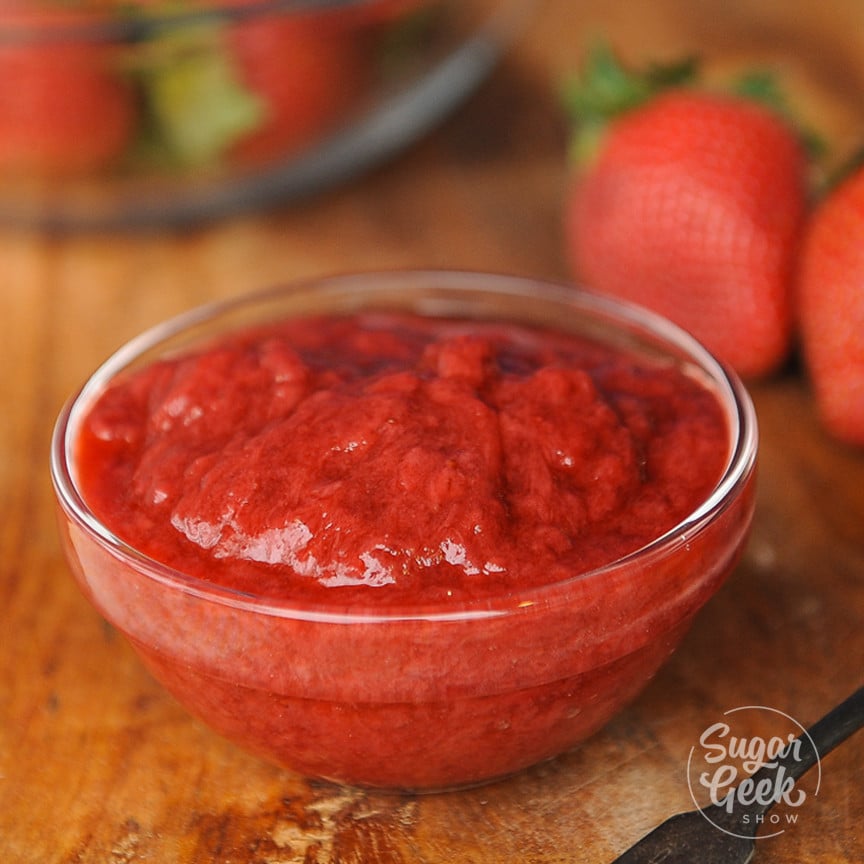 How to make your strawberry layer cake
If you need more information on how to frost and fill a cake, check out my how to make your first cake tutorial
Make sure your cakes are chilled or even partially frozen when stacking so that they are easier to handle. Trim off the brown edges and tops if desired.
Make your buttercream and fold in the leftover strawberry reduction for a fresh and tasty strawberry frosting!
Put your first layer of strawberry cake down and then spread on a generous layer of frosting. Try to keep it flat.
Place your next layer of cake on top and repeat with remaining layers.
Cover the whole cake in a thin layer of strawberry buttercream and then chill in the fridge for 20 minutes until the buttercream is firm. This is called the crumb coat.
Frost the cake with a final layer of buttercream and decorate as desired! This cake should be refrigerated until serving. Allow the cake to sit at room temperature for 2 hours before serving. Cold cake doesn't taste very good!
I hope you enjoy this recipe! Please link to this recipe if you make it so that I can see your creations!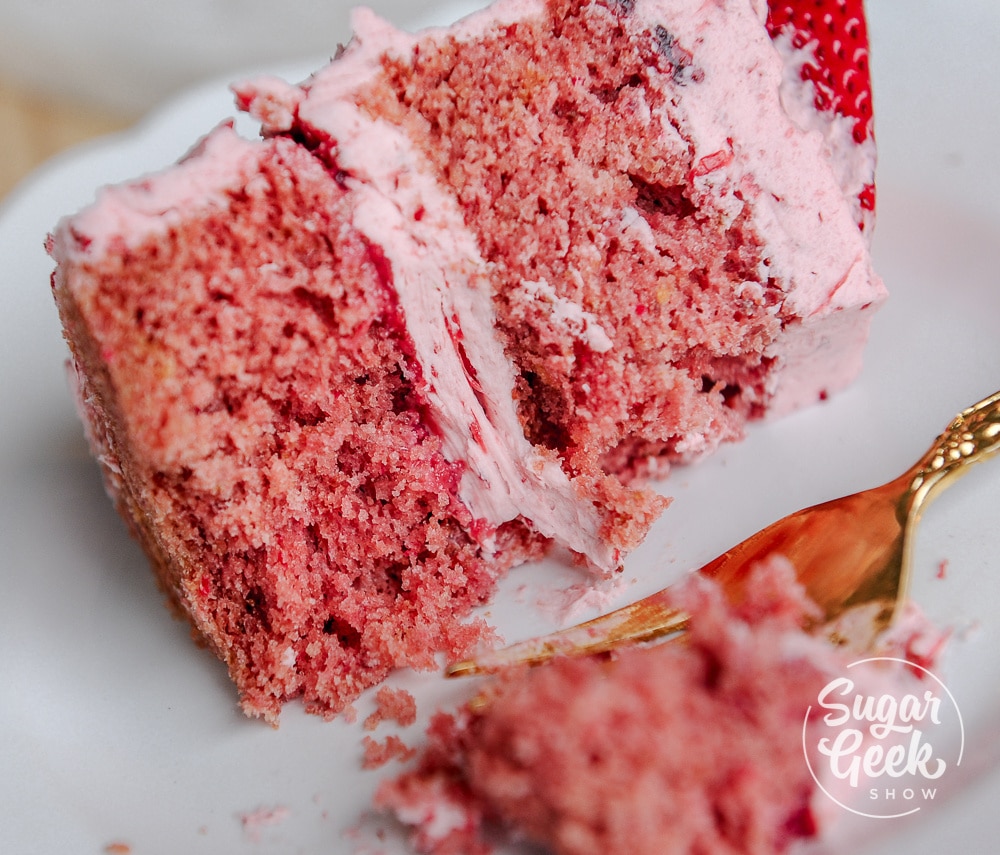 Cake Batter and Frosting Calculator
Select an option below to calculate how much batter or frosting you need. Adjust the servings slider on the recipe card to change the amounts the recipe makes.
Choose a pan type
Choose a cake pan size
(based on 2" tall cake pan)
Choose a cake pan size
(based on 2" tall cake pan)
Choose a cake pan size
(based on 2" tall cake pan)
Cups of Batter Needed
8 cups
Cups of Frosting Needed
5 cups
Did You Make This Recipe?Leave a rating and tell me how it went!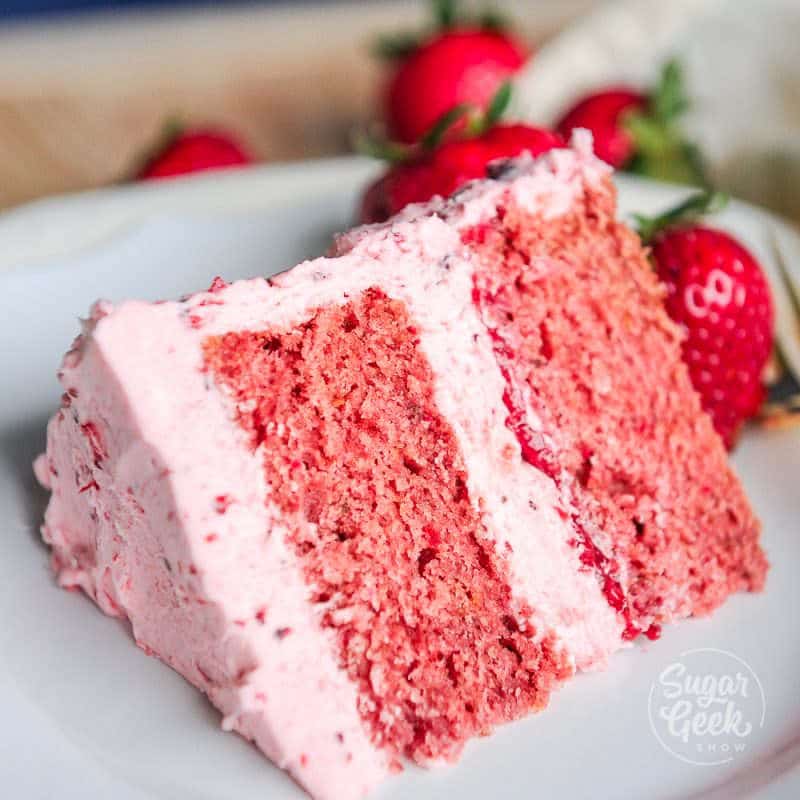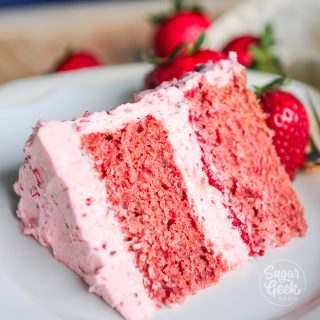 Fresh Strawberry Cake With Strawberry Buttercream Recipe
This fresh strawberry cake is made from FRESH strawberry reduction! The cake is moist and tender with a beautiful pink color. The perfect cake for summer! This recipe makes three 8"x2" cake rounds with strawberry buttercream and strawberry filling.
Print
Rate
Never Miss A Cake
Serves: 24 servings
Calories: 603kcal
Ingredients
Fresh Strawberry Cake Ingredients
14 ounces (397 g) all purpose flour
1 1/2 teaspoons baking powder
1 teaspoon baking soda
1/2 teaspoon salt
8 ounces (226 g) unsalted butter room temperature
10 ounces (284 g) granulated sugar
1 teaspoon vanilla extract
1/2 teaspoon lemon extract
1 1/2 teaspoon strawberry emulsion or extract, I use LorAnn oils bakery emulsion
zest one lemon
1 Tablespoon lemon juice fresh
6 ounces (170 g) egg whites room temperature
4 ounces (113 g) strawberry reduction room temperature
6 ounces (170 g) milk room temperature, whole milk is best
1/2 teaspoon Pink food color I use Americolor electric pink gel
Strawberry Reduction
32 ounces (907 g) fresh or frozen strawberries thawed
1 teaspoon lemon zest
1 Tablespoon lemon juice
1 pinch salt
4 ounces (113 g) sugar optional
Easy Strawberry Buttercream Frosting
4 ounces (113 g) pasteurized egg whites
16 ounces (454 g) unsalted butter room temperature
16 ounces (454 g) powdered sugar
1/2 teaspoon salt
1 teaspoon vanilla extract
4 ounces (113 g) strawberry reduction room temperature
Equipment
Stand mixer with whisk and paddle attachments (or a hand mixer)

Food Scale

Three, 8"x2" round cake pans

Wire rack
Instructions
Strawberry Reduction Instructions
I recommend making this reduction the day before you're ready to make your cake.

Place fresh or thawed, frozen strawberries into a medium saucepan. Optional: blend strawberries with an emersion blender if you prefer a smoother texture of strawberry reduction.

Heat on medium-high and add in sugar (if desired), lemon zest, lemon juice and salt. Stir occasionally to prevent burning.

Once bubbling, reduce heat to medium-low and slowly reduce until berries begin to break up and the mixture has reduced by about half. This will take about 20 minutes. If your mixture has reduced by half and is still watery, continue to cook until all of the liquid is out.

Occasionally stir the mixture to prevent burning. You should end up with about 2 cups of thick strawberry reduction that looks like tomato sauce. Transfer to another container and let cool before use. 

You will use some of the reduction for the cake batter, some for the frosting and the rest for filling between the cake layers for extra moisture. Leftover reduction can be stored in the fridge for up to one week or frozen for 6 months.
Strawberry Cake Instructions
NOTE: It is SUPER IMPORTANT that all the room temperature ingredients listed above are room temperature and not cold or hot.

Make sure to take your strawberry reduction out of the refrigerator 1 hour before making your cake so that it comes to room temperature.

Adjust an oven rack to the middle position and preheat to 350ºF/176ºC.

Grease three 8" cake pans with cake goop or preferred pan release

In a separate medium bowl, whisk together the milk, strawberry reduction, strawberry emulsion, vanilla extract, lemon extract, lemon zest, lemon juice, and pink food coloring.

In a separate medium bowl, whisk together the flour, baking powder, baking soda and salt.

Add room temperature butter to your stand mixer with the paddle attachment and beat at medium speed until smooth and shiny, about 30 seconds.

Gradually sprinkle in the sugar, beat until mixture is fluffy and almost white, about 3-5 minutes.

Add the egg whites one at a time, beating 15 seconds in between. Your mixture should look cohesive at this point. If it looks curdled and broken, your butter or egg whites were too cold. 

Mix on low speed and add about a third of the dry ingredients to the batter, followed immediately by about a third of the milk mixture, mix until ingredients are almost incorporated into the batter. Repeat the process 2 more times. When the batter appears blended, stop the mixer and scrape the sides of the bowl with a rubber spatula. If it looks like ice cream, you did it right!

Divide the batter evenly between the prepared pans. Smooth the tops with a rubber spatula.

Bake cakes at 350ºF/176ºC until they feel firm in the center and a toothpick comes out clean or with just a few crumbs on it, about 30-35 minutes.

Place pans on top of a wire rack and let cool for 10 minutes. Then flip your cakes onto the racks and cool completely. 

Once cooled, wrap each layer in plastic wrap and refrigerate or freeze before assembling your cake.
Buttercream Instructions
Place egg whites and powdered sugar in a stand mixer bowl. Attach the whisk and combine ingredients on low and then whip on high for 5 minutes 

Place pasteurized egg whites and powdered sugar in the bowl of your stand mixer. Add the whisk attachment and combine ingredients on low, then whip on high for 5 minutes.

Add in your softened butter in chunks and whip on high for 8-10 minutes until it's very white, light and shiny. It may look curdled and yellow at first, this is normal. Keep whipping.

Add in strawberry reduction, vanilla extract and salt and continue whipping until incorporated.

Optional: Switch to a paddle attachment and mix on low for 15-20 minutes to make the buttercream very smooth and remove air bubbles.
Decorating the cake
Place your first layer of strawberry cake onto a cake plate or cake board. Trim off the dome if needed with a sharp knife so the top of the cake is flat.

Add a very thin layer or your cooled reduction over the cut surface. This helps soak into the cake and adds moisture and strawberry flavor.

Add a layer of strawberry buttercream, I shoot for about 1/4". Smooth it with your offset spatula until it's flat.

Frost the outside of your cake with the leftover buttercream and decorate with some fresh. strawberries if desired.
Notes
Cake Notes: 
Make sure all your ingredients (egg whites, milk, butter, reduction) are room temperature or a little warm so that your batter doesn't curdle.
For the best success, use a food scale to weigh your ingredients. Converting this recipe to cups could lead to failure. Read my blog post on how to use a scale for more information.
I use Americolor electric pink food coloring to get my beautiful pink color. It may seem like cheating, but if you don't add it, the color from the strawberries will bake out and your cake will turn out gray.
I'm using my Bosch Universal Plus mixer for this, but you can use any KitchenAid stand mixer or a hand mixer. 
You must use egg WHITES for this recipe, the yellow from the egg could turn the inside of your cake peach. 
I like to use LorAnn oil's strawberry bakery emulsion, but you can also use extract. 
Reduction Notes:
When making your reduction, the goal is to get as much liquid out as possible without burning the strawberries. The mixture should look like thick tomato sauce and will have reduced by half.
You will use some of the reduction for the cake batter, some for the frosting and the rest for filling between the cake layers for extra moisture. Leftover reduction can be stored in the fridge for up to one week or frozen for 6 months.
Strawberry Buttercream Notes:
Make sure your frosting is very light and white before adding in the puree. Give it a taste, if it still tastes like butter, keep whipping it until it tastes like sweet ice cream.
If your buttercream looks curdled, it's too cold. Take out 1/2 cup of buttercream and melt it in the microwave until it's just barely melted. About 10-15 seconds. Pour it back into your buttercream, and mix until creamy.
Nutrition
Serving: 1serving | Calories: 603kcal (30%) | Carbohydrates: 63g (21%) | Protein: 3g (6%) | Fat: 39g (60%) | Saturated Fat: 24g (120%) | Cholesterol: 102mg (34%) | Sodium: 222mg (9%) | Potassium: 89mg (3%) | Fiber: 1g (4%) | Sugar: 50g (56%) | Vitamin A: 1190IU (24%) | Vitamin C: 2.9mg (4%) | Calcium: 37mg (4%) | Iron: 0.8mg (4%)