Strawberry cinnamon rolls with cream cheese frosting
Strawberry cinnamon rolls actually don't have any cinnamon in them at all. Instead of cinnamon sugar, the rolls are filled with thick strawberry reduction and fresh strawberries. Roll them up, cut them and let them rise overnight. Bake them fresh in the morning and glaze with lemon cream cheese frosting while still warm for the most amazing strawberry cinnamon rolls ever!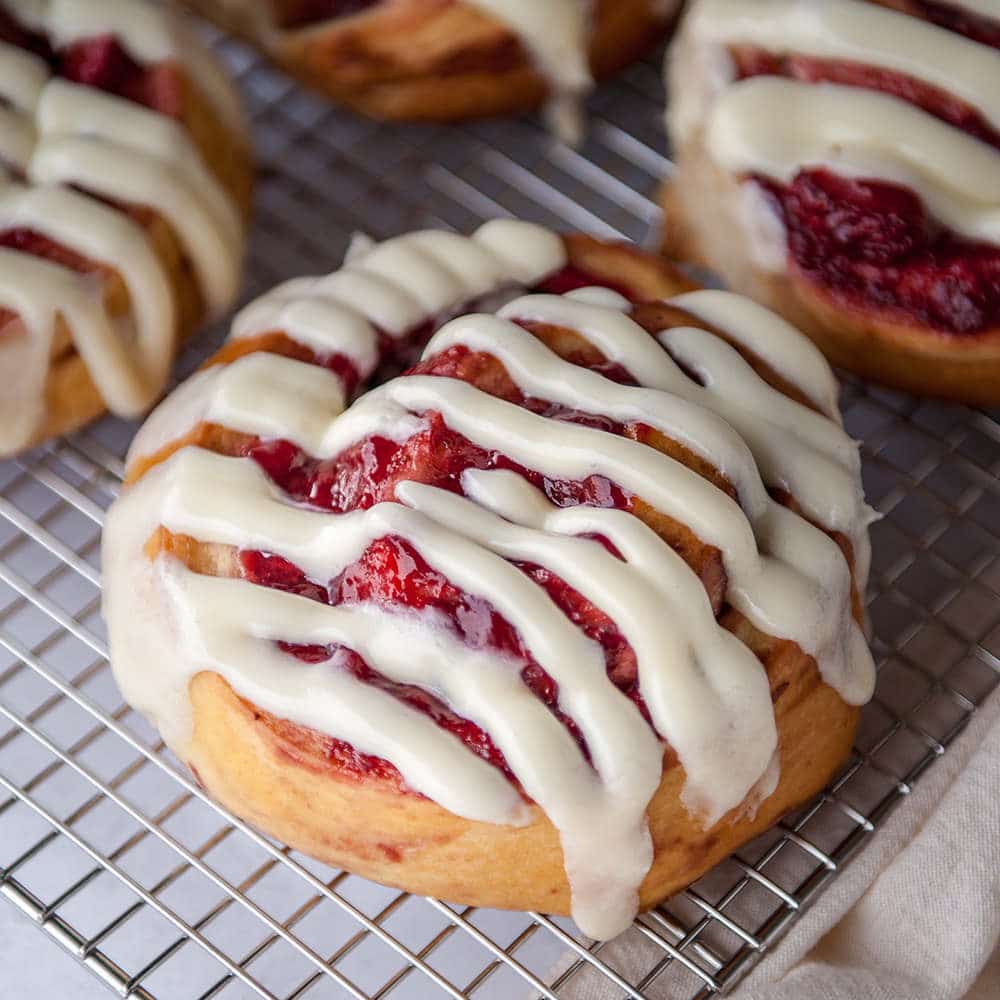 How to make a strawberry reduction for strawberry cinnamon rolls
Strawberry cinnamon rolls start off with strawberry reduction. I add a little bit more sugar to this recipe because the cinnamon rolls are not very sweet so you need that added sugar.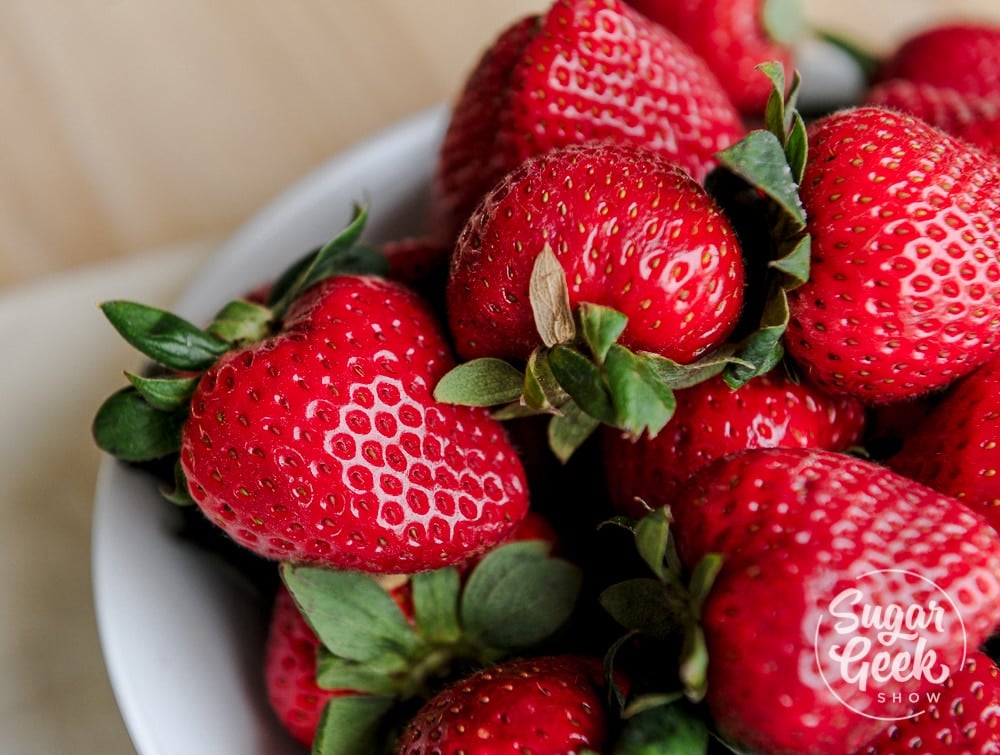 Unless strawberries are in season, I will use frozen strawberries which are always in season.
Combine your sugar and strawberries (frozen or thawed, it doesn't matter) in a medium saucepan and bring to a simmer. Stir occasionally to prevent burning.
Once the strawberries are defrosted you can use an immersion blender to break down the berries a bit but they will break down on their own as the mixture cooks.
Let the strawberry reduction reduce for 5-10 minutes then add in your ClearJel slurry (or you can use cornstarch). Put the strawberry reduction into the fridge to cool overnight.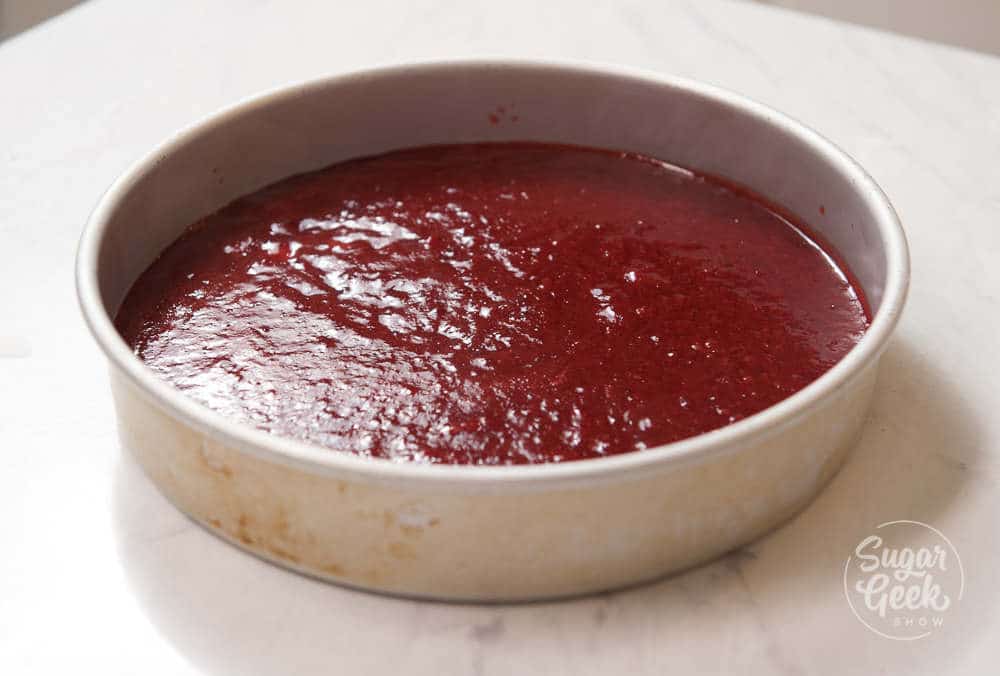 How to make the strawberry cinnamon roll dough
Make your sweet dough by combining the warmed milk (110ºF), one Tablespoon of sugar and yeast in a measuring cup or bowl and let it sit until it's foamy.
Combine the yeast mixture with the flour in the bowl of your stand mixer with the dough attachment and mix until just combined. Then add in the rest of your ingredients.
You can do this by hand as well, you'll just have to use some elbow grease.
Let the dough mix on low for a few minutes and then bump the speed up to medium. You want to let the dough mix until it all starts clinging to the dough hook and bounces back when you press it with your finger.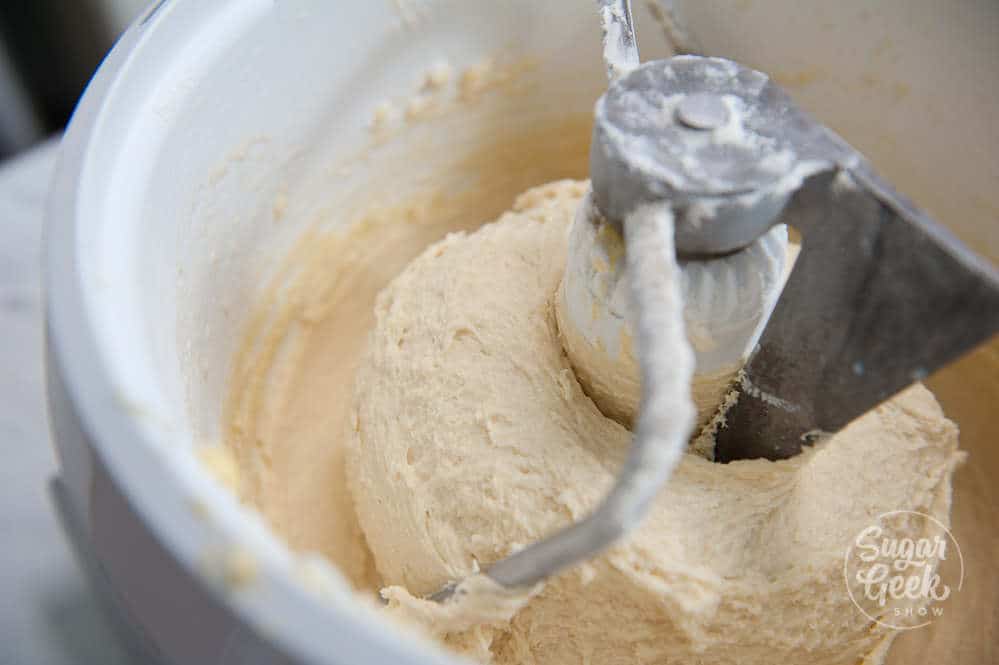 If the dough is too wet and isn't clinging to the dough hook you can add in ¼ cup of flour to make it stiffer. If the dough is too dry, add 1 Tablespoon of water.
You can also test the dough by doing the window test. Take a small piece of the dough and stretch it between your fingers. If you can make the dough super thin until you can almost see through it, enough gluten has developed and the dough is ready.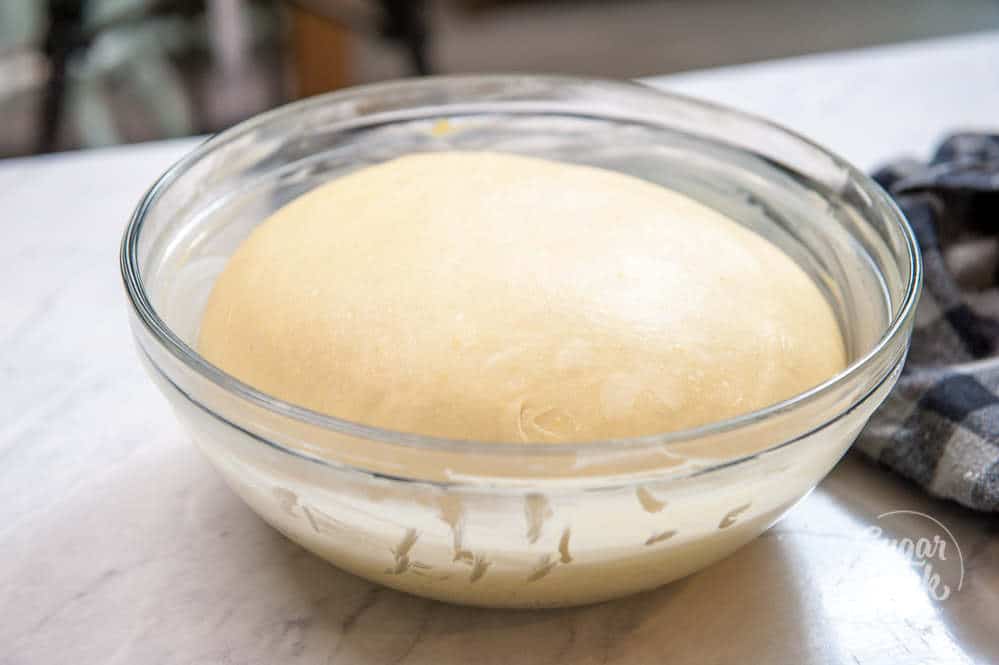 Place the dough into a buttered bowl, cover it with a towel to keep it moist and place it in a warm area to rise for 90 minutes. I turn my oven on to 170ºF, open the door and place the bowl on the oven door because my kitchen is usually too cold. Dough likes to rise around 90ºF.
How to assemble strawberry cinnamon rolls
Roll your dough out into a rectangle. You want the thickness of the dough to be about ¼". Spread a thin layer of strawberry reduction all over the top of the dough, avoid the back ½" so you can seal the rolls.
Sprinkle some freshly chopped strawberries over the top of the reduction (optional).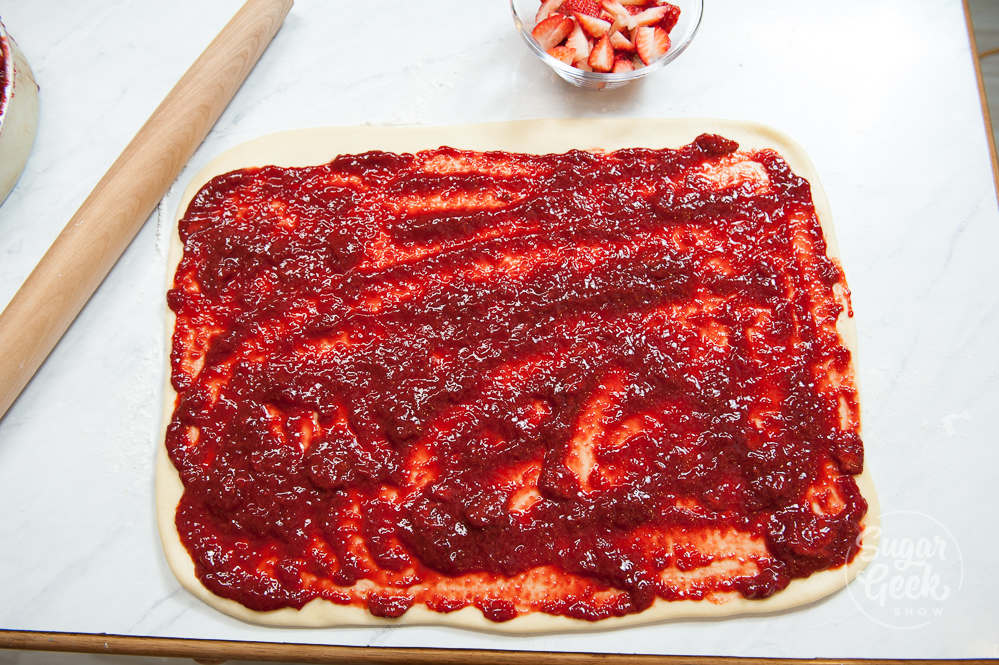 Then roll up your dough into a nice tight spiral. I admit some of my strawberry filling oozed out a bit and it was kind of a messy process. I just spooned the leftovers back into the rolls. I had a little leftover reduction that I used to fill in some gaps after the rolls were done baking.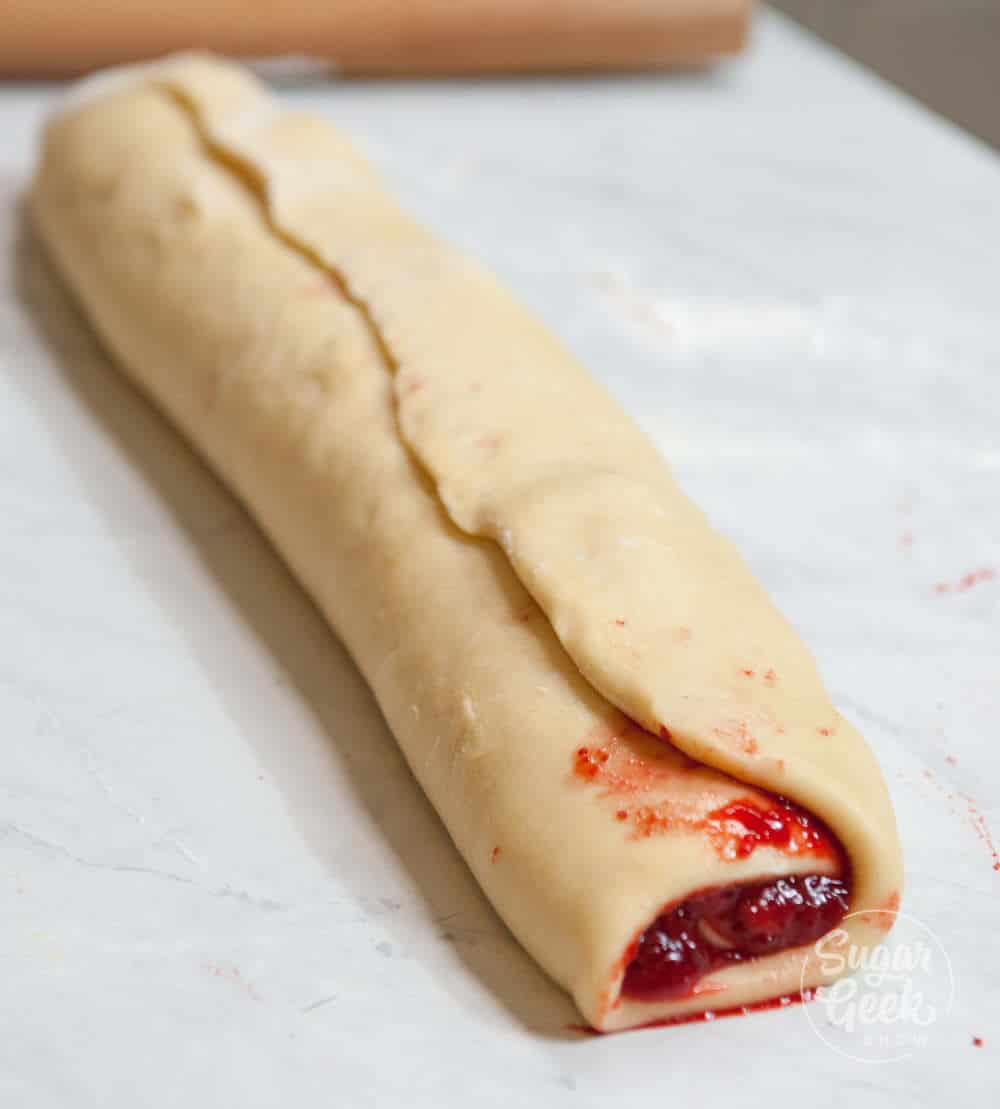 Cut the spiral into 8-10 equal-sized rolls. Arrange these onto a large baking sheet lined with parchment paper. Cover the rolls with plastic wrap, make sure the edges are pulled tight against the metal to prevent air from getting in.
Place the pan of rolls into the fridge overnight.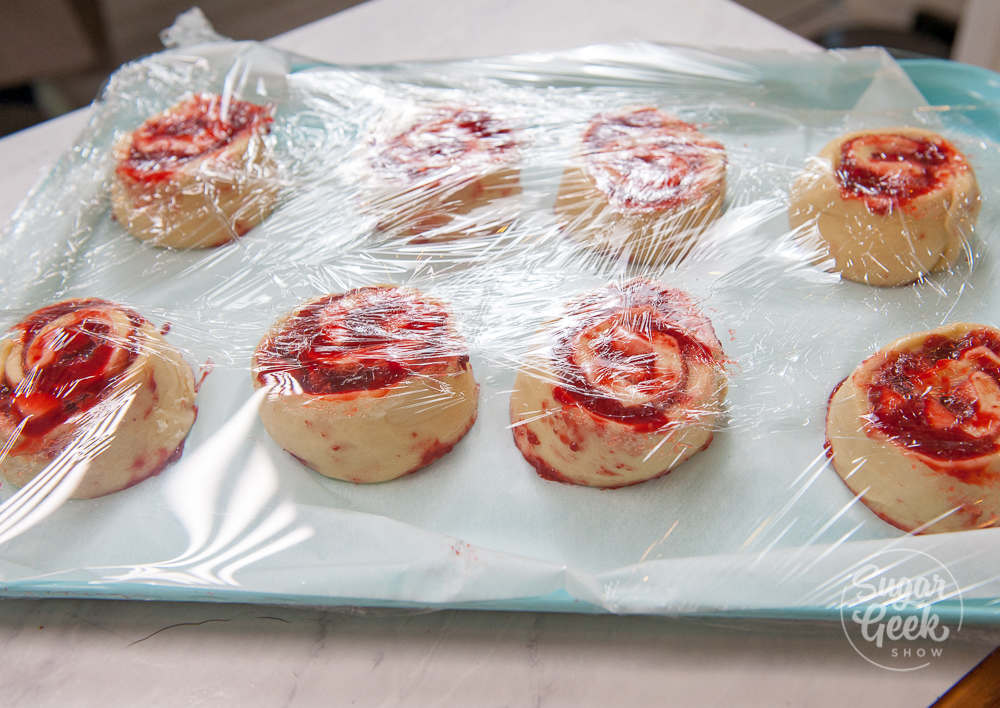 Bring the rolls out of the fridge about two hours before you want to bake them and let them warm up and double in size.
Brush the rolls with some egg wash and then bake the rolls in the oven at 350ºF for about 30 minutes or until the internal temperature reads 180º-200ºF.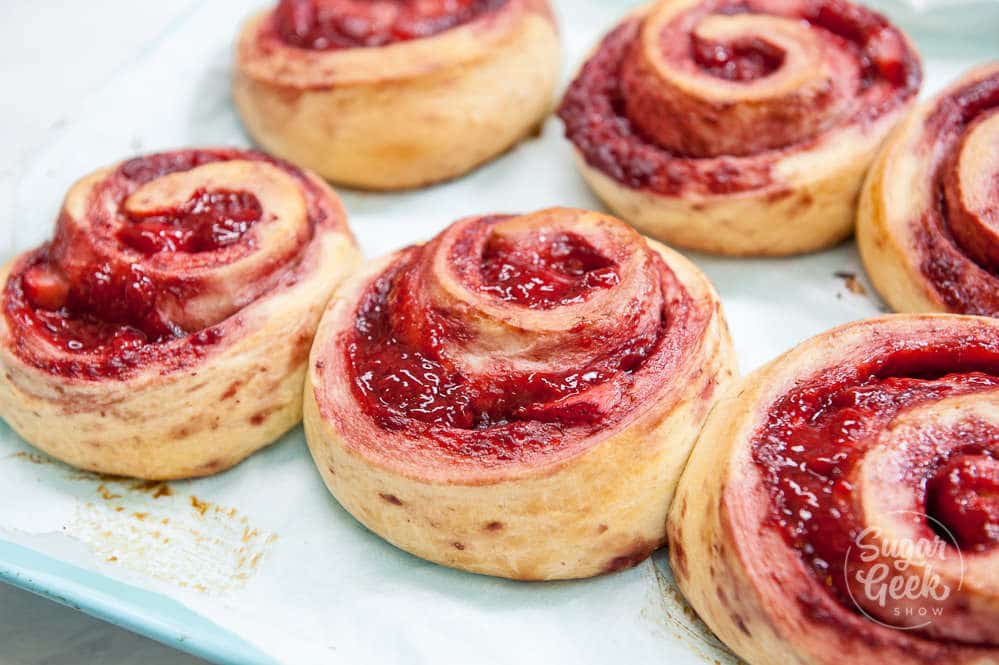 How to make cream cheese frosting for strawberry cinnamon rolls
Making the cream cheese frosting is super easy. Just cream your cream cheese until it's nice and smooth so you don't have any lumps. I find a hand mixer works best. Then add in your softened butter and sifted powdered sugar.
Then add in your heavy cream, salt and lemon extract. You can add more or less cream depending on how thick or thin you want your frosting. I like mine pretty thin.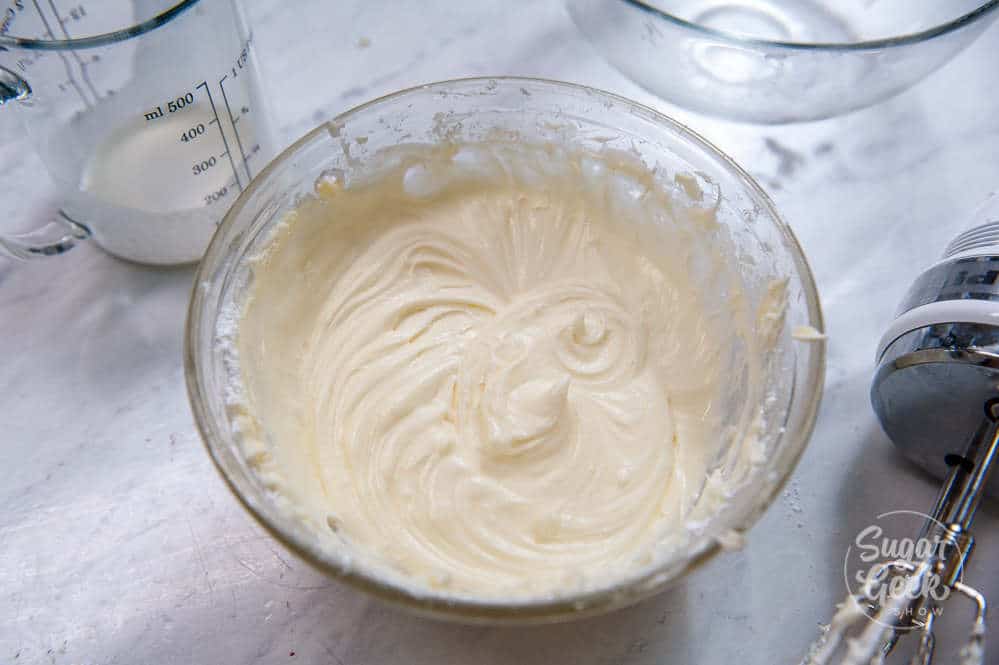 Drizzle the frosting over the top of your warm rolls with a piping bag or a spoon and serve!
These strawberry cinnamon rolls with cream cheese frosting make the most amazing weekend brunch. The rolls are HUGE, like the size of my hand. If you want smaller rolls then you can cut your spiral into 12 slices instead of 8.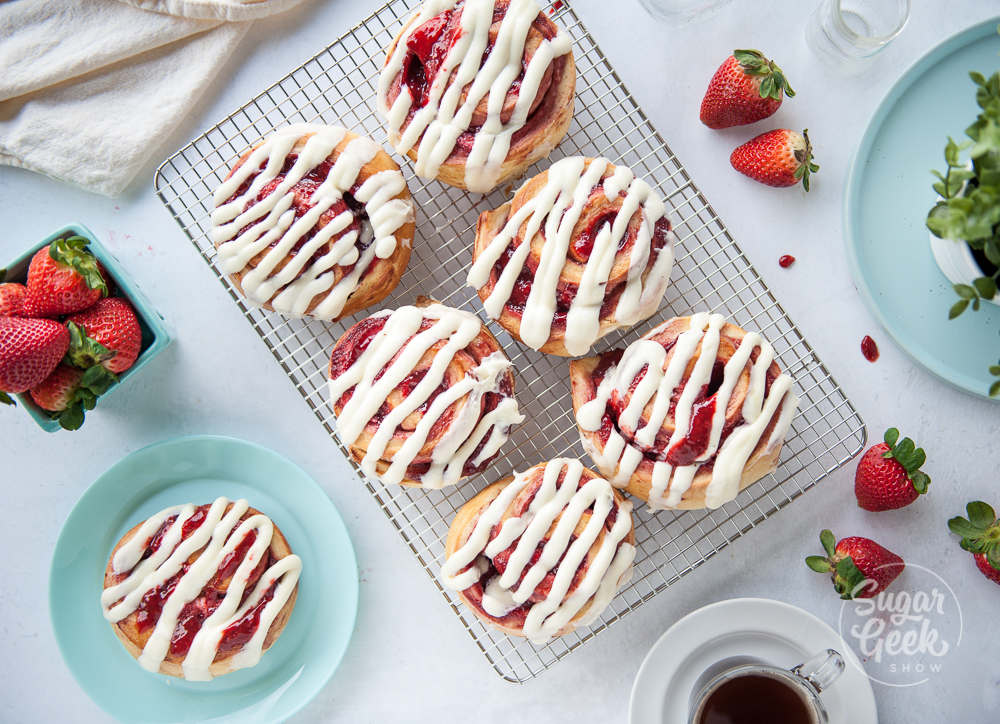 I made these strawberry cinnamon rolls as part of my son's four-month photoshoot which you can see here.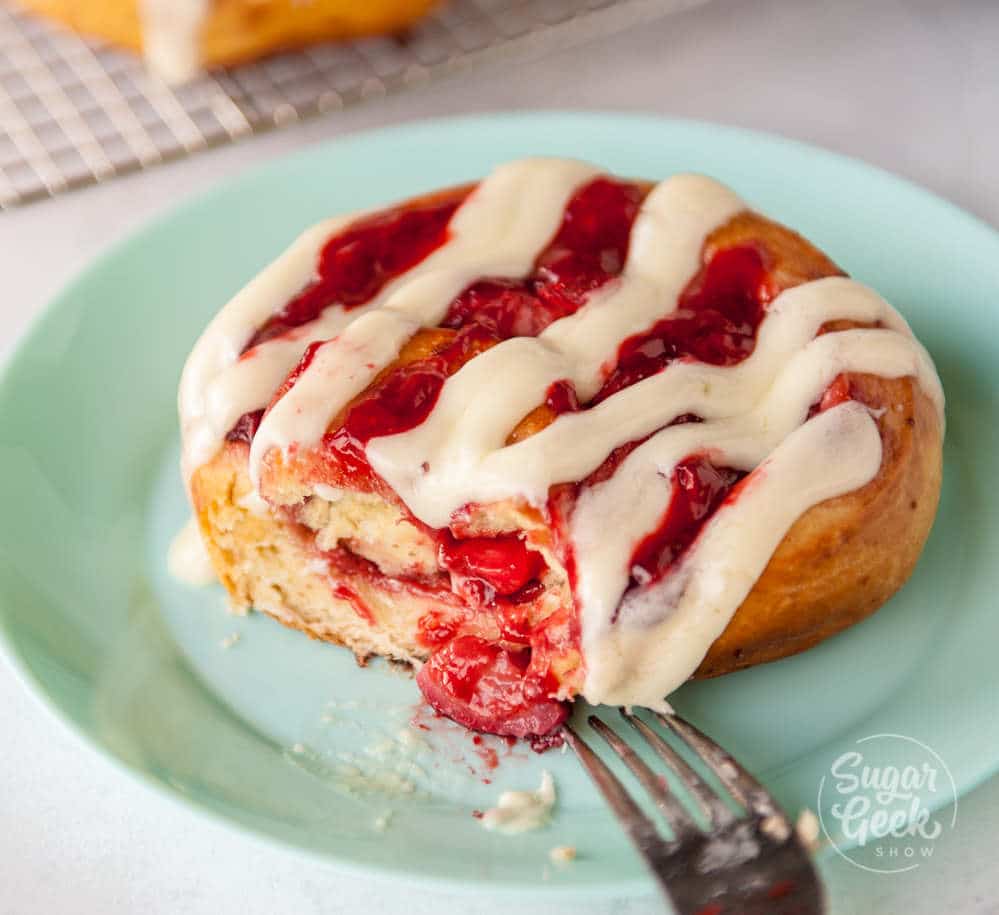 Recipe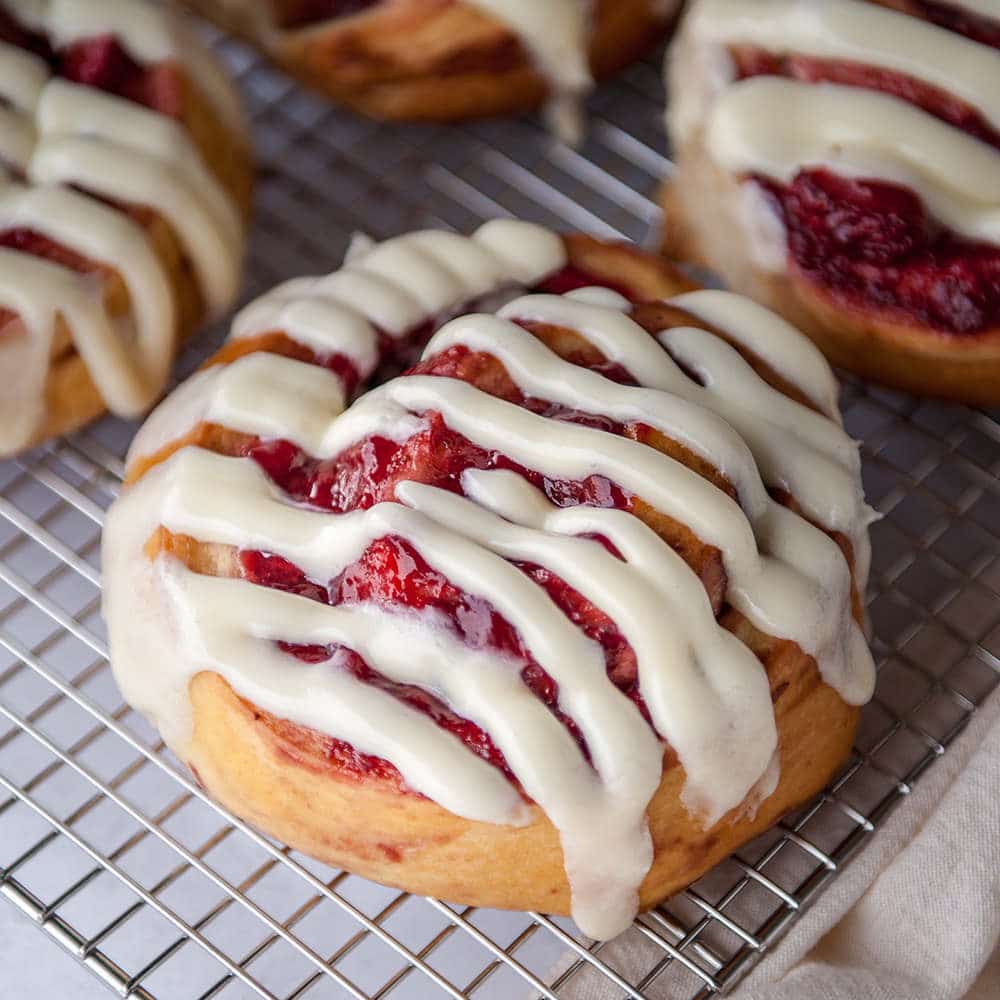 Equipment
Stand mixer with dough hook

One sheet pan (13"x18") or similar sized pan

Parchment Paper
Ingredients
Cinnamon Roll Dough
4

ounces

milk

110ºF

5

grams

dried instant yeast

14

ounces

all-purpose flour

or bread flour

4

ounces

butter

softened

2

ounces

sugar

½

teaspoon

salt

2

large

eggs

room temperature
Strawberry Reduction
16

ounces

fresh or frozen strawberries

6

ounces

granulated sugar

2

teaspoons

lemon juice

2

teaspoons

lemon zest

4

Tablespoons

ClearJel

or 2 Tablespoons cornstarch

2

ounces

water

1

cup

fresh strawberries

chopped
Cream cheese frosting
4

ounces

cream cheese

softened

4

ounces

unsalted butter

softened

3

ounces

powdered sugar

¼

teaspoon

salt

2

ounces

heavy whipping cream

or less if you like a thicker consistency

1

teaspoon

vanilla extract
Instructions
Warm milk to 110ºF. Add in 1 Tablespoon of your sugar and then the yeast and whisk to combine. Set aside for 5 minutes or until foamy.

Place flour in the mixing bowl with the yeast/milk mixture and stir until combined

Add in your eggs one at a time, letting each combine before you add the next

Add in sugar, butter and salt and mix on low until combined

Let mix on low for 5-10 minutes until the dough pulls away from the sides of the bowl and bounces back when you touch it. You can also do the window test (see blog post for example)

Shape the dough into a smooth ball and then place it into a greased bowl. Cover with a tea towel and let rise for 90 minutes in a warm place

***How to proof**(Pre-heat oven to 170ºF, leave the oven door OPEN and place a bowl of warm water in the back of the oven. Then place your covered bowl of dough onto the open oven door. Proof until double in size.)
For the strawberry filling
Combine strawberries and sugar in a medium saucepan and bring to a simmer

Crush berries with a spoon or immersion blender as the mixture cooks for 5-10 minutes on medium heat.

Combine ClearJel with lemon juice, zest, and water to make a slurry and add it to your simmering strawberries. Mix until thickened and then let cool.
To make the rolls
Line a 13"x18" sheet pan with parchment paper (or similar sized pan)

Once your dough has proofed, roll out the dough 10" wide, ¼" thick. It doesn't matter how long. Spread the strawberry filling over the surface evenly, all the way to the edges, except keep one edge without filling so you can seal it.

Sprinkle freshly chopped strawberries over the filling

Roll up the dough length-wise. Make sure the first roll is very tight so you get a nice spiral, then continue pushing the dough until you reach the edge. Brush a little water or egg wash along the bare edge so it seals the loose edge of the dough.

Cut the roll into 8-10 equal slices and arrange on your parchment covered pan

Cover loosely with a tea towel and let proof to double (about 90 minutes) then bake (or cover tightly with plastic wrap and put in the fridge if you want to bake them the next day. Let come to room temperature and proof to double before baking. This can take 1.5-2 hours depending on how warm your kitchen is)

Bake at 350ºF for 25-30 minutes or until golden brown depending on the size of your rolls. (Internal temperature reaches 200ºF)
For the cream cheese frosting
Cream the cream cheese with a hand mixer until smooth. Then add in the softened butter and cream until smooth.

Add in the powdered sugar, salt, vanilla and cream until smooth and the desired consistency. Drizzle over warm rolls. Add more cream for thinner frosting.
Video
Nutrition
Serving:
1
roll
|
Calories:
655
kcal
|
Carbohydrates:
83
g
|
Protein:
9
g
|
Fat:
33
g
|
Saturated Fat:
20
g
|
Cholesterol:
140
mg
|
Sodium:
470
mg
|
Potassium:
203
mg
|
Fiber:
3
g
|
Sugar:
43
g
|
Vitamin A:
1109
IU
|
Vitamin C:
34
mg
|
Calcium:
66
mg
|
Iron:
3
mg