The Bosch Universal Plus Mixer - Pros and Cons
You may have noticed a new mixer in my kitchen in a lot of my latest recipe videos like my fresh strawberry cake recipe and applesauce spice cake. I've been testing out a new mixer called the Bosch Universal Plus. What drew me to this mixer was its unique open-top design, large capacity, and powerful motor. I had also heard that Bosch mixers were really good mixers. Did the Bosch live up to expectations? Read on to see what I loved about the Bosch and what I didn't love.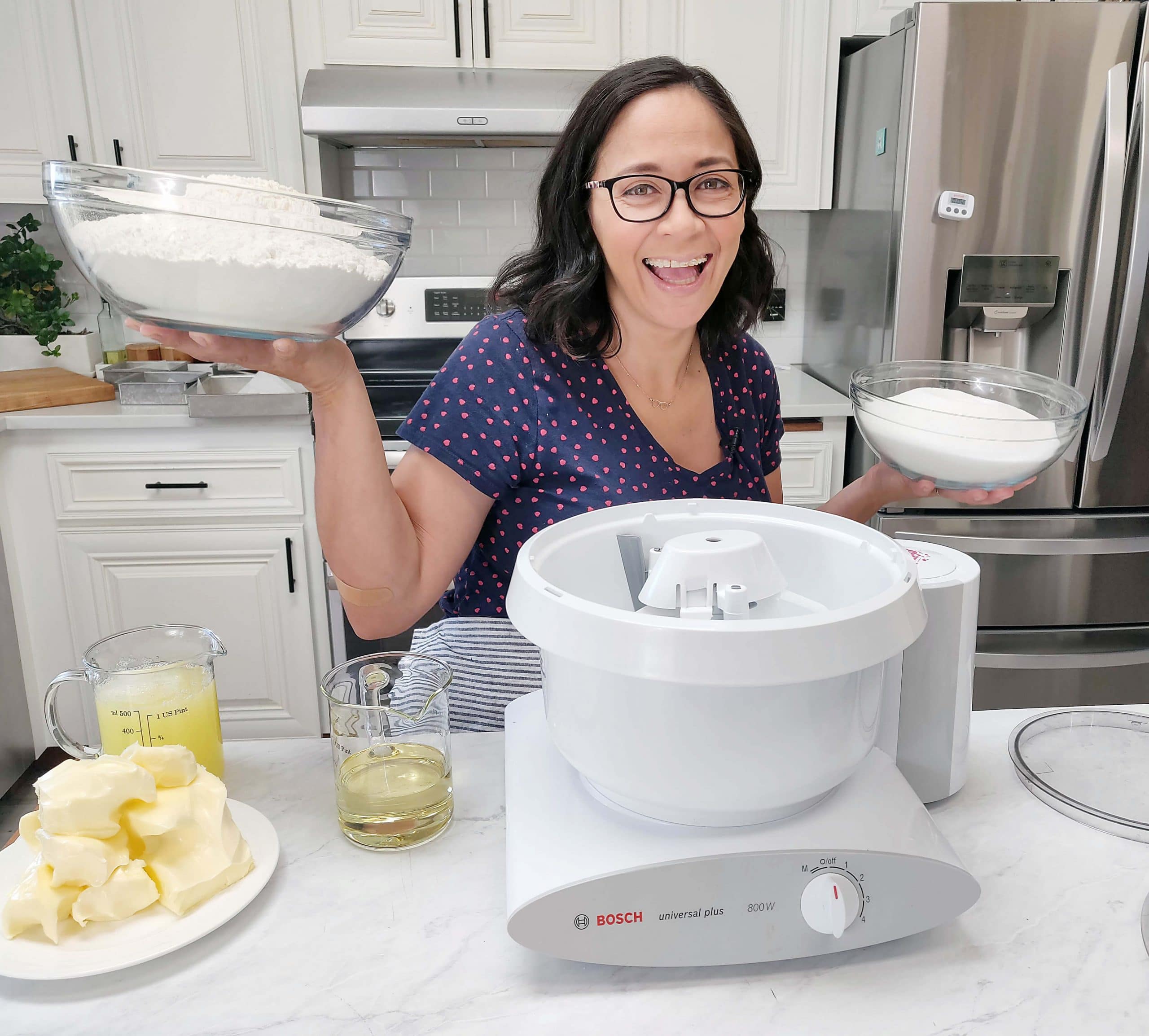 Why did I get a new mixer?
Everyone by now has probably seen my green Kitchenaid, Oscar. He's been with me since the beginning and is very near and dear to my heart. I originally purchased him for $50 on craigslist over 10 years ago! I couldn't afford a brand new mixer at the time. He's really held up well considering how much I've used him for!
I developed my first vanilla cake recipe in Oscar, published my first book Artisan Cake Company's Visual Guide To Cake Decorating using Oscar and even invented my now-famous LMF marshmallow fondant recipe in that little green mixer. I even taught my daughter how to bake on this little mixer. He's been a real champ for sure!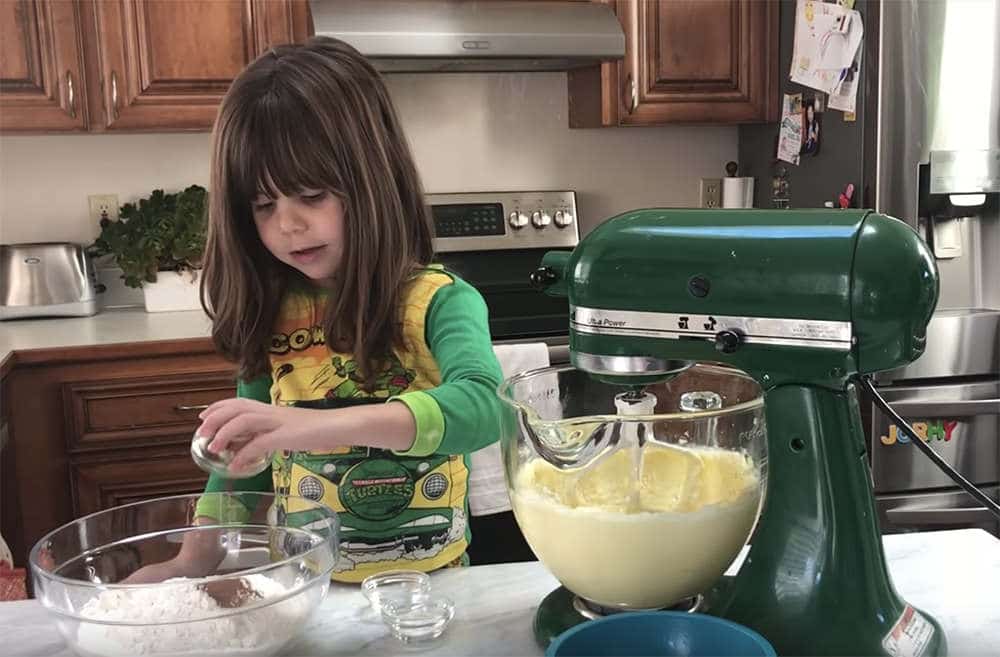 He has some problems though, he's prone to wobbling when I mix on high and has even fallen off the countertop a couple of times! I call this the mixer dance ha! The metal rod that hinges the head of the mixer constantly wiggles it's way out and I have a special hammer I use to knock it back in.
But mostly I just don't love stopping to scrape the mixing bowl and I have a hard time getting my ingredients in the bowl without making a huge mess.
I did get a big 6 qt lift style Kitchenaid a few years back for Christmas (bless Dan's heart) but it made such a loud screeching noise when it was on high, I couldn't stand it. I gave it away.
How did I hear about this Bosch mixer?
The first time I saw a Bosch mixer, it was in one of iambaker's cake videos. I was amazed that I could see INSIDE her bowl during the video! But I had no idea what mixer it was. The next time I saw a Bosch mixer, it was at the Everything Food Conference. Bosch was a vendor and I finally got to see one of these mixers up close and personal.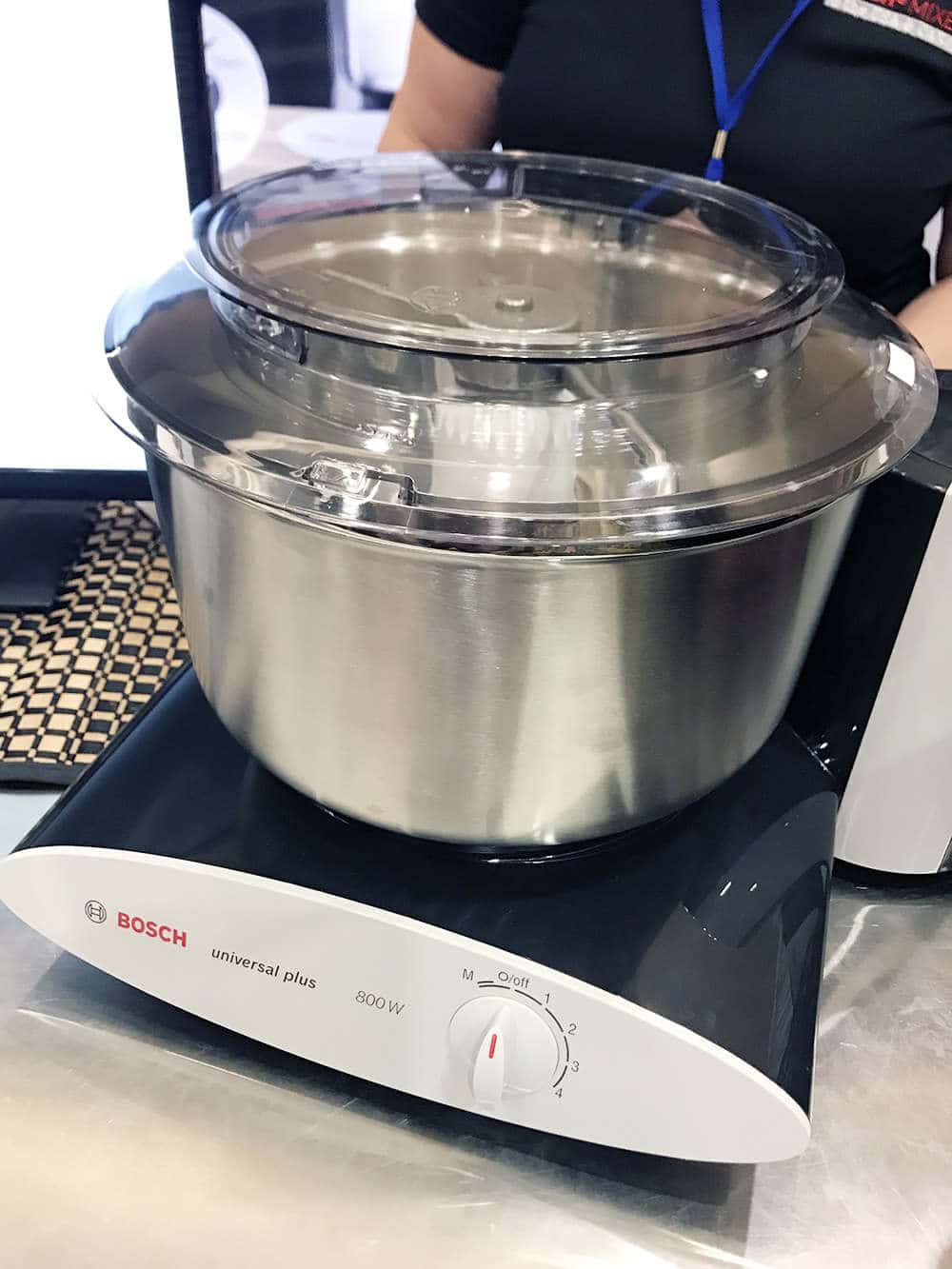 After watching a demo and hearing about all the perks of the mixer (large bowl, powerful motor, removable lid etc) I knew I wanted to try one out! Luckily, I was enrolled in Foodie Bootcamp that year and got to make a great connection with a Bosch representative. They sent me a mixer to try out and give an honest review.
What's it like using a Bosch Mixer?
I admit I was overwhelmed with all the new attachments, bowl design, and scrapers. It's a little strange to go from one type of mixer that you know inside and out and learn a new one. I started out with recipes like my easy buttercream and WASC recipe since I wasn't sure if the new mixer would need me to make adjustments to mixing times.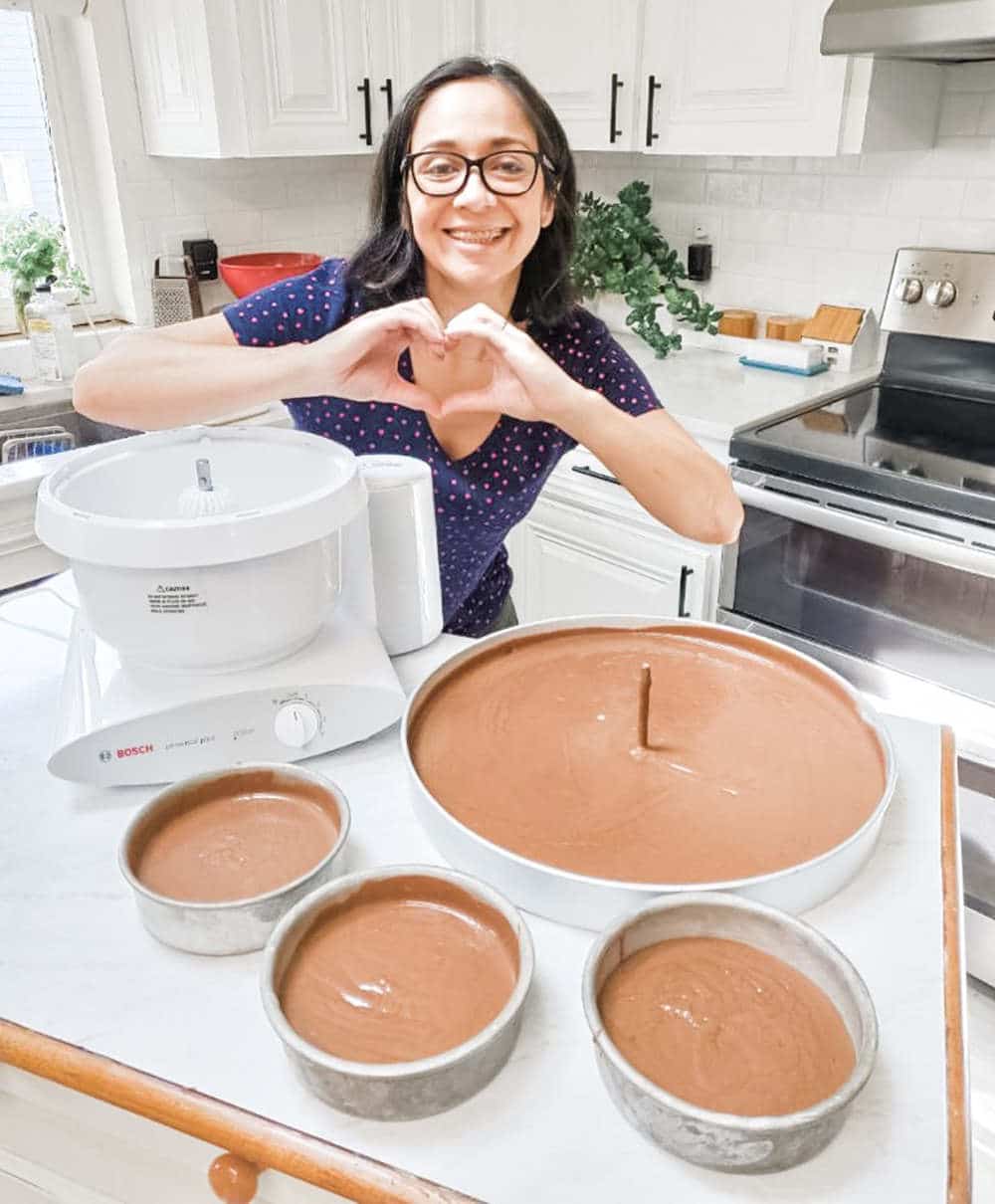 I was genuinely shocked at how much I loved the Bosch mixer right off the bat. Not only is the motor powerful but it doesn't even bog down when you have the bowl FULL of buttercream or cake batter. The double mixing action makes scraping completely unnecessary. Buttercream comes together and is light and fluffy in about half the time as my other mixer.
What do I love and not love about the Bosch mixer?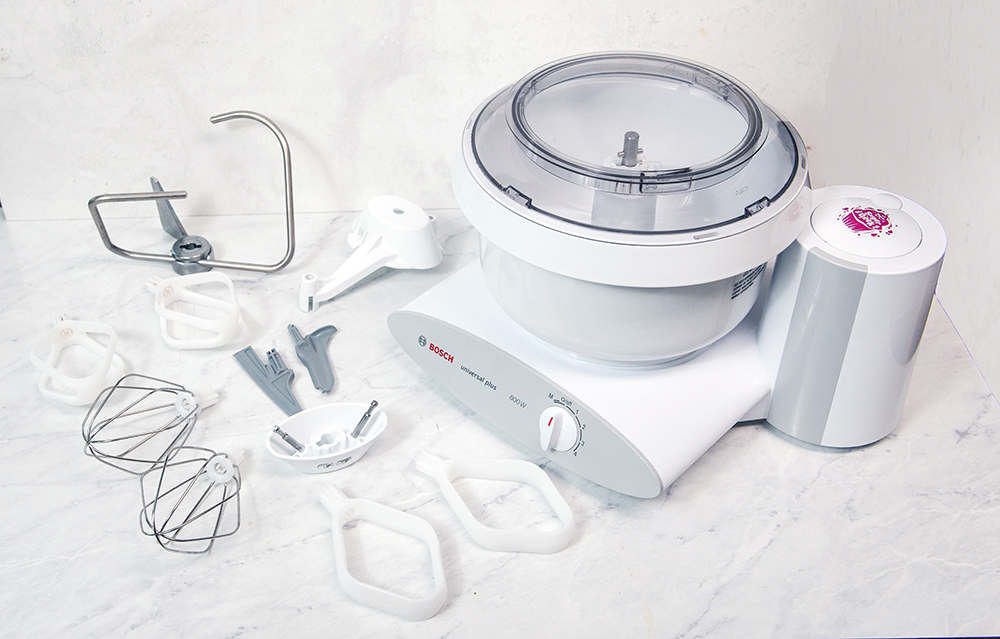 What I Love:
Capacity! 6.5 quarts, it just holds. SO. MUCH!
Efficient mixing, double paddles/whisks, scraper attachments. Automatically scrapes for you! (note: carefully put the scraper attachment on as I demonstrate in the video, I've broken one before from just pulling it off and on!)
The mixer is super powerful and you don't have to turn it up high to get the results you are needing.
No more mixer dance! The mixer has handy dandy suction cups on the bottom that keep the mixer in place.
It comes with a splash guard/top to prevent huge messes which I tend to make often.
The dual mixer really folds the batter as it's mixing so it is extremely efficient and really incorporates all the ingredients really well. It makes the batter consistent all the way through.
Sound difference. It's so quiet compared to my 6-quart kitchen aid.
Easy clean-up. I just give the attachments a quick soap up and spray them down with hot water then leave them to air dry.
The price! Compared to a 6qt Kitchenaid, the price of this Bosch with all the attachments is a really good deal!
Compact design. Because the mixer is not as tall as my Kitchenaid, I can easily store it in my lower cabinet when I'm not using it and it's not as heavy.
What I Don't Love As Much: 
The splash guard can get in the way sometimes if I have it on and need to add in more ingredients as it's mixing.
I wish the bowl had a handle so I could pour the batter into cake pans a bit easier.
I don't love that the mixing accessories and attachments are plastic, so you do need to be a bit more cautious when you are assembling and disassembling the components.
A metal bowl would be fantastic so I could make Italian meringue buttercream.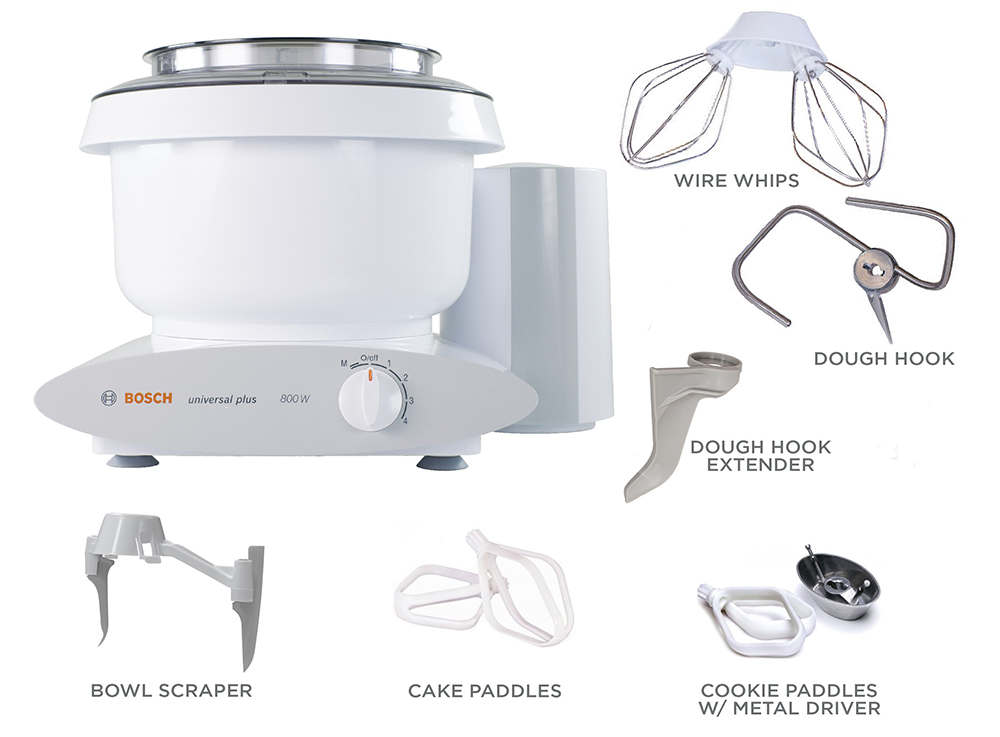 Main features of the Bosch Universal Plus Mixer Bakers Pack
*Note: The Bakers Pack is no longer available at this time, but you can buy all of the attachments and the Bosch Universal Plus mixer separately using my affiliate link.
For you technical people out there, I've broken down the main features of the Bosch Mixer Universal Plus with the bonus attachments.
Metal Whip Drive
(2) Cookie Paddle Attachments
(2) Cake Paddle Attachments
Bowl Scraper (compatible with all attachments)
Sturdy 6.5 quart Mixing Bowl
Dough Hook
(2) Wire Whips
Splash Cover and Removeable Lid
Technical Features of the Bosch Universal Plus Mixer:
6.5 quarts
Powerful 800 Watt Motor
4 speeds & Pulse/Momentary Switch
Belt drive transmission
Overload and restart motor protection
4 suction cup feet keep machine securely in place
Bowls and most accessories are dishwasher safe
Removable drive shaft for easy cleaning
3-year warranty on motor and transmission
1-year warranty on attachments and other parts
Dozens of attachments and accessories available
Ergonomic, unique, modern design.
The motor is located beneath the bowl— making it more compact and lightweight.
Total Cost: $455 
Standard Kitchenaid Features of the 600 Pro Series Lift-Bowl 6 qt Mixer From Kitchenaid
What I don't love about my KitchenAid is even though there are 10 speeds, the motor bogs down when the bowl is full. The head gets in the way of adding ingredients. My mixer wobbles when it's on high speed and overheats. I have to stop the mixer and scrape the bowl to make sure everything is incorporating and this often leads to spilling or getting my hand dunked in the cake batter. The spiral dough hook (pictured below) is absolutely useless for making bread or fondant. The dough just sticks to it and spins in a circle.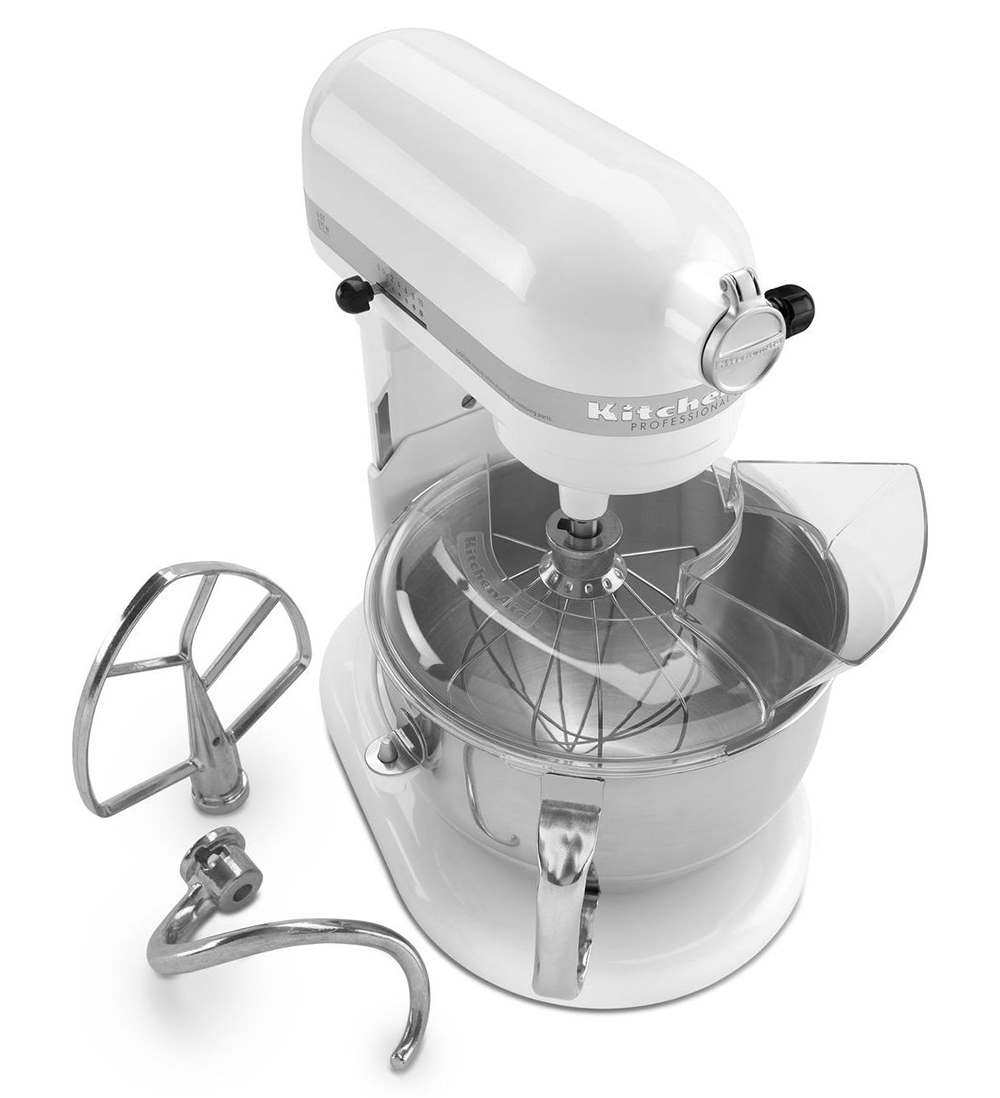 These are the standard attachments that the Pro 600 Series 6 qt Kitchenaid Bowl- Lift mixer comes with
6 qt Stainless Steel Bowl
Coated Flat Beater
Coated Powerknead
Spiral Dough Hook
Wire Whip
Pouring Shield
Extra items like artisan dough hook and bowl scraper are extra (about $45)
Technical Features
Bowl lift design

10 speeds

1-year warranty

575-watt motor

Direct-drive transmission

All-metal body
Total Cost: $499 ($544 with additional attachments)
Final thoughts
I'm genuinely thrilled with this mixer. Does that mean you NEED to have it too? Not necessarily. You might be in the $50 second-hand mixer stage of your baking career and that's OK! I get it! It's taken me 12 years to finally find the perfect mixer for me!
I hope you found this mixer review helpful. This is my honest and true advice and review. I was not paid to write this review but I was given a free mixer to try (full transparency). I only recommend products and tools that I genuinely like. If you end up trying out this mixer, I'd love to hear your thoughts too!
Enjoy this video I made testing out the mixer capacity and features!