A moist applesauce cake recipe spiced with cloves, nutmeg, cinnamon and frosted with tangy cream cheese frosting
This applesauce cake recipe blew me away! Each bite was spiced apple heaven. Combined with cream cheese frosting, and topped with a homemade caramel drip, I didn't want to stop eating!
This is the first cake recipe I've ever made with so little eggs! I had heard that applesauce makes a good egg replacer but I was skeptical. I'm happy to report this cake is very moist, has excellent texture and flavor! This cake recipe uses only one egg and less oil than other recipes so it's a healthier option if you're trying to cut down on fat.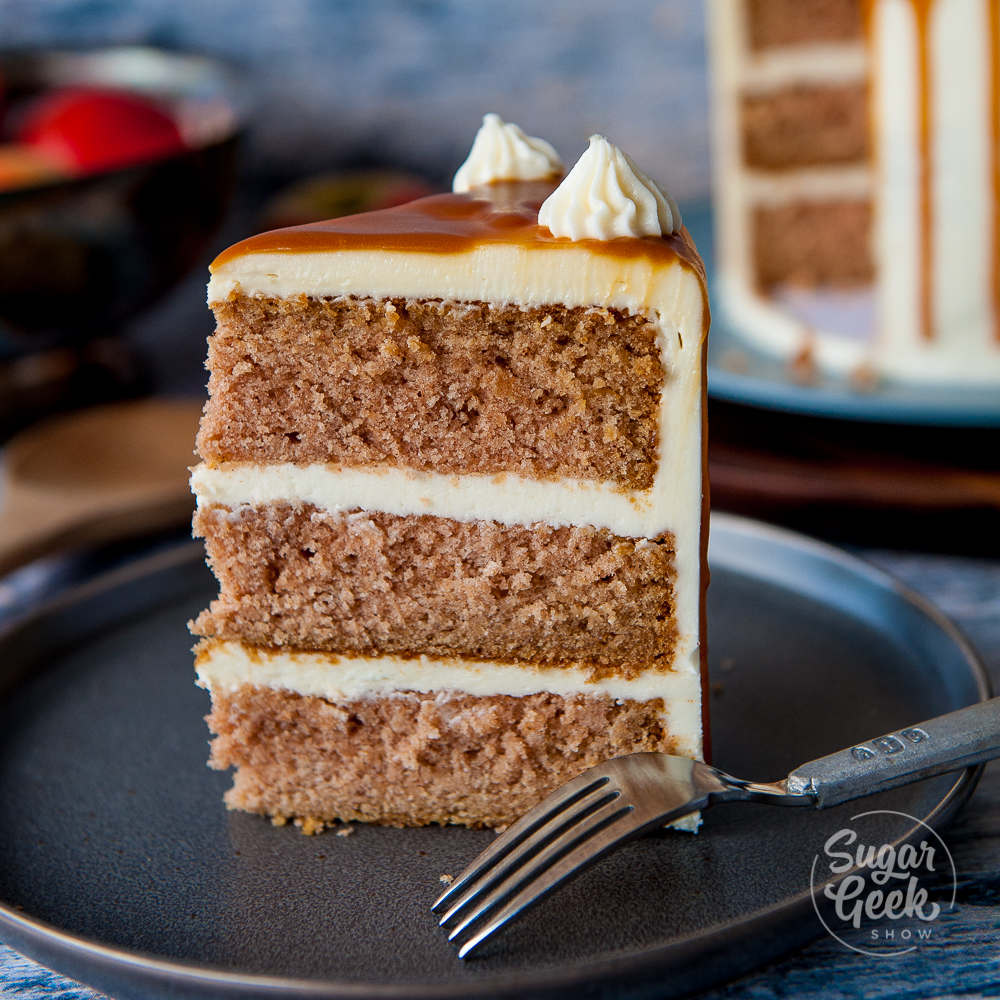 Does applesauce cake taste like apples?
When I was first testing out a good applesauce cake recipe, I was confused about whether or not applesauce cake should taste like apples.
The funny thing is, I don't think you can even tell there are apples in this cake. The cake mostly tastes like spice cake but moister. That's from the applesauce! So don't expect this applesauce cake recipe to taste like apples, it just tastes like warm, cozy spice cake! Which isn't a bad thing!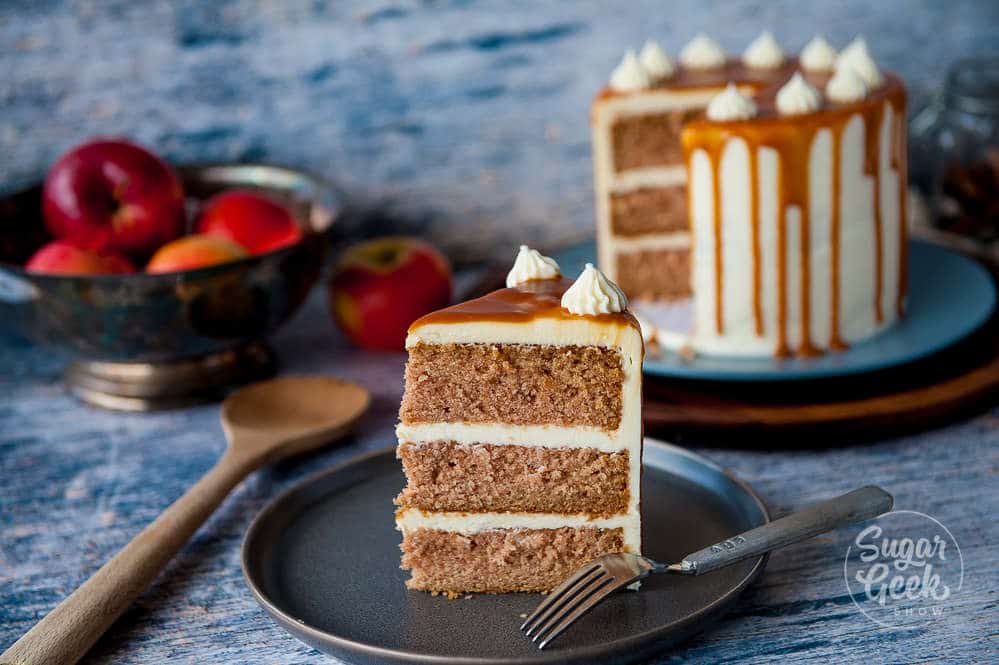 Why use applesauce in baking?
Applesauce can be added to your cake as a 1:1 replacement for oil or melted butter. This reduces the total amount of fat and calories in your recipe if you want a healthier version of your cake without losing moisture.
You can also replace some of your eggs using applesauce. Use a quarter cup of unsweetened applesauce in place of one egg. I actually reduced the number of eggs in this recipe because of the added applesauce.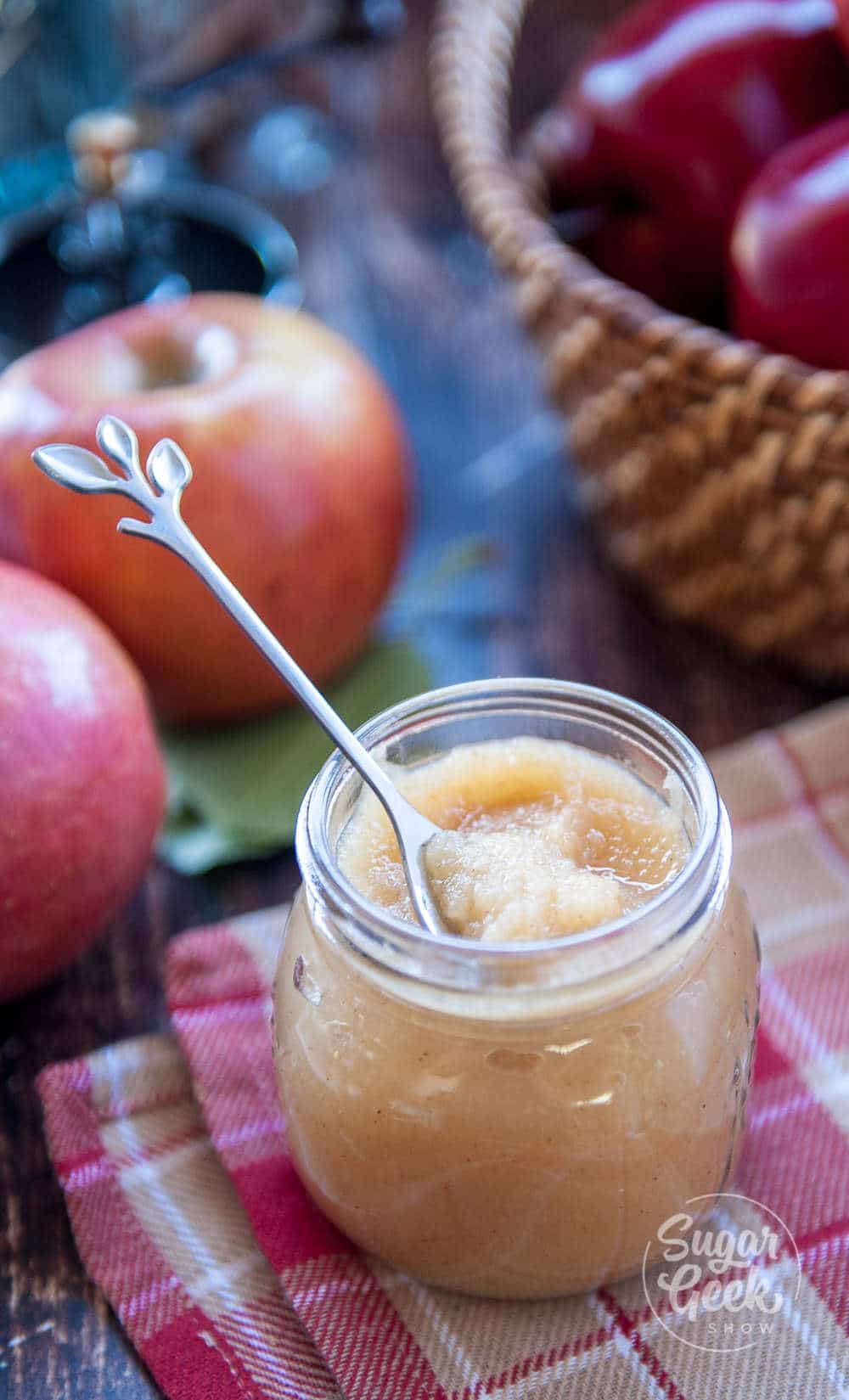 Can you use store-bought applesauce or should I make it fresh?
You can use either homemade unsweetened applesauce or store-bought applesauce. Sugar-free is preferred so that you can control the sweetness of your cake. If you are interested in learning how to make your own applesauce, it's super easy!
When I was growing up, we made applesauce every year and canned it. I recently asked my Dad for the same equipment we used when I was a kid to make applesauce. It was this crazy contraption that clamped to the table. We'd spend the day picking apples, chopping them and cooking them before pouring them into the machine that would separate skins and seeds from the soft apple filling.
Then we'd can the applesauce so we'd have it all year long. I remember many a pork chop being served with that homemade applesauce.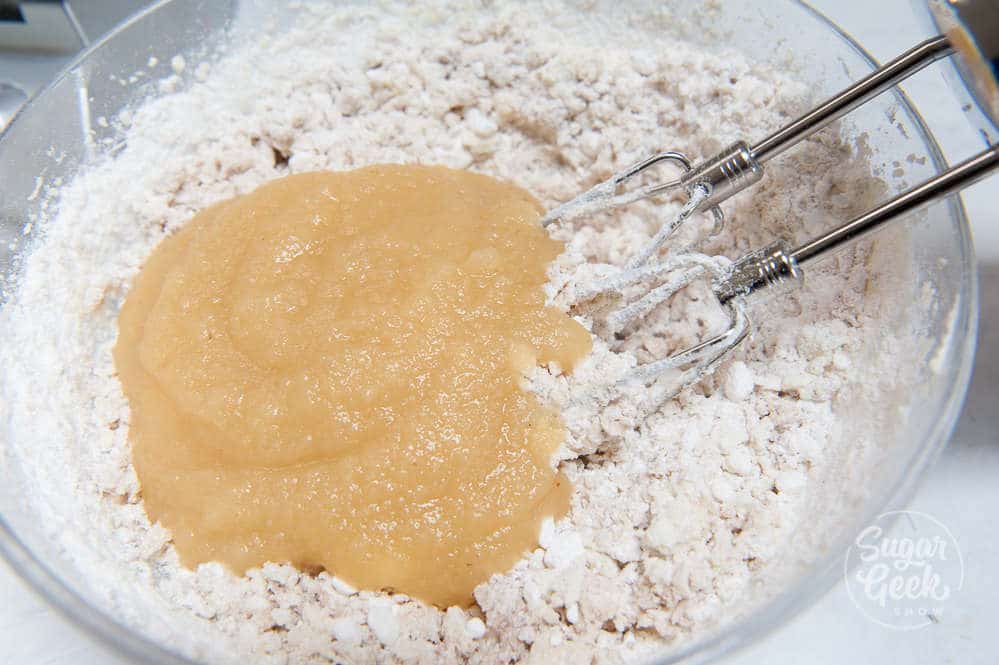 How to make an applesauce layer cake
Never made a cake before? Watch my "How to make your first cake" tutorial which covers everything from baking, frosting, filling and getting smooth edges.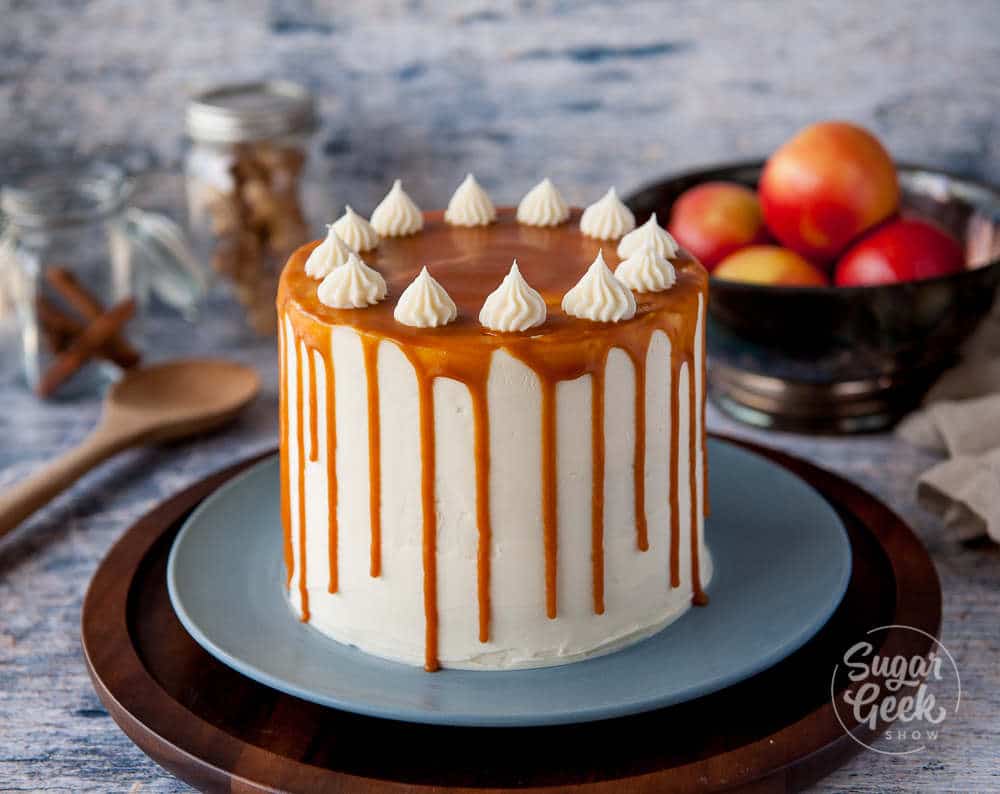 After baking your cake layers, you want to let them cool. I let mine cool in the pan for about 15 minutes then I flip them out onto a cooling rack to cool further.
Once my cakes are barely warm, I wrap them in plastic wrap and put them in the freezer for about an hour so that I can trim the cakes and fill them right away.
When I'm making my vanilla cake or other lighter colored cakes, I will trim off the dome and the brown edges but obviously, for this kind of cake, you don't have to do that. Just trim off the dome to make your layers flat before filling them with your frosting.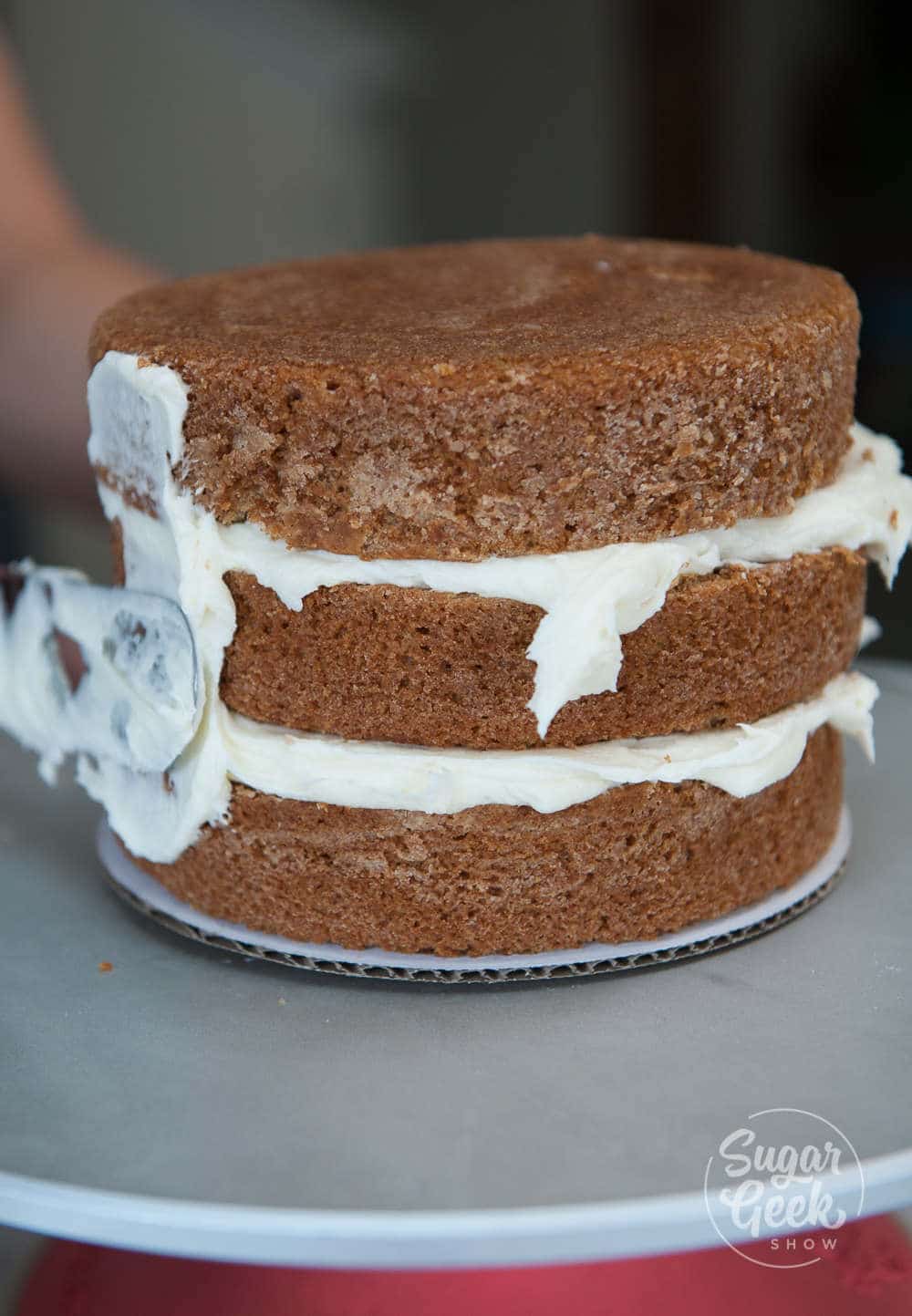 My cake is filled and frosted with cream cheese frosting but brown butter buttercream would also taste amazing!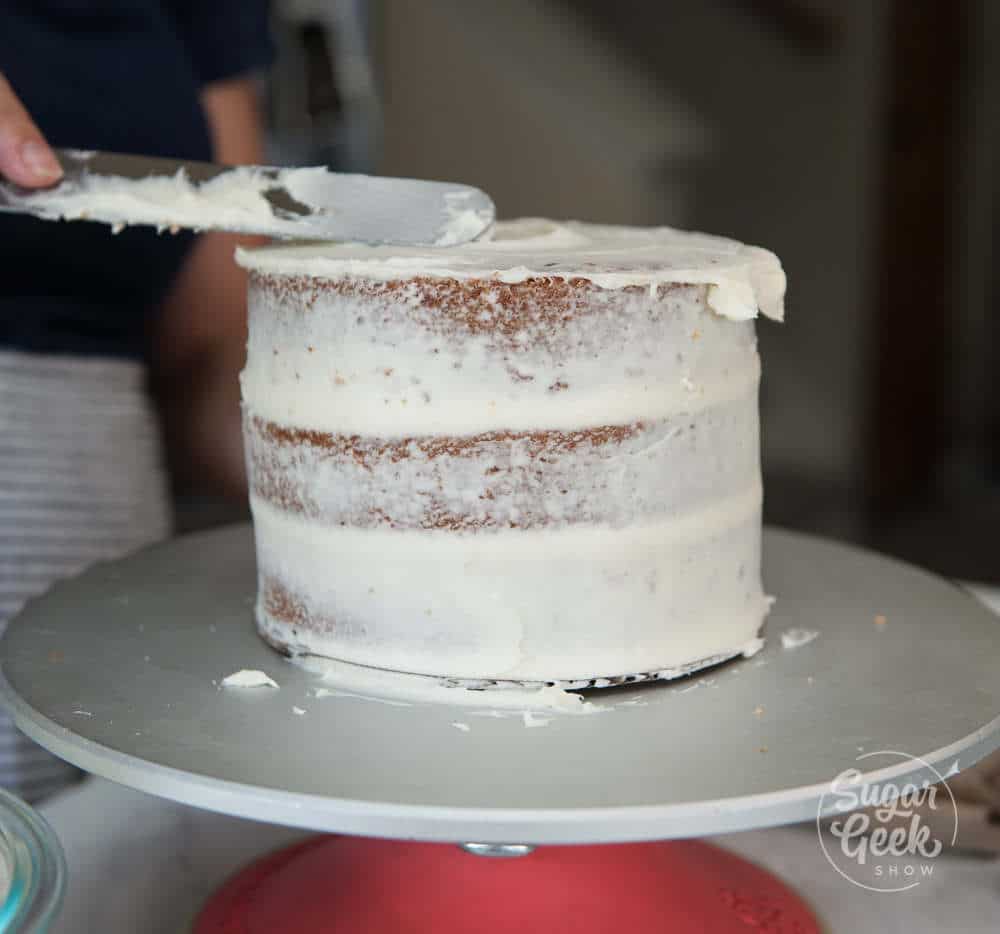 I decided to just go super simple with the cake design and just do a nice smooth layer of cream cheese frosting and do a caramel sauce drip.
I had some leftover caramel in my fridge so I just warmed it up a bit (not hot!) and put it into a plastic bottle to pipe my drips.
Then I topped the cake with some super simple dollops of buttercream using a Wilton tip #32 but you can use whatever tip you like!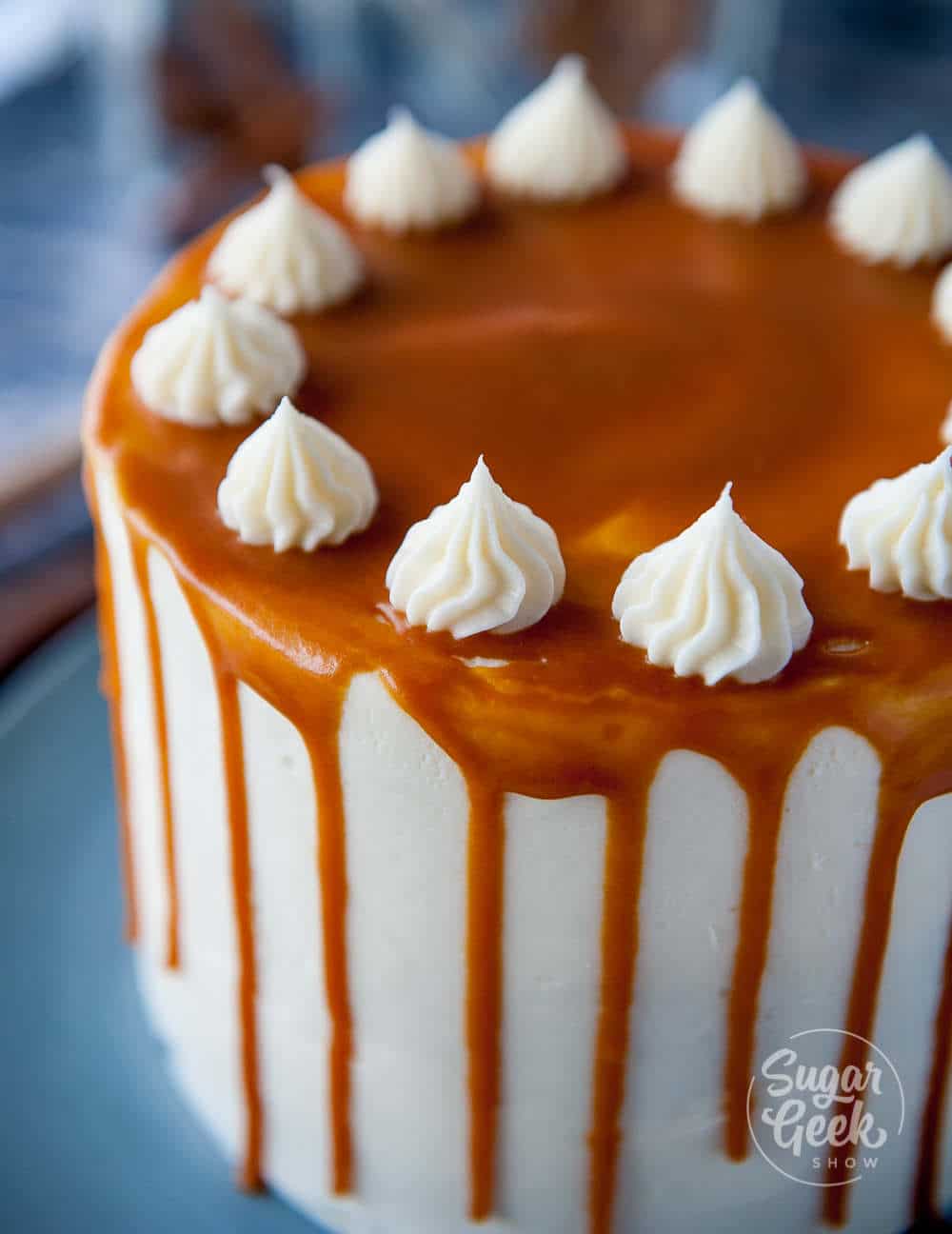 This applesauce cake was a HUGE hit in our house! Every last bite was devoured! The cake is moist and perfectly balanced by the tang of the cream cheese frosting!
Can you use this applesauce cake recipe for stacked cakes?
You can definitely use this applesauce cake recipe for stacked cakes. It has a nice firm crumb that is strong enough to hold up under buttercream and fondant.
I love how fine and tender the crumb was! Tell me this doesn't make your mouth water!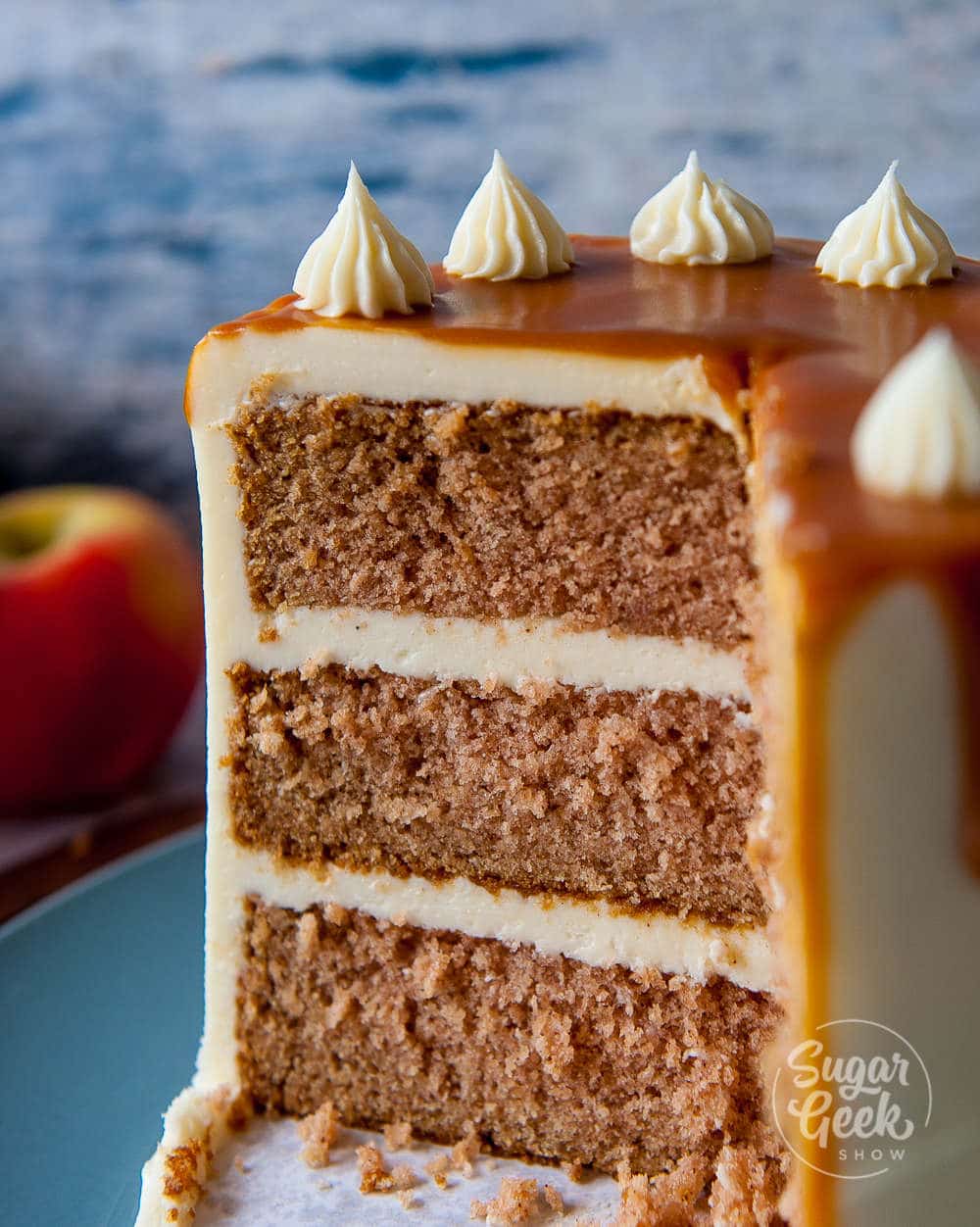 Can you make this into applesauce cupcakes?
You can convert this recipe into applesauce cupcakes by leaving out the oil. Preheat your oven to 400ºF. Fill your cupcake liners ⅔ of the way full. I like to use a small ice cream scoop. Bake your cupcakes for 5 minutes at 400ºF then reduce the temperature to 350ºF. DO NOT OPEN THE OVEN. Opening the oven can cause your cupcakes to deflate.
Bake for an additional 10-15 minutes or until the domes are set. Allow the cupcakes to cool before frosting.
Want more delicious fall flavors? Check these out!
Pumpkin Spice Cake With Cream Cheese Frosting
Pineapple Carrot Cake With Cream Cheese Frosting
Cake Batter and Frosting Calculator
Select an option below to calculate how much batter or frosting you need. Adjust the servings slider on the recipe card to change the amounts the recipe makes.
Choose a pan type
Choose a cake pan size
(based on 2" tall cake pan)
Choose a cake pan size
(based on 2" tall cake pan)
Choose a cake pan size
(based on 2" tall cake pan)
Cups of Batter Needed
8 cups
Cups of Frosting Needed
5 cups
Recipe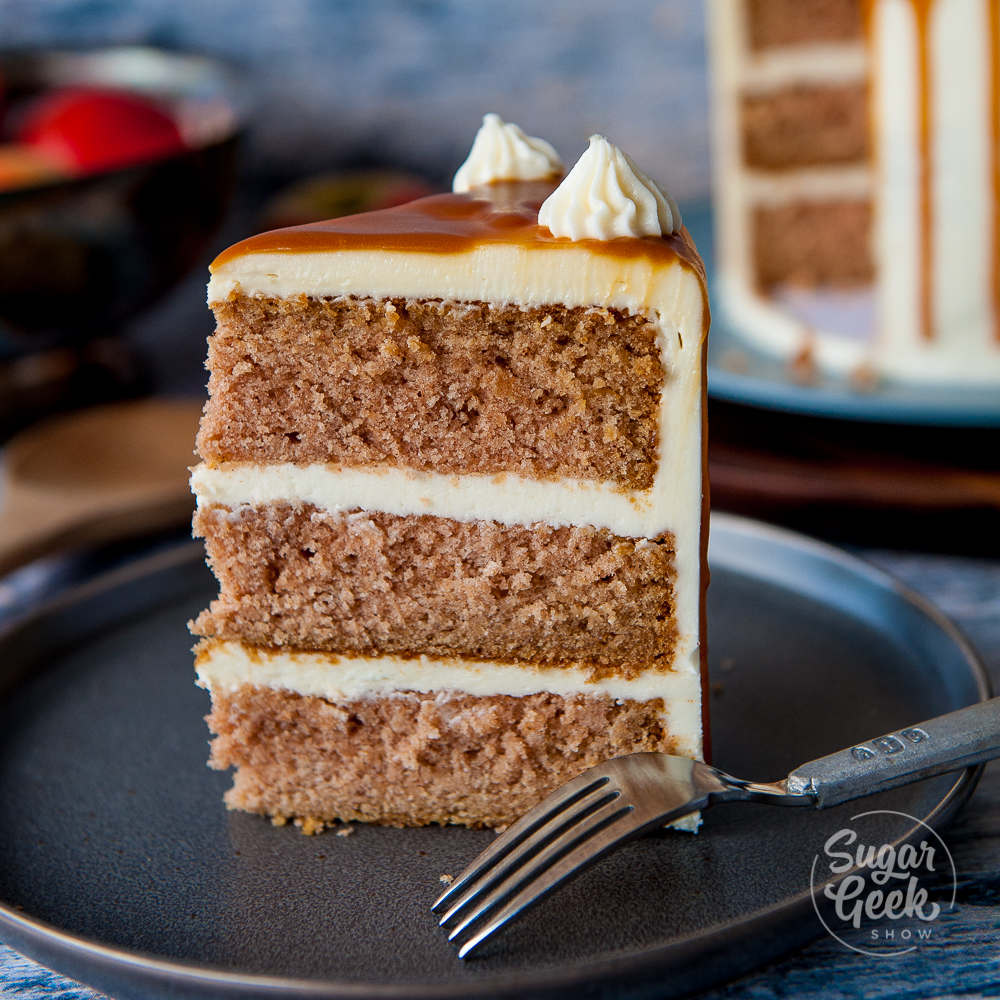 Servings: 8 cups
Calories: 244kcal
Equipment
Stand Mixer

#32 Wilton Piping Tip

Piping Bag or Bottle
Ingredients
Applesauce Cake Ingredients
4 oz unsalted butter softened
10 oz granulated sugar
3 oz oil
1 large egg room temperature
10 oz cake flour
1 teaspoon baking soda
⅛ teaspoon cloves
¼ teaspoon nutmeg
¼ teaspoon ground ginger
1 ½ teaspoon cinnamon
½ teaspoon salt
12 oz applesauce unsweetened
1 teaspoon vanilla
Cream Cheese Frosting
16 oz cream cheese softened
8 oz unsalted butter softened
1 teaspoon orange extract
½ teaspoon salt
36 oz powdered sugar
Instructions
Applesauce Cake Instructions
Preheat oven to 350º F/176º C. Prepare your pans with cake goop or another preferred pan release.

Sift together your flour, baking soda, spices and salt.

In the bowl of your stand mixer, cream the butter until smooth with the whisk attachment.

Sprinkle in sugar and whip on high until white and fluffy (2-3 minutes). Add in your oil and whip another minute.

Switch to the paddle attachment. Add in the egg and vanilla and mix until combined.

Add the flour mixture and mix until it is just incorporated, do not over mix!

Finally, add in your applesauce and mix until everything is combined.

Divide the batter evenly between the prepared pans. Smooth the tops with a rubber spatula. Bake cakes until they feel firm in the center and a toothpick comes out clean or with just a few crumbs on it, about 25-35 minutes.
Cream cheese frosting instructions
Place softened butter in the bowl of your stand mixer with whisk attachment and cream on low until smooth. Or you can use a hand mixer!

Place softened cream cheese in the bowl with butter in small chunks and blend on low until smooth and combined

Add your orange extract and salt. Add in sifted powdered sugar one cup at a time and mix until combined
Nutrition
Serving: 1g | Calories: 244kcal | Carbohydrates: 28g | Protein: 1g | Fat: 15g | Saturated Fat: 6g | Cholesterol: 34mg | Sodium: 209mg | Potassium: 26mg | Fiber: 1g | Sugar: 26g | Vitamin A: 264IU | Vitamin C: 1mg | Calcium: 9mg | Iron: 1mg