Carrot cake is a delicious cake that is made with carrots and is infused with spices. Add in ingredients like nuts and pineapple for a decadent treat.
A good scratch carrot cake recipe is really the only way to go. GOOD being the key word there, am I right? When you get a good recipe right there is nothing else quite like it. A good scratch carrot cake recipe really is a must-have in your collection of staple recipes. This carrot cake pairs perfectly with crusting cream cheese frosting.
It seems even people who don't care for cake like carrot cake. Maybe the health enthusiasts see the carrots as an excuse for it to be okay to eat, maybe somehow all those extra ingredients make it close enough to a delicious banana bread for others or maybe it just tastes too darn good to resist. Either way it seems to tickle the fancy of more people then traditional cake flavors and this recipe will definitely tickle them all.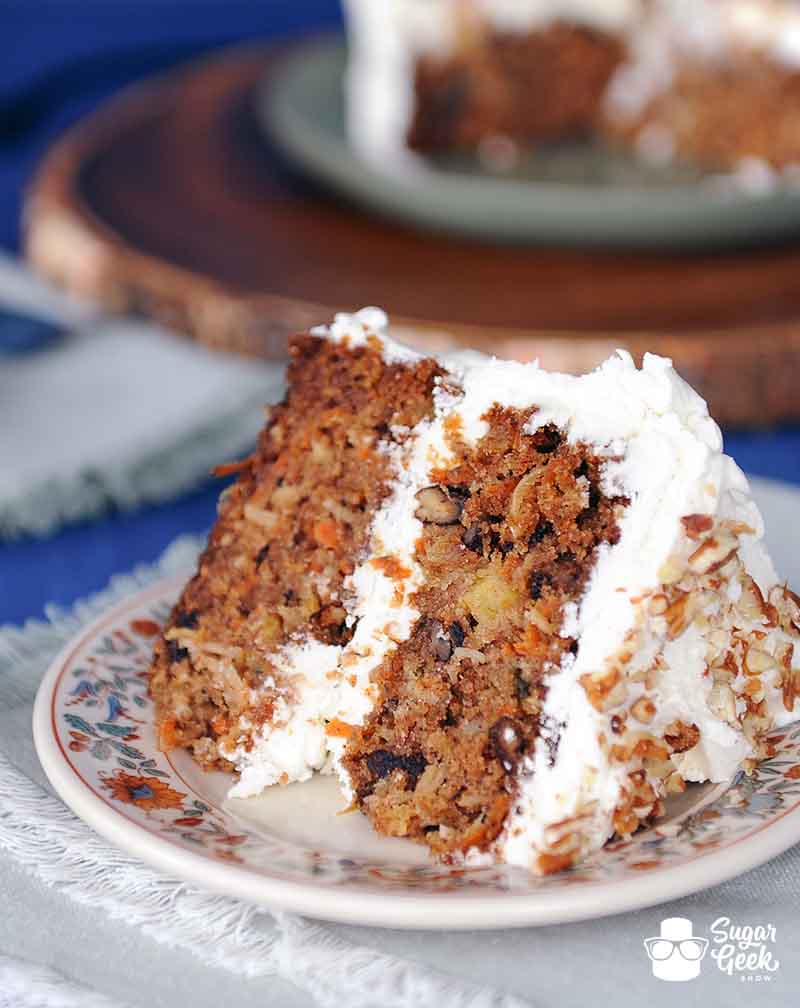 Are carrots really in carrot cake?
Why yes, yes they are. If it's a good carrot cake recipe that is. You can use box mixes that have little flecks of orange resembling something of a carrot but those my friends are simply impostors. A true carrot cake does contain real carrots and they really are the star of the cake.
Is carrot cake good for you?
Well I mean as far as cakes go it probably could be considered a little bit healthier than your traditional vanilla birthday cake because yeah carrots are great for you! This recipe also contains a plethora of other healthy ingredients such as nuts, coconut and pineapple so that certainly doesn't hurt either! BUT cake is cake and it does contain sugar and flour and butter also so maybe don't go eating it for every meal of the day.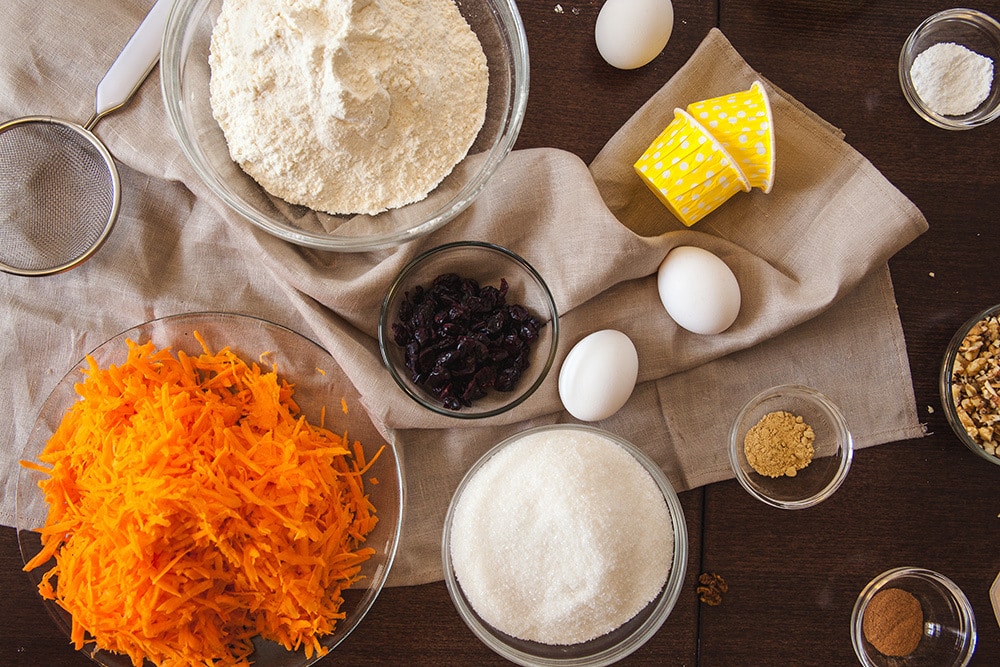 How do you grate carrots for carrot cake?
Do you like your carrots to be chunkier and more obvious or smaller and less noticeable? For larger bits of carrot use a traditional cheese grater to grate your carrots. If you prefer smaller pieces of carrot that are more subtle than you can use a fine grater or zester to easily achieve that.
It's all about preference really. Make this carrot cake to suit your personal tastes and I promise you'll never need another carrot cake recipe again!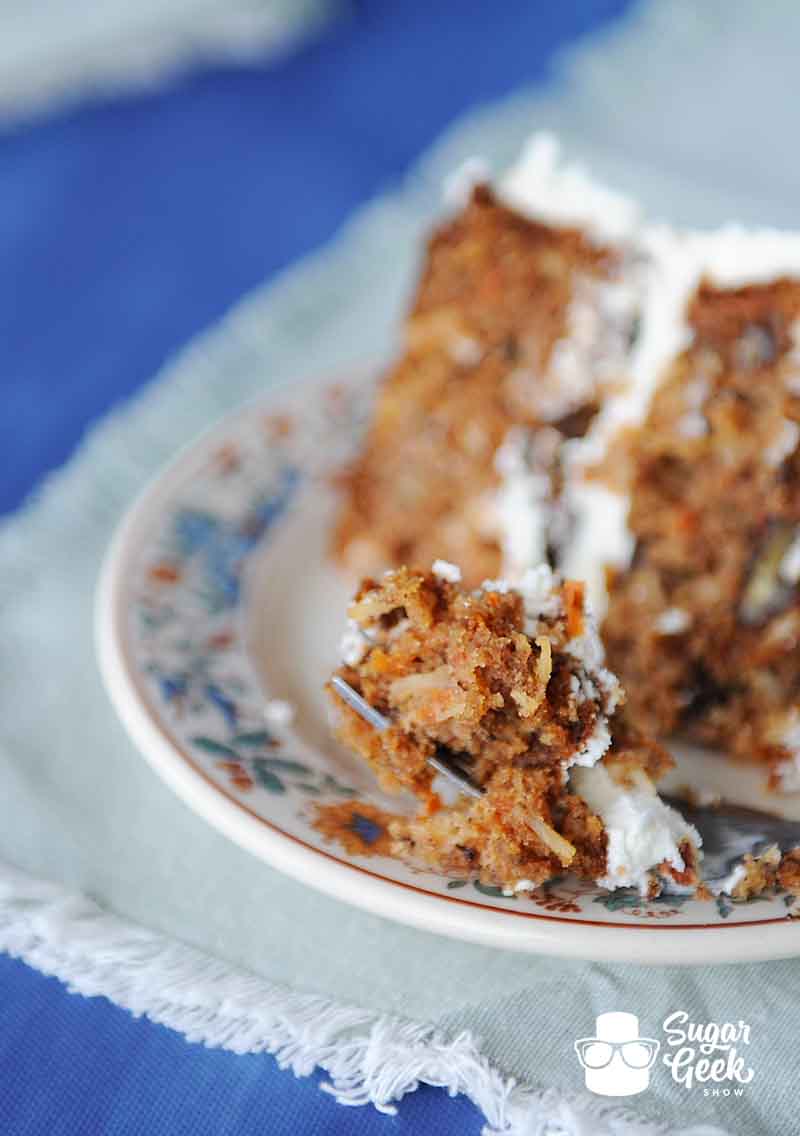 You can really see each and every ingredient and almost taste it. We know it's hard but try to refrain from licking your screen. We take zero responsibility for any drool you many need to clean up.
How do you make a carrot cake?
Just like any other cake really except with extra delicious ingredients! You'll start by mixing your dry ingredients, then combining your wet ingredients, folding it all together and baking it to perfection. It's a labor of love and you should never underestimate the power of love.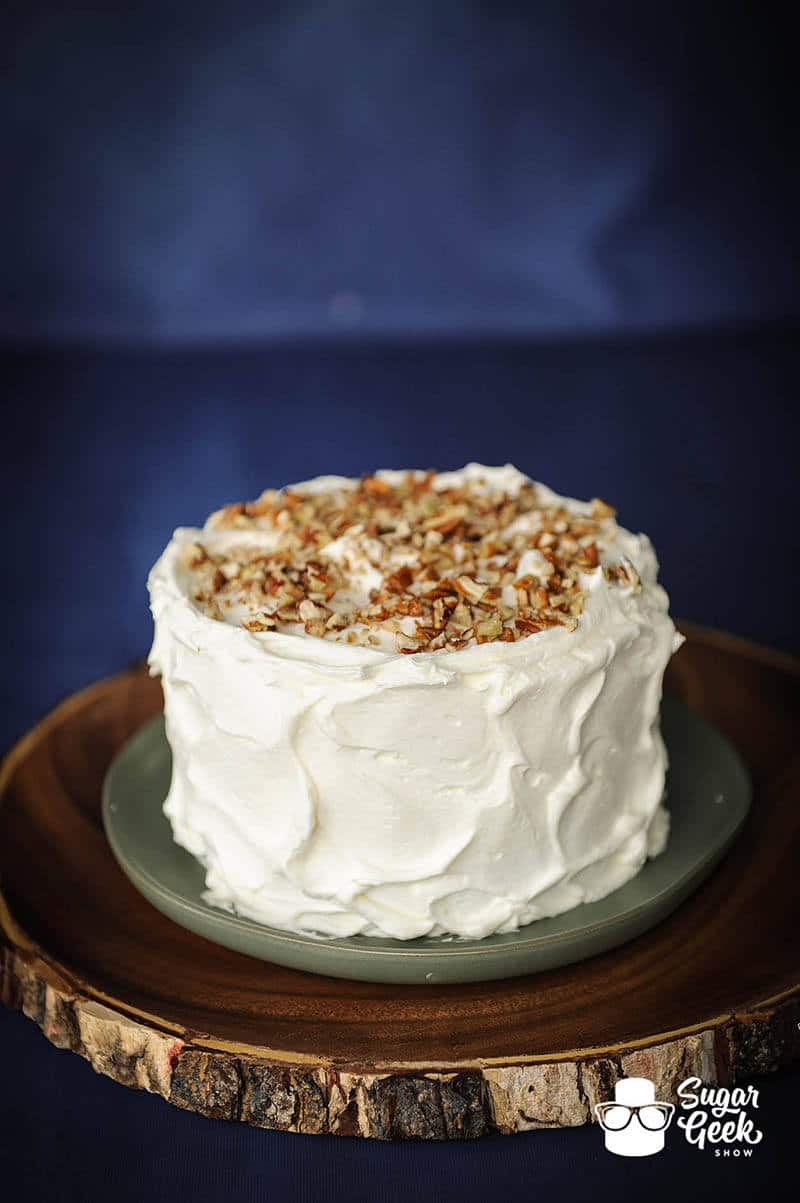 Moist Carrot Cake
The trick to moist carrot cake is extra moist ingredients! It's true often times carrot cake can be dry and spongy but this recipe contains extra eggs, pureed banana, both butter and oil! That's going to give you that chewy, decadent cake you're after.
The recipe makes three 8″ round cakes which makes for a nice sized cake for a crowd. Although, I wouldn't rely on a serving chart because people are either going to cut bigger slices or go back for seconds.
Carrot Cake with Pineapple
Pineapple in carrot cake? Yeah! It's quite popular actually and if you haven't tried it you have certainly been missing out. Pineapple adds a unique flavor that really lends to the carrot, coconut and other ingredients so well.
Not really a pineapple person? No worries, simply omit it from the recipe! Although I'd advise you to at least give it a try first, you never know, it might just convert you into a pineapple person making the rest of your life undoubtedly better for it.
Carrot Cake Frosting
If you're looking for a perfect frosting to pair carrot cake with check out our Cream Cheese Buttercream recipe! Our cream cheese buttercream recipe is a crusting one and probably the most stable cream cheese buttercream you'll find. It's smooth and delicious and the creme bokah adds a uniquely yummy flavor. It's not too cream cheesy but definitely enough to let your taste buds know they've reached that cream cheesy heaven.
Cream cheese buttercream is what you see paired with carrot cake most often I think but that certainly doesn't mean it's the only option! If you're not really into cream cheese, our smooth Easy Buttercream or even our White Chocolate Buttercream would also be delish with this carrot cake!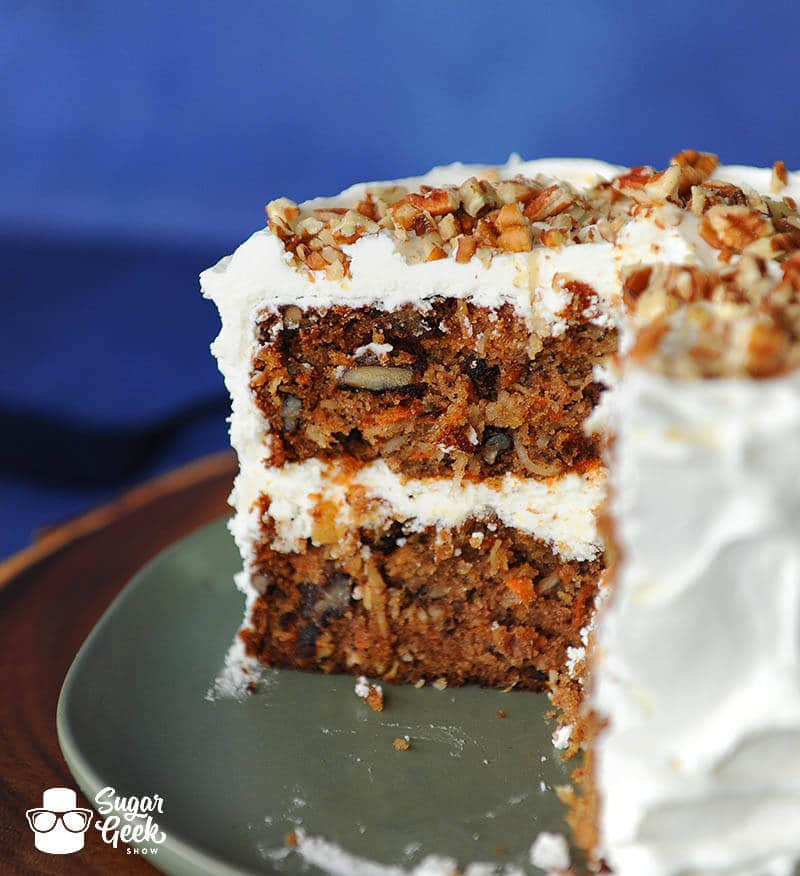 So if you haven't already abandoned reading this post to start making carrot cake, you have my permission to do so now. You'll find the full recipe below and… I get the feeling I am probably talking to myself at this point.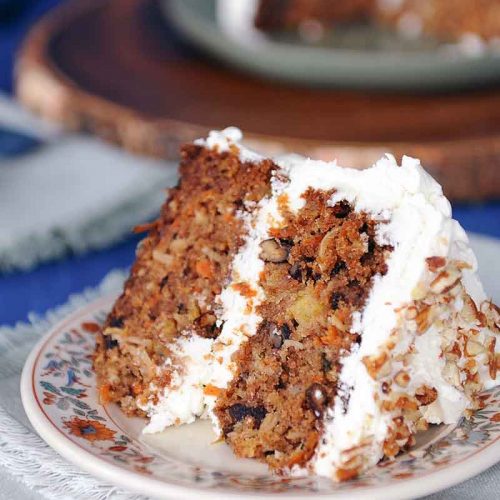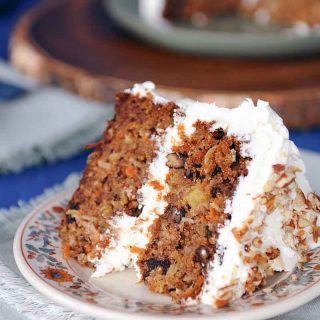 Carrot Cake Recipe
Here's Liz Marek's take on a traditional carrot cake recipe, but with a twist — added banana! This carrot cake turns out SUPER moist and full of flavor.
Servings
3
8" round cakes
Ingredients
Cake Ingredients
9

oz

Unbleached AP flour

regular AP flour will also work

14

oz

granulated sugar

1/2

tsp

salt

2

tsp

baking soda

2

tsp

cinnamon

1/2

tsp

nutmeg

1/2

tsp

ginger

powdered

7

oz

vegetable oil

3

oz

butter

5

large eggs

1 1/2

tbsp

vanilla extract

1

cup

candied pecans

chopped

1 1/2

cup

toasted shredded coconut

2 1/4

cup

carrots

grated

1

cup

pineapple

drained and crushed

1

whole

banana

puréed
Cream Cheese Frosting
8

oz

cream cheese

room temperature

8

oz

unsalted butter

room temperature

32

oz

powdered sugar

1

Tbsp

vanilla extract
Instructions
Cake Instructions
Sift together flour, sugar, salt, baking soda and all the spices.

Mix together oil, melted butter, eggs and vanilla and blend into dry ingredients.

Add remaining ingredients and fold until combined.

Pour into a prepared cake pan, using either pan release or cake goop.

Bake at 350º F about 30 minutes. Test for doneness in multiple areas near the center with a tooth pick. If the tooth pick comes up dry with a few crumbs stuck to it, the cake is done. Let cakes cool. Cover with plastic wrap and chill before torting and frosting.
Cream Cheese Frosting
Cream the butter and cream cheese in stand mixer with paddle attachment on low until smooth.

Slowly add in powdered sugar, vanilla and creme bouquet. Mix at low for 5-6 minutes until smooth.

For a whiter buttercream, add white food coloring.
Nutrition Facts
Carrot Cake Recipe
Amount Per Serving
Calories 4262
Calories from Fat 2034
% Daily Value*
Fat 226g348%
Cholesterol 579mg193%
Sodium 2023mg84%
Potassium 912mg26%
Carbohydrates 548g183%
Protein 28g56%
Vitamin A 20080IU402%
Vitamin C 32.6mg40%
Calcium 246mg25%
Iron 8.2mg46%
* Percent Daily Values are based on a 2000 calorie diet.

August 27, 2019