Crusting Cream Cheese Frosting That Is Silky Smooth, Creamy And Stable Enough To Use Inside And Outside Your Cake
Crusting cream cheese frosting is made with cream cheese, butter, powdered sugar and extract and pairs with just about any cake flavor you can imagine. Think about it. Cream cheese basically equals cheesecake. Cheesecake goes with ALL THE THINGS. Crusting cream cheese frosting is most often paired with old-fashioned red velvet cake, carrot cake, chocolate cake and even lemon cake!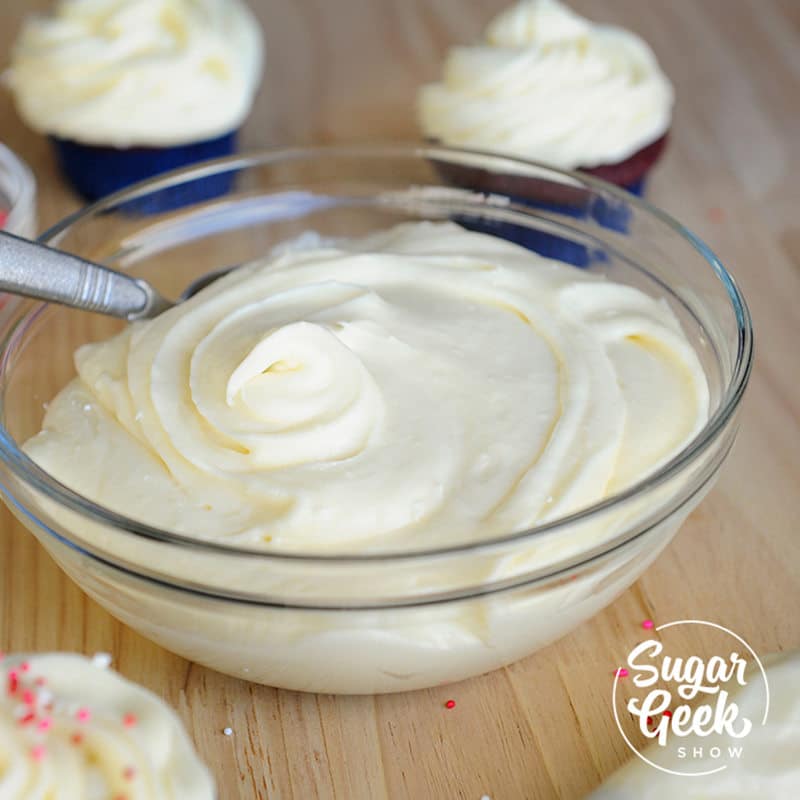 Basically, you can't go wrong with using crusting cream cheese frosting for everything including cupcakes and sugar cookies.
The best part about this cream cheese frosting is that it is a crusting recipe. That might sound a little odd to you but basically that means that the sugar content in this frosting is high enough that the granules of sugar turn into tiny little crystals and form a thin and crispy outer layer to the cake.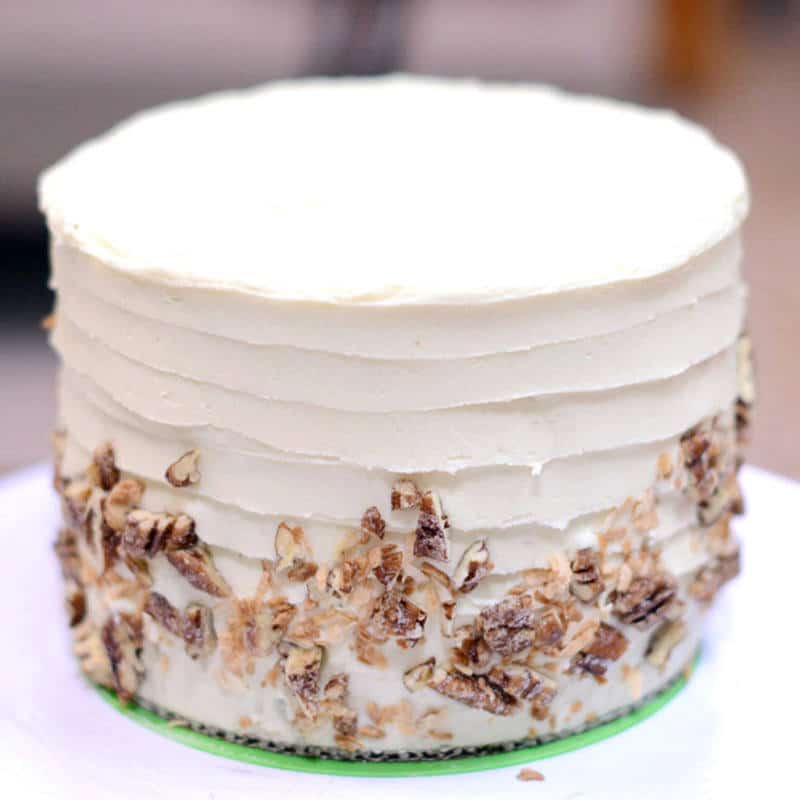 Why is this awesome? (trust me, it's AWESOME!)
If you've ever worked with cream cheese frosting before you know it has a horrible tendency to be a little wet, a little soft and a whole lot unstable in warm weather.
This crusting cream cheese frosting crusts so that it's very stable and can be used as a filling for cakes, frosting for the outside, cupcakes and even on cookies. I would still stay away from using this frosting under fondant though, cream cheese and fondant just do not get along and you end up with a melting layer of gooey sugar under the fondant.
How To Make Crusting Cream Cheese Frosting
To actually make the crusting cream cheese frosting you can get it done in about 10 minutes flat.
Cream your room temperature butter with the paddle attachment until it's nice and smooth with no lumps (on low).
Add in your room temperature cream cheese and cream until smooth with the butter.
Start adding in your powdered sugar (sifted) one cup at a time while mixing on low. Don't add the next cup until the first is incorporated fully.
Once your powdered sugar is incorporated and the frosting is smooth you're done! This is a THICK cream cheese frosting so that it is stable and won't' melt all over your cake.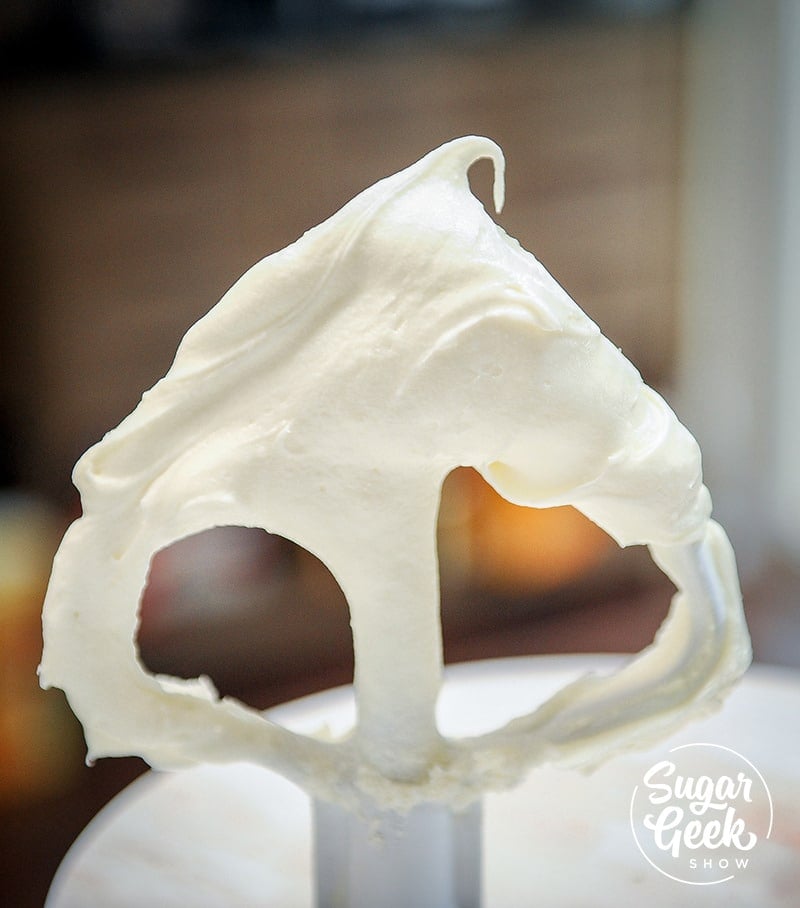 I admit that crusting cream cheese frosting really eluded me for a long time. Don't get me wrong, I loved eating it on cupcakes and a nice slice of carrot cake from one of my favorite bakery but when I would try to make it myself to use with my client cakes, I never really felt it would work. It was either too soft or tasteless.
Most of the time when I see a cream cheese recipe, it has added liquid to it like milk or cream. I feel like this really causes the frosting to be too soft. Ok for cupcakes but not great for cakes. So why add it?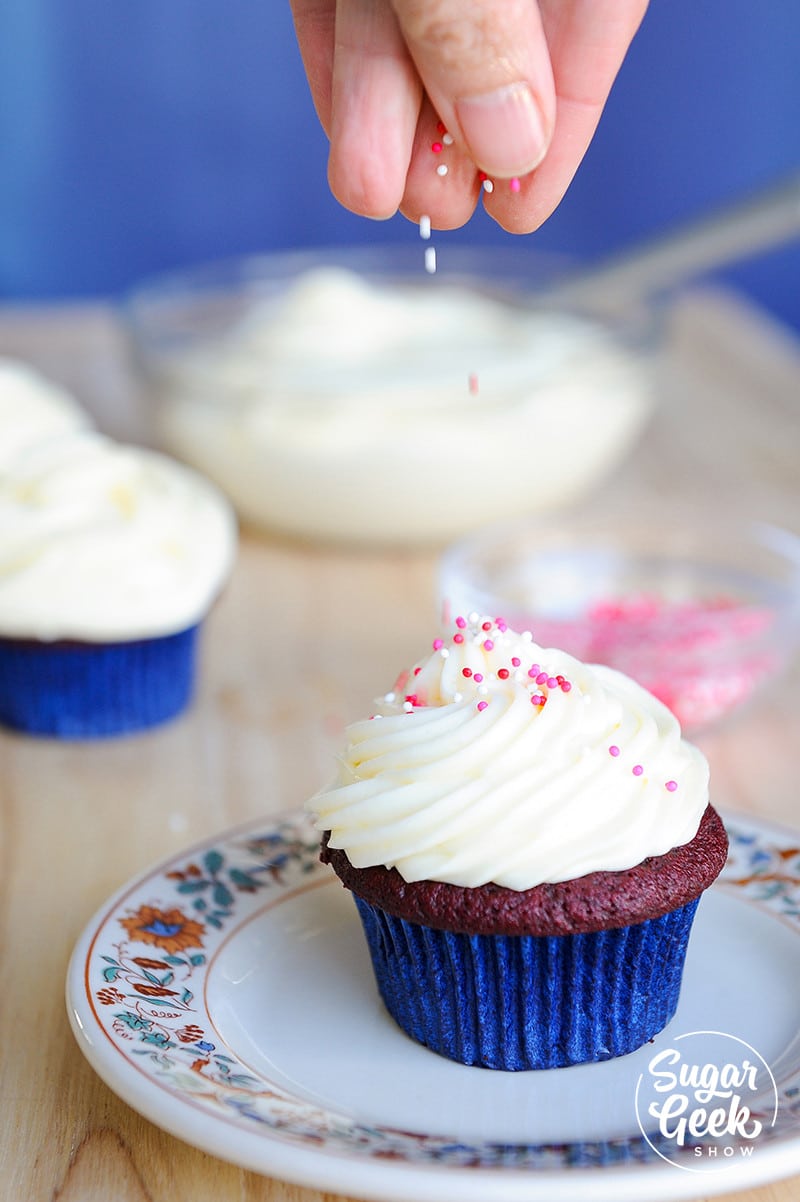 You'll notice that this recipe has more butter to cream cheese ratio than a typical cream cheese recipe. Butter helps with stability, flavor, and creaminess. There's just enough cream cheese to add a nice flavor to the frosting but not so much that it breaks down the frosting and makes it too wet.
Tips For Successful Crusting Cream Cheese Frosting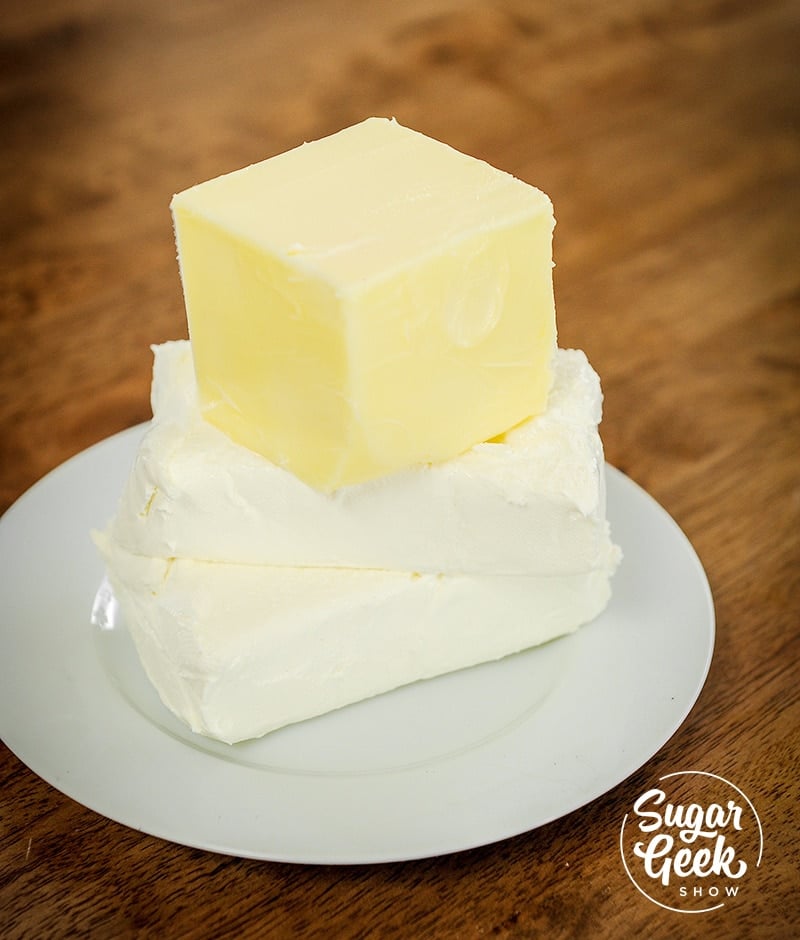 Did you forget to bring your cream cheese to room temperature? I'll tell you a secret, I never ever do. I simply take the cream cheese out of the packet, cut it up into cubes and microwave for 10 seconds. By the time I get my butter and sugar measured, the cream cheese is at room temperature
Speaking of butter, I usually have butter at room temperature at all times but if you have forgotten, you can microwave your butter in 10-second increments until you can press a fingerprint in the surface of the butter and the cube still holds it's shaped. You don't want the butter too soft or it will be hard to incorporate with the cream cheese successfully.
Sift your powdered sugar for a super smooth buttercream but I admit, I hardly ever do this
Need your buttercream to be whiter? Add in some white food coloring!
You can switch out the vanilla extract for any extract to compliment the cake (think orange for citrus or almond for spice cake)
Do you really have to use unsalted butter for cream cheese frosting? The short answer is yes. If you use salted butter you MIGHT feel like the frosting literally tastes salty. By using unsalted butter you can control the level of saltiness in your buttercream. If all you have is unsalted butter, don't fret. Just use what you have and leave out the extra salt listed in the recipe.
Cake Batter and Frosting Calculator
Select an option below to calculate how much batter or frosting you need. Adjust the servings slider on the recipe card to change the amounts the recipe makes.
Choose a pan type
Choose a cake pan size
(based on 2" tall cake pan)
Choose a cake pan size
(based on 2" tall cake pan)
Choose a cake pan size
(based on 2" tall cake pan)
Cups of Batter Needed
8 cups
Cups of Frosting Needed
5 cups
Recipe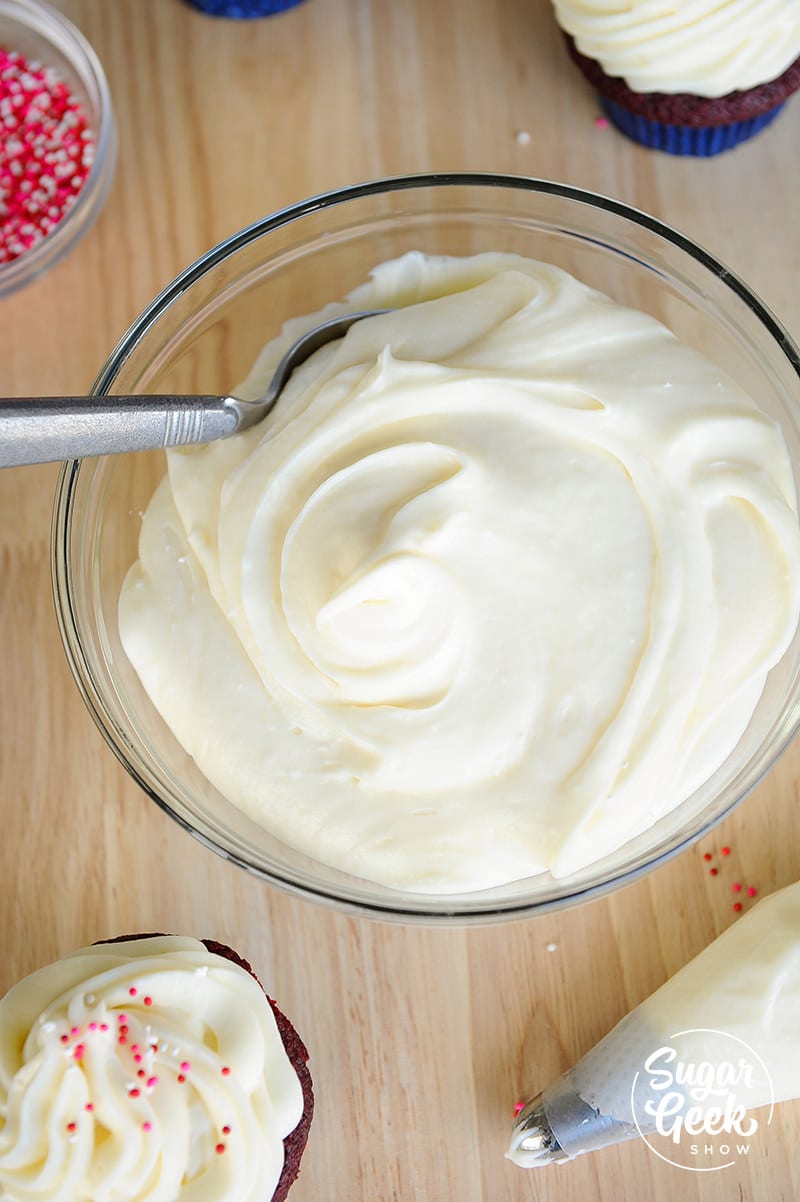 Servings: 3 lbs
Calories: 1989kcal
Ingredients
Ingredients
12 oz cream cheese room temp
12 oz unsalted butter room temp
48 oz powdered sugar
1 tablespoon clear vanilla
½ teaspoon salt
Instructions
Instructions
Cream the softened butter with the paddle attachment until smooth. Add in your softened cream cheese and continue creaming on low until fully incorporated and smooth.

Slowly add in powdered sugar one cup at a time, letting fully incorporate before adding the next cup. Add in vanilla and salt. Mix at low for 5-6 minutes until smooth.

For a whiter buttercream, add white food coloring. Store leftover buttercream in the fridge for up to a week or freeze up to 6 months.
Notes
This buttercream cannot be left out for more than 4 hours.
Nutrition
Calories: 1989kcal | Carbohydrates: 305g | Protein: 5g | Fat: 87g | Saturated Fat: 53g | Cholesterol: 245mg | Sodium: 788mg | Potassium: 122mg | Sugar: 298g | Vitamin A: 2905IU | Calcium: 92mg | Iron: 0.5mg