Pumpkin Spice Cake With Stable Cream Cheese Frosting Is A Must Have This Fall
This pumpkin spice cake is my favorite "welcome to fall" treat. A super moist butter cake that uses real pumpkin puree, pumpkin spices, buttermilk, and oil which helps it stay moist, even after a week in the fridge. The cream cheese frosting compliments the pumpkin spice cake perfectly and because it is a crusting (firms up) frosting, it actually helps hold in the moisture of the cake and is stable enough to pipe.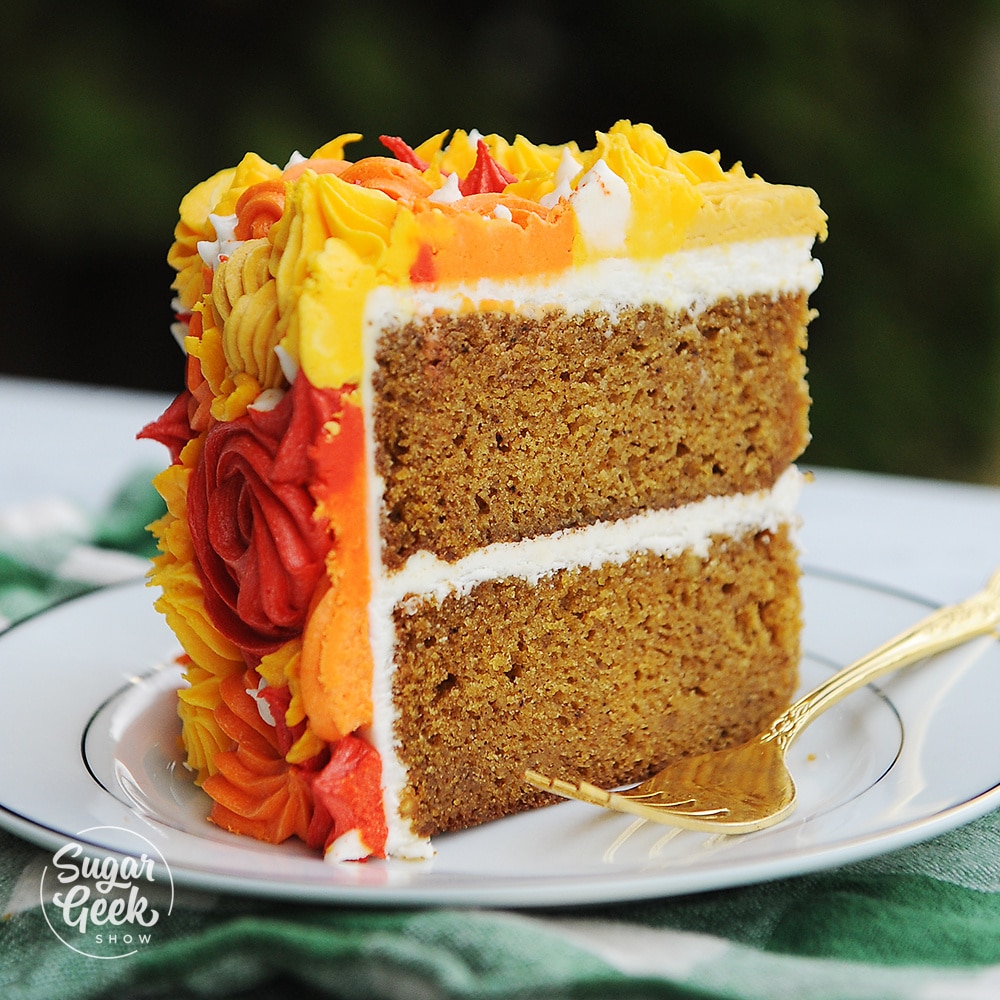 Tools For Decorating Pumpkin Spice Cake
1M Piping Tip
Small Piping Tip
2F Piping Tip
Round #3 Piping Tip
Red, egg yellow, orange, ivory food coloring
Cake cardboard (optional)
I actually made my pumpkin spice cake two weeks ago and I admit to eating a piece pretty much every day since. You could cut this recipe in half and bake it in a bread loaf pan if you prefer having a slice of cake for breakfast. Yes, I give you permission.
Easy Pumpkin Spice Cake
So I had planned on making this very simple pumpkin spice cake recipe in my kitchen a few weeks ago and was setting everything up when someone interrupts me. My daughter Avalon who is now FOUR (I still can't believe that) is like a cat and a can opener. As soon as she hears me setting up the camera she wants to be right in the middle of it all. I normally try to keep her out of the space while I bake but then something just kinda came over me.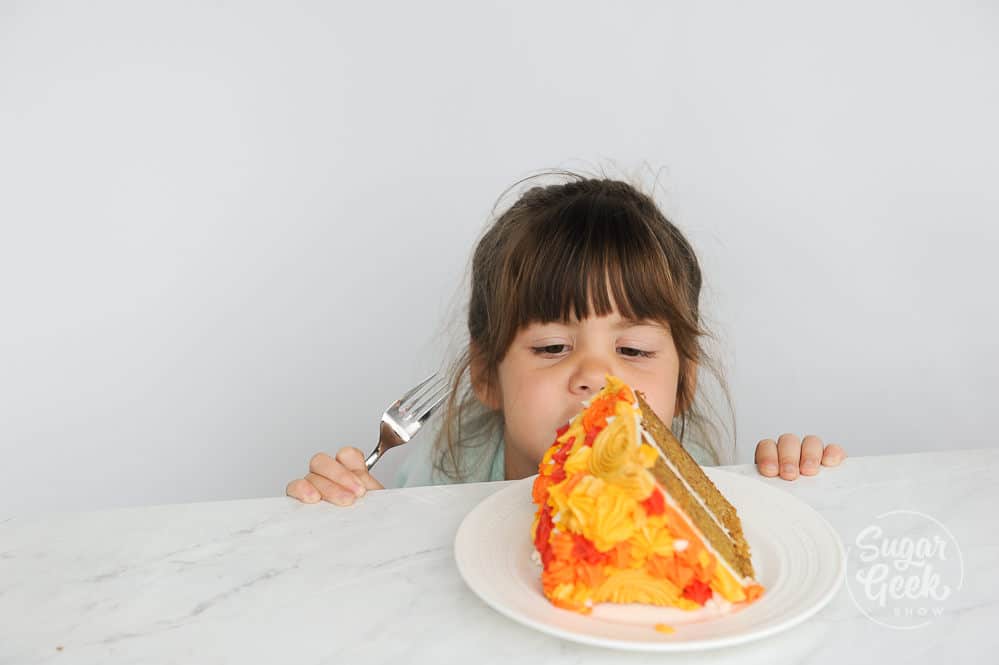 These are the moments that will build her memories of me. She will forever remember me in the kitchen baking and decorating for the rest of her life. Do I want those memories to be of me telling her to stay out and leave me in peace or do I want them to be special memories of her in the kitchen with me. Learning. Having fun.
So when she said "mom can I bake a cake with you" I said SURE and got her the stepping stool.
Even though this is technically a tutorial with my DSLR all set up and everything over the top of the mixer, it didn't take much for me to set up my phone and press the record button. I had no idea I what I was going to capture.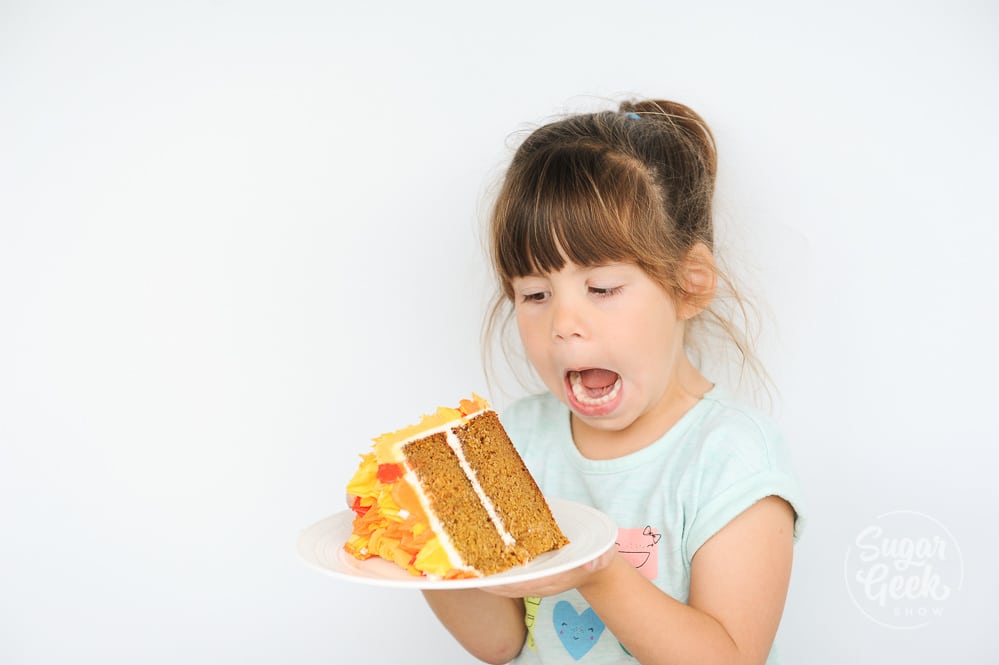 I decided to just hand Avalon each little bowl of ingredients and let her put them into the mixing bowl instead of doing it myself. She knew so many of the names of the ingredients! I was also super disappointed she didn't say "ba-nilla" when she put it in the bowl because that is my favorite right now.
The great thing about this cake is that it's so easy. No fancy mixing required.
How To Make Pumpkin Spice Cake
This pumpkin spice cake only has a few simple ingredients and it all comes together so quickly!
Combine your flour, baking soda, baking powder, spices, and salt into a bowl and whisk together. Set the bowl aside.
Blend together your eggs with the brown sugar, white sugar, and vanilla
Add in your pumpkin, melted butter, oil and buttermilk (No buttermilk? Substitute with 1/2 cup buttermilk and 2 tsp white vinegar)
While mixing on low, start adding in your flour mixture one cup at a time until it's all combined together and smooth.
Bake!


This is a dense cake and is the perfect amount for two 8″x2″ cake pans or two bread loaf pans.
It took my pumpkin spice cake about 55 minutes to bake all the way because it's so moist. Think banana bread. Low and slow is the way to go. Your baking time might vary depending on the size of your pan.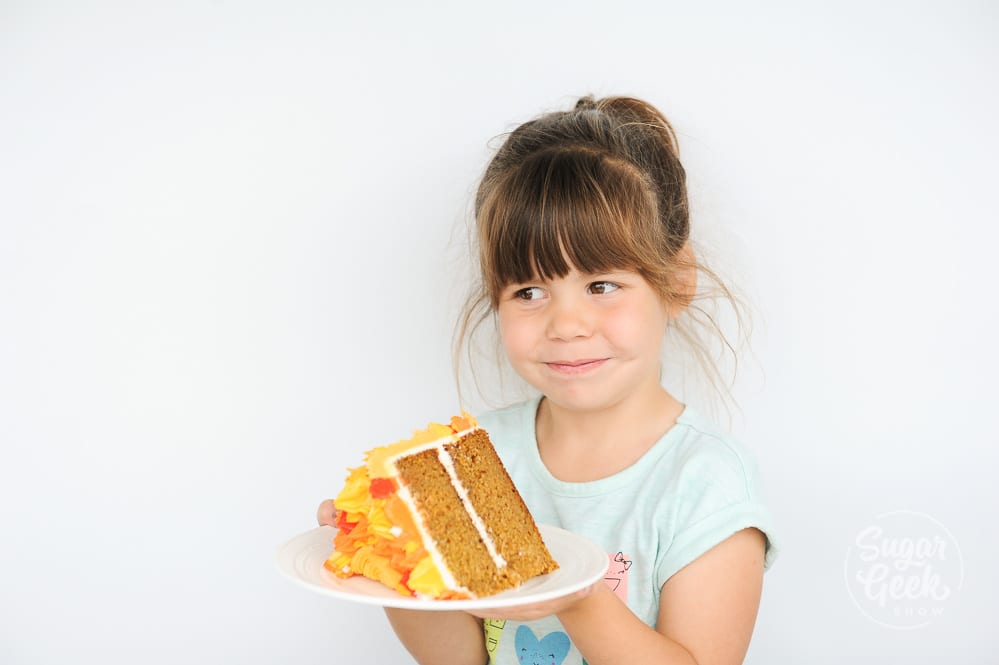 After my cakes had been cooling for about 10 minutes, I flipped them out onto a cooling rack and then wrapped them in some plastic wrap and put them in the freezer to chill for about an hour until they were cool enough to frost.
How To Make Thick Cream Cheese Frosting
I am ashamed to say that I had trouble with cream cheese frosting for WAY longer than what seems appropriate for a professional cake decorator. I just always felt my cream cheese was too soft to really do anything other than frost a cupcake, let alone decorate a cake.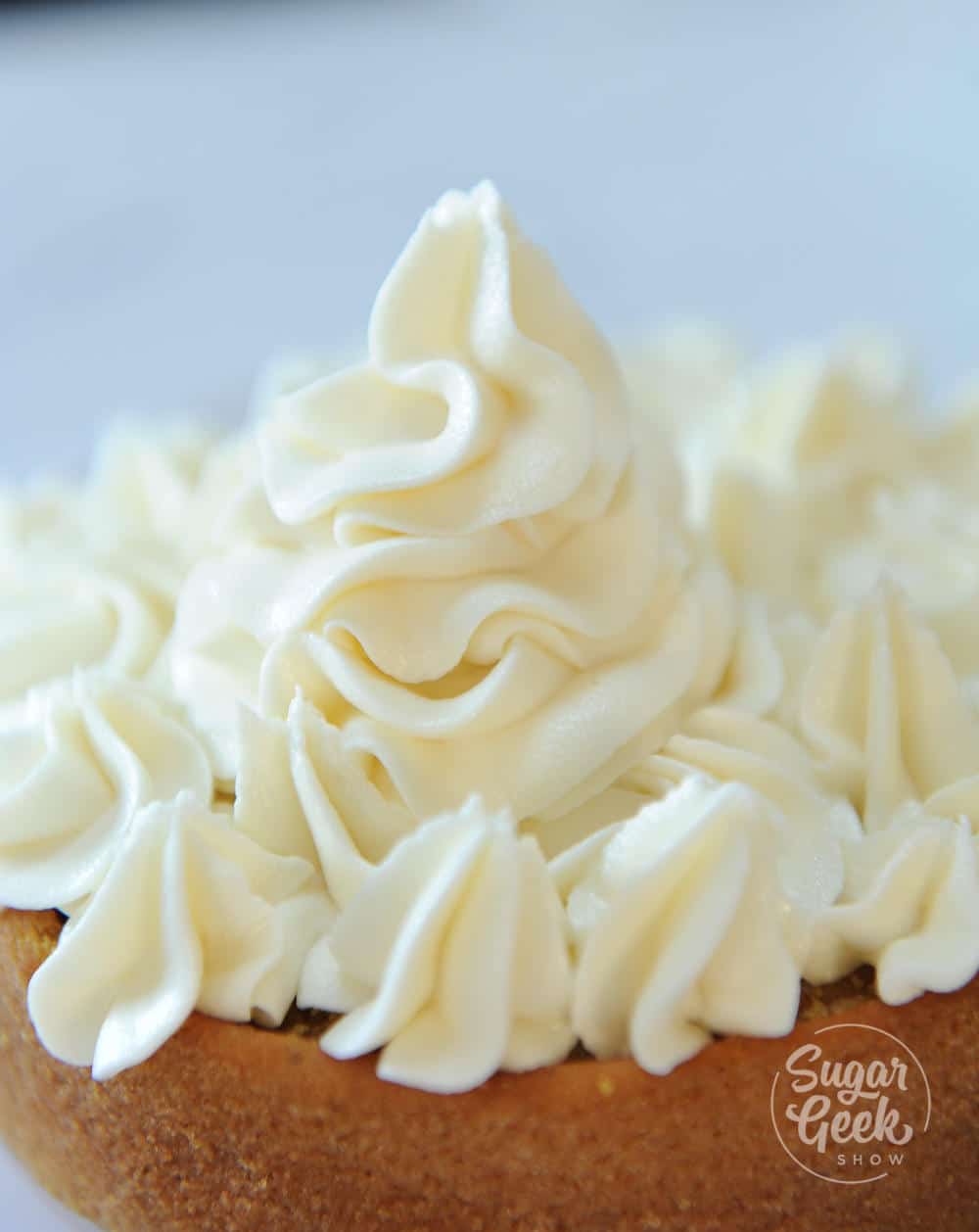 Then I finally tried a crusting cream cheese frosting recipe from Design Me A Cake and I was in love! Finally! A thick cream cheese frosting that I could use to actually decorate a cake. I tweaked the recipe a tad for my own tastes but it's basically the best recipe ever just the way it is.
How To Make Cream Cheese Frosting
The best thing about this cream cheese recipe is that it can be used as a filling or for frosting the outside of your cake. After a few minutes, a crispy crust forms on the surface of the buttercream and keeps the frosting nice and stable so the details hold their shape.
To make your cream cheese frosting simple place your room temperature butter into the bowl of your stand mixer fitted with a paddle attachment and cream until smooth.
Then add in your room temperature cream cheese and cream together until smooth with no lumps. (If you forgot to bring your cream cheese to room temperature you can cut it into cubes and place it onto a place and microwave for 15 seconds to soften).
Then, add your powdered sugar one cup at a time while mixing on low. Wait until the sugar is fully incorporated before adding in more to keep your frosting from splitting and getting gritty.
Once your cream cheese frosting is smooth, add in your salt and vanilla extract. You can also use lemon or orange extract instead of vanilla if you want a citrus kick.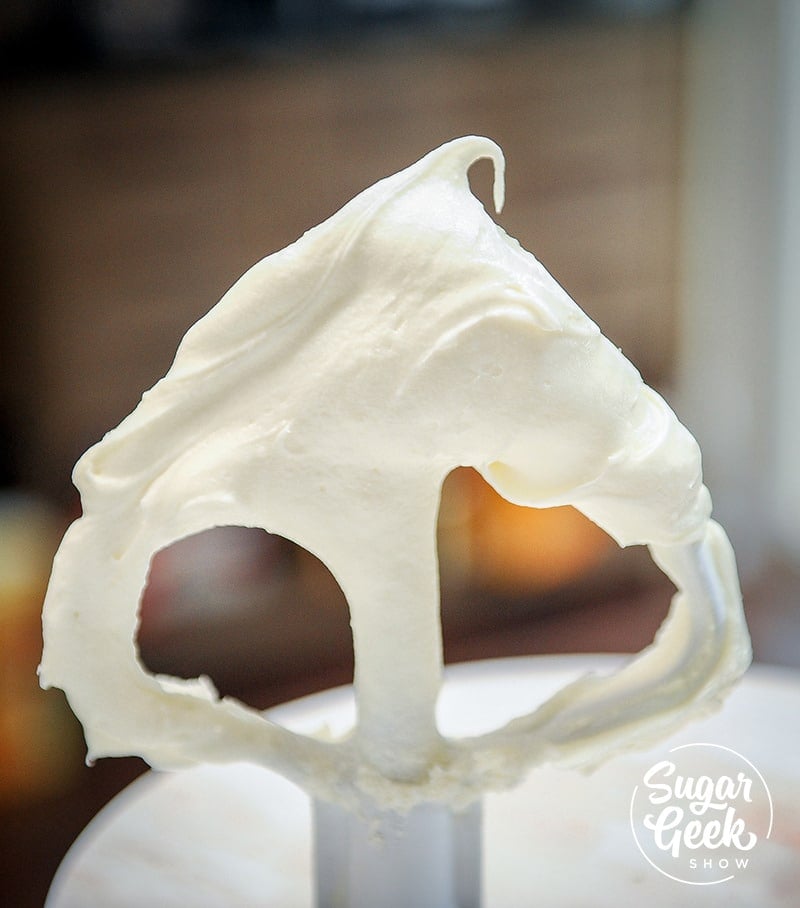 Other frostings that would be FABULOUS with this cake!
Brown Butter Frosting
Easy Buttercream
Traditional Cream Cheese Frosting (Just as tasty but a little softer than my crusting cream cheese frosting)
BONUS: Want step-by-step instructions on how to make your first cake? Watch my how to make a cake video tutorial!

How To Make A Pumpkin Spice Layer Cake With Cream Cheese Frosting Rosettes
After my cake is cooled, I trimmed off the dome of my cake with a bread knife and place the layers on a cake cardboard. You could tort (split your cakes in half lengthwise) but I like nice tall layers of cake.
I put a nice layer of my cream cheese frosting in the middle of the two layers, sprinkled it with some cinnamon and gave it a quick crumb coat to seal in all the crumbs of the cake. Then I put the whole cake into the fridge to chill for about 20 minutes.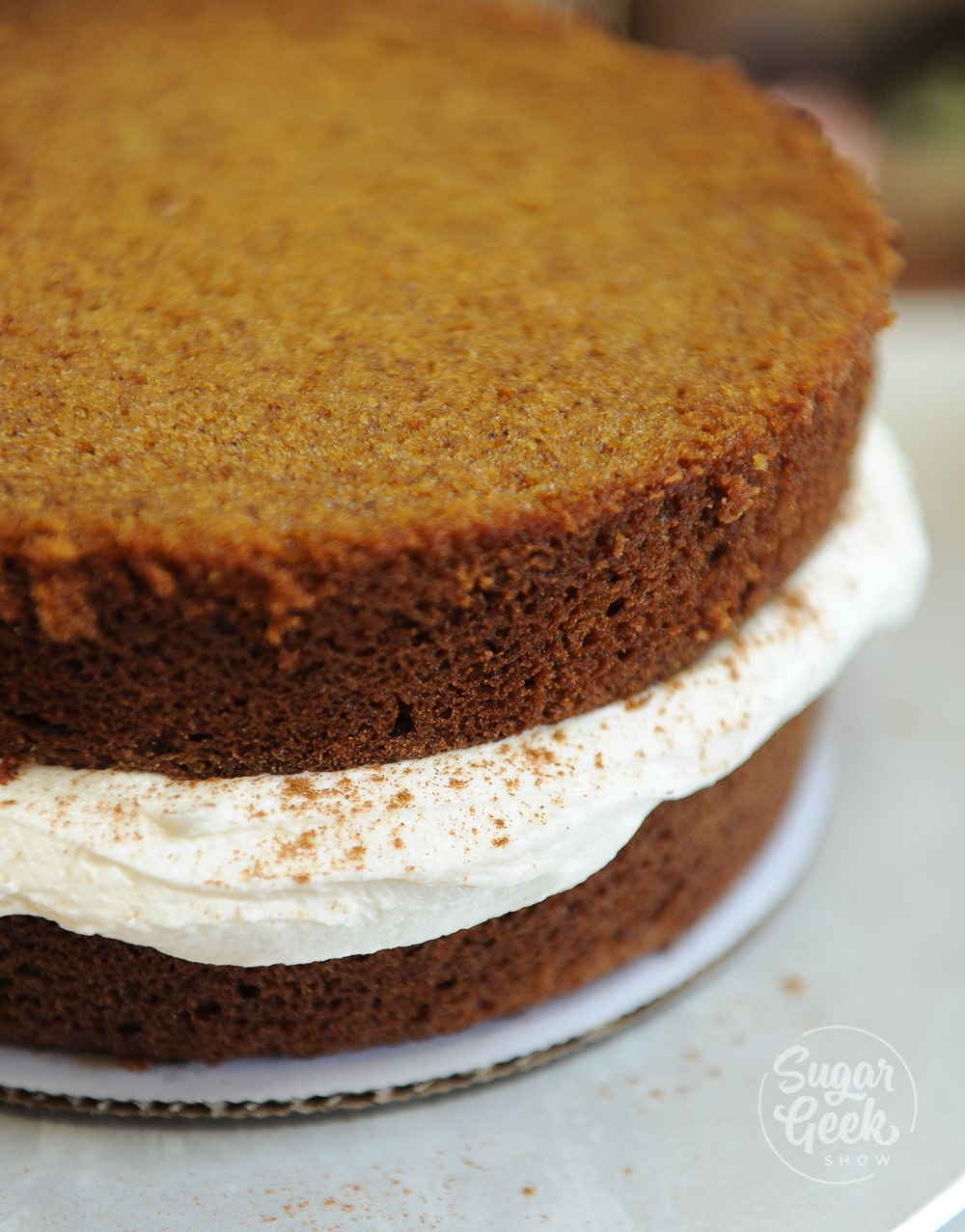 I decided to color my cream cheese frosting with a little egg yellow, orange, red and ivory food coloring to make some fall colors. I just divided my frosting up into separate bowls, added in my colors and mixed them until they where the shade I wanted.
Then I put the colored buttercream in a piping bag with a piping tip. I started out with my 1M piping tip to make some rosettes with the red. I tried to space my colors out evenly. Then I switched to my next bag and small star tip to make some more rosettes and dollops.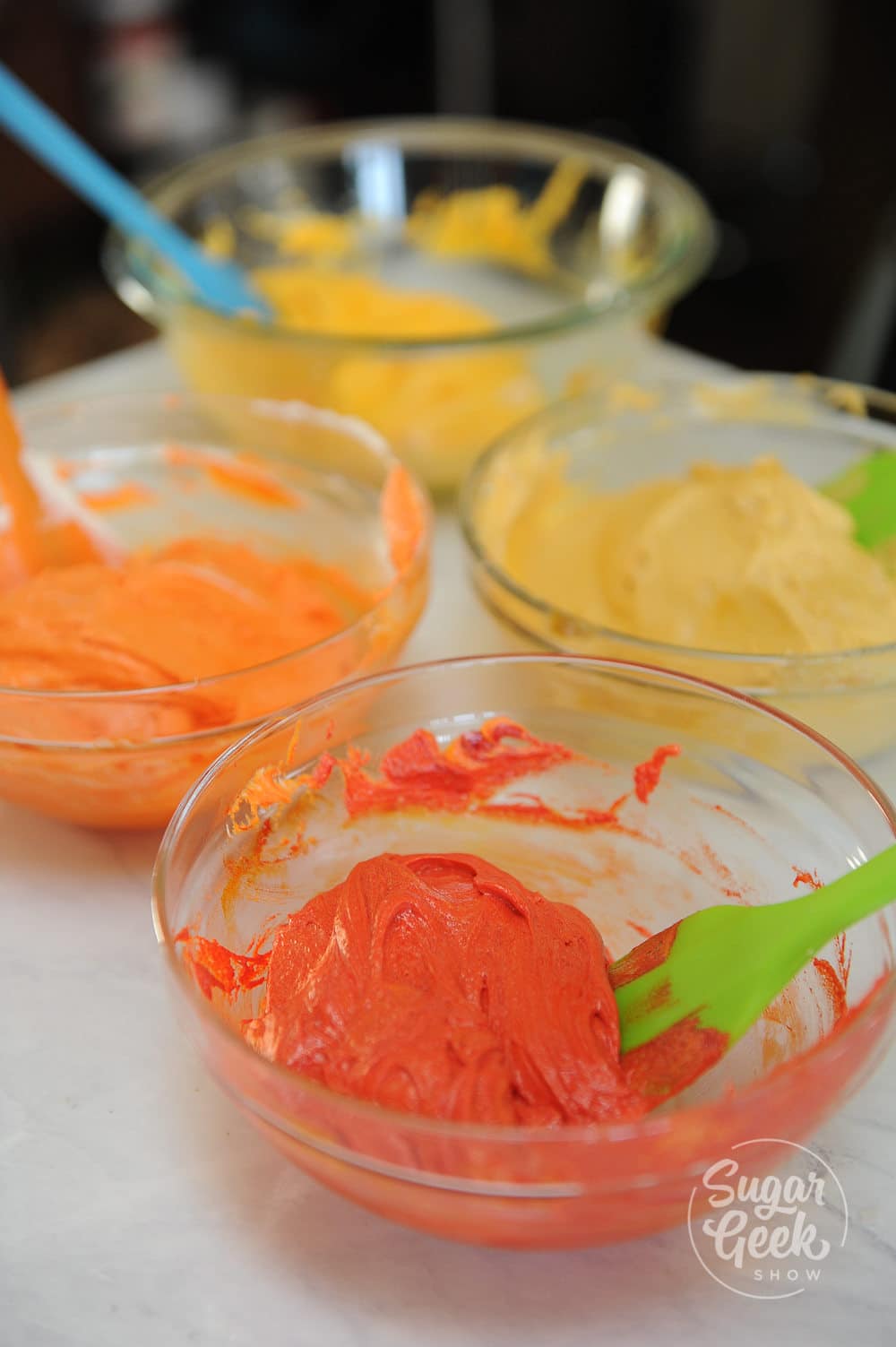 I basically repeat this process in various sized tips and shapes until the whole cake was covered in some beautiful fall colors.
After a few minutes, the cream cheese crusts and sets and your cake is now stable! Pretty cool huh! I have not tested this frosting under fondant. Typically fondant and cream cheese frosting do not get along.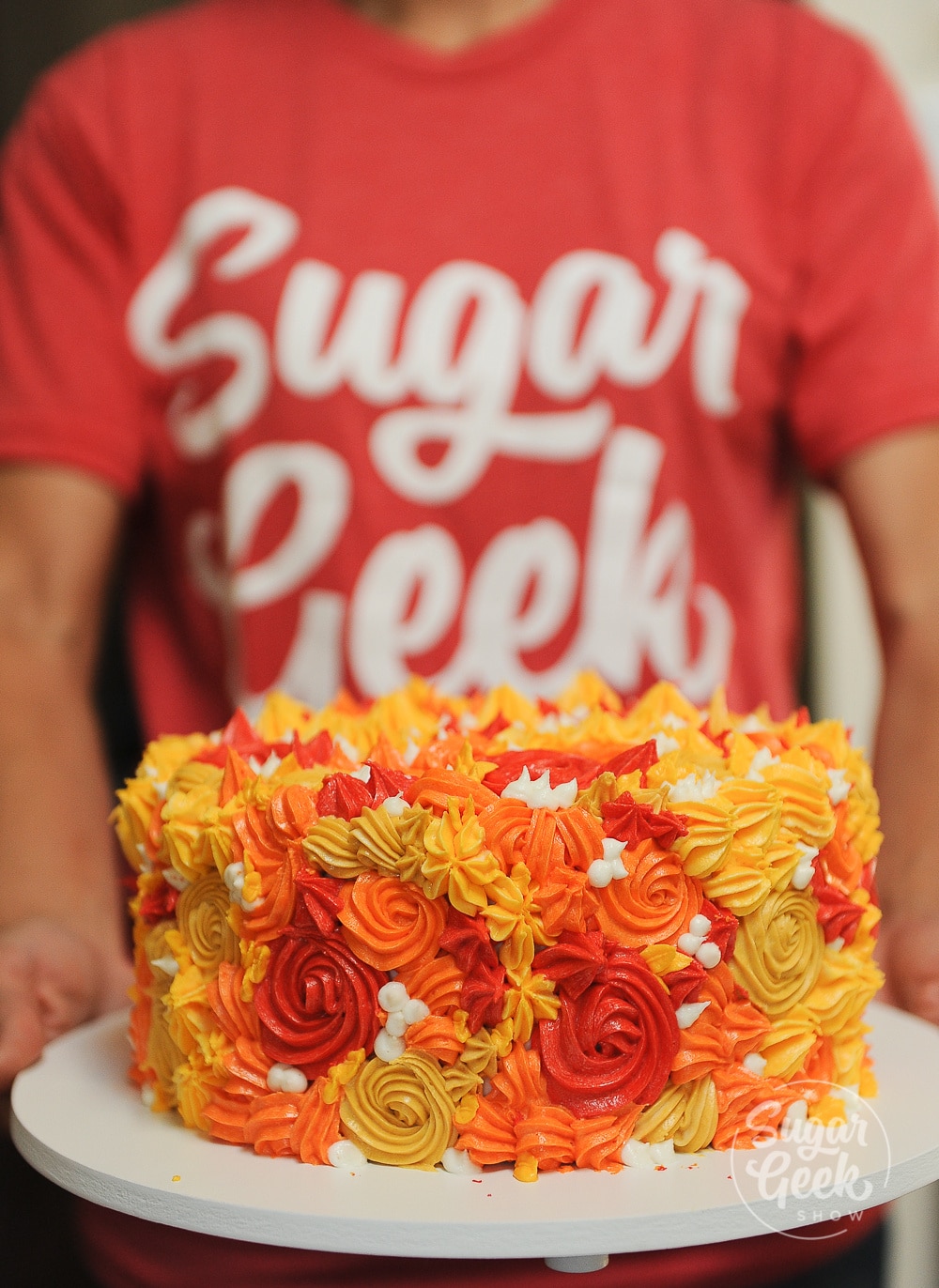 Since the frosting contains cream cheese, you will have to keep it stored in the fridge. If you cut a slice and let it sit at room temp for 10 minutes it's perfect. The cream cheese frosting will always be firm on the outside. That's part of what helps keep the cake moist.
Pumpkin Spice Cupcakes With Cream Cheese Frosting
This recipe works really well for cupcakes too. Fill your liners up 3/4 of the way full. Bake the cupcakes at 400ºF for about 20 minutes or until the center is set. Let cool and frost with your cream cheese frosting.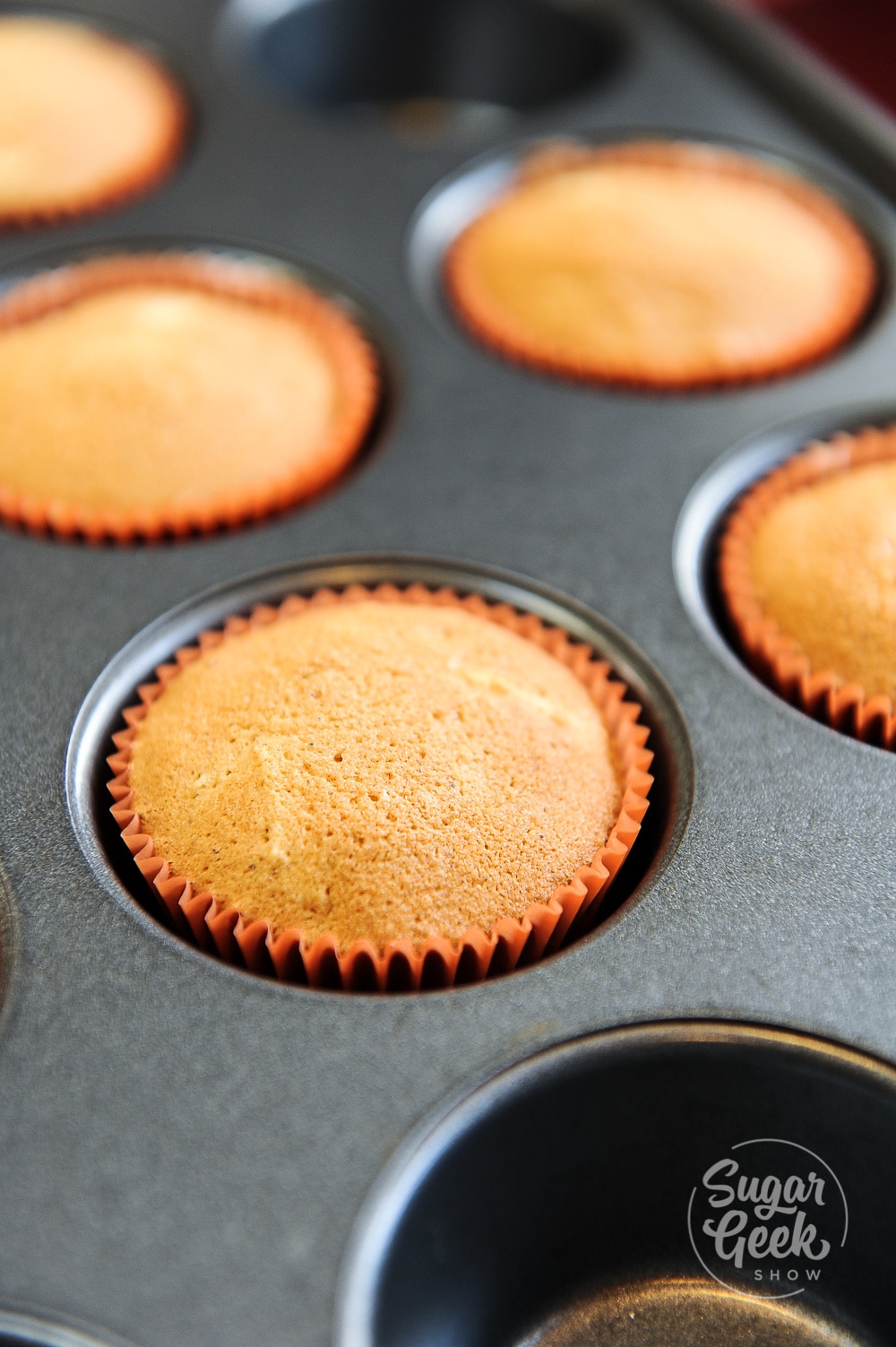 The simple video instructions on how to make this cake and decorate it can be found in the recipe card below. I also made this adorable video of Avalon helping me make this cake.
Blame my mommy heart, I may have melted a little bit watching this. I just love baking with this girl in the kitchen.
Cake Batter and Frosting Calculator
Select an option below to calculate how much batter or frosting you need. Adjust the servings slider on the recipe card to change the amounts the recipe makes.
Choose a pan type
Choose a cake pan size
(based on 2" tall cake pan)
Choose a cake pan size
(based on 2" tall cake pan)
Choose a cake pan size
(based on 2" tall cake pan)
Cups of Batter Needed
8 cups
Cups of Frosting Needed
5 cups
Did You Make This Recipe?Leave a rating and tell me how it went!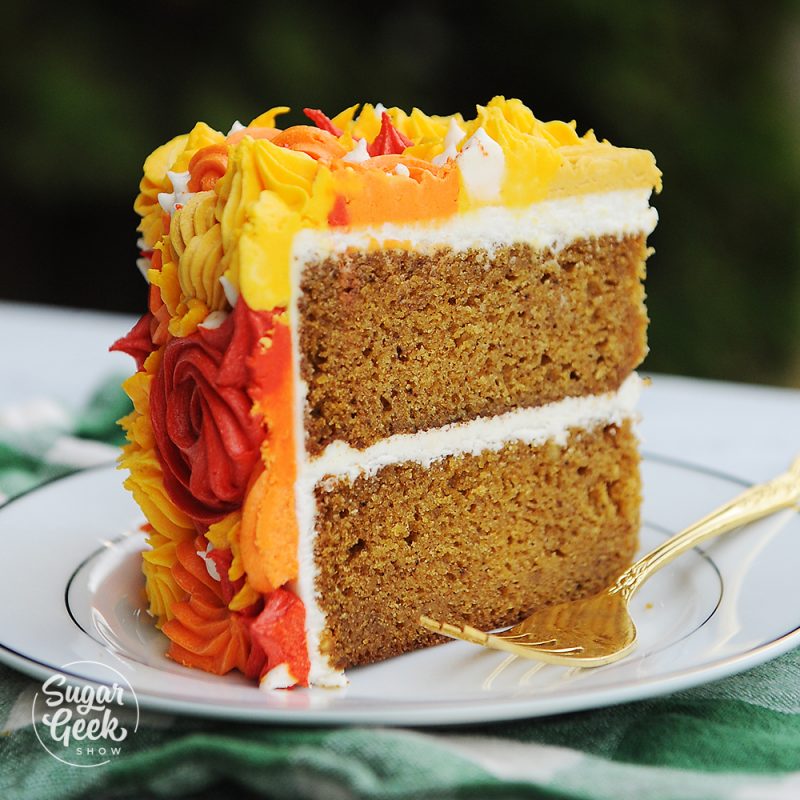 Pumpkin Spice Cake With Cream Cheese Frosting
This pumpkin spice cake is my favorite "welcome to fall" treat. A super moist butter cake that uses real pumpkin puree, pumpkin spices, buttermilk, and oil which helps it stay moist, even after a week in the fridge. Frosted with my thick and stable cream cheese frosting, I can't wait to make this cake every year! This cake is super versatile and can be made into cupcakes, bundt cake, and even mini loaves! Great for gift giving!

Print
Rate
Serves: 8 cups
Calories: 1909kcal
Ingredients
Pumpkin Spice Cake Ingredients
14 oz (397 g) AP Flour
2 tsp (2 tsp) Baking Soda
1 tsp (1 tsp) Baking Powder
2 tsp (2 tsp) Cinnamon
2 tsp (2 tsp) Cloves
2 tsp (2 tsp) Nutmeg
1/2 tsp (1/2 tsp) Ginger
1 tsp (1 tsp) Salt
8 Large (8 Large) Eggs
12 oz (340 g) Sugar
3 oz (85 g) Light Brown Sugar
12 oz (340 g) Pumpkin Puree
6 oz (170 g) oil
2 tsp (2 tsp ) Vanilla
4 oz (113 g) Buttermilk
12 oz (340 g) Melted Butter
Cream Cheese Frosting Ingredients
12 oz (340 g) cream cheese room temp
12 oz (340 g) unsalted butter room temp
48 oz (1361 g) powdered sugar
1 tbsp (1 tbsp) clear vanilla
1/2 tsp (1/2 tsp) salt
1 tsp (1 tsp) Vanilla
Equipment
Stand Mixer

Paddle Attachment

1 M Piping Tip

2 F Piping Tip

Wilton #32 Tip

#3 Round Piping Tip

Piping Bags

Red, Yellow, Orange, Ivory Food Coloring
Instructions
Cake Instructions
Preheat your oven to 350ºF Prepare two 8"x2" cake pans with cake goop or other preferred pan release

Combine your flour, baking soda, baking powder, spices and salt in a bowl and whisk together to combine. Set aside.

In the bowl of a stand mixer, add your eggs, sugar, brown sugar and vanilla. Mix on low with the paddle attachment until smooth. You can also do this by hand with a whisk if you don't have a mixer. 

Add in your pumpkin puree, oil, melted butter and buttermilk and mix until smooth

While mixing on low, add in your flour mixture one cup at a time until all your dry ingredients are incorporated and your batter is smooth. Do not over-mix. 

Pour batter into prepared cake pans. Bake the cakes for 40-50 minutes until the center of the cake is set. Let cakes cool ten minutes and turn out onto a cake rack to fully cool before frosting.
Frosting Instructions
Cream the softened butter with the paddle attachment until smooth. Add in your softened cream cheese and continue creaming on low until fully incorporated and smooth. 

Slowly add in powdered sugar one cup at a time, letting fully incorporate before adding the next cup. Add in vanilla and salt. Mix at low for 5-6 minutes until smooth.

For a whiter buttercream, add white food coloring. Store leftover buttercream in the fridge for up to a week or freeze up to 6 months.
Notes
Important Things To Note Before You Start
1. Bring all your ingredients to room temperature or even a little warm (eggs, buttermilk, butter, etc) to ensure your cake batter does not break or curdle. 
2. Use a scale to weigh your ingredients (including liquids) unless otherwise instructed (Tablespoons, teaspoons, pinch etc). Metric measurements are available in the recipe card. Scaled ingredients are much more accurate than using cups and help ensure the success of your recipe. 
3. Practice Mise en Place (everything in it's place). Measure out your ingredients ahead of time and have them ready before you start mixing to reduce the chances of accidentally leaving something out.
4. Chill your cakes before frosting and filling. You can cover a frosted and chilled cake in fondant if you wish. This cake is also great for stacking. I always keep my cakes chilled in the refrigerator before delivery for easy transporting. 
Nutrition
Serving: 0.25cups | Calories: 1909kcal (95%) | Carbohydrates: 268g (89%) | Protein: 15g (30%) | Fat: 89g (137%) | Saturated Fat: 54g (270%) | Cholesterol: 417mg (139%) | Sodium: 1292mg (54%) | Potassium: 385mg (11%) | Fiber: 3g (12%) | Sugar: 223g (248%) | Vitamin A: 9610IU (192%) | Vitamin C: 1.8mg (2%) | Calcium: 171mg (17%) | Iron: 4.2mg (23%)