You won't believe how easy it is to make your own pumpkin puree at home. No need to buy it in a can. Fresh pumpkin puree has more flavor and color than canned puree. All you need is a sweet pumpkin, some shortening or oil, and 45 minutes for roasting. Blend and done! Your pumpkin recipes will taste even better with fresh pumpkin puree!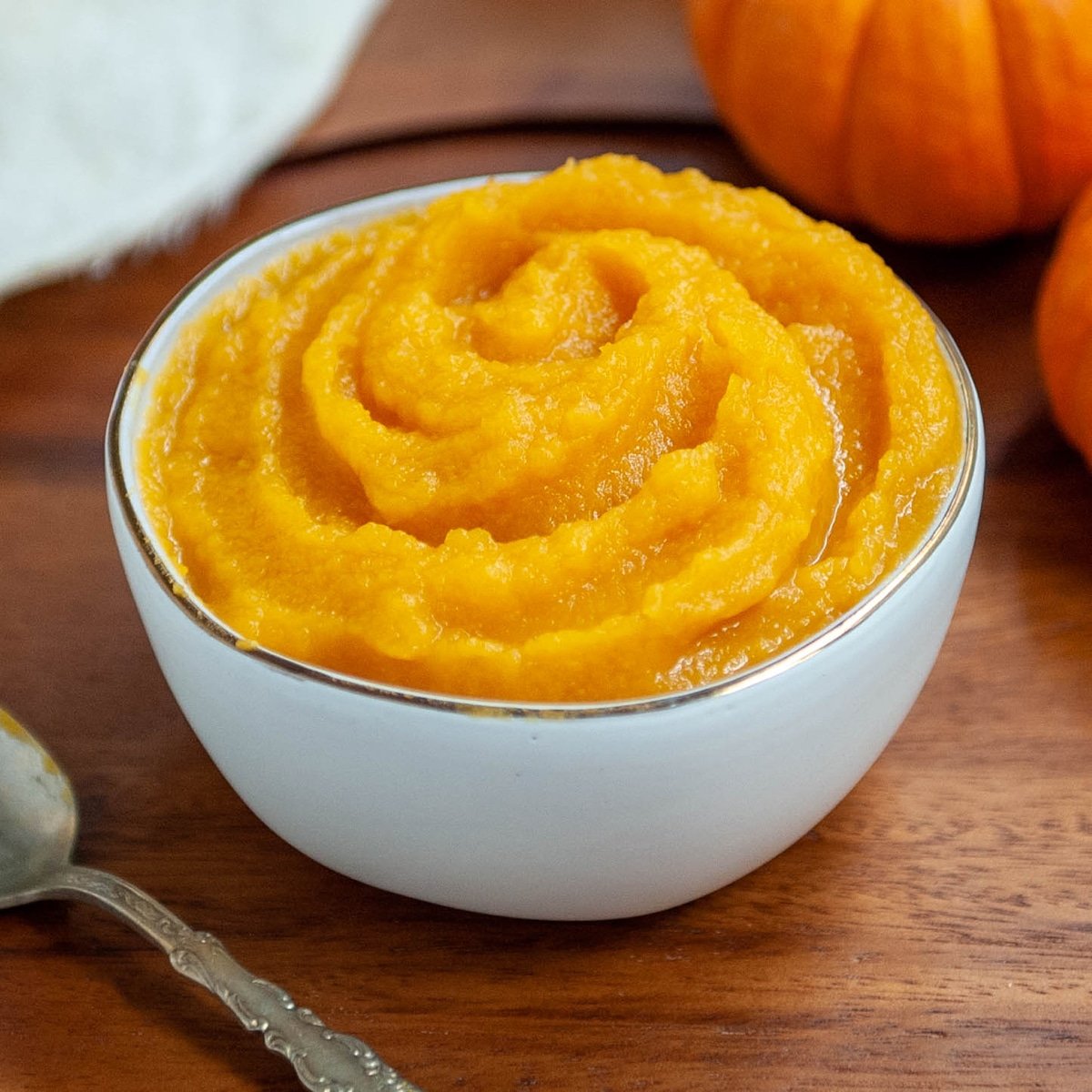 WHAT PUMPKINS MAKE THE BEST PUMPKIN PUREE?
Pumpkins that make the best puree are sweet and have smooth outer skin. During the Autumn months, you will typically see something called "sugar pumpkins" or "pie pumpkins" in the produce section. These are what you want to make your pumpkin puree.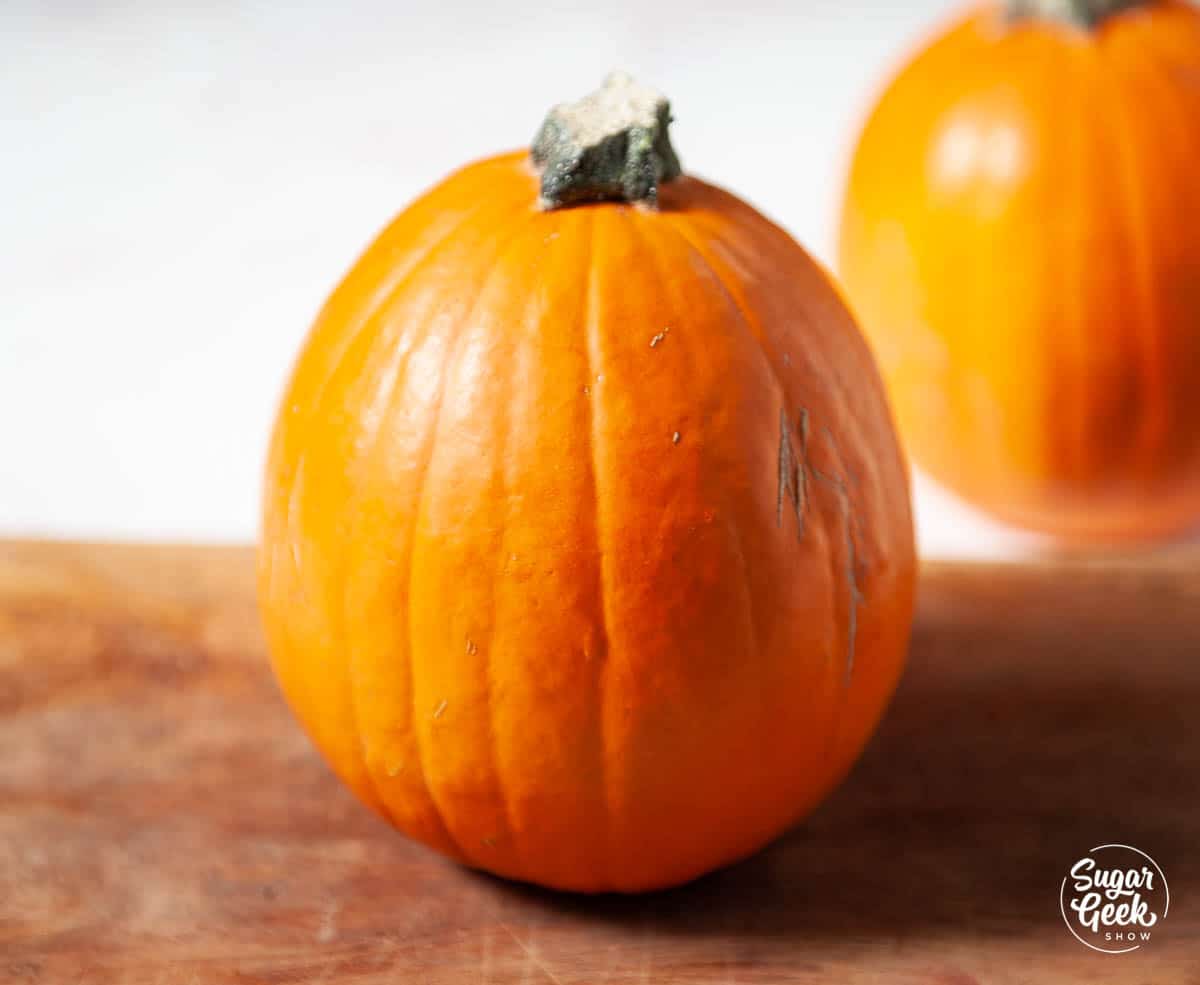 You might be tempted to use a big orange Jack-o-lantern pumpkin to make your puree but that would be a mistake. Jack-o-lantern pumpkins are very bland and have a stringy texture.
But you're not limited! You can also make puree from butternut squash, acorn squash, Baby Pam, Autumn Gold, Ghost Rider, New England Pie Pumpkin, Lumina (which are white), Cinderella, and Fairy Tale pumpkins. Pumpkins keep for a very long time in a cool dry place so you can even grow your own pumpkins (they are so easy to grow!) and turn them into puree later!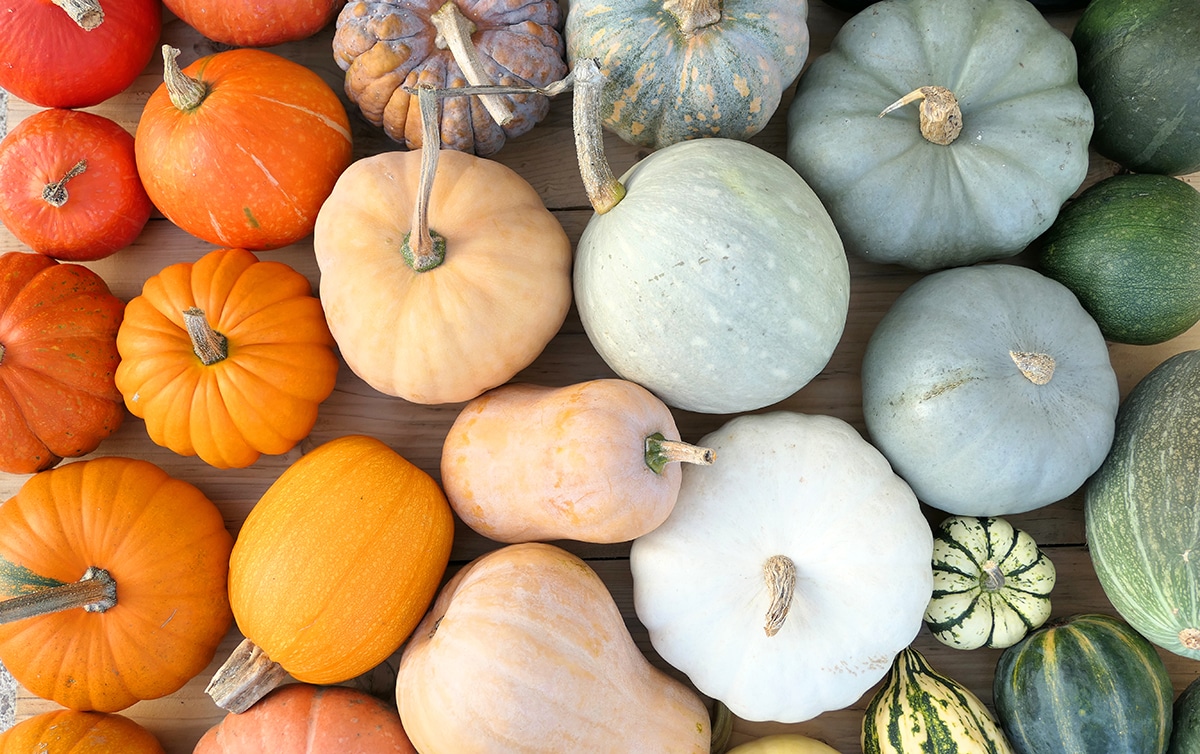 HOW TO MAKE PUMPKIN PUREE STEP-BY-STEP
For this recipe, I'm using two sugar pumpkins that weigh about 3 lbs. The amount of pumpkin puree you get from your pumpkins will vary. These two made about 2 cups.
Step 1 - Preheat your oven to 400ºF and line a baking sheet with parchment paper. Wash your pumpkins and pat dry. Use a sharp knife to cut them in half.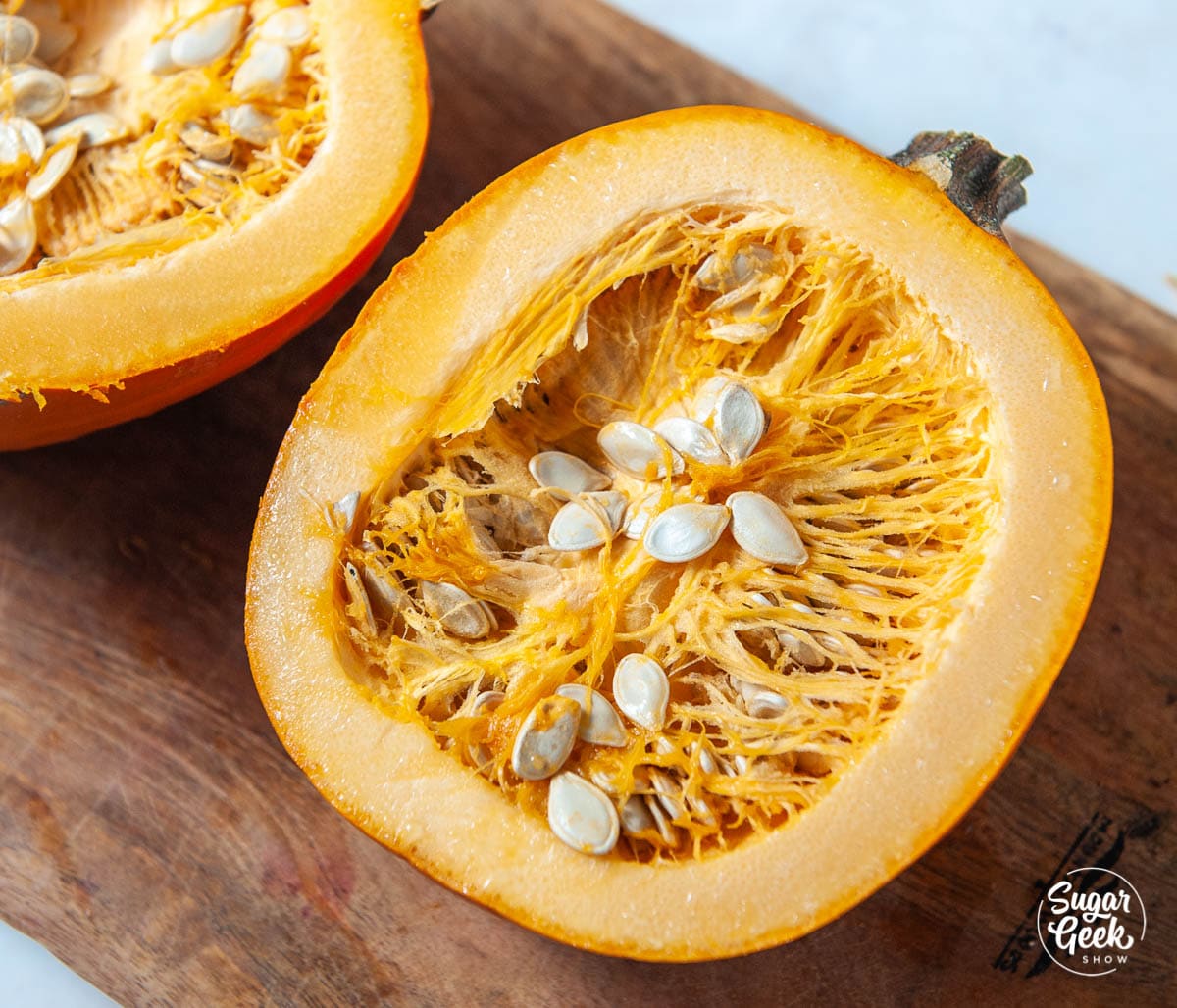 Step 2 - Remove the seeds with your hand or spoon. You can roast these pumpkin seeds if you want! They make a fantastic snack and are high in vitamins.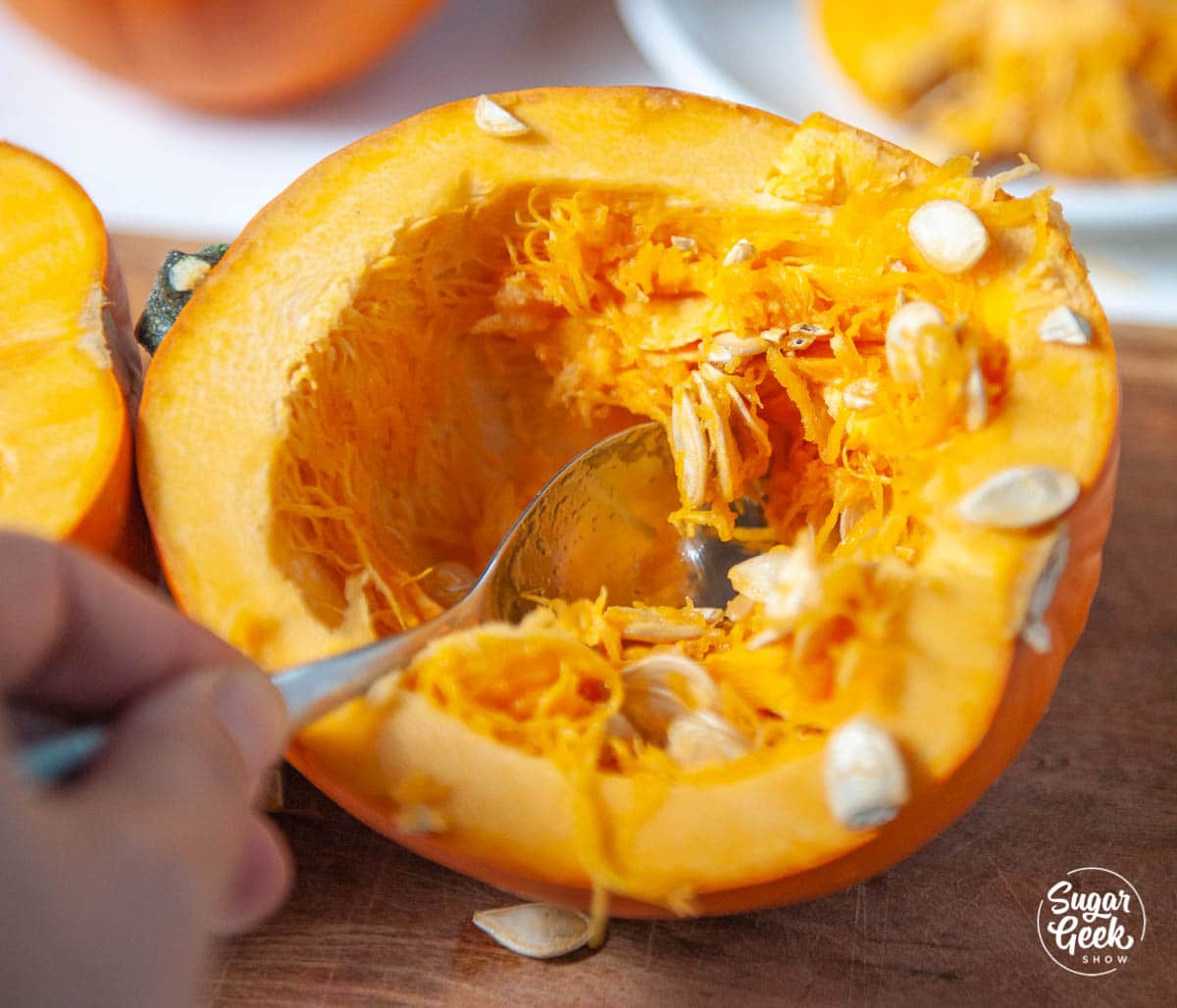 Step 3 - Rub some vegetable shortening on the fleshy side of the pumpkin. This will keep it from drying out and also create some yummy caramelization aka more flavor in your puree.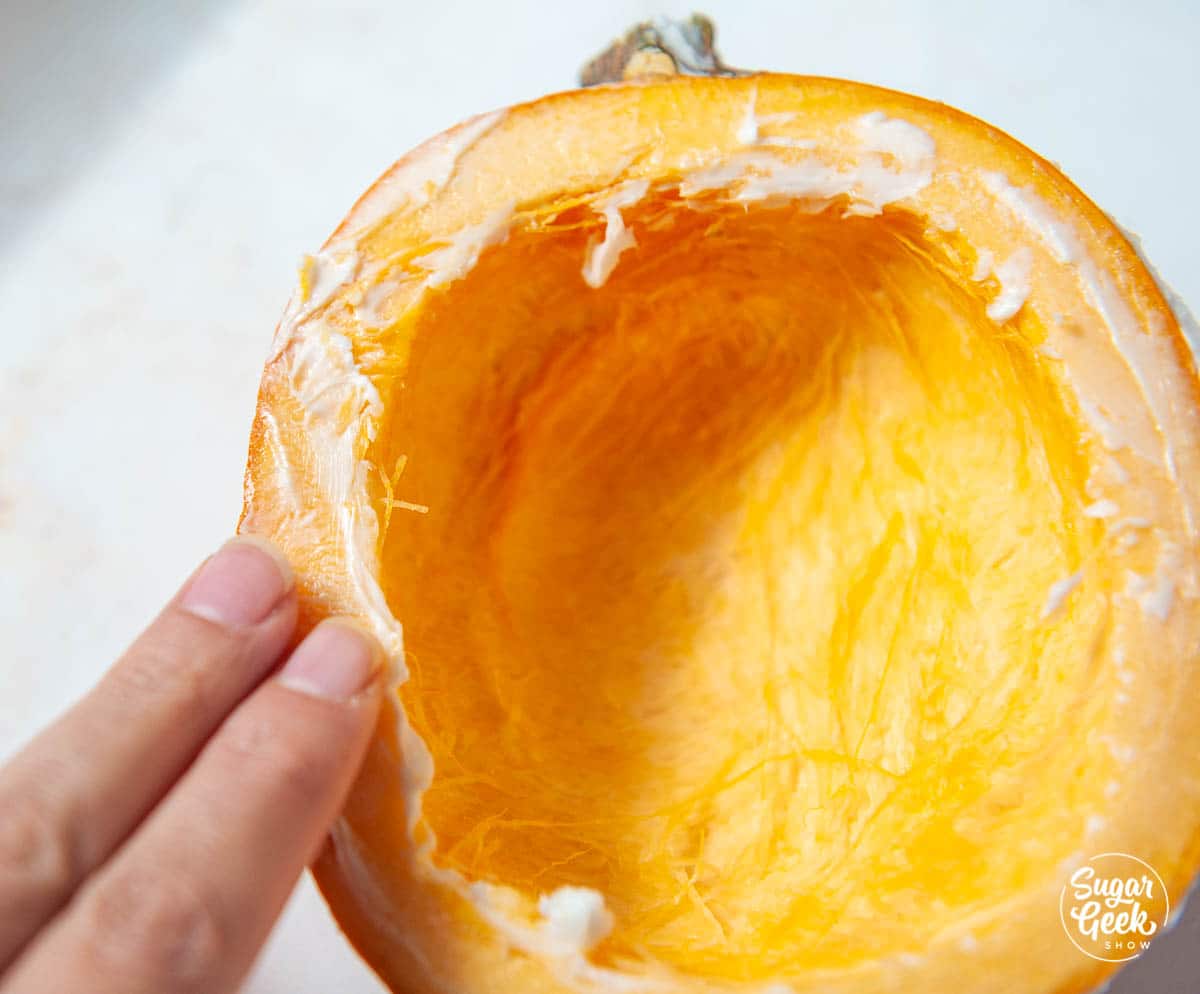 Step 4 - Place the pumpkin halves flesh side down onto your baking sheet. Poke some holes in the skin with a sharp knife about ¼" deep. This will help steam escape while roasting.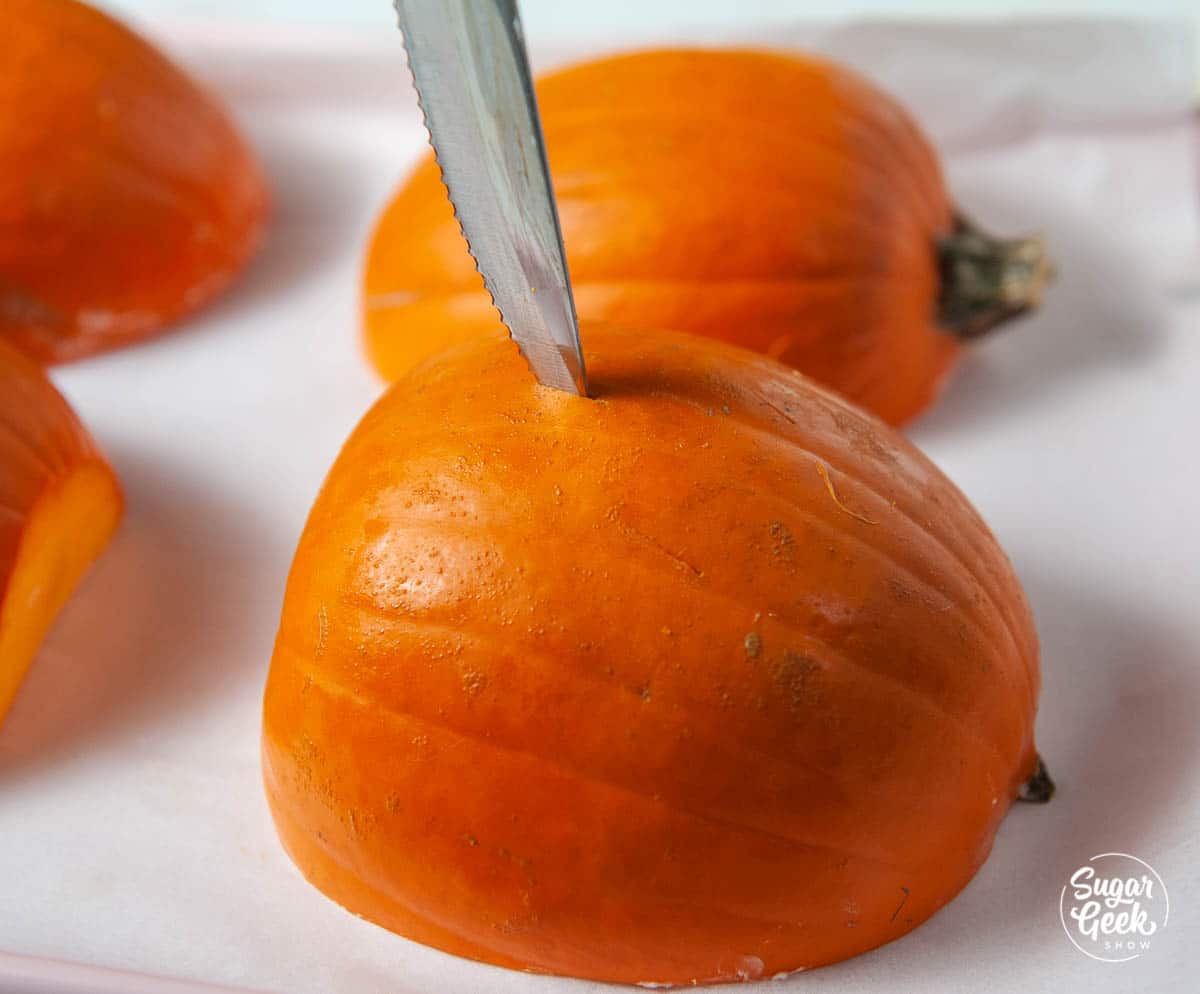 Step 5 - Place into the oven and roast for 45-60 minutes until the surface of the pumpkin is soft to the touch (use a spoon to test).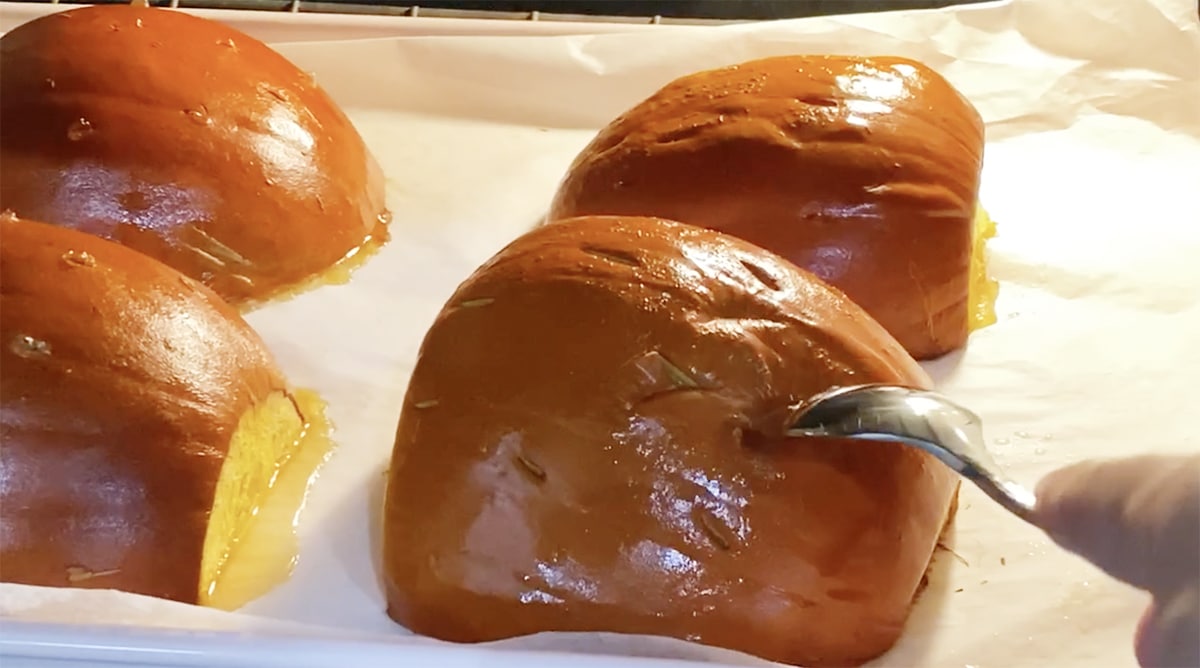 Step 6 - Remove the pumpkins from the oven and let them cool a bit so you can pick them up.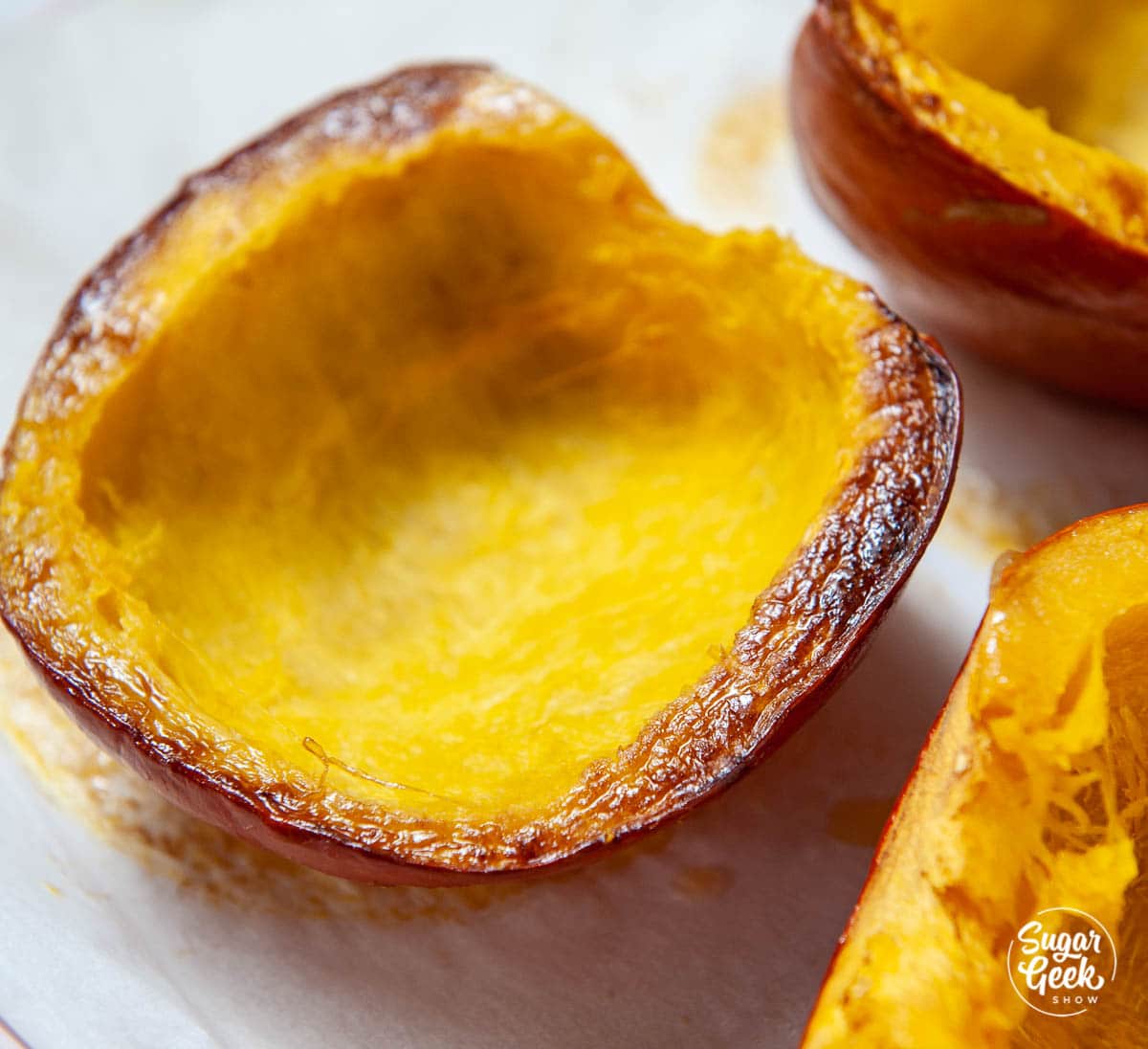 Step 7 - Remove the pumpkin from the skin and place into a food processor. Blend for 3-5 minutes or until the puree is very smooth.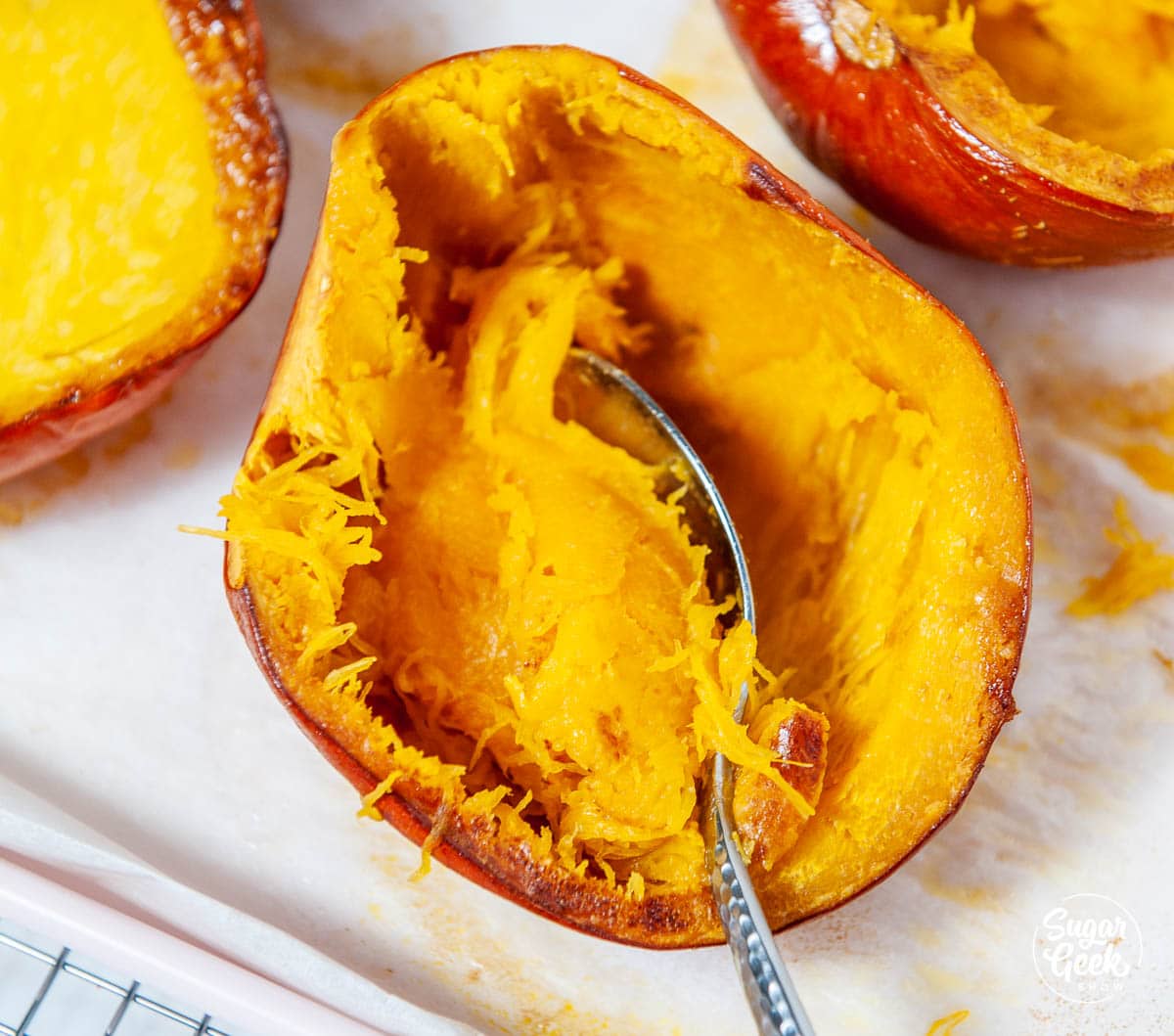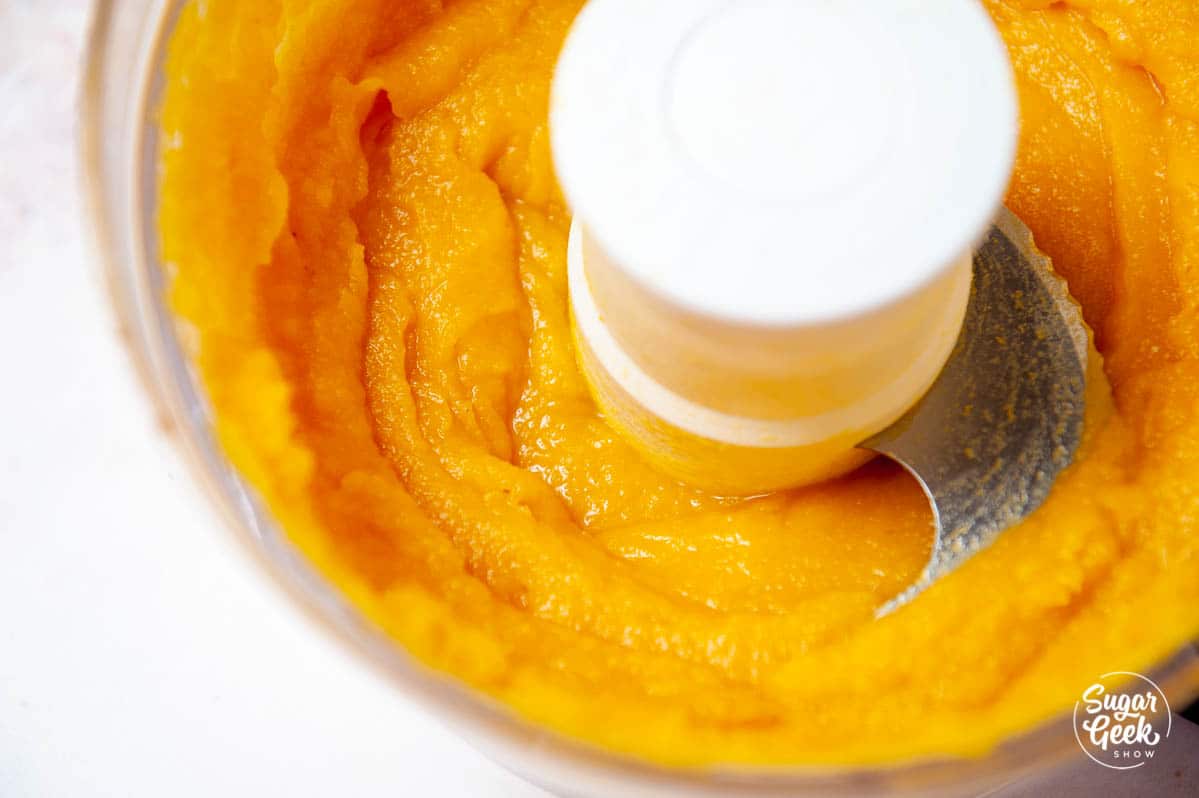 Step 8 - Your pumpkin puree is ready to use! You can store it in a ziplock bag for up to a week or freeze it for up to 6 months. I like freezing in a quart-sized bag that is pre-weighed so I know exactly h0w much pumpkin I have.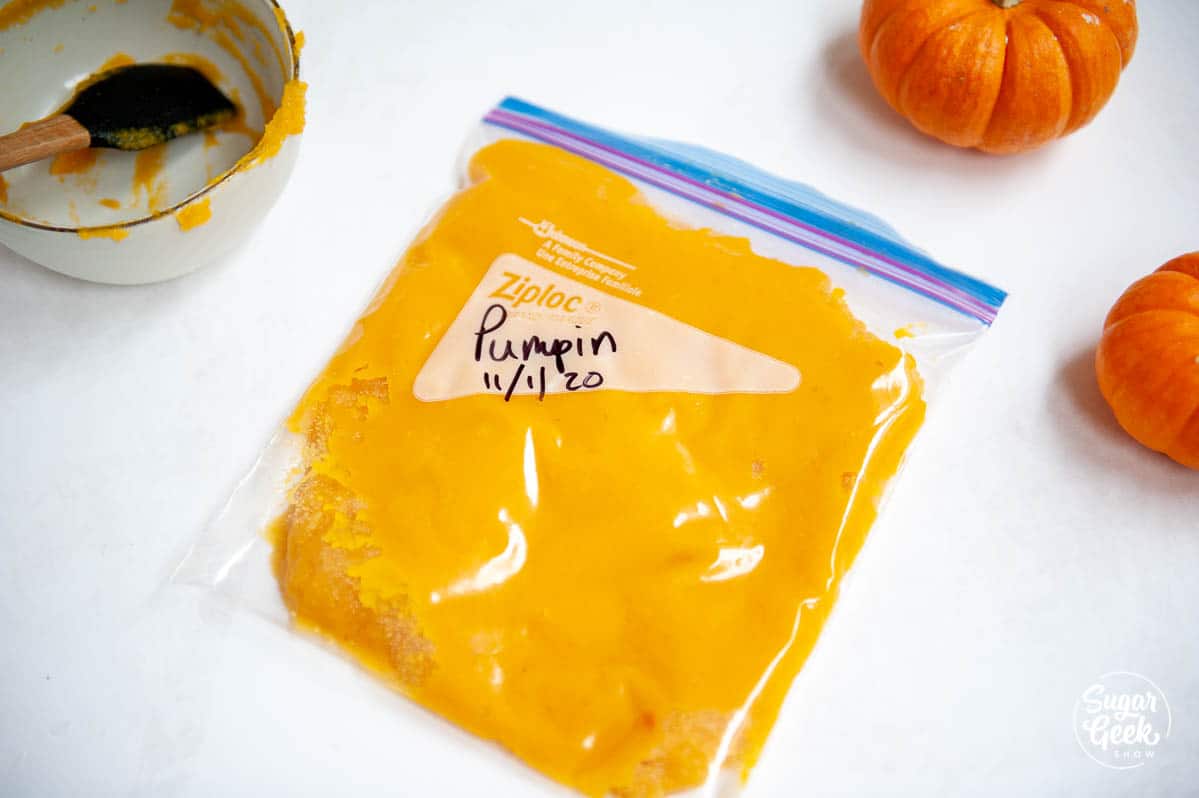 Related Recipes
Olive Oil and Sea Salt Pumpkin Seeds
Recipe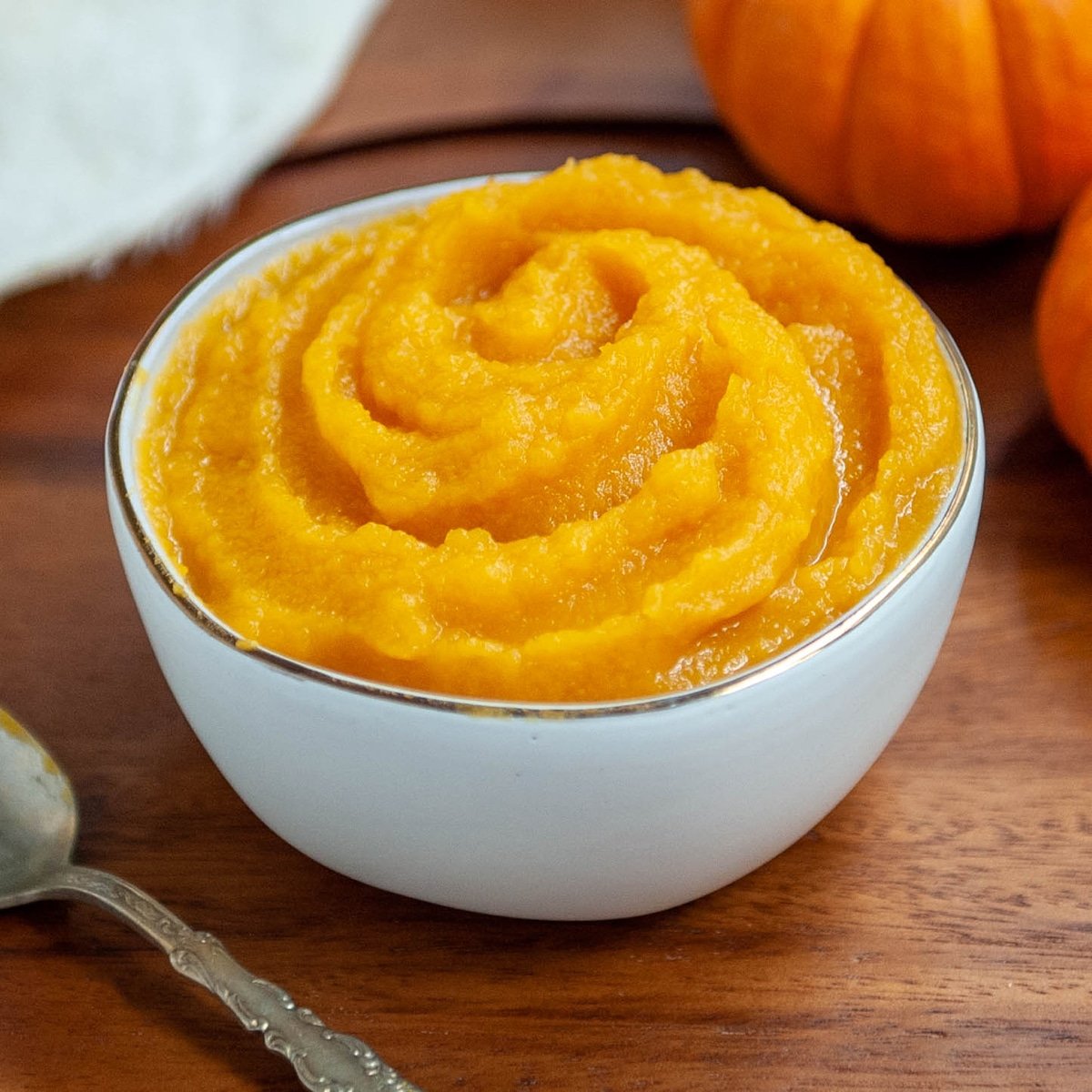 Ingredients
2

small

sugar pumpkins

about 3 lbs each

2

Tablespoons

vegetable shortening
Instructions
Preheat your oven to 400ºF and line a baking sheet with parchment paper

Wash and pat dry your pumpkins then slice your pumpkins in half with a sharp knife.

Remove the seeds and strings and set aside to roast later or discard

Cover the cut edge with a layer of vegetable shortening to keep it from drying out and to encourage carmelization

Pierce the skin 6-8 times with a sharp knife about ¼" deep to allow steam to release while roasting

Once the skin is soft, remove the pumpkin from the oven and let cool until you can handle it

Scoop out the pumpkin and place it into a food processor

Blend the pumpkin until it's very smooth 3-5 minutes

Place into the fridge for up to a week or freeze for up to 6 months.
Notes
This recipe does not contain salt so that the puree is not salty. 
You can use other types of pumpkin to make purees such as acorn squash, butternut, or cinderella pumpkins. Jack-o-lantern pumpkins do not make great puree because they are bland. 
Nutrition
Serving:
1
cup
|
Calories:
113
kcal
|
Fat:
13
g
|
Saturated Fat:
3
g
|
Sodium:
1
mg