Classic pumpkin pie with warm spices, creamy texture, and a crunchy pie crust
This pumpkin pie recipe is smooth and creamy and always a hit on the holidays. Made with simple ingredients and classic techniques for the perfect pie. No burnt crusts, no soggy bottoms, no cracked tops. All you need is pumpkin puree, heavy cream, flour, butter, eggs, and spices.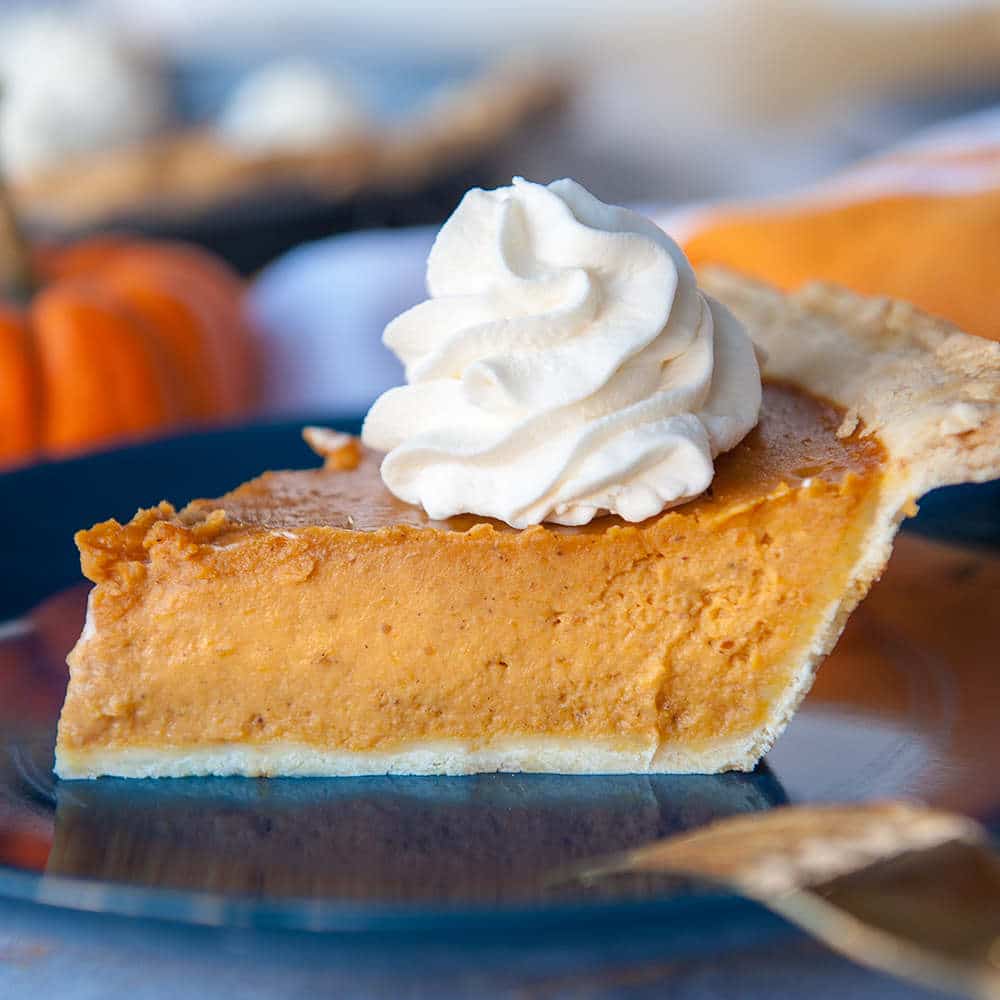 Want to learn more about the basics of making pie? Watch my pie crust tutorial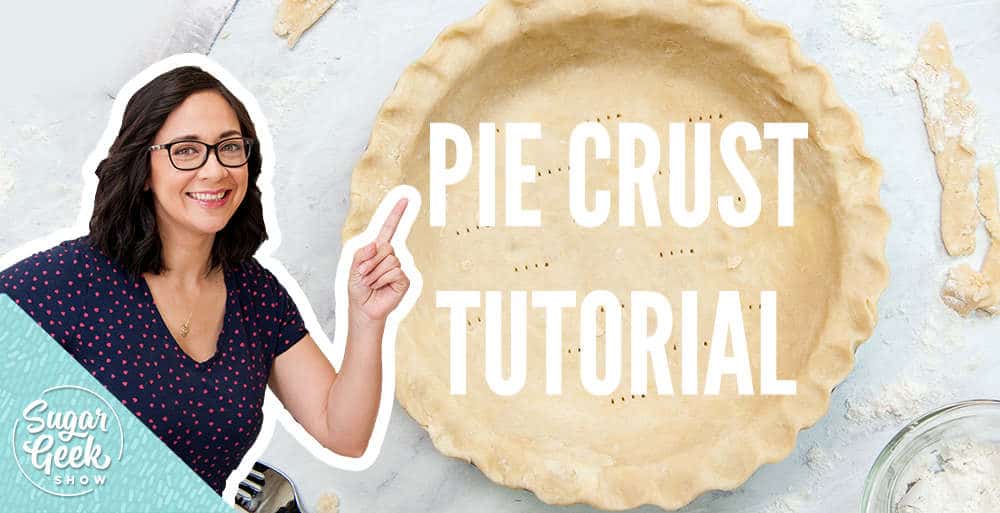 Tips for the best pumpkin pie
Pumpkin pie is notorious for getting a soggy, undercooked crust. This is because of the high liquid content in pumpkin filling. It seeps into the crust and prevents it from baking. So how do you avoid a soggy bottom? You have to use a crust made for repelling liquids. I use my mealy pie dough recipe which is perfect for making a tasty, crisp crust with no soggy bottom as you can see in the photo above.
Mealy pie dough works well for pies with a liquid filling like pumpkin pie.
Make your pumpkin pie filling and let it cool
Make your mealy pie dough and let it chill for one hour or overnight
Let your dough warm up at room temperature just until you're able to roll it out with your rolling pin
Roll out your dough to 1/8″ thick and place it into your pie pan
Trim off the excess dough but leave about 1/4″ excess dough all the way around to account for shrinking
Pinch the edges to make them decorative or use a fork to make decorations
Freeze the pie dough for 20 minutes before filling
Brush with egg wash to promote a shiny and brown crust
Fill your pie crust with the pie filling and bake until the pie crust pulls away from the edges of the pan
How do you fill a pumpkin pie crust without spilling?
The best way to fill a pumpkin pie crust is to place the chilled pie crust onto a baking sheet. Then fill the pie up halfway with your filling. Transfer the sheet to the preheated oven and finish filling. That way all you have to do is slide the pie into the oven and your chances of spilling are minimal.
Make sure you fill your crust all the way to the top, pie filling does not rise at all.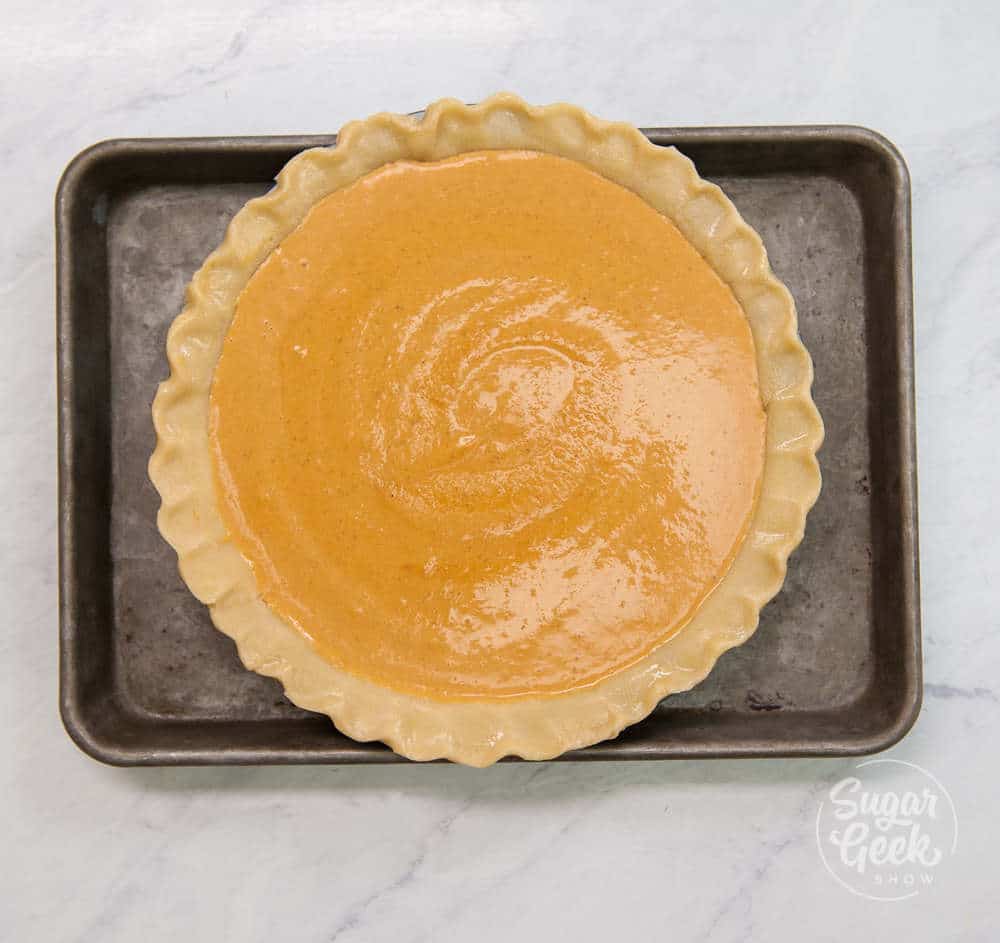 Do you need to blind-bake pumpkin pie crust?
If you are using mealy pie dough, you do not have to blind bake (pre-bake the crust). Just make sure you bake the pie for long enough that the crust shrinks away from the edge of the pie pan. That's how you know it's done baking. If your crust starts to brown too soon, place the second oven rack at the top of the oven above the pie with some aluminum foil to prevent over-browning.
Don't put the aluminum foil on the pie crust or you can damage your pie filling.
If you do want to pre-bake your crust to avoid over-cooking your pumpkin pie filling, only par-bake it (half-bake) so that the crust doesn't over brown with the filling.
Roll out your mealy pie dough and place into your pie pan
Trim off the excess crust but leave 1/4″ of dough around the outside to account for shrinking
Freeze for 20 minutes
Place some parchment paper into the dough and fill with pie weights or dry beans all the way to the top.
Bake for 15 minutes then remove the weights carefully. Bake for 5 more minutes.
Fill with the cooled pumpkin pie filling and bake. Remember, a par-baked pie crust will bake faster than a raw pie crust.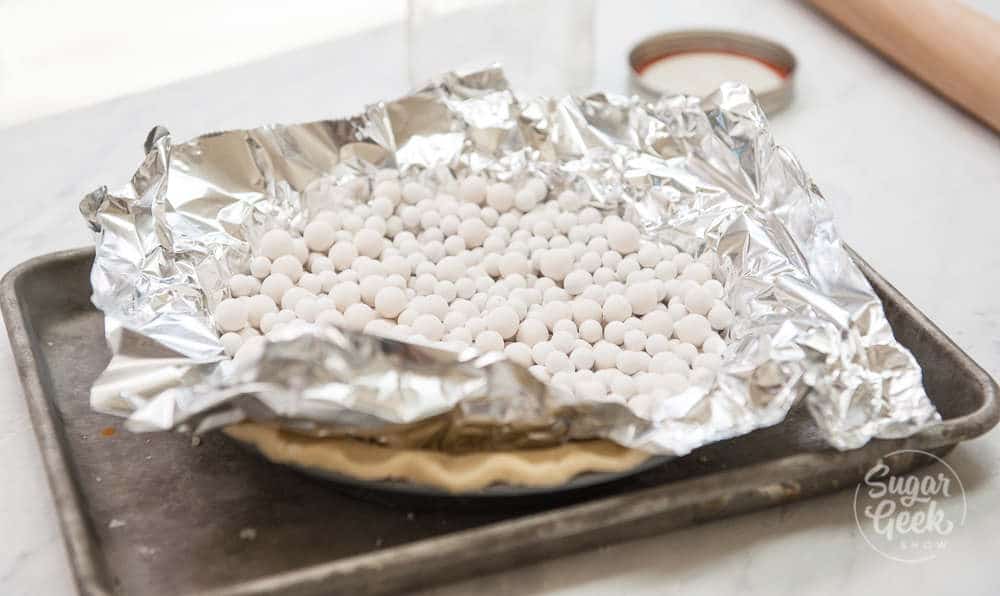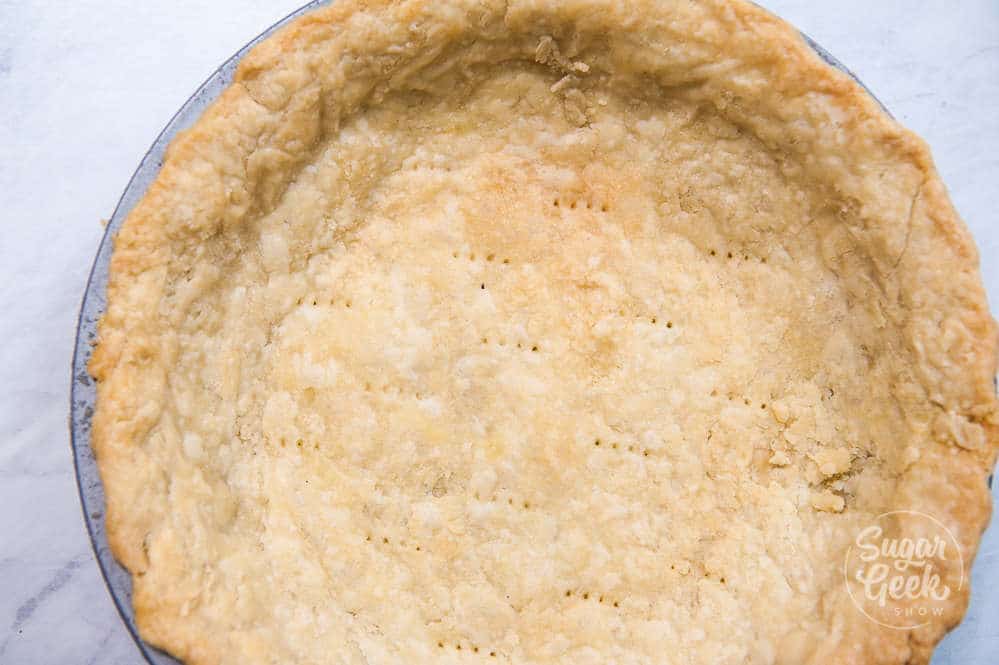 How do you avoid a soggy bottom on your pumpkin pie?
Step one is using the correct dough (mealy dough). Step two is to make sure you're not under-baking your pie. Bake until the crust pulls away from the sides of the pie pan. This means that the center of the dough has baked through and contracted.
How to keep pumpkin pie from cracking
Pumpkin pie should be baked at a fairly low temperature (375ºF) to avoid the filling getting too hot, expanding and cracking. Baking at a high temperature or over-baking can also cause the pumpkin pie to get watery and crack.
To avoid cracks, place your pie at the lowest rack possible in a pre-heated oven so the pie crust sets quickly. Bake just until the filling is set at the edges but still a little jiggly in the center and when the crust shrinks away from the edges. You can take the temperature of the pie filling. It is fully cooked at 175ºF.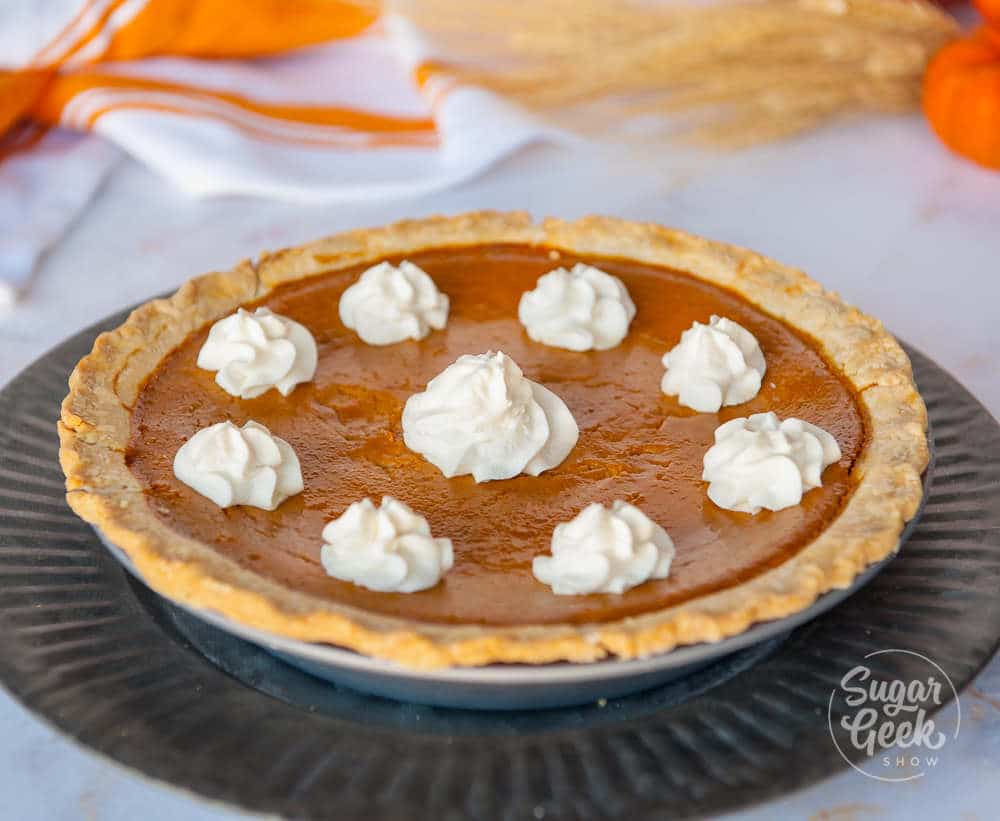 You might also be interested in these recipes
Stabilized Whipped Cream
Pumpkin Cheesecake Bars
Homemade Pumpkin Puree
Pumpkin Cheesecake Bars
Did You Make This Recipe?
Leave a rating and tell me how it went!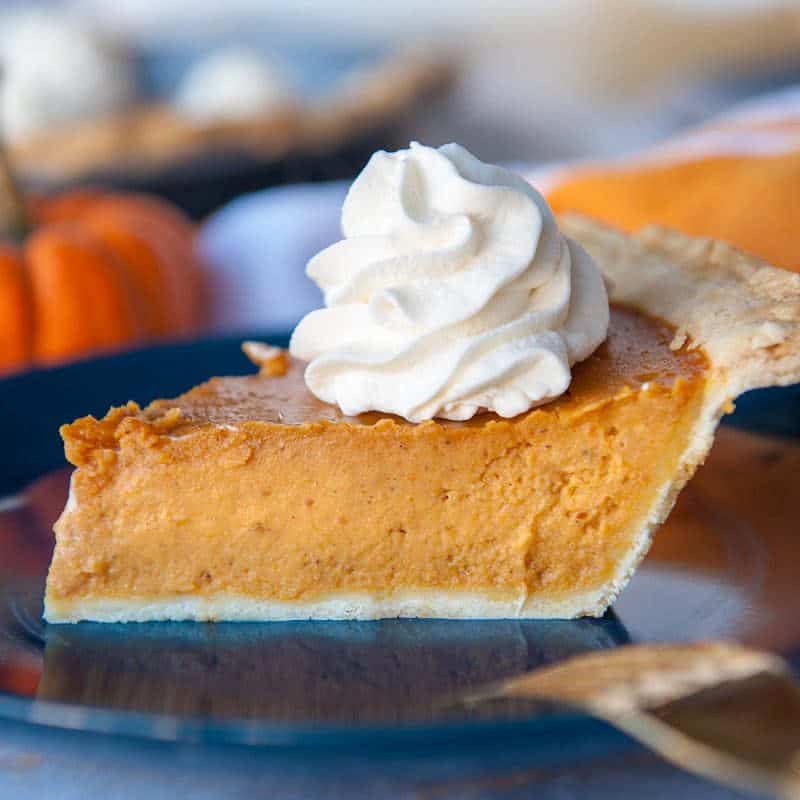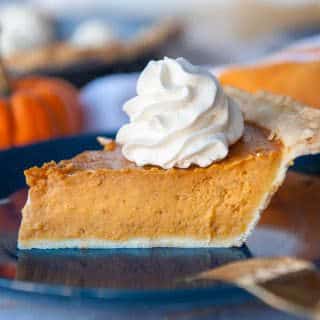 Classic Pumpkin Pie Recipe
How to make a classic pumpkin pie with a creamy center, no cracks, and a crispy crust.
Print
Rate
Never Miss A Cake
Ingredients
Pumpkin Pie Filling
12

ounces

(

284

g

)

pumpkin puree

not pumpkin pie filling

1

teaspoon

cinnamon

1/4

teaspoon

(

227

g

)

nutmeg

1/4

teaspoon

(

85

g

)

ginger

1/8

teaspoon

cloves

1/2

teaspoon

salt

5

ounces

(

141.75

g

)

brown sugar

3

large

eggs

10

ounces

(

283.5

g

)

heavy cream
Mealy Pie Dough
12

ounces

(

340

g

)

all-purpose flour

1/4

teaspoon

salt

6

ounces

(

170

g

)

cold butter

grated

1

large

egg

cold

1

ounce

(

28

g

)

ice water
Egg Wash
1

large

egg

1

Tablespoon

water
Instructions
Preheat your oven to 375ºF
For the pumpkin filling
Mix together eggs, heavy creamal and pumpkin puree and whisk until combined

Add in spices, salt and brown sugar and whisk to combine

Set aside while you prepare the dough
For the mealy dough
Combine together the flour and salt in the bowl of your stand mixer with the paddle attachment.

Add in your cold butter and mix on low until the mixture resembles a coarse mealy sand

Add in the egg and water and mix on low until the dough sticks together

Flatten and wrap in plastic wrap. Let the dough chill for 20 minutes or overnight before using it. Let warm for 20 minutes or until pliable but still firm before rolling out.

Roll out your pie dough to 1/4" thick and place into your pie plate. Leave 1/4" of extra dough all the way around when you trim off the excess to account for shrinking

Pinch the edges to make them look decorative

Freeze the dough for 20 minutes before filling

Place chilled pie crust onto a sheet pan. Egg wash the edges.

Fill the pie crust halfway. Place the pan into the preheated oven and fill with the rest of the filling.

Bake for 35-45 minutes until the crust shrinks from the edges of the pie plate.

Let cool before serving with whipped cream. Store in the refrigerator.
Egg Wash
Whisk together one egg and 1 Tablespoon water then brush onto the crust to promote a golden brown and shiny crust
Nutrition
Serving:
0.08
g
|
Calories:
1176
kcal
(59%)
|
Carbohydrates:
238
g
(79%)
|
Protein:
36
g
(72%)
|
Fat:
6
g
(9%)
|
Saturated Fat:
1
g
(5%)
|
Cholesterol:
105
mg
(35%)
|
Sodium:
1713
mg
(71%)
|
Potassium:
373
mg
(11%)
|
Fiber:
8
g
(32%)
|
Sugar:
1
g
(1%)
|
Vitamin A:
153
IU
(3%)
|
Calcium:
63
mg
(6%)
|
Iron:
15
mg
(83%)