Mealy pie dough is a butter shortcrust that bakes up crisp but melts in your mouth
Mealy pie dough (pâte brisée) is the best all-butter pie dough for using on the bottom of pies to avoid that soggy bottom (no one likes a soggy bottom) or for making the perfect hand pies.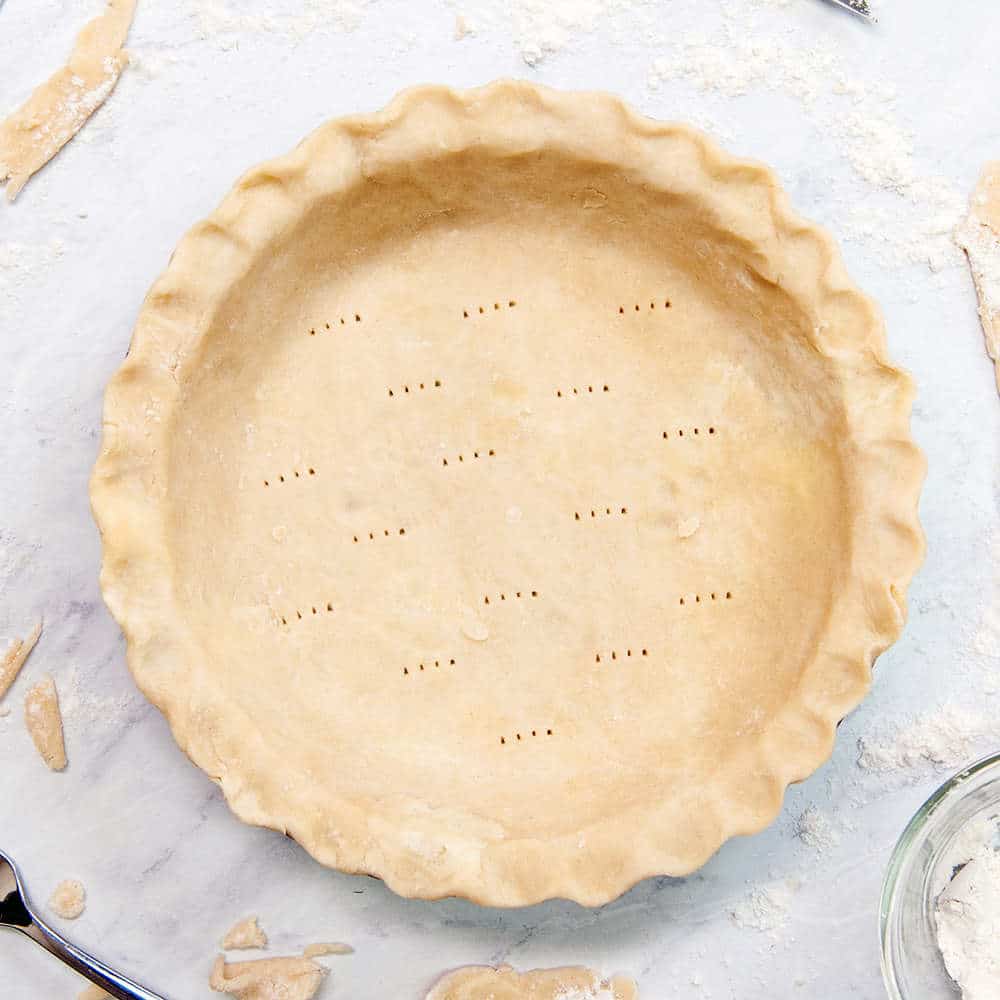 This dough is similar to making shortbread. The butter coats the flour and just melts in your mouth when you bite into it. Make a big batch ahead of time, portion and freeze for when you need it! Don't buy frozen pie crusts every again.
What's the difference between mealy pie dough and flaky pie dough?
Mealy pie dough is best for using for pies that have a liquid or custard filling like pumpkin, or apple pie filling because it won't get soggy. The pieces of fat in the flour are very small, making the fat distribution denser which repels liquids.
The pie crust bakes up very crisp so you don't get that soggy layer under your filling. Nothing worse than biting into some pumpkin pie and the bottom is all gummy. Yuck.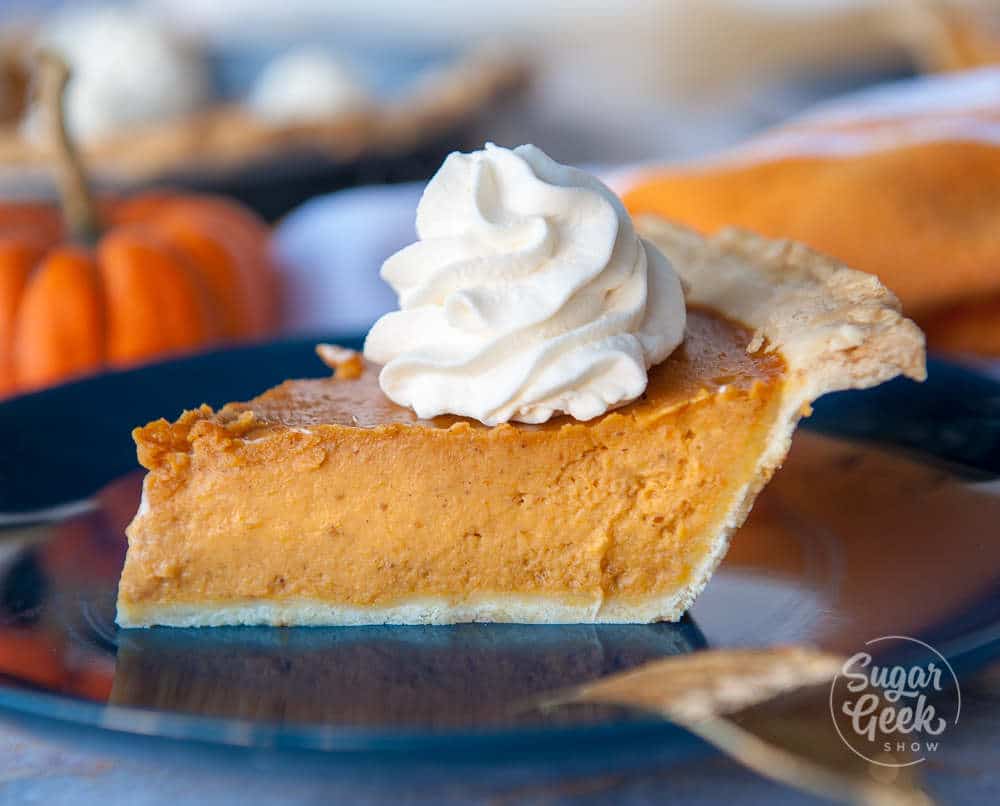 Mealy pie dough is also the perfect pie dough for hand pies because it's very sturdy and easy to work with but still very tender and crisp when you eat it.
Flaky pie dough is best for using on the top of the pie where all those beautiful flakes can be seen. You can use flaky pie dough for single crusts or for the lattice. The flaky pie dough will brown better and look more appetizing than the mealy pie dough.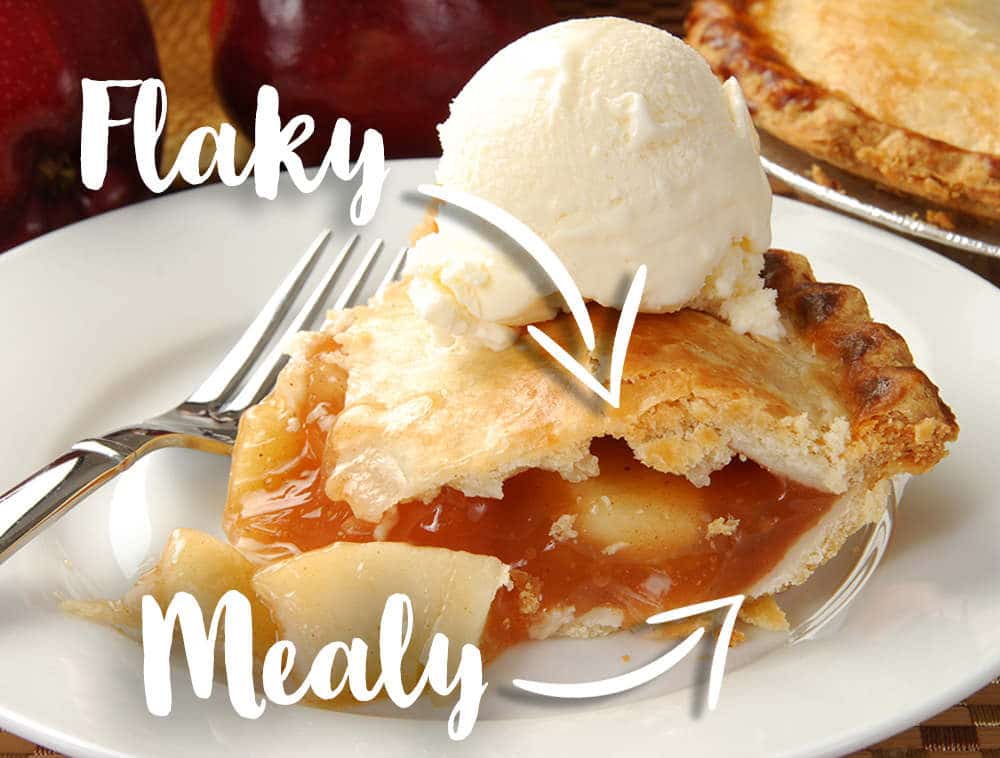 You can use flaky pie dough for a bottom crust but flaky is suited for pies that have cooked fillings like mousse, no-bake cream pies or pies with pre-cooked fillings to avoid that soggy bottom crust.
How do you mix mealy pie dough?
The best way to make mealy pie dough is to use a stand mixer or food processor. This works the cold butter into the flour and makes the mixture mealy without needing to use your hands. If you use your hands, the butter can melt pretty fast and your crust will get tough.
After your mixture looks like mealy crumbs (hence the name) then you can add in your egg, salt and just enough ice-cold water to hold it all together.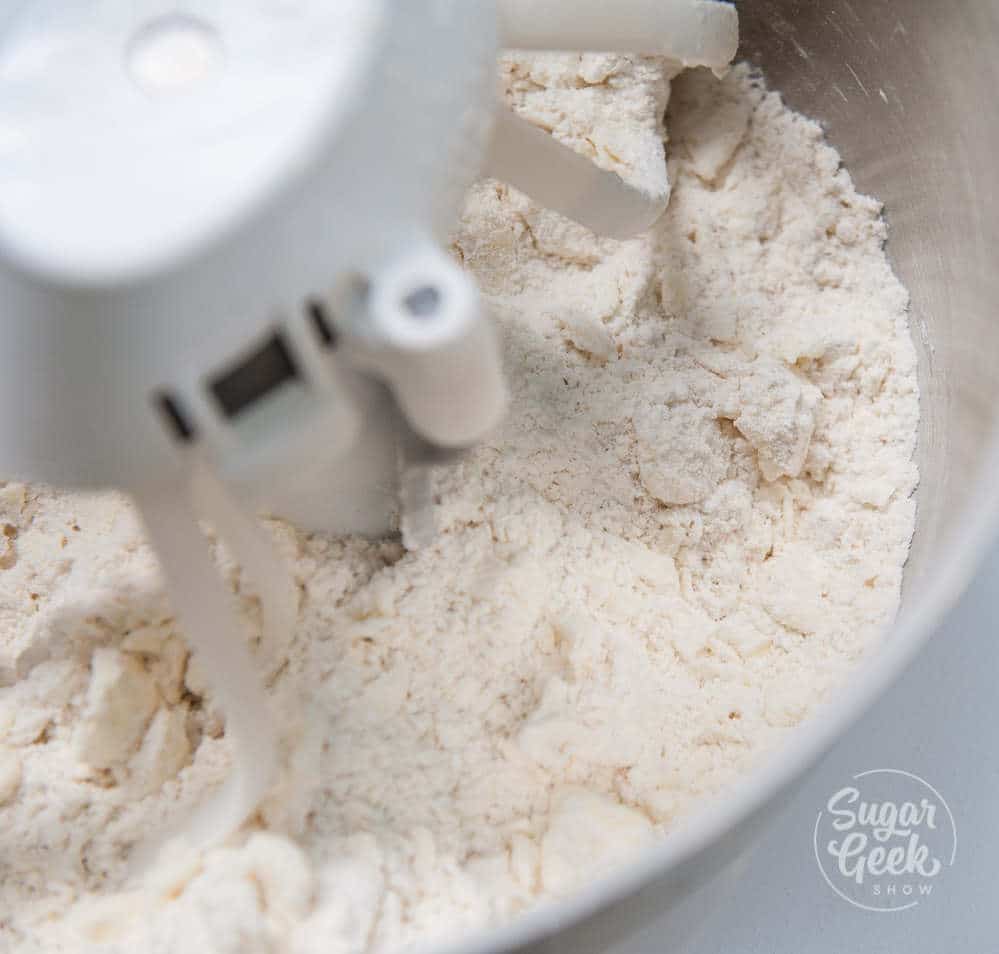 Do you need to let mealy pie dough rest?
It's best to let pie dough rest so that the gluten has time to relax (to avoid your pie crust shrinking while baking) and to give the water time to absorb into the flour.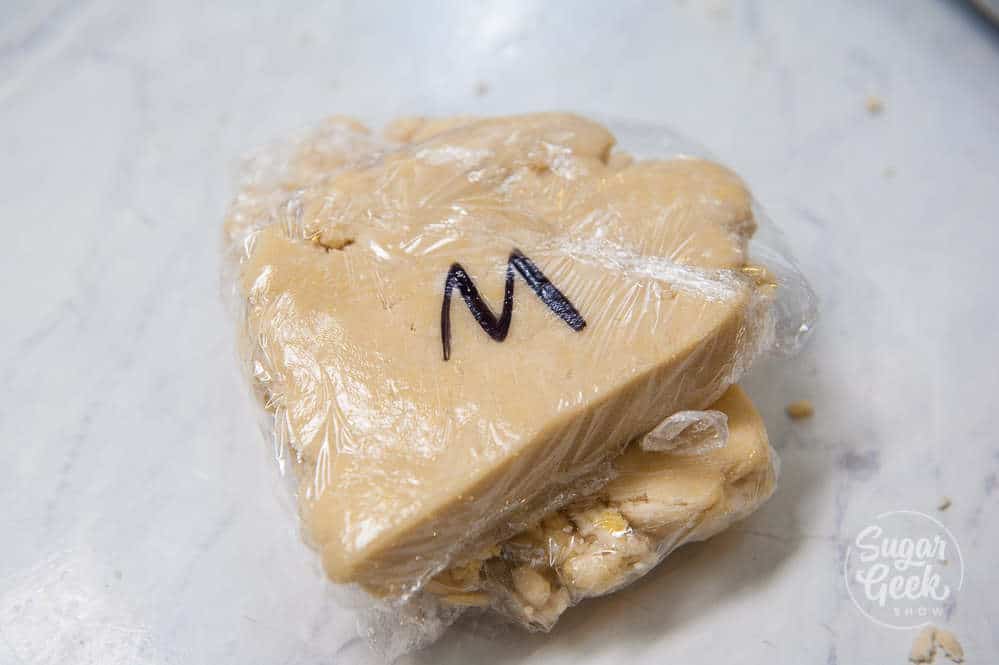 You only need to let the pie dough rest for one hour but I like to make mine the day before and then use it on day two. Easy prep.
Can you make pie dough ahead of time and freeze?
After your pie dough has rested, you can roll it out and put it into your pie plate. Trim off the excess and flute the edges. Don't forget to leave about 1/4″ of extra dough all the way around the edge of the pie plate to avoid it shrinking too much.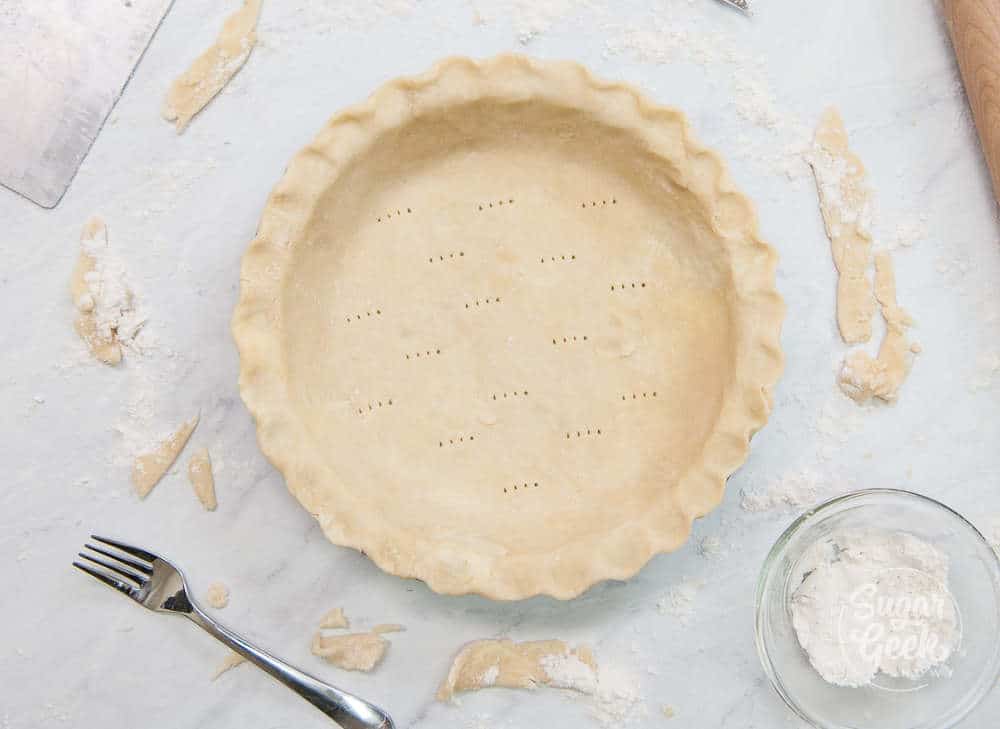 Then you can freeze the whole thing to use later (instead of buying a pre-made frozen crust) or you can freeze it for 20 minutes and then bake it up. Freezing the dough helps keep it from shrinking.
How do you know when your pie is done baking?
Once your dough is frozen, you can fill it and bake it. You know the pie is done when it's golden brown and has shrunk away from the sides of the pie plate slightly. This means the center of the crust has baked and contracted.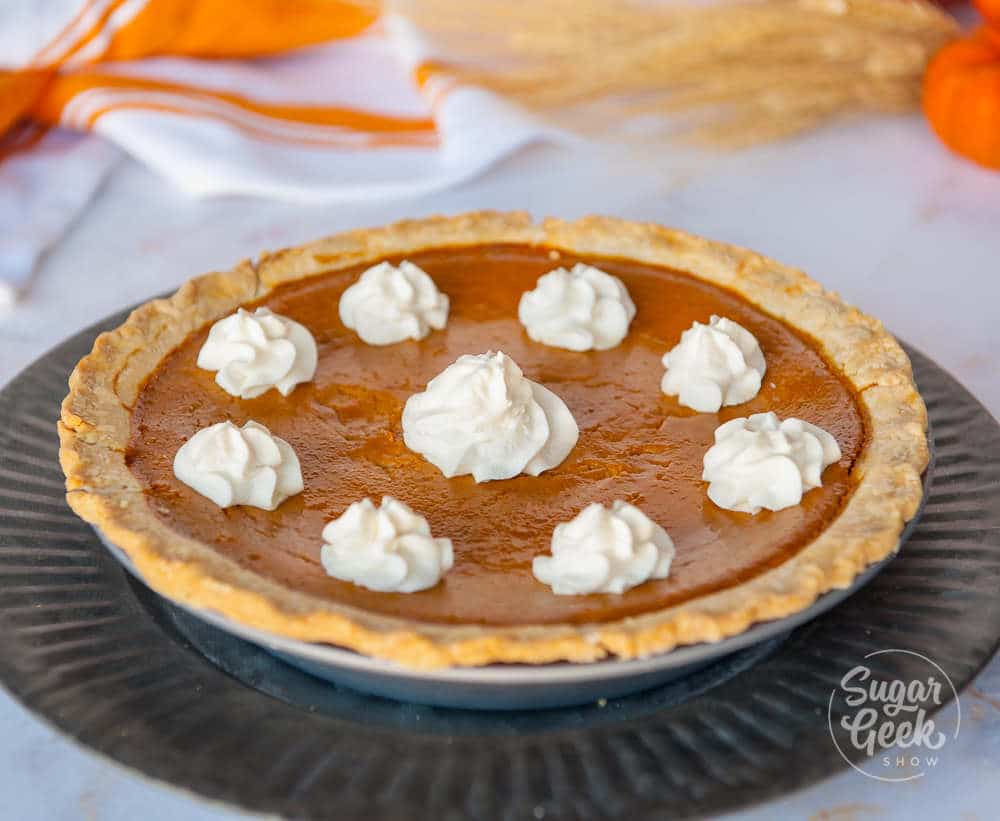 Even if the crust is brown but it hasn't shrunk, it's not done. If your edges are getting too brown, cover them with tin foil or a pie crust protector.
How do you use mealy pie dough for a double-crust pie?
If you're making a double-crust pie like apple pie, then you'll want to make a batch of flaky pie dough for the top. Prep your mealy pie dough as instructed above and trim off the extra crust (leaving that 1/4″ of extra dough all the way around.
Fill your pie crust with your filling and then brush the outside edges with egg white. This is the glue that holds the two pie crusts together.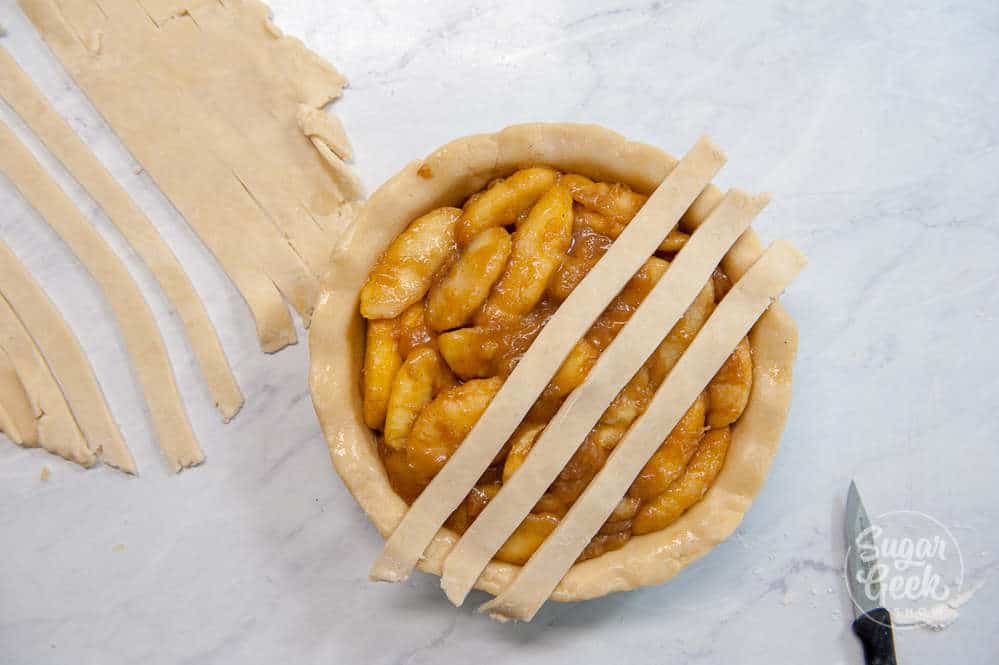 Place your flaky pie dough on top and trim it to match the bottom crust.
Pinch the two crusts together firmly using your fingers or a fork. Clean up the edges and put the whole pie into the freezer for 20 minutes.
Before baking, I like to brush the top of my pie crust some more egg wash and a sprinkle of coarse sugar so it looks extra beautiful.
Need more pie? Check out these other recipes
Apple pie filling (pre-cooked)
Recipe
Hand Pies Recipe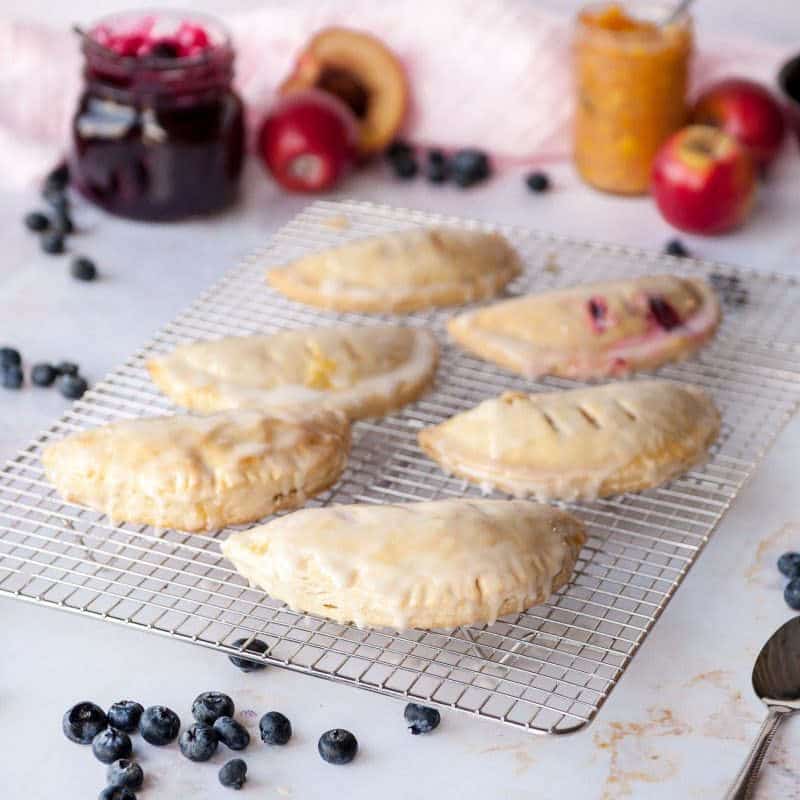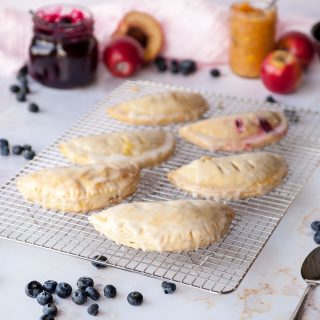 The best hand pies with endless flavor options. Bake, deep-fry or air fry! Sweet or savory. This one recipe is all you need. Apple, blueberry, lemon, peach, or cherry. The filling options are endless. Follow my tips for troubleshooting common problems and avoiding leaks and cracks.
Equipment
Stand mixer with paddle attachment
Ingredients
For the hand pie dough
12

ounces

all-purpose flour

1/4

teaspoon

salt

6

ounces

cold unsalted butter

cut into cubes or grated

1

large

egg

1

ounce

ice cold water
Fruit filling
16

ounces

fresh or frozen fruit

(apples, peaches, blueberries, strawberries etc)

2

Tablespoons

lemon juice

you can use more or less to your taste

6

ounces

water

or juice that complements the flavor of the fruit

1

ounce

unsalted butter

2

ounces

sugar

white or brown

1/4

teaspoon

salt

1

ounce

ClearGel

or 1/2 ounce cornstarch

1

ounce

water
Glaze
4

ounces

powdered sugar

1

Tablespoon

lemon juice
Instructions
For the hand pie dough
Place flour, salt, and cold butter pieces into the bowl of your stand mixer and blend on low until mixture resembles coarse sand.

Add in your egg and just enough water to bring the mixture together

Press into a disk and wrap with plastic wrap. Chill for one hour.
For the fruit filling
Prepare your fresh fruit by chopping into small cubes (if needed) or use frozen fruit. No need to defrost.

Place your fruit and butter in a large saucepan over medium-high heat until the butter is melted and bubbling.

Add in your water (or juice), sugar, lemon juice, and salt and mix until combined. Bring to a simmer.

Combine your ClearGel with your water and whisk to make a slurry. Pour into your simmering mixture and mix for 1-2 minutes to cook the gel. If you're using cornstarch, you only need to cook until it's clear.

Remove from the heat and let the mixture cool.
How to make hand pies
Preheat your oven to 400ºF and line a large sheet pan with parchment paper

Let your dough stand at room temperature for 15 minutes to let it soften a bit

Dust your surface with flour. Begin by pressing your dough with your rolling pin to start flattening it.

Roll your dough out to 1/8 thick or about the thickness of a cake board. Thinner than you think. Thinner dough results in a crisper, crunchier crust for your hand pies.

Cut your dough into 6" circles. I used a 6" cake board as a template or you can use a 5" circle cutter if you want smaller hand pies.

Fill your 6" hand pie with 3 tablespoons of fruit filling (5" circles take 1 heaping Tablespoon). Do not overfill.

Brush the outside edge with egg wash (one egg whisked with 1 tablespoon of cold water)

Fold the hand pie over and crimp with a fork to seal well

Use a knife or fork to make some vents on top

Brush the hand pies with more egg wash and place them onto a sheet pan lined with parchment paper. Chill for 20 minutes.

Bake for 20-25 minutes. They should be golden brown and the filling will just be starting to bubble.

Let your hand pies cool for 10 minutes.

While your hand pies are cooling, make your glaze. Just whisk the powdered sugar and lemon juice together until smooth.

Use a pastry brush to brush the thin glaze over the hand pies and enjoy!

These hand pies taste best the day they are baked but will last for three days in an airtight container in the fridge or frozen for up to 2 months.
Notes
For fruit filling, feel free to adjust spices and flavorings to suit your tastes. For apple I like to add a little cinnamon. 
Air Fryer Instructions
Prepare your hand pies as usual and chill 20 minutes
Brush the surface with egg wash and sprinkle on some sanding sugar for color and flavor (optional). 
Set your temperature to 350ºF on your air fryer
Place your hand pies inside the air fryer basket and fry for 13-15 minutes until golden brown and filling just begins to bubble
Deep fried hand pies instructions
Prepare your hand pies as usual but do not cut large slits for vents, use a fork for small vents so the filling doen't leak out. Then place them in the fridge to chill for at least one hour. 
Heat up 4 inches of neutral oil (like vegetable shortening or canola oil) in a deep pot (like a dutch oven) to 375ºF. Use a thermometer to keep an eye on the temp. Make sure you place the pot at the back of the stove, especially if you have kids. Hot oil is very dangerous and so are splashes. 
Place 2-3 hand pies in the hot oil and fry 3-4 minutes until golden brown. 
Drain on a paper towel and then dust in powdered sugar or cover in sugar glaze before serving. They are best when eaten the same day. 
Nutrition
Serving:
1
serving
|
Calories:
274
kcal
|
Carbohydrates:
54
g
|
Protein:
5
g
|
Fat:
4
g
|
Saturated Fat:
2
g
|
Cholesterol:
34
mg
|
Sodium:
158
mg
|
Potassium:
55
mg
|
Fiber:
1
g
|
Sugar:
21
g
|
Vitamin A:
127
IU
|
Vitamin C:
2
mg
|
Calcium:
10
mg
|
Iron:
2
mg