This flaky pie crust uses all butter and makes the most beautiful, tender pie crusts
A flaky pie crust recipe made with all butter couldn't be easier. You only need flour, salt and butter to make a gorgeous pie crust with tender flaky layers.

I first learned how to make this pie crust recipe in pastry school and I was surprised and how easy it really was. Having a French pastry chef to demo for you does tend to help I must admit. I have this flaky pie crust recipe with my mealy pie crust recipe for every pie I have made.
How Do You Make A Good Flaky Pie Crust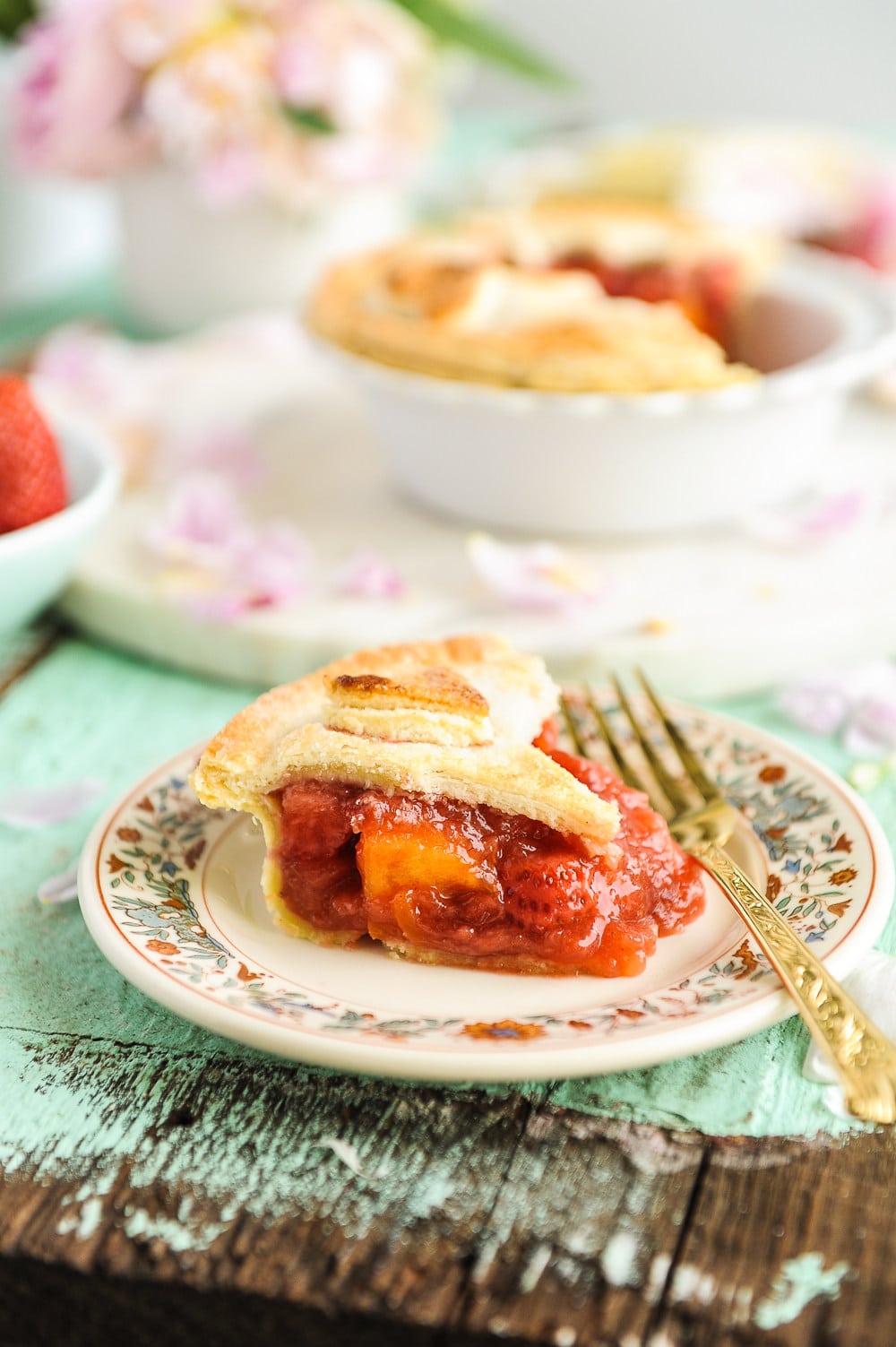 Some of the issues that come up with making your own pie crust recipe is the dough can turn out super tough and hard to cut. Not really what we're looking for in a flaky pie crust recipe. The second issue is the bottom layer of the pie not baking all the way through and you end up getting a soggy bottom (to your pie). Yuck. The last issue is being able to handle your pie crust recipe easily so your pie ends up looking pretty and not like someone dropped it on the way to the oven.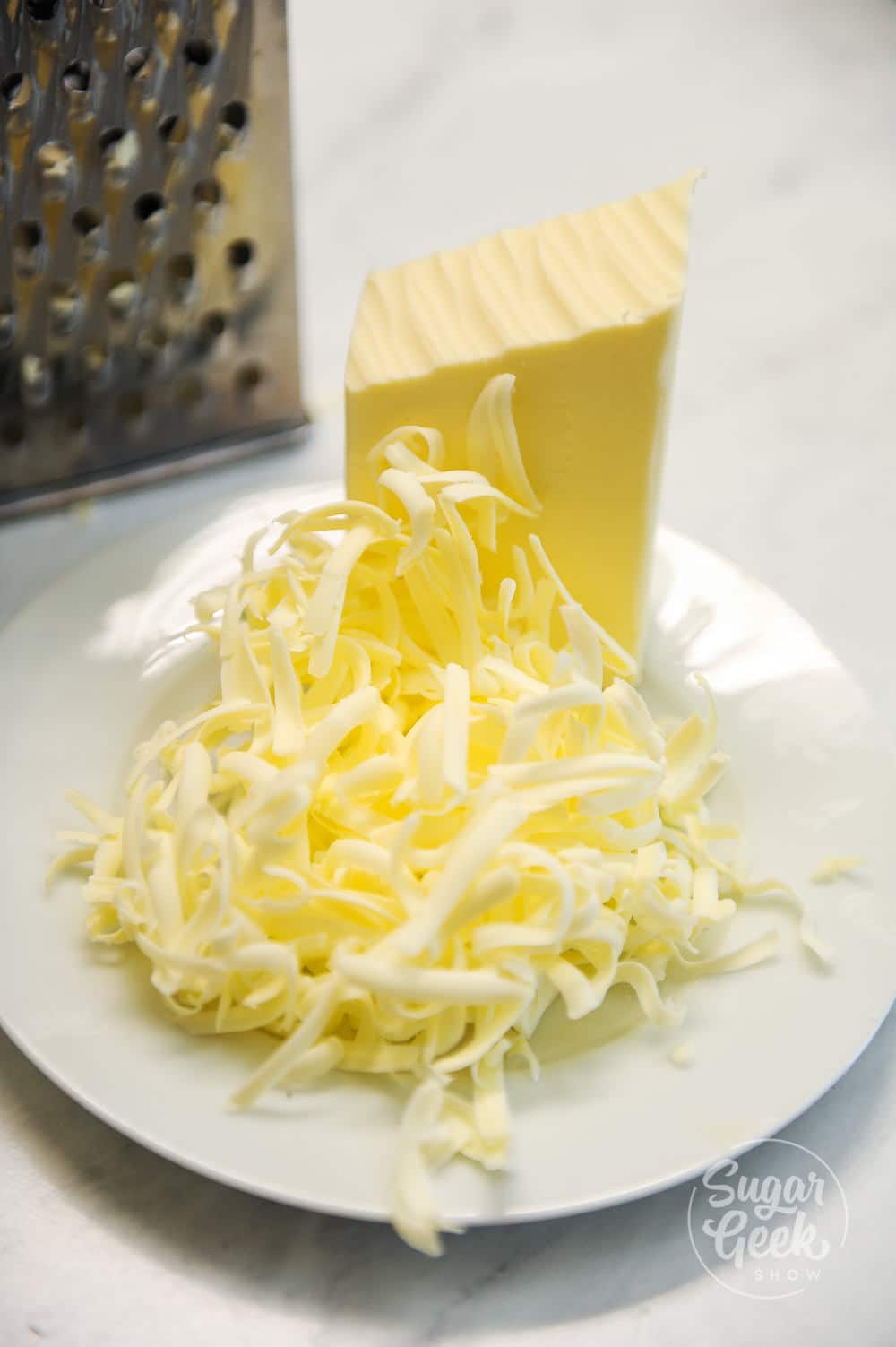 The secret to a perfect flaky pie crust recipe is all about the butter and keeping it cold cold cold. I achieve this by using a cheese grater to grate my butter straight out of the fridge and as soon as it's grated I put it in the freezer to make sure it stays cold until I need it.
The reason why pie dough get's tough is the second you start working the butter into the flour, it warms up and starts saturating the flour. Then you add in water which activates the gluten in the flour and things start getting tough.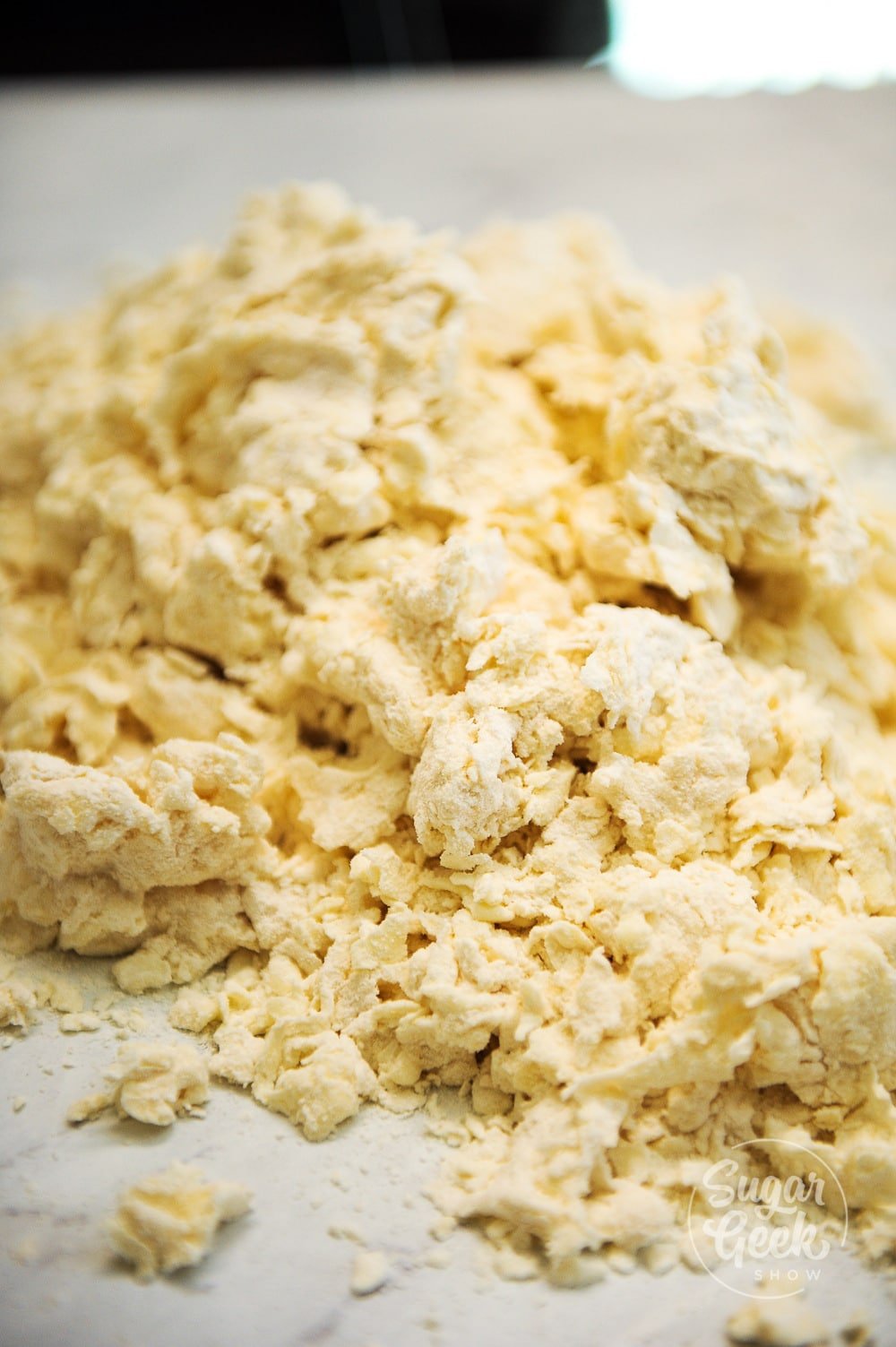 The key to keeping things flaky is to keep the butter cold enough that the flour coats the butter without combining with it and using only enough water to make things stick together and then immediately stop mixing.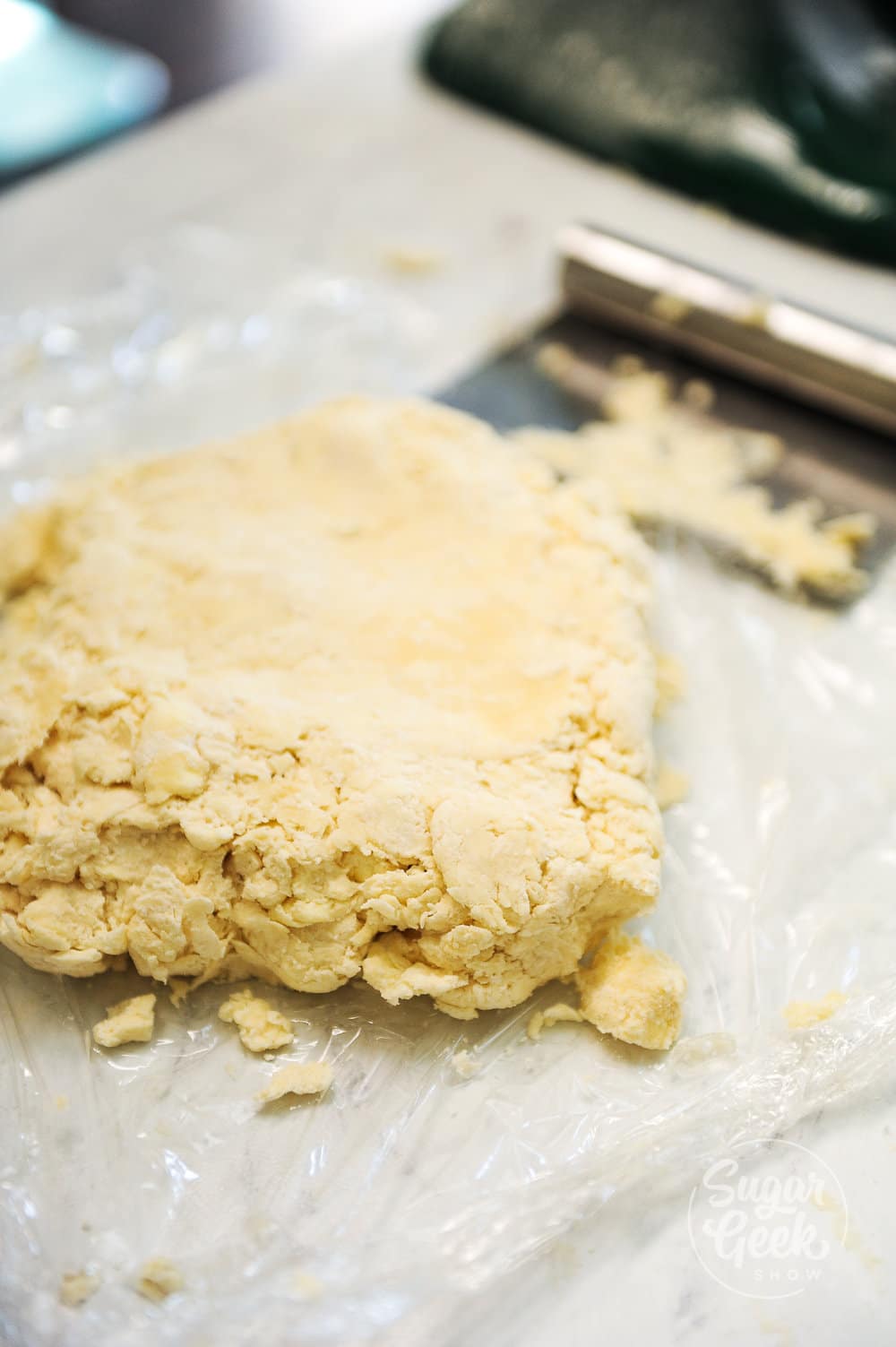 Once the dough comes together you place the dough into the fridge to chill for at least 1 hour. This allows the water to absorb fully into the flour without making more gluten and also keeps the butter cold. When you roll out your pie crust you should see little chunks of butter in the dough. These chunks form the flaky layers you want in your crust. No chunks of dough, no flakes.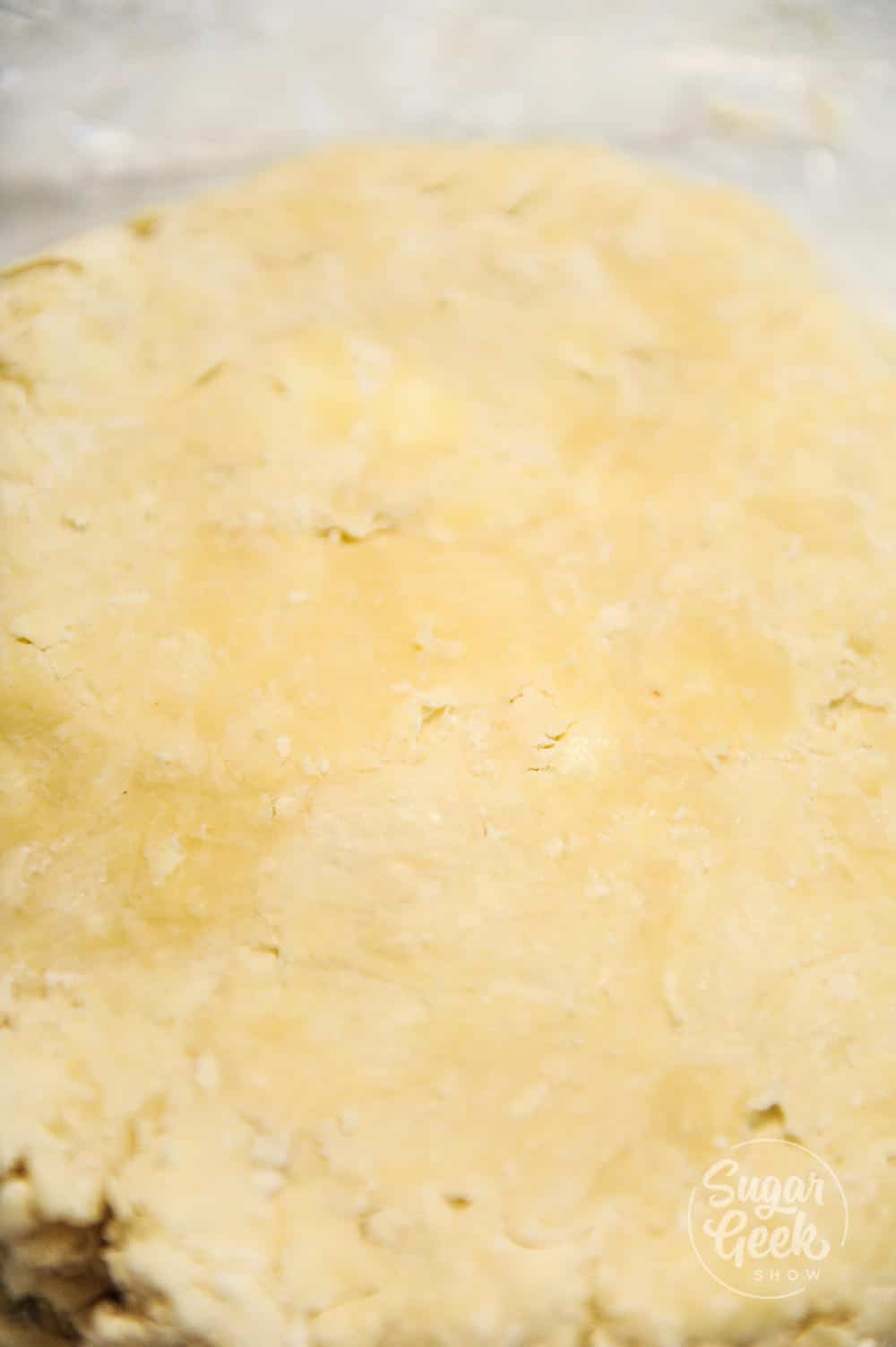 How To Make Mealy Pie Dough ( Pâte Brisée)
Mealy pie dough is a little bit different than the top crust. You can make yours by hand but this pie dough is so forgiving, you can make it your stand mixer with the paddle attachment. Simply place your flour and butter in the bowl and mix until a sandy texture is formed. Then add in your egg and water until a dough forms. Wrap in plastic and let chill for an hour before rolling out.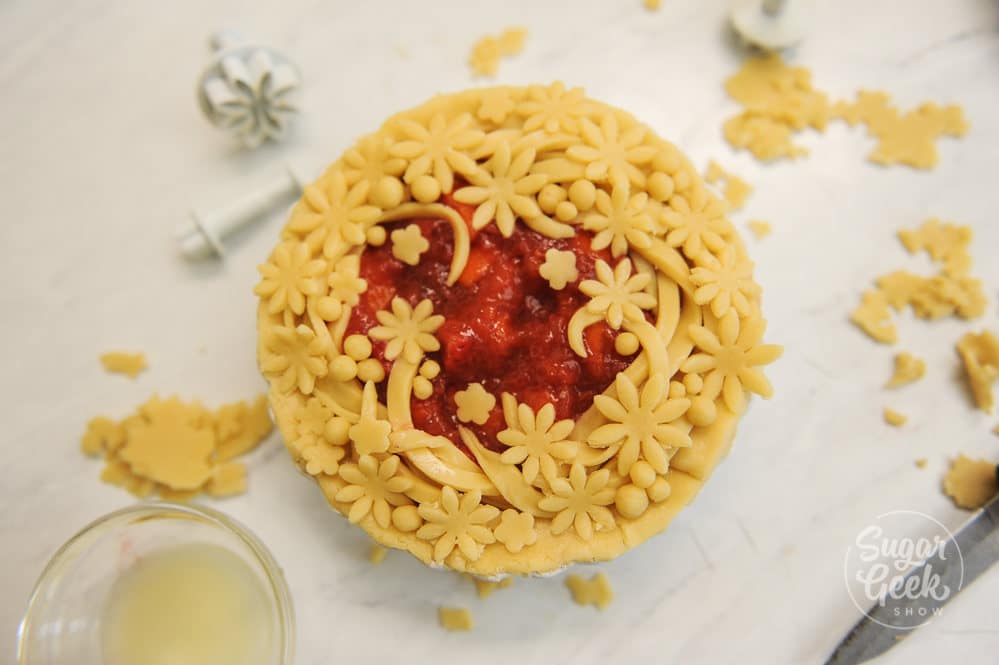 Because the flour and butter is combined together first, you get a crust with the texture of a shortbread cookie. Firm but cuts easily and is very tender. Not as tender as the flaky top crust but perfect for holding together when you cut without getting tough.
I roll out my mealy pie dough between two pieces of parchment paper. I try to get mine really thin, like ⅛th of an inch. This way the bottom layer bakes quickly is very crunchy and not doughy. Then I flip the paper over into the pie pan. Press the dough into your pie pan and trim off the excess. Fill your pie with your filling and bake until the pie crust starts to shrink away from the edge of the pan. When your pie shrinks this means that the center of your bottom crust is baked through and you won't have a doughy center.
How To Make A Single Pie Crust Pie (No Bake)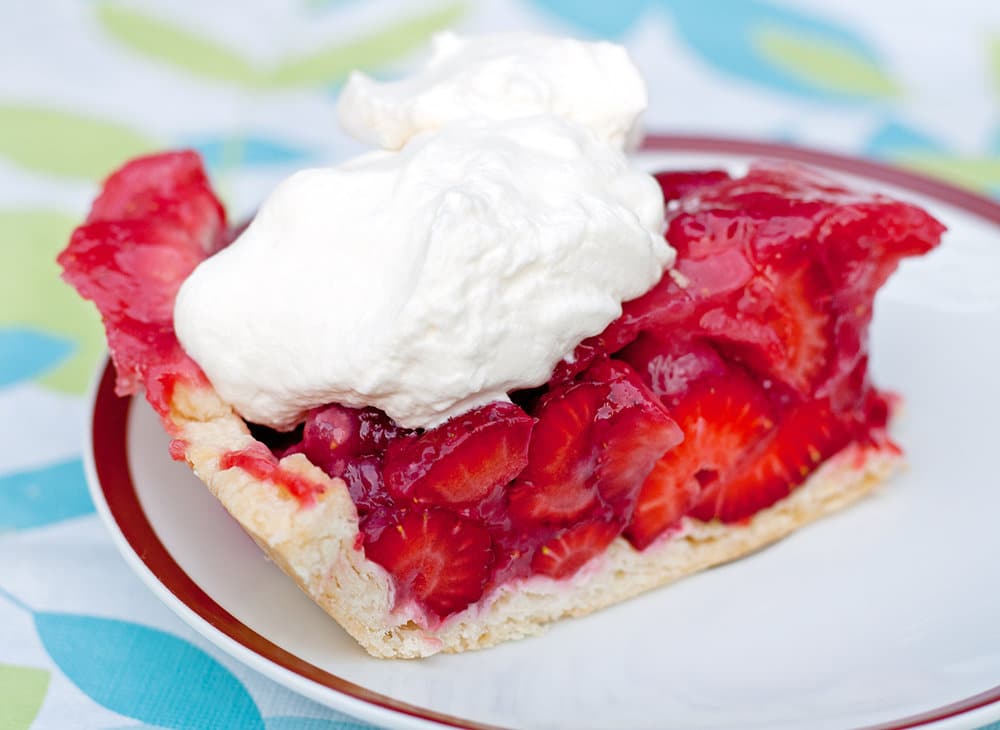 You can use this flaky pie crust for the top layers of your pies or for no-bake pies. If you use it for liquid fillings like pumpkin pie, the dough will absorb the liquid and become gooey. Mealy dough is best for liquid pie fillings.
How to blind bake your flaky pie crust
Blind baking is when you bake your pie crust before you fill it. Depending on the filling, you might bake it halfway or all the way.
Roll your dough out and then place it into your pie tin. Cut off the excess and flute the edges. Poke some holes in the bottom of the crust so it doesnt puff up. Freeze for 20 minutes.
Place some aluminum foil over the top of your crust and fil it with pie weights or dried beans. Bake for 10 minutes then remove the foil. Put the pie back in the oven and bake another 15-20 minutes or until the crust is golden brown and shrinks slightly from the sides.
Let it cool and fill with your desired filling like pastry cream, coconut custard, lemon curd or chocolate mousse and top with stabilized whipped cream.
How To Make A Double Crust Pie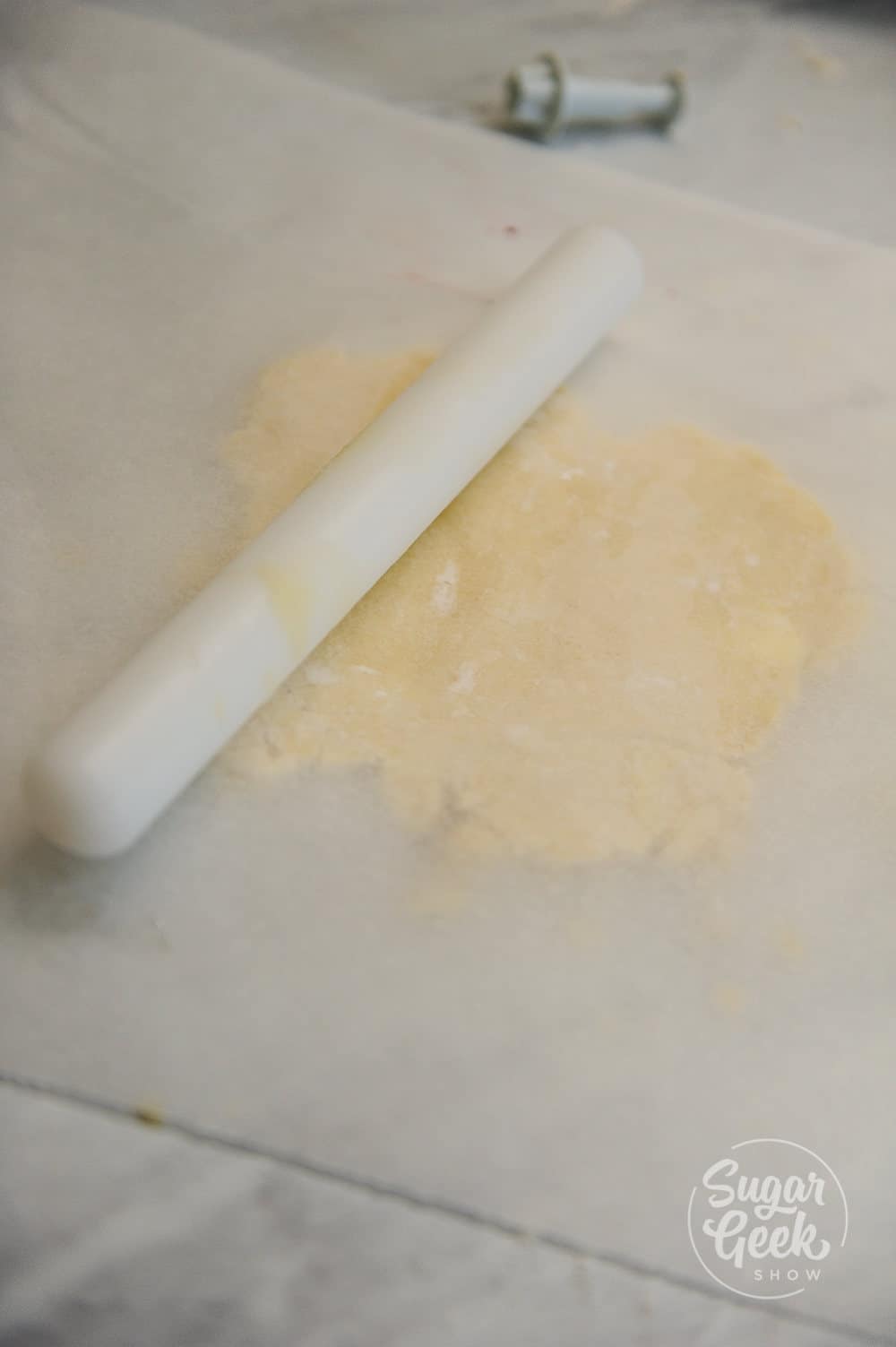 For a double pie crust pie, roll out your mealy pie dough and place it in your pie tin. Cut off the excess but leave about ¼" of extra dough all the way around.
Fill your pie with your desired (fully cooled) filling like my summer berry filling or apple pie filling. Put your pie pan into the fridge while you work on the top layer. You always want to keep your dough as cold as possible at all times.
Take out some of your flaky pie dough and use a nice sturdy rolling pin to start rolling it out. We used a wooden rolling pin and would actually "beat" the top of the dough a couple of times to start to flatten it out which can be extremely stiff due to the cold butter.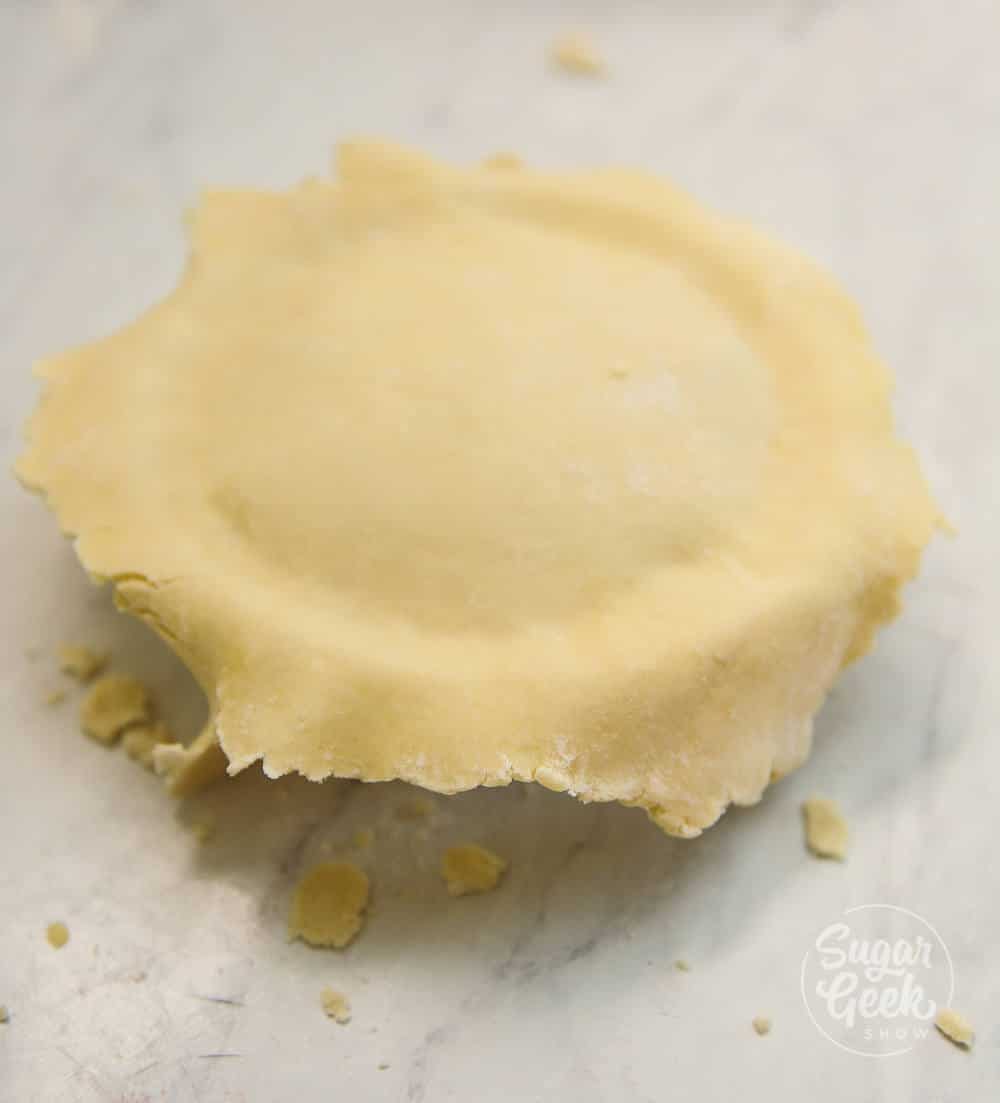 Roll out your flaky pie crust recipe between two pieces of parchment paper. I make the top layer about ⅛" thick. Make sure you moisten the edges of the bottom layer of crust with some water or egg white before adding the top layer of crust or it will split during baking and your filling will leak out. Flip the top layer of crust onto the top and press down the edges to seal them down. You can also crimp with your fingers or press with a fork. I keep things pretty simple here.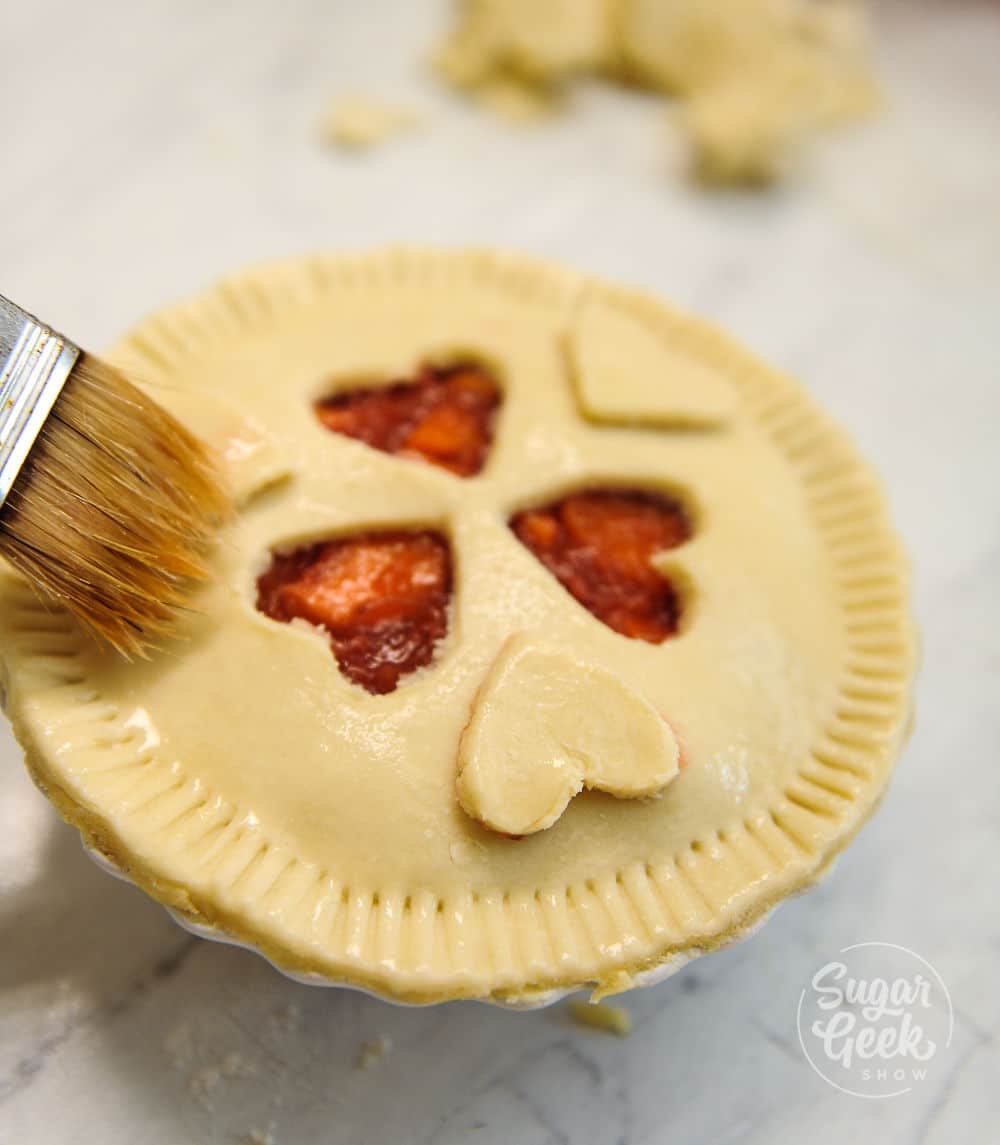 When you place a crust on top of your pie, it's important to make some vents for air to escape. You can make some very simple knife slices or you can use a cookie cutter to make some pretty shapes and decorate the top. For my "Fathers Day Pie" I simply used a paring knife to cut out some letters.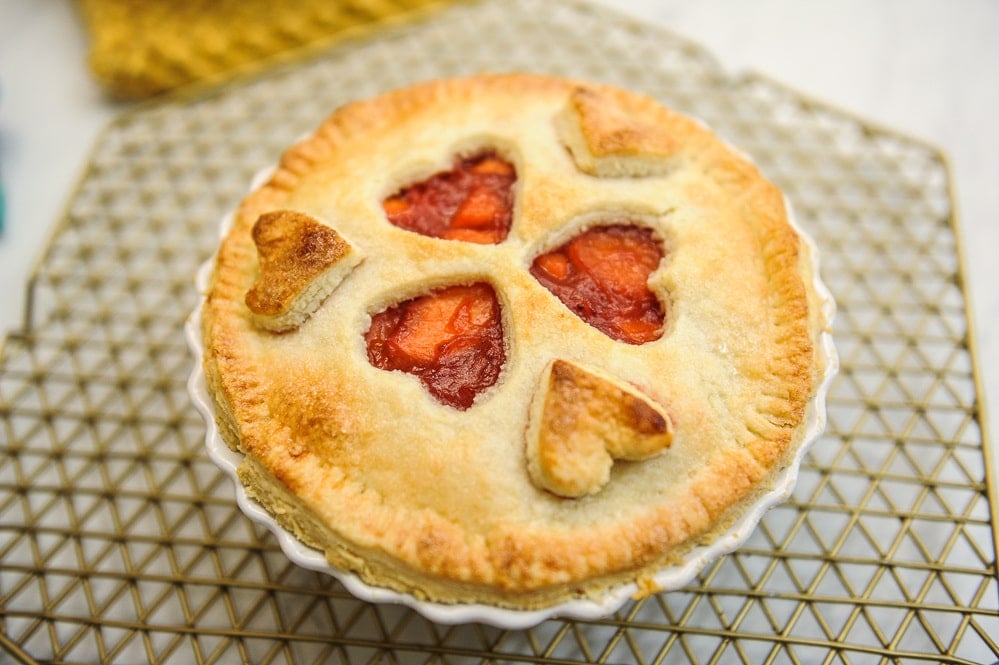 Brush the surface of your pie crust recipe with some egg white and then sprinkle with some granulated sugar. If you skip this step then your pie won't brown very nicely and will seem visually dry on top.
How To Perfectly Bake Pie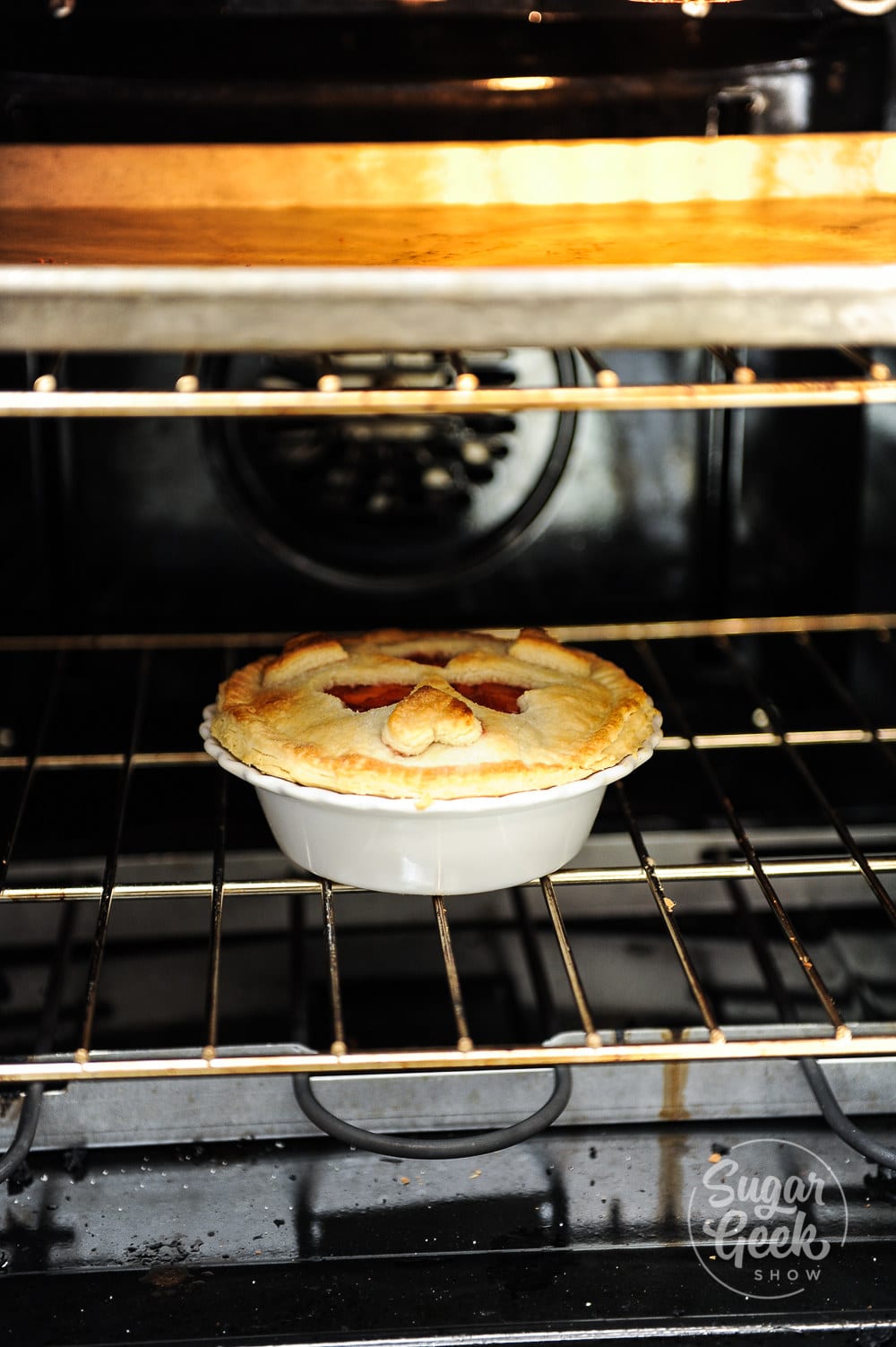 To bake your pie, you want to preheat your to 400℉. Move your rack to the bottom of the oven. You want more heat on the bottom than the top. Place your pie into the oven and bake for 30 minutes or until the top of pie starts to brown. Then I place a pie crust protector over the edges of the pie so they don't brown too quickly. You can also form a barrier using aluminum foil strips.
For the last 10 minutes of baking I place a baking sheet on a rack near the top of the oven to keep the pie from browning before the bottom of the crust is finished. Once the edges of the pie start pulling away from the sides I know the pie is done. You can remove the pan and brown the top more if you need.
How To Make Decorative Crust Pies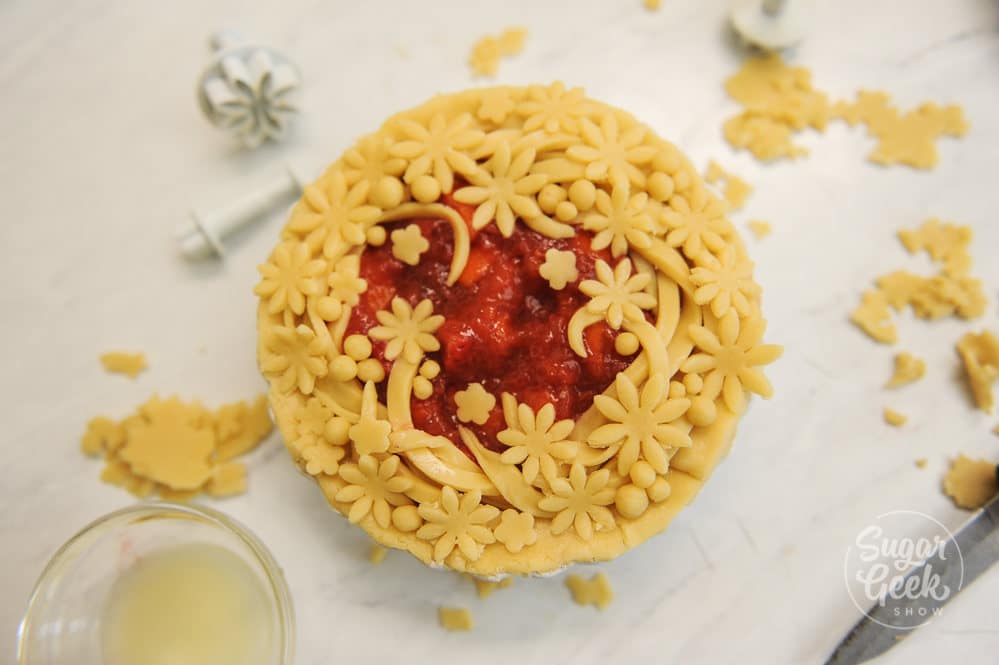 If you have seen some of those fancy decorative crust pies on pinterest you might want to know how to make one for yourself. Essentially you can use the same flaky pie crust for the top but you would cut it into strips or shapes before attaching to the top of the pie. As you may have guessed, using cold dough is important for handling and shaping.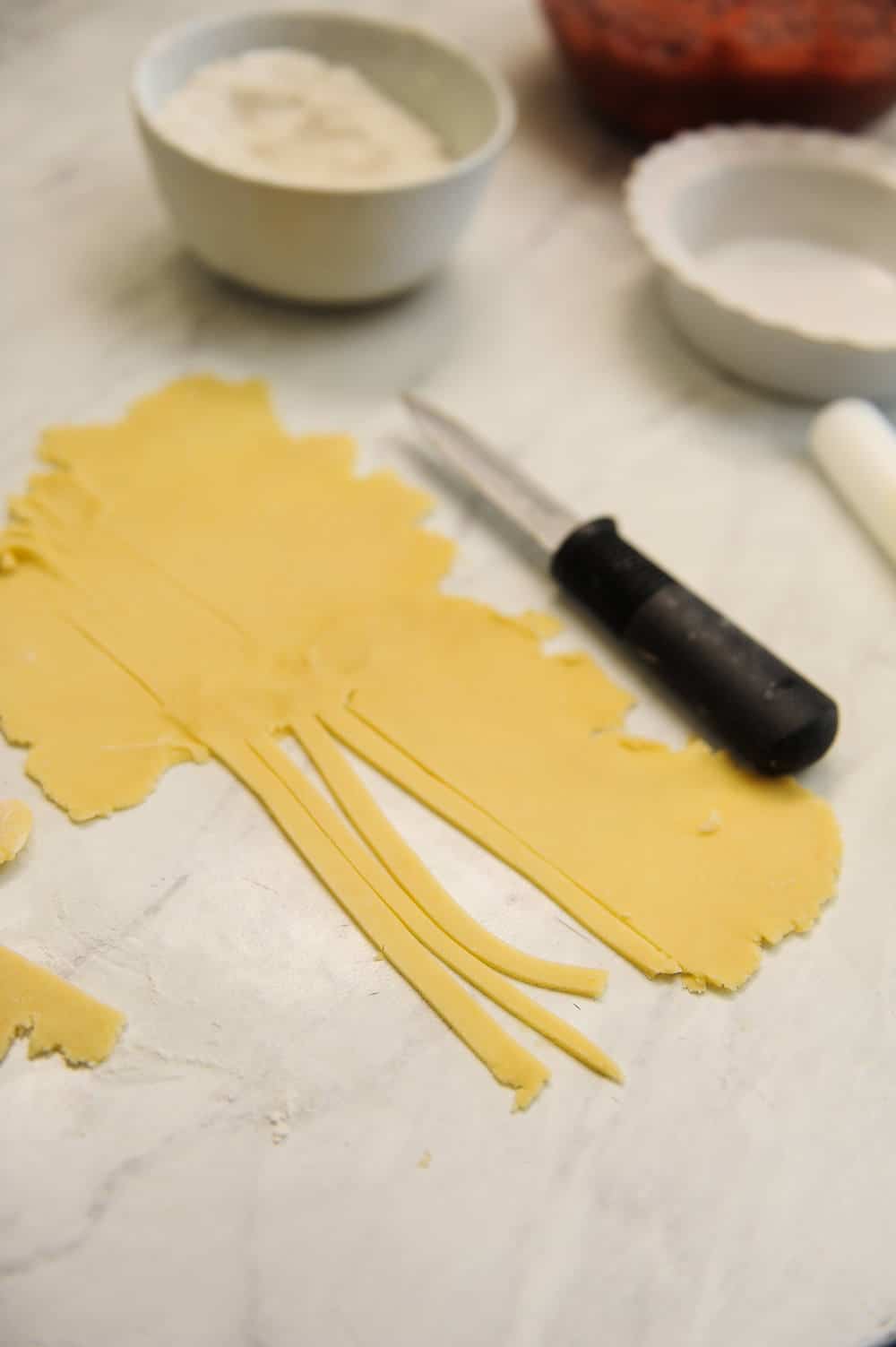 For this flower pie crust I simply cut out some long trips of flaky pie dough and made a simple wreath look around the edges of the pie. I cut out some flower shapes using a fondant punch and placed that on top. I brushed the whole surface with egg white and dusted with granulated sugar and then baked as usual. Super fun and easy way to make a pie look really fancy!
Recipe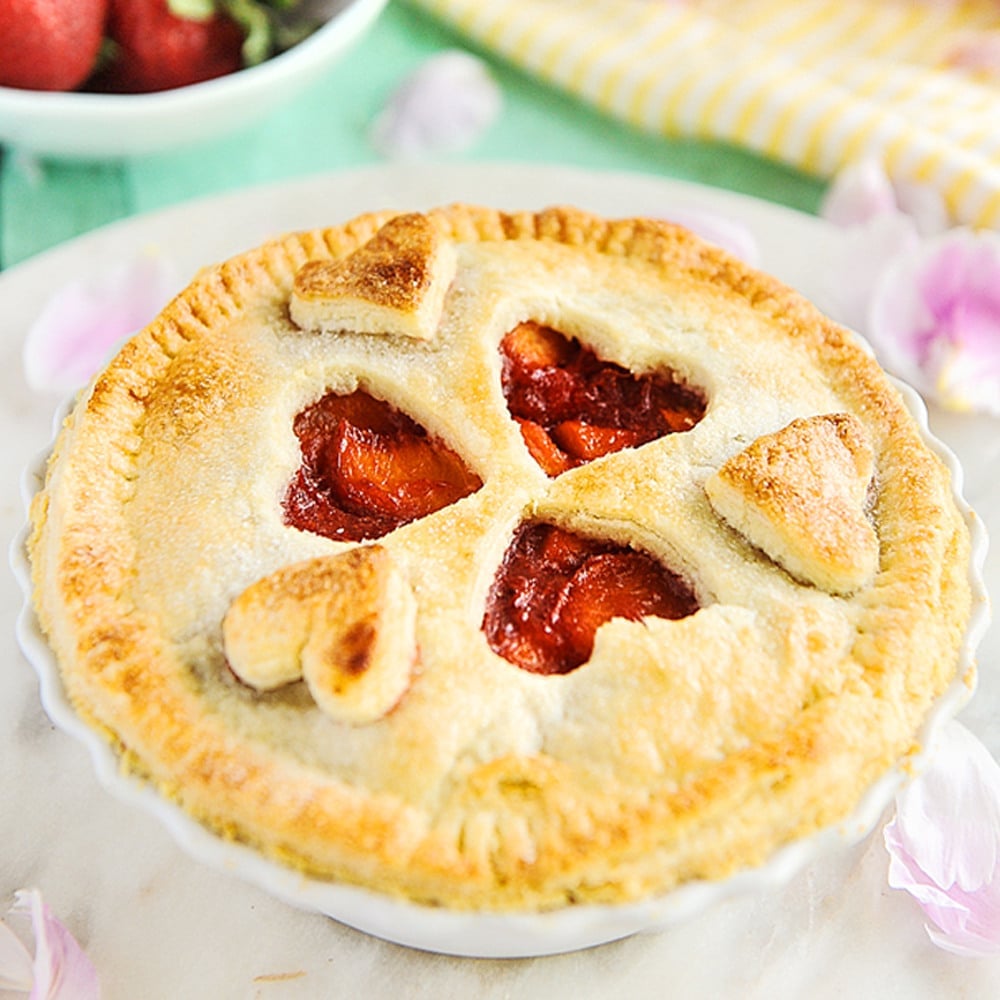 Servings:
2
9" pie crusts
Ingredients
10

ounces

all purpose flour

or all-purpose flour

¼

teaspoon

salt

8

oz

cold unsalted butter

grated

2

oz

ice water
Instructions
Place the flour and salt into a medium-sized bowl

Grate your cold butter directly into the flour mixture

Toss the mixture until the butter is coated with flour

Add in the water in small amounts and mix with your other hand until the flour is almost all gone. Press the dough together and wrap in plastic wrap to chill at least one hour but overnight is best

To use dough, roll out dough between two pieces of parchment paper to ⅛" of an inch. Place into pie dish and press flat against bottom and sides. Trim off the excess, leaving ¼ of an inch around the outside of the pan to allow for shrinking.
Nutrition
Calories:
1189
kcal
|
Carbohydrates:
122
g
|
Protein:
23
g
|
Fat:
73
g
|
Saturated Fat:
44
g
|
Cholesterol:
182
mg
|
Sodium:
905
mg
|
Potassium:
637
mg
|
Fiber:
18
g
|
Vitamin A:
2125
IU
|
Calcium:
78
mg
|
Iron:
6.3
mg