Homemade apple filling is so easy to make and tastes so much better than canned.
Apple filling is so much more than a pie filling. You can use it as a topping for cheesecakes, for apple danish, for filling a cake and yes, for apple pie. I love to make a big batch of this in the fall and can or freeze it so I have apple filling all year long. All you need are some apples and 20 minutes!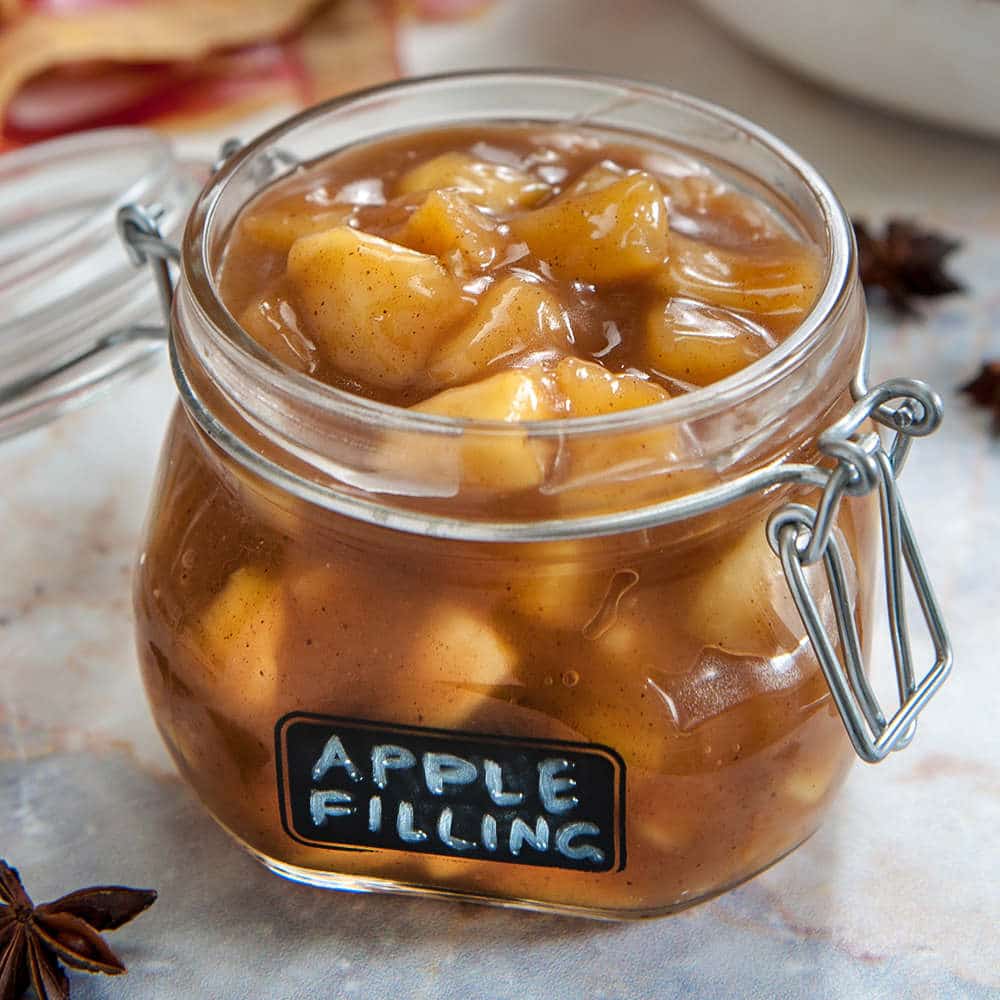 What are the best apples to use for filling?
Every year, we go to the Portland Apple Festival and taste dozen of apples. It's literally one of my favorite fall traditions. A very close second to Halloween. I love picking out the perfect apples to use for our annual applesauce and apple filling canning weekend!
I use Jonagold apples for this apple pie filling because they stay firm after being cooked and they have a tart flavor that works well with the sweetness of the brown sugar. You can use other apple varieties for this recipe.
How do you know what apples are best to use for apple filling? If the apple is good for making pie, it's great for filling. You want an apple that is going to hold it's shape when cooked and not turn to mush.
Great apples to use for apple filling
Jonagold - Slightly tart, crisp and holds it's shape well after baking.
Honeycrisp - Crisp, sweet, holds it's shape well after baking.
Braeburn - Crisp, sweet and very juicy. Holds it's shape well for baking.
Mutsu - Sweet, firm and great for baking
Pink Lady - Sweet, crisp and firm. Great for baking.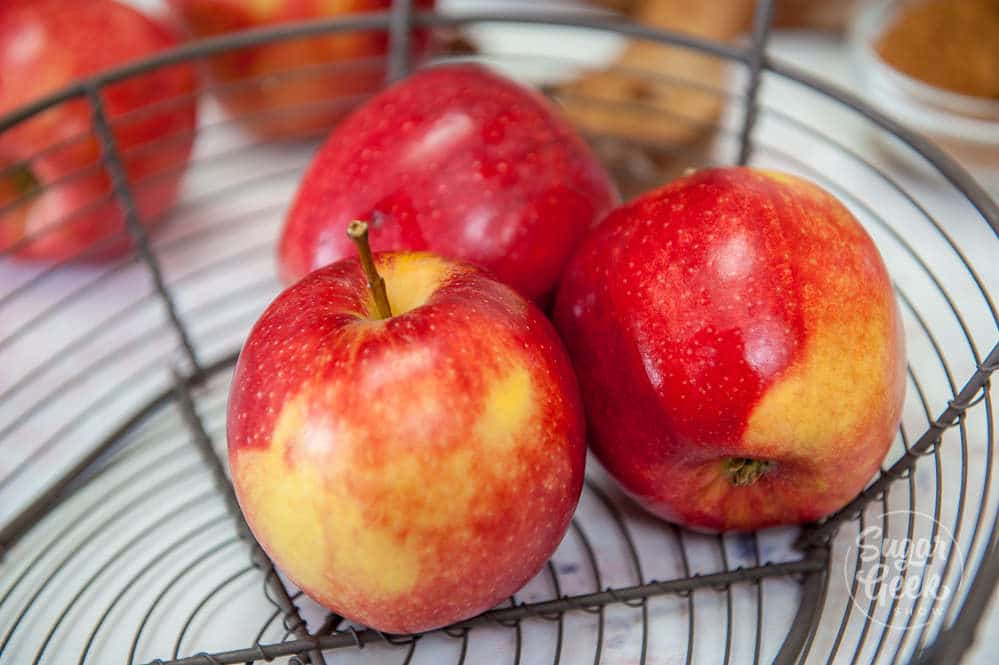 Tips for cutting apples?
When prepping your apples to become filling, there are a few things to keep in mind.
Peel your apples - apple skins can taste really chewy in the filling
Use an apple corer - for years I cored my apples with a paring knife. This year I got an apple corer and it made life so much easier! Worth it!
Cut your apples into even-sized pieces - apple pieces that are all the same size will cook more evenly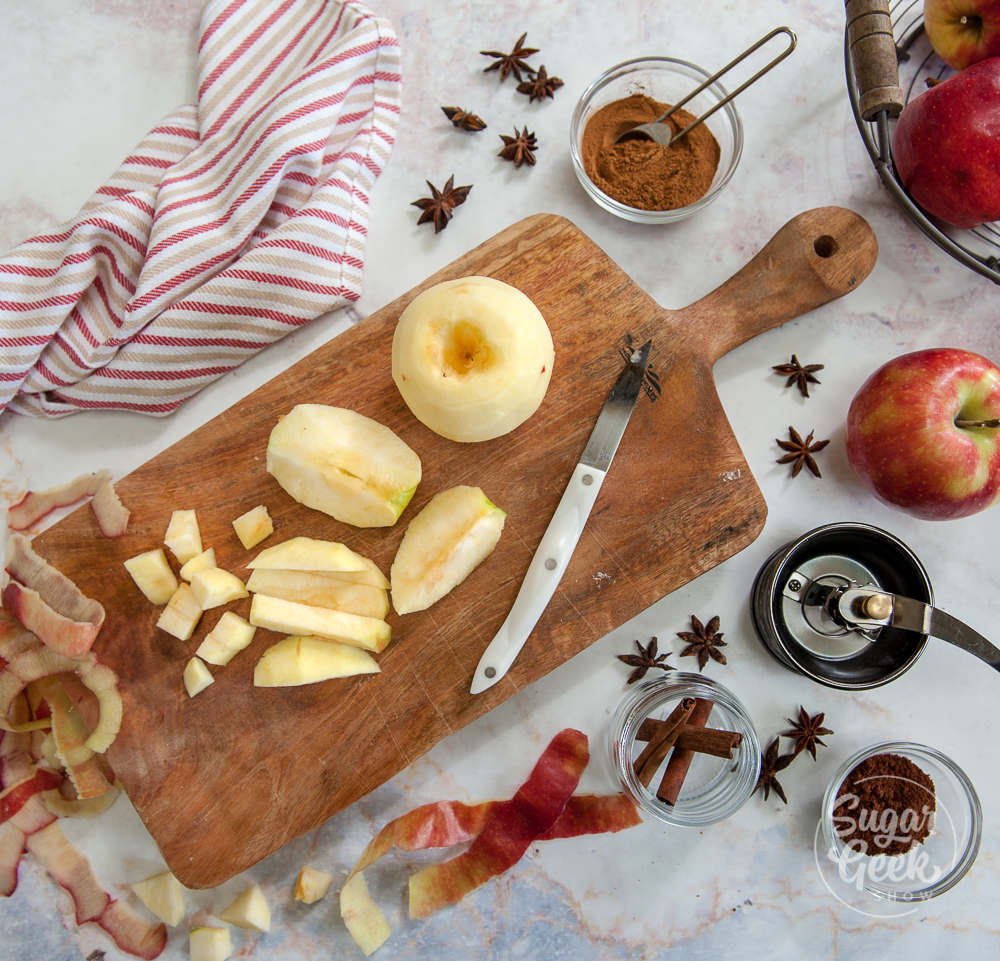 If you cut your apples into wedges, they will cook unevenly. The ends will become very soft and mushy and the centers will stay hard. Large apple wedges are also hard to use for anything other than pie filling because of their large size.
Thin slices may look nice but they can break down really easily. Then your filling looks a little messy. They can also be hard to use in other recipes besides pie.
The best way to cut your apples is in small cubes. Not only is it the easiest way to cut the apples but the size allows the apples to cook evenly and is the easiest to use in a variety of recipes.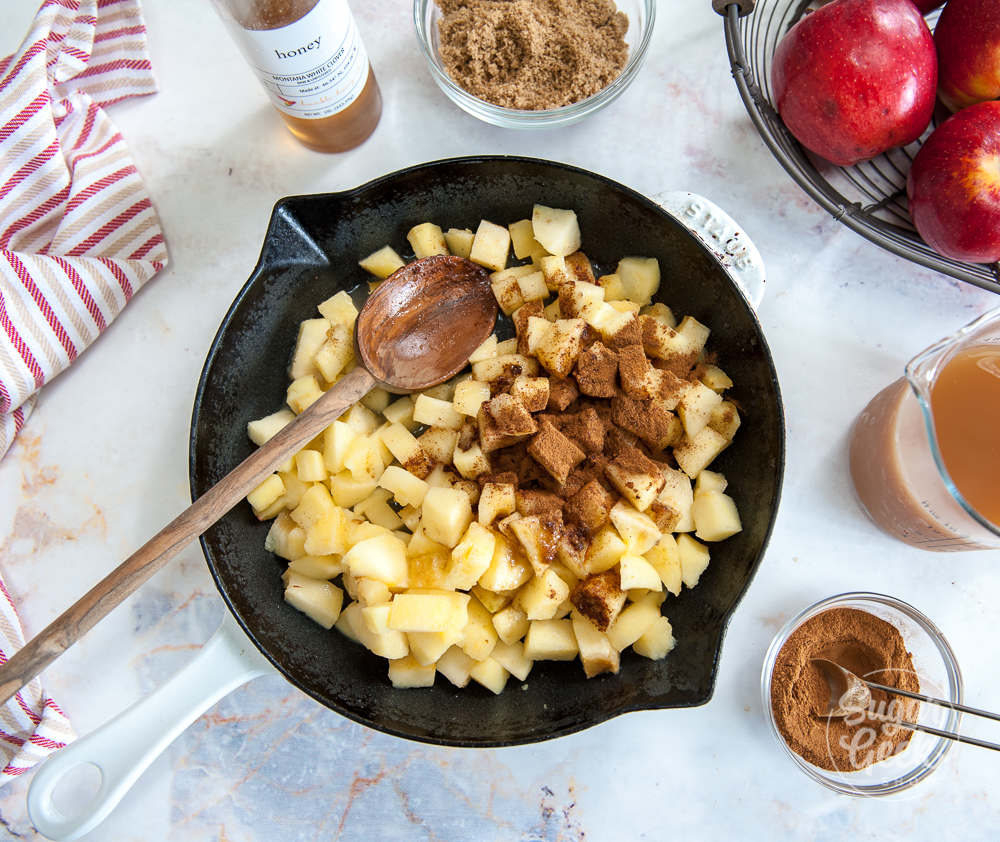 How do you make the best tasting apple filling?
Customize the taste - Adjust the spices to your liking! That's the BEST reason to make your own apple filling! You can make it exactly the way that you like it. I personally love extra cinnamon and using apple cider instead of water.
Use the apples you like - Even though I recommend using a tart and firm apple, you can really use whatever you have or apples you really like the taste of. I often have Honeycrisp apples on hand because I love the taste so I use them for my apple recipes. If you have a tree in your backyard and you want to use those, go for it! Free apples are the best apples.
Undercooked is better than overcooked - Apples taste best when they are still a little firm. Think al dente but for apples.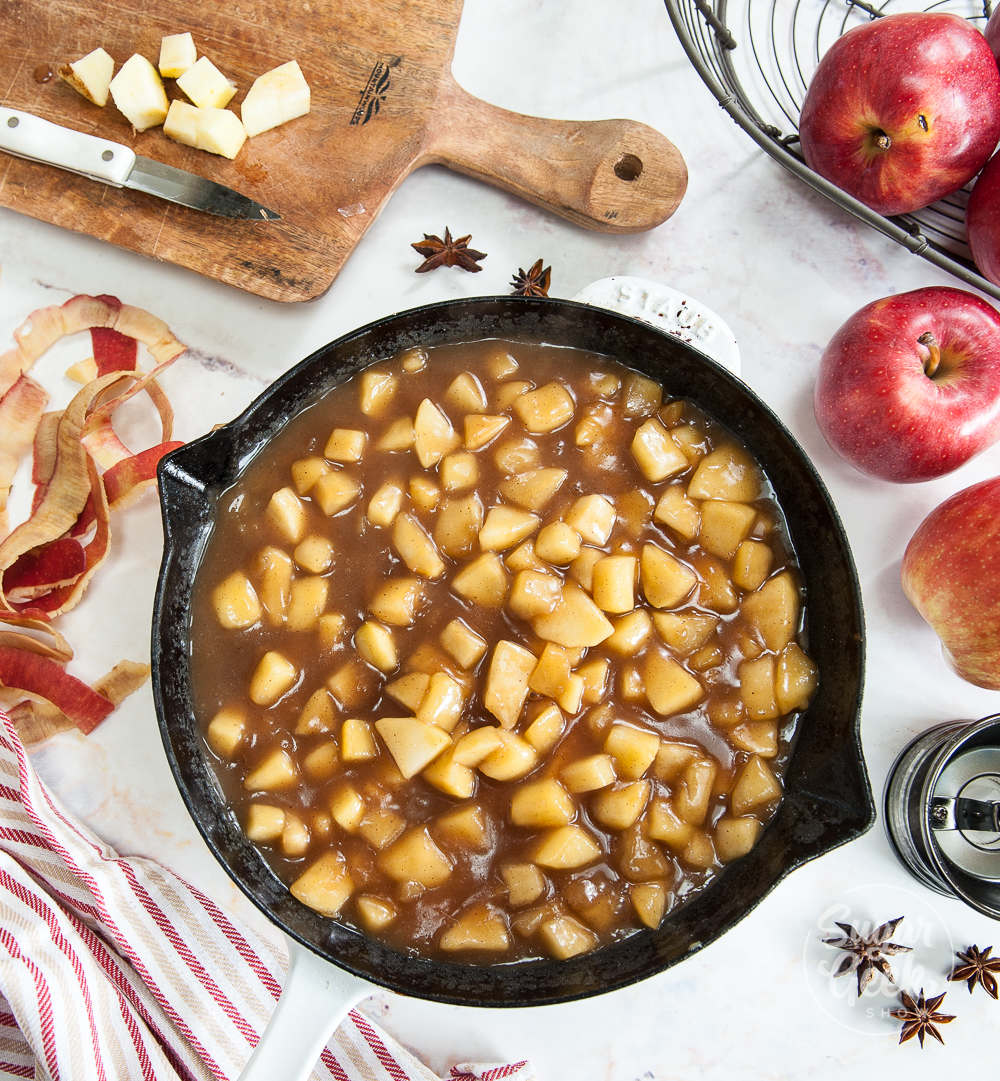 What is the best way to thicken apple filling?
The most common way to thicken most fillings is to use either cornstarch, flour or tapioca. I prefer cornstarch but you can use other thickeners if you prefer. Here are the benefits and disadvantages of using any of these three thickening agents and how much to use.
Cornstarch is made of corn and thickens at 212ºF (boiling point).
Advantages - It is nearly translucent when cooked, tasteless and fairly stable.
Disadvantages - it does not play nice with acid (such as lemon juice). If your recipe calls for acid, make sure you thicken the liquid first and then add the acid after it's thickened. The acid will not affect the cornstarch once it has thickened. Cornstarch breaks down after it has been frozen and will not be as thick. It's better to can leftover filling.
Flour is made of wheat and thickens at 202ºF
Advantages - Stable filling that does not break down when frozen and is not affected by acid
Disadvantages - Filling thickened with flour is slightly opaque and may have a slight flour aftertaste.
Tapioca Flour is made from the cassava root and thickens at 212ºF (boiling point).
Advantages - Translucent in color, sweet-tasting and not affected by citrus or freezing.
Disadvantages - It can become hard if over-cooked and may be harder to find in stores in your area.
How to substitute thickening agents
1 Tablespoon cornstarch = 4 teaspoons tapioca flour
1 Tablespoon cornstarch = 4 Tablespoons flour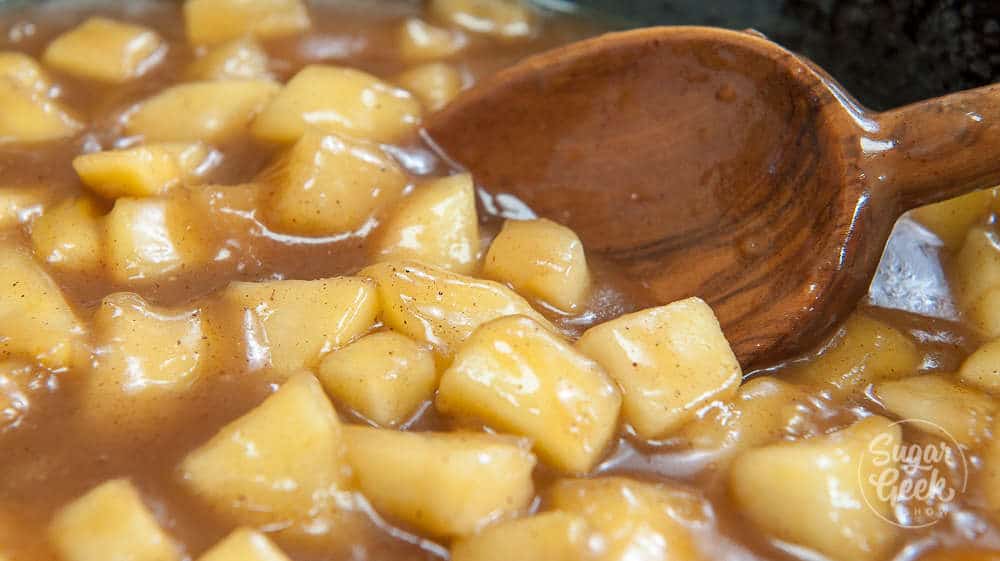 How long does apple filling last?
You can keep apple filling in the refrigerator for about two weeks. If you want to freeze it, use flour or tapioca instead of cornstarch as your thickener so your filling does not degrade when you defrost it. Or you can can your apple filling and have it on hand for years!
Most cooks recommend substituting 1 tablespoon of cornstarch with 2 tablespoons of tapioca flour.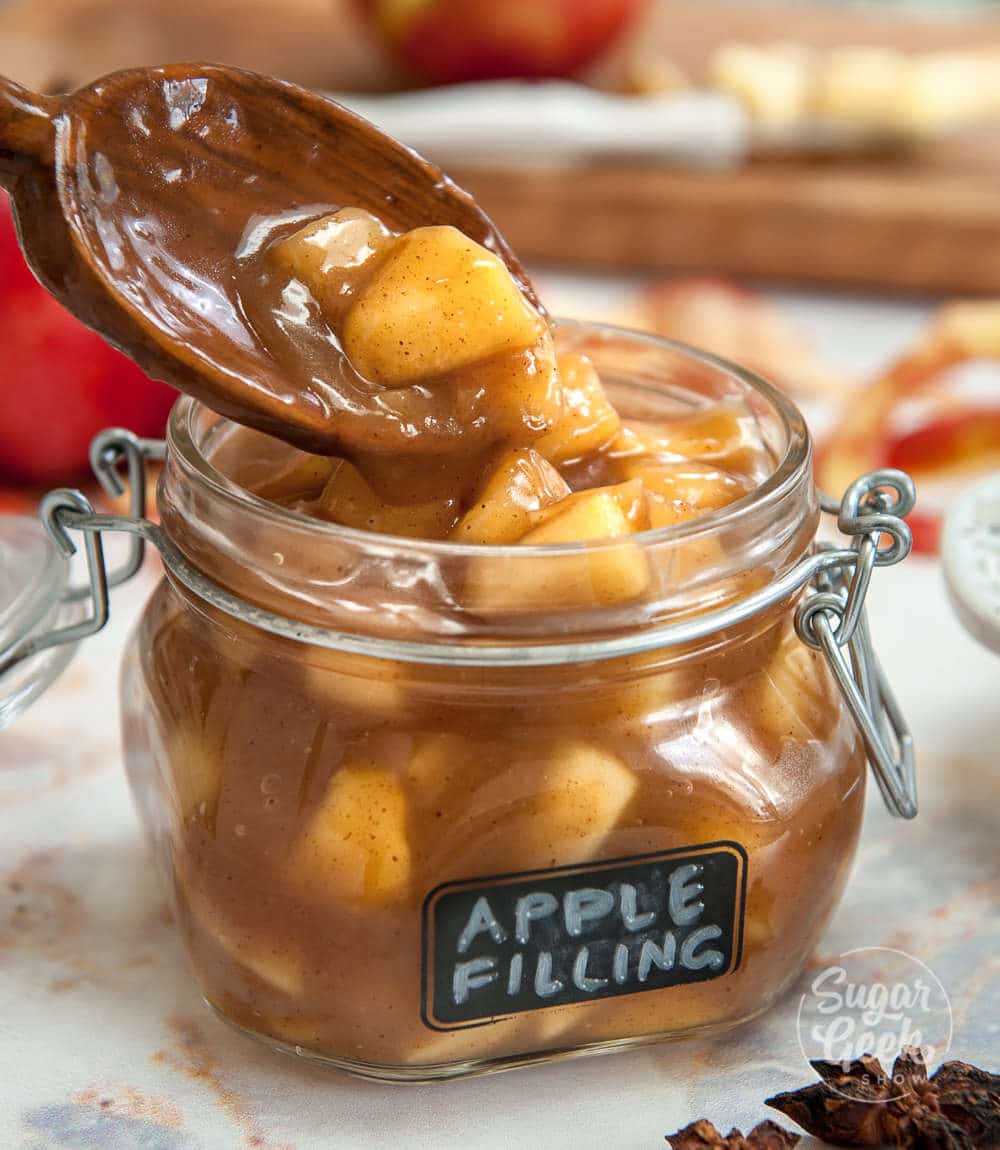 What can I use apple filling for?
There is really no limit to what you can do with this delicious apple filling. Cake filling, apple pie, ice cream topping, you name it! I love pairing it with my applesauce spice cake and brown butter cake recipes!
If you're using it for cake filling, make sure to pipe a buttercream dam around the rim of your cake to keep the filling from spilling out the sides of your cake. Or, you can mix your frosting and filling together to make it that much more stable!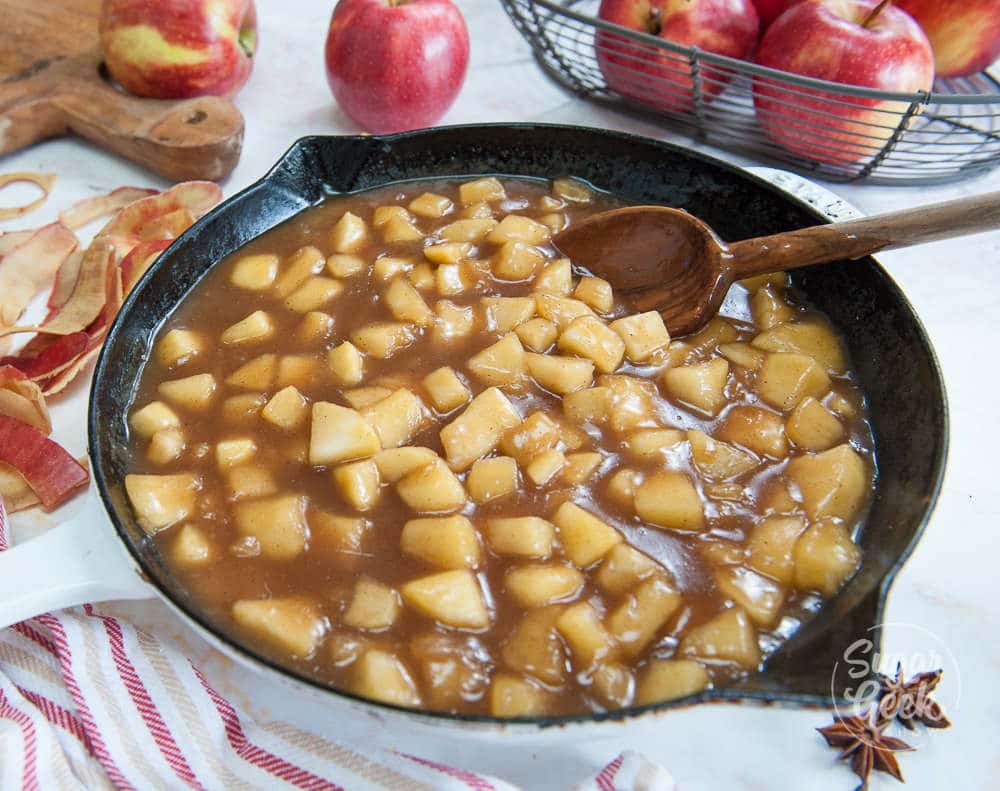 More recipes you might love
Applesauce spice cake
Fresh apple cake
Brown butter cream cheese frosting
Shiny candy apple recipe
Recipe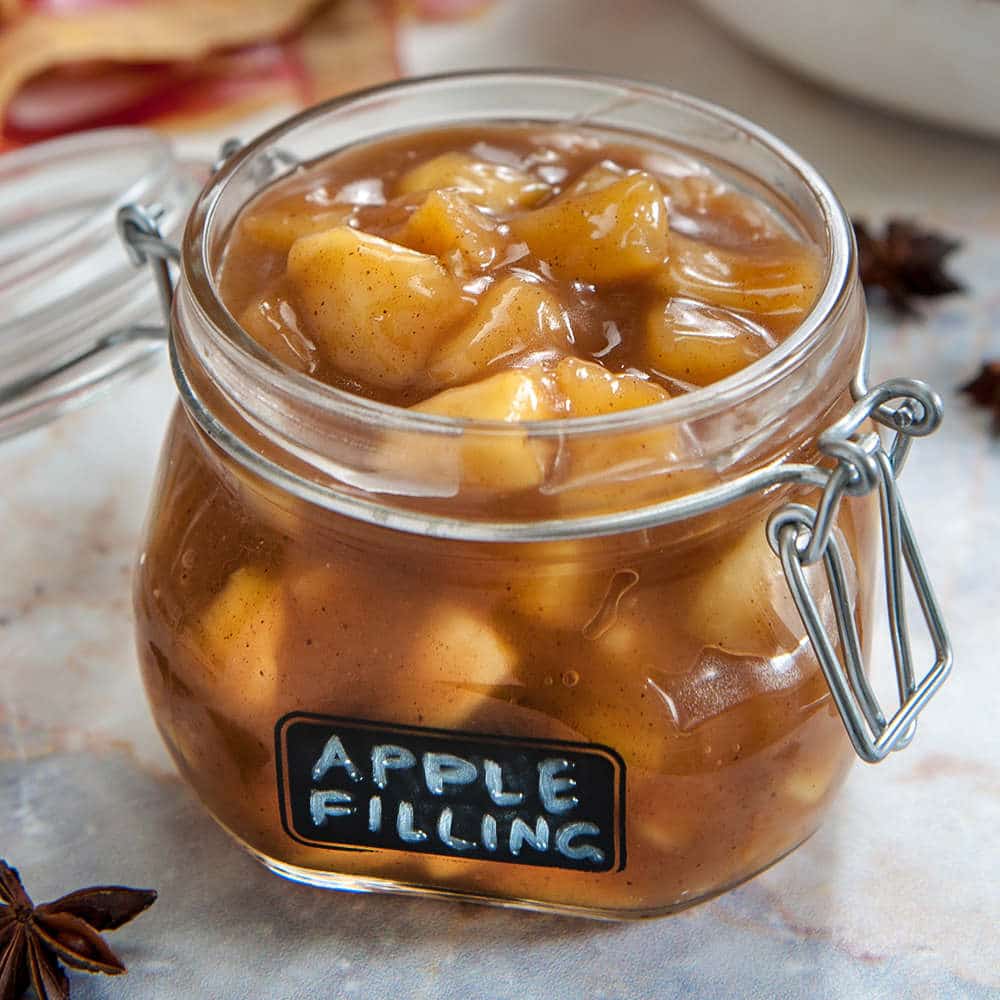 Ingredients
Spiced Apple Filling Recipe
2

lbs

apples

or other starchy apple like granny smith or honeycrisp (about 4 apples)

1

tablespoon

lemon juice

1

oz

butter

4

oz

brown sugar

or white sugar is fine

1

teaspoon

cinnamon

¼

teaspoon

cloves

¼

teaspoon

salt

12

oz

apple juice

or water

1

oz

cornstarch

2

oz

water

1

tablespoon

honey

1

tablespoon

vanilla extract

1

teaspoon

orange extract
Instructions
Peel, core and chop apples into small, ½" cubes

Place apples in a large pan over medium heat

Add butter and stir until butter is melted. About 1 minute.

Add apple juice, cinnamon, cloves, salt, and sugar and stir to combine.

Stirring occasionally, cook until the apples have softened. They should still have a little bit of firmness, but not be mushy.

Whisk water and cornstarch together in a separate cup to make a slurry, then add to apples while gently stirring over medium-high heat.

Cook and stir for 2 to 3 minutes until the mixture begins to bubble to make sure the cornstarch is fully cooked.

Remove the mixture from the heat.

Add in orange extract, vanilla, lemon juice, and honey. Stir to combine.

Pour into a cake pan or bowl and refrigerate to cool quickly. Store about 2 weeks in the fridge.
Notes
The original recipe called for apple cider because its concentrated in flavor and unsweetened but so many people used apple cider VINEGAR instead that I changed the recipe. If you can find apple cider JUICE then I feel that tastes better. 
If you don't have an apple corer, you can core your apples by hand with a sharp knife. 
Nutrition
Serving:
1
cup
|
Calories:
370
kcal
|
Carbohydrates:
81
g
|
Protein:
1
g
|
Fat:
6
g
|
Saturated Fat:
4
g
|
Cholesterol:
15
mg
|
Sodium:
212
mg
|
Potassium:
366
mg
|
Fiber:
6
g
|
Sugar:
64
g
|
Vitamin A:
300
IU
|
Vitamin C:
13
mg
|
Calcium:
49
mg
|
Iron:
1
mg