The perfect candy apple has a super thin, shiny red coat with no bubbles and the perfect amount of cinnamon flavor. Not only is making your own candy apples from scratch incredibly easy (compared to unwrapping 100's of cinnamon candies and melting them) you won't believe how good they taste! Read on for all my tips and tricks for perfectly shiny and sparkly homemade candy apples.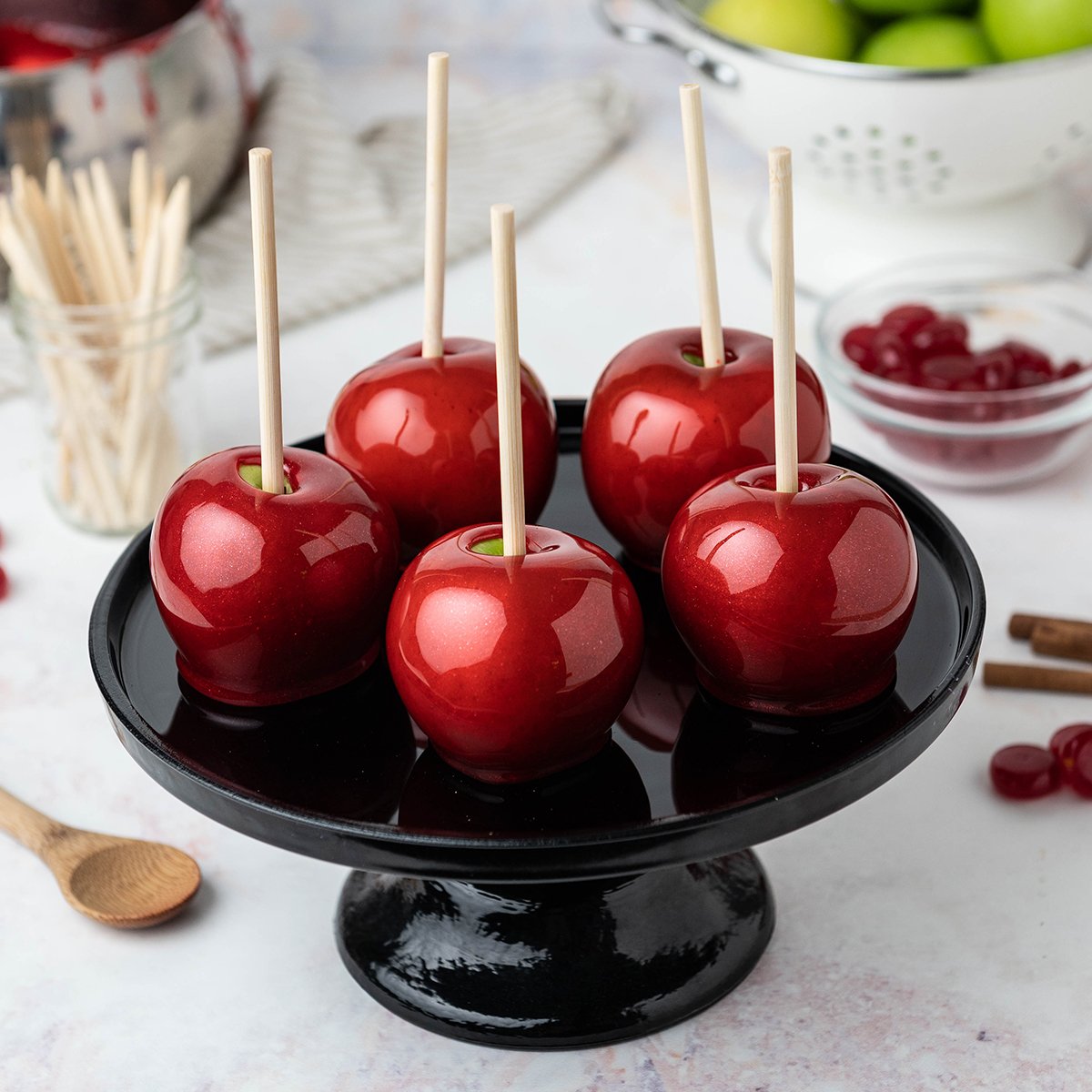 Candy Apple Ingredients & Equipment Needed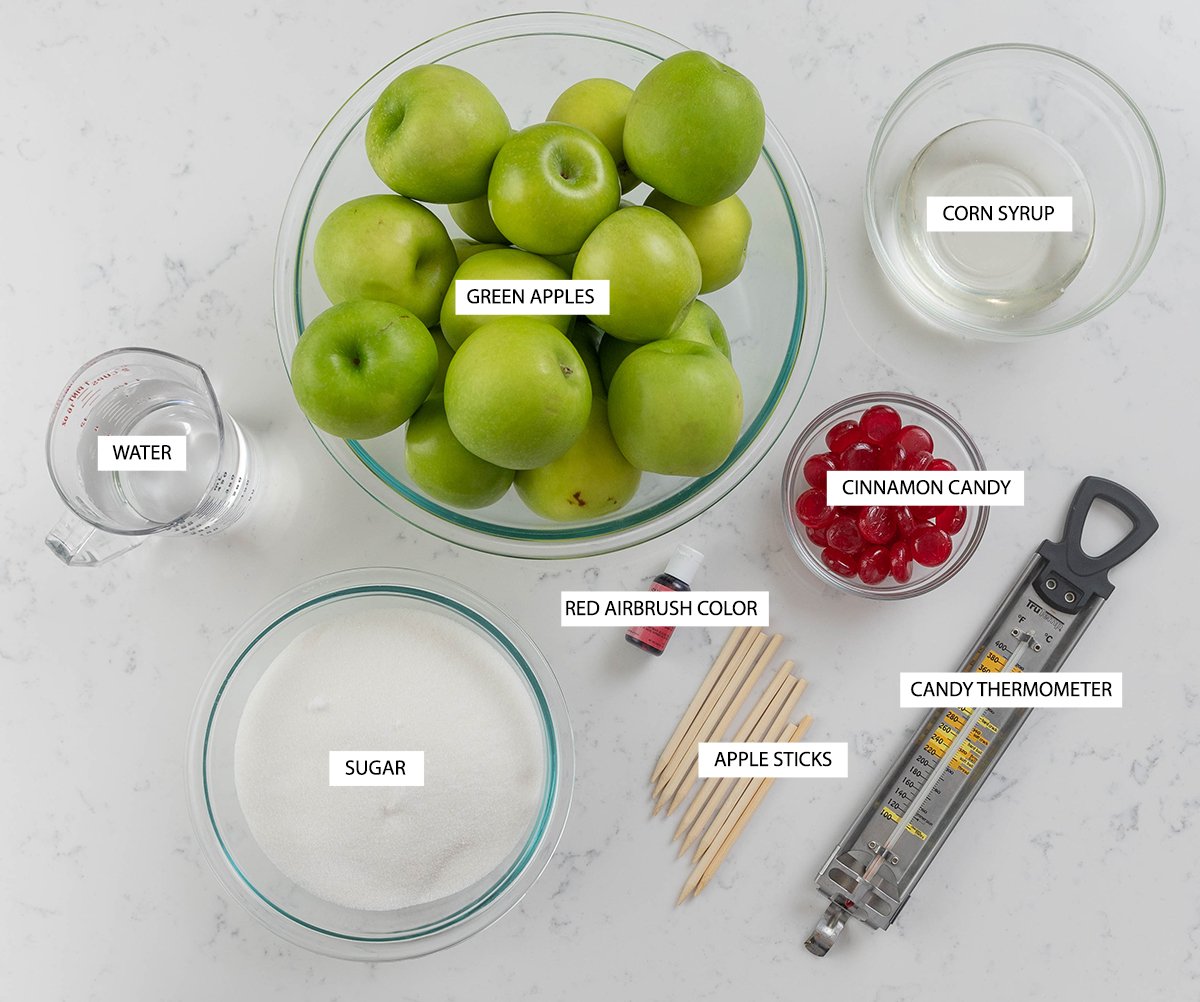 Making candy apples is quite simple but there are some key things that can take your candy apples from just good to the BEST candy apples ever!
First of all, you want to use green apples like Granny Smith apples. These apples are not very sweet and taste amazing with the sweet sugary coating. The apples also hold up well to the heat of the hot sugar and last longer than other apples.
I'm using super red food airbrush color from Chef Master Use code "SUGARGEEKTEN" to get 10% off your order!!! You can use gel food coloring but it might leave some lumps in the sugar.
Make sure you pick up some candy apple sticks. They are thicker and stronger than regular skewers because apples covered in sugar are heavy! The last thing you want to do is have a stick break mid-dip.
Do yourself a favor and get a candy thermometer for making candy apples. You want your sugar to reach 300ºF so that the sugar is not sticky but if you cook it too long, you'll burn it. A candy thermometer makes it super easy to know exactly when your candy is ready for dipping your apples.
The best kind of pot to use for making candy apples is an extra-large saucepan that has a heavy bottom and curved sides so you have plenty of room for dipping. If you use a pan that is flimsy and thin, you could burn your sugar or it can cook unevenly.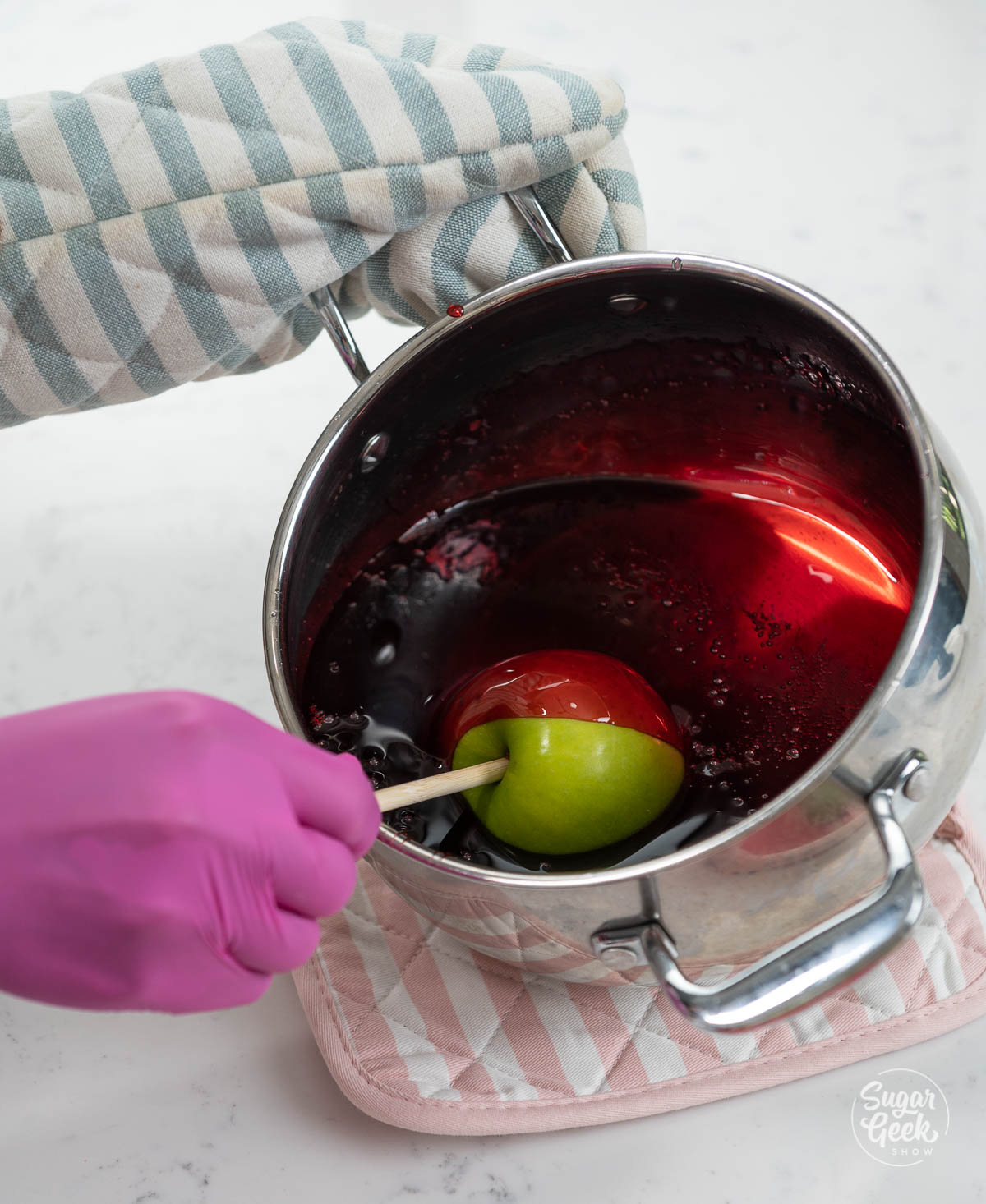 I'm using cinnamon candy in my recipe because I could not find any cinnamon extract ANYWHERE! Maybe there is a shortage? If you don't have cinnamon candy, you can use ¼ teaspoon cinnamon extract instead or 1 teaspoon ground cinnamon which tastes SO GOOD but does leave some specs in the finish of the candy apple. If you're feeling really bougie, try adding a little nutmeg, clove, or pumpkin spice! Yum!
How To Make Candy Apples Step By Step
Making candy apples is really a two-day process. Not because it takes a long time but it's just easier. So here's my process.
Day 1: WASH THEM APPLES! And I mean like wash them really really well. Apples come with this waxy coating that causes annoying bubbles to appear under the sugar.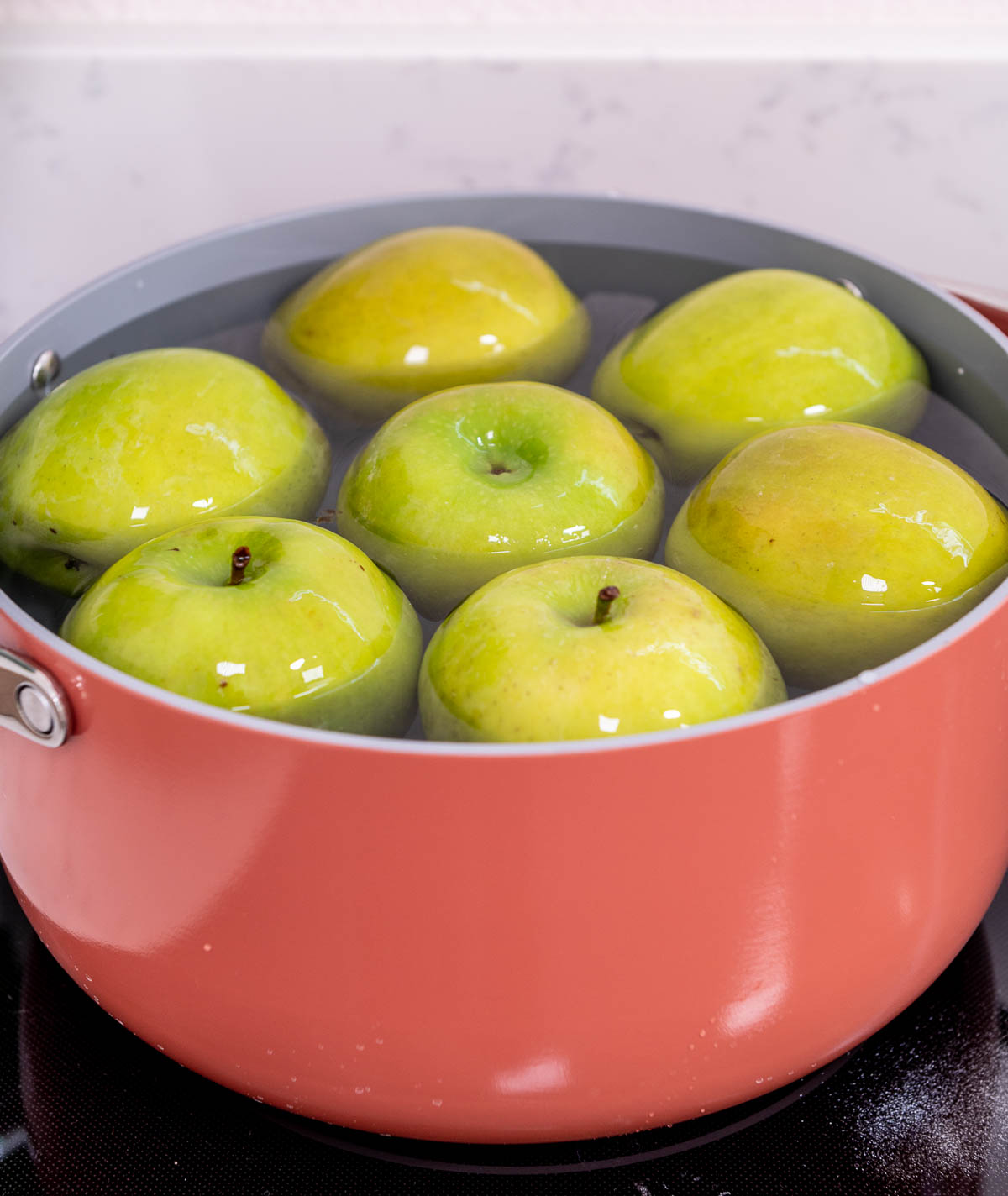 The best way to wash your apples is to scrub every inch of them in hot hot water with a paper towel or to even heat some water to just starting to steam (not boil) and dunk your apples in the water for 1 minute. Rose Bakes says to add some baking soda to the water too. Rotate them with a spoon to make sure you submerge the whole apple. Scoop them out with a slotted spoon and dry them well with paper towels and store in the fridge overnight.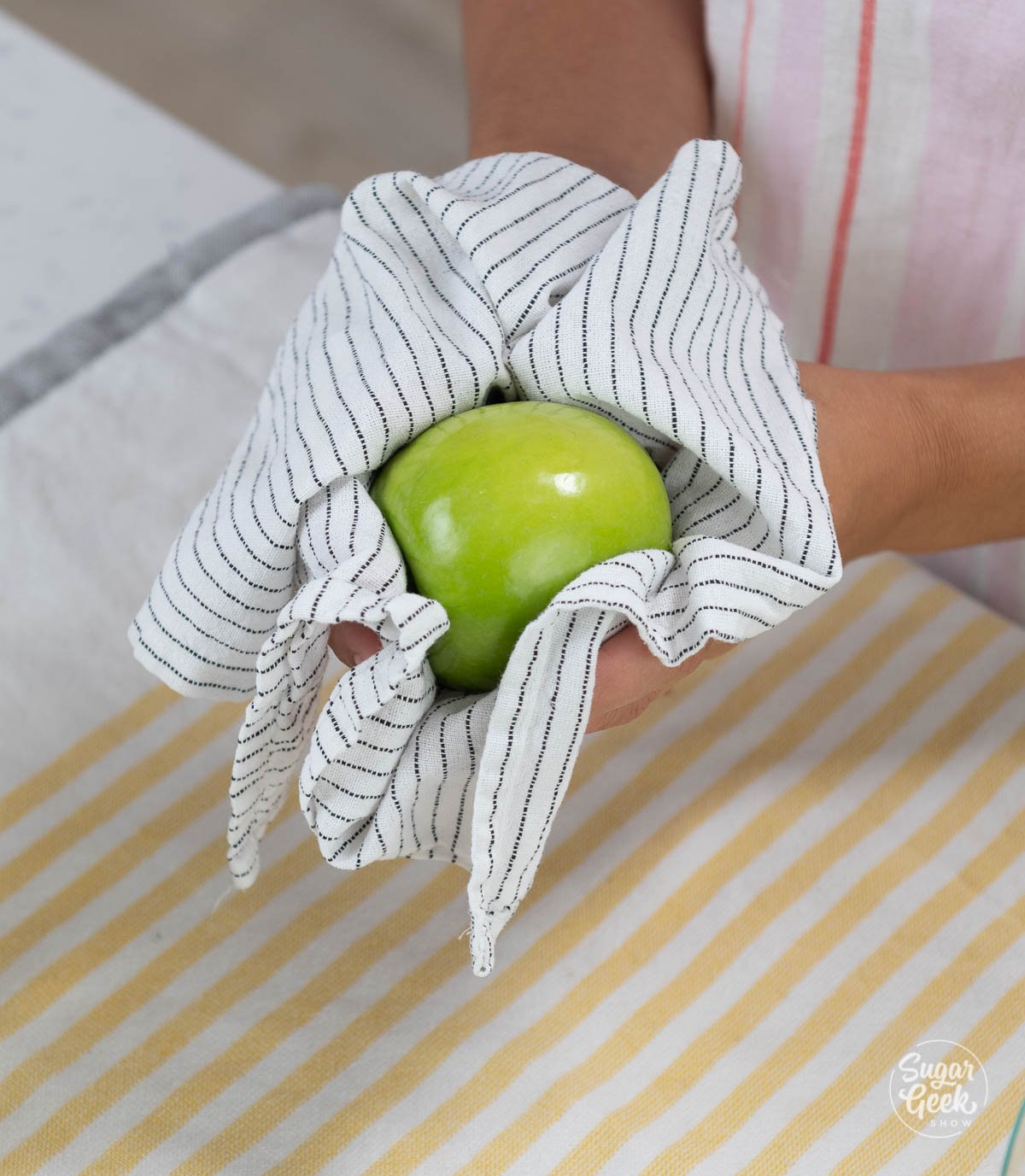 You CAN dip right away but you risk getting bubbles from leftover water on the apples so make sure you dry them really really well, especially the top and bottom.
It will brown the apples but once you dip them in sugar, you won't be able to tell. They turn brown anyway from the sugar, you just can't see it! Crazy huh!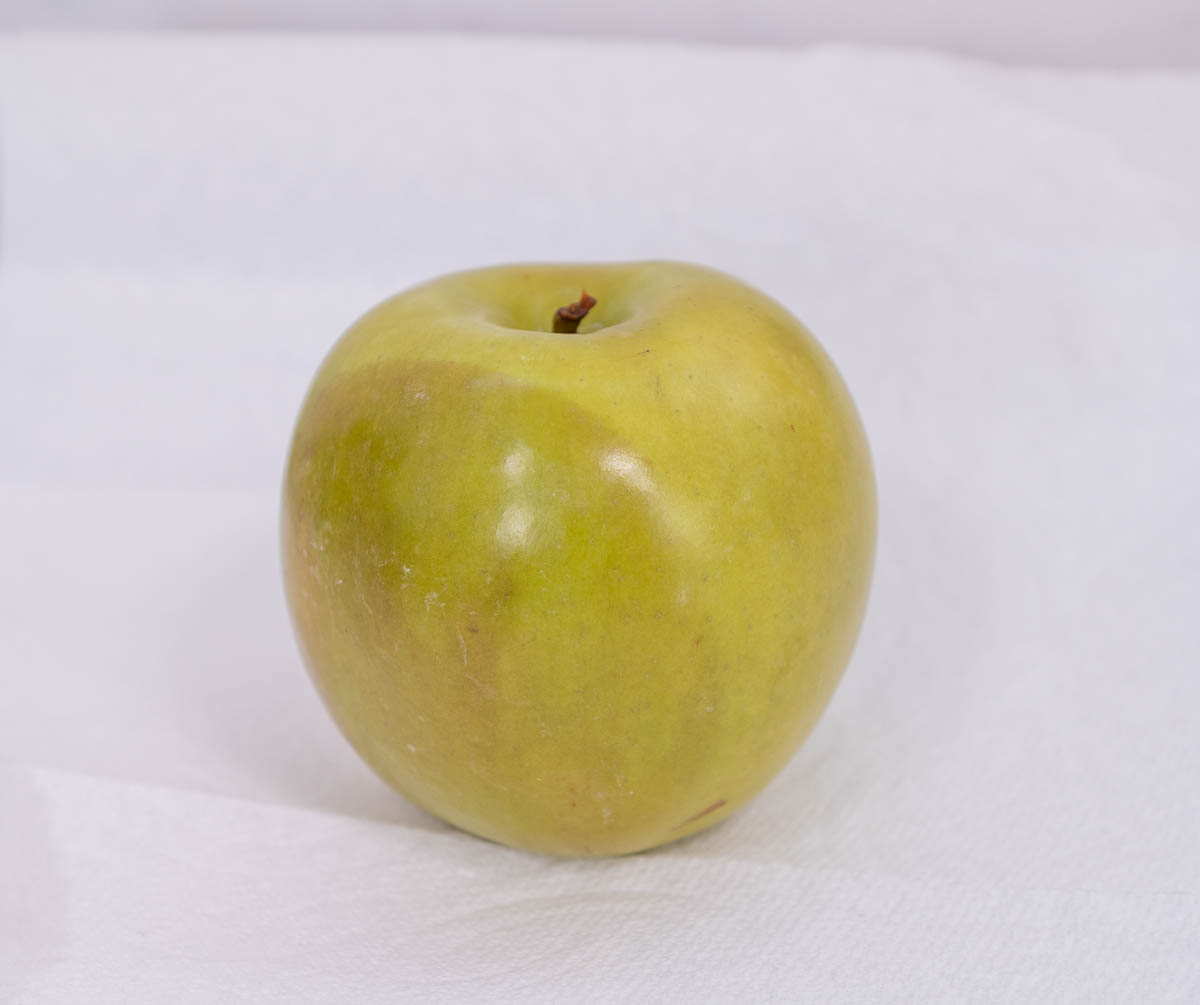 Day 2: Prep your station and get ready to dip!
Gather all your pre-measured ingredients for the candy apples so you are prepared and not rushed.
Place a silicone mat or a sheet of lightly greased tinfoil onto a sheet pan for the dippled apples to go on.
Keep a bowl of ice water nearby and wear some gloves for protection against hot sugar drips! If you do happen to get some sugar on your hand, you can quickly remove the glove and the sugar will come with it instead of burning your hand or you can quickly dip your hand in the ice water to harden the sugar and stop it from burning.
Remove the stems from your apples and insert the sticks. Make sure the apple is sitting on the work surface and then push the stick in, this will ensure your sticks are straight up and down.
In a heavy bottom saucepan, combine sugar, syrup, and water, mix gently to combine.
Bring the sugar mixture to a boil over medium-high heat with the lid on the saucepan. Let it simmer for 5 minutes. This ensures all the sugar dissolves and your mixture does not crystalize.
Remove the lid and wash down the sides of the pan with a clean pastry brush and water to be extra sure you got all those granules of sugar.
Add in your cinnamon candies now if you wish. If you're not using candies, wait until the sugar is done cooking before adding in your flavoring and color.
Add in your candy thermometer.
Over medium heat, without any further stirring begin to heat sugar until it reaches 300ºF. This could take up to 30 minutes to reach this temperature. It could take more or less time, keep a close eye on your thermometer. Be patient, it will get there. You might notice your temperature hangs out for a while at 250ºF and that is normal because the water is still evaporating. Once all the water is gone, the temp will begin to rise again.
Once your sugar has reached 300ºF, remove the pan from the heat. This is when you will add your desired candy color (and flavoring if you wish). Stir gently and let the candy cool slightly to about 270-280ºF.
Totally optional but I also mixed in about ¼ teaspoon of flash dust for extra sparkle and it looked SO pretty!
Now you can tilt the saucepan and roll your apples in the hot sugar to coat them. You only need a thin coat!
Lift the apple out and let the excess drip off. I even scrape mine a bit on the edge of the pot.
Place the apple onto the silicone mat and in about 10 minutes your candy apples will be ready to enjoy! So yummy!
Can you believe how GORGEOUS these candy apples turned out? So so shiny and really tasty! If you've never had a candy apple before, give it a try! You might be surprised how good they are. The perfect combination of a little tart and a little sweet with a little crunch!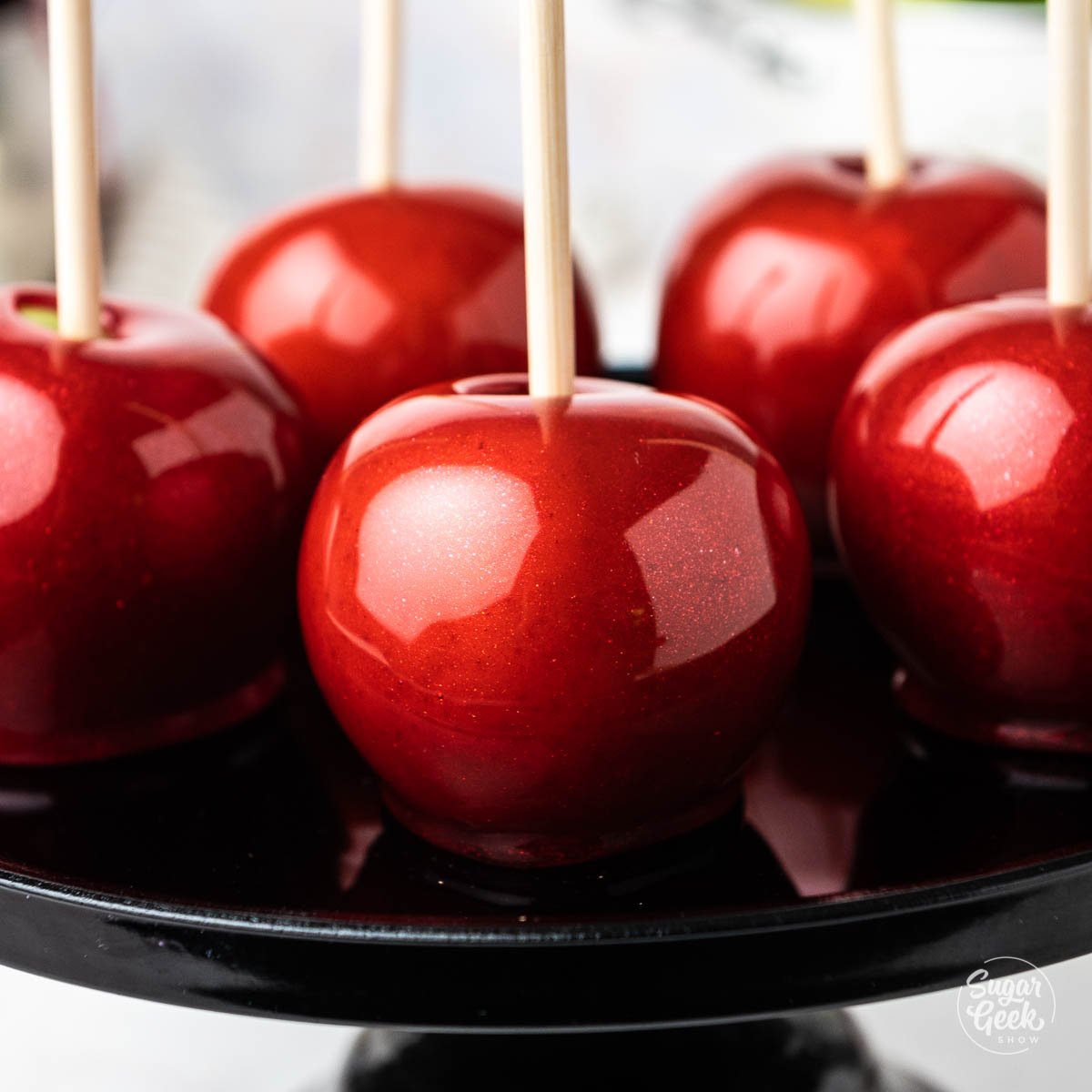 What Ingredients Were Used To Make The First Candy Apple?
Candy apples are covered in hard candy, flavored with cinnamon. But where did they come from? I did some digging and found out that candymaker William W. Kolb is credited with inventing the first candy apple in Newark, New Jersey in 1908. His candies were made with sugar, corn syrup, red food coloring, and powdered cinnamon.
Kolb was looking for ways to sell his cinnamon candy during Christmas but no one was buying. He decided to showcase his cinnamon candy by dipping green apples into the cinnamon candy and placing them in his window display.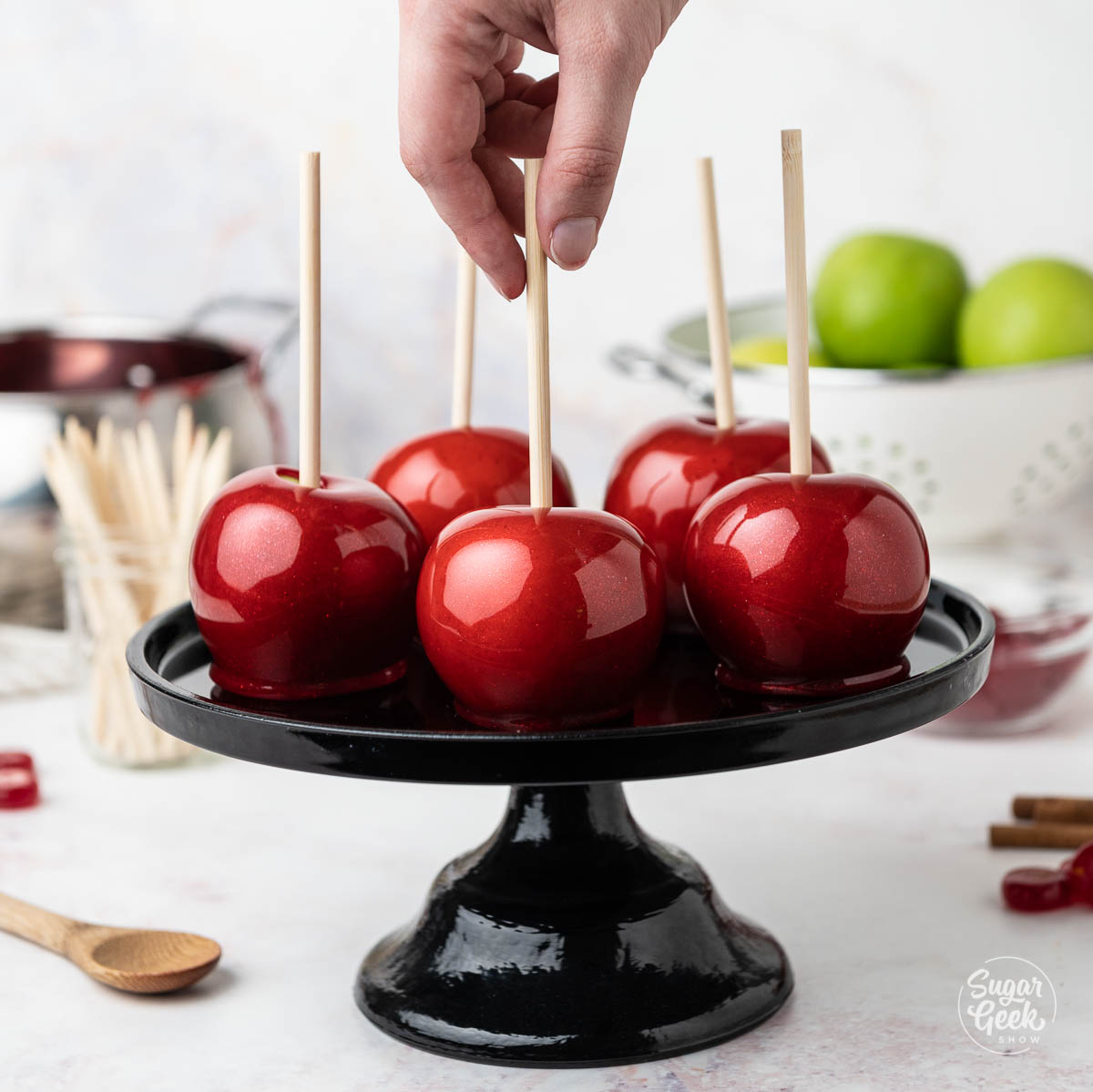 The bad news is no one wanted to buy his cinnamon candies but they were crazy for is candy apples! Candy apples quickly became very popular as not only a Christmas treat but also became popular to give out to trick-or-treaters during Halloween. They remained popular treats until the 1970s where old wives' tales began to circulate about blades or needles being placed into apples.
If you've ever actually bitten into a candy apple then you know that sugar is very sharp! So my theory is some kid actually cut their mouth on the sugar because no actual recorded reports of razor blades or needles found in candy apples have ever been found. For this reason, I always cut my candy apple into slices to eat it instead of biting into the hard candy.
Candy Apple FAQ
How Long Does It Take For Candy Apples To Harden?
When your sugar is cooked to 300ºF the candy should harden fully within 10 minutes and be ready to eat.
Why Are My Candy Apples Sticky?
The sugar coating your candy apples will get sticky over time as they absorb moisture from the air. The other thing could be that you didn't cook the sugar to 300ºF.
How Do I Prevent Bubbles In My Candy Apples?
Make sure you wash your apples really well to remove all the wax from the surface of the apples, dry them really well and dip them the day after you wash them.
How Do I Color My Candy Apples?
You can add any type of food coloring to your sugar mixture. For more opaque colors, add a couple of drops of white food coloring as well.
Can I Flavor My Candy Apples?
Yes, its very easy to add extracts or candy flavoring to candy apple sugar.
How Do I Store Candy Apples?
It's best to store candy apples in the fridge and enjoy them within 24-48 hours of making them.
How Do You Eat A Candy Apple?
The candy is very hard and although you COULD bite into it, it's much easier to slice it first then enjoy.
Recipe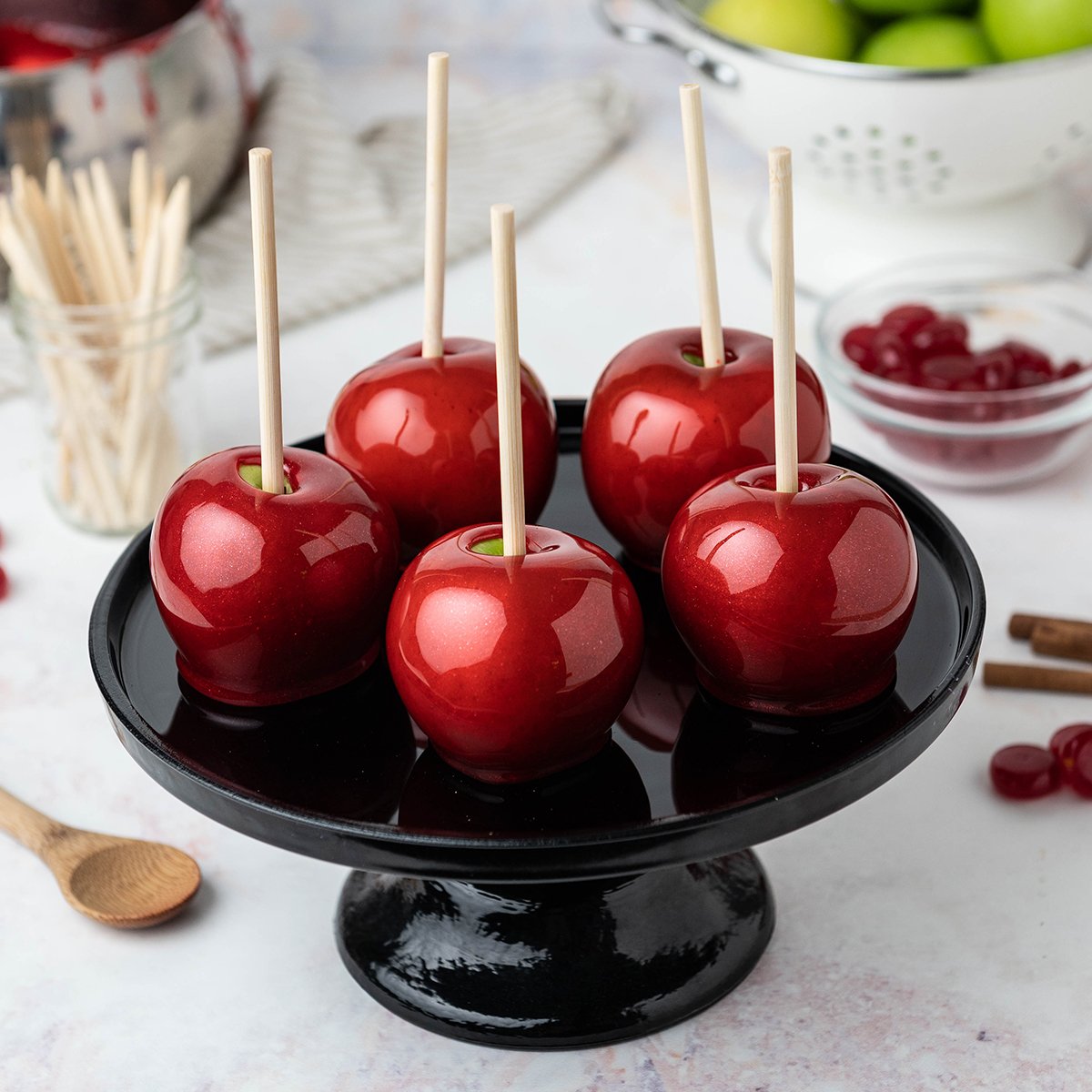 Equipment
heavy bottom saucepan

Candy Thermometer

silicone mat

clean pastry brush

Apple skewers

nitrile gloves (optional for precaution while dipping)
Ingredients
8-10

small

granny smith apples

30

ounces

granulated sugar

12

ounces

water

6

ounces

corn syrup

¼

teaspoon

food coloring, optional

8

ounces

cinnamon hard candy

¼

teaspoon

flash dust

optional
Instructions
Soak your apples in very hot/boiling water for 10-15 seconds to melt wax coating off the skins. Rub and dry your apples well, placing them in the fridge to chill and dry overnight (or at least a few hours). Cold apples make for better candy apples.

Remove the stems from the apples.

Before you begin cooking the sugar, secure sticks into apples. Make sure the apple is sitting on the work surface and then push the stick in, this will ensure your sticks are straight up and down.

Place the apples onto a sheet pan with a silicone mat on top and store them in the fridge until you're ready to dip them. (You can also use a sheet of aluminum foil greased with oil if you don't have a silicone mat.)

In a heavy bottom saucepan, combine the sugar, syrup, and water. Mix gently to combine with a wooden spoon.

Once the mixture begins to boil, cover the mixture with a lid for 5 minutes to ensure the sugar is all dissolved.

After 5 minutes, remove the lid and wash down the sides of the pan with a clean pastry brush and water. This removes sugar crystals that could cause your candy to crystalize while it's cooking.

Attach your candy thermometer to the pot and add in your cinnamon candy if you wish. If you're using extracts or food coloring, add it later when the sugar reaches 280ºF so the flavor and color don't cook out.

Over medium-high heat, continue cooking the sugar until it reaches 300ºF without any further stirring. This could take up to 30 minutes to reach this temperature. It could take more or less time, keep a close eye on your thermometer. Be patient, it will get there.

Once your sugar has reached 300ºF, remove the pan from the heat. Stir gently and let the candy cool slightly, to 280ºF so the bubbling calms down, or you will get bubbles in your apples.

Using a hot pad, hold your pan at an angle and being to gently roll your apple into the candy. The less time the apple spends in the candy the thinner the coating will be on the apple. Try to dip your apple deep enough that the candy coats almost to the core, this will prevent it from sliding off your apple.

Let the excess candy drip off of the apple before placing it on your silicone mat to cool completely.

If your candy starts to get too thick, you can re-heat it on the stovetop for a few minutes until it's liquid again.

Pour the leftover candy into silicone molds to use later or make little hard candies!
Notes
Caramel Apple Recipe
Chef Master Food Color Use this code to get 10% off your order!!! ► SUGARGEEKTEN
The cinnamon candy/flavor is optional, you can omit it or replace it with any flavor you like. If you don't have cinnamon candies you can use ¼ teaspoon of ground cinnamon or cinnamon extract, which is very potent so go easy with it. Cinnamon oil is very concentrated as well, so also go easy with that. 
Once the candy starts cooking the process goes fast, so make sure you have everything ready to go before you start. 
Sugar attracts moisture, so after your candy apple has had time to cool completely you can wrap it in a cellophane bag to give it a little longer shelf life before it gets sticky. If you choose to cool your apples in your refrigerator, wrap them immediately as they will begin to condensate as soon as you remove them from the fridge.  
Work cautiously with sugar, it can cause severe burns. Keep a bowl of ice water nearby in case of a burn, do not try to wipe the hot sugar from your skin. Working in gloves will allow an extra layer of protection, but you can still get burned through the glove. 
Nutrition
Serving:
1
apple
|
Calories:
549
kcal
|
Carbohydrates:
143
g
|
Protein:
1
g
|
Fat:
1
g
|
Saturated Fat:
1
g
|
Polyunsaturated Fat:
1
g
|
Monounsaturated Fat:
1
g
|
Sodium:
18
mg
|
Potassium:
162
mg
|
Fiber:
4
g
|
Sugar:
138
g
|
Vitamin A:
80
IU
|
Vitamin C:
7
mg
|
Calcium:
14
mg
|
Iron:
1
mg