Fluffy Brown Butter Cake with Creamy Vanilla Bean Buttercream
This brown butter cake is light, fluffy, super moist and oh so delicious. Brown butter is my favorite way to add a warm and toasty flavor to my baked goodies. Those little brown specs are like gold! The vanilla bean buttercream lightens up that rich flavor and reminds me of a waffle cone with vanilla ice cream. This is a must bake dessert this fall!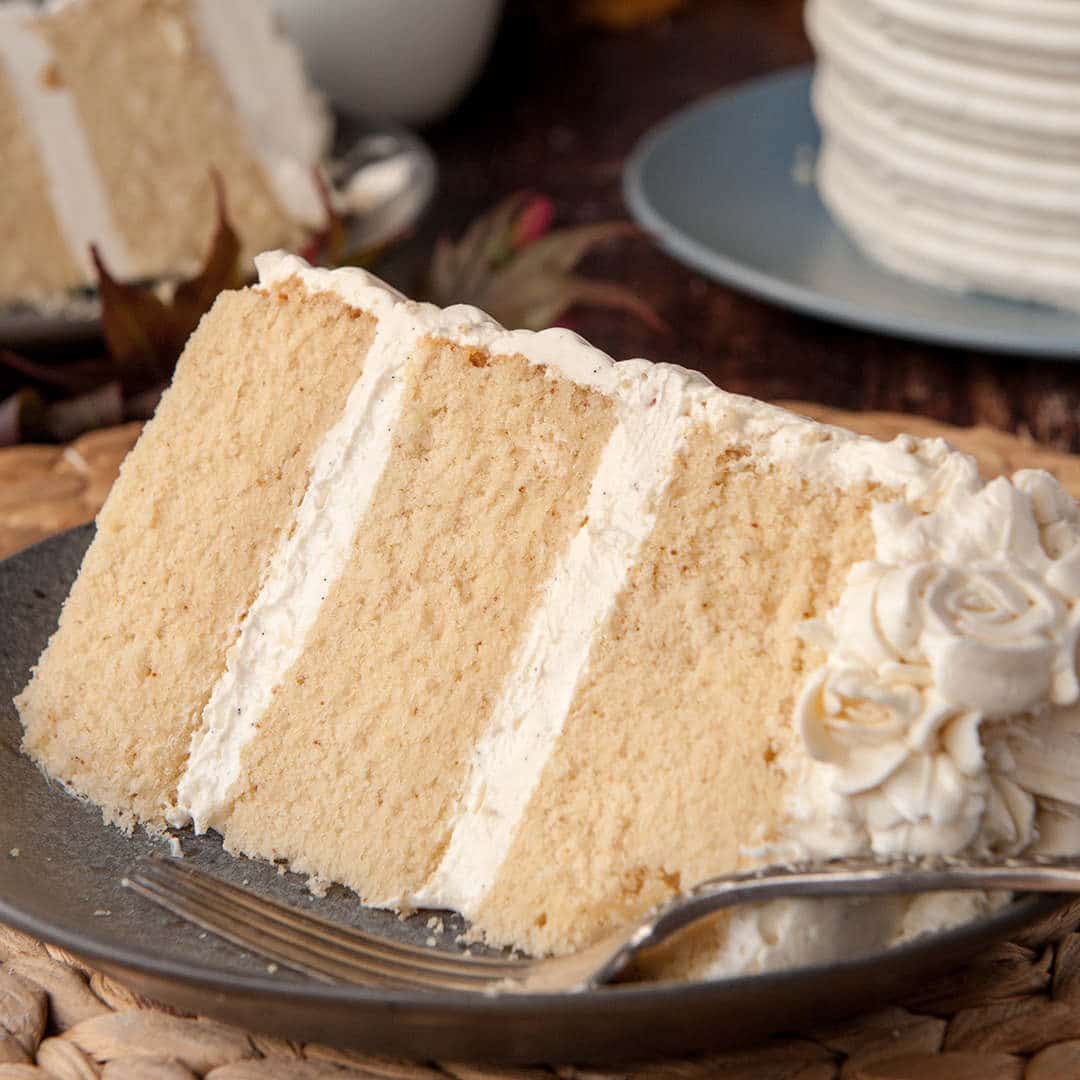 I have been working on this brown butter cake for ages. A little over a year to be exact. I started working on this recipe as my tasting element for the FIPGC cake competition. The winner would move on to compete in Milan Italy! So it had to be amazing.
The cake flavor had to follow a theme, the history of my country. I'm from the USA so I spent a long time thinking about what flavors really represented the USA. I landed on ice cream and apple pie. My brown butter cake would be the "pie crust", the vanilla bean buttercream would be the "ice cream" and the apple filling is well.. the "apple pie filling". I also added cranberries to the apple pie filling for color and candied pecans to the frosting layer for crunch.
This is a photo of the cake that was submitted to the FIPGC judges.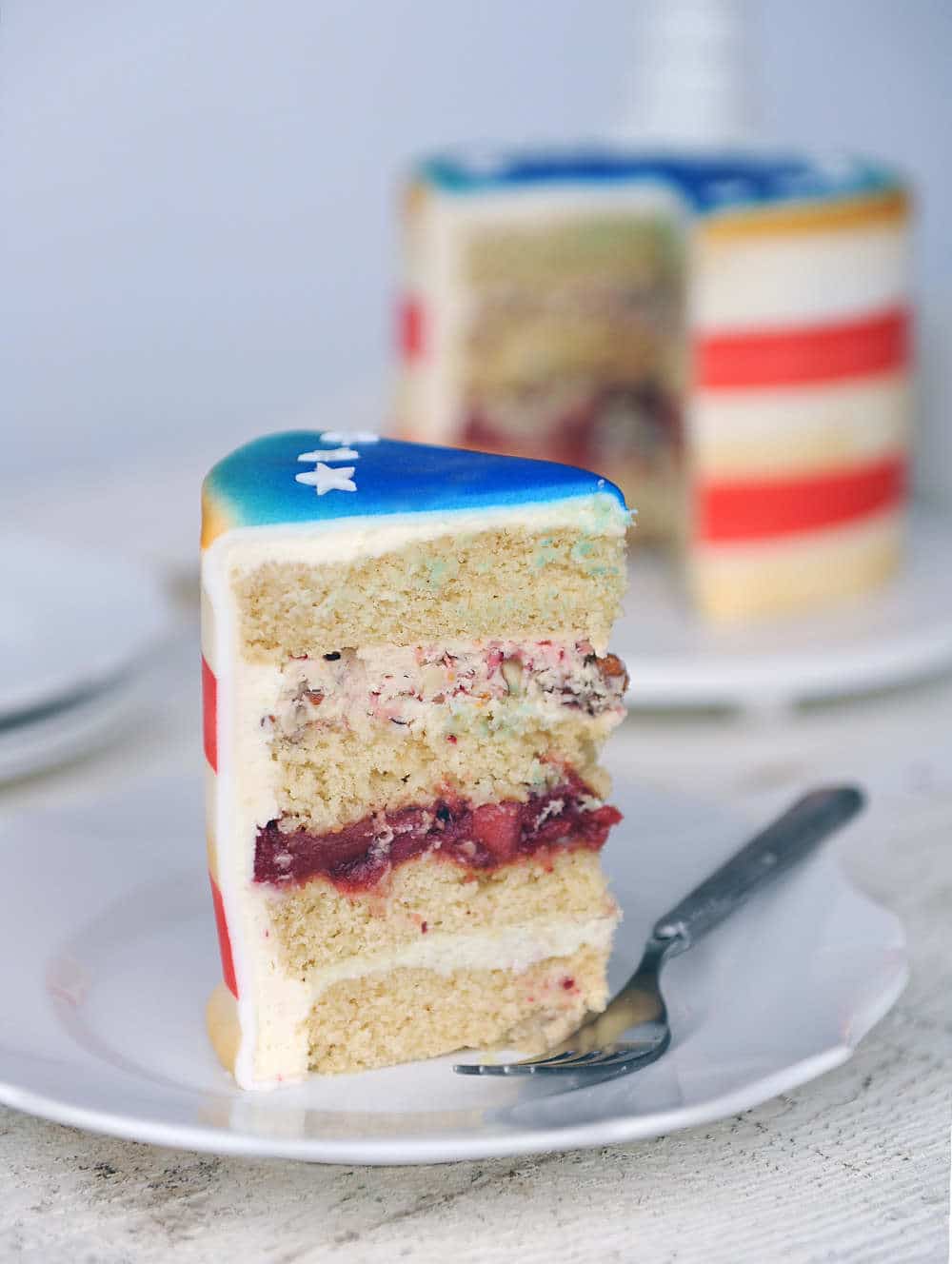 In the end, I did end up winning but was unable to attend because, after many years of trying, I got pregnant with our son Ezra (who was recently born on Sept 13th). I was definitely disappointed that I had to pull out of the competition but thrilled, of course, to be expanding our family.
For this recipe, I left out the apple filling and just focused on the brown butter cake and vanilla bean buttercream!
What Does Buttermilk Do?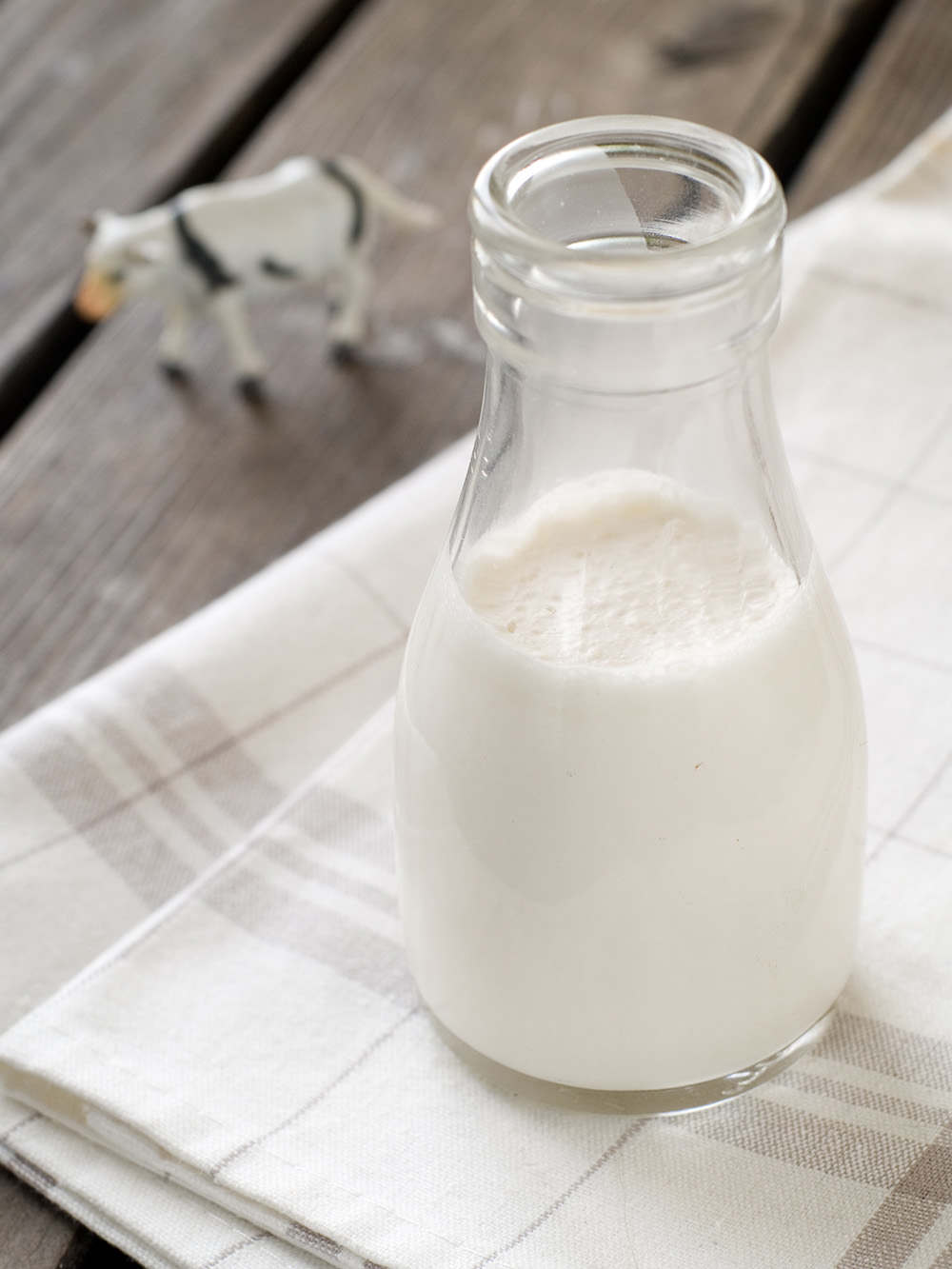 Lately, a lot of my cake recipes have been using buttermilk. After testing out my white velvet buttermilk cake recipe and it going viral, I've realized that pretty much everything tastes better with buttermilk.
Buttermilk is technically the liquids that are leftover after churning butter from cultured cream. But now, buttermilk is made to be sold and consumed on its own. You can even make buttermilk by adding a Tablespoon of white vinegar to one cup of regular milk and letting it sit until it curdles. About 10 minutes.
Buttermilk is a fermented drink that is very acidic. It reacts with baking soda in baked goods and also breaks down gluten. Baked goods made with buttermilk are typically more tender, fluffier and have a slight tang that is common in southern cooking.
What Does Brown Butter Do?
Brown butter is what's going to give this cake it's amazing toasty, nutty, rich flavor. Brown butter is often used in baked goods or sauces to give an extra depth of flavor.
If you've never heard of brown butter, prepare for your life to change! Brown Butter is basically just toasted butter. When you simmer butter overheat, it separates the milk solids from the butter. Those milk solids begin to turn golden as you continue to cook and when you toast the milk solids, you have brown butter!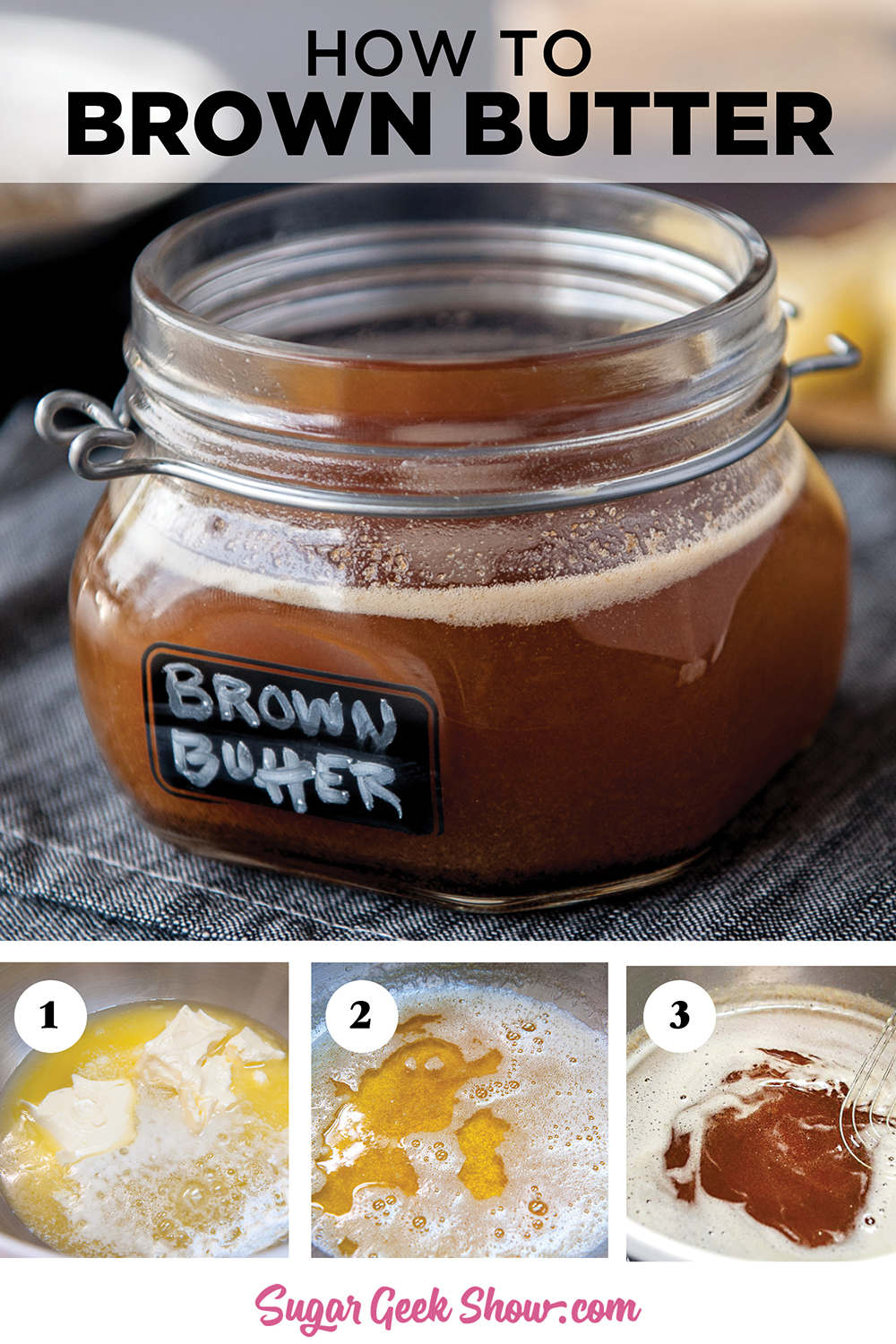 Brown butter has a gorgeous smell to it, almost like roasted nuts, or caramel, and will have lots of yummy brown bits in it. Just be careful to not burn it! Black butter is not the same as brown butter. (Bleh) Do not strain out the brown bits. That's where the flavor is 😀
Brown butter also weighs less than regular butter, because a lot of the water evaporates in the browning process. So just note: to get 8 ounces of browned butter for this recipe, you'll have to start with 10 ounces. If you don't have enough brown butter you can just supplement with more softened butter, you'll still have great flavor.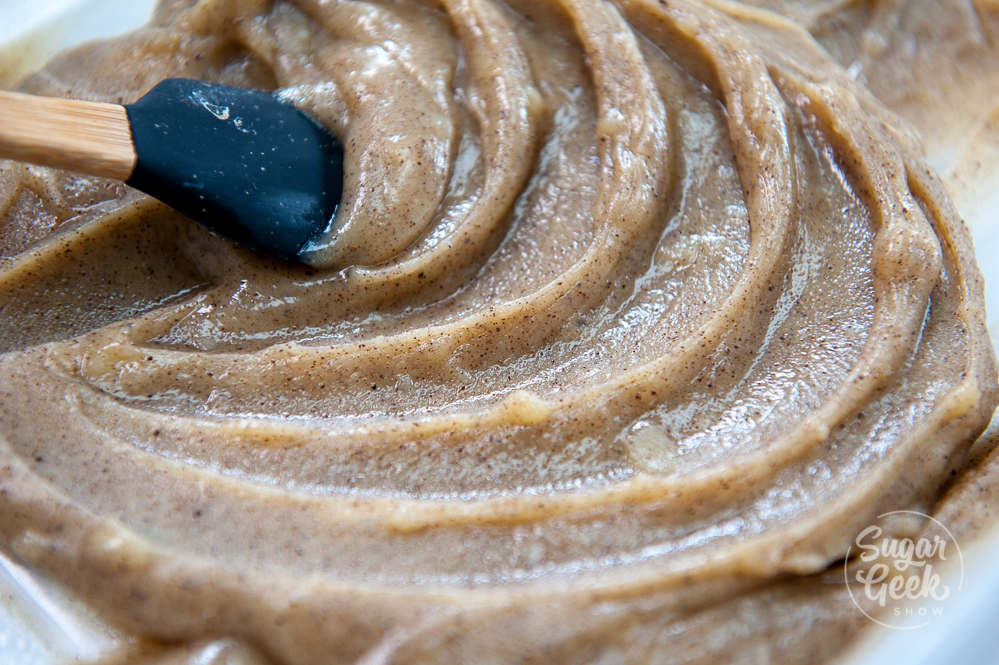 After you make your brown butter, you need to let it cool down and return to its softened butter stage for use in baking unless your recipe specifically calls for melted butter. You can replace the butter in any recipe with brown butter to kick it up a notch!
Brown butter will never completely harden again like regular butter, but you don't want it to be too hard and not combine with the other ingredients. You can replace half the butter in a recipe with brown butter without it adversely affecting it in any way but you add a ton of flavor!
What Makes A Brown Butter Cake Moist?
This brown butter cake is SUPER moist thanks to a few very special ingredients.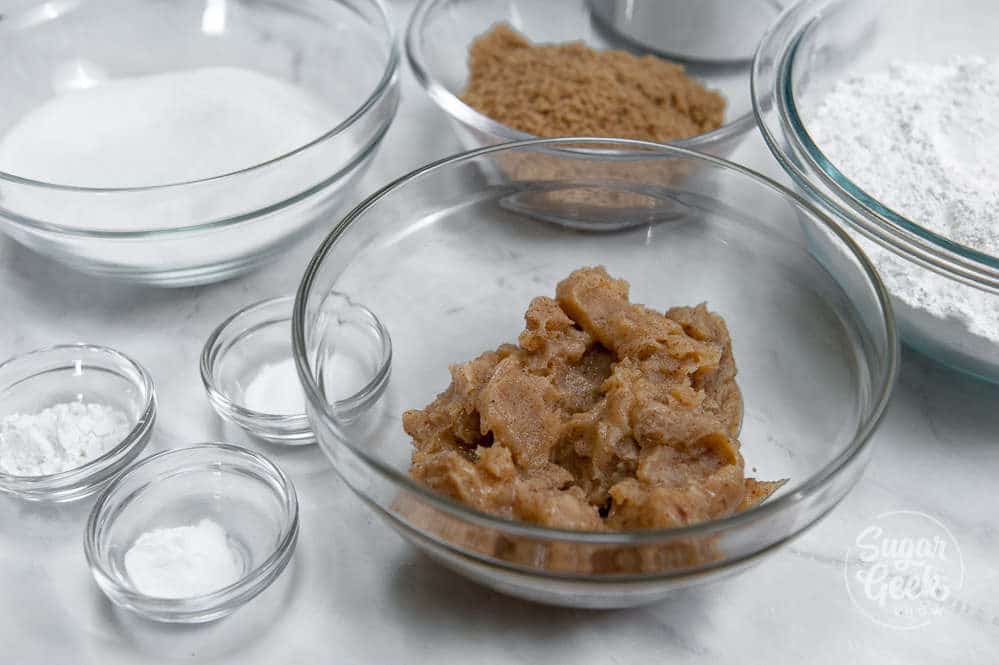 Cake Flour - Made from softer wheat than all-purpose flour, resulting in less gluten development during mixing. Cakes made with cake flour are fluffier and more tender but not all areas of the world carry cake flour.
Oil - A little bit of oil in a cake keeps the cake moist and from drying out.
Brown Sugar - The molasses in brown sugar not only adds flavor to the cake but keeps it extra moist.
Buttermilk - The acidity in buttermilk breaks down gluten and makes the cake extra tender.
Pro-tip: I always keep my cakes in the refrigerator until it's time to eat them BUT make sure you bring the cake out to warm up a few hours before you eat it. Cakes have butter in them, butter get's cold in the fridge, cold butter doesn't taste good. A cold cake can taste dry and crumbly.
Did you forget to take the cake out? No problem. Slice up your cake but don't serve them for 30 minutes to give them time to warm up.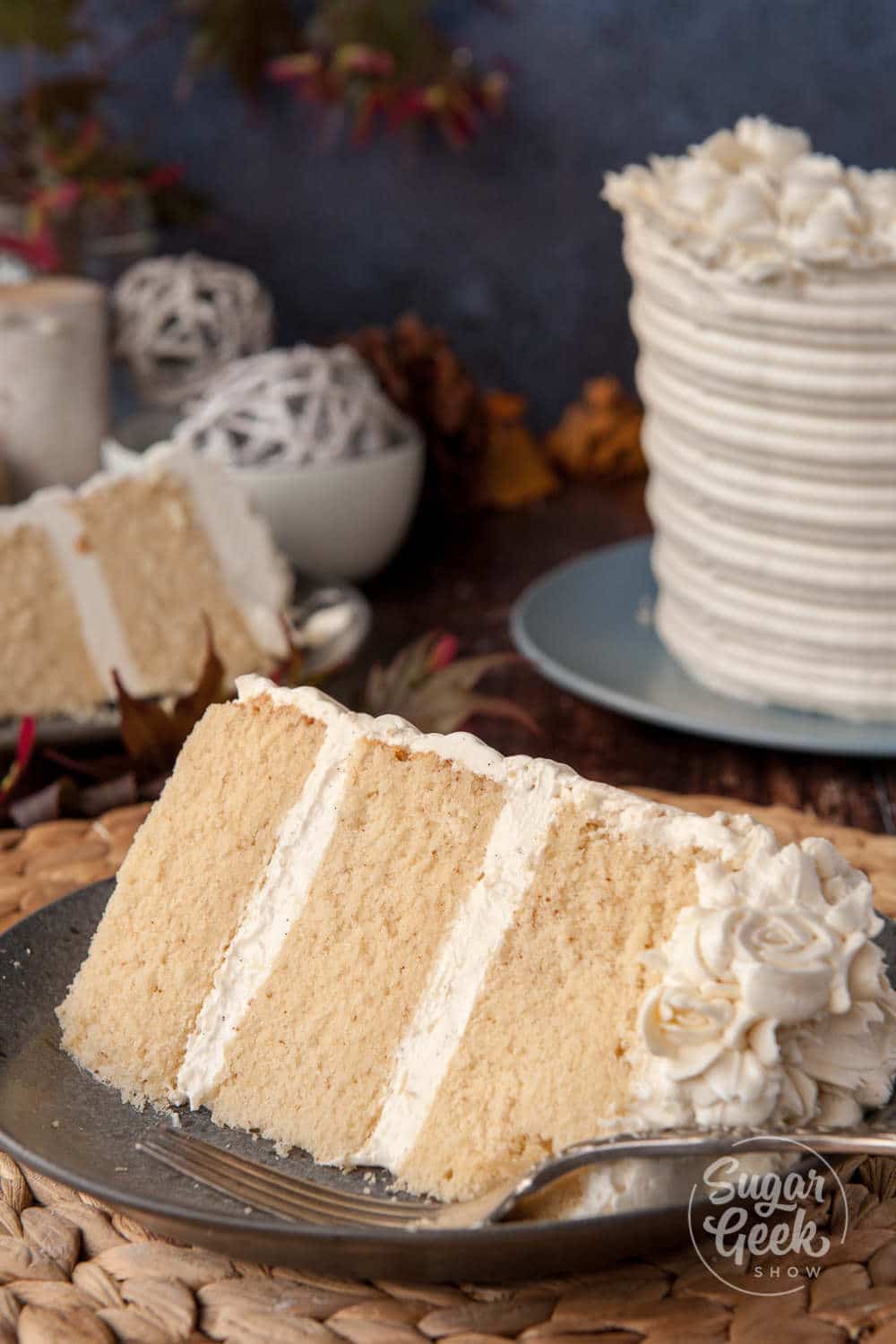 How To Make A Brown Butter Layer Cake
Never made a cake before? Watch my "How to make your first cake" tutorial which covers everything from baking, frosting, filling and getting smooth edges.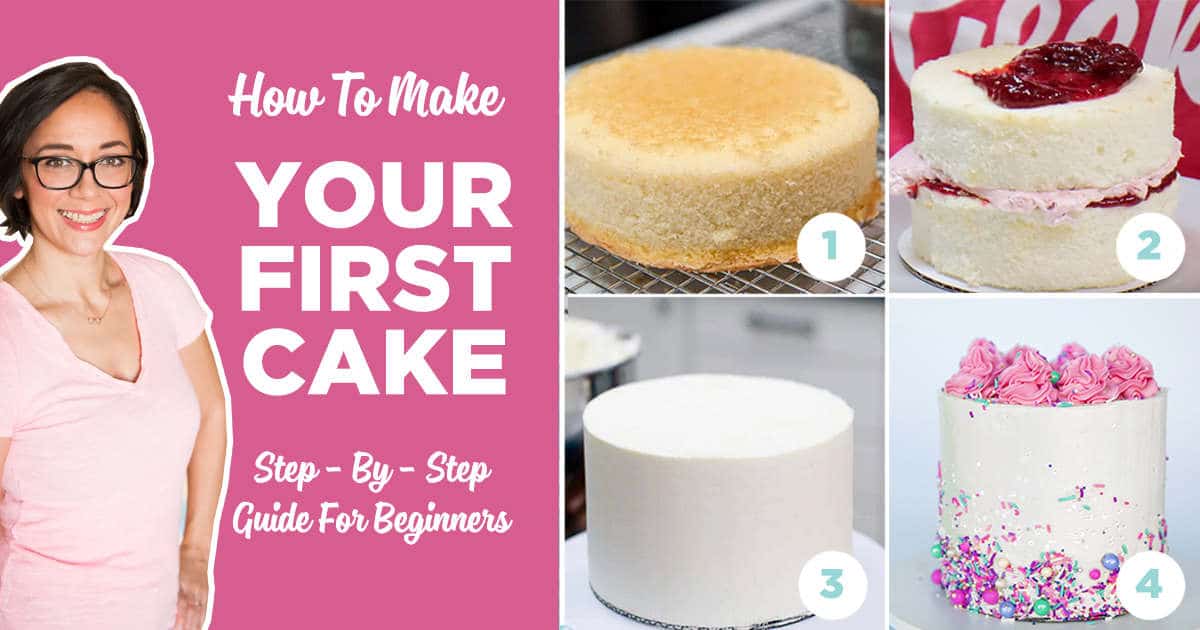 Just like many of my other cakes like my applesauce cake and vanilla cake, this recipe uses the reverse creaming method. This means that the flour mixture is combined with the butter so that the butter coats the flour. Then you add in a small amount of the liquids and cream until fluffy for a couple of minutes.
This is usually where people panic and think they are over-mixing. You're not. It's important you mix for two full minutes to develop the texture and structure of the cake. Then you add in the rest of the liquids and eggs. This mixing process prevents gluten from forming and makes the cake crumb look gorgeous.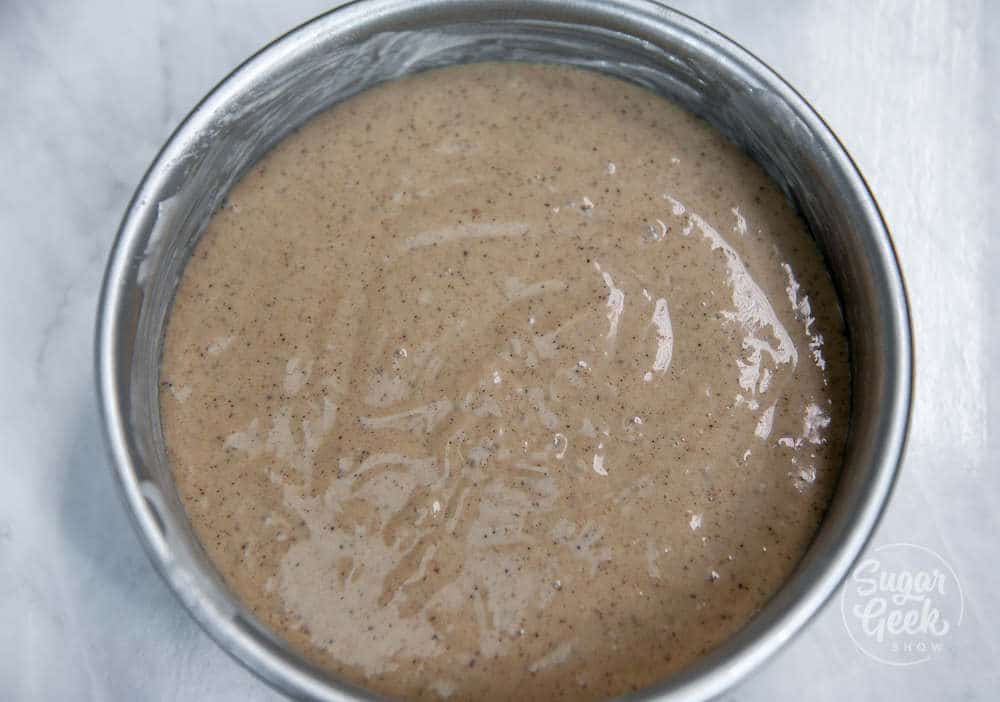 After baking your cake layers, you want to let them cool. I let mine cool in the pan for about 15 minutes or until I can touch the pan without burning myself. Place a cooling rack over the top of the pan, then while holding one hand on top of the rack and one hand under the pan, flip both over. Remove the pan and let the cake cool until barely warm.
Once my cakes are barely warm, I wrap them in plastic wrap and put them in the freezer for about an hour so that I can trim the cakes and fill them right away. You can also freeze your cake layers to use later. I defrost my cakes on the countertop before trimming and frosting.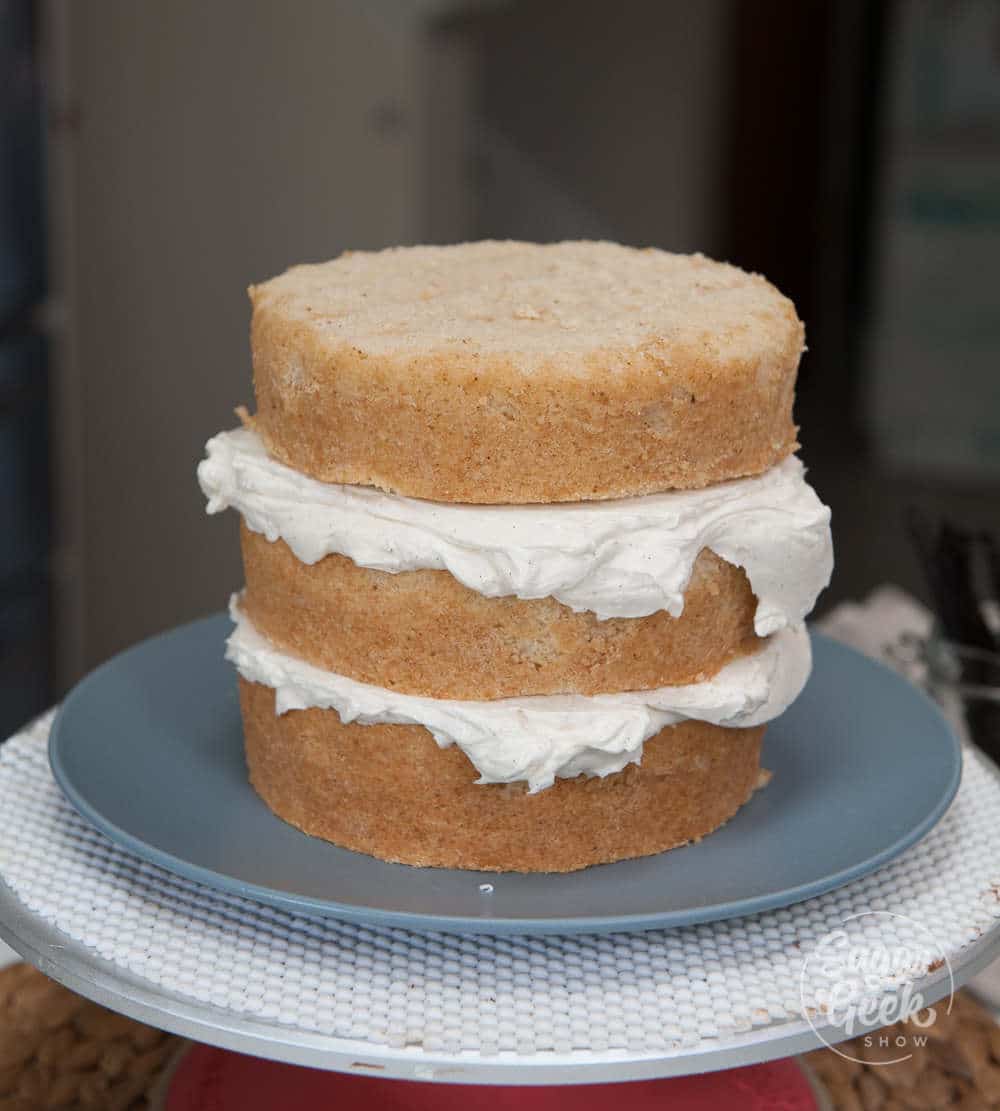 When I'm making my vanilla cake or other lighter colored cakes, I will trim off the dome and the brown edges so that my cake slices look really pretty. This is totally optional. Just make sure you always at least trim off the dome so that your layers are flat.
I have baked three 6" cake layers that are about 2" tall but you can also use any other size pan that you like. Remember, the bigger the pan, the longer it will take to bake.
My cake is filled and frosted with easy vanilla bean buttercream, but cream cheese frosting or brown butter buttercream would also taste amazing!
Vanilla Bean Buttercream
Take a batch of easy buttercream and add 1 Tablespoon of vanilla bean paste or the contents of one vanilla bean pod. Now, I know what you're going to say... vanilla is EXPENSIVE Liz! Why do you hate my wallet? I found this vanilla bean paste on sale at (home goods for $12) so a little bit will go a long way, and will make this buttercream look extra pretty with little black specks in it!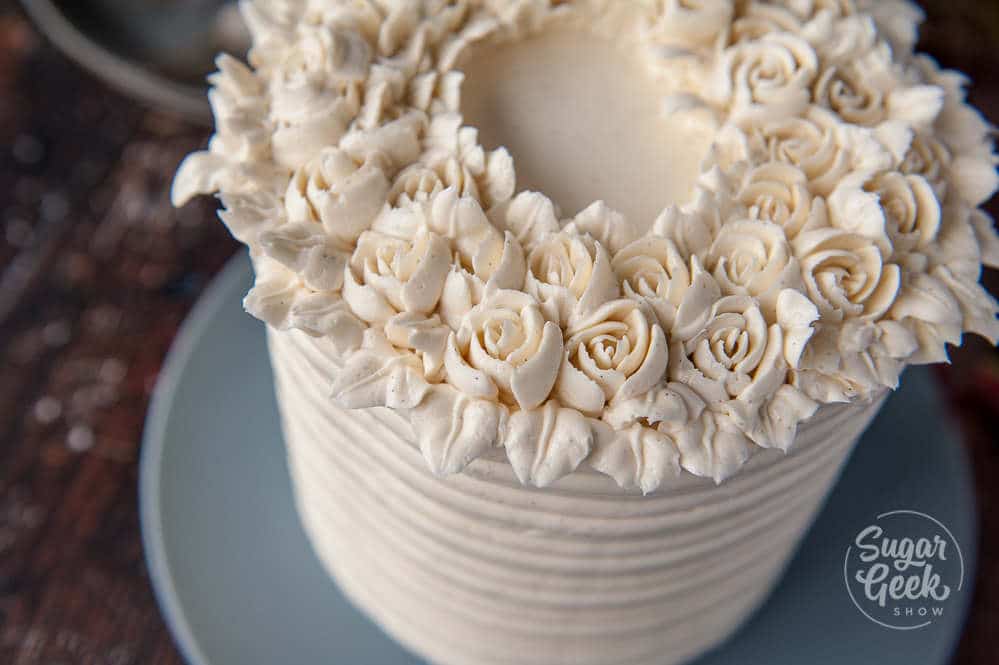 How To Decorate
I'm going old school for this decoration! Using cake combs was a really popular technique like 10 years ago, and it's making a comeback. (haha a comb-back) Who else remembers that? I hope this doesn't make me old.
After using a bench scraper to get your frosting straight up and down, and leveling off the top, I'm going to decorate this cake using a cake comb from Ester cakes.
I've used one side of this comb before to create buttercream stripes (geometric cake), but the other side makes really cute indented lines!
To make your lines, simply scrape away a little buttercream from the outside of the cake. Every time you make one full rotation, you want to scrape off the excess buttercream and come back. Make sure to start with a thick layer of buttercream, so that you aren't left with any holes after scraping. If you're too thin in certain spots, just add more buttercream and scrape it away!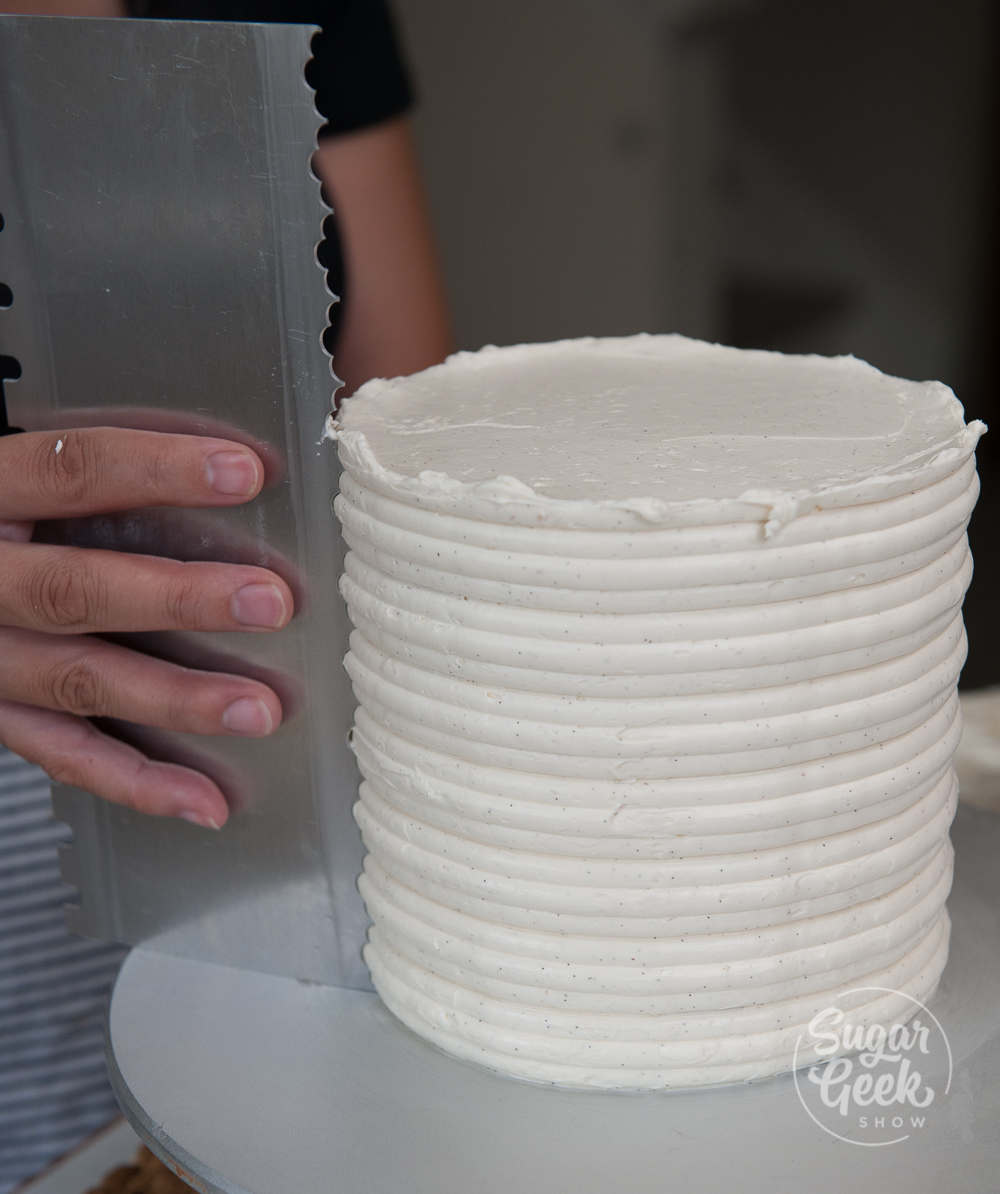 Sometimes I watch cake decorating videos and the cake will be super messy, and then all of a sudden, it's perfect! So I'm here just like wow that was super fast and easy... Well, I will be completely honest with you, it took me 4 tries to get this cake perfect using the comb.
Then I'm using my leftover buttercream and a Rose Russian Piping tip from Nifty Nozzles to decorate the top of my cake. The trick to Russian piping tips is you want to make sure you squeeze to adhere to the cake, stop squeezing, and then pull away.
I'm also using my Wilton #68 leaf piping tip to make cute little leaves and finish off the design! You don't have to use a crazy stiff buttercream, Swiss Meringue Buttercream will work great. Just be careful about your buttercream being too soft and the roses mushing together.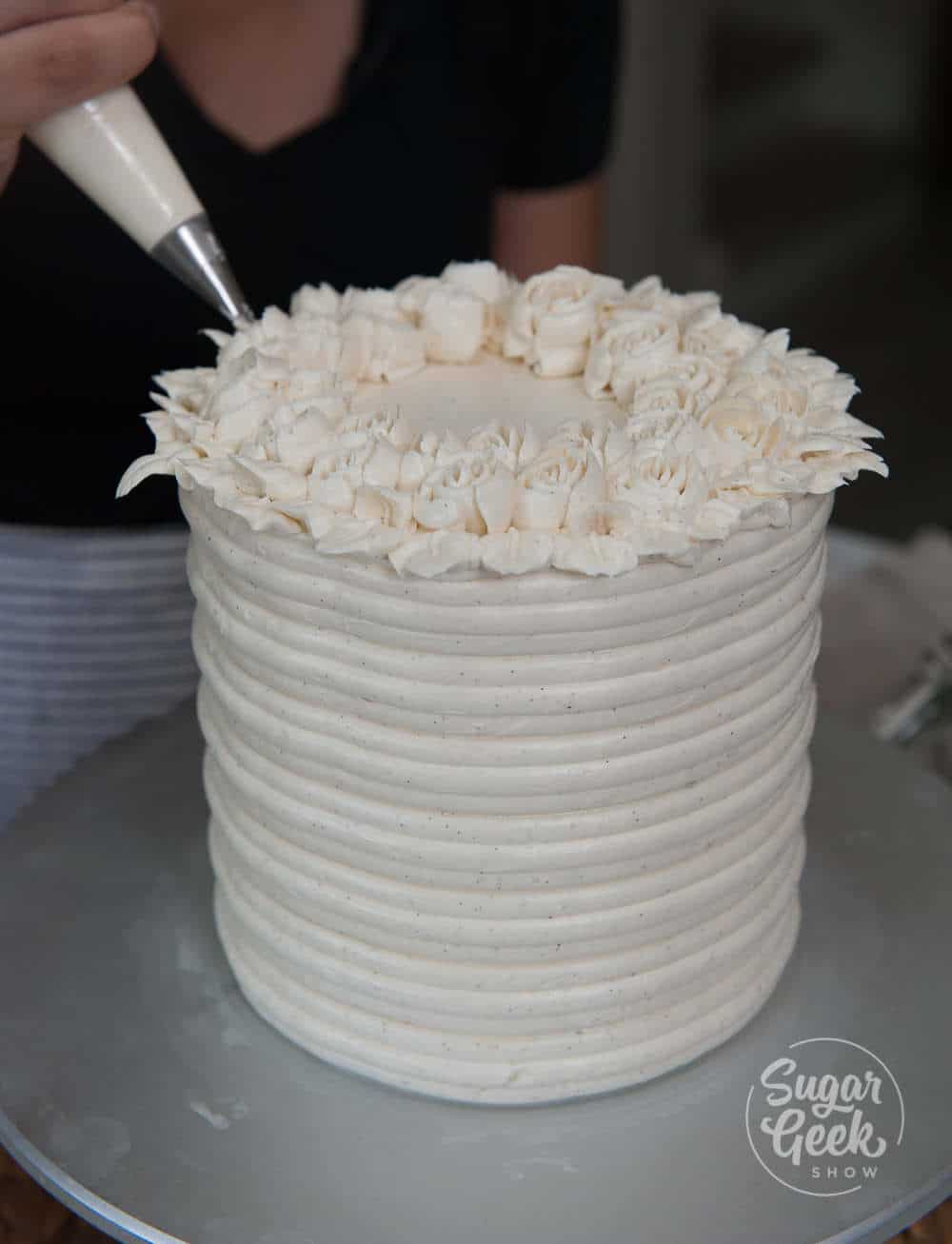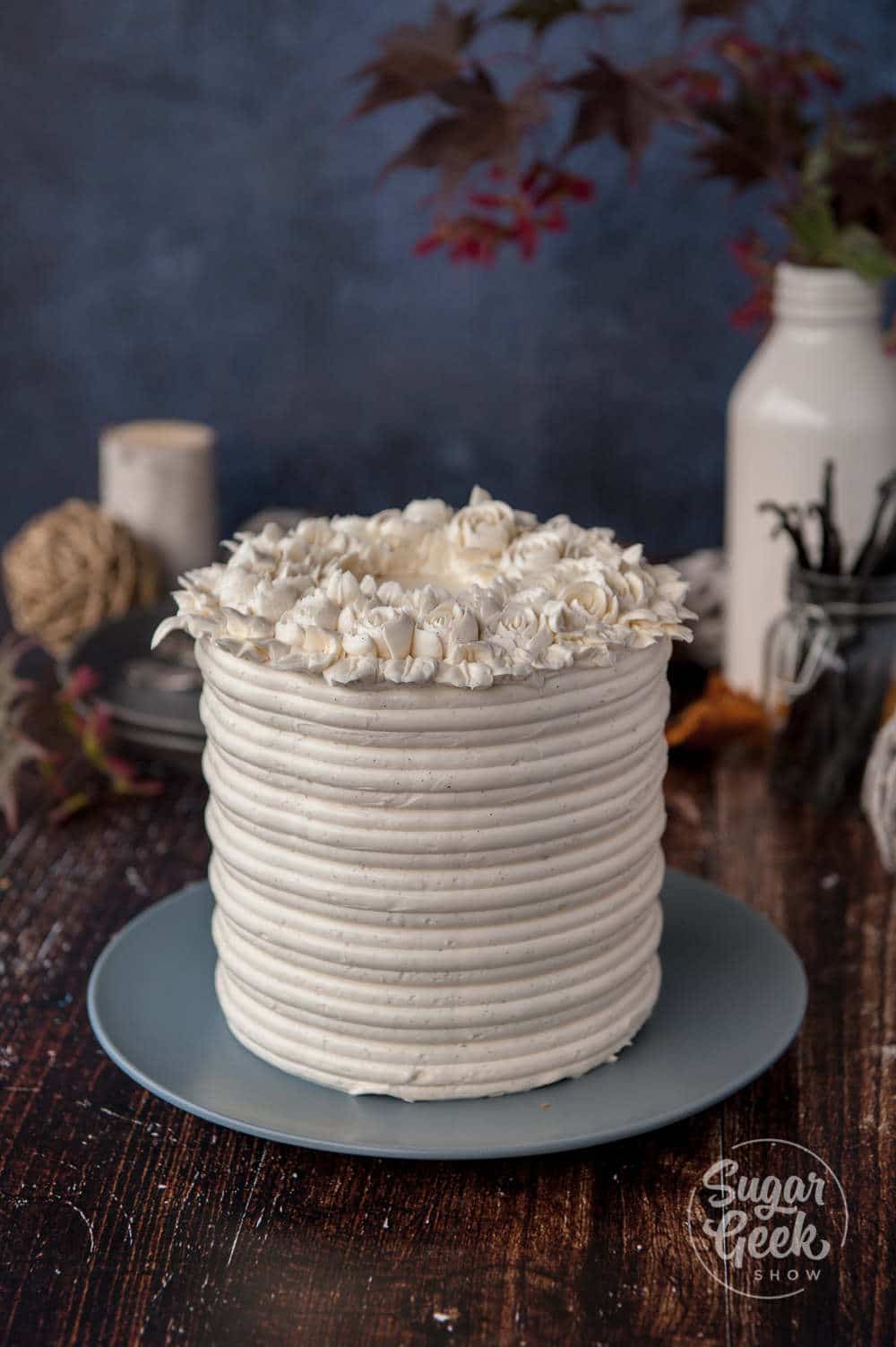 This would make a super cute holiday cake by adding a few toasted pecans or cranberries in the middle, or even making it into a little wreath! Hmm ideas, ideas!
Can You Make This Into Brown Butter Cupcakes?
Yes and no. To make this into cupcakes you have to adjust a few things in the recipe.
Reduce the buttermilk from 10 ounces to 5 ounces
Don't add the oil
The cake recipe is super moist and bakes up nice and flat for a cake but for cupcakes, you want a little less moisture so you can get a nice dome and prevent shrinking.
Preheat your oven to 400ºF. Fill your cupcake liners ⅔ full of batter. I like to use a small ice cream scoop. Bake your cupcakes for 5 minutes at 400ºF then reduce the temperature to 335ºF. DO NOT OPEN THE OVEN. Opening the oven can cause your cupcakes to deflate.
Bake for an additional 10-15 minutes or until the domes are set and spring back when you touch the center. Allow the cupcakes to cool before frosting.
Try these recipes!
Brown Butter Cream Cheese Frosting
How To Brown Butter
Moist Vanilla Cake Recipe
Applesauce Spice Cake
Pumpkin Spice Cake
Cake Batter and Frosting Calculator
Select an option below to calculate how much batter or frosting you need. Adjust the servings slider on the recipe card to change the amounts the recipe makes.
Choose a pan type
Choose a cake pan size
(based on 2" tall cake pan)
Choose a cake pan size
(based on 2" tall cake pan)
Choose a cake pan size
(based on 2" tall cake pan)
Cups of Batter Needed
8 cups
Cups of Frosting Needed
5 cups
Recipe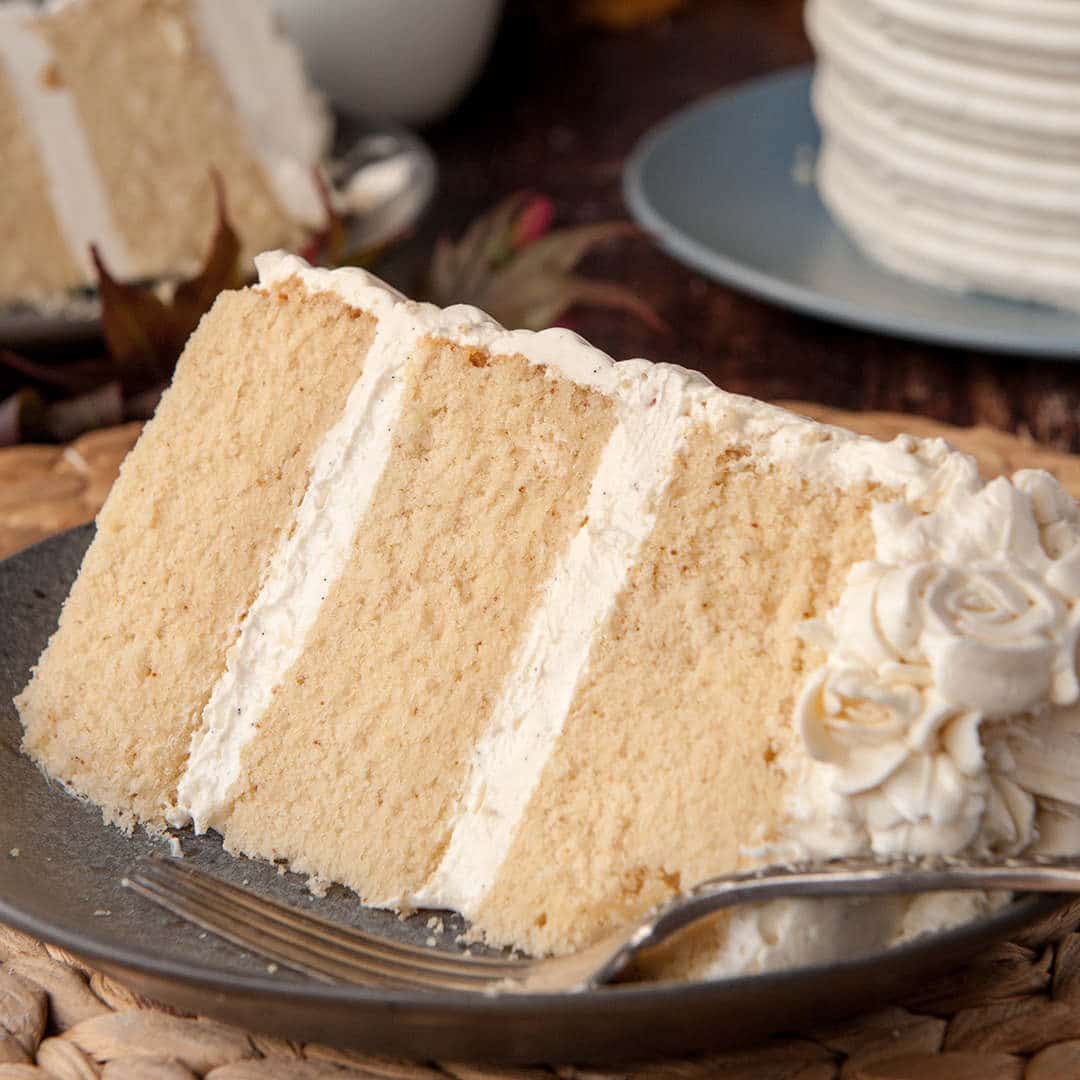 Servings: 8 cups
Calories: 350kcal
Equipment
Stand Mixer

Paddle Attachment

Whisk Attachment
Ingredients
14 ounces cake flour
8 ounces granulated sugar
4 ounces brown sugar sifted
1 teaspoon baking soda
1 teaspoon baking powder
1 teaspoon salt
1 Tablespoon vanilla extract
10 ounces buttermilk warmed, and divided
3 large eggs room temperature
8 ounces browned butter room temperature
4 ounces oil
Instructions
IMPORTANT: Make sure all your ingredients are at room temp and you're using a scale to measure. Substituting ingredients may cause the recipe to fail. (see notes at the bottom of the recipe)

Heat oven to 335º F - Prepare three 6"x2" cake pans (or two 8"x6" cake pans) with cake goop or another preferred pan release -

Measure out 4 ounces of your buttermilk into a separate container. Add in your vegetable oil and set aside. (if doubling our tripling your recipe, remember to adjust this amount as well)

Combine the remaining buttermilk with your vanilla and eggs. Whisk lightly and set aside.

Measure out the flour, sugar, brown sugar, baking soda, baking powder, and salt and place them into the stand mixer bowl with the paddle attachment.

Turn the mixer on the slowest speed (setting 1 on Kitchen Aid mixers). Add in your browned butter to the flour mixture. Let mix until batter resembles coarse sand.

Add your buttermilk and oil to the flour mixture.

Increase mixing speed to medium (setting 4 on Kitchen Aid mixer) and mix for 2 full minutes. Let the mixture whip up until it has thickened and lightened in color. It should look like soft-serve ice cream. If you do not let the batter mix fully, you will end up with very short, crumbly cakes that do not rise.

Scrape the bowl. This is an important step. If you skip it, you will have hard lumps of flour and unmixed ingredients in your batter. If you do it later, they will not mix in fully.

Add your egg mixture in three parts, letting the eggs incorporate for 5-10 seconds between additions. Scrape the bowl halfway through.

If your batter is curdled and broken at this point, your milk/eggs where too cold and your cake may not rise.

Divide your cake batter between your pans. I weigh my pans to make sure there is the same amount of batter in each pan.

Bake for a minimum of 30 minutes before you check for doneness. Remember, bigger pans take longer to bake than smaller pans. I use a baking core for pans over 12". Cakes are done when a toothpick comes out clean or the tops spring back when you lightly touch them.

After cakes have cooled for 10 minutes or the pans are cool enough to touch, flip the cakes over onto cooling racks to cool completely. Wrap in plastic wrap and chill in the refrigerator or freeze for one hour to speed up cooling.

Frost and decorate as desired
Notes
Important Things To Note Before You Start
1. Bring all your ingredients to room temperature or even a little warm (eggs, buttermilk, butter, etc) to ensure your batter does not break or curdle. 
2. Use a scale to weigh your ingredients (including liquids) unless otherwise instructed (Tablespoons, teaspoons, pinch etc). Metric measurements are available in the recipe card. Scaled ingredients are much more accurate than using cups and help ensure the success of your recipe. 
3. Practice Mise en Place (everything in it's place). Measure out your ingredients ahead of time and have them ready before you start mixing to reduce the chances of accidentally leaving something out.
4. Chill your cakes before frosting and filling. You can cover a frosted and chilled cake in fondant if you wish. This cake is also great for stacking. I always keep my cakes chilled in the refrigerator before delivery for easy transporting. 
5. If the recipe calls for specific ingredients like cake flour, replacing it with all purpose flour and cornstarch is not recommended unless specified in the recipe that it's ok. Substituting ingredients may cause this recipe to fail. 
Nutrition
Serving: 1g | Calories: 350kcal | Carbohydrates: 54g | Protein: 7g | Fat: 12g | Saturated Fat: 2g | Cholesterol: 55mg | Sodium: 334mg | Potassium: 131mg | Fiber: 1g | Sugar: 29g | Vitamin A: 116IU | Calcium: 62mg | Iron: 1mg